Open D tuning is one of the most popular alternate tunings and a creative tool that many guitarists enjoy. Whether you're composing your own original music or just playing your favorite songs, it will for sure expand your music theory knowledge and guitar playing skills. You will discover so many new possibilities and different chord shapes to play on your guitar.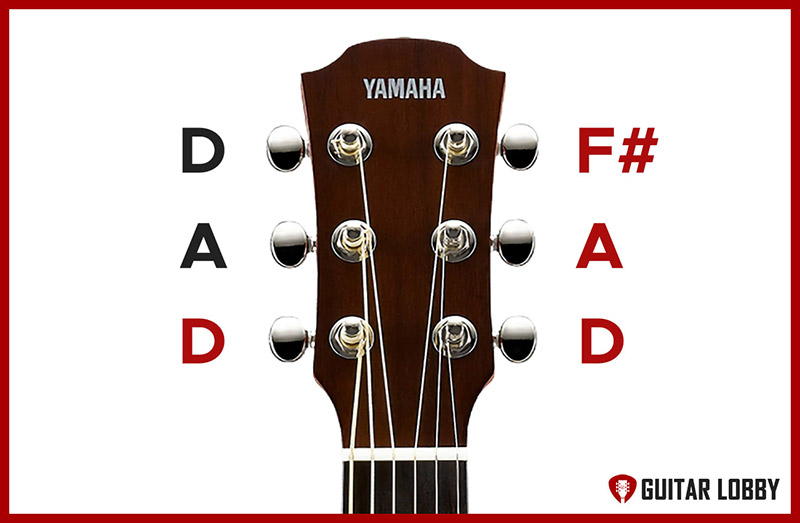 What is Open D Tuning?
Open D tuning is one type of "alternate tunings" or "open tunings" which means it's not the standard way of tuning your guitar. There are many types of alternate tunings but the open D is one of the most popular ones and a favorite of many guitarists. It is especially popular amongst blues guitarists and guitarists who play slide guitar, but you will find that you use it to play whichever type of songs you prefer. Well, what does it sound like you ask? It sounds exactly like you are playing the D chord when you strum on the open strings (without pressing down any strings on the frets).
You will find that many of your favorite songs and songs from this list are played in open E-tuning. Well, it's the relative tuning, however, in this case, it is much easier and safer to tune down your guitar to open D tuning and then put a capo on the second fret to make it in the key of E. Is this confusing? It shouldn't be, many artists prefer this method because tuning up to open E creates tension on your guitar strings which may cause them to break if you're strumming powerfully. With open D tuning, you get a well-balanced sound because the strings are relaxed!
How Do You Tune Your Guitar in Open D Tuning?
Alright, so now how do you actually tune your guitar to open D? I will briefly explain how you can do that, then I'll get into a list of fun cover songs that you can learn in this tuning! First, make sure to be using a reliable tuner, there are countless free apps that you can download for that to make sure you get accurate tuning. So the basic rule to tune your guitar to open D tuning, you have to tune the strings to D A D F# A D.
When I first started I was always intimidated by that, but when I tried it on my guitar I found that it's actually really simple and not complex at all! So, to do that, just lower the low E string a whole step down to D, keep the A and D strings as they are, lower the G string a half-step down to F#, lower the B a whole step down to A, and lower the high E a whole step down as well to D. And there you have it, your guitar is now tuned in open D tuning!
A Quick tip is, don't forget to go back and check the tuning a couple of times as the tension on the neck of the guitar adjusts. Now that you have finished tuning your guitar in open D tuning, here are some songs with videos that you can learn right away and play along with!
Here is a List of Songs in Open D Tuning
In this article, I listed some of my favorite songs you can learn in open D tuning from a variety of genres and artists. You'll also notice that I get into more depth with some songs over others and that's because these are the songs I personally tried learning in open D tuning myself therefore I can provide you with more insight and tips to get started! Alright, without further ado, below is a list of songs in open D tuning.
1. The Cave by Mumford and Sons
Tabs: Here are the Tabs to The Cave by Mumford and Sons
Mumford and Sons are an English folk-rock band from London. They have four incredible studio albums which garnered them numerous awards over the years. Mumford and Sons' songs are great if you are starting to learn songs in open D tuning. I may be a bit biased because I saw them play live and fell in love with their music, but 'The cave' is one of the best songs ever written in open D tuning, in my opinion. The Cave is actually their third single, ever and was released off their debut album 'Sigh No More' after 'Little Lion Man' and 'Winter Winds'. Off the bat, it got nominated for grammy awards including Best Rock Performance, Best Rock Song, Song Of The Year, and Record Of The Year.
Like many typical folk songs, "The Cave"s structure is a pretty basic 'verse', 'chorus' type of structure. The way to play this song is very simple strumming, that's why this is a great song to start with if you just learned how to tune to open D or if you're looking for a song to learn quickly in open D. This song is all about how free and grande it sounds, so don't hold back on the belting either!
2. Little Martha by the Allman Brothers
Tabs: Here are the Tabs to Little Martha by the Allman Brothers
The lesson video above is in Open E tuning, however, with your guitar in Open D tuning you can simply put a capo on the second fret, and then the song is played the same. "Little Martha" was the only song written by band leader Duane Allman of the Allman Brothers Band. It was actually recorded just a few weeks before his death in an accident, and made it as the last track in their fourth studio album "Eat A Peach".
The Allman Brothers were an American rock band formed in the late sixties in Georgia by brothers Duane Allman and Gregg Allman, alongside Dickey Betts, Berry Oakley, Bush Trucks, and Jai Johanny. The band played a mix of blues, jazz, and country music, and filled their live shows with a ton of instrumentals and jam improvs.
This song is originally in open E, but tuning your guitar in this tuning really puts tension on the strings, so many people cover it in open D instead. "Little Martha" should be played on an acoustic guitar in a bouncy fingerstyle approach. This song is performed as a guitar duet with Dickey Betts with very little accompaniment so it might be a little challenging to play on your own. However, it's a pretty simple song melodically and rhythmically and that's what made it instantly popular among fans. According to Leo Kotte, who used to cover the song, it is "the most perfect guitar song ever written."
3. Dust My Broom by Elmore James
Tabs: Here are the Tabs to Dust My Broom by Elmore James
"Dust My Broom" is a blues song by American blues artist Robert Johnson. It was originally recorded as "I Believe I'll Dust My Broom" and is actually based on an earlier blues song "I Believe I'll Make a Change", much like most of his songs. Elmore James recorded the song in 1951 and this is the version that ended up being the one everyone knows and loves!
The original song by Johnson was performed in a Delta blues style and consisted of only his vocals and an acoustic guitar. James took his triplets and adapted it in a slide guitar style which is now considered one of the most well-known guitar riffs in blues history. The song has then been covered by many musicians over the years and has been selected for the Blues Foundation Blues Hall of Fame, the Grammy Hall of Fame, and the library of Congress' National Recording Registry.
To play this song, you will be mostly playing with a slide on your pinky and then place your other fingers behind the slide for support and prevent any noise. Measures 1, 2, 3, 4, 7, and 8 are completely played with the slide, and measures 5,6, 9, and 12 are played without!
4. Taro by Alt-J
Tabs: Here are the Tabs to Taro by Alt-J
Alt-J is one of today's popular bands formed in Leeds by their lead vocalist and guitarist Joe Newman. The band consists of Joe Newman, Thom Sonny Green (drums), Gus Unger-Hamilton (keyboards/vocals), and Gwilym Sainsbury (guitar/bass).
One of my favorite songs for them is Taro, which you can play in open D tuning! This song was written about the life of Gerda Taro and her partner Robert Capa. Gerda was the first female war photojournalist who covered wars in the mid 20th century and her partner was also a war journalist at the time. They both died while they were out working and the song describes how they reunited in the afterlife!
To play this song you should be following the structure of a typical song similar to ABAB however, there is no chorus but a repetitive recurring theme or "feeling", if that makes sense. This is a fun song to play in open D using mainly a fingerpicking style.
5. Show-biz Blues by Fleetwood Mac
Tabs: Here are the Tabs to Show-biz Blues by Fleetwood Mac
The first song by Fleetwoodmac that you can learn to play right away in open D is "Showbiz Blues", a song off their "Then Play On" Album which is actually one of my all-time favorite albums by them. This song has such a bluesy-country sound and is a lot of fun to play on the guitar.
The song was written by Peter Green but was also recorded by Gary Moore on his "Blues for Greeny" album (A tribute album to Peter Green), so give that version a listen as well before you start learning it! This song is awesome to play in open D tuning using a country-blues-style slide guitar. On the "Then Play on" Album Peter's guitar is slightly flat but in the Gary Moore version, you'll find that it's played in Open D.
6. Like Crying by Fleetwood Mac
Tabs: Here are the Tabs to Like Crying by Fleetwood Mac
Another Fleetwood Mac song and also from the "Then Play On" Album, "Like Crying" is another favorite to play in Open D! What's amazing about this album is that you constantly feel like you rediscover it when you listen to it many times. The tracks on this album ricochet between a bluesy and psychedelic rock sound. This song specifically is more of the bluesy-type of songs on this album.
"Like Crying" is a duet between Danny Kirwan and Peter Green and sounds like an Everly Brothers-style song, according to Kirwan. It's really fun to play the guitar riff and really lets you break away from the typical shapes you're used to playing without open tuning.
7. The Gardener by The Tallest Man on Earth
Tabs: Here are the Tabs to The Gardener by The Tallest Man on Earth
The Tallest Man on Earth is the stage name of Swedish singer-songwriter Kristian Matsson. He plays many of his songs in open tunings and was inspired mainly by Nick Drake during his twenties. He chose this style because it allowed him to pair his vocals with intricate guitar techniques, that's the beauty of playing in open tunings. Many compare his music to Bob Dylan and similar artists. Matsson is a great guitarist and finger-picker, and you'll notice that immediately by listening to his songs.
"The Gardener" was his debut album "Shallow Grave" 's first single, one of my favorite songs off the record. It's quite the haunting, unsettling type of song. The song talks about the murders he committed to keep his image of being the "Tallest man" in the mind of a lover.
His voice is rich and takes center stage much like his guitar playing that is mostly strumming and fingerpicking, inspired by the American south.
This song is quite the poetic, front-porch type, and is the perfect song to add to your open D song repertoire. There are many variations and covers on the internet playing it in standard tuning or with a capo on the second fret, but the right way to play this song is in open D like the original version.
8. Buckets of Rain by Bob Dylan
Tabs: Here are the Tabs to Buckets of Rain by Bob Dylan
How can we have a list of songs in open D tuning without including Bob Dylan? Bob Dylan is the artist for this type of guitar technique. One song I love by him and have learned myself is "Buckets of Rain".
"Buckets of Rain" was released in 1975 on Bob Dylan's famous album "Blood on the Tracks". It was originally recorded in E major but sounds just as good in open D. The song has only two instruments, bass, and acoustic guitar so it will be fairly easy to learn. It may initially seem difficult to learn, but once you've figured out the main pattern it should be pretty easy. This song will help you sharpen your sliding technique for sure.
This song is one of those old blues folk songs mostly due to its arrangement. The melody and the guitar are playing together while the bass is playing only D notes creating some sort of drone underneath that carries the guitar and vocals on top. The only fingerpicking you'll do will be on the first high D, the third F# strings, and briefly on the high A string.
As easy as it sounds though, many people don't pick it up immediately. Depending on your guitar playing skills and how advanced you are it might take some repetition and practice before you get this one right.
9. Open Your Eyes by Alter Bridge
Tabs: Here are the Tabs to Open Your Eyes by Alter Bridge
Alter Bridge, one of the best American rock bands formed in the 2000s! The band consists of Myles Kennedy, Mark Tremonti, Brian Marshall, and Scott Phillips, some of which came from the former American rock band, Creed.
"Open Your Eyes" from the band's debut album "One Day Remains" instantly became one of their most popular hit songs. This is one of the easier songs and it's in open D, or is it? Yes, it is, but technically it's not the same open D tuning traditionally used, but rather utilizes all D and A open notes for a kind of alternative open D tuning, DADADD. This leaves you with some really cool chord shapes to get you started. I would suggest you use a pick for this one to get the strong strumming open sound of this song. Learning the solo will be the main challenging part of learning this song but with a little bit of practice, I'm sure you'll get the hang of it. The vocal melody is pretty simple as well and anyone can sing along with their guitar!
10. Big Yellow Taxi by Joni Mitchell
Tabs: Here are the Tabs to Big Yellow Taxi by Joni Mitchell
"Big Yellow Taxi" was written, composed, and released by Canadian singer/songwriter Joni Mitchell in 1970 on her album "Ladies of the Canyon".
This is an intermediate-level song to learn in open D tuning. It's got some barre chords and the playing style is strumming. The song is originally played in the key of E, you can technically tune your guitar up to open E but as we've established before this would put a lot of pressure on your strings so tuning to open D then putting a capo on the second fret is the best alternative!
This song is all about the rhythm so make sure you practice the strumming pattern to make sure it's both rhythmic and the chords come out clean at the same time. Use a pick on this one too to get the right strumming sound. Don't worry if you don't get it sounding exactly like the original though, it's not absolutely necessary to get the exact combination of when your fingers are coming down and going off the strings. Feel free to experiment and find a way that feels natural to you, this song is a lot of fun to play!
Popular Related Articles: Easy Songs to Play on Guitar
11. Simple Twist Of Fate by Bob Dylan
Tabs: Here are the Tabs to Simple Twist Of Fate by Bob Dylan
Another one by a great artist, "Simple Twist of Fate" is off Bob Dylan's 15th studio album "Blood on the Tracks". The lyrics for this song have been changed and rewritten many many times over the years that he never sings it like the original record anymore. Almost all the songs on "Blood On The Tracks" were written in open E-tuning. As I've mentioned above, I don't advise you to tune your guitar up, rather tune it down to open D and put a capo on the second fret to get to the key of E.
The song features just an acoustic guitar, harmonica, and bass. It is a pretty easy one to learn, it has no barre chords and a lot of strumming so you'll really enjoy it if you're just starting out with the guitar. The strumming pattern is also very simple and is maintained throughout the whole song, so learn the pattern first to get it out of the way then go on to learning the chords.
For this song, If you start by learning the chords to the intro you'll find that you've already learned the whole song because the chords for the verses are exactly the same. Now, there are a couple of areas where you'll find the harmonica solos but you can just skip them. The only other variation is the outro which should also be extremely easy to learn! This is one of my favorite open D tuning songs.
12. Lovestain by Jose Gonzalez
Tabs: Here are the Tabs to Lovestain by Jose Gonzalez
Before we start, No, this song is technically not played in open D tuning. But it is similar in that the low E is tuned down a full step to D, and the G string is tuned down a half step to F#, resulting in quite a unique tuning used by José Gabriel González here, DADF#BE. José combines his Latin background with a Scandinavian approach to songwriting, which makes his sound quite unique, shifting away from the typical western ideal of folk and acoustic music. His lyrics manage to take you inwards on a poetic journey of peacefulness and healing.
'Lovestain' from his debut album "Veneer" has such an incredible pace despite only being vocals and guitar, aided by quiet handclaps. This is one great song to learn in open D tuning and quite different from the typical bluesy-type songs that make up most of this list. "Lovestain" will challenge your fingerpicking techniques but once you learn it, it should be fairly easy to play, just add some simple vocals on top and you're good to go!
13. She Talks To Angels by The Black Crowes
Tabs: Here are the Tabs to She Talks To Angels by The Black Crowes
"She Talks to Angels" is a song by the rock band The Black Crowes from their debut album "Shake Your Money Maker" and was the fourth single released from the album. The Black Crowes have sold more than 30 million albums, and are listed amongst VH1's 100 Greatest Artists of Hard Rock.
In a webisode, Chris Robinson (lead singer and founder) explained that the song's lyrics are based on a "goth girl" he got to know in Atlanta who was "into heroin" and about the club scene generally in their early days.
The song was covered many times by other artists including the band Shinedown, and Mark Morton.
When you start to learn "She Talks to Angels" you will find that the timing can be a little tricky to master, but if you take your time to learn it slowly it should not be too difficult. This is definitely a rock-ballad type of song. Don't forget to add your capo to the second fret after you tune down to open D. You will be learning some riffs, licks, and strumming patterns for this song, definitely a good one!
Popular Related Article: List of Songs in Drop D Tuning
14. Even Flow by Pearl Jam
Tabs: Here are the Tabs to Even Flow by Pearl Jam
"Even Flow" is a song by the American rock band Pearl Jam and it was released as the second single from the band's debut album, "Ten". I'm sure most of you know who Pearl Jam is, but just in case you don't, Pearl Jam is considered one of the most influential alternative rock bands of the '90s.
"Even Flow"'s lyrics were written by vocalist Eddie Vedder & the music composed by guitarist Stone Gossard. The song describes the story of a homeless man, with strong imagery of his experience. In the song, the homeless man sleeps "on a pillow made of concrete" and begs passersby for spare change. Vedder further explained later that the song was inspired by a homeless Vietnam War veteran who became his friend at the same time he was working on Pearl Jam's first album. Evidently, Vedder wrote the song after learning that the man had died while they were on tour.
On the original recording of the song, it actually doesn't sound like a perfect D major, it sounds like it is a big sharp or tunes up accidentally, or intentionally, who knows.
So for this song, the music was written by guitarist Stone Gossard, playing his parts in open D tuning and McCready complementing it with a similar strumming pattern in standard tuning. There's also a funk guitar riff that was recorded on the song by Gossard. All throughout the song, we have two separate guitar parts playing together. So when you're learning how to play this song, I'd suggest starting with the lower guitar part first followed by the higher parts, played by Mike McCready that work over it. Some parts are strumming and some are slide guitar so you can alternate between the two to play both parts as if they are phrases answering each other.
For this song specifically, I'd suggest not even trying to get your version to be spot on with the original, because even the original song has never been played live exactly like the recording after it had been released. Just try to put your own flair on it and have fun with it.
15. Shake Your Money Maker by James Elmore
Tabs: Here are the Tabs to Shake Your Money Maker by James Elmore
"Shake Your Money Maker"! Who Knows it? Our final song on the list is "Shake Your Money Maker", a song recorded and released by Elmore James in the early sixties. This song has become a blues standard, inspired by earlier blues songs, it has been interpreted, covered, and recorded by several blues and other artists over the years. "Shake Your Moneymaker" has been included on the Rock and Roll Hall of Fame's list of the "500 Songs that Shaped Rock and Roll" and the Blues Foundation inducted it into the Blues Hall of Fame as a "Classic of Blues Recording".
I'm personally a huge fan of Emore James' both guitar playing and vocals. "Shake Your Moneymaker" is an up-tempo twelve-bar blues that features a slide guitar. It's absolutely a classic, and that's why I chose this as our last song on the list. Although this song can be dated back to many other songs, James's version is the one that stuck with history.
As you will probably figure out, this isn't a beginner's song to learn. Slide guitar is not just something you learn overnight, but this song is a great way to start learning for sure. It may take some time but there's always a starting point, and once you practice it you'll find that you learn some classic shapes and styles we see being played in many slide guitar songs in open D.
You will notice that the song speeds up gradually, starting off around 170 bpm, and by the time it is finished, it's all the way up to 190 bpm. The guitar is mostly simple rhythmic phrases answering the vocals with harmonies and rhythmic parts of similar sound to a horns section if that makes sense. If you're familiar with slide guitar though, then this song should be a piece of cake to learn.
You can either play this song on your own or with a friend, but if you're playing it solo you can alternate between the two parts of the guitar, the rhythmic part and the slide fills in between, with vocals sitting on top.
So this concludes our list of songs in open D! I really hope you enjoyed this article and learned more about the specifics of alternate tunings. I hope you also managed to discover a few songs and artists here and there. Good luck!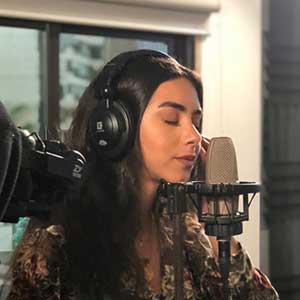 My name is Malak and I have extensive experience singing, songwriting, and vocal recording. I have been a professional singer, songwriter, recording artist, and audio editor for over years now, working on many challenging projects.
My tracks were featured on the biggest Spotify playlists like New Music Friday, Fresh Finds, and Pop Rising. My music was also reviewed on Rolling Stone, and featured on Notion, Elle, and other big magazines!