E flat standard tuning is like standard (E A D G B E) tuning, except everything's a half step down. So from the lowest string up, it's Eb Ab Db Gb Bb Eb. It's enharmonic with D sharp standard tuning (D# G# C# F# A# D#), just spelled out differently. It's typically played on lighter gauge guitar strings but sounds a little heavier than standard tuning.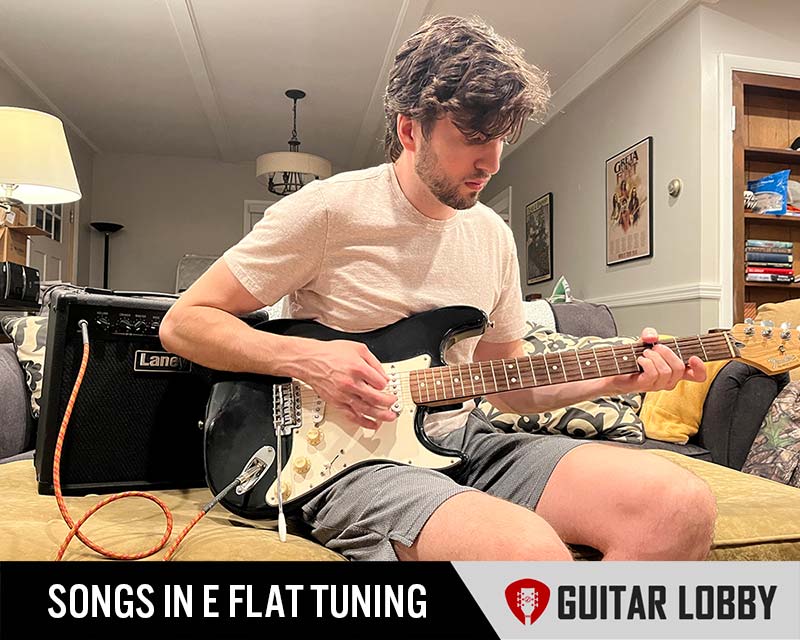 Why do people tune down to E flat? Well, E flat tuning is a pretty easy alternative to standard guitar tuning. Also, it's a good compromise between heavy and bright. You can get reasonably chunky riffs without having to sacrifice too many high tones. If you're playing a six-string (especially an older one), E flat tuning comes in handy.
There are many songs in E flat tuning across many genres, including hard rock, classic rock, metal, and beyond. Check out the tabs and lessons below to learn some on guitar. Most of these are in the key of E flat as well.
1. Sweet Child O Mine by Guns N' Roses
"Sweet Child O' Mine" is a classic rock anthem by American band Guns N' Roses, released in 1987. It's the band's only US number-one single, topping the Billboard Hot 100 chart.
The opening riff, played by Slash, is a distinctive, intricate piece that requires dexterity and precision. It's based on a pattern in the D Mixolydian scale, and it's a great exercise for both fretting and picking.
The song also features a memorable solo that showcases Slash's melodic playing and his ability to build tension. This solo is a great study in string bending, fast legato runs, and double stops. Remember, the key to mastering this song is slow, focused practice. Start by learning the main riff and the chords for the verse and chorus, then gradually work on the solo. Use the provided links as a guide and remember to enjoy the process of learning this classic rock anthem.
2. Seasons in the Abyss by Slayer
When it comes to Slayer songs, "Seasons in the Abyss" has it all. Heavy parts, softer parts (by Slayer's standards, at least), and dueling guitar solos from Kerry King and Jeff Hanneman. It's also the title track from the final album to include Dave Lombardo's drumming (until 2006's "Christ Illusion").
Released in 1990, the guitar tuning in this album is E flat standard, providing a sufficiently heavy tone. It was produced by the legendary Rick Rubin, who'd worked with Slayer on their previous two studio efforts. It was co-produced with the equally amazing Andy Wallace, who'd helped with their previous album as well.
This is one of Slayer's longer songs and has many different parts, including a brief key change during King's solo.
3. In the End by Linkin Park
"In the End" by Linkin Park, released in 2000, is a song that combines elements of rock and rap. It's important to note that the original song is played in drop C sharp tuning. But it can also be played in E flat standard tuning.
The song starts with a piano riff that can be played on the guitar. The verse features a guitar riff that consists only of natural harmonics. The chorus introduces distortion with one-finger power chords. The harmonics played in the verse also continue over the chorus, albeit with distortion.
The song's structure and chord progression are relatively straightforward. It's a good choice for guitar players looking to expand their repertoire with a popular rock song. The combination of clean and distorted guitar parts, along with harmonics, provides a great opportunity to practice different techniques.
4. I Miss You by Blink 182
"I Miss You" by Blink-182 is a hauntingly beautiful song that is a favorite among many guitarists. The song can be played with a capo on the second fret. It primarily consists of two parts: the verse and the chorus.
The verse is based on an octave shape with the middle string left open. The chorus is where things get interesting. Tom DeLonge, the guitarist, plays an octave shape starting at the 7th fret. He moves up to the 9th, then down to the 4th, up to the 6th, and back to the 7th.
However, there's an alternative way to play the chorus that might sound closer to the original recording. This version involves playing the same octave shape but moving up to the 14th fret instead of the 9th.
5. The God That Failed by Metallica
Featured on 1991's "Metallica" (also known as "The Black Album"), this is one of Metallica's first songs in E flat. The song's lyrics deal with the subjects of organized religion and mortality. They were inspired by the death of singer James Hetfield's mother, who passed away from cancer. She had been an opera singer, which probably played a big role in Hetfield's unique vocal talent and range.
The main arrangements for "The God that Failed" were co-composed by Hetfield and drummer Lars Ulrich. The original version of the guitar solo was written by guitarist Kirk Hammet. But it was revised with the help of producer Bob Rock in order for it to sound heavier. Although the official recording was in E flat tuning, recent live versions are in D.
6. Simple Man by Lynyrd Skynyrd
"Simple Man" by Lynyrd Skynyrd is essentially three simple chords (C, G, and A minor). Except they're tuned down one half step from standard, so they're technically C flat, G flat, and A flat minor. But that E flat tuning allows you to use those easy chord shapes to jam along in their key.
This is one of the most popular Lynyrd Skynyrd songs and my personal favorite. The lyrics impart simple wisdom while the emotive guitars strum at your heartstrings. "Simple Man" was released on Skynyrd's debut album, which immediately garnered them widespread popularity.
This classic rock jam will show you how to place masterful riffs over a simple and common chord progression. It's a song you can love and understand.
7. 1979 by Smashing Pumpkins
"Mellon Collie and the Infinite Sadness" is the third studio album by The Smashing Pumpkins. Although the track "1979" quickly became one of their most popular songs, it was originally almost excluded from the record. Band leader Billy Corgan had written a shorter version of it among several dozen other songs intended for the album. After it was initially rejected, Corgan expanded and refined it. It ultimately won a spot on the tracklist, as well as several awards and nominations after the record was released.
The song has a characteristically simple but melodic alt-rock guitar line on top of a steadily-paced drum groove. There's also a mysterious vocal sample looped along with the main riff, though it's unclear whether it contains actual words.
8. Jamie's Cryin' by Van Halen
"Jamie's Cryin'" was released in 1978 on Van Halen's self-titled debut album. It's rumored that the song's lyrics were inspired by the "crying" sound of the riffs. Some of us may remember one of the hook's in this song from the chart-topping "Wild Thing" by Tone Lōc. The riff was sampled at length in that late 80s hip hop classic.
What's great about playing this song is Eddie Van Halen's signature phrasing. The "crying" riffs reflect his ability to tell a story with his guitar. The colorful and syncopated chords are really fun to play. Eddie possessed a big sound that still made space for the other instruments. He had a very distinct style, which influenced generations of guitarists since Van Halen's heyday.
9. Rotten Apple by Alice in Chains
Alice in Chains released their "Jar of Flies" EP in early 1994. Almost two years had passed since their last two releases, "Sap" and "Dirt," which were both released in 1992. Like "Sap," "Jar of Flies" mostly consisted of acoustic songs and stretched AIC's sound further beyond metal and hard rock.
The first track, "Rotten Apple," opens with a picked bass hook, over which guitarist Jerry Cantrell solos at length. There's pretty heavy use of a wah-wah pedal here. Another guitar voice fades in and both fade out before the acoustic takes over. It's in 4/4 time with a really slow tempo.
As a young guitarist, I remember having difficulty playing some riffs from "Dirt" by ear. But "Jar of Flies" was relatively easy to play along with. This is one of my personal favorite songs in songs in E flat tuning.
10. Jailhouse Rock by Elvis Presley
"Jailhouse Rock" was written by songwriting duo Jerry Leiber and Mike Stoller for the 1957 film of the same name. It was performed by Elvis Presley, who also starred in the movie. The song was released on the soundtrack EP, which contained several other songs from the film.
The music was performed by Elvis' backing band, The Blue Moon Boys, with Scotty Moore on guitar. The track was a massive hit, and remained number one on the Billboard charts for seven months following its release.
Played in E flat, the song features several common tropes in rock and rhythm and blues. The main riff includes a I to IV and back to I chord progression, followed by a V-IV-I sequence.
11. Every Breath You Take by The Police
"Every Breath You Take" by The Police prominently features a staccato and arpeggiated main riff. It consists of a lot of 9th chords, with a distinct and repetitive picking pattern. The guitar line was apparently influenced by Hungarian composer Béla Bartók's violin duets. This song was very popular upon its release, going on to top Billboard charts and win two Grammy Awards.
The popular way to play this song includes some challenging chord configurations. You might find that they push your fretting hand to its limits, unless you have long and agile fingers. You'll need to stretch across some pretty wide intervals. The video tutorial linked above provides a detailed outline of how to achieve this, but it's tuned up to standard.
12. Aero Zeppelin by Nirvana
"Aero Zeppelin" was released with the 1992 Nirvana compilation, "Incesticide." The album included many different b-sides, demos, and unreleased tracks by the band. It premiered in the wake of their massively popular record, "Nevermind," and gained a lot of attention despite minimal promotion.
"Aero Zeppelin" is a very dissonant song that draws influence from hardcore punk, noise rock, and even metal. The track features Dale Crover, the drummer for fellow Seattle group The Melvins and early Nirvana member. It was produced by Jack Endino, guitarist of Skin Yard, who worked with many Seattle bands of the time.
This song displays the band's tendency toward cyclical riffs and power chord-fueled choruses. It's fun for beginners who like to play loud and occasionally fast.
13. Cavernous by Buckethead
Buckethead's music often reflects a 70s prog influence with a slight metal edge. This softer jam sounds very Pink Floyd-esque, with bluesy solos over sparse, tremolo-saturated chords. Although Buckethead is a well known shredder, he holds back for this reserved yet emotive piece.
"Cavernous" is part of Buckethead's Pike Series, a long sequence of mini-albums he's been releasing since 2011. This mini-album, "Arcade of the Deserted," contains four songs total. Clocking in at a little over eleven minutes, "Cavernous" is the longest number on the record.
Buckethead is enigmatic but highly prolific. His guitar work is some of the best out there. He was trained by Paul Gilbert when they both were very young. You can hear the Gilbert influence in Buckethead's disciplined yet imaginative playing.
14. Hollow Ground by The Haunted
As a huge At the Gates fan, I was really stoked when The Haunted first appeared on the scene. The Haunted were formed mere days after At the Gates dissolved, and the former absorbed three members of the latter. Although the music was similar to ATG, The Haunted vocalist Peter Dolving delivered a more clear and somewhat Pantera-esque tone.
On The Haunted's second album, "Made Me Do It," Dolving was replaced by new vocalist Marco Aro. His style, along with the music, tended a little more toward the old Gothenburg sound of mid-90s At the Gates. The fifth track off this album, "Hollow Ground," expanded on the band's unique, heavy-but-melodic style. The recorded version even had some clean singing, albeit saturated in effects.
15. Magnu by Hawkwind
Clocking in at nearly nine minutes in duration, "Magnu" by Hawkwind features few guitar riffs for such a long track. It's not something you'd expect in prog rock. But the riffs provide a great backdrop for the meandering vocals, as well as the violin and saxophone lead lines. Down a half step from standard tuning, the guitar parts are simple to learn.
"Magnu" appeared on the 1975 album, "Warrior on the Edge of Time." This was the last album to feature bassist Lemmy Kilmister as a member. Lemmy notably went on to found the legendary proto-metal (and slightly punk) band, Motörhead. This band was a far cry from Hawkwind's sound, although named after a song Lemmy wrote for the "Warrior" album.
16. Denial by Ozzy Osbourne
1995's "Ozzmosis" is one of the most underrated metal albums and definitely the most underappreciated Ozzy album. Along with Osbourne's otherworldly vocals and Zakk Wylde's guitar stylings, it featured Geezer Butler in his third Ozzy album appearance. Rick Wakeman from Yes even played mellotron on a couple tracks.
"Denial," the seventh track on the album, is a quasi-psychedelic and almost Sabbath-esque slow and heavy jam. It's not as well known as "Perry Mason" or the other two singles off Ozzmosis. But it's a very memorable track nonetheless. Along with Wylde's bluesy and semi-chromatic main hook, there's a really haunting synth line that plays twice in the verses. It's just one note that bends down a minor third, but it accentuates the music really well.
17. Jailbreak by Thin Lizzy
The staccato main riff to "Jailbreak" by Thin Lizzy was pretty ahead of its time. It's the title track off their sixth album, and was one of their first hit singles. Apparently, the band's lack of commercial success prior to that album almost prompted their label to drop them. But this song, along with "The Boys are Back in Town" (from the same record), launched them into international fame.
The hook from this song isn't particularly difficult to play. But it proves how far hard rock can go with just a few power chords. "Jailbreak" has been covered by Dropkick Murphys and Anthrax, among several other artists. Though Dropkick Murphys played it in the key of E, Anthrax covered it in its native E flat.
18. Dead Man's Party by Oingo Boingo
Oingo Boingo was led by singer-songwriter and famed film composer, Danny Elfman. The band actually began as a surrealist musical theater group called The Mystic Knights of the Oingo Boingo. Danny's older brother, Richard Elfman, founded the group in the early 70s. Danny took on the role of band leader some years later. By the 80s they were known simply as Oingo Boingo.
"Dead Man's Party" is famous for being featured prominently in the 1986 comedy film, "Back to School," starring Rodney Dangerfield. The song is played during a party scene in which the band performs. Danny Elfman also created the film's score. He later gained further notoriety as a film/TV composer for shows like "The Simpsons" and many Tim Burton movies.
19. Angry Again by Megadeth
"Angry Again" was written for the 1993 action-fantasy film, "Last Action Hero," and was later featured on several Megadeth compilations. The movie was a high-concept sendup of the action film genre and included a mostly hard rock soundtrack. It initially received mixed reviews from critics but gradually gained greater appreciation. "Angry Again," however, was immediately both critically praised and a commercial success, and is often included in Megadeth live shows.
The song was written around the same time as Megadeth's "Countdown to Extinction" tour. Although not part of that album, it sounds similar to the songs from it. The lyrics have the same first person narrator style as songs like "Sweating Bullets" and "Captive Honour." With E flat standard tuning, the main riffs are relatively simple to play.
20. Welcome Home by Coheed and Cambria
"Welcome Home" appeared on 2005's "Good Apollo, I'm Burning Star IV, Volume One: From Fear Through the Eyes of Madness." This was Coheed and Cambria's major label debut, their first two albums being released on indie label Equal Vision Records. "Good Apollo" continues in the prog rock style of the band's earlier work. But songs like "Welcome Home" add a new level of heaviness to their sound.
Neo-progressive rock has been around since the 80s. But rarely has it blended so seamlessly with both metal and pop music as in Coheed and Cambria's output. With their catchy hooks and elaborate lyrical narratives, the band simultaneously evokes older acts like Thin Lizzy and Pink Floyd. Over the years, they've endeared a new kind of prog to a younger generation of rock fans.
21. Ace of Spades by Motörhead
Although not Lemmy's favorite Motörhead track, "Ace of Spades" is probably the song the band is most known for. Released in 1980 as the title track of their fourth studio album, "Ace of Spades" helped broaden the band's audience. That album featured the classic lineup of vocalist/bassist Lemmy, guitarist "Fast" Eddie Clarke, and drummer Phil "Philthy Animal" Taylor.
With fast riffs, overdriven bass, and a punk-style drum beat, this song is widely credited as early thrash metal. Lemmy apparently didn't identify his band as a metal band, instead considering them just pure rock and roll. Nevertheless, their blend of punk and hard rock influenced innumerable metal bands. Fast Eddie's riffs in this song are speedy yet bluesy, and Lemmy's raspy vocals undoubtedly inspired countless metal vocalists.
22. Hammer Smashed Face by Cannibal Corpse
Nobody expected a band like Cannibal Corpse to ever appear in a comedy movie like "Ace Ventura: Pet Detective." But lead actor Jim Carrey was apparently such a fan of them that he insisted they make a cameo. They originally had to decline the offer due to a conflicting tour schedule. But the film's production calendar was rearranged just to accommodate them, and they were flown down to Miami for filming.
Their scene features them playing "Hammer Smashed Face" in a shabby venue. Ace Ventura awkwardly makes his way through the mosh pit in search of his friend, Greg Woodstock. Although the film shows the first part of the song, it sadly skips over Alex Webster's legendary intro bass solo. But it does briefly play the song's main guitar hook.
23. Boys of Summer by Don Henley
The music for the 80s hit song, "The Boys of Summer," was originally written by guitarist Mike Campbell. He was playing guitar for Tom Petty and the Heartbreakers at the time, and pitched the song to Petty. After considering it for their upcoming album, "Southern Accents," they ultimately decided against using it. Producer Jimmy Iovine suggested Campbell instead show it to former Eagles drummer Don Henley.
Henley added lyrics to the song and changed its key. The subsequent studio release is in the key of G flat, with verses in the relative E flat minor. The song was the first track on Henley's "Building the Perfect Beast" album, and became a chart-topping hit. The pop punk band The Ataris released a cover of it in 2003, which also became a hit single.
24. Cats in the Cradle by Ugly Kid Joe
Ugly Kid Joe covered "Cat's in the Cradle" by Harry Chapin for their debut full-length 1992 album, "America's Least Wanted." They'd already had success with their well-received EP from the previous year, "As Ugly as They Wanna Be." But "Cats in the Cradle" (their rendition, minus the apostrophe) introduced their audience to the band's more serious side. Unlike their previous output, which incorporated heavy doses of humor, this cover was much more earnest and nostalgic.
This version is played a full step down from the original, which was in the key of F. Also, while much of Ugly Kid Joe's version employs acoustic guitars, they transition to electric during the song's climax. Chapin's version, however, was a purely acoustic folk song.
25. Land of Confusion by Genesis
80s kids might remember the nightmare-inducing video for this song unless they've successfully repressed that memory. It featured elaborate puppets based on Genesis band members, designed by the makers of the UK comedy show "Spitting Image." Along with Genesis, it also portrayed numerous political and pop culture figures of the era, including Ronald and Nancy Reagan. It almost won an MTV "Video of the Year" award but actually lost to former Genesis member Peter Gabriel's "Sledgehammer."
Video aside, the song had memorable hooks in the chorus and verses, as well as interesting key changes. But it was mostly in the key of E flat, with a dynamic vocal performance from singer/drummer Phil Collins. The guitar chords and riffs are very easy to learn.
26. Moth by Failure
The second track off Failure's second album, "Magnified," "Moth" is chock full of colorful chords, dissonance, and chromaticism. After their dissatisfaction with the mixing on their debut LP, "Comfort," Failure chose to produce "Magnified" themselves. This resulted in a more refined sound. Although they didn't achieve mainstream success with this album, they started to gain more underground recognition. The title track was even covered by Massachusetts metalcore legends Cave In.
"Moth" displays the band's knack for imaginative chord progressions, which seemed to escape the 90s music press. It's a slow to mid-paced number with tom-heavy verses and a sludgy chorus. The band was underappreciated when they started out, only gradually gaining the praise they deserved after they disbanded in 1997.
27. Higher Ground by Stevie Wonder
Stevie Wonder performed all the instrumentation on "Higher Ground" (from 1973's "Innervisions"). This included a clavinet with wah-wah effects and apparently a bass line from a Moog. Wonder also provided all percussion. In any case, it doesn't include guitar, but it's a fun song to play along with in E flat tuning.
The song was famously covered by The Red Hot Chili Peppers on their "Mother's Milk" album, played in E standard. John Frusciante imitates the clavinet line effectively. However, the verse guitar line is heavily distorted and palm-muted, giving it an almost metal feel. It was a significant departure from Wonder's original recording. This may have been due to the album's producer wanting a heavier sound, which clashed with the band's vision. If you're looking for songs in Eb tuning, this is one I highly recommend trying to learn.
28. Schwerter Zu Pflugscharen by Sodom
I don't speak German, however computers are handy for translation sometimes. The lyrics to "Schwerter Zu Pflugscharen" ("Swords to Ploughshares") seem to evoke a contrasting image of vengeance and peace. Sodom's lyrics are usually in English, but they're also occasionally in their native German. Innovators of black metal and then later thrash metal, this song sounds more like the former.
This track is from 1997's "Til Death Do Us Unite," an album that runs the gamut of crossover metal. The arpeggiated intro and chorus provide a somber atmosphere for the chanting lyrics. The meaning of the title likely relates to the biblical notion of transitioning from war to peace. In similar fashion, the music sways from dissonance to consonance, coinciding with the lyrical contrast.
29. The Freed Pig by Sebadoh
The opening track off 90s lofi indie classic, "Sebadoh III," "The Freed Pig" is a catchy and uptempo jam. In E flat tuning, Sebadoh employs the lydian mode to render moody riffs and chord changes. Lou Barlow's deep and melodic singing dances with the progression, with lyrics that are both personal and universal.
The Breeders' "Freed Pig" cover kicks things up a notch in tempo, but brings the key down to A. They recorded that for their 1994 EP, "Head to Toe," with none other than J. Mascis at the mixing board. 90s indie rock stripped rock music down to some of its most basic elements. In the wake of 80s guitar-centric glam, indie refocused rock music on riffs and storytelling.
30. Into Eternity by Desultory
The title track of their first full-length LP, "Into Eternity" is a fitting opener for Desultory's fast and melodic debut. Many liken this LP to their second, 1994's "Bitterness," but the two are actually pretty distinct. While "Bitterness" maintains the Swedish death metal identity of the first album, it foreshadows the band's steadier, rock-oriented 1996 followup.
Unlike "Bitterness" and 1996's "Swallow the Snake," "Into Eternity" kept things primarily fast-paced and brutal. When they reunited in the 2000s, this was the style they returned to (even adding blast beats to the mix). In the once-hyped world of melodic death metal, Desultory still doesn't seem to get the credit they deserve. Although originally based in Stockholm, they helped develop what would come to be known worldwide as the Gothenburg sound.
31. Dai the Flu by Deftones
Stephen Carpenter, the guitarist for Deftones, plays a lot of different guitars. These days, they mostly consist of at least 7 strings. "Dai the Flu" (from 1997's "Around the Fur") is played in D sharp tuning (enharmonic with E flat tuning). In the playthrough linked above, he doubles up on the high D sharp.
This is one of Deftones' slower jams, with some heavy effects at times. The riffs are easy to discern, even with some dramatic chord progressions and fast picking. It was covered by the Vitamin String Quartet on their Deftones tribute. This cover really nailed the legato vocal lines. The Deftones version is great for guitarists to play along to but so is the Vitamin String Quartet cover.
32. Feast of Burden by Dark Tranquility
Dark Tranquillity were among the initiators of the melodic death metal style, which has since been abbreviated to "melodeath." They differed from Gothenburg peers like At the Gates and In Flames in their dynamic sound and vocal arrangements. Sometime around the late 90s, they started incorporating keyboards into their repertoire. This was and is common in Scandinavian metal, but they did it a lot for Gothenburg melodeath.
"Feast of Burden" (off 2000's "Haven") features some of the band's heaviest synth work. But it also has a prominent mid-tempo guitar line in E flat tuning. Melodeath was initially some kind of convergence between death metal, black metal, and the new wave of British heavy metal. But Dark Tranquility helped further its horizons.
33. Karma by Kamelot
Kamelot was founded in Tampa, Florida by guitarist Thomas Youngblood. The other bandmates come from several countries, including the US and all over Europe. The band's lineup has evolved dramatically over the years, with Youngblood currently being the only remaining original member. The 2001 album "Karma" showcases Norwegian powerhouse Roy Khan, an exceptional prog metal vocalist who sang for Kamelot until 2011.
"Karma"'s title track highlights the band's signature sound and lyrical themes well. The synchronization of Youngblood's riffs with drummer Casey Grillo's rapid fire double bass was vital to this and later albums. At times, "Karma" sounds almost like a power metal Fear Factory. The lyrics to this banger seem straightforward, but I think they could be a subtle allusion to JFK.
34. Paradise City by Guns N' Roses
"Appetite for Destruction" is the 1987 debut studio release of Los Angeles-based hard rock outfit, Guns N' Roses. There was an EP already in the works prior to this album, but it never surfaced. This was likely due to lineup changes, which included the addition of new guitarist, Slash. Their name was inspired by the band consisting of former members of the groups LA Guns and Hollywood Rose.
"Paradise City" is played in E flat standard tuning and includes three chord shapes: G, C, and F. Those chord shapes are particularly easy for beginners, as they're nearly identical (but with different bass notes). They're also similarly situated low on the neck, near the nut. Other than that, there are a lot of lead lines and power chords in the song.
35. Manannan by Absu
Absu were a Texas-based black metal band known for their use of esoteric and mythological themes in their music. Their 2001 album, "Tara," includes additional vocals from Ashmedi (of Melechesh) and King Diamond. The blasting fourth track, "Manannan," divides vocal duties between guitarist Shaftiel and drummer Proscriptor McGovern.
"Manannan" is a really fast number with a long and droning intro. The music is somewhat Marduk-esque, with its chaotic speed and apocalyptic sound. There's a tempo change near the end, which only marginally alters the pace. Played in E flat tuning, this is a great song to play along with and practice your speed picking.
Absu sadly broke up in 2020. But Proscriptor announced a new version of the band shortly thereafter called Proscriptor McGovern's Apsû.
36. They are the Children of the Underworld by Deicide
The main verse riff for "They are the Children of the Underworld" by Deicide is in 3/4 timing. It's a simple meter rather than triple, so each quarter note is subdivided into halves instead of thirds. This gives it an abbreviated sound and sort of an odd feel, which was common in 90s death metal. This music gained a lot of popularity by this time, and bands really started stepping up their game technically.
Deicide has a lot of really low riffs with high and squealing guitar solos. That might be why they chose to play songs like this in E flat tuning. This way, you can get heavy and high notes with the same setup. This album (1995's "Once Upon the Cross") featured brothers Eric and Brian Hoffman on guitars.
37. Politicalamity by Extreme
By the early nineties, the small subgenre of funk metal seemed in decline. Most high profile bands associated with the moniker moved on to other styles. And others just broke up. Despite some really popular bands being credited with developing the style, it's a little-recognized subset of metal. In a lot of ways, it had a substantial influence on what would come to be known as nu metal.
Extreme is a funk metal band that somehow kept the style alive into the nineties. Guitarist Nuno Bettencourt's funk-inspired playing is on full display with "Politicalamity," off 1992's "III Sides to Every Story." Although this album didn't sell nearly as well as their previous one, it's considered by many to be their best.
38. Stratosphere by Stratovarius
"Episode" is the fifth studio album from the influential Finnish power metal band Stratovarius. It features two instrumental pieces: the title track and "Stratosphere." While the former is a slow, synth-heavy jam, it has a bendy and emotive lead guitar line. "Stratosphere," on the other hand, has speed metal drumming and some of the fastest guitar shredding you'll ever hear.
The piece slows its pace about halfway through, transitioning into a slow tempo for about a couple minutes. But it picks up again at the end, with one of the most dramatic finales in power metal. If you're an advanced guitarist, Stratovarius is a great band to try and play along with. The speed is challenging but the musical arrangements are superb.
39. Maze of Torment by Morbid Angel
"Altars of Madness" is the debut studio album from influential Tampa-based death metal band Morbid Angel. The group had already been active for years but went through several changes before maintaining a steady lineup. Founder Trey Azagthoth was always the heart of the band. His riffs helped set the standard for death metal guitar.
"Maze of Torment," the fourth track off "Altars of Madness," showcases Azagthoth's uniquely fast and dissonant sound. Prior to this album, death metal guitar was much simpler. This album's drumming was exceptionally rapid, with drummer Pete Sandoval incorporating blast beats that were fast even for death metal. Sandoval previously played in Terrorizer, a seminal grindcore band from California. David Vincent's vocals were also slightly more guttural than other death metal vocals at the time.
40. Sole Survivor by Helloween
German band Helloween has proudly carried the power metal torch since the mid-80s. With speed metal roots, the band helped define the power metal sound. 1994's "Master of the Rings" introduced new lead vocalist Andi Deris and drummer Uli Kusch. Kusch had been the drummer of Gamma Ray, which featured ex-Helloween guitarist Kai Hansen.
"Sole Survivor" is a very melodic and mostly mid-paced song with some hard guitar parts along with some easy ones. The drums are fast at times, with impressive double bass technique. Although Uli Kusch performed drums on this record, the music was already mostly written once he was recruited. He went on to play for Halloween, as well as help with songwriting, until the year 2000.
41. Black Lodge by Anthrax
"The Sound of White Noise" is the first Anthrax album to feature John Bush (of Armored Saint) on vocals. This marked the beginning of a new sound for the band, which employed more groove metal elements and less thrash. They later would gradually return to their thrash roots, but John Bush's tenure had a distinct musical quality.
"The Black Lodge" is a perfect example of Anthrax's venture into new musical territory. The band has always been outspoken about their love of movies and comics. This song is a tribute to the Twin Peaks series, of which Anthrax members were big fans. In fact, Twin Peaks score composer Angelo Badalamenti even helped with its arrangements and additional instrumentation. It's slow for an Anthrax song, but still a fan favorite.
42. Broken Jesus by Loudness
Loudness are known for being one of the first Japanese metal bands and certainly the most successful early on. They were co-founded in 1981 by guitarist Akira Takasaki, who remains the sole consistent member of the group. Like many 80s heavy metal acts who lasted into the 90s, Loudness experimented with a more hard rock sound. 1994's "Heavy Metal Hippies" seemed to incorporate a heavy dose of Seattle grunge influence.
"Broken Jesus" has an especially stoner rock vibe. It contains a lot of bluesy riffs and like much of the album, reflects strong Black Sabbath influences. It's a markedly different style from their previous work, but not too far from their traditional heavy metal roots. The band has since changed lineups several times but currently remains active.
43. Born for Burning by Bathory
Bathory was a Swedish band known for pioneering black metal music. While the style had been developed by several bands worldwide in the 80s, Bathory made lasting contributions to it. They, along with Switzerland's Hellhammer, had a dark and dissonant sound with harsh vocals that would prove ultimately genre-defining.
The band featured a revolving lineup, with their vocalist and guitarist Quorthon acting as its sole songwriter and consistent member. Quorthon continued releasing music until his death in 2004, eventually performing all instrumentation himself on Bathory records.
"Born for Burning" is the third song off Bathory's second album, 1985's "The Return." The guitar riffs are clearly influenced by Venom, who'd previously coined the term "black metal." Interestingly, Bathory's previous drummer Jonas Åkerlund directed the 2018 biographical film "Lords of Chaos," about the early-90s black metal scene.
44. Distrust by Katatonia
"Distrust" is the final track off Katatonia's third studio album, "Discouraged Ones." This record was a significant departure from their first two, which had many death metal characteristics. "Discouraged Ones" employed a somewhat less abrasive sound, with clean and melodic vocals.
Katatonia are sometimes categorized as gothic metal, but I think of them as mostly doom metal with prog influences. The subject matter of their lyrics is notably grim. This is common in metal but Katatonia adds a personal touch.
Since its inception, the band's two founders, Jonas Renkse and Anders Nyström, have remained its core members. Their sound has evolved greatly over the years, tending more toward progressive rock with metal elements. While the early stuff is formative doom metal, the newer stuff remains dark and slow but with more complex arrangements.
45. Lord of Hate by Death Angel
Seattle had grunge, Tampa had death metal, Sweden had melodeath, and the San Francisco Bay Area had thrash metal. Death Angel was one of many Bay Area thrash bands that helped pioneer thrash metal throughout the 80s and beyond. This distinct style had a significant impact on metal generally. In addition to influencing big sub-genres like death metal and grindcore, some thrash bands achieved unprecedented commercial success. When I was growing up, thrash metal was basically synonymous with heavy metal.
"Lord of Hate" is a track off Death Angel's 2008 record, "Killing Season." It's mid-paced for a thrash tune. You can hear the influence of NWOBHM bands in this song. This gives it an old school sound with modern production.
46. No Sleep Till Brooklyn by Beastie Boys
Prior to transforming into a hip hop act, Beastie Boys were a New York hardcore band. Although this incarnation of the group never released any studio albums (except on later compilations), it had a long-reaching influence. One of the earliest known recorded blast beats was on their 1982 EP, "Polly Wog Stew." Although not a metal record, this brand of hardcore punk helped set the pace for grindcore and extreme metal music.
"No Sleep Till Brooklyn" was simultaneously influenced by and poking fun at metal culture. The track's title alludes to "No Sleep 'til Hammersmith," a live album by Motörhead. Slayer's Kerry King contributed guitar for this song (and appeared in its video), as well as "Fight for Your Right."
47. House Burning Down by Jimi Hendrix
"House Burning Down" appears on "Electric Ladyland," the final album by the Jimi Hendrix Experience. It features sparse but frantic guitar work from Hendrix while narrating the verses. The chorus riff, driven by a motown beat, moves the song through an apocalyptic refrain and Jimi's soloing.
"House Burning Down" is definitely not the most well-known track off "Electric Ladyland." But it's a great example of Jimi Hendrix's free spirited style and technique. Part of his signature sound had to do with his being left-handed. His favorite guitar was a Fender Stratocaster. And since right-handed strats were much easier to find than lefties back then, Hendrix would play a right-handed model upside-down. This essentially reversed the pick-up of his strings, giving him a unique tone.
48. Soldiers Under Command by Stryper
"Soldiers Under Command" is the first and title track from first full-length studio album by Chrisian metal band, Stryper. This album was very popular in the mid-80s, when it was released. The record achieved Gold certification, and a music video for this track was released.
Stryper are known as a pioneering Christian metal band, with their unapologetically biblical lyrics and promotion. But their influence has emanated throughout metal, as they had broad enough appeal to share stages with non-Christian bands. While their popularity was unprecedented, they paved the way for other Christian metal groups. Bands like Mortification, Extol, and Believer would expand Christianity into new metal territory. In a sense, metal has always been about defiance, and Stryper certainly defied the odds.
49. Tears of a Mandrake by Edguy
Edguy was started by high school friends and have maintained a pretty consistent lineup over their 3-decade plus career. They're among the most unique power metal bands to emerge in the 90s. The frequent use of light-hearted humor in their songs was pretty new to the genre when they started releasing music. But "Tears of a Mandrake" gives a glimpse into their more serious side. There's still a few tongue-in-cheek lyrics, but it's mostly like a classic metal anthem.
Lyrics and tone aside, the music is top notch, especially the vocals and guitar. Edguy makes music that's dramatic and very well arranged. "Tears of a Mandrake" isn't as fast as a lot of their other work. It's mid-tempo, but the kind that metalheads pump their fists to.
50. Amen by Sepultura
Prior to 1993's "Chaos A.D." Sepultura played a cross between thrash and death metal. But this album marked their departure into a more groove metal direction. To call it simply "groove metal" isn't really fair, because Sepultura really created a sound of their own. Their blend of new and traditional elements with metal made albums like "Chaos A.D." a totally unique musical experience.
Sepultura guitarist Andreas Kisser is an extremely talented guitarist. But starting with this album he began playing more minimalistic riffs, focusing on groove (like Page Hamilton or Dimebag Darrell). Kisser and drummer Igor Cavalera are in top form in "Amen." The song's crushing riffs, disorienting polyrhythms, and tortured vocals helped set the tone for a new era of metal.
51. Heavy Metal Maniac by Exciter
Speed metal was a precursor to thrash metal, which in turn spawned a whole new world of sub-genres. What separated speed metal from traditional heavy metal was obvious (it was faster). Now, it's defined as a specific style of heavy metal that developed in the late 70s to mid-80s. One of its biggest contributions to modern metal is the ample use of double kick drumming. Bands like Deep Purple and Motörhead significantly influenced early speed metal.
"Heavy Metal Maniac" is the debut album from speed metal band Exciter. Released in 1983, the band had already been around for a while. But it took them a few years to produce a record. The title track is a good example of early speed metal.
52. Over De Syngende Øde Moer by Isengard
"Høstmørke" is the second full length album by Isengard, the solo project of Fenriz from Darkthrone. Isengard is often referred to as a black metal band. But their music and vocals are a lot more like Bathory's brand of viking metal.
"Over De Syngende Øde Moer" roughly translates to "Over the Singing Wastelands" and is the fifth track from "Høstmørke." It features all clean vocals, and even with the probably deliberate underproduction, Fenriz proves to be a competent melodic singer.
Like a lot of second wave black metal, Isengard is heavily inspired by the work of J.R.R Tolkien. He's known for writing epic fantasy like "The Lord of the Rings," whose imagery is often reflected in black metal. When people ask me for beginner electric guitar songs to practice, this is one that I often recommend.
53. Further Down the Nest II by Mgła
Polish band Mgła have been molding black metal in their own image for over 20 years. They've taken traditional black metal elements and given them new life. Eschewing keyboards and synthesized sound, the band creates a dark and distinct atmosphere through emotive riffs and grim vocals.
The drummer for this band since 2006, Darkside, also contributes greatly to the band's unique sound. He's an extremely technical drummer, which is evident in their more recent work's production. You can hear it on "Further Down the Nest," the band's 2007 EP, but with more primitive production quality.
Mgła's songs are named in association with their record release. They're referenced by number, so "Further Down the Nest II" is the second track on that record.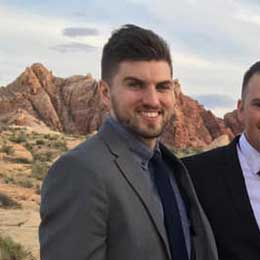 My name is Chris and I've had a passion for music and guitars for as long as I can remember. I started this website with some of my friends who are musicians, music teachers, gear heads, and music enthusiasts so we could provide high-quality guitar and music-related content.
I've been playing guitar since I was 13 years old and am an avid collector. Amps, pedals, guitars, bass, drums, microphones, studio, and recording gear, I love it all.
I was born and raised in Western Pennsylvania. My background is in Electrical Engineering, earning a Bachelor's degree from Youngstown State University. With my engineering experience, I've developed as a designer of guitar amplifiers and effects. A true passion of mine, I've designed, built, and repaired a wide range of guitar amps and electronics. Here at the Guitar Lobby, our aim is to share our passion for Music and gear with the rest of the music community.