A metal superstar who carved his way by laying some of the most solid rhythmic backbones in modern music. Jim Root became a legendary character in the metal scene, known for his powerful, punchy guitar on stage. In addition to being a fantastic rhythm guitarist, Jim is also a principal songwriter for the Grammy-winning band, Slipknot.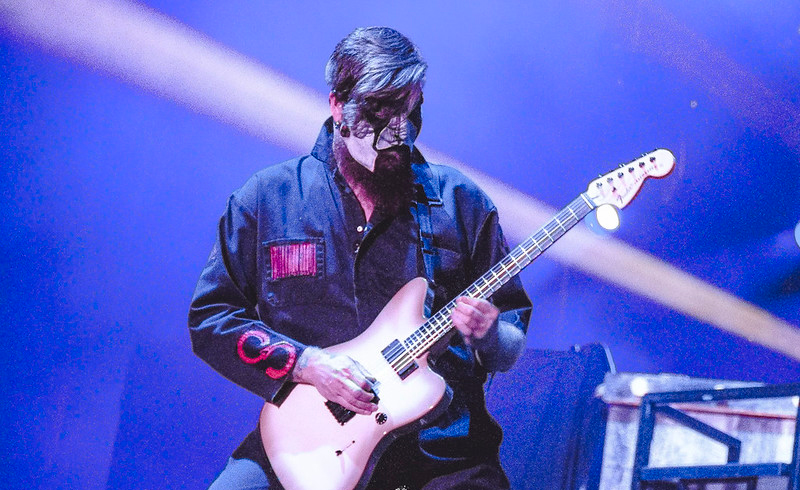 Jim is an entirely self-taught guitarist, and he has just recently begun experimenting with different fretboard shapes and scales. He's also claimed that he has 'OCD', and if he dwells too much on theory, it will disrupt his organic process of composing material for new Slipknot songs. In a more technical aspect a minimalistic design, classic vintage vibes, and a juicy pair of humbuckers that deliver a delicious tone are the three fundamental characteristics that define all of Jim's guitars.
However, Jim wasn't wealthy enough to choose his guitars in his early musical career, so he had to do with what he had. Before signing with Fender, Root used a variety of brands that nowadays have been somehow astray from his time in the limelight. Nevertheless, this is a player whose feeling and simplistic approach have made him shine as one of Metal's greatest of all time.
What Guitar Does Jim Root Play?
Jim Root primarily plays his signature Fender Telecaster guitars. Although, his signature line also consists of Jazzmaster and Stratocaster models as well. Most of his guitars are set up with 2 humbucker pickups and a string through or hardtail bridge.
See the full list of Jim Root guitars and gear below.
Fender Jim Root Signature Telecaster

| | |
| --- | --- |
| Finish | Flat Black/Flat White |
| Years Used | 2009 to Present |
Root's first production signature guitar, the Fender Jim Root Signature Telecaster was released in 2009, and ever since then, its become his rig mainstay hell or high water. Jim has always been a big Telecaster and Stratocaster enthusiast. He's always been drawn to the vintage retro vibe that they evoke.
It's no surprise that a vintage Telecaster inspired this first signature model. However, it needed to have just the right amount of contemporary vibe to fit his playing style. As a result, he partnered with Fender on a massive-sounding trademarked Telecaster guitar that perfectly suits his heavy music style.
The Jim Root Telecaster has a mahogany body, a 12-inch buttery maple neck, and an ebony fretboard. Most of Jim's signature and custom guitar models have jumbo frets. This unique six-string houses a pair of EMG active humbucking pickups that make some incredibly heavy and crushing metal tones. Jim describes it as a beautiful combination of classic and modern.
The coolness of this signature Tele, however, does not end there. The flat white satin nitro-lacquer appears simplistic, but it is precisely the minimalistic approach what Jim finds beautiful on guitars.
On-stage, there was one occasion when Jim threw his guitar at the drummer because he was upset with him for some reason. Jim thought the instrument had met a gory end when it dropped on its head. He was surprised when his technician told him the next day that the instrument was still in good condition and that the only damage was but a small knick on the headstock.
Since its introduction, the Jim Root Telecaster has appeared on every record and tour, demonstrating Jim's devotion to the instrument. Because he played it so extensively, the guitar has a lot of wear and tear. In one of the interviews, Jim even stated that he hopes Fender would offer to produce a replica of this model.
Fender Jim Root Jazzmaster V4

| | |
| --- | --- |
| Finish | White Satin |
| Years Used | 2020 to Present |
Back at NAMM in the winter of 2020, Fender debuted the Jim Root Jazzmaster V4. In one of the interviews, Jim said that the "Jazzmaster V4 is kind of like an evolution". This guitar model, according to Jim, is better balanced and feels great to play on stage. Jim even mentioned that it's the only guitar he likes to play right now.
The new EMG Jim Root Signature Daemonum open-coil active humbuckers, a single-knob volume control, and a three-way switch are among the new features on this V4 model. It now sports a white neck binding with white Pearloid block inlays to reflect in low light.
Aside from that, the design is fundamental, and there's no tremolo, rhythm circuit, or tone control. It has a 12-inch radius ebony fingerboard with 22 jumbo frets and a mahogany slab body for crushing lows and mids. A magnificent Polar White satin finish covers this gorgeous guitar, giving it a striking new design that makes this total mayhem-delivery machine stand out.
It's all in the mentality, according to Jim, when it comes to taking a guitar and making it your own. A vibe, an emotion, or thought can generate a lot of character, and the vibe Jim gets from his signature Jazzmaster V4J is what drew him to the instrument in the first place.
Fender Jim Root Stratocaster

| | |
| --- | --- |
| Finish | Black |
| Years Used | 2012 to Present |
Jim's Strat takes things to a whole new level. Initially, he was inspired to pick up this Fender staple out of his admiration of Stratocaster legends such as Ritchie Blackmore and David Gilmour. So the reason for this signature model is pretty much evident.
Jim wished to create a revolutionary Strat that would completely alter the perspective on the model. In terms of functionality, he also wanted it to be similar to his signature telecaster. As a result, Jim worked with Fender to develop a massive-sounding signature Strat that complements his heavy playing style, and it's a beast through and through.
The neck and bridge pickups on the Jim Root signature Stratocaster are EMG 60 and EMG 81, respectively. Active humbucking pickups like these are rarely ever seen on Fender Stratocasters.
The EMG 60/81 pickups are active humbucking that, unlike standard Stratocaster single-coils, produce a powerful thick sound that can set the stage on fire. Jim has always been a fan of minimalistic designs, so the electronics are limited to a single volume knob, a pick-up switch, and nothing else.
This Signature Jim Root Stratocaster features a mahogany body, Jim's only choice for his signature models, and a hardtail string-thru bridge. This beauty's compound radius (12″-16″) ebony neck is exceptionally comfortable, and the gorgeous flat black finish gives it a metal-worthy appearance.
Another intriguing story about this guitar is that Jim was in England for a show and was running low on guitars. So he went to a shop, saw this guitar on the wall, and immediately bought it. He felt he had accomplished his goal with his Signature model at the time.
Fender Custom Flathead Telecaster

| | |
| --- | --- |
| Finish | Matte Black |
| Years Used | 2005 to 2007 |
The Flathead Telecaster with a matte black finish and no inlays, except the crossed piston inlays on the 12th fret, is probably the most famous guitar in Jim's career. One can say that this guitar is what defined Jim's entire music style. Jim knew that he wanted his signature guitar to be like this.
This guitar has appeared on the covers of a lot of different magazines and almost every tour. After playing this Flathead Telecaster, Jim became a proper Tele-man. Jim became so attached to the vibe of this guitar that he started using this guitar on almost everything until he got his signature guitar that is his own Jim Root signature telecaster, in 2007.
This flathead houses a pair of EMG humbuckers along with a single volume Knob and a 3-way pickup selector. Almost all of Jim's signature guitar models later adapted this minimalistic one knob electronic configuration in almost all of Jim's signature guitar models.
It has an alder body, with a V-shaped maple neck and a laminated ebony fingerboard. These features can be seen in Jim's Signature telecaster model too. Some even say that this Flathead Telecaster guitar made Jim into who he is now. This is easily one of the most iconic Jim Root guitars of all time.
Fender Billy Corgan Signature Stratocaster

| | |
| --- | --- |
| Finish | Olympic White |
| Years Used | 2008 to Present |
During the recording of the 'Sulfur' music video, he played this Fender Billy Corgan Stratocaster before Fender made his signature Strat. He intended to use his custom model, but it wasn't available yet. By modifying the pickguard and a few other things, Fender made the Billy Corgan Strat look like Jim's.
The Fender Billy Corgan Stratocaster is one of modern rock's most unique sounding guitars. It featured two humbuckers in the song 'Sulphur' video, but now it has EMGs in the typical Stratocaster positions. When Fender gave Jim the guitar, they crossed out Billy Corgan's signature on the headstock and replaced it with Jim Root's. He thinks it's a rather lovely guitar that also sounds excellent.
The body of this Stratocaster is made of alder, which is known for its outstanding all-around tonal response with a unique sweet spot in the low-midrange that suits Jim's playing style. It has a satin nitrocellulose finish and is a string-through-body guitar with a hardtail bridge.
The maple headstock has been made like on 1970s-style headstocks for a bit of classic Strat flavor, which Jim loves. Fender wisely provided Jim with this Strat to play while his signature was under production.
Fender Jim Root Jazzmaster

| | |
| --- | --- |
| Finish | Black |
| Years Used | 2014 to Present |
Jim has always been faithful to his Stratocasters and Teles, but he says he doesn't mind adding a little spice to his life now and then. So Jim was pleasantly pleased when Alex Perez from Fender brought him a white Jazzmaster with a flamed maple top out of the blue.
This new Jazzmaster had most of his preferred specifications on board, which drew Jim's attention right away. Jim's guitars were spread out in several areas at the time due to his work with two bands (Stone Sour and Slipknot). As a result, despite his enthusiasm for the new Jazzmaster, he could not put it to much use.
Finally, Jim did not have enough guitars with him on one day to perform all of the tunings. As a result, he brought the Jazzmaster to the rehearsal. According to Jim, the guitar felt so good in his hands that he used it for the whole practice, and before he knew it, it had become his favorite instrument.
Soon after, he phoned Fender and informed them how great the new Jazzmaster is, and they helped him design his custom model. Hence the Fender Jim Root Signature Jazzmaster was the final result.
Jim's new signature Jazzmaster is almost entirely devoid of the standard Jazzmaster's characteristics. It eliminated the dual-tone circuits and a slew of other controls. The fret position marks and the massive chrome bridge have also been removed.
A pair of beastly EMG humbucking pickups with brushed nickel covers have now replaced the standard pickups. This signature Jazzmaster now flaunts a stunning black finish. Jim's favored simplistic design, consisting of a single pickup-selector and a single volume knob, has also replaced the standard Jazzmaster electronics.
Jackson Warrior

| | |
| --- | --- |
| Finish | Black |
| Years Used | 1999 to 2002 |
Jim primarily used this Jackson Warrior during his 'IOWA' World Tour. This guitar features pure-bred Jackson DNA neck-through-body construction as well as a pair of hot and punchy humbucking pickups that are similar to Jim's current pickups. This guitar served Jim well in his early years, and we can say that it is among those things that taught him what he wanted in a guitar.
This guitar has a great tone and ultrafast playability, as well as the much-needed comfort, making it deserving of a place in Jim's arsenal. This guitar has that metal "X" factor, and it was one of the best guitars on the market at the time.
The basswood body of the Jackson Warrior guitar model is combined with a through-body maple neck to help produce a better tone. It has an EMG 85 active in the neck position and an 81 active in the bridge position.
They create a well-balanced tone with tight bass, crystal mids, and crunching highs, which are the precise characteristics that Jim looks for in his style. Floyd Rose Special double-locking two-point tremolo, 24 jumbo frets, and three-way pickup switching are among the other features.
Even after these years, some features like humbuckers and compound-radius fingerboards have remained consistent in all of Jim's signature and custom guitar models. This Jackson Warrior sports a stunning black finish with Jackson shark-fin inlays.
Fender Custom Flathead Showmaster

| | |
| --- | --- |
| Finish | Black |
| Years Used | 2005 to 2007 |
Before Jim became one of Fender's signature artists, they began producing the Flathead Showmaster. This guitar results from Fender's first attempts to create a heavy-sounding Stratocaster explicitly designed for metal music. The Flathead model was also inspired by the Charvel Superstrat, one of Jim's earliest models and latest additions to his catalog.
It's no surprise that this guitar was one of the first two customs that Fender gave Jim to try out so he could figure out what specs he wanted in his Signature issue.
This guitar has an alder body with a V-shaped bolt-on maple neck. The fretboard is ebony with only one inlay on the 12th fret, giving it a clean appearance, which Jim has always preferred. The single inlay on the 12th fret, a set of crossed pistons, is another distinctive feature that gives the guitar a unique vibe.
The pickups are a set of active EMG pickups with a lot of power. The neck position is a 60, and the bridge position is an 81. It has a single volume knob and a three-way toggle selector, which fits the minimalistic approach that Jim has maintained over all his signature guitars released to date.
It's fair to note that this particular model became the basic blueprint for Jim's signature Strats.
Charvel Pro-Mod San Dimas Style 1 HH FR E

| | |
| --- | --- |
| Finish | Gloss Black |
| Years Used | 2019 to Unspecified |
The body of this Charvel guitar model is made of alder, and the neck is bolt-on maple with a pair of graphite reinforcement rods that can withstand the harshest of environments.
The speed neck shape is designed explicitly for lightning-fast riffs, allowing entirely unrestricted position alterations. The 12″-16″ compound radius ebony fingerboard features 22 jumbo frets, which are some of the usual features seen on Jim's guitars, probably because of the comfort they provide.
This Charvel guitar is loaded with a pair of Seymour Duncan pickups that offer a delicious tone with many variations. The volume control knob on this beast hides a push/pull coil split switch that offers even more tonal changes.
It comes with a Floyd Rose 1000 Series double-locking tremolo too. Although this guitar is not Jim's signature model, it has features that tick all the boxes for him. Jim used this guitar mainly in the period before he got his own signature Fender guitars.
1966 Fender Jazzmaster

| | |
| --- | --- |
| Finish | Candy Apple Red |
| Years Used | Unspecified |
Jim pulled out this vintage Fender Jazzmaster produced in 1966 during one of his interviews. Jim has never used this guitar on any of his songs, but he loves it and feels proud to own it.
He literally moaned when he took this beauty out during one of the interviews and claimed that it is a very cool guitar. He flaunted a little spot where the shoreline gold underneath it is visible, giving the guitar a characteristic sparkle.
Jim's '66 Fender Jazzmaster has a gorgeous red gloss finish which adds a killer look to the guitar. Jim said that he got it from Trent during the recording of the 'IOWA' album. He appraised it, and Jim got it for something around 2300 bucks.
This beautiful 1966 Fender Jazzmaster has a lacquer finish along with a three-layered pick-guard on the body. It features an alder body and a rosewood fretboard with silver pearl inlays. As for the pickups, the two well-balanced "grey-bottom" pickups with outputs of 6,4K and 6,81K sound great and have many twangs. They produce the typical 60s Surf-Sound.
Jim has always been a big fan of the vintage vibe, and this guitar is exactly something that he dreams about.
1959 Gibson ES-330

| | |
| --- | --- |
| Finish | Vintage Natural VOS |
| Years Used | Unspecified |
The '59 ES-330 is Gibson's first Thinline archtop electric guitar. It is a part of the Vintage Original Spec (VOS) series and features the original Gibson PAF pickups. These pickups even claim to transport the player back in time.
This guitar features a maple top with a center-blocked semi-hollow body design, a quarter-sawn mahogany neck, and a rolled rosewood fingerboard. It has a pure vintage natural finish which gives the guitar a lot of class and character.
Jim found this extremely expensive and vintage Gibson '59 ES-330 at a pawn shop. He had to give up on 8 guitars to get this vintage Gibson. Then he took it to a lutherie shop for repairs.
It had a knob missing, and all the hardware was rusty. But the most remarkable thing about this guitar was the previous owner who played this guitar. There is a picture of the former owner of the guitar case, where he is seen playing this guitar in a band.
Ampeg Dan Armstrong Plexi Electric Guitar

| | |
| --- | --- |
| Finish | Plexiglass Transparent |
| Years Used | Unspecified |
While "see-through" guitars have never been mainstream, some manufacturers now sell them, notably BC Rich, Dillon, and Ampeg. There was nothing like these Dan Armstrong-designed guitars when they were first launched in 1969. The show-stoppers at NAMM in 1969 were these guitars.
Jim showed off his Dan Armstrong Lucite guitar in a photo he shared on social media. He claims that he isn't really into these guitars but bought one because he wanted a lucite guitar. It reminded him of a period when one of his father's friends had one as a kid. However, Jim argues that a lucite strat would be far superior.
The Plexi guitar has an incredible, unique body made of Plexiglas that was machined and sanded just like a wood body. It has a bolt-on maple neck with 24 frets which means easier access and interchangeable pickups allow the player to modify the tone.
The Dan Armstrong Plexi Guitar is a reissue of his groundbreaking 1969 design, which was groundbreaking for both its distinctive see-through design and interchangeable pickups. Keith Richards famously played this guitar in the late 1960s and early 1970s, as seen in the classic concert video 'Gimme Shelter'.
This guitar's pickups can be replaced, giving it two alternative tone possibilities. Whether you're searching for a guitar with a vintage vibe or a diverse tone machine, this guitar meets the bill. Overall, this guitar is the most unique addition to Jim's collection.
Fender Sandblasted Jim Root Jazzmaster
| | |
| --- | --- |
| Finish | Sandblasted |
| Years Used | 2015 to 2016 |
The sandblasted finish on this Jim Root Jazzmaster is something Jim picked up on the road and became attached to it. Soon after, he worked with Fender to incorporate this finish into one of his hallmark models.
The Sandblasted signature Jazzmasters are identical to Jim's original signature Jazzmasters in terms of specifications. It has a set of Hetfield signature EMGs similar to the EMGs in Jim's other guitars. These guitars, he claims, are a knockout in terms of both sound and appearance.
This guitar has a sandblasted mahogany body that Jim says is lighter than his previous guitars. This lighter weight gives it a more resonant tone, which music producers love in the studio. Like all of his previous signature models, this guitar features a single volume control knob and a three-way pickup switch.
During touring, Jim typically used his sandblasted Signature Jazzmaster. Nonetheless, Jim has used this guitar in a handful of YouTube instructional videos where he performs 'Devil In I' and 'Negative One.'
Charvel USA Custom Shop Jim root Signature
| | |
| --- | --- |
| Finish | Black/White |
| Years Used | 2021 |
Jim stated in one of his interviews that he grew up playing Floyd Rose-based guitars. When he joined Slipknot, however, he gradually distanced himself from those guitars. Jim's role in the band does not usually need the use of a floating bridge. But Jim began to miss them again, sparking the creation of the new Charvel USA Custom Shop Jim Root signature guitar model.
The Floyd Rose tremolo mechanism on the new Charvel is a considerable departure from his standard hardtail bridge layout. A regular maple neck and compound-radius fingerboard complement the guitar's black or white-finished mahogany body.
He chose a regular maple neck instead of his usual roasted maple necks because he wants the neck to wear out over time. According to Jim, this gives the guitar a lot of personality and tale. The maple fingerboard on this Charvel trademark guitar, like his famous Fender Jazzmaster V4 guitar, is another standout feature.
When asked why, Jim explained that he believes the maple fingerboards act as a lucky charm for him in the studio, reigniting his love for them. The pickups on this Charvel signature model are a pair of the ferocious EMG Jim Root Signature Daemonum humbuckers – similar to those found in Root's Jazzmaster V4 – controlled by a single volume knob in authentic Jim Root's minimalistic fashion.
Timetable Showing Each Guitar Jim Root Has laid Through His Career
| Make | Model | Color/Finish | Years |
| --- | --- | --- | --- |
| Dan Armstrong | Ampeg Plexi Electric Guitar | Plexiglass Transparent | Unspecified |
| Fender | 1966 Jazzmaster | Candy Apple Red | Unspecified |
| Gibson | 1959 ES-330 | VIntage VOS Natural | Unspecified |
| Jackson | Warrior | Black | 1999 to 2002 |
| Fender | Custom Flathead Telecaster | Matte Black | 2005 to 2007 |
| Fender | Custom Flathead Showmaster | Black | 2005 to 2007 |
| Fender | Billy Corgan Signature Stratocaster | Olympic White | 2008 to Present |
| Fender | Jim Root Signature Telecaster | Flat Black/Flat White | 2009 to Present |
| Fender | Jim Root Stratocaster | Black | 2012 to Present |
| Fender | Jim Root Jazzmaster | Black | 2014 to Present |
| Fender | Sandblasted Jim Root Jazzmaster | Sandblasted | 2015 to 2016 |
| Fender | Jim Root Jazzmaster V4 | White Satin | 2020 to Present |
| Charvel | Pro-Mod San Dimas Style 1 HH FR E | Gloss Black | 2019 to Unspecified |
| Charvel | USA Custom Shop Jim root Signature | Black/White | 2021 |
Jim Root Amps Overview
Orange Rockerverb
Years Used: 2008 to Present
The Orange Rockerverb amp has a dirty channel that can go from traditional British crunch to the loudest tones in modern metal. It also offers a clean channel that provides crystal clear tones. It also comes with power scaling and foot-switchable attenuation, which is the icing on the cake.
The all-tube Orange amps debuted in the early 2000s, and they quickly became recognized among practically all metal performers soon after. Jim fell in love with this amp as soon as he got his hands on it, and it quickly became his signature guitar amp.
Jim obtained his first Orange Rockerverb amplifier in 2008 and has used it for nearly all of his live performances since then. He even signed a contract with Orange as a signature performer.
In one of the interviews, Jim stated that he enjoys Orange amps because of their creamy mid-range, massive headroom, and "less is more" mindset. To find his favorite tone, Jim only needs to connect his guitar directly into the amp.
Rivera Knucklehead Tre Reverb
Years Used: 1999 to 2007
Designed to be among the market's highest gain amplifiers, the Knucklehead Tre Reverb is a 120-watt all-tube amp head with two channels. Any guitarist who hears it will fall in love with it due to its powerful bottom end, killer note definition, and long-lasting sustain.
This Rivera Knucklehead Tre head is ideal for guitarists like Jim, who belong to the hard rock and heavy metal subgenre. They want a deep, detailed chugging tone from a high-gain amp, and this amp delivers it in spades.
Jim has used one of these since almost the beginning of time with Slipknot. The Rivera knucklehead has been primarily seen on-stage during the 'IOWA' tour, the 'Big Day Out' live show, and others.
Diezel Herbert KT77 MKII
Years Used: 2001 to Unspecified
The ultra-tight bottom end and percussive strikes of this Diesel guitar head are ideal for bone-crushing metal riffs. This quality is a perfect match for Jim's musical style.
It has six KT77 power tubes with a total power output of around 180 watts. This provides the amp with one of the most enormous headrooms of any other amp, which is another feature that is highly desired for large-scale live events.
Overall, this incredibly versatile amp effortlessly creates a delicate, dynamic shimmer along with a detailed, concentrated crunch and forceful, soaring solo tones. This Diesel amp is a worthy addition to Jim's arsenal, and it has made multiple appearances with Jim during live performances.
Jim Root Pedals Overview
Electro-Harmonix Nano Small Stone
Years Used: 2008 to Present
The phaser on the Electro-Harmonix Nano Small Stone gives a unique swirl to any musical style. It's a versatile piece of equipment that musicians of various genres employ. It has a 'jet plane whoosh' sound effect that Metalheads like Jim adore.
This Electro-Harmonix Small Stone phaser, according to Jim, is used to add color to the harmonies or octave parts of his songs. He's also said that he utilizes this pedal on nearly every song.
DigiTech X-Series Synth Wah
Years Used: 1999 to Unspecified.
Many regard the X-Series DigiTech Synth Wah Envelope Filter as an industry standard for adding flavor to a riff. This Synth Wah pedal includes 7 synth effects like envelope filters, synth tones, filter sweeps, and more. Jim can add some more unique character to his tones with this Synth Wah. This pedal is usually used when the song 'Eyeless' is played.
MXR M193 GT-OD
Years Used: 2009 to Present
The Jim's MXR GT-OD is a custom shop overdrive pedal that provides a smooth, warm, and classic overdrive with almost no excess noise and tone coloring. It also boasts straightforward controls that make it easier to tune in a beautiful tone quickly, ranging from crunchy rhythm tones with crisp chord clarity to sparkling and harmonically rich lead tones with loads of sustain. Jim utilizes the GT-OD on occasion to give his lead tones a little push and color.
MXR Carbon Copy Analog Delay
Years Used: 2009 to present
The MXR Carbon Copy analog delay, according to Jim, is the best delay pedal available. It has an analog audio route with bucket-bridge technology that produces a rich and warm delay. It also features a 600ms delay period and has simple three-knob control, allowing Jim to quickly tweak it on stage. Jim can get everything from sharp slap echoes to enormous delays with the turn of a knob on the Carbon copy delay pedal. It's no surprise that Jim likes this pedal a lot.
Jim Root Accessories
Dunlop Jim Root Custom Nylon TIII 1.38mm Guitar Picks
Jim's early picks were mostly Jazz III and Tortex TIII since he enjoyed the feel and control. He wanted the feeling on the Jazz III but felt more in control with the Tortex TIII. As a result, Jim teamed up with Dunlop to create his own trademark pick, inspired by his previous picks.
Jim Root Custom 1.38mm Nylon TIII picks were born as a result of this. These picks help Jim add a little more zing to his playing while providing him with extra comfort. They also have a raised star logo that gives them an excellent grip.
Dunlop Custom Wound Jim Root Electric Guitar Strings
Dunlop electric guitar strings have a distinct sound with smooth highs, concentrated mids, and defined lows. Dunlop promises to combine the finest materials with their characteristic core to wrap ratio. This provides long string life and a balanced string-to-string response. Jim has been using these strings for virtually his entire career, and Dunlop even built Jim his own set of custom gauge strings.
Face Mask
The masks are a way for Slipknot to show the world that the band is about sound, not faces. It also connects the band to ordinary people all around the globe. Jim, like the rest of the members of Slipknot, performs with a mask on stage.
Jim believes that something happens when he puts on that mask with the other eight fellow band members. It removes all inhibitions for Jim. Jim even claims that he would never do certain things without the masks on. It functions as a shield, transforming him into a free person.
Wrap Up
Jim was a massive metalhead as a youngster. His music style has been heavily influenced by bands like Anthrax, Megadeth, Racer X, and anything guitar-led. He believes that it was his youth and anger that made him gravitate towards this kind of music. However, he became a fan of legends like David Gilmour and John Frusciante, who could say more with a single note than many of these guys with 16 notes. That probably motivated him towards writing music rather than playing super-fast licks. For Jim, it is more about melody and the emotion it carries that really delivers a message.
After his separation from the band Stone Sour, it became evident that he hates being commercially driven. Besides being a full-time Slipknot member, Jim loves riding bikes and gaming.
According to one of the interviews, Jim thinks that being a fiery legend on-stage with so many people cheering at him and being all alone off-stage at another moment is something extreme. As a result, he believes that he has become somewhat of an intense person. Nonetheless, his music with Slipknot has inspired millions, and he continues to awe us with every new album.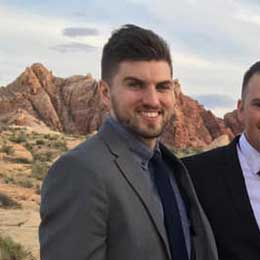 My name is Chris and I've had a passion for music and guitars for as long as I can remember. I started this website with some of my friends who are musicians, music teachers, gear heads, and music enthusiasts so we could provide high-quality guitar and music-related content.
I've been playing guitar since I was 13 years old and am an avid collector. Amps, pedals, guitars, bass, drums, microphones, studio, and recording gear, I love it all.
I was born and raised in Western Pennsylvania. My background is in Electrical Engineering, earning a Bachelor's degree from Youngstown State University. With my engineering experience, I've developed as a designer of guitar amplifiers and effects. A true passion of mine, I've designed, built, and repaired a wide range of guitar amps and electronics. Here at the Guitar Lobby, our aim is to share our passion for Music and gear with the rest of the music community.