The 90s were certainly nothing short of an entire decade of musical talents changing the way we know and enjoy the rock genre and in this decade, music lovers were gifted with the virtuoso John Frusciante from the Red Hot Chili Peppers. Though his trajectory with the band has been neck-deep in turmoil throughout the last 30 years, this is a guitarist whose legacy remained latent and influential ever since his debut with Blood Sugar Sex Magik.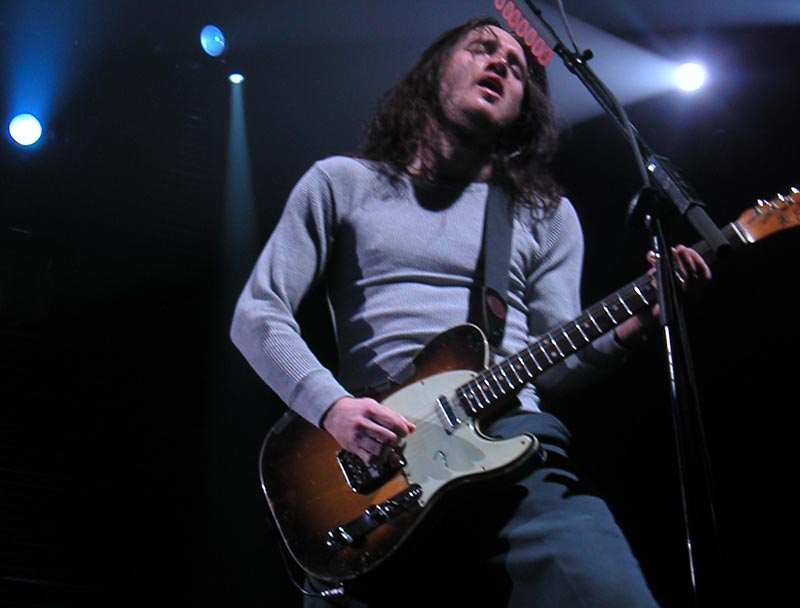 At the tender age of 19, a young Frusciante went to audition for Frank Zappa's band, surpassing his own mentors and teachers, John had a change of heart and instead fixated himself with becoming the signature guitar player for the Chili Peppers back in 1988.
What Guitar Does John Frusciante Play?
John Frusciante is best known for playing Fender Stratocaster guitars. He's also been associated with other guitars such as his Gretsch White Falcon. He has three Stratocasters in particular that are his most famous and prevalently used within live shows and in the studio.
The first guitar is a 1962 Fender Stratocaster in a 3 tone sunburst finish, the second is a Strat from the mid-1950s which also has a sunburst finish, and the third is a 1961 Strat in Fiesta Red finish. See the full list of John Frusciante guitars and gear below.
1962 Fender Stratocaster

Finish: Three-Tone Sunburst
Years Used: 1998 to Present
The 62 Stratocaster that Anthony Kiedis bought at guitar center for John when he joined the Chili Peppers for his second period with the band. At the time, both Anthony and John mentioned that John didn't even have a guitar to his name back then due to either selling off his previously used guitars and also losing some of his favorites during a fire, except for a Fender Jaguar, which was all used up by that point. Nevertheless, Frusciante specifically recalls telling the band about his crucial need for a Stratocaster to play in the band for studio work.
In his biography, Scar Tissue, Kiedis refers to guitar shopping for John as an opportunity to bond with one another and further getting to know each other, stating "The major problem was John didn't even have a guitar to his name. So we went over to the Guitar Center, and I bought him a great old '62 Stratocaster."- Anthony Kiedis in Scar Tissue.
As for its specs, this 62 could be an original vintage guitar or one of Fender's reissues of the model, but either way, its features are pretty much on point. With a rosewood fretboard on a maple neck and SSS set up, John stamped this guitar and another Stratocaster he acquired near this time with a sanded top left bit of the three-tone finish. What points to the fact that John's Strat might be an original 62 model is its now almost completely worn finish. Because it's made with nitrocellulose, the paint job is less resistant to aging and heavy usage which over the recent years have seen the three-tone sunburst fade away due to extensive use.
Ever since the acquisition, this 1962 Fender Stratocaster has been on almost the entirety of the Red Hot Chili Peppers shows as well as John's live solo presentations. As for its studio usage, this Strat was present on all three albums from Frusciante's second era with the band, Californication, By the Way, and Stadium Arcadium.
As for iconic performances, there are only so many we can count, but one of the most powerful deliveries of Frusciante with it was at the band's performance at the T in the Park Festival. There's also the Chili Pepper's concert at London's Wembley Stadium on July 7th, 2007 during the Stadium Arcadium tour you decide which one's best.
In December 2019, the Red Hot Chili Peppers announced that John would be rejoining the band once again, and their first live show in February saw him play with this exact Strat.
1955 Fender Stratocaster

Finish: Three Tone Sunburst
Years Used: 1999 to Present
As far as his catalog extends, this is the only maple-necked guitar John has owned ever since the release of Californication. Reportedly, Frusciante bought many guitars during this time and this 55 Strat eventually became one of his most treasured pieces of gear of which some may argue more precious and revered than even his 60s version.
John's reported use of this guitar tends to involve much slower and mellow tunes. Zephyr Song for one, was recorded with it and it also appeared on its music video. While this Strat shared heavy rotation with his rosewood fretboard model, this one became more associated with the By the Way-Stadium Arcadium era and recording sessions, used for many formal occasions, like the band's performance at the Abbey Road Studios, as well as some interviews and magazine cover shoots.
John referred to this particular guitar during various interviews back in the recording days of  Californication.
"I used a '56 Stratocaster for most of the basic tracks, and a '62 Stratocaster- the sunburst one- on some stuff"- John Frusciante, Guitar One 1999 Interview.
Featuring a one-piece maple neck, this two-tone sunburst Stratocaster came with single-coil Seymour Duncan SSL pickups, its safe to say that he enjoyed their sound so much he would later adapt this set up for his road running 62 Strat.
As for live performances, this maple necked Strat saw action at various major festivals, one of its most iconic appearances was at 2006's Lollapalooza, where it was rotated with his personal selection of Stratocasters.
Nowadays, Frusciante has kept and babied this and many some other Strats that are yet to resurface on the spotlight, we're sure we'll see them soon enough.
1961 Fender Stratocaster
Finish: Fiesta Red
Years Used: 2006 to Unknown
One of the guitars Frusciante acquired before embarking on the Stadium Arcadium tour, the red 61 Stratocaster was used mainly as a backup for his 62 signature Stratocaster. Evidence points that this Fiesta red Strat wasn't used for any recording work but it became a fan favorite ever since his intro jam at the Live Earth Festival in London in 2007.
Just like most of Frusciante's guitars, this is yet another vintage model, with a red finish and rosewood fretboard and it sports an original pickup set up of SSL-1s identical to the one in his signature guitars.
Ibanez RG760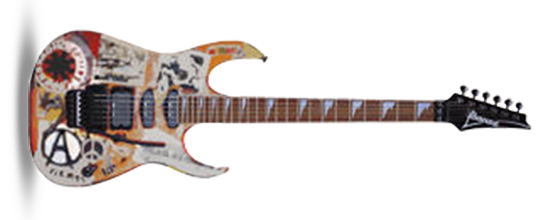 Years Used: 1988
Finish: Customized with Stickers
Allegedly, John walked into the Red Hot Chili Peppers band with only a Kramer Pacer, and that guitar is an undocumented mystery, but his first year with the band did see him play this Ibanez all the way to 1989. When Frusciante joined the band, Ibanez seemingly sought to sponsor him, so they gave him an RG760 and 750 along with a Wah pedal. John remains thankful to this day for their friendly approach, but since the tones on the guitar were rather heavy and dirty, both Flea and Kiedis rejected their usage.
The body of this Ibanez RG760 was completely covered in stickers, including one of the very first ever printed RHCP ones, it featured two single coils, one in the middle another one on the neck, while it had a complete humbucker on the bridge position. Its charm allegedly consisted of its The Edge tremolo system, but the band quickly discarded its use while Frusciante repeatedly claimed that he didn't care for any of these features.
In the live footage from the band's 1988 second show with Frusciante, this RG760 can be seen.
This guitar's use only extended to minimal recording use, in his own words, the guitarist has stated that the Ibanez was only present for its Floyd Rose tremolo system during the recording sessions for Mother's Milk. Other than that, he mainly relied on lent Strats and Les Pauls for his debut installment with the Peppers. This is one of my favorite John Frusciante guitars of all time.
Ibanez RG750
Finish: White/ Black Pickguard
Years Used: 1988
This Ibanez model was particularly rejected by the Red Hot Chili Peppers and it's one of the two known guitars that were gifted by Ibanez to Frusciante upon joining the band. The Ibanez Rg750 was mainly used as a road backup instrument for his then main go-to, the RG760. This primarily backup guitar was seen on various shows but only documented during the Virginia Commonwealth University show.
As an intended signature model, this RG750 came with a different pickup setting as it featured full IBZ/USA F2 humbuckers (Ibanez's own engineering) on the neck and bridge positions, as well as a single coil IBZ/USA C2 in the middle.
However, it's fair to point out that both of Frusciante's Ibanez met a brutal ending when he got his first of many Fender Strats. According to John himself, he smashed them on-stage shortly after.
1968 Fender Stratocaster
Finish: Sunburst
Years Used: 1988 to 1989
The first of a long-lasting relationship between Frusciante and the staple model of Fender and Rock N' Roll, this 1968 sunburst Stratocaster debuted shortly after the release of his first album with the Chili Peppers, Mother's Milk. John milked this Strat from the very start of 1989 when it was, according to the guitarist, stolen sometime around 1990.
The 68 Sunburst Stratocaster saw action for most of the promotional tour for Mother's Milk along with John's first Gibson Les Paul. Nevertheless, Frusciante stated back then he received a couple of prop Strats during the tour:
" I played mostly Strats and Les Pauls on the record. (continued) For a while, my main guitar was a '68 Strat, but it was stolen. Since then, I've gotten a couple of others that I've fallen in love with. But our basic philosophy is that our tones are in our fingers, and the particular instrument you play, or what kind of pick you use, doesn't matter much." – John Frusciante interviewed by Guitar Player USA.
This 1968 Fender Strat was documented several times, it was used for most of the 1988 gig at the Dam Square in Amsterdam on August 26th, while it was also featured in the music video for Knock Me Down.
1970s Gibson Les Paul Custom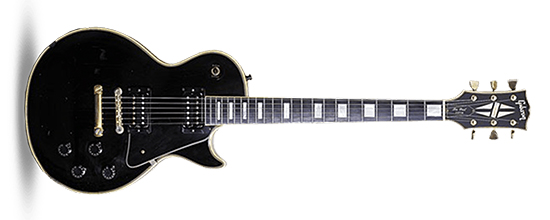 Finish: Black
Years Used: 1989 to 1990
Along with his signature 1968 Fender Stratocaster, John Frusciante acquired this black Gibson Les Paul during the recording sessions of Mother's Milk. This guitar became his go-to when playing Knock Me Down, Higher Ground, and Good Time Boys live, and it was presumably used in the studio as well, with regular rotating to his Strat, this six-string lineup remained up until 1990.
As for specs, this Les Paul was probably manufactured in 1975 due to its binding body and three humbucker set up, and it's worth pointing out that its black finish was very similar to that of a black beauty model. It was only recorded on one occasion when the Red Hot Chili Peppers played at the Pink Pop Festival in 1990, it was made memorable during the band's performance of Stevie Wonder's Higher Ground.
There's not much information regarding John's Les Paul, it disappeared soon after he acquired his Fender Jaguars during the Blood Sugar Sex Magik era. From that point on, Frusciante would keep his Strats in rotation with the aforementioned models.
1966 Fender Jaguar
Finish: Sherwood Green
Years Used: 1989 to Present
Also known as the guitar John used for the Under the Bridge video, this 1966 Fender Jaguar became an instant favorite for the guitarist, although the story of how he acquired it is still unknown, it became an intimate instrument to him. According to John, he'd play this Sherwood green wherever he'd go and kept it close to him in his room for a long time.
As a 1960s Jaguar would, it featured two single-coil pickups and a floating tremolo with a wide selection of controls, as well as two master knobs. Its rosewood neck featured white binding dot inlays and reportedly the painting cracks came with it by the time John got his hands on it.
This 66 Jag didn't really make any live appearances, but it was heavily used during the recording sessions of Blood Sugar Sex Magik. John used it specifically for The Power of Equality, and the self-titled track of the record, as well as most of the overdubs on the tenure. It is, however, known as the guitar Frusciante used for the Under the Bridge music video.
Back in 1991, this Jaguar was John's special selection, when asked about his favorite guitars he replied: "My favorite guitar in the world is my old, fucked-up Fender Jaguar. The strings are all crusty, and the notes crap out when you bend them. I used it to write most of the music, and I became really attached to it." – John Frusciante interviewed by Guitar Player USA.
Although there's not much information on when Frusciante gave away this guitar, it was presumably sold directly to Hard Rock Cafe, and ever since then, the Sherwood Green Jaguar has spawned in several locations across the globe, with his signature on its body.
Martin D-28


Years Used: 1991 to Unknown
Finish: Glossed Wood
When it comes to acoustic, Frusciante is known to be a devoted Martin user, this D-28 particularly is often confused with his D-18.
it was John's close-quarter companion during the Chili Peppers stay at The Mansion, the former studio owned by producer Rick Rubin, with whom the band produced Blood Sugar Sex Magik, Californication, By the Way, and Stadium Arcadium. It is unclear how John got his hands on this Martin guitar, however, its use extended to recording Breaking the Girl, and to keeping Frusciante company during the band's tour.
There are few occasions where John was recorded with this Martin D-28. For one, it can be seen sitting in his room in the Funky Monks documentary, he also used it during an interview with Dutch TV as Kiedis and Frusciante breakdown certain personal aspects of their new record in 1991, they perform Under the Bridge while on a boat ride on the Amstel river.
1990s Gibson Les Paul Goldtop
Finish: Bullion Gold
Years Used: 1991
This 1990s Les Paul was adopted briefly by Frusciante in 1991 during the stretched recording sessions of Blood Sugar Sex Magic, especially for the composition of Give it Away.  It was also the designated guitar for Flea and Frusciante's first superband, HATE (Hops, Anarchy, Truth For Everyone), with Nick Alexander from the Germs and Angelo Moore from Fishborne. Nevertheless, the project would dismember as the two Chili members would attend a tight schedule for their 1991 tenure.
This Gibson Les Paul was an early 90s model rather than a vintage model, its easy to tell from its entire bullion gold finish as opposed to older versions that would feature a wooden back.
After a few gigs, this Goldtop Les Paul was discarded, and not much is known of its whereabouts, some say it's on display at a Hard Rock Cafe, while others claim it currently belongs to a collector.
1950s Fender Stratocaster
Finish: Three-Tone Sunburst
Years Used: 1991 to Unknown
Yet another main choice for Frusciante during the recording of Blood Sugar Sex Magik and its B-sides, this late 50s Sunburst Stratocaster was the direct replacement of John's personal 68 Strat. It's safe to say that this was John's go-to guitar during the promotional world tour of the Red Hot Chili Peppers 1991-1992 peak, it saw the rise and fall of Frusciante as a massive guitar icon during the early 90s. Of course, this means there were some iconic performances, including their infamous SNL presentation and his last appearance of his first period with the band.
During the first leg of the tour in the U.S, the Red Hot Chili Peppers began to pack arenas, and they would share the stage with other iconic acts of the time, Nirvana and Pearl Jam among them. The first public use of this Strat was in the band's kick-off show at the Los Angeles City Hall in February 1991, but Frusciante would start to slowly slip away from the rest of the band and began to hold grudges with his bandmates and their newfound fame.
Frusciante's 50s Strat can be seen many times in the Funky Monks documentary, where the recording process of Soul to Squeeze is featured with John Playing his overdubs and takes with this Sunburst six-string.
Throughout the entirety of the tour Frusciante remained reluctant to his usual stage performance, sometimes charismatic, others simply standing with his guitar on the corner, and many other times he would sabotage the show. The band's performance for the MTV New Years Eve show was one of his last bombastic yet dubious performances with his 50s Strat.
Upon the Red Hot Chili Peppers' return to America, the band went on as the musical guest of Saturday Night Live on February 22nd, this was one of the last recorded performances of Frusciante with this guitar, and one of the most condemned ones of his career.
Frusciante's 50s Strat can be seen many times in the Funky Monks documentary, where the recording process of Soul to Squeeze is featured with John Playing his overdubs and takes with this Sunburst six-string.
As for its whereabouts, there's little to say, after John left the band in 1992, he descended into heavy drug addiction, and as a consequence of this dark period, Frusciante sold many of his guitars to keep up with rent and life-style. As for the guitars he managed to keep, many were lost during a fire that broke out at his home in 1993, it is presumed that this Fender Stratocaster is one of those lost pieces of gear.
1962 Fender Jaguar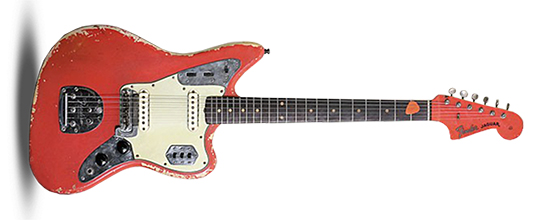 Finish: Red
Years Used: 1997 to Present
One of the few guitars John owned prior to his reintegration to the Red Hot Chili Peppers, he claimed to have bought this 62 Fender Jaguar from Voltage Guitars in Sunset Boulevard in Los Angeles, California, according to the guitarist, he might have purchased it in 1997 or even before.
This 60s Jaguar can be seen in the late 1992 short film directed by Johnny Depp, The Stuff, it appears during the 11-minute long panning sequence of Frusciante's apartment. However, this guitar was one of the few that survived the guitarists' descent to addiction and eventual house fire and saw some action upon his return to the Chili Peppers in 1998.
According to Kiedis, Frusciante had no guitar of his own when he rejoined the band, so he bought him his next Stratocaster as a welcome home gift. But this Jaguar was a personal gem for John a tad before his return, one can only assume this Jaguar stuck with him through his rehabilitation and spent countless hours practicing on it.
Looking back on his trajectory, Frusciante commented about this guitar: "I didn't have a guitar and then I got some money and that was my Christmas present to myself. Then when the guys asked me to rejoin the band I said that I really need a Stratocaster. So Anthony lent me some money and we went to Guitar Centre and I got one with the rosewood neck. It's a '62 and I used that one on practically every track on By The Way." – John Frusciante interviewed by Guitarist in 2003.
Ever since John got back together with the band, he made extensive use of this Jaguar on both the band's newfound glory in Californication and their cementing tenure By the Way. During the recording sessions of their 1999 album, John would rotate his Jaguar with several other six-strings, but he managed to become an associated name with the model when touring with this particular guitar. It was notoriously used when the band played Around the World to open their shows, especially in Woodstock 99, which was broadcasted globally.
1955 Gretsch White Falcon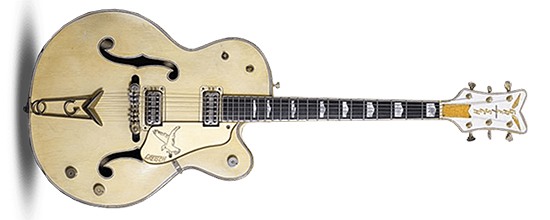 Finish: Olympic White
Years Used: 1999 to Present
One of John's most memorable guitars, like his signature Sunburst Stratocaster, the Gretsch White Falcon, quickly became a heavily associated model to the guitarist. With the music video release of Californication and Otherside, Frusciante saw a transitional period with this piece.  Initially, this guitar was acquired with the aid of Vicente Gallo, who helped John get back on track when he returned to the Chili Peppers.
The Gretsch white falcon features a String-Thru Bigsby tremolo in a single-cutaway hollow maple body that makes for a desirable guitar ever since it popped out in the market. It also has a double humbucker passive set up that provides a deep and uncompromising sound, the White Falcon is without a doubt Gretsch's finest line of guitars, with little change to its classic yet timeless design, it is hard to find any parallels.
"At this point, he's found me pretty much a whole recording studio! As far as guitars go, he's found me my 1955 Gretsch White Falcon, which is the nicest guitar I have, I think. for "Californication" and "Otherside." I have .012-gauge strings on it. I'd like to go more into that- developing a guitar style using thick strings like that." – John Frusciante in an interview by Guitar One in 1999.
Although not the most frequented on-stage preference, this Gretsch model has seen some action ever since it was acquired in 1999, for one, it was the guitar in which Frusciante recorded This Velvet Grove and Otherside. It would also be one of John's main instruments during the By the Way recording process and world tour, one of his most powerful performances with the guitar was during the Red Hot Chili Peppers iconic show at the Slane Castle in Ireland on August 23rd, 2003.
Its use however would become more sparse and rotational during the Stadium Arcadium era. Nevertheless, it's exciting to see what his 3rd period with the band may bring, perhaps some classic pieces will pop out.
1959-62 Fender Telecaster Custom
Finish: Three-Tone Sunburst
Years Used: 1999 to Present
Presumably purchased in 1998 before the first stages of Californication, this is one of the few and resourceful Telecasters that John Frusciante has used in his career. This vintage Tele has been employed vastly throughout the Chili Peppers' road and discography, for instance, John used it to record Easily, and Scar Tissue's solo on Californication. But it was also used for major overdubs in By the Way's Can't Stop, as well as several tunes from Stadium Arcadium.
There are plenty of live shows where one can see John playing this Three-tone Sunburst Telecaster. It is distinguished by its white body binding and pre-CBS Fender Rosewood Fingerboard. It's easy to assume this vintage guitar was made sometime in the early 60s, Frusciante refers to it as a 65 Tele, but some information points out that it might have been manufactured in either 62 or 63.
Although Frusciante is not a familiar face to see with a Telecaster, he claims that he drew inspiration from Syd Barret's playing in Pink Floyd and Jimmy Page during his early years in the Yardbirds. These two are heroes for Frusciante even though their influence might not be palpable in his recordings, their skillsets are condensed into John's.
This guitar remains owned by Frusciante, and despite not being seen in almost a decade, it's fair to say that we can expect to see it in the next few years.
1940s Martin 0-15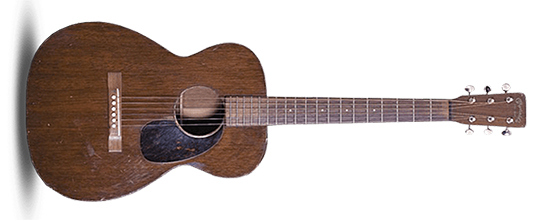 Finish: Glossed Dark Wood
Years Used: 1999 to Present
Initially owned by Rick Rubin and gifted to Anthony Kiedis, Frusciante borrowed it when he returned to the band during the initial stages of Californication. Ever since John got his hands on this old school Martin 0-15, it became his signature acoustic six-string, it's been used on every album that featured any arrangements of the sort, from guest collaborations to solo and Chili Peppers tenures, this guitar became an extension of Frusciante according to the guitarist himself.
Reportedly, there are two Martin guitars in Frusciante's catalog, and both of them saw some moderate action during the early 2000s, the original one manufactured in the 40s and the second one a more contemporary model. Both of these Martin guitars toured with the band during the promotional leg of both, Californication, and By the Way, it was also used on several shows prior to the Stadium Arcadium era.
It's probably better known as the guitar John used for Desecration Smile, both in-studio and for the recording of the alternate version of the video.
If anything, this 0-15 cemented John's affinity for the brand's line of guitars. In an interview, Frusciante shared his thoughts about this particular guitar and his diverse collection of them.
"Well, it was the guitar that Rick Rubin gave to Anthony and Anthony lent it to me. I just haven't given it back yet. It was the guitar I learned to write songs on again, and I got two more small-bodied Martins because nothing else sounds as good when I play them. I'm as attached to Martins now as I am to Stratocasters."- John Frusciante for InvisibleMovement
The 40s original 0-15 Martin acoustic is slightly different from its 50s twin, the first one can be identified by a large dent in its body. They both have had minor mods over the years, with a Trance Audio Amulet Pickup system that was installed for live shows, as well as more suitable tune pegs.
1963 Fender Stratocaster (white)
Finish: Worn Olympic White
Years Used: 2000 to Unknown
One of Frusciante's backup Strats, it's assumed that John purchased this guitar during the Californication tour sometime in the year 2000, but since he didn't find it very practical, he limited its use for emergencies. Nevertheless, the display of this white 63 white Stratocaster is legendary, with its first recorded appearance was in the 2001s Rock in Rio Festival. From there on, the guitar has appeared on several other iconic gigs, such as Lollapalooza and Slane Castle.
"There's a cool white early-'60s Strat that was rented to me at one point for some reason, and I just had such fun playing that I bought it. But it ended up not really being able to alternate with my other guitars; it's the kind of guitar you can have some fun on, but it's not really practical."- John Frusciante, VintageGuitar.com
1999 (Can't Stop) Fender Custom Shop Silver Sparkle Stratocaster
Finish: Silver Sparkle Custom
Years Used: 2003
An unlikely guitar to see in the hands of John Frusciante. The silver customized  Stratocaster was under five years when the guitarist was instructed to use it this is especially rare since he's known for playing only vintage guitars.  This 1999 model came in handy when it came to the artistic endeavors of the video, it saught to backsplash the range background and tribute the trademark colors of Austrian artist Erwin Wurm.
This guitar was a one time deal shortly after the video was released it is unclear whether it was gifted or auctioned, but now it belongs to a collector/Chili Pepper Fan who displays it at home. It is important to note however, that neither this nor the Fender orange Tornado actually belonged to Frusciante.
Fender Toronado Deluxe
Finish: Orange
Years Used: 2003
Like the Silver Sparkle Stratocaster, this Fender Tornado was also issued by the production company for the recording of the Can't Stop video in 2003. It never actually belong to Frusciante. Nevertheless, while the Silver Sparkle Strat was used for the stage scenes and enhancing the color palette, this orange finished Tornado serve other more artistic purposes, its use was limited to directly tribute and reference Austrian Artist Erwin Wurm's One Minute Sculptures.
It can be seen in the quick cuts with Frusciante playing in a room full of empty chairs before ultimately swinging it across the room.
1961 Gibson SG/Les Paul Custom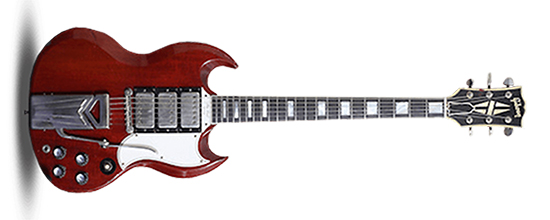 Finish: Solid Red
Years Used: 1999 to Present
Known for its heavy and full body sound, this first issue of the Gibson Les Paul from the early 60s is one of the few relics that Frusciante has displayed and collected over the years. In his hands, it's mostly remembered as the guitar he used for the music video of Fortune Faded, but if John's claims are correct, then we can join the dots and connect this guitar to his 1999 era.
Frusciante said that this is the guitar he used for the comedown in Otherside back in 1999: "For the breakdown section, I used a '61 Gibson SG Custom into a cranked Marshall JCM 800. I think that's the best kind of distortion – a humbucker into a Marshall, like Eddie Van Halen"- John Frusciante, Guitar Player UK, 1999.
This particular model has some serious historic value, it was the first issued Les Paul model, only that it had a design that we now know as the signature SG. It had a solid mahogany body, three PAF pickups, and a Vibrola Tremolo placed sideways. John's model particularly has a solid red finish and a white pickguard. About the guitar itself, this is probably a 1961 model, one of the last to be made, and the reason it's not technically an SG is that by that time Les Paul hadn't requested his name to be removed.
The SG resurfaced several years later, with many household names such as Keith Richards, Jimmy Page, and Eric Clapton were using the discontinued original Les Paul. Soon after, the SG would become Gibson's most popular guitar for many years.
This is not a recurring guitar for Frusciante, at least not for live performances, one of the few recorded appearances was back in 2003 when he got up on stage as a guest during a Pearl Jam concert at the Santa Barbara County Bowl, California. Be that as it may, it's easy to presume that John babies this guitar at home and pops it out occasionally.
1969 Gibson Les Paul Custom
Finish: Black
Years Used: 2006 to Unknown
Acquired during the Stadium Arcadium recording sessions, this 69 vintage Les Paul saw as much live action as it did in the studio, allegedly, it was used to record several overdubs, and some other tracks on the record. It can be heard on the studio versions of Readymade and Make You Feel Better. It's been also a regular showcase during the live performance of these and many other tracks.
While this might not be one of Frusciante's favorite guitars, it certainly has cemented his image as an icon. He used a very similar model during his first period with the band, and the fact that he has continued to employ can only point that, be it as it may, John has grown fond of the versatility of the Les Paul. During one a break from touring, and while recording The Empyrean, Frusciante disclosed where he stands on his favorite models.
"The Les Paul is a '69, but I'm not sure what years the ES-175 and 335 are from. I don't play those much; I bought them because Steve Howe played them, but they don't really go with my style that well. I feel like Strats are an extension of me, and a Jaguar feels like the next closest thing to being an extension of me. Les Pauls and SGs seem like a further stretch."- John Frusciante on The Empyrean.
This vintage guitar is loyal to its original 1969 design, when John played it, its PAF humbuckers can be seen only without their metal cover on top, it seems he did little to no modifications on it.
As for the whereabouts of this Gibson Les Paul, things are not quite clear. According to Dave Navarro, he gave a sunburst model to Frusciante at the time he was in rehab, this was all during the One Hot Minute era of the Red Hot Chili Peppers. Allegedly, Navarro never saw the guitar again, 10 years later, John came up to Dave's house and gifted him a black Les Paul. Whether it was the Stadium Arcadium guitar or not is up to theories craft.
1960s Bartell St. George XK12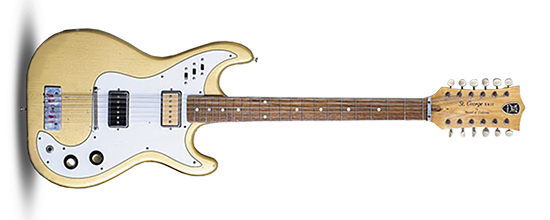 Finish: Off-white
Years Used: 2009 to Present
One of John's lesser and more personal guitars on the catalog, the 1960s Bartell St. George XK12 experienced extensive use during the recording and creative process of The Empyrean. This can only mean that this is one of Frusciante's most reserved pieces, one could also imagine it's been used for other solo tenures as it was photographed only once during the mid-2000s as far as popular conception is concerned.
Designed by one of the pioneering engineers of Rickenbacker before starting his own company, Paul Barth built this 12-string as one of the earliest prototypes he envisioned. This Bartell guitar was probably made in 1964 or 68, the period in which he partnered with Ted Peckles to create the "Bartell" brand. As for its setup, it features a non-adjustable bridge, individual switches for its two single-coil pickups, and a very innovative phase switch for the time.
1960s Rickenbacker 365 Deluxe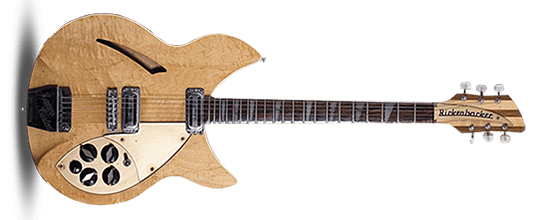 Finish: Natural 
Years Used: 2007 to Unknown
This 365 Deluxe Rickenbacker is another of the historic pieces owned by Frusciante. Allegedly it belonged to James Burton before him, after acquiring it, this guitar was famously used for the music video of Dani California when the band poses as the Beatles.
While it might not be known if this Rickenbacker was used for any of the recordings, its use fascinated many guitarists and helped inspire a brief revival for the brand. It is unknown however how John got his hands on this specific model or where it might be these days.
Table Showing the Guitars John Frusciante Used at Each Point in His Career
| Make | Model | Color/Finish | Years |
| --- | --- | --- | --- |
| Fender | 1962 Stratocaster | Sunburst | 1998-Present |
| Fender | 1955 Stratocaster | Sunburst | 1999-Present |
| Fender | 1961 Stratocaster | Red | 2006-Present |
| Ibanez | RG760 | Custom | 1988 |
| Ibanez | RG750 | White | 1988 |
| Fender | 1968 Stratocaster | Sunburst | 1988-1989 |
| Gibson | 1970s Les Paul Custom | Black | 1989-1990 |
| Fender | 1966 Jaguar | Green | 1991 |
| Martin | D-28 | Natural | 1991-Unknown |
| Gibson | 1990s Les Paul Goldtop | Gold | 1991 |
| Fender | 1950s Stratocaster | Sunburst | 1991-Unknown |
| Fender | 1962 Jaguar | Red | 1997-Present |
| Gretsch | 1955 White Falcon | White | 1999-Present |
| Fender | 1959-62 Telecaster Custom | Sunburst | 1999-Present |
| Martin | 1940s 0-15 | Natural | 1999-Unknown |
| Fender | 1963 Stratocaster | White | 2000-unknown |
| Fender | 1999 Custom Shop Silver Sparkle Stratocaster | Silver Sparkle | 2003 |
| Fender | Toronado Deluxe | Orange | 2003 |
| Gibson | 1961 SG/Les Paul Custom | Red | 1999-Present |
| Gibson | 1969 Les Paul Custom | Black | 2006-present |
| Bartell St. George | 1960s XK12 | Off-white / Gold | 2009 |
| Rickenbacker | 1960s 365 Deluxe | Natural | 2007-present |
John Frusciante Gear and Amplifiers Overview
Carvin Amp Set
Years Used: 1988
Reportedly, this was the first amp set John used when he first joined the Red Hot Chili Peppers back in 1988. Whether it belonged to him or it was provided by the label remains unknown.
The setup for this amp section consisted of an X-60B head, connected to a pair of 4×12 Carvin cabinets. Although it may have been a strange set for the Chili Peppers it is important to note that John played an Ibanez back then, and the band was deemed as an L.A alley cat act.
Soldano SLO100
Years Used: 1988
This Soldano Slo100 amp head was set up by Rick Rubin during the production and recording sessions of the band's first album with John Frusciante, Mother's Milk. The only time John actually referred to this particular piece of gear, was in one interview for Guitar Player, where he stated his liking due to the fact that it would go up to 11.
Mesa Boogie Strategy 400 Stereo Power Amp
Years Used: 1988 to 1991
The Messa Boogie Strategy Amp was used for the largest part of the band's tours in 1989 all the way to 1991, that's as far as the live footage goes. Fortunately, John referred to this amplifier in an interview with Guitar UK, and based on his description of the piece, we can assume that it included a preamp and power-amp.
"As far as amps go I have a Mesa/Boogie, and I don't know what kind it is. But it's two amps in one. The knobs are frozen in a good spot. I can control the volume, just not the treble or bass, but I don't have a problem yet. I'm sure it's going to grow little legs and walk away from me soon."- John Frusciante for Guitar UK in February 1991.
Marshall JCM800
Years Used: 1988 to Present
One of the longest-running amps in John's career, although never exclusive, the Marshall JCM800 has been extensively used in Red Hot Chili Peppers shows ever since 1988 when the band recruited John Frusciante as lead guitarist. From studio to intercontinental gigs, it is usual to find performances from those early years with the JCM800 amp head connected to Marshall 4×10 speaker cabinets.
Although the setup for this amp line was often mixed with alternate versions of the speakers and heads, this depended on regional variations rather than an actual preference, sometimes it would be because the band and roadies had to be resourceful. Frusciante referred to this in an interview with Guitar World USA.
"I played through a Marshall bass head and a Marshall guitar head – sometimes only one of them, and sometimes both of them." John Frusciante for Guitar World USA.
Marshall Major 200W (Model 1967)
Years Used:1999 to Present
This Was Frusciante's amp head of excellence during the recording sessions of Californication, this amp stretched its lifeline all the way through to By the Way and Stadium Arcadium under the same principle, a mix, and match of various cabinets, as the song requires on the studio. As for live sound, John fell for this piece of gear so hard, that he requested to use this vintage Marshall Major 200W for live shows as well.
According to John himself, he would often pair this 200w amp with a Marshall Silver Jubilee as well.  " I used a really old '65 Marshall. I also used a 200-watt bass head that I used on Blood Sugar – I use a bass head and a guitar head at the same time; that's how I play. I had a good sound for this album, but Louie [the band's right-hand man] doesn't want me to take the heads on tour because he thinks they'll break."- John Frusciante for Guitar One in 1999.
Marshall Silver Jubilee 25/55 100W
Years Used: 1999 to Present
According to John himself, this Silver Jubilee Marshall amp comes in handy when he feels like being resourceful and extra creative with his signature Stratocasters. Often enough he pairs it to his favorite Marshall Major amp.
This was the amp he used for the band's iconic gig at the Slane Castle, but technician Dave Lee explained the science behind a peculiar and unorthodox setup.
"The second Silver Jubilee was a stand-alone amp. Usually with no effects. And set to an overdriven tone. Almost always played with the black Les Paul. We called that the 'Slash Rig'. I remember during a show in LA, John playing that rig, and Slash standing right in front of him in the audience watching. I remember thinking 'I wonder if Slash realizes he inspired that rig?' Ironic."- Dave Lee on Frusciante's amp line-up for JF Effects.
John Frusciante Pedals Overview
Ibanez WH-10 Wah Pedal
Years Used: 1988 to Present
According to Fruaciante himself, this is the best Wah pedal his ever crossed ever since Ibanez gave it to him when he first joined the Red Hot Chili Peppers in 1988. The reason behind it? John addressed it in an interview in back in February 1991.
" I have an Ibanez wah-wah pedal because it has a wider range than the others. I use a Fuzzface and a Boss distortion pedal, and an MXR phase shifter, and that's about it." – John Frusciante for Guitar UK in 1991
After a decade and a half, John started experimenting with other Wah pedals such as the iconic Cry Baby and some other Dunlop pedals, even the metal reissues Ibanez made weren't enough to replace this -by then vintage- 1988 Ibanez Wah.
"Ibanez WH-10 is my standard wah since BloodSugarSexMagik. I don't think there's a better wah. When we were making Stadium Arcadium, there was so much wah I figured I'd use a variety of pedals and there wasn't one that came close to the Ibanez. There are a couple of Crybabys that are cool, but for me, they weren't as good, because I use a lot of feedback"- John Frusciante for Guitar USA in 2009.
Boss CE-1 Chorus Ensemble
Years Used: 1990 to Present
Among the many modular effects, John has experimented with throughout the years this Boss CE-1 Chorus Ensemble is without a doubt a standout. This chorus became a live staple for John ever since he acquired it in 1990 during the Blood Sugar Sex Magik tour, it was used up until his last departure from the band in 2010.
As for studio usage, sources point out that he would reportedly use it as a signal splitter between the amp and his pedalboard, it's also worth pointing out that most Chili Peppers songs feature this exact pedal.
Dunlop Fuzz Face
Years Used: 1988 to Present
John is known to praise his Fuzz pedal, originally he meant this presumed 1990 Dunlop Fuzz Face, nevertheless, the story of this pedal and its trajectory with the guitarist is somewhat bleak. While it is known that he made extensive use of it during his first period with the Chili Peppers, there's no telling if this was the precise Fuzz Face he used for Californication or By the Way.
Boss DS-2 Turbo Distortion
Years Used: 1990 to Present
A rock staple and one of the longest preferred used pedals of Frusciante the BOSS DS-2 Turbo Distortion propelled the Frusciante's rig ever since the band's breakthrough album Blood Sugar Sex Magik. Acquired in 1990 John made immediate use of it for both live appearances and in the studio for the album.
Note that not only this pedal bolstered John's signal with the Peppers but it was also a major feature for his guitar arrangements in most of his solo albums, mainly for his masterpiece guitar craft track Before the Beginning in his 2009 tenure The Empyrean.
"I use the Boss Turbo Distortion pretty regularly, and an Electro-Harmonix English Muff'n tube fuzz, which has really extreme EQ and a big, thick, meaty sound." John Frusciante on his pedalboard for the Empyrean, interviewed by Vintage Guitar.
MXR Phase 90
Years Used: 1989 to 2004
Initially, Frusciante had a borrowed MXR Phase 100, but he later found a new companion in the Phase 90 which he used extensively for his first two albums with the band. The use of this pedal extended to the recording sessions of By the Way, but changed to a Moog MF 103 Phaser, before embarking on the promotional tour of the album.
Moog Moogerfooger MF-103 12-Stage Phaser
Years Used: 2002 to Present
According to many sources, John would have several similar pedals during his time touring with the Chili Peppers during the By the Way era. He made extensive use of this pedal in Stadium Arcadium and ever since then it has stuck with his sound, it can be heard in various of his solo albums as well.
Electro Harmonix Big Muff
Years Used: 1999 to Present
Adopted during the Californication recording sessions, the EH Big Muff became John's main grain provider the way this staple pedal has done ever since it became a major rig piece decades ago. It's most notorious employments include the title track By the Way and  Can't Stop,
Electro-Harmonix Holy Grail Reverb
Years Used: 2002 to Present
Reportedly, and based on the sonic staging of John's guitar in most of the 2002 album By the Way this reverb pedal must have been used to clean and add depth between his DS-2 and Chorus pedals. Frusciante had already become a major guitarist by the time, By the Way, was released, and so it makes sense that he would look to enhance his clean-sounding guitar.
The EH Holy Grail can be more noticeable in Stadium Arcadium tracks when he was "looking for a more transcendent sound". Hey, Animal Bar, and 'Strip My Mind all display a brilliant pairing between this pedal and his dirtier-sounding ones.
Electro-Harmonix Electric Mistress Flanger
Years Used: 2006 to Present
One of the quintessential pieces on Frusciante's pedal board and yet one of the last to be adopted by the guitarist, along with his Holy Grail pedal, Frusciante delivered the ethereal tones that made Snow (Hey Oh) the song that "only Jesus can play perfectly on guitar).
Allegedly, its first use was seen on By the Way but it only became prominent and took its place in the limelight with Stadium Arcadium, when his sound became more transcending.
Wrap up
Although most well known for his role in the Red Hot Chili Peppers, Frusciante's career spawns more illustrious work such as a few mild collaborations with River Phoenix, The Mars Volta's Omar Rodriguez, and some very extensive solo work of his own. It'd be fair to say that John is a niche artist as much as a mainstream prolific one and is capable of being a very adaptive and resourceful musician. His technique, a blend of soulful funk, thunderous and minimalistic punk riffing thus producing a rather original sound that's been praised by critics and fans alike while earning him some comparison to Jimi Hendrix in terms of boundary edging vision, has been often mimicked but never duplicated in the last two decades.
Despite an infamous period of drug addiction which many believe served as an important crossroads for his development and career as an artist, his detailed soundscaping style continually developed over the years as he evolved from a devoted punk rocker to an adapted funk improviser. Following several years of recovery Frusciante became a crucial example of a highly dynamic and versatile player that could move and adapt from one genre to the next, utilizing a wide variety of different guitars and musical technology.
Whether it's with high-end pedals or blasting volume, John Frusciante boils down to a perfectly balanced guitar player who comes up as a seemless balance between a soulful and expert musician. He brought to the game some of the most iconic riffs of a generation that remains latent to this date, inspiring countless aspiring musicians to become more and more creative. This is a man who in his own words, "only desires to surround himself with creativity", this hints at his nature of constant boundary-pushing.
He packs the most unusual traits in a guitarist, virtuosity, knowledge, and charismatic flair, which made him the missing piece of the Chili Peppers when they first came across him. There are only so many things that make him one of the latest and most notorious unparalleled guitar icons of a generation.
There are only so many tunes that can prove the masterful craft of this modern-age guitar hero, his minimalistic approach derives from theory while his delivery is seemingly pure feeling for his work.
With massive flexibility, John Frusciante is capable of taking the lead and setting the tone for an entire band to follow, as well as laying back and allow other sections to shift and take point.  This is among his most valuable tricks up his sleeve, and a rare one to find in most rock bands out there.
As for gear, John is a well-renowned Fender Stratocaster champion, but throughout the years, his catalog has expanded to a few Jaguars, a rare Gretsch White Falcon, and a couple of Ibanez six-strings during his first few months as a Chili Pepper.  Nevertheless, John is a man who grows fond of his gear and isn't afraid to push their limits, from independent ethereal tones in his solo work, and a self produced EDM artist, he always finds a way to fit in his love for guitar music on whatever the project might be.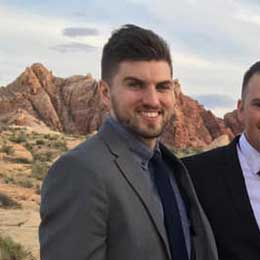 My name is Chris and I've had a passion for music and guitars for as long as I can remember. I started this website with some of my friends who are musicians, music teachers, gear heads, and music enthusiasts so we could provide high-quality guitar and music-related content.
I've been playing guitar since I was 13 years old and am an avid collector. Amps, pedals, guitars, bass, drums, microphones, studio, and recording gear, I love it all.
I was born and raised in Western Pennsylvania. My background is in Electrical Engineering, earning a Bachelor's degree from Youngstown State University. With my engineering experience, I've developed as a designer of guitar amplifiers and effects. A true passion of mine, I've designed, built, and repaired a wide range of guitar amps and electronics. Here at the Guitar Lobby, our aim is to share our passion for Music and gear with the rest of the music community.