Bolstered by the unyielding Midwestern work ethic she cultivated in her hometown of Kansas City, Missouri, Samantha Fish has plotted an exponential rise into blues and rock stardom. Fish has carefully crafted an image, brand, and sound that defies pigeonholing. Since trading in her drums, ala Eddie Van Halen, for the guitar at 15, Samantha Fish has amassed a litany of awards, ten albums, 2 DVDs, and an enviable collection of gear in her relatively short time in the music business.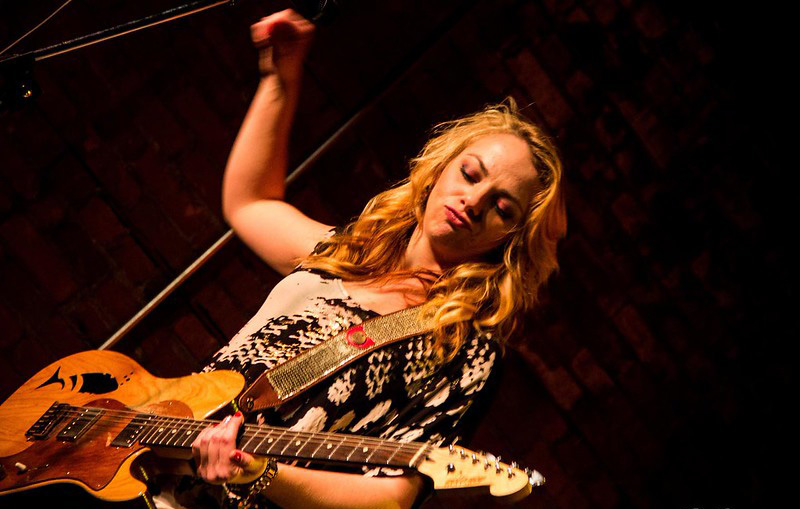 In a 2017 Premier Guitar interview, Fish reminisced about her father playing guitar when she was younger, and how the style of music would shift based on whoever was visiting. Music, a lot of rock and roll, was prevalent, and when her uncles stopped by, they were frequently jamming to Black Sabbath, Black Label Society, or the metal band du jour.
Then a batch of friends who were into bluegrass or country might stop by and everything would adjust. On top of that, Samantha's mother was in the church choir. The genre-fusing happened frequently, and as we can see as Fish's career has lifted off, this is with no doubt her main hook.
What Kind of Guitar Does Samantha Fish Play?
Samantha Fish plays a White Gibson SG as her main guitar. For many years, she's found Gibson humbucker pickups to be the perfect fit for her ear-catching blues-based sound. She's also made heavy use of a Fender Blacktop Telecaster, Fender Jaguars, a Gibson Firebird, among others.
See the full list of Samantha Fish guitars and gear below.
Gibson SG

| | |
| --- | --- |
| Finish  | Arctic White |
| Years Used | 2015 to Present |
Samantha's inner fangirl snuck out when she purchased a brand new Arctic White Gibson SG. As she recounted in the 2017 Premier Guitar article, while recording Chill & Fever, she expanded her scope again. An avid fan of Angus Young since she was little, Samantha splurged on an Alpine White Gibson SG. It's just one more amazing weapon she can wield in the studio and on the road.
Fish's SG is all stock and has become her go-to guitar ever since it first landed in her hands. For nearly five straight years Fish has bonded with this Gibson staple due to its "loud and thick tones", Samantha also noted that she loves the fact that it only has had her to bond with, since she purchased it brand new out of the factory.
This SG is built with a mahogany body, a slim mahogany neck and rosewood fretboard, two '57 Classic humbucker pickups, Min-Etune with vintage style button tuners, and a chrome tune-o-matic bridge and stop bar tailpiece.
Gibson Firebird

| | |
| --- | --- |
| Finish | Cherry Red |
| Years Used  | 2019 to Present |
Not to be outdone by Fender, Samantha's contacts from Gibson gave her a groovy Cardinal Red Firebird in 2019. She received this guitar just before recording a podcast with Jude Gold on No Guitar is Safe. Some of the footage that revealed this new piece on Smantha's rig was aired in the podcast's 99th episode. Earlier in 2021 however, Fish released her newest studio album, "Faster" which features her in the cover licking her newest addition on the neck.
When covering this new album Guitar magazine inquired about her rig and evolution, specifically asking about this new addition and what this could mean in terms of sound. Samantha simply added that her love for offset bodies made her fall in love instantly with the Firebird, before jumping to her perception of this piece.
"There's a depth and loudness and there's also more presence than my other guitars which don't have that full bottom sound. The brightness and clarity is incredible, the way it looks is edgy and weird; it's red so it goes with anything and nothing looks more rock n' roll!" It's a statement guitar with a ballsy nature."
The 2019 Firebirds croon with a pair of mini-humbuckers mounted on a mahogany body. Twenty-two low frets line the mahogany/walnut neck and rosewood fretboard. Grover Mini-Rotomatics extend along with the reverse headstock.
Fender Jaguar Vintera Series

| | |
| --- | --- |
| Finish | Surf Green |
| Years Used | 2019 to Present |
The folks at Fender gifted Samantha with a second Jaguar in 2019. This model is part of Fender's recent Vintera series, an offering that features vintage-style pickups and throwback finishes, all supported by modern electronics and craftsmanship.
Samantha's cool surf green guitar has a pair of screaming Atomic humbuckers, a comfy Modern C-shaped maple neck, an Adjusto-matic bridge, and a floating whammy bar. It's an ideal match for her trademark retro style and aura.
In recent interviews with Premier Guitar, Fish shared that she often favors this vintage-inspired Jaguar instead of her original Classic white one given the fact that this piece has an actual full-on retro sound. Nevertheless, the Jaguar siblings do take turns both on stage, press photoshoots, and of course, the studio. It's fair to note that this piece has slowly but surely taken over as one of her main six-strings, sometimes even replacing Fish's cherished SG during full performances.
Fender Jaguar Classic

| | |
| --- | --- |
| Finish | White |
| Years Used | 2017 to Present |
Having fallen in love with Strat's early in her life, Samantha was easily drawn to the unique design and tone of the Fender Jaguar, she wanted a classic twang with a twist, and the Jag was and still is certainly up to the task. But for Fish the Jaguar was a twisted surprise, reportedly, when she first got it her first thought was "this is gonna be my next big rocking Kurt Cobain guitar, but when I tried it, its sound was jingly and clean and beautiful that I was shocked. It makes it perfectly in all the R&B songs".
Samantha has put this Fender classic through quite a lot during her rise to prominence, it's been her main go-to along with her SG and the impact was so hard n her sound that she decided t get yet another Jaguar to back-to-back with this one. On another hand, it's fair to note that Samantha has used this guitar since "Kill or Be Kind" and it remains to excel both on stage and on the studio.
Fish keeps her Jag all stock; V-Mod pickups, a "Deep C" maple neck, and Vintage-style floating tremolo. This guitar has found a home on many of Samantha's R&B flavored tunes like "Hello Stranger" from Chills & Fever and is a perfect match for her versatile Category Five tube amps.
Delaney Custom SF-1 "Fish-o-caster"
| | |
| --- | --- |
| Finish | Natural |
| Years Used | 2012 to Present |
After Mike Zito connected Samantha with Mike Delaney from Delaney Guitars, he told her, "I want to make you a signature guitar!" The result was a completely unique design, a Tele thin line, and a semi-hollow body hybrid. In addition to the guitar's versatility, it's yet another example of Samantha's ability to establish a brilliant brand and theme. There's no doubt who owns this guitar.
Delaney's design features a semi-hollow swamp ash body highlighted by the distinctive fish f-hole, topped off with a maple neck and rosewood fretboard. The original iteration included a mini-humbucker and a single-coil, but Samantha replaced them with Klein humbuckers.
This has become one of Samantha's mainstays along with her Fender Jaguars and Gibson Firebird. Fish usually uses this six-string to tear it up on "Gone for Good," integrating her sizable slide skills with a swampy growl. Furthermore, this custom-made Delaney has made an appearance in every studio installment of the Samantha Fish project, more recently in 2021's "Faster".
2011 Fender Telecaster

| | |
| --- | --- |
| Finish | Black |
| Years Used | 2011 to Present |
During the Girls with Guitars tours, Fish and her bandmates were picked up by Fender, and she received this Tele. A stock black model she frequently left in drop-D for earlier live shows, this 2011 guitar featured an alder body, maple neck and fretboard, Classic Gear tuning machines, and a pair of Lindy Fralin humbuckers. Samantha introduced this new guitar into her gear lineup during the tour, switching between the Larry James custom and this Tele.
1956 Danelectro Baritone

| | |
| --- | --- |
| Finish | Silver Sparkle |
| Years Used | 2017 to Present |
Another result of Samantha's recent experiments was her purchase of a Danelectro '56 Baritone guitar. She picked up this reissue at the Chicago Music Exchange and introduced it on the title track of 2019's Kill or Be Kind. This was Fish's first baritone six-string she claims that there was always a fixation on her end for "weird textured instruments" and getting this Sparky reissue felt like a dream come true, even though it may not be a recurring guitar, it certainly made its way as a mainstay on her live performances.
A six-string typically tuned B to B, the Danelectro includes the brand's signature red-hot lipstick pickups, an adjustable saddle bridge, and a maple, bolt-on neck. On another note, Samantha pointed that when the adrenaline is starting to wear down on her performances, it's time to bring this sparkling classic to the stage.
Alvarez Dreadnought MD95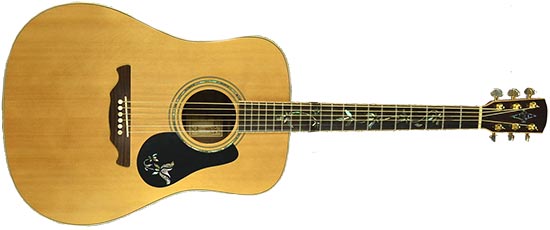 | | |
| --- | --- |
| Finish | Natural |
| Years Used | 2006 to 2014 |
Not long after experimenting with her electric, Samantha bought her first acoustic, an Alvarez Dreadnought an MD95. This workhorse was her acoustic mainstay until During Samantha's very first few live presentations, particularly during the period in her life when she would attend the Knucklehead Saloon in her hometown of Kansas City. The Alvarez Dreadnought would also see Fish rising to a moderately acclaimed status taking a role as her main go-to composition guitar from Samantha's studio debut with "Live Bait" all the way to "Black Wind Howlin".
The Alvarez MD95 is crafted using a traditional dovetail neck joint for top resonance and stability, it also features a modern, thin neck profile for the utmost in playability. With solid Indian rosewood back and sides and an Engleman Spruce top, this particular model brings out a subtle yet rich bright treble sound. Furthermore, The MD95 is a strictly acoustic six-string, this is the main reason Samantha Fish decided to make a shift to an electro-acoustic guitar for live performances, in this case, it was her ebony Takamine.
This Alvarez remained a mainstay all the way through to late 2013 when she picked up the Taylor Koa acoustic. It's fair to note, however, that its role as the main acoustic would soon be overruled when touring for her "Girls with Guitars" 2011 installment. Fish came to the realization when she was given a more performative black Takamine single-cutaway that eased up a considerable workload on her band's street performances.
Gibson Les Paul Studio Vintage

| | |
| --- | --- |
| Finish | Satin Mahogany |
| Years Used | 2007 to 2009 |
Samantha upgraded her electric to this limited series produced by Gibson. The Les Paul Studio Vintage Mahogany sported a slight relic'd satin finish, a rosewood fretboard, and 498T and 490R pickups. Outside of a few offhand comments, Fish hasn't shared many details on this guitar. It's likely she played this one in her early sit-ins at Knuckleheads in Kansas City.
This particular Les Paul however is a rare piece itself, it's most likely from the 2007 first iteration of the all-mahogany version of the LP. On another hand, these were rather exclusive instruments before they were rolled into the Les Paul Studio line later in 2008. its specs included 490R/498T humbuckers and a traditional tune-o-matic bridge to keep the tradition alive in this limited edition.
Bohemian Guitars Kerosene P90 Oil Can

| | |
| --- | --- |
| Finish | Purple/Red/White |
| Years Used |  2013 to Present |
Rumor has it that a fan gifted Samantha with her second "novelty" guitar, a Bohemian Guitars Kerosene Oil Can model. Just as she has shown with her Stogie Cigar Box, Fish can crank this can and give every Gibson and Fender a run for its money. Bohemian's creations are built with an extended tenon design, bringing the neck through the entire can. A removable back panel provides access to the internal electronics. In a 2014 Highway 18 Revisited article, Samantha stated that the instrument maker puts Fender Telecaster parts on an oil can, and she usually tunes the guitar to an open G.
Model 15 Taylor K24ce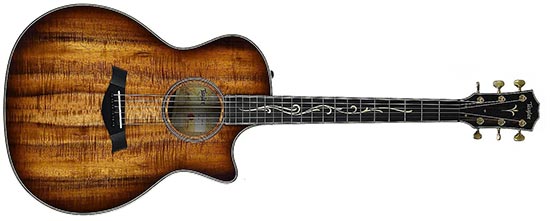 | | |
| --- | --- |
| Finish | Natural Koa |
| Years Used | 2014 to Present |
Samantha's Koa Taylor is all over YouTube. From the latter half of the last decade, it has become her main go-to acoustic. This model features V-class bracing, a haunting Hawaiian Kao body, Taylor's Expression System 2 electronics, Gotoh tuners, and a black graphite nut. Samantha pulls out her Taylor on everything from "I'm in Love with You" from Wild Heart to "Need You More" and the title track from Belle of the West. Samantha pairs this with an LR Baggs Para Acoustic DI pedal.
Delaney Samantha Fish 512
| | |
| --- | --- |
| Finish | Black Quilt |
| Years Used | 2017 to Present |
How does a rising star continue to blow away her contemporaries? Release two impressive and distinct albums. Reconnecting with producer Luther Dickinson, from her 2015 release Wild Heart, Samantha uncovered the seduction of the Gibson ES-390 while recording her second release of 2017, Belle of the West.
Samantha recalled working with Luther in a 2017 Premier Guitar interview. She credits Dickinson for turning her on to hollow-body guitars and demonstrating the variety of tones and sustain they can deliver. Samantha immediately put them to use in several solos. His input made Belle of the West what she calls a "semi-acoustic" record.
Samantha returned to Mike Delaney and asked him to build her a similar hollowbody. Delaney delivered with a 512 that gave Samantha another exclusive voice to contrast with her Fish-o-Caster. Delaney's creation has a mahogany body and maple quilted top, a single, semi-hollow f-hole, a maple neck and rosewood fretboard, a pair of Delaney "Everest" humbuckers, and Hipshot bridge and tuner hardware.
While playing live, Fish keeps her 512 in open D and unleashes more of her wicked slide.
Stogie Cigar Box Guitar
| | |
| --- | --- |
| Finish | American Cigars Red |
| Years Used | 2012 to Present |
Typically restricted to a small number of creative aficionados, cigar box guitars have been thrust into the spotlight by players like Samantha Fish. She found her model, built by Stogie Cigar Box Blues while playing the King Biscuit Blues Festival in 2012. Samantha's guitar boasts a raucous P-90 pickup and four strings, tuned to open G. Like her Fish-o-caster, this curiosity has become a fan favorite that's uniquely connected to her trademark.
Check out live versions of "Crow Jane" or "Gone for Good," where Fish pulls out the cigar box guitar. Who needs six strings? Samantha's support of the New Orleans Cigar Box Guitar Festival exploded when she took on sponsorship in 2020 when it became the Samantha Fix Cigar Box Guitar Festival.
Timetable Showing Each Guitar Samantha Fish Has Played Throughout Her Career
| Make | Model | Color/Finish | Years |
| --- | --- | --- | --- |
| Alvarez | Dreadnought MD95 | Natural | 2006 to 2014 |
| Gibson | Les Paul Studio Vintage Mahogany | Satin Mahogany | 2007 to 2009 |
| Fender | 2011 Telecaster | Black | 2011 to Present |
| Delaney | Custom SF-1 "Fish-o-caster" | Natural | 2012 to Present |
| Stogie | Cigar Box Guitar | American Cigars Red | 2012 to Present |
| Bohemian Guitars | Kerosene P90 Oil Can | Purple/Red/White | 2013 to Present |
| Taylor | Model 15 K24ce | Natural Koa | 2014 to Present |
| Gibson | SG | Arctic White | 2015 to Present |
| Fender | Jaguar Classic | White | 2017 to Present |
| Danelectro | 1956 Baritone | Silver Sparkle | 2017 to Present |
| Delaney | Samantha Fish 512 | Black Quilt | 2017 to Present |
| Fender | Jaguar Vintera Series | Surf Green | 2019 to Present |
| Gibson | Firebird | Cherry Red | 2019 to Present |
Samantha Fish Amps Overview
There's a little mystery around the first amps that Samantha Fish may have used. It's probably safe to assume that she borrowed an amp from her father or an uncle once she acquired her first electric guitar. Early interviews with Fish seemed to focus on the awe her chops inspired or, frankly, that she was a woman excelling in the ridiculously male-dominated world of blues guitar. There might be mention of the instrument she had with her or had used in a recent set, but no one seemed to dig into her gear until her 2013 Premier Guitar rig rundown.
There's an obscure reference to Samantha employing a Fender '65 Reverb reissue and a Kansas City manufactured Bojan Mihajovic amp in her early touring days. She's also mentioned her appreciation for Fender amps in a few interviews. It's been nothing but Category 5 for her for nearly a decade.
Category 5
Years Used: 2012 to Present
Sometime around 2012, Samantha discovered Category 5 amplifiers. A boutique brand of classic tube amps named after hurricanes (oddly enough), Category 5 has built a solid reputation through their work with Joe Bonamassa, Billy Gibbons, and Warren Haynes. Owner Don Ritter built Samantha's first Category 5, a custom Andrew 2X12, with cabinets pumping 10" and 12" speakers. She's recently added a Camille head running through a 4X12 cab but still relies heavily on the Andrew setup.
Samantha Fish Pedals and Effects Overview
The early blues legends, like B.B. King, Freddie King, and Muddy Waters, built their fabled tone without relying upon a loaded pedalboard. Their fingers, fretting and picking, channeled the demons that screamed from their amps. Similarly, Fish has been mindful and selective about what she includes in her effects chain.
Samantha's early pedalboard was limited to a Fulltone OCD for high gain and distortion in tight corners, an MXR Custom Badass Modified O.D. for extra crunch.
In recent years, Samantha has swapped out a few options for her old pedals and added more to flesh out the tones of her expanding catalog. She swears by the Analog Man King of Tone for overdrive, plus the JHS Mini Foot Fuzz when things get really crunchy, a Boss PS-5 Super Shifter (featured on "Bulletproof" from Kill or Be Kind), a funky Electro-Harmonix POG. Her go-to delay is an MXR Carbon Copy, and she's added a JHS Tidewater Tremolo (for the baritone) and a Line 6 DL-4 for some reverse delay.
Wrap Up
Samantha's first guitar was a Strat knockoff created by a friend of her father's. When asked about the instrument, her answers have been a bit dodgy. In one interview, she said it was pink; in another, she said black. Whatever the specs, it was enough to keep her hooked. Her gear collection and career are only going to grow.
As she expressed in a Guitar Interactive interview, she's a bit of a self-proclaimed "hoarder" and doesn't often part with her guitars. Samantha's donated a few for charity over the years, but she's become a magnet for gifted guitars, too. Now her home is a mini guitar museum. She has no problem digging into her inventory and making whatever guitar she's handling sound fresh, emotional, and genuine.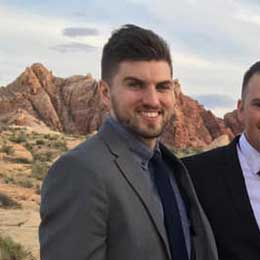 My name is Chris and I've had a passion for music and guitars for as long as I can remember. I started this website with some of my friends who are musicians, music teachers, gear heads, and music enthusiasts so we could provide high-quality guitar and music-related content.
I've been playing guitar since I was 13 years old and am an avid collector. Amps, pedals, guitars, bass, drums, microphones, studio, and recording gear, I love it all.
I was born and raised in Western Pennsylvania. My background is in Electrical Engineering, earning a Bachelor's degree from Youngstown State University. With my engineering experience, I've developed as a designer of guitar amplifiers and effects. A true passion of mine, I've designed, built, and repaired a wide range of guitar amps and electronics. Here at the Guitar Lobby, our aim is to share our passion for Music and gear with the rest of the music community.