You may not come across a left handed guitarist every day – after all, only 10 percent of us are left handed at birth. But despite that, the music world has had the privilege of witnessing some pretty iconic leftie guitarists for hundreds of years! left handed guitarists are a treat to watch because their playing style or even sometimes their perception of the instrument is a little different from the rest of us. And that leads to pure music magic!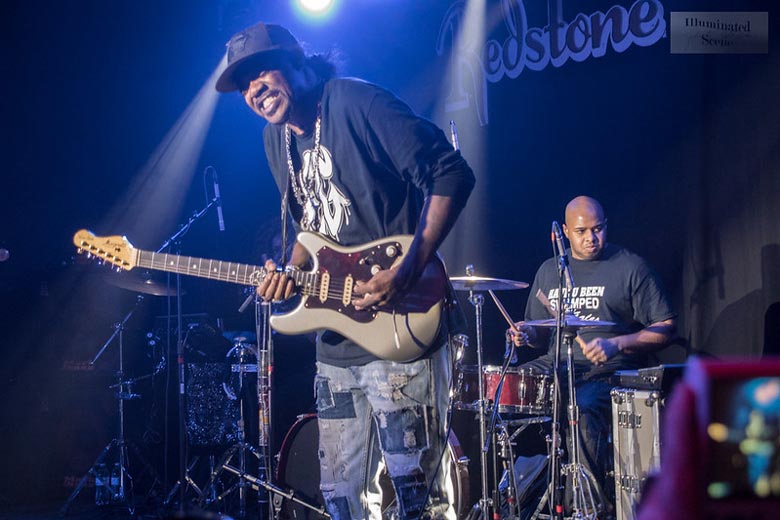 Today, we're sharing the 20 greatest left handed guitarists of all time with you. If you're a leftie yourself, there is so much that you'll be inspired by in this article. And even if you're not, prepare to be amazed!
Here Are the Most Famous Left Handed Guitarists
20. Paul Gray
| | |
| --- | --- |
| Date of Birth | 1972 |
| Birthplace | Los Angeles, California, U.S. |
| Bands | Slipknot |
Known by monikers- The Pol, #2 or The Pig, Paul Gray's most notable acts were the founding member and bassist for Grammy-winning metal band Slipknot. He sometimes also took on backing vocal duties and penned many of the band's tracks.
Born in Los Angeles, U.S., Gray started out as a right-handed guitarist before switching over to left handed simply because it felt more comfortable. Gray's finger-twisting, drop-tuned riffing, slides, and bends were pivotal in creating the band's explosive sound, which can be sampled in "Vermilion," "Duality" (Vol.3:The Subliminal Verses), and "Psychosocial" (All Hope is Gone).
Sadly, Gray passed away in 2010 from an accidental drug overdose. He was only 38. In a tribute to Gray, frontman Corey said, "When it came to music, Paul was up there with some of the greats."
19. Slim Whitman
| | |
| --- | --- |
| Date of Birth | 1923 |
| Birthplace | Tampa, Florida, U.S. |
| Bands | Variety Rhythm Boys |
The man who inspired Sir Paul McCartney to become an adopted leftie! Country Legend Slim Whitman was a prolific musician who earned himself quite a following for his guitar skills, phenomenal yodeling abilities, and a high three-octave range falsetto.
Over the course of his career, Whitman sold more than 120 million records, released over 100 albums, and toured extensively as the opening act with Elvis Presley in the '50s
Like McCartney, Whitman was also a right-hander for every other purpose except playing the guitar. An accident while working at a meatpacking plant left the second finger of his left hand partially severed. The incident prompted Whitman to change his playing style. He then started playing the guitar upside down as a leftie, inspiring many others to follow suit.
18. Malina Moye
| | |
| --- | --- |
| Date of Birth | 1984 |
| Birthplace | Cleveland, Ohio, U.S. |
| Bands | Malina Moye |
Music is in her blood, and it shows! Malina Moye's virtuosic upside-down playing, genre-bending sound, and thought-provoking lyrics have galvanized many women to embark on their musical journeys.
Born in 1984 to bassist/guitarist father and singer mother, Malina Moye started playing guitar at the age of six with a right-handed model. In an interview to Guitar Player magazine, Maye mentioned how she at her father's behest tried playing the guitar right-handed, but the moment he left the room, she flipped the guitar upside down and exclaimed, "Now this works!"
You'll usually catch her rocking a left handed custom Fender with a right-handed headstock strung in reverse. She is also the first African-American left handed upside-down female endorsee to join the Fender family.
17. Elliot Easton
| | |
| --- | --- |
| Date of Birth | 1953 |
| Birthplace | Brooklyn, New York, U.S. |
| Bands | The Cars |
If we had to recommend one solo that would give you a taste of Easton Elliot's genius, it'd have to be the masterpiece he belted out for the Car's "Touch and Go."As the lead axeman for the American rock band The Cars, Easton produced many melodic solos and catchy pop hooks.
Easton's quintessential sound was an infectious mix of pop, blues, jazz, rock, and rockabilly that inspired many, including Guns N' Roses' Slash. The reason this Berklee College of Music alumnus features here is that he too is a proud southpaw and owns an astonishing collection of lefty six-strings, including his signature limited edition Gibson "Tikibird" Firebird guitar.
16. Ernie C
| | |
| --- | --- |
| Date of Birth | 1959 |
| Birthplace | Compton, California, U.S. |
| Bands | Body Count |
If legendary rapper and former schoolmate Ice-T was the heartbeat, left handed axeman Ernie Cunnigan, aka Ernie C, was the backbone of the revered heavy metal band Body Count.
Growing up in Compton, California, Cunnigan got early exposure to music thanks to his uncle, who introduced him to a plethora of styles across genres. Inspired, he bought himself a neat guitar and started playing at 12. With his technique and musicianship, Cunnigan dazzled fellow students.
As the lead guitarist for Body Count, Cunnigham was a force of nature, propelling Body Count's thrash-meets-punk-meets-heavy doom sound with his killer riffs and gritty solos. The band's seventh studio album, Carnivore, features some of Ernie C's best work. We'd love you to check out "Bum Rush," a song that fetched the band their first Grammy win for Best Metal Performance in 2020.
15. Tim Armstrong
| | |
| --- | --- |
| Date of Birth | 1965 |
| Birthplace | Albany, California, U.S. |
| Bands | Rancid, Operation Ivy |
Another proud leftie on the list, give it up for the '90s punk hero Tim Armstrong! As a guitarist, singer, record label owner (Hellcat), and producer, Armstrong's contribution in reviving American punk rock has been invaluable. His most memorable stints have been as singer-guitarist for prominent punk bands- Operation Ivy and Rancid.
On stage, Armstrong cuts a mean figure, rocking a low hanging vintage Baldwin-era Gretsch hollow-body to suit his left handed style and crooning in his classic raspy and soulful voice. The punk icon's talents extended to songwriting as well, having penned hits for Pink, Gwen Stefani, and Jimmy Cliff as well as other artists for which he's also won a Grammy.
14. Joe Perry
| | |
| --- | --- |
| Date of Birth | 1950 |
| Birthplace | Lawrence, Massachusetts, U.S. |
| Bands | Aerosmith |
Like some right-handed musicians learned to play left, such as Paul McCartney and Slim Whitman, some lefties became right-handed guitarists, like famous Joe Perry.
The Aerosmith rocker is southpaw by birth but has been playing the guitar as a rightie since the age of ten. However, in an old interview, he revealed that some of the guitars in his collection were left handed Fender Stratocasters, which he would play upside-down as right-handed for their unique tone.
Perry is not the only one who opted for right-handed style despite being dominantly left handed. Both Duane and Gregg Allman of the Allman Brothers band, Mark Knopfler of Dire Straits, David Bowie, Paul Simon are some of the many southpaws who favored their right hand when it came to playing the six-string.
13. Paul McCartney
| | |
| --- | --- |
| Date of Birth | 1942 |
| Birthplace | Liverpool, U.K. |
| Bands | The Beatles |
As the brains behind some of Beatles' chart-conquering gems like "Yesterday," "Let It Be," "Hey Jude," Paul McCartney's influence on rock and roll cannot be overestimated. He continued contributing to the world of music even after the band split up, becoming a hugely successful global star with over 100 million record sales and a Knighthood to boot.
McCartney stands out on this list as he is not technically a leftie. For everything else, he is right-handed, but when it comes to strumming out those genius notes, McCartney turns to his "weaker" left hand.
McCartney did start out playing right-handed, but for some reason, this style did not work well for him, almost making him want to give up. After watching another great guitarist Slim Whitman work his magic left handed, McCartney re-strung the instrument and started playing as a leftie. And the rest, as they say, is history!
12. Barbara Lynn
| | |
| --- | --- |
| Date of Birth | 1942 |
| Birthplace | Beaumont, Texas, U.S. |
| Bands | Bobbie Lynn and Her Idols |
The list of prominent left handed guitarists is relatively short. After all, only 10% of the population is left handed, but the numbers trim down even further where southpaw female guitar players are concerned.
A well-known name in the '60s soul, R&B circuit was that of Barbara Lynn. She stood out and became an inspiration to many as an African-American female musician who wrote her own music and knew how to play a lead instrument. Her choice of weapon was an electric guitar, and she is best known for the 1962 bluesy chart-topping single "You'll Lose a Good Thing."
Like Hendrix and other southpaw contemporaries, Lynn would flip a Fender Stratocaster. She eventually started playing on guitars which were designed and built specifically for left handed players.
11. Elizabeth Cotten
| | |
| --- | --- |
| Date of Birth | 5 January 1893 |
| Birthplace | Carrboro, North Carolina, U.S. |
| Bands | Solo |
Many of you may not have heard this name, but Elizabeth Cotten, with her imaginative guitar playing, became an inspiration to a generation of musicians, especially the left handed ones.
As a leftie, Cotten found it particularly hard to play the instrument right-handed. The genius that she was, Cotten went ahead and invented her own alternating bass style, which is now widely known as "Cotten picking." This unique fingerpicking technique involved playing the right-handed guitar upside down. Cotten would play the bass lines with her fingers and melody with the thumb.
If you want to check out the breathtaking talent of this Great musician, tune in to the famous folk ballad "Freight Train. Cotten composed this timeless gem as a teenager inspired by the sound of trains she would often hear near her childhood home.
10. Otis Rush
| | |
| --- | --- |
| Date of Birth | 1934 |
| Birthplace | Philadelphia, Mississippi |
| Bands | The Otis Rush Blues Band |
Next on our list is the bona fide guitar legend who invented West Side Chicago Blues, Otis Rush. Born in 1934 to a farming family from Philadelphia, Mississippi, Rush was already playing the guitar by eight and singing at church choirs.
Rush was revered for his soaring, wide-ranging vocals and inventive guitar style powered by long dramatically bent notes and slow, emotionally intense riffs. The man knew just how to make a guitar string sing!
Rush's distinctive tone could, in part, be attributed to the fact that he was left handed. To support his dominant hand, he would restring his guitars upside down with the low E string at the bottom of the fretboard and curl the little finger of his pick hand under the low E while playing. "I Can't Quit You, Baby," "Double Trouble," "My Love Will Never Die" are some fantastic tracks from his vault that feature Rush at his finest.
9. Mdou Moctar
| | |
| --- | --- |
| Date of Birth | 1984-86 |
| Birthplace | Tchintabaraden, Niger |
| Bands | Mdou Moctar |
From growing up in a remote Nigerien desert village to becoming a psych-rock icon, Mdou Moctar's story is the stuff of legend. His first guitar had bicycle cables for strings which he built himself after facing strong disapproval from his family for showing interest in western music. Notwithstanding, Moctar's precocious talent couldn't be suppressed, and his Hausa-influenced music spread across West Africa, traveling from one phone to another through a Bluetooth song trading network.
Since then, this left handed guitarist has released five solo albums and his fifth album IIana opened to raving reviews. Moctar music is a fascinating blend of Tuareg with modern psychedelic and blues. A real treat to the ears!
8. Zacky Vengeance
| | |
| --- | --- |
| Date of Birth | 1981 |
| Birthplace | Olympia, Washington, U.S. |
| Bands | Avenged Sevenfold |
Best known as the rhythm guitarist of the heavy metal band Avenged Sevenfold, Zacky Vengeance's fascination with the instrument started when his music-loving parents gifted him a right-handed guitar on his 13th birthday. Being southpaw, Vengeance started playing the guitar upside down and does so to this date.
After partnering up on guitar duties with Synyster Gates, Vengeance became one half of an iconic modern guitar duo, producing guitar-fuelled gems in Walking the Fallen (2003), City of Evil (2005), and Hail to the King (2013). In short, Avenged Sevenfold sound wouldn't have been as incredible if it wasn't for Vengeance's rock-solid rhythm, which brilliantly binds all the musical elements together, record after record.
7. Courtney Barnett
| | |
| --- | --- |
| Date of Birth | 1987 |
| Birthplace | Sydney, Australia |
| Bands | Courtney Barnett |
A gifted southpaw to emerge in the last decade is the multi-talented Australian singer-songwriter and guitarist Courtney Barnett. Her discography is a cauldron of witty lyrics, catchy riffs, groovy rhythm, all of it delivered in Barnett's signature deadpan vocals. With her quirky and creative sound, Barnett has been breaking new ground for female guitarists since the release of her 2015 debut, Sometimes I Sit and Think, and Sometimes I Just Sit.
Barnett prefers using standard left handed guitars instead of flipping right-handed ones upside down. She started by playing on acoustic guitars but didn't get warm up to the sound of a pick, inventing her own distinctive fingerstyle- using both her thumb and index finger to strum the rhythm and index finger alone to fingerpick lead parts. She later replicated this style on an electric as well.
6. Kurt Cobain
| | |
| --- | --- |
| Date of Birth | 1967 |
| Birthplace | Aberdeen, Washington, U.S. |
| Bands | Nirvana |
You cannot have a list of iconic left handed guitarists and not have trailblazing rocker Kurt Cobain on it! As the frontman, guitarist, and songwriter of grunge pioneers Nirvana, Cobain left an indelible impact on the alt-rock scene, something that can be felt even now, decades after his passing.
Cobain was what one might call an "ambidextrous left handed guitarist." He wrote with his right hand, played drums as a rightie, but when it came to strumming a guitar, he always favored his left hand.
In the early days of his career, Cobain would flock to pawn shops and second-hand stores to pick up guitars which he would flip over and refashion to suit his playing style. After the release of Nirvana's breakthrough album Nevermind, Cobain would often be seen fleshing out his signature fuzzy, distorted, power-chords fuelled tones from a modified Fender Mustang or a Jaguar model. Kurt Cobain is easily one of the most famous left handed guitarists of all time.
5. Eric Gales
| | |
| --- | --- |
| Date of Birth | 1974 |
| Birthplace | Memphis, Tennessee, U.S. |
| Bands | The Eric Gales Band |
Eric Gales is somewhat of an anomaly on this list as he is not a natural leftie but someone who was taught to play upside-down by his leftie brother. Interestingly, he stuck to this uncommon style of playing the guitar as a southpaw even to this date.
From an early age, Gale started showing signs of prodigious talent. He was only four when he first picked up a guitar, eventually emulating Jimi Hendrix, Albert King, B.B. King inspired licks with astounding ease. Gales' sonic print is a fantastic fusion of hard rock, blues, and funk which you can check out in "Change in Me" (Relentless) and "Carry Yourself" (Middle of the Road).
4. Dick Dale
| | |
| --- | --- |
| Date of Birth | 1937 |
| Birthplace | Boston, Massachusetts, U.S. |
| Bands | Del-Tones |
Dick Dale, hailed as the "King of Surf Guitar," bought his first-ever guitar for $8 from a buddy on credit. Hale then used his familiarity with Tarabaki (goblet-shaped drum) to develop a rapid alternate picking technique, which he also referred to as "The Pulsation." As a left-hander, Dale played the guitar upside down but, unlike Hendrix, did not reverse the strings.
Dale's illustrious career spanning six decades had him at the forefront of the surf rock movement, a genre he invented by experimenting with middle-eastern sound thanks to his part-Lebanese heritage.
Dale often partnered with Leo Fender to take new innovations on a test ride and was one of the first guitarists to receive a Stratocaster. Fender was once quoted saying, "When it (new equipment) can stand the barrage of punishment from Dick Dale, then it is fit for human consumption."
3. Tony Iommi
| | |
| --- | --- |
| Date of Birth | 1948 |
| Birthplace | Birmingham, England |
| Bands | Black Sabbath |
His lightning-fast solos and jaw-dropping minor-key riffing were genre-defining and precisely why Black Sabbath's Toni Iommi is hailed as the "Godfather of Heavy Metal. Iommi's monumental riffs and distinctive style influenced many other guitar legends, including Dimebag Darell, Slash, Jeff Hanneman, and Tom Morello.
Iommi was ranked 25th on Rolling Stone's list of the "100 Greatest Guitarists of All Time" and number 1 on the "Riff Lords" poll by Metal Hammer magazine.
Since the time he first picked up a guitar, Iommi's been playing it left handed. An accident at the age of 17 left him without the tips of the middle and ring fingers. Instead of switching to right-handed style, Iommi retuned his guitar three semitones down and started using lighter strings and thimbles on his damaged fingers. What Iommi thought to be a compensatory style ended up giving birth to the tone and technique that laid down the foundations of heavy metal guitar playing. Unbelievable, right!
2. Albert King
| | |
| --- | --- |
| Date of Birth | 1923 |
| Birthplace | Indianola, Mississippi, U.S. |
| Bands | Albert King |
The "King of Blues Guitar," a title he shared with Blues legends, Freddie and BB King. On stage, King was a sight to behold, with his 6'5" tall frame, warm and uplifting presence, and most importantly, how he played his Flying V guitar.
Born a leftie, King had no option but to play the standard right-handed guitar upside down with reverse strings. He also had an affinity for dropped open tunings and lighter gauge strings as they helped facilitate his mind-blowing string bending technique.
King's seminal body of work influenced many guitar greats, including Jimi Hendrix, Derek Trucks, Stevie Ray Vaughn, and Eric Clapton. In 2013, Rolling Stone named King, the 13th greatest guitarist of all time. Check out the link to a rare video with two guitar greats- Stevie Ray Vaughn and Albert King in one frame, jamming away to glory.
1. Jimi Hendrix
| | |
| --- | --- |
| Date of Birth | 1942 |
| Birthplace | Seattle, Washington, U.S. |
| Bands | The Jimi Hendrix Experience |
What better way to kick off this list than talking about the most iconic guitarist of all time, Jimi Hendrix! With his virtuosity and seminal electric licks, this southpaw guitar god from Seattle, Washington, defined modern guitar playing. Born a natural leftie, Hendrix was pushed into learning to play the guitar right-handed by his father, Al, because guess what? Al believed playing left handed was a sign of the devil!
Not the one to stick to convention, Hendrix took a right-handed guitar, mostly Fender Stratocaster, and strung it upside down to support his left handed style. But every once in a while, he would be spotted playing right-handed mainly for the sake of his father, getting pretty adept at it.
Hendrix's imaginative way of flipping a right-handed instrument contributed to his signature tone and spectacular stage presence that many tried emulating long after he was gone.
Are Left Handed Guitarists Rare?
While right-handed guitarists strum with their right hand (dominant hand) and fret with their left hand, it's the exact opposite with true left handed musicians – they strum with their left hand (dominant) and fret with their right. Almost 10% of the human population is left handed, with reportedly only 3% of them solely referring to themselves as purely left handed. So coming across a left handed guitarist is definitely not an everyday phenomenon. But if you have a circle of musician friends, then we're sure you've come across leftie guitarists once in a while.
Like most products we use in everyday life, guitars have also been traditionally oriented for right-handed players. As a result, some left handed guitarists would often try to play them, feel uncomfortable and eventually give up. Those who could adapt to playing right-handed did so. But intriguingly, some of them modified the instrument to work for their natural orientation, and stood out as unique and unconventional left handed guitarists! In the next section, you'll the many different ways in which left handed guitarists can choose to play the instrument.
How Do Left Handed Guitarists Play?
When you're a left handed guitarist in a right-hand dominated world, you have a couple of ways to play your guitar:
Learn to play the instrument right-handed. This means that, while you're left handed in all other activities, you play a right-handed guitar as a right-handed person would.
Play the instrument truly left handed. This would mean picking up a left handed guitar where you strum with your dominant hand (left) and fret with your right, and the strings are re-ordered such that the 6th string is closest to your body and the 1st string is closest to the floor.
Playing a right-handed instrument but flipping the direction so they can strum with the left and fret with the right. This would also involve restringing the instrument so that the thickest string (6th) is closest to their body, and the thinnest (1st string) is closest to the floor.
Playing a right-handed guitar upside down. This means strumming with the left hand, but WITHOUT altering the order of strings! This means that while they flip the direction they play the instrument in, the thickest string (6th) is closest to the floor and the thinnest (1st) is closest to their body. This technique alters everything for the musician – from the way they hold their chords to the strumming strokes.
What Is The Difference Between A Left And Right Handed Guitar?
You may think that a left handed guitar is nothing but a right-handed one that is restrung and flipped direction-wise – but that's not quite it. It's true that many guitarists who may not have access to left-hand guitars or can't afford them can choose to play a right-handed guitar this way without making any sacrifices to their natural orientation. However, a truly left-hand guitar is designed to specially accommodate for the natural hand and body orientation of the left handed musician.
String Direction
One of the main features that are different for a left handed guitar is, of course, the direction of the strings. If you line up both guitars vertically, then you'll see that the thickest string will be on the opposite sides. That's because both guitars are strung in such a way that the musician has the 6th string closest to their body when they play it.
Pickguard
The second feature that differs is the pickguard – in a right-handed guitar, the pickguard is placed on the right to prevent scratches from the right strumming hand. On a left handed guitar, the pickguard is placed on the left side, since the strumming hand is switched in this case.
Guitar Nut
The guitar nut is the thin strip of synthetic bone or similar material that holds the strings in place. The six slits in the nut vary in their widths so that they can accommodate the right size of string securely. So naturally, the slit width and direction will be different for a right and left handed guitar.
Acoustic Guitar Saddle
Your guitar saddle is a strip of sturdy material on top of your bridge that helps transfer the frequencies of your string into the chamber of your acoustic guitar. Saddles are placed at a slight angle to alter the strings' lengths. If you look closely at right-handed guitar, you'll see that the saddle is angled so that the thickest string (6th) has the longest length. As a result, the direction of the slant varies in the case of a left handed guitar.
Final Thoughts
We hope you enjoyed finding out more about these inspiring, talented, and amazing left-hand guitarists! Music knows no boundaries – and if your heart is set on it, you can make amazing music, however you like to play your instrument. Happy learning!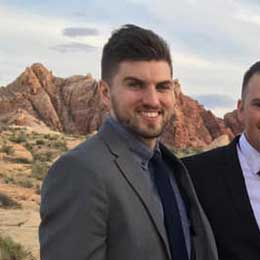 My name is Chris and I've had a passion for music and guitars for as long as I can remember. I started this website with some of my friends who are musicians, music teachers, gear heads, and music enthusiasts so we could provide high-quality guitar and music-related content.
I've been playing guitar since I was 13 years old and am an avid collector. Amps, pedals, guitars, bass, drums, microphones, studio, and recording gear, I love it all.
I was born and raised in Western Pennsylvania. My background is in Electrical Engineering, earning a Bachelor's degree from Youngstown State University. With my engineering experience, I've developed as a designer of guitar amplifiers and effects. A true passion of mine, I've designed, built, and repaired a wide range of guitar amps and electronics. Here at the Guitar Lobby, our aim is to share our passion for Music and gear with the rest of the music community.