The world of heavy metal has its share of guitar virtuosos, but very few have the ability to stand out like Mick Thomson. Not only does he play with skill and precision, but his unorthodox style has helped influence the sound of modern metal in a rather innovative way.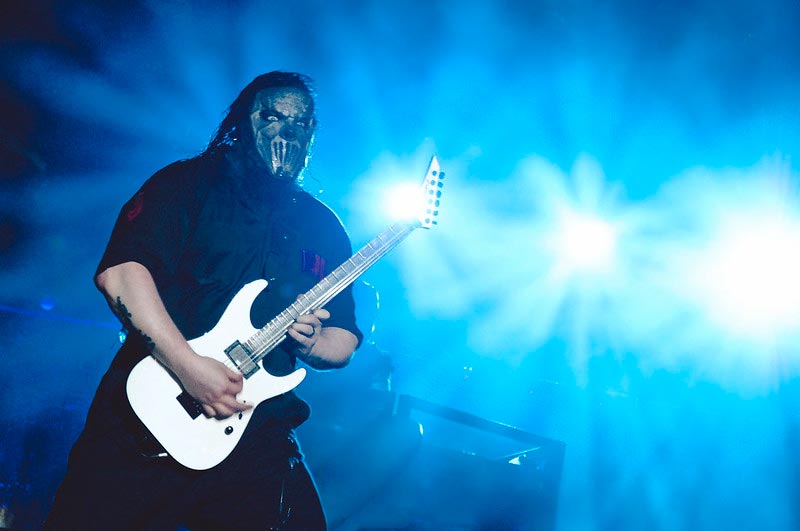 Recognized on stage by his iconic hockey mask and its several variations throughout the release of different albums and eras, this Hockey man or Number Seven is one of the most pinpointable figures of modern metal and rock music. Often praised for his compromise to making music, and fascination over death metal, this are boiled down to his eccentric, iconic antics and stage presence, one that is hard to ignore regardless of whether you like Slipknot or not.
What Guitars Does Mick Thomson Play?
Mick Thomson primarily plays Jackson Soloist model guitars. He has also had productive partnerships with Ibanez and B.C Rich during his career, but in 2015, Jackson produced Mick a Pro Series Signature Soloist which he has played almost exclusively since.
See the full list of Mick Thomson guitars and gear below.
Jackson Pro Series Signature Mick Thomson Soloist

| | |
| --- | --- |
| Finish | White |
| Years Used | 2015 to Present |
Every Signature Soloist is produced in Jackson's Custom Shop, and the first prototype was designed by legendary guitar maker Mike Shanon and his team. Mick had many different iterations of these produced for his performances. These variations include different finishes. He also has one in dark green inspired by the colors of the Philadelphia Eagles.
Mick also claims that this particular signature series drew inspiration in terms of feel from his original Ibanez Stormtrooper, one of his all-time favorite models.
The Jackson Signature Soloist guitar has a mahogany body, ebony fretboard, a graphite-reinforced through-body, a one-piece maple, and a walnut neck. The neck is comparatively thin and wide, convenient for Mick's style and his personal preference for decades now. The neck has a compound radius, going from 12′ at the top to 16′ at the bottom. It sports his trademarked Seymour Duncan Custom Blackout pickups with a three-way switch, one knob for volume, and no tone knob.
The lack of a tone knob prevents any signal bleeding out and is a fair tradeoff. Heavy metal music hardly has any use of the tone adjustment, so Mick saw an opportunity to get creative and eccentric with the design. The Seymour Duncan Signature pickups were created with his own input given to the brand's engineers carefully crafting the desired sound. It took them two years of development to finalize the model. Reportedly, Mick would have to go to the factory regularly on a weekly basis for trial and error.
Mick describes the sound from the Seymour Duncan to be something that 'Cracks Ribs' instead of being soft and washing out. While most of the above features are a staple on Mick's guitars, the bridge is brand new with the Jackson. The guitar has a Jackson MTB HT6 Hardtail bridge.
The new bridge allows height adjustments and fine-tuning like a regular Floyd, but with a much smaller amount of wood cut out of the guitar to accommodate it. The minimum loss of material leads to better sustain. The measurements for the guitar's neck came from another custom Jackson that Mick had ordered when he was nineteen. He had to take out a loan as a teenager with limited means to get his hands on that great instrument.
The Signature Soloist is Thomson's current stage main. It made features throughout 'We Are Not Your Kind' and essentially all of Slipknot's live performances since his deal with Jackson.
Ibanez MTM Stormtrooper
| | |
| --- | --- |
| Finish | Stormtrooper White/Black |
| Years Used | 2005 to 2015 |
One of Mick's signature Ibanez guitars and arguably his most associated one by far due to its SEVEN inlayed fretboard. It surpassed his M7 Warlock in terms of sound and immediately replaced it as his stage favorite for quite some time. It has a white finish with Black outlines to give it a Star Wars Stormtrooper-themed look, and vice-versa when it comes to its all black and white binding version.
It has nearly identical specs as his Ibanez Signature Series and would eventually go on to inspire certain features of his signature Jackson Superstrat Soloist in 2015. Mick is well aware of the subtle differences between guitars, even with exact specifications. These differences are because each tree grows differently, and hence their wood is never identical to one another especially when Jackson is up to handcraft his most special models. The Stormtrooper is an excellent example of this phenomenon.
This guitar featured in live performances for an entire decade and was used to track "All Hope Is Gone" and 'The Gray Chapter' albums.
Jackson Signature Carbon Fiber

| | |
| --- | --- |
| Finish | Carbon Fiber Veneer Black/White |
| Years Used | 2016 to Present |
The Jackson Signature Carbon Fiber has the exact overall specifications as Thomson's Signature Soloist. Still, it's unique due to its finish. It has a layer of carbon fiber over it, which gives it a unique and dazzling appearance on stage.
Mick is reportedly infatuated with carbon fiber. He had first ordered a carbon fiber veneer guitar when he was with Ibanez. Still, they could not make it work as well as he had hoped due to carbon fiber being a rather unconventional material back in the early 2010s.
On another hand, he had only mentioned his desire to make carbon fiber work as a material for guitar finishing to Mike Shanon from Jackson. A few months later, he got a call asking if he would be home the next day, Thomson was in for a surprise as effectively the next morning he received a delivery, with this carbon fiber state-of-the-art six-string. Mick is delighted with using the unorthodox material and often opens his live shows with the guitar. Overall, this is easily one of the most iconic Mick Thomson guitars of all time.
Ibanez MTM20 Mick Thomson Signature Series

| | |
| --- | --- |
| Finish | White/Black/ Various finishes |
| Years Used | 2005 to 2016 |
In 2003, Mick Thomson struck a deal with Ibanez, stating that he was not satisfied with B.C. Rich's declining quality. The MTM20 Thomson Signature resulted from this partnership along with Ibanez to manufacture an enduring guitar that would power through his tendency to drastically change tunings during songs in concerts.
The main MTM signature sports a white body with a black fretboard and a custom 'SEVEN' inlay. It features custom Seymour Duncan Blackout Pickups, which have been Mick's signature ever since he had them developed. There are no fret markings, and it has a mahogany body, maple, and Bubinga neck, with an ebony fretboard.
Besides the custom pickups, the rest of the guitar is kept simple with a single knob for volume and a three-way switch. Mick trades comfort for accuracy while playing by having a flat, thin, and wide fretboard. The signature Seymour pickups were prototype models when the guitar was made and hence lacked the associated brand graphic, which later became iconic.
The Signature series Ibanez is the most featured of Mick's guitars. It was used in the recording of 'All Hope Is Gone' and 'The Gray Chapter'. In live performances, it remained Mick's favorite for over a decade.
Before its upgraded sibling, the very first signature model made by Ibanez displaced Thomson's M7 almost immediately after giving it a few tries.
The Signature Ibanez features in the music videos of iconic Slipknot hits like 'The Devil in I' and 'Psychosocial'. Mick also has a red version and a black version of the Signature Ibanez. The red version features in the 'Before I Forget' music video and the black version in the 'Sulphur' music video. The red and black versions also feature on stage during several live performances.
B.C. Rich Mick Thomson Signature M7 Warlock

| | |
| --- | --- |
| Finish | Black Gloss |
| Years Used | 1996 to 2003 |
In 1996, Body Pit was ready for the next step, Thomson along with fellow guitarist Donnie Steel however, wanted to get more antics and props involved for their future act, Slipknot. Both of them went on an exhausting search for the perfect sounding and looking six-string for the matter and landed in a local shop with an extensive selection of boutique guitars. Thomson has shared his decision to go for this Warlock model instead of any other with an anecdote. Revealing that when trying this B.C Rich staple along with 15 other guitars, this one just clicked with him, sharing that even jacked into a clean channel it always sounds better than any Jackson or Krammer hooked to a distortion.
This B.C. Rich 'Mick Thomson Signature M7' was his stage favorite for many years. The guitar has a mahogany body, maple neck, and an ebony fretboard. It also has the custom 'HATE' inlays on the fretboard and no other markings. Its inlays are not only eye-catching but also entirely appropriate for the kind of dark sound Slipknot is known for. Thomson also had another M7 with a blood-red body and contrasting black highlights.
The M7 Warlock is a very versatile guitar that can handle just about any style of music. It's a mean machine for shredding. With the volume knob positioned well behind the bridge and out of the way, it's excellent for fast picking.
Mick Thomson plays this guitar live with an aggressive style that leaves the crowd begging for more. The guitar has featured in iconic 'Slipknot' performances, such as in the music video for Duality and recording of 'Iowa' (Vol II).
Jackson King V Custom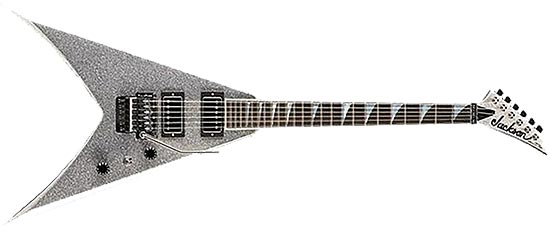 | | |
| --- | --- |
| Finish | Dark Metallic Gun/ Metal Grey |
| Years Used | 1992 to 1999 |
The Jackson King V is one of Mick's personal favorites from his 200+ private collection. It is the first custom guitar he had ordered, and in 1992 he was nineteen and unable to pay for it, so he took out a loan.
The guitar has a Gun-Metal Dark Grey finish, a Jackson JT 580 bridge, a maple neck, and a 22-fret rosewood fretboard. The neck pickup is a Jackson J-50 BC, and the bridge pickup is J-92C. The body shape is the iconic Flying V, used by legendary guitarists like Randy Rhoads and James Hetfield.
The guitar's neck was used as a template for the wide and thin necks of Mick's signature guitars. The neck on the custom Jackson was itself modeled after a 1987-88 model of the Randy Rhoads Flying V. This particular 87-88 model had a skinny neck, which Mick found to be most appropriate for his playing.
The King V was named after Robbin Crosby of the Glam Metal band Ratt. Robbin Crosby's nickname was 'King' due to his great stature. After the 80s, Dave Mustaine, from Megadeth, came to be more readily associated with the King V and got his own lineup of signature King Vs. Mick also has the Double Rhoads King V, a modified version of the model that Robbin Crosby often played on stage.
The Jackson King V was never featured in any live tours, but the 'Slipknot' self-titled album (Vol I) was recorded with it. Mick never used it in live performances because, in the early 2000s, their band had little safety or security on tour. Given the loan taken for getting the guitar and the dear place he has for it, he was reportedly protective and paranoid about it.
Hohner Telecaster

| | |
| --- | --- |
| Finish | Sunburst |
| Years Used | 1983 to Unspecified |
Mick Thomson's very first guitar was a small, single pickup, tobacco sunburst guitar by Hohner. Mick says that it sounded very distasteful, but his passion for playing was enough for him to learn with whatever resources he had.
As a teenager, Mick did not appreciate the instrument and sold it to a friend. He later saw said friend spray paint it orange and then use it like a baseball bat while playing. Needless to say, it was eventually trashed. Mick regrets not keeping his first guitar due to the memories attached to it. Still, he found another guitar of the same model online and purchased it. Years later he's shared his fondness for this "awfully sounding six-string"
His first guitar rig also included a tube airline amp from Seers, with only one knot for volume and no distortion or effects. Mick says his uncle had given the amp to him, and he regretted selling it because of its lack of functionality. His guitar jack line was a speaker cable that made a constant ear-piercing noise when connected to the amp.
Ovation MT37-5 Acoustic

| | |
| --- | --- |
| Finish | Black |
| Years Used | 2008 to Present |
The Ovation MT37-5 has a black finish, a lyrachord bowl, a spruce top, and a maple neck. It has a signature 'SEVEN' inlay and a rosewood fretboard.
Mick approached Ovation to build him a custom acoustic in the late 2000s. He wanted the guitar to have an authentic steel string sound without sacrificing playability. He shared his approach to acoustic guitars, which is the same as electric ones in his book. Thomson also wanted the guitar to work well as an instrument that takes a lead role.
Ovation's answer to Mick's needs was this custom-made model just for him. The MT37-5 has no central cutaway. Instead, the cutaway is beside the neck, on the left of the fretboard. The neck is wider and flatter than a traditional acoustic guitar and with jumbo frets. The fretboard extends much deeper into the body than a conventional cutaway acoustic.
It's fair to note that Thomson does not use this guitar professionally, but he keeps it for practicing and jamming at home.
B.C. Rich Bich

| | |
| --- | --- |
| Finish | Glossed Black |
| Years Used | 2005 |
B.C. Rich guitars' typical angular look was also appealing to Thomson, so in 2005 he decided to test new waters in his old-fashioned tastes. The Rich Bich was originally intended to be the successor of his M7 Warlock, but this wasn't the case. Mick switched from BC Rich to Ibanez four months after it was first used. Allegedly he was unhappy with how the Bich turned out, saying that he needed a long-scale guitar.
The drop in quality came due to changes in B.C. Rich management and Mick decided to quit working with the company. However, It featured in live performances for a few months before being retired.
Fender Yngwie Malmsteen Stratocaster

| | |
| --- | --- |
| Finish | Vintage White |
| Years Used | Unspecified |
The Malmsteen Stratocaster signature is a tribute by Fender to legendary guitarist Yngwie Malmsteen. It has an Alder body, maple neck, and maple back. It also has a scalloped fretboard and super jumbo frets. It has a deliberate dilapidated look to replicate the 'Play Loud Strat' that Yngwie himself used.
Mick obtained the guitar as it was a limited edition and a tribute to a guitarist he has immense respect for. He has never used the guitar on stage or for a recording. But he does love using it to get his creative juices flowing.
1998 Jackson Custom Shop Seven-String
| | |
| --- | --- |
| Finish | Green Quilted Maple |
| Years Used | 2002 to Unspecified |
This custom guitar is a seven-string Jackson with a vibrant green finish. It has the world's first seven-string whammy, created by Ibanez. Mick had bought the guitar as more of a collectible and hardly ever plays it. But he said that it sometimes helps him get out of a rut or a creative block. He says that using the same kind of instruments over years and years limits his creative freedom. Mick uses this guitar to get the creative juices flowing again.
This guitar has never featured in any Slipknot performances. In fact, its presence in Mick's collection and absence on stage has created a myth that Mick dislikes seven strings.
Timetable Showing Each Guitar Mick Thomson Has Played at Each Point of His Career
| Make | Model | Color/Finish | Years |
| --- | --- | --- | --- |
| Fender | Yngwie Malmsteen Stratocaster | Vintage White | Unspecified |
| Hohner | Telecaster | Sunburst | 1983 to Unspecified |
| Jackson | King V Custom | Dark Metallic Gun/ Metal Grey | 1992 to 1999 |
| B.C Rich | Mick Thomson Signature M7 Warlock | Black Gloss | 1996 to 2003 |
| Jackson | 1998 Custom Shop Seven-String | Green Quilted Maple | 2002 to Unspecified |
| B.C Rich | Bich | Glossed Black | 2005 |
| Ibanez | MTM Stormtrooper | Stormtrooper White/Black | 2005 to 2015 |
| Ibanez | MTM20 Mick Thomson Signature Series | White/Black/ Various finishes | 2005 to 2016 |
| Ovation | MT37-5 Acoustic | Black | 2008 to Present |
| Jackson | Pro Series Signature Mick Thomson Soloist | White | 2015 to Present |
| Jackson | Signature Carbon Fiber | Carbon Fiber Veneer Black/White | 2016 to Present |
Mick Thomson Amps Overview
Rivera KR7 Mick Thomson Signature
Years Used: 2006 to 2018
The Rivera KR7 is a tube amp head that was designed in collaboration with Mick. It is a very flexible amp, which can play just about any kind of rock or metal. It has massive high gain and gives a clear sound at any gig volume. It keeps the lower end of the sound nice and tight.
The amp is Mick Thomson's signature series and comes with a signature 'SEVEN' label at the front. Mick says that the KR7 is like a swiss army knife of an amp and that it produces excellent clean sounds as well, something Rivera is known for. Mick had told Rivera that he needed an amp that did a bit of everything during its creation, hence the broad approach.
It was a staple at Slipknot shows for well over a decade. Mick tracked the albums 'Subliminal Verses', 'All Hope Is Gone', and parts of 'The Gray Chapter' and 'All Out Life' using this amp.
VHT Pittbull Ultra Lead
Years Used: 2000 to 2006
The Pittbull Ultra Lead is a versatile tube amp with three channels. It has a 120W power input, 10 tubes including five 12AX7s, one 12AT7, and four 6550s, four stages of preamp gain, and assignable 5-band graphics E.Q. Mick used this amp with a Carvin 4×12 cab.
The VHT Pittbull was used by Mick for tracking the 'Iowa' album, and it was also used in live performances jacked into a Carvin 4×12 cabinet.
Omega Ampworks Obsidian
Years Used: 2018 to Present
The Omega Obsidian was developed with input from Mick, although there is no signature model yet. It's a three-channel amp, with the Lead and Crunch sharing the same E.Q., which is why it is said to have two and a half channels. It is fully MIDI capable. The cab used along with the Pittbull during Slipknot shows is the Omega 4×12, specially designed for Mick's sound.
The Omega has a remarkable ability to set the bias for the tubes you are using and hence has excellent customizability. Mick can also change the tubes to whatever models he wants.
The Omega is the only amp that gives Mick the mid-range sounds that he likes. Before he used this amp, he always had the middle range sounds turned all the way down, but for this one, the midrange is turned up.
Rocktron Piranha with Mesa Boogie 295
Years Used: 1996 to 2000
Slipknot had limited resources for their first album, and the band could not buy whatever gear they wanted. Instead, they had to make do with what they had most of the time. For the guitar parts, what Mick had at his disposal was the Rocktron Piranha pre-amplifier with a Mesa Boogie 295 power amp.
The Piranha has a convenient input and output level. It has parametric mids, which Mick always used to cut the midrange frequencies. The lead setting has an insane amount of gain, and it has a built-in hush.
This setup was used for the Slipknot self-titled album (Volume I).
Mick Thomson Pedals and Effects Overview
Electro Harmonix Bassballs Pedal
Years Used: 2002 to Present
The Bassballs may have been designed for bass guitars, but it did not stop Mick from using it for the song 'Disasterpiece'. To this day, there is no other pedal that can replicate the sound, making the Bassballs a staple at Slipknot shows.
Boss GX-700
Years Used: 1996 to Present
The Boss GX-700 is recognizable as one of the most used effects processors from the '90s. Its sound is not great, but it has such a unique flavor that the songs recorded on it cannot be replicated without it. Mick has tried using newer amps and effects to get the first album's sound, but it always sounds better on the Boss GX-700.
They are used in all Slipknot live performances when they play songs from the self-titled album that they were used to record.
Nanolog Orbital Fuzz
Years Used: 2018 to present
The Nanolog Orbital Fuzz is a fairly unique fuzz pedal, which uses Carbon diodes instead of Silicon or Germanium diodes. Nanolog is a lesser-known brand that is currently doing a lot of experimental work. Mick uses this and several other upcoming brands showing just how well-versed he is with new technology in the music world.
Eventide H9
Years Used: 2017 to Present
The Eventide H9 is the delay and reverb of choice for Mick. Eventide is known for its delays and the precise algorithms they use to achieve them. The H9's algorithms are very streamlined and super quick. It has a variety of effects and is primarily digital, giving it great consistency. It is used live for songs like 'Before I Forget' and "Eyeless".
EarthQuaker Devices Plumes Overdrive
Years Used: 2019 to Present
The Plumes is a tube screamer type transparent overdrive pedal. Despite having an overall tube screamer feel, it does add a new twist to it using more contemporary components. It offers a greater variety of exciting sounds than a traditional overdrive pedal.
Gamechanger Audio Plasma Pedal
Years Used: 2019 to Present
The Plasma Pedal uses a unique system to create distortion and hence produces a very unconventional sound. Although it's called a distortion pedal, it makes a borderline fuzz pedal sound. Mick is very fond of this kind of unique technology.
It runs three and a half thousand volts across a gas-filled tube, which causes it to produce arcs of lightning, which you can see on the pedal interface while in use. It uses these arcs to determine the sound's waveform, hence adding a unique random and heavy distortion.
It is often used in between songs for an ominous foreshadowing during Slipknot performances.
Mick Thomson Accessories
RJM Mastermind G.T. 22
Used for patch changes in live performances. Mick no longer uses pedals on stage. Instead, he has a technician backstage that does all the patch changes for him. Capable of handling both single pedal effects as well as more complex effects loops.
Mike Smith is Mick's guitar technician and co-developer of the Obsidian amp and speakers that Mick uses. He manages the RJM Mastermind to coordinate all of the effects and amps while Mick is on stage.
Face Mask
Mick's face mask has remained primarily unchanged throughout his career, unlike other members of Slipknot with their dozens of variants and copies. He says the design came initially from a simple hockey mask, which he used to wear in the first few Slipknot shows. He had the current version made in 2003 and has maintained it as it is since then.
The mask is a part of Slipknot's message that the band is about its music and not the faces of the people that play it. The masks are also another layer of aesthetic value for the band.
Dunlop Custom Jazz III Max Grip Carbon Fiber 1.38mm Guitar Pick
Mick used the Jazz III picks by Dunlop for the longest time and then had Dunlop make a custom pick for him. Of course, his material of choice for the custom pick was carbon fiber, and the overall shape was that of a Jazz III 1.38mm.
He also added custom graphics to the pick to personalize it. The pick features a nine-point star representing Slipknot on one side and a '7' representing Mick on the other side. It also has the max grip feature to make it easy to grip even in sweaty conditions.
D'Addario XT Guitar Strings
Mick has used D'Addario strings almost all of his career. The D'Addario XTs are coated with a hydrophobic substance, making them highly resistant to wear and corrosion. These stay in tip-top condition even in sweaty and humid conditions.
String gauges used by Mick for drop A tuning are 66, 42, 32, 20, 16, 12, and for drop B tuning, he uses 58, 42, 30, 18, 15, 11.
Wrap Up
Mick Thomson is no doubt one of the most influential guitarists of this generation of metal guitarists. He is not only a phenomenal player but also a great teacher as he has shared on many occasions his desire to help musicians around the world. Before he became too busy with his touring, Mick gave guitar lessons to pay his bills. Needless to say, he introduced many of his students to fast-paced death metal music and effortless technique.
The majority of Slipknot's songs feature a chugging main riff and pounding tempo. But Mick also incorporates jazz, classical, and experimental elements into his shredding. This is evident in songs such as 'Unsainted', 'The Devil In I', 'Duality'.
Despite being best known as the lead guitarist for his current band, Slipknot. Thomson hailed from Des Moines, Iowa, where he played in several local bands before founding his main legendary masked act. The most notable of these smaller bands is 'Body Pit', formed in 1993 along with Anders Colsefni, Donnie Steele, and Paul Gray, all future Slipknot members that decided to evolve in 1996 into the seminal act they are today.
Mick is also one of the biggest music gear nerds on Earth. He knows exactly what he wants from his guitars, is always actively involved in producing his own instruments, and tries to understand the processes and technology involved. By now, he has three signature series, one signature amp lineup, and yet another one in the works, and a signature speaker cabinet.
Recently, Slipknot has made a comeback with their 'We Are Not Your Kind' album after suffering losses of bandmates and various other issues. This comeback means we will hopefully get to see more of their incredible music in the years to come.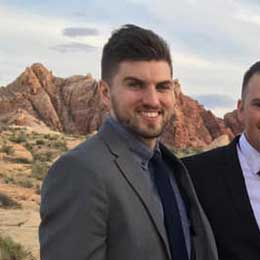 My name is Chris and I've had a passion for music and guitars for as long as I can remember. I started this website with some of my friends who are musicians, music teachers, gear heads, and music enthusiasts so we could provide high-quality guitar and music-related content.
I've been playing guitar since I was 13 years old and am an avid collector. Amps, pedals, guitars, bass, drums, microphones, studio, and recording gear, I love it all.
I was born and raised in Western Pennsylvania. My background is in Electrical Engineering, earning a Bachelor's degree from Youngstown State University. With my engineering experience, I've developed as a designer of guitar amplifiers and effects. A true passion of mine, I've designed, built, and repaired a wide range of guitar amps and electronics. Here at the Guitar Lobby, our aim is to share our passion for Music and gear with the rest of the music community.