The 1990s was one of the most defining decades for music in American history. Multiculturalism led to a rise in alternative music with the hip hop, rave, pop punk and grunge scenes becoming some of the most prominent mainstream movements. The widespread use of the World Wide Web created a cultural shift in music, and the use of the portable CD player had a vital impact on 1990s youth and how they experienced music versus previous generations.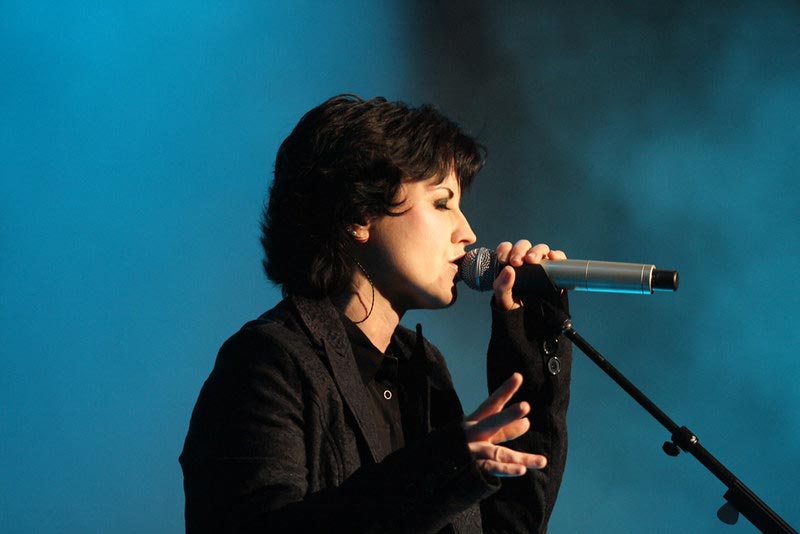 With a third-wave of feminism being one of the most prominent social movements of the decade, female-focused music continued to skyrocket, with a variety of artists implementing themes of diversity, individualism, intersectionality and sex positivity in their music.
These are some of the best 90s female singers across a variety of genres who broke into the music scene during this significant era, forever changing the face of music.
Here Are the Best Female Singers of the 90s
20. Nina Persson
Nina Elisabet Persson is perhaps known best for her work as the frontwoman of the alternative Swedish rock band The Cardigans.
From a young age, Persson was interested in visual art rather than music. As stated in an interview with Eric Blair on his YouTube channel Blairingoutshow, "I never really strived to be a musician; I was just, sort of, recruited into this band. I was bored out of my mind in this small, safe place." On Halloween in 1992 she joined The Cardigans, which didn't become a major success until 1996 with the album First Band on the Moon.
The album spawned the bands most successful hit, Lovefool, which was featured on the soundtrack for the 1996 film Romeo + Juliet, starring Leonardo DiCaprio and Claire Danes, and the 1999 film Cruel Intentions starring Reese Witherspoon and Sarah Michelle Gellar. The album reached gold status in the United States, and Lovefool was put on heavy rotation on MTV throughout the late 1990s. Though Lovefool was one of the most loved songs on the 90s, it has since resurfaced and has become popular audio amongst teens and young adults on TikTok.
19. Louise Post
Louise Lightner Post was the guitarist and frontwoman of the alternative rock and grunge band Veruca Salt who rose to fame in 1994 with their debut studio album American Thighs.
Post's love for music started when she was seven years old and learned to play the piano. She went on to perform in numerous musicals throughout high school and began writing songs at the age of 16, though she didn't start taking songwriting seriously until she was in college.
After graduating with a degree in English from Barnard College, Post met Nina Gordon and formed Veruca Salt, named after the character in Roald Dahl's beloved children's story Charlie and the Chocolate Factory. The band saw international success with their hit single Seether and went on to tour with the hit grunge band Hole. The song was later featured on their debut album American Thighs, which became certified gold.
Though Post saw major success with Veruca Salt in the 1990s, the band recently reunited in 2013 and released their fifth studio album in 2015, Ghost Notes, which has since received an array of positive critical reviews.
18. Kim Deal
One of the most iconic female bassists of all time, Kimberly Ann Deal (known professionally as Kim Deal) was not only the co-vocalist and bassist for the legendary rock band the Pixies, but also the frontwoman and bassist of her own alternative rock band, The Breeders.
Deal loved music from a young age, as she has recalled listening to Led Zeppelin and AC/DC as early as the age of four. At the age of 11 she learned to play the acoustic guitar and later formed a folk-rock band alongside her sister. It was around this time that she discovered her love for songwriting.
In 1986 Deal responded to an ad in the Boston Phoenix that was in search of a bassist for their band, the Pixies, whom she joined and stayed with until 1993. Deal had written a multitude of songs while touring and performing with the Pixies and started her own band with her identical twin sister Kelley, The Breeders. They were immediately signed to 4AD Records after releasing their demo.
Later that year they released the studio album Last Splash which featured their hit single, Cannonball, which has since resurfaced as a popular audio on TikTok among teenagers and young adults. The album became certified platinum and received wide critical and commercial acclaim.
Despite Deal remaining somewhat inactive since The Breeders unofficially departed in 2003, she has since reunited with the band who released their fifth studio album in 2018, All Nerve, which has received widespread critical acclaim.
17. Shirley Manson
Known as the frontwoman of one of the most iconic grunge bands of the 1990s, Garbage, Shirley Ann Manson became a feminist icon and is adored for her rebellious nature and fashion style.
At the age of seven Manson began taking piano and ballet lessons while dabbling with the clarinet, violin and recorder at school. She went on to attend the City of Edinburgh Music School where she became involved with their theatre program, performing in numerous musicals and plays throughout her adolescence.
After struggling with depression from bullying as a teenager, Manson began to rebel with a group of friends which helped her develop her iconic style. In 1987 she joined the band Goodbye Mr Mackenzie and later joined the band Garbage in 1994. The band released their self-titled debut studio album the following year, selling over 4 million copies. The album featured the hits Stupid Girl and Only Happy When It Rains, both being some of their most loved songs to date.
Manson has continued to release music with Garbage throughout the past three decades. In June 2021 they released their seventh studio album, No Gods No Masters. Shirley Manson certainly is one of the best female singers of the 90s and earned a spot on this list.
16. Brandy
With over 40 million records sold and 7 Billboard Music Awards under her belt, Brandy Rayana Norwood (known professionally as Brandy) is one of the most popular R&B artists to start her career during the early 1990s.
Born to a musical family, Brandy began singing at a young age in her church choir, performing her very first solo at just two years old. She studied at the Hollywood High Performing Arts Center while entering talent shows and performing at local public events.
In 1994 Brandy released her self-titled debut studio album after a brief acting career, which was met with positive reviews and reached number 20 on the US Billboard 200 chart. The album featured the hit songs I Wanna Be Down and Baby, which both topped the Hot R&B Singles chart.
Brandy released her second studio album in 1998, Never Say Never, which featured the song The Boy Is Mine, a duet with fellow R&B singer Monica. The song became Brandy's first number-one hit on the US Billboard Hot 100 and has now become the most successful song by a female duo in music history.
Since beginning her solo career in the 90s, Brandy has become a household name for R&B fans internationally. Despite having a hiatus of about eight years, Brandy has returned to the music spotlight with her seventh studio album, B7, released in July 2020.
15. Kathleen Hanna
Feminist, activist and one of the pioneers of the notorious riot grrrl movement of the 1990s, Kathleen Hanna is known as the frontwoman of the modern punk bands Bikini Kill and Le Tigre, as well as for her solo career under the name Julie Ruin.
As a teenager, Hanna became interested in spoken word and began holding performances where she addressed violence, sexism and other social issues regarding women's rights. Her love for spoken word turned to music when she met one of her favorite authors, Kathy Acker, who suggested that she start a band because "no one goes to spoken word shows."
Hanna created Bikini Kill at the dawn of the 1990s, which became an instant staple of the Olympia, Washington punk music scene. The band became synonymous with feminist ideals, as they encouraged women to enjoy punk rock, which had previously been a male-dominated genre. Their debut studio album, Pussy Whipped, was released in 1993 and featured one of their most iconic songs to this day, Rebel Girl.
Since Bikini Kills break-up, Hanna became the frontwoman of Le Tigre who are known for their hit Deceptacon, which became a popular audio used on TikTok in 2020. Hanna also embarked on her solo career as Julie Ruin and later formed another band, The Julie Ruin.
In 2013 a documentary was released about Hanna's influence and her music, titled The Punk Singer, directed by Sini Anderson.
14. Hope Sandoval
Frontwoman of the alternative rock band Mazzy Star, Hope Sandoval helped create the standard for dream pop with her ethereal vocal style.
Sandoval became interested in music at the age of 13 when she started listening to the Rolling Stones. She began skipping school to stay home and listen to music after she was placed in special education classes after struggling academically and socially. She later dropped out of high school and formed the folk music duo, Going Home, alongside her friend Sylvia Gomez at the age of 20.
Sandoval joined Mazzy Star in 1990 when they released their debut studio album, She Hangs Brightly. It wasn't until the release of their second album in 1993, So Tonight That I Might See, that they broke into the mainstream, as their song Fade Into You reached number three on the US Billboard Modern Rock Tracks. It has since been listed on Pitchfork Medias Top 200 Tracks of the 90s list at number 19.
Following Mazzy Star's hiatus in 1997, Sandoval went on to form her own band, Hope Sandoval and the Warm Inventions in 2000, which she has fronted ever since. The band released their third studio album in 2016, Until the Hunter, which featured indie folk artist Kurt Vile.
13. Natalie Imbruglia
Known for her rendition of Ednaswap's song Torn, Natalie Jane Imbruglia is one of the most iconic singer-songwriters of the early 1990s.
Imbruglia left high school at the age of 16 in hopes of pursuing a career in acting. She appeared on the Australian soap opera Neighbours until 1994. She was approached by Anne Barret who took over as her talent manager and convinced her that she should record a short demo of four songs. One of the tracks was Torn, which caught the eye of RCA Records.
Torn became an instant hit internationally and broke numerous chart records, as it was played roughly 75 times a day on Australian radio and played more than 2000 times in six weeks on UK radio. The song was featured on Imbruglia's debut studio album, Left of the Middle, later that year. Today the album stands as the highest selling debut studio album by an alternative/pop/rock female artist.
Imbruglia's music career has been on and off since her debut, but her name still remains as one of the most recognized female singers of the 1990s. However, on September 24, 20201, Imbruglia's sixth studio album, Firebird, will be released after an almost decade long hiatus.
12. Aaliyah
| | |
| --- | --- |
| Born | January 16, 1979 New York City |
| Died | August 25, 2001 Marsh Harbour, Abaco Islands, The Bahamas |
| Years active | 1989 to 2001 |
| Wikipedia page | Learn more about Aaliyah here |
Known as the "Queen of Urban Pop" and the "Princess of R&B," Aaliyah Dana Haughton (known professionally as Aaliyah) was one of the most popular upcoming artists of the 1990s, as she has been listed as the tenth most successful female R&B artists of the past 25 years and the 27th most successful of all time.
Aaliyah took voice lessons at an early age and performed in her local church choir, at weddings and charity events. In the first grade she performed in the musical Annie, which influenced her in becoming an entertainer. She attended the Detroit High School for the Fine and Performing Arts and maintained a 4.0 GPA throughout, stating that education had always been important to her.
At the age of 14 Aaliyah released her debut studio album, Age Ain't Nothing but a Number, which reached number 24 on the Billboard 200 chart. At 16 she singed with Atlantic Records and worked witch artists such as Missy Elliott and Timbaland on her second studio album Once in a Million and released her third and final self-titled studio album in 2001.
Following the recording of her final studio album at the age of 22, Aaliyah tragically passed away alongside eight others in a plane crash following the recording of her music video Rock the Boat.
Aaliyah's legacy and music continues to live on despite her tragic death, as she is considered one of the greatest female R&B artists of all time. AllMusic has stated that Aaliyah was one of the "elite artists of the R&B genre," and that she "played a major role in popularizing the stuttering, futuristic production style that consumed hip-hop and urban soul in the late 1990s."
11. Sheryl Crow
With nine Grammy Awards under her belt, Sheryl Suzanne Crow has sold over 50 million records internationally and has become a household favorite for folk and blues pop since her official debut in the early 1990s.
Crow studied at the University of Missouri in Columbia where she earned her BS Ed degree in music education and was a member of the Sigma Alpha Iota International Music Fraternity for Women. It was during this time that she began performing, as she sang in Cashmere, a local band.
Crow started working as an elementary school music teacher shortly following graduation. Her teaching schedule allowed her to sing on the weekends and at night. After encountering record producer Jay Oliver while performing one evening, she began singing professionally for advertising jingles. She later sang for McDonalds and Toyota, which led her to start a successful career as a backing vocalist in the late 1980s.
Having toured with icons such as Michael Jackson, Stevie Wonder, Don Henley and Jimmy Buffett, Crow embarked on her solo career in 1994 and released her debut studio album, Tuesday Night Music Club. The album was relatively unsuccessful until one of its singles, All I Wanna Do, became a smash hit two months after its release. The success of this track led Crow to perform at the iconic Woodstock 1994 Music Festival.
Crows self-titled second studio album solidified her reputation as a household name in pop and rock music, with her debut single If It Makes You Happy landing her two Grammy Awards, one for Best Rock Album and the other for Best Female Rock Vocal Performance.
Crow remains one of the most popular female artists today, as she has continued to release well-received albums and singles throughout the past three decades. Her most recent album, Threads, was released in 2019 and features a series of duets with renowned artists including Willie Nelson, Stevie Nicks, Emmylou Harris, Keith Richards and more.
10. Courtney Love
Despite being the former wife of the late grunge legend Kurt Cobain, Courtney Michelle Harrison (known professionally as Courtney Love) made a name for herself throughout the 1990s with her grunge band, Hole, who forever changed the modern alternative rock and punk sound.
After being put in a juvenile facility in Salem, Oregon at the age of 14 for shoplifting, Love fell head over heels for artists such as the Runaways, the Pretenders and Patti Smith. It was during this time that she knew she wanted to start her own band. She briefly joined Faith No More as their lead singer in 1982 at the age of 18, though she was fired shortly afterwards as the band claimed that they wanted "male energy."
In 1985 Love formed her first band, the Pagan Babies, though they separated shortly afterwards. While working at strip clubs throughout Hollywood, Love formed Hole and they released their debut studio album in 1991, Pretty on the Inside, which was produced by Kim Gordon of Sonic Youth.
Hole released their second studio album in 1993, Live Through This, which was met with critical acclaim and success. The album featured the hit songs Doll Parts and Miss World, which remain some of the bands most popular songs today. Holes third album, Celebrity Skin, was released in 1998 and featured the hits Celebrity Skin and Malibu.
Though Love has been faced with controversy throughout her career, her talent and contributions to the alternative scene of the 1990s are undeniable, as she remains one of the most legendary women in modern rock music.
9. Elizabeth Fraser
Known for her ethereal, mysterious voice, Elizabeth Fraser is perhaps best known as the frontwoman of the Cocteau Twins and This Mortal Coil who have been cited as pioneering the abstract dream pop sound.
During her childhood, Fraser used music as a means of escape from her troubled life, as she struggled with numerous eating disorders, including bulimia. She got one of her biggest icons at the time, Siouxie Sioux, tattooed on her arm for inspiration. She was kicked out of her home at the age of 16 for sporting a punk ion rock fashion style.
Fraser joined the Cocteau Twins in 1981 at the age of 17, just one year after having to leave her home, though it wasn't until 1990 that the band hit it big with their sixth studio album, Heaven or Las Vegas. The album featured the hit of the same name alongside others such as Cherry Colored Funk and Fifty-Fifty Clown. It was around this time that Fraser also contributed to the 4AD music collective This Mortal Coil.
Fraser has since been admired for her often-sporadic, incomprehensible lyrics that create a true dream-like atmosphere. As stated by Simon Reynolds in New Statesman, "The Cocteau Twins are still the best by far at the 4AD ethereal dreamscape, thanks largely to the extraordinary voice of Liz Fraser. Somehow she's found a voice that falls completely outside 'Rock' or 'Pop'."
8. Shania Twain
One of the most popular country crossover artists of the 1990s, Eilleen Regina Edwards (known professionally as Shania Twain) became synonymous with her female-forward songwriting and has since become one of the best-selling music artists in history with her record sales surpassing 100 million.
At the age of eight, Twain began singing at local bars in hopes of earning money to help pay her family's bills. She disliked the experience overall but has since said that it was "her own kind of performing-arts school on the road." At the age of 13 she performed on CBC's Tommy Hunter Show and also sang in the local band Longshot.
As Twain was beginning her career as a solo artist, her stepfather and mother died in a car accident when she was just 19 years old. She moved home to take care of her siblings but returned to focusing on music six years later after they moved out.
Her self-titled debut studio album was released in 1993, though it wasn't until her second studio album, The Woman in Me, was released that she became a star overnight. The 1995 album featured one of Twains biggest hits Any Man of Mine and sold over 20 million copies internationally.
Twain's third studio album Come On Over garnered even more attention, spawning the hit singles That Don't Impress Me Much, You're Still the One and From This Moment On. The album earned Twain four Grammy Awards and became the best-selling studio album by a female artist across all genres, selling over 40 million copies worldwide.
Twain remains one of the most influential artists of all time, with The New York Times stating that Twain "was both a pop centrist and a country rebel, and many of the aesthetic moves she pioneered ended up, following a period of some resistance, as central to the sound of Nashville."
7. Missy Elliott
Often referred to as the First Lady of Hip-Hop, Melissa Arnette Elliot has sold over 30 million records, standing as the best-selling female rapper of all time and the first to ever be inducted into the Songwriters Hall of Fame.
Singing was considered a normalcy for Elliot as a child, as she regularly sang in her church choir and knew by the age of four that she wanted to be a performer. At the age of 21 she formed the all-female R&B group Sista with three of her close friends. The group was mildly successful, though they captivated Jodeci member DeVante Swing who recruited them to join Swing Mob, a hip-hop/R&B music collective with over 20 members.
Elliott embarked on her solo career in 1996 and released her debut studio album in 1997, Supa Dupa Fly, which featured the hit single The Rain (Supa Dupa Fly). Her second studio album, Da Real World, was released two years later and was met with critical acclaim as it featured artists such as Big Boi of OutKast and rapper Niccole Wray. The album sold over 3 million copies worldwide.
Elliott's music has continued to define modern hip-hop and R&B throughout the 2000s and beyond. The Observer noted that "she has revolutionized the round of R&B and hip-hop," while Vibe Magazine has stated that she has "changed the rap game for women."
6. Lauryn Hill
One of the best rappers of all time and one of the greatest female music artists of her generation, Lauryn Noelle Hill (often referred to as Ms. Lauryn Hill) is known for her groundbreaking contributions to the neo soul and hip-hop genres and for catapulting them into the mainstream.
Hill grew up in a musical family, as her father would often sing while her mother played the piano. She has recalled being surrounded by a multitude of records as a child, and that she was "always surrounded by music." Some of her earliest inspirations included Gladys Knight, Stevie Wonder and Aretha Franklin.
During high school, Hill performed with the music group Translator Crew at local hip-hop clubs and became inspired by Ice Cube, who inspired her to develop her own flow. At the age of 18 she was cast in the 1993 film Sister Act 2: Back in the Habit alongside Whoopi Goldberg.
After graduating high school, Translator Crew was renamed the Fugees, and Ms. Lauryn Hills legacy was born. They released two albums together, Reality in 1994 and The Score in 1996 which became critically acclaimed and featured Hills legendary rendition of Killing Me Softly.
Hill released her only solo studio album following her split with the Fugees, The Miseducation of Lauryn Hill, which has since been met with the honor of being one of the best-selling albums of all-time. She has since received a total of eight Grammy Awards, which remains the most out of any female rap artist today.
5. Fiona Apple
Perhaps best known for her contributions to the art pop and alternative genres, Fiona Apple McAfee-Maggart (known professionally as Fiona Apple) has had all five of her studio albums surpass the top 20 on the US Billboard 200 chart.
During her childhood, Apple received classical piano training and was writing her own music by the age of eight. At the age of 17 she recorded a demo tape which she gave to her friend who was babysitting for Kathryn Schenker, a music publicist. She passed Apples demo along to Andy Slater, an executive for Sony Music, who was immediately captivated by her unique sound and signed her.
Apples released her debut studio album in 1996 at the age of 19, Tidal. The album became certified platinum in the US, and the single Criminal became an instant hit in the alternative music scene, as it surpassed the Top 40 on the US Billboard Hot 100. The single also won Apple her first Grammy Award for Best Female Rock Vocal Performance.
Apple has since become a legend in the alternative music scene, and her music continues to captivate her audiences. Most recently, Apple released her critically acclaimed fifth studio album in April 2020, Fetch the Bolt Cutters, which won the Best Alternative Music Album at the 63rd Annual Grammy Awards. The albums lead single, Shameika, won the Grammy Award for Best Rock Performance.
4. Erykah Badu
Named the "Queen of Neo soul," Erica Abi Wright (known professionally as Erykah Badu) is perhaps one of the most influential female solo artists of the 1990s, as she utilized R&B, 1980s hip hop and 70s soul to create a completely new sound.
At the age of four, Badu started singing at the Dallas Theater Center and The Black Academy of Arts and Letters, which was her introduction into music and stage performance. Ten years later, Badu started freestyling on a local radio station. She went on to attend Booker T. Washington High School for the Performing and Visual Arts and briefly attended Grambling State University, though she left to focus on starting a career in music.
After her 19-song demo Country Cousins managed to catch the attention of record producer Kedar Massenburg, Badu was signed to Universal Records and recorded the track Your Precious Love with fellow neo soul artist D'Angelo. In 1997 she released her debut studio album, Baduizum, which received wide critical and commercial acclaim and success, as it went on to become certified platinum and topped the US Billboard Top R&B/Hip-Hop Albums chart and reached number two on the Billboard Albums chart.
The success of this album led Badu to become on of the first artists to become synonymous with the emerging neo soul genre, as her unique voice and vocal style was often compared to jazz legend Billie Holliday.
3. Alanis Morissette
One of the biggest names in 1990s pop and alternative rock music, Alanis Nadine Morissette rose to stardom in 1995 with her internationally acclaimed album Jagged Little Pill.
At the age of six, Morissette began learning to play the piano and began dance lessons the following year. At the age of 17 she went on to record her debut studio album, Alanis under MCA Records Canada, which was released in Canada only. This led her to grow into her career as a solo artist, and she became known as the "Debbie Gibson of Canada."
At the age of 19 after just graduating high school, Morissette released Jagged Little Pill which was her break into the mainstream internationally. The song You Oughta Know was played on the notorious Los Angeles rock station KROQ-FM which helped bring attention to the album, as the song was played often on MTV. The album spawned Morissette's biggest hit, Ironc, as well as other loved songs such as Hand in My Pocket, All I Really Want and Head over Feet.
Morissette's legacy has surpassed the 90s, as a musical was created in her honor in 2016 named after her iconic album, Jagged Little Pill. The musical featured two new songs, Predator and Smiting, alongside her other hits, and opened on Broadway in fall of 2019, and has received 15 Tony Award nominations since. Alanis is definitely one of the greatest 90s female singers.
2. Dolores O'Riordan
Having one of the most recognizable female rock voices of all time with her signature yodeling and Limerick accent, Dolores Mary Eileen O'Riordan was known as the frontwoman of the iconic alternative rock band, The Cranberries.
O'Riordan was singing before she was able to talk. At the age of five she sang traditional Irish music for older students at school while playing the Irish tin whistle. She often sang at school and in her local church choir but moved on to singing at pubs at the age of ten.
At the age of 18, O'Riordan left home to live with her boyfriend. It was during this time that she joined The Cranberries after auditioning for bassist Mike Hogan and guitarist Noel Hogan who were completely blown away by her voice. The band released their debut studio album in 1993, Everybody Else Is Doing It, So Why Can't We?, which featured the hit songs Linger and Dreams.
The band released the single Zombie the following year which was featured on their second studio album, No Need To Argue. The song became an international hit and led the album to become the top-selling album worldwide for the first half of 1995 and was the world's best-selling album by a European artist that same year.
In 2018, O'Riordan passed away as a result of accidental drowning in a bathtub due to alcohol intoxication. Her passing shook the world, as fans from across the world have since paid their tributes to music legend.
In regard to O'Riordan's legacy, Philip Merrill of The Recording Academy stated that she was "a gifted songwriter and vocalist whose ballads helped define alt-pop in the 1990s. She was credited for her innovative style embodied by her measured vocal power, her honest, vulnerable songwriting, reinforced by her Irish accent, thus helping the Cranberries to rise into worldwide stardom."
1. Björk
Known for her groundbreaking contributions to experimental music and her avant-garde style, Björk Guōmundsdóttir (known professionally as Björk) was one of the most unique artists to emerge in the 1990s, having inspired a great deal of modern artists as her music continues to defy any specific categorization throughout her three-decade long solo career.
At the age of six, Björk began learning to play the flute and piano. During an after-school music recital she sang I Love to Love by Tina Charles which was recorded and later sent to be played on Iceland's only radio station at the time, RÚV. Her rendition of the song was broadcast across the country and led Björk to record her debut studio album, Björk, at just 11 years old.
During her teens and 20s, Björk performed for numerous bands across a variety of genres, some being the punk band Spit and Snot, the jazz fusion group Exodus and the alternative rock band The Sugarcubes. In 1993 she began focusing on pursuing a solo career and moved to London to work alongside record producer Nellee Hooper. Later that year she released her debut studio album, Debut, that featured the track Human Behavior which was on rotation on MTV and has since become one of her most notable tracks.
Björk has since sold between 20 and 40 million records across the globe with 31 of her songs having surpassed the top 40 spots on pop charts internationally, such as Army of Me, Hyperballad, It's Oh So Quiet, and Violently Happy. She has been named the 60th greatest singer of all time and 81st greatest songwriter of all time by Rolling Stone Magazine, as well as one of the 100 most influential people in the world by Time Magazine in 2015. As stated in The New Yorker, "no contemporary artist so gracefully bridges the divide [between music experimentalist and pop celebrity] as Björk."
Wrap Up
That does it for this list. Let us know who your favorite 90s female singers are in the comments below.
Growing up in a small town in South Carolina with little to do, I spent the majority of my adolescence listening to music and writing stories. I began playing the violin in the 5th grade which helped me grow to appreciate modern music's roots from an early age. At the age of 12 my older brother introduced me to the music he grew up with; Nu Metal, Grunge, 90's Hip-Hop, Rap and Classic Rock. I became infatuated and embarked on my own music journey, discovering who I truly was along the way. During college I developed a passion for journalism, which I've now been lucky enough to merge with my love for music here at Guitar Lobby.