These ladies have massive street credit, they've dismantled a male-dominated world, became role models for most musicians to date and to come, and certainly have achieved some of the most incredible come-up stories in Rock N' Roll history.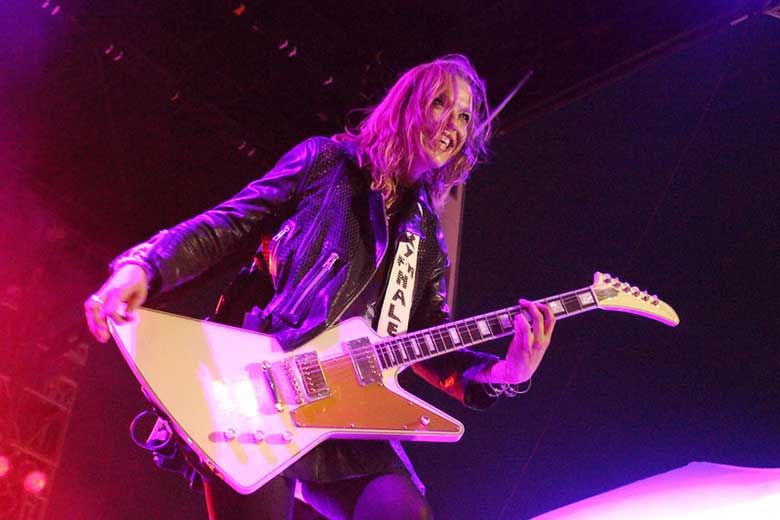 Furthermore, since the beginning of Rock music as a voice for counterculture and all that is alternative, the music industry was a solid "boys club" and these girls managed to kill it since the 70s.
These female fronted rock bands changed rock music forever.
Here Are the Best Rock Bands with Female Singers
35. The Dead Weather (Alison Mosshart)
Chaos and melody equal rock n' roll under the philosophy of the Dead Weathers, and said melodies are rarely displayed with such power and deliverance as when they are performed by their lead vocalist Alison Mosshart, who joined the supergroup to provide it with her soulful and at times viscerally aggressive style.
The Dead Weather was formed in 2009 in Nashville, Tennessee out of serendipity, when the Raconteurs were touring with The Kills and White lost his voice, leading him to ask Mosshart to fill up his shoes during the remaining leg. He eventually invited her to record a song with him and bassist Jack Lawrence and out of chance Dean Fertita happened to be there, they ended up playing all night long. Soon the four of them would meet up at third man records and would spend 2 weeks engaged in a lockdown writing process, eventually leading to the release and promotion of their first record that same year, Horsebound.
The Dead Weather is a rare occurrence in nature, rarely enough comes a band that is able to explore so much in terms of sound and have them be as successful as this supergroup is especially considering the sonic insurgence that stands as the signature of this spontaneous and sporadic project.
34. Men I Trust (Emmanuelle Proulx)
Funky indie rock with a lo-fi tone to it, or how they used to describe themselves, "Groove based electro-soul". Men I Trust found has found massive success in their relatively short time together since their debut EP was released in 2014.
Founded by high school friends Jessy Caron and Dragos Chiriac, the duo started merging their influences into original songs which called for the need of a fronting figure, this is when Emmanuelle and her friend Odile took on the duty and managed to embark on a tour across China. Soon after, Odile would leave the band, leaving Proulx on her own but allowing her to take on a deeper level her relationship with the songs and the band. Nevertheless, as the band went on several tours, it took them four years to become an indie powerhouse by playing in festivals and sold out venues. They recall to be counting on live shows for extended exposition rather than a media team that managed them, as they haven't enjoyed any viral moments nor number one hits to achieve their indie darlings status.
As Canada's biggest DIY band, Men I Trust is such an enigmatic story of success that even its members can't seem to pinpoint the catalyst of their massive praise. Amounting to 6.2 monthly listeners on Spotify, Emmanuelle Pourlx can be often cited pondering her success story than giving a concrete answer to it. As a final thought, one may agree on the fact that this project basks in the effortless enjoyment of the music rather than the often relentless effort that entails the goal of "making it".
33. Beach House (Victoria Legrand)
The unexpected duo that has taken hold of the world through their sensitive melancholia-riddled tracks, Beach House is a testament to the old saying, less can be more, in addition to their simplistic and often hard hitting melodies. Beach House is characterized by their immersive music that seems crafted to be part of a score made for life.
Formed in 2004 by Victoria Legrand and Alex Scally, it took 2 years for them to find a perfect name for their project after a puzzling quest for it. In 2006 the duo debuted with their single Apple Orchard which ended up in Pitchfork's MP3 Mixtape, effectively gaining them traction and wide critical acclaim from audiences and critics alike. From that moment on, their follow-up studio installments have enjoyed similar acclaim, especially Depression Cherry which featured the era defying track Space Song, cementing their image as the space pop pioneers of this generation given the fact that this tune in particular has remained on the international radar for 8 years now.
Beach House comprises a deep artistic sensitivity and value that is palpably present in their often described heavy visual, interactive live shows. What's more, their sound has evolved over the years to the point where they've collaborated with Meow Wolf and their immersive arts project Omega Mart installation in Las Vegas by composing three songs for the score of their interactive experience.
32. Florence + the machine (Florence Welch)
Bright, bashing tribalistic percussion and ethereal sounding choirs are perhaps the astounding elements that punctuate the effects of Florence Welch's era defying band Florence + the machine. Often regarded by critics as a "polished punk sound" it is perhaps the raw emotion they present which aligns them with the genre, often tackling a certain cynicism through their dark lyrical content with a unique aesthetic that contrasts the sound in a sublime fashion, which Florence herself has credited to have come to float over her love for Blues and Soul.
Formed in 2007 out of Florence Welch's recurring collaboration with her friend Isabella Machine, the duo were originally called Florence Robots/Isabella Machine until an hour away from their first gig they would dispose of a clever joke to put up together Florence + the machine, which eventually stuck. It would take the girls a year to ensemble a band that would suit their creative process, especially Florence's, soon they would find themselves recording an early version of Kiss With a Fist before teaming up with indie producer James Ford who would lay the groundwork to release their smashing debut album, Lungs. The mad success story of this debut installment would follow their humble release at the Rivoli Ballroom club in Brockley, South East London, with a considerably reduced party that would propel the project into charting as No. 1 in the UK.
With their dark, romantic, and robust style paired with their covene-sque aesthetic, Florence + the machine has strived through 5 records now within a decade, always expanding and evolving enough to keep their identity and display the maturity that their early punk influences granted them.
31. Japanese Breakfast (Michelle Zauner)
Best described by the name of their record, Soft Sounds From Another Planet, Japanese Breakfast's astral sound and delivery often portray a biting funky sound to their tunes, accompanied by an eccentric and dark lyricism that often punctuates trauma as their main subject of exploration.
Fronted and founded by Michelle Zauner, Japanese Breakfast was conceived through her initial partnership with fellow musician Rachel Gagliardi as they took on the challenge of writing and posting one song a day in their Tumblr account in 2013. Within a year, the two of them decided to present themselves as Japanese Breakfast along with Frankie Cosmos, and Gabrielle Smith to increase their production rate for their media. That was until Zauner decided to take the project into a new and more professional dimension and in 2015 her endeavors morphed into her debut studio album by the name of Psychopomp.
Zauner is the heart and soul of Japanese breakfast, and more recent years have allowed her to expand the band's repertoire in terms of thematics and sound, diving into a more ambience sound and her indie rock side that manages to capture audiences with eclectic live shows topped only by her raw and upbeat personality, which contrasts the edge of her tunes.
30. Of Monster and Men (Nanna Bryndís Hilmarsdóttir)
Eclectic, Serene, and Exciting with a haunting quality to their tunes, Of Monster and Men have been one of the most distinctive bands to hit the mainstream with their keenness on nature folk and lyricism. Fronted mainly by Nanna Bryndís Hilmarsdóttir the Icelandic band took a hold of audiences of all ages and preferences with a sound that seems to call for adventure after breaking into the mainstream with their debut single Little Talks which rendered them as one of the go-to hipster bands in the earlier half of the 2010s.
Formed in 2009 when Nanna decided to add members to her, originally solo, project Songbird, it wasn't long until her iconic piece Little Talks crowned the band winners of the annual Músíktilraunir competition and earned them the chance to perform overseas in America where they would be covered by the Seattle based radio station KEXP, catapulting them to massive media exposure for their performance of the same song in 2010. Within a year they would record their debut album My Head is An Animal which charted as No.1 in Iceland and earned them considerable traction in the U.S. landing them a deal with Universal Records and propelling their career almost immediately after a single American leg tour.
Of Monsters and Men have a mesmerizing quality to their music with three albums now under their belt, and each of them charting upon their release, they've been able to capture new emotions and bend them to create an adventurous atmosphere within their resounding trait. Their unique feel and approach come from a very simple and heartfelt quality, their capacity to bridge folk, rock, chamber pop, and a tint of indie to make it even wider in appeal.
29. Beach Bunny (Lili Trifilio)
Bubbling and shining emotional punk riffs and a mellow, warm voice that embodies a down to earth wit that is often sought after but rarely achieved with the prowess and feeling that Trifilio transmits with her pen and guitar. Beach Bunny is at the heart of the tiding wave of bedroom pop that has escalated to the echelon of modern indie.
What started out as a bedroom project for Trifilio would eventually escalate when she recorded her third EP titled Crybaby in 2017, which tapped the interest of her friends giving birth to Beach Bunny as a four-piece band. In two years' time, Beach Bunny released their fourth EP Prom Queen, which thanks to social media garnered the band and Trifilio as a songwriter international acclaim and commercial success. In time, they would partner up with legendary producer Steve Albini to record their first full length studio installment Honeymoon, which further highlighted the band as one of the most substantially growing alternative acts of modern times.
Known for her bubbly, earnest positivity, it's hard to separate Beach Bunny from the inherent personality of its frontgirl. As it brings a fresh much-needed delicate approach to the modern music scene in terms of honesty and delivery, one with an unfiltered sharpness on her takes on concepts of beauty and what it has been to start a passion project in the ongoing decade.
28. Wolf Alice (Ellie Rowsell)
One of the most relevant and authentic acts of the modern British alternative scene, Wolf Alice combines their smooth artistic sensitivity with an enticing approach to grunge, folk, jangly indie and shoegaze. These elements and the sublime delivery of lead singer Ellie Rowsell gained them notoriety and traction as "the most blogged about underground band" in 2013. As an almost immediate reaction to their hype, indie label Dirty Hit signed them in 2014, when the band produced and recorded their debut album My Love is Cool.
Wolf Alice started out as an acoustic duo in 2010, founded by Ellie Rowsell and Joff Oddie, borrowing their name directly from the Angela Carter short story. It was only a matter of time before their ambition led them to recruit more members, so they could expand their capabilities as a full on project that could elaborate on deeper layers of their folk palette, however, with rotating members they finally managed to get in their element when combining their respective influences as a band and finally managed to emerge through the light of alternative rock. By 2016 they would rise into the mainstream when supporting The 1975 in their second American tour.
Rowsell has proved to be a jack of all trades when it comes to her endeavors as a singer, as she's become a sought-after collaborator given her almost immediately recognizable soprano voice. In her short time in the limelight, she's been featured in two of Alt-J's promotional singles Deadcrush, and 3WW, while she also participated in Mura Masa's 2020 Teenage Headache Dreams. As for Wolf Alice, they've managed to capture and bridge a plethora of colors and tonalities that range from the dreamiest of shoegaze indie tracks to the most aggressive and punchy grunge/punk tunes.
27. Bikini Kill (Kathleen Hanna)
The quintessential Riot Grrrl band, some may argue, Bikini Kill is the first name that may pop into anyone's brain when thinking "iconic girl punk". Few projects in history have had the cultural impact that these Olympia, Washington girls had in contemporary music. Abrasive, outspoken and rebellious to their core, they are responsible for pioneering the female punk scene of the early 90s, in addition to inspiring countless female artists to pick up an instrument or pen their thoughts.
Founded in 1990 it took three years for the band to reach mediatic recognition after being repeatedly dismissed by the mainstream. They eventually started to shake the surface of American music from the underground when their UK tour garnered mass attention and was documented by Lucy Thane under the title It Changed My Life: Bikini Kill in the UK. Moreover, it's worth highlighting Bikini Kill as one of the most impactful acts of their time, as they supported other notorious names such as Nirvana, Joan Jett, and even Dada Swing.
Following the band's first separation, Bikini Kill has remained a timeless icon for punk rock, and as the years have gone by they've been reuniting sporadically to tour the world. Bikini Kill embodies the sound of hardcore punk rock, with visceral lyricism and a whole lot of attitude in their delivery, this is a band that remains with the strong conviction that the medium is just as important as the message, and they execute wonderfully within that idea.
26. Wet Leg (Rhian Teasdale)
The tongue-in-cheek, dreamy, and buzziest duo of 2022 is a testament to what can be achieved with a clever catchy chorus and insightfulness as a topline for post punk tracks. Wet Leg took the world by storm in what seemed to be an unavoidable fever, surprising music critics and audiences alike with two follow-up hits to the head upon their debut in 2021, those tunes? On the Chaise Longue and Wet Dream.
Founded in 2019 when Rhian met Hesther at Platform One College of Music on the Isle of Wight, the band took its name from playing a game with emojis and the curious slang they have at their isle for day trippers. Wet Leg promised not to try too hard to achieve success, but upon signing with the now legendary indie label Domino Records, their debut single Chaise Longue garnered them millions of views through social media and YouTube within its first week. In no time Wet Leg would follow up with another hit, Wet Dream, which launched them into notoriety after having Harry Styles cover it and later recruiting them as a supporting act for his 2022 British Tour.
With a two-time nominated Grammy album and live performance under their belt, Wet Leg is well underway to become one of the most iconic bands in contemporary music. Rhian Teasdale and Hesther Chambers also have offered an inspirational moral to their story, something that seemed to have faded in modern rock, standing up in front of a crowd and shocking them before attaining the ability to shred their instruments.
25. Garbage (Shirley Manson)
Emerging from their massive success story in the latter half of the 90s, Garbage merged techno, shoegaze, powerpop, grunge, and even hints of post-punk into a unique take on what pop music should sound like. Garbage is a testament to what an independent, well produced alternative project can achieve. Their massive creative sensitivity achieved a Grammy Nod back in 1998 for their second studio installment Version 2.0, and various collaborations to write original music for soundtracks, most noticeably James Bond's The World is Not Enough.
Founded in Madison Wisconsin in 1993, Garbage came to be after Butch Vig and Duke Eriksson found a way to power through and remain producing music after some harsher experiences with their recent tenures. They decided for their new project they'd want to hire a female lead, and that's what they faithfully found when watching MTV one night, where a performing Shirley Manson, then Angelfish's singer, captivated them by singing really low in her register, executing the obvious opposite of what others were doing at the time. Garbage's success in America was rather accidental, as they gained traction in Britain after John Peel would air their song Vow several times, consequentially, American radio program directors would stumble across the track and eventually passed it along to MTV. Through this exposition, the band earned some mainstream recognition, with tracks such as Vow and Queer charting on Billboard, while No.1 Crush was featured in the Romeo + Juliet multiplatinum soundtrack.
As described by Vig and Manson, Garbage is into exploring and employing musical diversity to pop-tunes, and what better way to describe their abrasive catchy choruses and hooks than Sci-fi pop considering how ahead of its time the project was when it debuted. To us, their endeavor is compelling and massively sounding, for guitarist Steve Marker, he spoke for his bandmates and claimed: "We want to take pop music and make it as horrible sounding as we can."
24. Alvvays (Molly Rankin)
Birthed from the Jangly Shoegaze-esque heritage that bands such as The Smiths, Primal Scream, and Pavement often inspire, Alvvays has enjoyed steady growth as indie darlings since their eponymous debut in 2014. Fronted by Molly Rankin, the nonchalant frontwoman has captivated audiences by exploring themes such as comfort in debauchery, toxic and snarky love life, and being locked up during the day while looking for a blast at night. It is through their relatable style that the band managed to smash their hits, Archie, Marry Me, and Party Police, sparking a scuttering fascination for their surfy sound, eventually landing them a spot at Glastonbury Festival 2015 and Coachella 2016.
Formed in 2010, Alvvays grew out from their hometown of Charlottetown in Prince Edward Isle, Canada to move and get a taste of a more kinetic scene in Toronto, where they would lay out their basecamp in a basement studio to record a variety of demos that would later be mixed and produced by Chad VanGaalen. From there on their philosophy has been one committed to touring and eventually adding new tunes to their live repertoire before taking them to the studio, and it has certainly proven effective! Though Alvvays has been short of massive exposition, their underground following and success seems to suit them just right, as they haven't managed to enter the Billboard 200 but pulled out some success by being recurrent on the Heatseekers charts and nominations as Breakthrough Act by the Juno Awards.
With a remarkable emphasis on strong melodic lines that complement brilliantly their distinctive jangle pop sound, Alvvays has always been able to merge different influences on their music, something that enables Rankin's creativity when it comes to coming up with fresh ideas under the mindset of "anything can work".
23. The Pretenders (Chrissie Hynde)
One of the most consistent acts from 1978 to 2008, Chrissie Hynde's prowess and knack for evolving in terms of sound and style has made her one of the quintessential front-women in music history. Initially appealing through a softer melodic style, The Pretenders came across as the ideal band for a radio station, which led them to mass exposure from the outset of their story, stunning audiences with their cross Atlantic trade in musical influences. This latter element is what made the band stand out from the rest of their peers, shining through their new wave rock extravaganza.
Conceived from, Hynde's multiple endeavors to start a band that would allow her to sail under her ability as a singer-songwriter in England's late 1970s musical climate. Hynde would pen the lyrics and her guitar lines inspired by her ventures in the punk scene she experienced. The Pretenders would enjoy a fair share of success during the 80s as they presented the British scene with a good mix of lullaby-esque melodic rock while also presenting an edgier, more biting punk rock side to them, even landing them a spot to play in the 1985 Live Aid Festival. However, It took four studio installments for The Pretenders to peak and earn the commercial success they deserved with their 1986 album Get Close, which featured their hits Don't Get Me Wrong and My Baby.
With 11 albums under their belt, The Pretenders has strived as Chrissie Hynde's passion project across the span of four decades and counting, always avoiding musical clichés and exploring new sounds in her endeavors, she's been a pivotal figure for Rock N' Roll, one that is never short of the element of surprise.
22. Sunflower Beam (Julia Cumming)
"Veterans of the Brooklyn DIY scene" as described by their independent label Fat Possum Records, Sunflower Bean is a riff and rock chop driven band that manages to strive with a sense of identity that is rare for most indie rock bands, especially when you consider the plethora of melodic trebly lines that dominate the genre and climate nowadays. Fronted by Julia Cumming, the band is characterized by their strong identity and emphasis on creative control in the face of production as well as their ability to morph from one alternative sub-genre to another.
Founded through the childhood friendship between Julia and drummer Olive Faber in 2013, Sunflower Bean was consolidated when the two of them met guitarist Nick Kivlen. Within a year, the band enrolled at the CMJ Music Marathon which gained them positive reviews and comparison to their NYC forebears, praising them for their musical diversity and labeling them as the love child between psychedelia and punk rock. In two years time, comprised of self produced releases, the band would sign with Fat Possum Records in 2015, which led them to record their debut album Human Ceremony. The album portrayed a more pop-nuanced approach to subjects such as the "weight of being alive" as opined by Faber, whilst still displaying a retro format in its vintage sounds and structures. This effectively propelled Sunflower Bean into a more diverse audience and while they may lack an official break into the mainstream they've remained on a steady growing pace with their follow-up records Twentytwo in Blue and Headful of Sugar now under their partnership with Mom+Pop Records as their distributing label.
Sunflower Bean is a testament to the relentless quality a band may need when coming up from a rough scene, they've maintained a life on the road for a decade now, all the while producing record after record. On another note it's worth highlighting the vocal work on most of the band's songs, as Cumming's range allows her to play dynamically between her lower and higher octaves, making her initially angelical appeal even more enticing.
21. Girlpool (Cleo Tucker/Harmony Tividad)
The band started as an amateurish project and evolved into a full-fledged indie project that uses naivety and smooth navigation between the sparse and tender to hook its audience with a harsh vulnerability. Girlpool is one of those projects that feels like a fleeting tender moment thanks to its punctuated rough instrumentation and raw vocals with argumentative lyricism. Through its 9-year tenure, Girlpool explored a vast array of sounds and effectively infused them into their musical identity, merging electronic elements with Indie-pop and rock, as well as a palpable influence from the Cocteau Twins and Siouxsie and the Banshees.
Founded in California in 2013 by friends Cleo Tucker and Harmony Tividad they started to self-produce their debut eponymous EP before signing with Wichita Recordings in 2014. The higher end production complemented by the then rough and raw performance soon captured the attention of a vast range of audiences as it came across as a rather grounded sound and was regarded as an evolution of an angrier, conscientious Kimya Dawson. By 2017 Girlpool went on to sign with Anti-Records and released their followup Powerplant which was highly regarded as one of the seminal installments of the year by music critics and audiences alike.
Though Girlpool has now disbanded, they managed to make their mark as one of the most enticing projects in recent times, exposing their intimacy in lyrics and leveling to the listener in a way in which one gets to understand the complexity of how misleading can certain moments in life be. For this reason, their farewell installment, Forgiveness, sets Girlpool as a band that embodies both the angel and devil on your shoulder, whispering about the sublime opposition between anguish and hopefulness.
20. Horsegirl (Nora Cheng/Penelope Lowenstein)
With a psychedelic bravado and a youthful explosive essence to their sound, Horsegirl brings a retro-futuristic style to their noise, post-punk indie blend in what is certain to become one of the most enigmatic powerhouses of contemporary music.
Horsegirl started out in 2019 after Nora Cheng and Penelope Lowenstein decided to start jamming in their parent's basement. Eventually, the missing piece Gigi Reece joined them to bring in her heavy-handed explosive drumming into the mix and the project took a massive leap after recording a few demos and uploading them to their Soundcloud with the intention of sending them to different labels that had taken an interest to their sound at the time. Eventually, Matador Records picked them up and tracked their tunes in Steve Albini's stalwart Electrical Audio to render their 34-minute debut into the massive sonic experience that Horsegirl is.
Though still relatively small, Horsegirl's promise is one that picks up where Sonic Youth left off, through their biting youthful, and seemingly effortless songwriting. Within 4 years, they've managed to open shows for Pavement upon their reunion and have already released two albums in 2022, Versions of Modern Performance and Rough Trade Super Disc.
19. HAIM (Danielle Haim)
Smooth, groovy, and always challenging traditions installed in the music industry, HAIM has strived through their curated patchwork of influences of 70s soft rock, R&B, and 80s synth pop. The sisters have been consistent in their sonic evolution, often exploring a genre-crossing Americana quality in each of their four studio installments, often exposing a certain acceptance of melancholy, loneliness, and depression within a contrasting tone to their music, all the while delivering one of the most memorable live shows in recent times.
Officially formed in 2007 when the sisters Danielle, Este, and Alana decided to finally commit to their musical endeavors and decided to start writing their own songs in order to present themselves under the umbrella of their surname. However, it wasn't until 2013 that the power trio would be able to fully put aside their side projects and combine their forces to finally put out their first record. Effectively so, HAIM made a jump into immediate critical acclaim upon the release of their debut Days Are Gone in 2013, sparking interest from some of the biggest names of the alternative scene to call them in for collaborations, among the names are Arctic Monkeys, Taylor Swift, and Julian Casablancas.
HAIM's artistic prowess comes with their already forged legend embedded in each of the sister's stories before and during the professional formation. They have a knack for making truly timeless music that adds a much necessary depth to modern pop music, it's no surprise that critics and fans all coincide in describing the band's sound as "Nu-folk-meets nineties R&B" or even as "pop perfection".
18. Crumb (Lila Ramani)
At times jazzy and loose, while maintaining a free-form rich approach to indie rock, Crumb coined the term "slacker rock" after bringing to the table their unique psychedelic approach that melds 60s extravaganza and modern mellowness to the feel of their tunes. Crumb is one of those projects that take on their core inspirations to deliver a genuine atmosphere through their music.
Formed in 2016 in Boston, after Lila Ramani met keyboardist Bri Aronow and Jesse Brotter, the band released two independently produced EPs Crumb and Locket, the latter would receive massive distribution through social media and word of mouth expanding its exposure globally. It was massively received by audiences and critics alike, and eventually, it landed them a deal with the independent label DIY Citrus City Records for distribution. By 2019 Crumb released their first full length studio album Jinx, which deepened their blend of Trip-Hop, Psychedelic, and Jazz Rock, it was described and praised by Ann-Derrick Gaillot, saying "It bends influences to shape a clear-eyed perspective tinted amber with dirt".
Crumb has managed to become a referential point for contemporary indie music, within 6 years of their formation, they've managed to bring an authentic approach to songwriting and delivery, one that has earned them the title of indie darlings and a vast cult following that amounts to so much that it flirts with the mainstream.
17. The Pretty Reckless (Taylor Momsen)
A fiercely loved band by its fans and a classic approach to Rock n' Roll, Taylor Momsen drastically grew from her shell as a mainstream actress to a remarkable front girl. With a keen eye for classic rock music, the band formed in 2009 when Momsen met rock producer Kato Khandwala who introduced band members. Often dubbed as "generic" The Pretty Reckless have been on the sidelines since their formation, however, there has been some considerable success since their breakthrough second studio album.
2014 saw the band's breakthrough with Going to Hell propelled by the success of radio hit single Messed Up World which topped the US Mainstream Rock Chart as number one but failed to impress major critics in the industry. But the band's status escalated with the passing of the decade, upon 2016 their third and most successful tenure, Who You Selling For marked a more matured and solid sound. With Momsen delving into sensuality as a trademark in both voice and style as a contrast to old-school adapted riffing, The Pretty Reckless paid tribute to Rock N' Roll history with their fourth Billboard number Take Me Down.
Chad Bowar critic for Loud Wire praised the band: "With too many hard rock bands sounding sterile and calculated, it makes the rawness, emotion, and originality of Who You Selling For stand out even more."
The Pretty Reckless have achieved a milestone for guitar music in the mainstream, proving that Rock N' Roll is not dead. As they stand out from their contemporaries for their acclaimed raw product and classic approach, with Frontwoman Taylor Momsen delivering a fearless on-stage presence and an exciting embrace of the genres ever-evolving nature.
16. Within Temptation (Sharon den Adele)
Industrial, symphonic, and mystical, Within Temptation, came to form in 1996 when long-time partners Sharon den Adele and Robert Westerholt decided to brew their influences into metal, what sprout, however, was a unique mixture. With much credit going to their frontwoman, for bringing in a new layer to heavy and industrial metal, Sharon den Adele never had any formal vocal training, with a powerful mezzosoprano vocal range and massive versatility. Her voice is Within Temptation's trademark, a quality every band is proud to have.
Their debut studio album, Enter, was well-received in the Dutch underground circuit, but it failed to impress critics as it was deemed to be "just another goth band". However, 2001 introduced Within Temptation to the general audience with their second studio tenure Mother Earth thanks to the continental success of their single Ice Queen which topped European charts while peaking as number two in the Netherlands. Becoming a regular dominant act in the region Within Temptation has sold over 10 million albums worldwide.
A sound that lingers on the line of epic, lullaby-esque, and at times rocking. Within Temptation displays a somewhat classical sound with a one-of-a-kind edge in the vocal department, one that has often earned them comparison to Evanescence minus the grunge hints.
15. Halestorm (Lizzy Hale)
Grungy, alternative, and bold, Halestorm's Lzzy Hale is an icon and inspiration for frontwomen in the heavy metal, post-grunge genre. Bringing a fresh, female face for the metal scene during the early stars of the 2000s, the band packs a loud, unintimidated sound that can attract almost every alternative metalhead into their sound. Packed with raw, intense vocals with equally heavy instruments, Halestorm's head-banging, angry music is even adrenaline-inducing. With continuous support from fans and critics alike, it is safe to say that Halestorm's ongoing music career will only continue to grow.
Starting their music trajectory in 1997, siblings Lzzy and Arejay Hale joined forces during their teenage years, writing their own songs from an early age. Releasing their eponymous debut album in 2009, the record managed to gain a large following, charting at the Billboard 2000 and peaking at number 17 in Billboard Rock. However, it wasn't until their second album, The Strange Case Of… that got Halestorm into the mainstream media's radar. Earning a Grammy for Best Hard Rock/Metal Performance, the band's success and acclaim was undeniable.
Described as a she-dragon by Classic Rock, Halestorm's frontwoman is an emblematic figure and influence for female metal singers. With a rebellious and Rock 'n' Roll attitude, the band has traveled far during their decade-long career. Their most recent release Halestorm Reimagined, a six-track EP, was out in August 2020, including altered versions of their own, older songs and a cover of Whitney Houston's I Will Always Love You. One of the most important bands in hard rock today, Halestorm continues to fuel the loud heaviness the genre needs.
14. Alabama Shakes (Brittany Howard)
The funky, soulful, blues rock crew embodies a masterful melodic festival-ready act that may as well bring you to tears or sheer euphoria, fronted by Brittany Howard, the Americana soul of the Alabama Shakes has come to prominence in the past five years. Howard embodies a breathtaking timeless classic already, and her voice and presence are only paralleled by her many influences, among them Janis Joplin and Aretha Franklin.
With their first number one and four-time Grammy Winning album LP Sound & Color, the band has become the modern metamorphosis of soul, funk, and southern rock. Forming in 2009, as a junior high project mainly played in small local venues and house parties until they received an invitation to post their music for SiriusXM. The Alabama Shakes earned critical acclaim upon the release of their debut Boys & Girls and it was massively propelled by the success of their flagship single Hold On which was nominated for three Grammy Awards.
By 2020 The Alabama Shakes have become a massive award achieving group, with four Grammys to their name and a constant on the Billboard Charts, the group is often credited as a contemporary Americana exponent. With Brittany's charming essence being palpable both on stage and studio, this band is one of the rare gems of the new generation, trademark by their always soulful front lady.
13. No Doubt (Gwen Stefani)
One of the most memorable acts of the nineties, No Doubt, fronted by the iconic Gwen Stefani, incorporates ska, reggae, and synth into the punk rock genre, giving a brand new name and feel to the alternative scene. Although earning critical acclaim since the very early stages of the group, their jump to international notoriety was a long, but certain one. Stefany's expressive vocals combined with upbeat instrumental diversity established No Doubt as one of the most emblematic and original bands of recent times.
Forming in 1986, No Doubt's road to success was a bumpy one, with their debut album lacking airplay and roughly selling 30,000 copies yet achieving a solid cult status at the time. It wasn't until their third installment, Tragic Kingdom, that the band garnered massive media attention and broke into the mainstream. Proving themselves to be one of the most genuine acts of the time, their single Don't Speak became a chart-topping success, along with rising popularity as an alternative to a grunge-dominated era. Propelled by the success of their flagship singles, No Doubt didn't only become a household name but also earned four Grammy nominations in addition to earning diamond and platinum certifications in the U.S. and UK.
Currently, on their second hiatus, No Doubt's future remains unclear, with lead singer Gwen Stefani stating "I don't know what's going to happen with No Doubt when Tony (Kanal) and I are connected creatively, it's magic". The band has an ongoing legacy and mass following that remains untarnished, as they have become the most essential piece of the nineties – and today's – music. As for Stefani, whether it's with a band or as a solo artist, she's made clear she is no one-trick girl, her venture with No Doubt remains perhaps her quintessential work to date. As she managed to become one of the signature faces and style references of the nineties.
12. Pale Waves (Heather Baron-Gracie)
Soft, silky smooth, and dreamy, Pale Waves is a cornerstone for a rising Britpop revival, recently breaking into the mainstream scene following a record deal with an indie label, Dirty Hit. Coming in with palpable eighties, dream pop essence, frontwoman, and lead singer, Heather Baron-Gracie, breathes a fresh retro and modern blend to Pale Wave's sound and goth rock aesthetic. Although a recent addition to the music industry, the band already shows promise and potential through the release of their EP All The Things I Never Said, and their 2018 debut album, My Mind Makes Noises.
Forming in 2014 and recording demos by 2015, the band eventually caught Dirty Hit's eye and landed a record deal. Upon the release of the first EP in 2018, Pale Waves attracted mass attention when they played a sold-out show supporting their label mate alternative band, The 1975, at Madison Square Garden. Pale Waves have also enjoyed massive critical acclaim, earning the respect of some of the most renowned names in the music industry, including NME, Rolling Stone, and BBC. With Baron-Gracie's soft, clean vocals and the band's ethereal music, Pale Waves bring their catchy version of dream pop, while still delivering a nostalgic element that reminisces to The Cure according to NME.
Though the band's music career is only beginning, their compelling live performances, electrifying catchiness, and upbeat qualities are enough to hook audiences and set eyes and ears on future releases. With a second installment in the making, it's really worth it to look back on their debut tenure which, HotPress reviewed: "Not only does it live up to the hype, it firmly establishes frontwoman Heather Baron-Gracie as the star the genre so desperately needs." Undoubtedly making an impact throughout their short – yet ongoing trajectory, Pale Waves and Heather Baron-Gracie set a stunning example of the indisputable importance of women in contemporary music.
11. Hole (Courtney Love)
Confrontational, raw, and bile-filled describe Hole, but these traits embody Courtney Love, with her uninhibited live charisma and style, Love is as true in her persona as her lyrics. One of the most notorious faces of the Riot Grrrl movement and scene Love delivers a vibrant nature to the world of Rock n' Roll after three decades, as she did with Hole. The band's abrasive blend of genres is one of the most distinctive of the ninety's alternative scene, with punk rock as a root, and palpable influences from noise rock and no-wave Hole has become an undisputed household name.
Founded in 1989 by Love the band subsisted on the L. An underground circuit before defining a standard line-up and garnering the attention of Sonic Youth's Kim Gordon as a producer for their indie debut Pretty on the Inside. Hole's first installment received critical acclaim among independent media, and it was voted album of the year by Village voice magazine while ranking number fifty-nine on the UK Album Charts. However, the band's prominent status as one of the greatest in the alternative and Riot Grrrl scene of the nineties came with a more structured and melodic approach to composition.
With two more massively successful tenures by the dusk of the grunge era, Hole solidified its status as a massively cultural phenomenon, receiving multiple platinum certifications for Live Through This and perhaps their most popular oriented record Celebrity Skin. The band became a platform for Courtney Love to escalate her stardom and charisma as both grunge and feminist rock icon of sorts. Following the latest disbandment of Hole in 2012 and a failed reunion attempt in 2020 Love has moved towards a more consecrated status, as her lyricism and artistry have been acclaimed as a milestone for rock counterculture, earning her earlier in February the NME Icon award.
10. The Distillers/Spinnerette (Broody Dalle)
Industrial, symphonic, and mystical, Within Temptation, came to form in 1996 when long time partners Sharon den Adele and Robert Westerholt decided to brew their influences into metal, what sprouted, however, was a unique mixture. With much credit going to their frontwoman, for bringing in a new layer to heavy and industrial metal, Sharon den Adele never had any formal vocal training, with a powerful mezzo-soprano vocal range and massive versatility. Her voice is Within Temptation's trademark, a quality every band is proud to have.
Their debut studio album Enter was well received in the Dutch underground circuit, but failed to impress critics, as it was deemed to be "just another goth band". However, 2001 introduced Within Temptation to the general audience with their second studio tenure Mother Earth thanks to the continental success of their single Ice Queen which topped European charts while peaking as number two on the Netherlands. Becoming a regular dominant act in the region Within Temptation has sold over 10 million albums worldwide.
A sound that lingers on the line of epic, lullaby-esque, and at times rocking. Within Temptation displays a somewhat classical sound with a one of a kind edge on the vocal department, one that has often earned them comparison to Evanescence minus the grunge hints.
Popular Related Article: The Best Red Hot Chili Peppers Songs of All Time
9. Yeah Yeah Yeahs (Karen O)
Heavy on conceptualism and a remarkably well-crafted blend of fuzz rock, electro dance, and post-punk with an always true to-themselves essence, many of these traits and sound shifts are thanks to their front girl, Karen O. With a more than a palpable heart-stringing approach to composition, the Yeah Yeah Yeahs twenty years now since they started in the underground hipster scene from New York have one of the most devoted fanbases around the globe.
For many an unpredictable success, for others, just a matter of time. The release of their first album Fever To Tell remained in certain obscurity except for the hit single Maps, which garnered massive underground and critical acclaim in 2004, in addition to topping the Billboard Alternative Airplay Chart. It was however with its second studio tenure 2006s Show Your Bones that the Yeah Yeah Yeahs broke into the mainstream scene and were held as indie heroes, as it was charged with a dark prowling sensuality and glitzy art-punk edge that captured a massive audience.
Karen O and company aren't afraid to stretch their colors, and that much has been proven with three different yet brilliant albums that have spawned both critical and commercial success for the band. With a charismatic on-stage presence and unparalleled artistry of their front girl, the Yeah Yeah Yeahs have become nothing short of iconic for younger generations.
8. Heart (Ann Wilson)
Glamorous, energetic, and a signature all-time classic, Heart has been in its core sisters Ann and Nancy Wilson, both demonstrating an astonishing cross-genre versatility, from power ballads and folk to hard rock. With her signature powerful voice, Ann Wilson trademarked Heart as one of the most successful acts of the late seventies, while becoming one of the first female frontwomen to be labeled as a heavy metal singer. Needless to say, she is one of the most influential frontwomen in Rock n' Roll history.
Lzzy Hale of Halestorm said: "I heard Heart and was like, 'Oh, singing like that as a girl is actually a thing!'"
Forming in 1970 Heart was subject to several line-up changes with the Wilson sisters as the only constant members. Moving to Vancouver, Canada to avoid the army draft, Heart saw a small breakthrough with their debut album Dreamboat Annie, which garnered commercial success with flagship singles Crazy on You and Magic Man both making it to the Billboard Hot 100 Charts within the top 40 as number thirty-five and nine. However, their second tenure 1977s Little Queen gave the band mainstream success and acclaim with the iconic and signature track Barracuda, which peaked at number eleven on the Billboard Hot 100 where it remained for twenty-seven consecutive weeks. As Heart's popularity grew, the band soon gained legendary status by the end of the 1980s.
Ann Wilson's powerful voice and provocative attitude made her and Heart an empowering act that opened the doors for women to front hard rock and heavy metal. With a recent introduction to the Rock and Roll Hall of Fame in 2013, and many consecrated artists that hold them as heroes -among them Robert Plant and Chris Cornell- Heart's mark is certain to remain untouched.
7. The Cranberries (Dolores O'Riordan)
One of the longest-lasting bands since the eighties and one of a kind masterfully distilled genre blend, The Cranberries were one of the biggest names in the music industry within a year of their first installment. O'Riordan, like her crystal and sometimes shrieking vocals, gave the band a face and pure essence with each heartfelt tune, she co-wrote along with Noel and Mike Hogan. After the passing of Dolores, the group disbanded but it left us with a massive legacy and one of the best swan song releases ever recorded in music history. Before the release of their final album, 2019s In the End, Noel Hogan said:
"The Cranberries was the four of us. We don't want to do this without Dolores. So we're going to leave it after this."
Forming in 1989, the band met with early success within months of the release of their debut album, 1990s Everybody Else Is Doing It, So Why Can't We? striking commercial and critical success. The album marked the beginning of the successful partnership of O'Riordan and Hogan, reaching number one on the UK Album Charts and Irish Album Charts while landing a spot as number eight-teen on the US Billboard 200, a massive achievement for an overseas band at the time. During the nineties, the Cranberries managed to deliver five consecutive Top twenty albums, No Need to Argue, To the Faithful Departed, and Bury the Hatchet.
Additional to their remarkable trajectory during the nineties, the Cranberries became a timeless band, giving us tracks for the ages such as Salvation, Ode to My Family, and classic protest song turned anthem Zombie.
6. Paramore (Hayley Williams)
When it comes to frontwomen in rock, it's hard not to think about Hayley Williams. With a fifteen-year-long trajectory and one of the past decade's most charismatic distinctive voices. Williams' versatility ranges from emotional ballads to a classic yet unique approach to pop-punk. A voice and talent like no other, along with Paramore miss Williams has managed to outlive the age of grandeur of the punk rock revival during the 2000s. As they have matured into genre fusion while keeping a true-to-themselves essence, Paramore is one of the quintessential acts of younger generations. As member Taylor York has described the band's approach to music as: "too pop for rock music and too rock for pop."
Initially discovered by talent scouts, the singer was introduced to Atlantic Records where they hoped to make her a pop artist, a proposition that Williams refused in hopes of forming a band. Officially formed in 2004 and debuting the following year with All We Know is Falling the band garnered relative mainstream success, as it peaked at number nine on the UK album charts but failed to make a major impact in the US. It was however their second installment that catapulted Paramore as one of the leading bands of its generation. The success of 2007s Riot! was massively influenced by the impact of flagship singles That's What You Get and Misery Business both enjoyed massive airplay on MTV and conquered American charts as number eight-teen and one on the Billboard Pop Singles and Rock and Metal Charts.
Evolving their style into a dream/synth-pop, the band was met with critical acclaim. Releasing one of 2017's most popular tunes, Hard Times, a reborn Paramore was on audiences' and critics' radar. The band became a platform for Hayley Williams to become the face and voice of both pop-punk as well alternative music for younger generations, thus becoming a critic, media, and musician darling, earning the praise of the likes of NME, John Mayer, and Dave Grohl. If you're looking for rock bands with female singers, Paramore definitely deserves a spot near the top of the list.
5. Fleetwood Mac (Stevie Nicks)
Bewitching, pleasantly intoxicating, and unique, Stevie Nicks, Fleetwood Mac frontwoman, remains a pillar and an undisputable influence for women in music and her band. Nick's hypnotizing vocals and her mesmerizing performance have become representative imagery for aspiring musicians, creating for herself an immortal legacy. Though she might not fit a traditional definition of a frontwoman, her stripped lyricism, and distinctive vocals along with her on-stage charisma sum to her enthralling presence.
Going through a number of bands before becoming the face of Fleetwood Mac, Stevie Nicks and Lindsey Buckingham joined the former British blues band in 1974. Adding a pop-rock element to the legendary talent of Peter Green, Fleetwood Mac gained immediate critical and commercial success with the release of their 1975 self-titled debut, reaching number one on the US Billboard 200. Further success and age-defining tenures followed in 1977's Rumors, which went on to earn the Grammy Award for Album of the Year thanks to the pop/soft rock nature of its sound. Initially recorded with the intention of making a "pop album" Rumors only solidified the band's status as one of the most eccentric ones during the decade of the seventies.
BBCs Daryl Easlea described the album's sound: "like a thousand angels kissing you sweetly on the forehead"
Fleetwood Mac marked and sealed America's 1970s rock culture expansion, and certainly influenced countless musicians, Stevie Nicks, along with Fleetwood Mac brought a whole new interpretation of Rock music, an indescribable presence, and crude songwriting that changed the course of music history. The band continues to tour up to date despite the passing of founding member Peter Green, and various lineup shifts in the course of the decade. As for Nicks, she is deemed as a living legend, and there's no wondering why, with theatrical performance that keeps up to date, heavily accessorized costumes that have even influenced fashion, and a vocal power like no other Nicks became the gypsy queen of Rock music.
4. Blondie (Debbie Harry)
Flawless charms, invasive catch melodies, subtle aggressiveness, and an execution that was ahead of its time, Blondie became one of the world's largest acts by the dawn of the eighties. Propelled by Debbie Harry's enigmatic and captivating on-stage innuendo, the band hijacked both mainstream and underground scenes with unparalleled artistry wrapped in a preppy punk package. Harry's looks and past were as quintessential for the band as her musical talents, making a massive splash in the punk scene as the co-founder, songwriter, and face of Blondie. She became such a sensation that it got to a point where the band campaigned with "Blondie is a group" buttons. Harry's pioneering along with Co-founder Chris Stein delivered one of the most notorious pop sounds in history, condensing, disco, new wave, and punk rock to a sound that would take over the world.
Formed in 1974 Blondie became a regular act to find in the New York underground punk circuit, including CBGBs and Max's Kansas City where the group garnered a sufficient fan base to release their debut cult album Blondie in 1976. By 1978 Blondie had already stolen the hearts of thousands, with their third and more refined flawless installment Parallel Lines, which debuted as number one in the UK, and number six in the US. Propelled by massive international airplay, of their pivotal singles One Way or Another, and Heart of Glass, Blondie continued to prove their versatility and ahead of its time approach to pop music. The critical and commercial success of the group was only consolidated by their follow up multi-platinum tenure Eat to the Beat, which made the band a legend-enshrining act.
The band's embrace of sonic diversity turned them into one of the most modern projects of their era. And with Harry's dynamic vocal skills which allowed her to contrast and manage just about any necessary approach really made Blondie a one-of-a-kind avant-garde act. Often enough they were compared to The Clash due to their always willingness to experiment and blend quality, mixing Jazz, blues, funk, and British elements from counterparts made them into what they are now, a legendary and innovative milestone of contemporary music, now inducted into the Rock n' Roll Hall of Fame. Producer Craig Leon described them as:
"Blondie were probably the most modern band I've ever worked with in that they soaked up influences from innumerable sources,"
3. Jefferson Airplane (Grace Slick)
The band that pioneered and laid the standards for psychedelic music during the early years of Rock n' Roll, Jefferson Airplane became one of the most notorious faces around the globe, and much of that is credited to lead singer, Grace Slick. Slick's charisma, looks, and unparalleled powerful voice helped the band transition from folk-rockers to psychedelic icons, while bolstering the band's status, shaping their core, and giving Jefferson Airplane a unique face. With Slick's distinctive style, she wasn't only a creative driving force within the band but she also authored two timeless tunes that would define rock music for ages.
Formed in 1965, Jefferson Airplane was a prominent name during the peak of folk music, but line-up changes led them to the bewitching talents of Grace Slick who reinforced creativity and brought with her White Rabbit and Somebody to Love. Both tracks were released as singles and part of their debut tenure with Slick, 1967's Psychedelic Pillow, which catapulted the band to global critical and commercial success thanks to its blend of folk, rock, and psychedelia. The album debuted at number three on the Billboard 200 charts as well as both of its quintessential singles, both landed the top ten on the Pop Single Charts and became anthems for the Summer of Love and Rock n' Roll. With a heavy-hued essence, Psychedelic Pillow garnered massive fascination for the band, thus making them a regular headliner in various festivals, among those the memorable Monterrey Pop Festival, Altamont Free Concert, and Woodstock 1969.
As one of the most memorable performances of Woodstock, Jefferson Airplane became immortalized as one of the founding fathers of counter-culture music. As for Grace Slick, she went to become one of the main figures for women in rock and contemporary music. Among their achievements, the band was inducted into the Rock n' Roll Hall of Fame, as well as earning a Grammy Lifetime Achievement Award in 2016.
Popular Related Article: The 18 Best Female Rockstars of All Time (with Videos of Each)
2. Big Brother and the Holding Company (Janis Joplin)
Big Brother has a lot of credit going on for them, after all, it's the band that introduced the legendary screaming Queen of blues to the world, and thus shaped the course of music history with a never duplicated signature style. Joplin was a game-changer in Rock n' Roll, with her electric and provocative performance added to the colorful charisma that earned her the throne of psychedelic soul. None of these accolades would have been possible without her time with Big Brother and the Holding Company who stood out due to their condensed approach to folk, blues, experimental Rock n' Roll approach, and of course their pivotal lead singer.
Formed in 1965, Big Brother and the Holding Company formed part of the big four psychedelic based sound bands at the time, the band was noticeably free in style and structure regarding composition. However, it was the introduction of Joplin to the band in early 1966 that bolstered their status from anonymous to international sensations, due to their captivating and vibrating live performances. Big Brother's debut eponymous tenure made some fuzz, peaking on the Billboard 200 charts as number 60 after their memorable live performance at the Monterrey Pop Festival. It was, however, Cheap Thrills, the much-needed tap to Joplin's potential to help make Big Brother a household name internationally, debuting as number one on the Billboard 200 charts.
After five decades of Joplin's venture with Big Brother and the Holding Company, both remain embedded in history as one of the most colorful acts that ever existed. Following the introduction of Cheap Thrills to the Grammy Hall of Fame, it became clear that the band has been an overshadowed act. But Big Brother will always be the group that catapulted Janis Joplin's career as well as solidified her live act and stage persona.
1. The Runaways/Blackhearts (Joan Jett)
The original, the icon, the legend, Joan Jett is one of the most important figures in Rock n' Roll history. Influencing and inspiring an innumerable amount of women, Jett remains a leading example that girls can, in fact, rock. Bringing to the table a solid set of anthemic tunes, and a classic yet original twist that soon became a standard, Jett's charisma, live performance, and rebellious vocal essence are one of the centerpieces of Rock 'n' Roll. Pushing boundaries and challenging in her attitude, the singer continues to perform in a remarkable fashion after being in the music business for over four decades.
Finding her beginnings in the all-girl Rock band, The Runaways, Jett, and the group met with instant success and praise following the release of their massive hit and debut single, Cherry Bomb. After the band dismembered, Joan Jett went on to pursue a solo career, releasing the punk rock classic Bad Reputation and a rendition of I Love Rock 'n' Roll which peaked as number one on the Billboard Hot 100. As the founding member of The Blackhearts, Jett became a critics and audience darling, delivering five top 20 singles that are now renowned as timeless hits.
Timeless and ever-present, Jett's tunes continue to make their way through mainstream radio, films, and even TV shows, over forty years after their release. Earning a documentary on her life titled Bad Reputation, her importance in the music industry has been made more than clear. Rolling Stone described Jett's music and lyrics: "she sings these songs the way she hears them — as a fan who understands the value of rock fantasies even after she's stopped believing they'll actually happen." An outspoken rebel and feminist in every way, she's been labeled as the original Riot Grrrl, the Godmother of Punk and the Queen of Rock 'n' Roll, titles she is more than deserving of.
Wrap Up:
That does it for this review, let us know what your favorite rock bands with female singers or all female rock bands are in the comments below.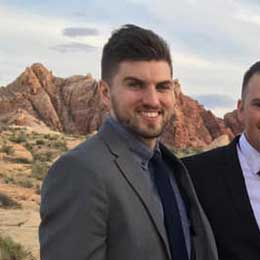 My name is Chris and I've had a passion for music and guitars for as long as I can remember. I started this website with some of my friends who are musicians, music teachers, gear heads, and music enthusiasts so we could provide high-quality guitar and music-related content.
I've been playing guitar since I was 13 years old and am an avid collector. Amps, pedals, guitars, bass, drums, microphones, studio, and recording gear, I love it all.
I was born and raised in Western Pennsylvania. My background is in Electrical Engineering, earning a Bachelor's degree from Youngstown State University. With my engineering experience, I've developed as a designer of guitar amplifiers and effects. A true passion of mine, I've designed, built, and repaired a wide range of guitar amps and electronics. Here at the Guitar Lobby, our aim is to share our passion for Music and gear with the rest of the music community.