The 1980s was a time for transition. With MTV coming to television in 1981, synthesizers and MIDI available for modest prices to the public, the invention of the CD and the Walkman and boomboxes a prominent accessory for 80s youth, music surpassed its limitations to car radios and vinyl records, forever changing popular music and how it was consumed.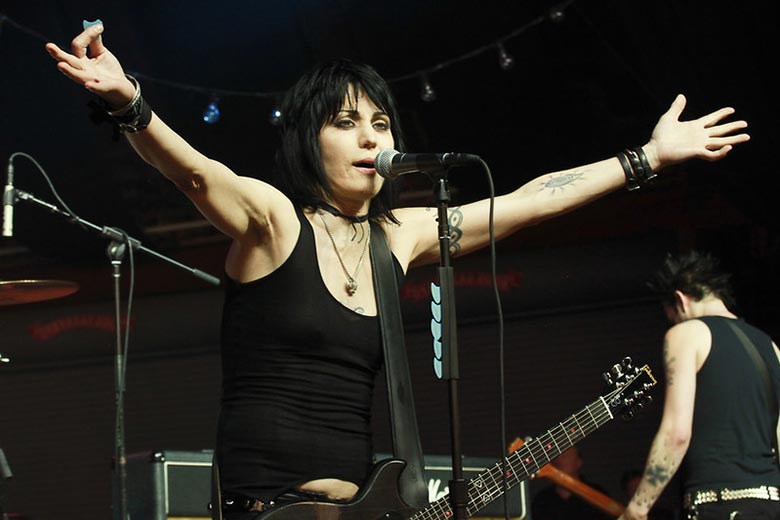 From R&B to pop and rock, these are some of the best 80s female singers who were a major success and shaped the iconic decade. Let us know if you agree with these rankings at the bottom of the page in the comments section.
Here are the Best Female Singers of the 1980s
21. Toni Basil
Perhaps known best for her solo hit Mickey, Antonia Christina Basilotta (known professionally as Toni Basil) became an instant chart-topper with one of the 80s most catchy songs.
Born to an acrobatic mother and orchestra conductor father, Basil grew up in Las Vegas where she was a cheerleader throughout her high school career. Basil went on to follow a career in dance before choreographing and co-directing the music video for the song Once in a Lifetime alongside David Byrne for his band Talking Heads.
Basil broke through in the music industry in 1982 with her hit single Mickey, which became an international success, reaching the number one spot on the Billboard Hot 100 and selling over 2 million copies in one year. Basil directed and choreographed the music video for Mickey, which went on to become one of the most popular videos that was put on rotation on MTV.
Though Basil's music career didn't span far beyond the 80s, she is certainly still loved by those with a nostalgia for the 80s. Most recently, Basil choreographed the 2019 Quentin Tarantino film Once Upon a Time in Hollywood, which she also appeared in as a cameo.
20. Gloria Estefan
One of the most famous Cuban-American music artists, Gloria María Milagrosa Fajardo García (known professionally as Gloria Estefan) made her splash in the music industry with her music group Miami Sound Machine.
Estefan moved to the United States from Havana Cuba at the age of 17, where she attended the University of Miami and earned her B.A. in psychology with a minor in French. While attending college she formed Miami Sound Machine alongside her cousin Mercedes Navarro and Emilio Estefan, who they met at a church ensemble rehearsal. Gloria married Estefan two years later.
In 1985 the group released the album Primitive Love, which featured three songs that surpassed the top ten spot on the Billboard Hot 100, Conga, Words Get in the Way and Bad Boy.
In 1989 Estefan went on to become a solo artist and released her best-selling album of all time, Cuts Both Ways, which included the hits Don't Wanna Lose You, Here We Are and Oye Mi Canto.
Though Estefan's career only continued to rise into the 1990s, her early music alongside Miami Sound Machine in the 1980s was what truly made her a household name, as the group defined the Latin-American and Contemporary sounds throughout the latter half of the decade.
19. Bonnie Tyler
With one of the most distinct voices of the 1980s, Gaynor Hopkins (known professionally as Bonnie Tyler) became known and loved for her solo hits Total Eclipse of the Heart and It's a Heartache.
During her childhood, Tyler and her siblings often listened to the Beatles, Elvis Presley and Frank Sinatra. Tyler performed in a local talent competition in 1969 which inspired her to consider a career in singing after winning second place. While working at a grocery store, Tyler came across a newspaper ad in search of backing vocals for Bobby Wayne & the Dixies, which ended up being her first real gig in the music industry.
With little success throughout the 1970s, Tyler ended up signing with CBS/Columbia Records in 1982 and began working with record producer Jim Steinman. Tyler watched Steinman perform Total Eclipse of the Heart with Rory Dodd in his apartment and went on to record the song as a single in 1983. The song became an instant hit and is one of the best-selling singles of all time with sales surpassing six million.
Tyler's success only continued to rise throughout the 1980s, as she went on to record the single Holding Out for a Hero for the Footloose film soundtrack and Here She Comes for the film Metropolis.
18. Kim Wilde
Kim Smith (known professionally as Kim Wilde) became a major success at the dawn of the 1980s with her breakthrough 1981 hit Kids in America.
Wilde is the daughter of Marty Wilde and Joyce Baker, both musicians who were relatively successful during the 1950s. At the age of 20, Wilde was signed on to RAK Records by producer Mickie Most, who had produced singles for artists such as Donovan, Herman's Hermits and Suzi Quatro.
Inspired by the Clash, Sex Pistols and Gary Numan, Wilde released her debut single Kids in America in 1981 which received international attention, as it reached number two on the UK Singles Chart and at 25 in the US. It has been deemed as her "signature song," though she continued to release hit singles throughout the 1980s, with her single You Keep Me Hangin' On topping the US charts in 1986.
Today, Wilde "holds the record for the most-charted British female solo act of the 1980s," according to The Scotsman, and has inspired numerous artists such as Dave Grohl, Tiffany and Charlotte Hatherley.
17. Deniece Williams
Having been designated "one of the great soul voices" from the BBC, June Deniece Chandler (known professionally as Deniece Williams) became a staple voice of the 1980s with her hits Let's Hear It for the Boy and Too Much, Too Little, Too Late.
Williams attended Morgan State University where she hoped to become a registered nurse, though she dropped out after struggling with her coursework. It was during this time that she began singing at local clubs. In 1972 she became a backup vocalist for Stevie Wonder on three of his albums. She also provided vocals for albums by Syreeta Wright and Roberta Flack.
Though Williams attained moderate success throughout the 1970s as a solo artist, her career took off in 1984 with her album Let's Hear It for the Boy, which featured the hit single of the same name. The single went on to reach number one on the Billboard Hot 100 and was featured on the soundtrack for the 1984 film Footloose.
Williams has won a total of four Grammy Awards and has gone down in history for her four-octave vocal range, with the Philadelphia Post-Gazette stating that "Williams has the kind of range that would make Mariah Carey quiver." Overall, Deniece Williams was easily one of the best female singers of the 80s.
16. Belinda Carlisle
Perhaps known best as the lead vocalist of the all-female band the Go-Go's, Belinda Jo Carlisle managed to have a successful career throughout the 1980s as both a frontwoman and solo artist.
Carlisle had a difficult childhood, as her father abandoned her family when she was just five years old, and her mother later remarried an alcoholic. Carlisle coped with music, having recalled the Beach Boys, the Animals and Cat Stevens as some of her favorites. At 19, Carlisle left home in hopes of pursuing a music career.
In 1977 Carlisle joined the band the Gems before moving onto form the Go-Go's with a group of friends. The group became one of the most successful all female groups of the 1980s, with their debut studio album Beauty and the Beat being the first ever to reach number one album on the Billboard charts by an all-female group that wrote their own songs and played their own instruments.
The Go-Go's disbanded in 1985 and Carlisle embarked on a successful solo career, with Circle in the Sand and Heaven Is a Place on Earth being some of her biggest hits. Though Carlisle has been relatively inactive since her peak in the 1980s, she and the rest of the Go-Go's band members are set to be inducted in the Rock and Roll Hall of Fame in October 2021.
15. Sinéad O'Connor
Having ruled the alternative rock sound of the late 1980s, Sinéad Marie Bernadette O'Connor rose to fame with her album The Lion and the Cobra.
As a young teenager, O'Connor was involved with truancy and shoplifting which led her to become placed in a Magdalene asylum for a year and a half. It was during this time that O'Connor began writing her own music to cope with the harsh conformist conditions of the asylum.
Considered "a sensation" by AllMusic, O'Connor released her debut studio album in 1987, The Lion and the Cobra, which featured the hit singles Mandinka and Want Your (Hands on Me). The album became certified gold, and O'Connor performed in the US for the first time in 1988 on the television show Late Night with David Letterman.
O'Connor's success in the 1980s only continued to span into the 1990s and beyond, as she is now considered a staple artist of the late 1980s. O'Connor most recently released her memoir, Rememberings, in June 2021.
14. Pat Benatar
Known for her early roots in rock music, Patricia Mae Andrzejewski (known professionally as Pat Benatar) is one of the staple names of the 1980s.
At the age of eight, Benatar became interested in musical theater and began taking voice lessons. Though she originally planned to attend the Juilliard School, Benatar attended Stony Brook University where she pursued an education in health sciences.
After seeing Liza Minnelli perform live at a concert in Richmond, Virginia, Benatar quit her day job to pursue a singing career. Her debut studio album In the Heat of the Night was released in 1979, though she didn't rise to stardom until the following year when she released her smash hit single Hit Me with Your Best Shot which sold over a million copies.
In 1982 Benatar released the album Get Nervous which featured the hit Shadows of the Night, followed by another major hit in 1983, Love Is a Battlefield, both of which were on heavy rotation on MTV.
Now considered a household name, Pat Benatar is one of the most successful solo female artists of the 1980s. Most recently, Benatar was nominated to be inducted into the Rock and Roll Hall of Fame in 2020.
13. Kim Gordon
Known as the bassist and vocalist of Sonic Youth, Kim Althea Gordon is one of the greatest female musicians of the 1980s.
Gordon attended the Otis College of Art and Design in hopes of pursing a professional career in art before becoming interested in the no-wave music scene that was on the rise in New York City. Gordon began dating Thurston Moore, who she formed Sonic Youth with in 1981, despite never touching an instrument in her life.
Sonic Youth became widely successful throughout the late 1980s, though it wasn't until the early 1990s that the band received wide mainstream attention. Their music has been described by AllMusic as having "redefined what rock guitar could do."
Though Gordon is known for her sound that was popular during the late 80s, her music with Sonic Youth inspired future music movements such as riot grrrl and grunge that began in the 1990s.
12. Joan Jett
Known as the founding member of the Runaways and Joan Jett & the Blackhearts, Joan Marie Larkin (known professionally as Joan Jett) is one of the greatest female rock stars of all time.
At the age of 13 Jett received her first guitar and began taking lessons, though she eventually went on to teach herself after her instructor attempted to only teach her folk music. Jett and her family moved to Los Angeles shortly after to allow Jett to pursue a professional career in music.
In 1975 at the age of 17, Jett formed the Runaways who became one of the most popular all female rock bands of the 1970s, spawning the hit songs Cherry Bomb, Queens of Noise and Hollywood. The band broke up in 1979, and Jett went on to form her own band, Joan Jett & the Blackhearts.
The band released numerous hit songs throughout the 1980s, Including Bad Reputation, I Love Rock n' Roll and I Hate Myself for Loving You. In November 2021 to celebrate the 40th anniversaries of Jett's first two albums, two graphic novels featuring 20 different stories will be released in honor of the albums.
11. Dolly Parton
Singer-songwriter, actress, multi-instrumentalist, author, humanitarian, businesswoman and founder of one of the worlds most visited amusement parks, Dolly Rebecca Parton is perhaps one of the most legendary country music artists of all time, as she remains one of the most popular names in country music to this day.
Parton began singing as a child and appeared on television for the first time on The Cas Walker Show at just ten years old. At 13 she recorded her first song, Puppy Love, which she performed at the Grand Ole Opry. This performance led her to meet legendary country artist Johnny Cash, who encouraged her to follow her dream of becoming a country music singer.
Parton's commercial success grew in 1980 as she released three country chart number-one hits, 9 to 5, Old Flames Can't Hold a Candle to You and Starting Over Again. Parton starred in the film 9 to 5 that same year which was centered around the iconic song alongside Lily Tomlin and Jane Fonda. Parton became one of the only female country artists in history to have a number-one song on the pop and country charts at the same time when 9 to 5 topped both the pop and adult-contemporary charts.
Parton's success has only skyrocketed throughout the past four decades. She has released 52 studio albums, embarked on hundreds of international tours and opened one of the most visited theme parks in the world, Dollywood, in Pigeon Forge, Tennessee.
10. Olivia Newton-John
Known for portraying the iconic character Sandy in the 1978 musical film Grease, Olivia Newton-John became one of the most recognizable names during the 1980s.
At the age of 14, Newton-John got her start in music when she formed an all-girl group with three of her friends, Sol Four. The quintet often performed at a coffee shop before Newton-John began focusing on pursuing a solo music career.
Newton-John released her debut studio album in 1971, If Not for You, which led her to be voted as Best British Female Vocalist for two years in a row in Record Mirror Magazine. It wasn't until Newton-John starred alongside John Travolta in the film adaptation of the Broadway musical Grease in 1978. The film was the box office hit of the year and spawned one of the best-selling soundtracks of all time.
After her success with Grease, Newton-John continued to be a successful solo artist throughout the 1980s, as she released her most successful album, Physical and a string of number one hits.
Despite her breast cancer diagnosis in 2017, Newton-John has continued to work in the music industry and most recently released the single Window in the Wall in January 2021 with her daughter Chloe. Olivia Newton-John is easily one of the most legendary 80s singers.
9. Annie Lennox
Ann Lennox (known professionally as Annie Lennox) is known primarily for her success with Dave Stewart in the music group the Eurythmics and for her signature androgynous appearance that made her one of the most unique female artists of the 1980s.
During the 1970s, Lennox attended the London Royal Academy of Music where she learned how to play the piano, flute and harpsichord. In 1977 she became the lead singer of the band the Tourists where she met Dave Stewart, who she formed the Eurythmics with in 1980.
The duo's mainstream success came with their second album in 1983, Sweet Dreams (Are Made of This), which featured the hit song of the same name that topped the US Billboard Hot 100. Their other successful songs included Here Comes the Rain Again and Love Is A Stranger. During this time, Lennox became a music icon, known for her short, bright orange hair and androgynous fashion style.
The Eurythmics split in 1990 after Lennox ended her personal relationship with Stewart, through she went on to pursue a solo career.
Lennox received the highest accolade from Billboard Magazine in 2002, the Billboard Century Award, with the magazine stating that Lennox is "the most original and unforgettably affecting artists in the modern annals of popular music."
8. Kate Bush
Known for her unique and experimental themes, lyrics and overall style, Catherine Bush (known professionally as Kate Bush) became one of the most successful British female artists at the brink of the 1980s.
From a young age Bush was introduced to art and music, as her father was a pianist, her mother a traditional Irish dancer and her brothers a poet/photographer and a musical instrument maker. At the age of 11, Bush began teaching herself piano and often played the organ and violin. She began writing and composing her own music shortly after.
At the age of 16, Bush was approached by David Gilmour of Pink Floyd who helped her produce a professional demo tape. Four years later, she released her debut studio album, The Kick Inside. In 1980 she saw major success with her album Never for Ever which featured one of her biggest hits to date, Babooshka. The album led her to become the first female artist to ever top the UK album charts.
Bush's success only continued throughout the 1980s, spawning the hits King of the Mountain, Don't Give Up and Running Up That Hill. Bush has since described herself as "a storyteller who embodies the character singing the song," and has been described by New Musical Express as a woman who was "not afraid to tackle sensitive and taboo subjects in her work."
7. Chaka Khan
Having sold over 70 million records across the globe, the "Queen of Funk" Yvette Marie Stevens (known professionally as Chaka Khan) became one of the most prominent female R&B artists of the 1980s, as she went on to inspire numerous artists across a variety of genres.
Khan was introduced to jazz music by her grandmother at a young age which contributed to her early passion for music, as she grew to love rhythm and blues as a preteen. Though Khan got her start in the music industry in 1973, her success only continued to grow into the mainstream throughout the 1980s, with hits such as I Feel for You, Be Bop Medley, Through the Fire, This is My Night and Higher Love.
Having won a total of 10 Grammy Awards, Chaka Khan is one of the most successful female singers of the 1980s. She has been ranked at number 17 in VH1's 100 Greatest Women of Rock and Roll list and was ranked by Billboard Magazine in 2016 as one of the most successful dance artists. Her career has now surpassed five decades, as she released her first album in 12 years in 2019, Hello Happiness.
6. Diana Ross
Known as the lead singer of Motown's most successful act, The Supremes, Diana Ross has been deemed the "Female Entertainer of the Century" by Billboard magazine and has been featured in the Guinness Book of World Records for having the most consecutive hits out of any female artist in both the UK and US Billboard charts.
Ross joined the Primettes at the age of 15 which was her start in the music industry. She later joined The Supremes in 1959, which has since been recognized as one of the best-selling all female groups of all time.
Ross embarked on her solo career in 1975 and released her eponymous studio album which featured two of her greatest songs, Reach Out and Touch (Somebody's Hand) and Ain't No Mountain High Enough.
Named as a major influence for some of the world's greatest pop stars, Michael Jackson, Madonna and Beyoncé, Diana Ross has gone down in history as one of the greatest female pop artists of all time. In 2016 Ross received the United States' highest civilian honor, the Presidential Medal of Freedom, from former President Barack Obama.
5. Grace Jones
Model, singer-songwriter and actress Grace Beverly Jones became synonymous with the androgynous and cross-dressing movements of the 1980s, while her music career set her aside as one of the most unique artists of the decade.
At the age of 13 Jones moved from Jamaica to New York City with her family where she began to rebel. She began wearing makeup, visiting gay clubs with her brother and drinking alcohol. In the 1960s she became immersed in counterculture and lived in a hippie commune, experimenting with LSD as well as other drugs.
At the age of 18 she moved to Paris and became a professional model, working with Yves St. Laurent, Kenzo Takada and Claude Montana, appearing on the covers of Vogue and Elle magazines. In 1980 Jones began experimenting with making new wave music after the death of disco music. Her music was considered acclaimed by music critics, with her 1981 album Nightclubbing being considered one of her best, as it became NME's album of the year. Some of her biggest hits throughout the 80s include Pull Up To The Bumper, I've Seen That Face Before (Libertango) and Slave To The Rhythm.
Most recently, Jones collaborated with the popular British virtual band Gorillaz on their song Charger, which was featured on their 2017 album Humanz.
Vice Magazine has described Jones' music as "weird, vibrant and progressive," and that she "has woven disco, new wave, post punk, art-pop, industrial, reggae and gospel into a tight sound that is distinctly hers, threaded together with lifting, powerful vocals."
4. Tina Turner
Known as the "Queen of Rock n' Roll" and one of the greatest music artists of the 20th century, Anna Mae Bullock (known professionally as Tina Turner) became one of the most iconic figures of the 1980s.
Turner began singing at a young age in the church choir at Nutbush's Spring Hill Baptist church. In 1957 Tuner went on stage at the Manhattan Club in East St. Louis with Ike Turner and his band the Kings of Rhythm and sang B.B. King's song You Know I Love You, which thoroughly impressed Ike Turner. The two married five years later. Turner saw her first wave of mainstream success in 1966, but it wasn't until 1983 that she made a complete change in her musical style and appearance.
In 1984 Turner released the single What's Love Got to Do with It, which became her first and only to top the Billboard Hot 100. At this time, she was regarded as "one of the greatest comebacks in music history" and was recognize as the oldest female artist to top the Hot 100 at the age of 44.
Turner has since sold roughly 100 million records, received 12 Grammy Awards and has been listed on Rolling Stones 100 Greatest Singers of All Time and the 100 Greatest Artists of All Time. She also made history, as she was the first black female artist to be featured on the front cover of Rolling Stone Magazine. According to The Guardian and The New York Times, Tuner is known for her "swagger, sensuality, gravelly vocals and unstoppable energy.
Most recently, Turner was inducted into the Rock and Roll Hall of Fame for the second time in 2021, after being inducted with Ike Turner in 1991.
3. Cyndi Lauper
One of the most quintessential names in 1980s pop music, Cynthia Ann Stephanie Lauper (known professionally as Cyndi Lauper) has sold over 50 million records across the globe and has become an icon for her unique hair and clothing styles throughout the years.
As a child, Lauper adored Judy Garland and the Beatles. She began writing her own songs at the age of 12 and taught herself how to play the guitar. Throughout her adolescence, she experimented with unique hair colors and fashion styles, though she was bullied by her classmates. In the early 1970s she began singing in numerous cover bands before working on her first solo album in 1983, She's So Unusual.
The album quickly became an international hit with the singles Time After Time and She Bop becoming instant classics. Later that year, Lauper released another hit song, Girls Just Want to Have Fun, which remains one of her most signature songs to this day and has been covered by more than 30 artists.
Lauper remains of the world's greatest and most unique artists to this day, with AllMusic stating that Lauper is "an iconic vocalist who revolutionized the role of women in rock and roll."
2. Madonna
Known as the true "Queen of Pop," Madonna Louise Ciccone (known professionally as Madonna) has forever changed the pop music with her breakthrough into the music scene in the 1980s, demonstrating that pop music could have religious, sexual, social and political themes.
In the late 1970s, Madonna moved to New York City in hopes of pursuing a professional career in dance, after parting in ballet lessons throughout her youth. It wasn't until 1983 that Madonna began working towards a career in music, and she produced her debut studio album, Madonna. Some of her most recognizable songs from this time include Like a Virgin, Material Girl, Like a Prayer, La Isla Bonita and Hung Up.
Madonna has since sold an excess of 300 million records worldwide, deeming her as one of the best-selling female artists. She has been regarded as "one of the most influential figures in popular culture," and has generated a revenue of $1.4 billion just from concert tickets.
Journalist Rodrigo Fresàn has described Madonna as "one of the classic symbols of Made in USA" and she was ranked by VH1 in 2012 as "the greatest woman in music."
1. Whitney Houston
The top-selling R&B female music artist of the 20th century, Whitney Elizabeth Houston is one of the worlds greatest female pop vocalists known for her unique and powerful voice.
Houston performed for the first time at eleven years old in the junior gospel choir at the New Hope Baptist Church in her hometown, Newark, New Jersey. Houston's mother coached her vocally throughout her childhood, and has cited Gladys Knight, Chaka Khan and Roberta Flack as some of her earliest inspirations.
At the age of 19, Houston began her professional solo career. In the mid 1980s, Houston released two of her best-selling studio albums and best-selling albums of all time, Whitney Houston in 1985 and Whitney in 1987.
Ever since the release of her debut albums, Whitney Houston has become one of the most recognizable figures in pop and R&B music history and is now considered a cultural icon. Houston passed away in 2012, though her music continues to live on in the hearts of those who loved and adored her not just for her music, but her bigger-than-life personality.
The Los Angeles Times has referred to Houston as a "national treasure," while American singer-songwriter Anita Baker stated that "because of what Whitney and Sade did, there was an opening for me. For radio stations, black women singers aren't taboo anymore." AllMusic has also spoken on Houston's legacy, stating that "Houston was able to handle big adult contemporary ballads, effervescent, stylish dance-pop, and slick urban contemporary soul with equal dexterity."
Wrap Up
That does it for this list, let us know who your favorite female 1980s  singers are in the comments below.
Growing up in a small town in South Carolina with little to do, I spent the majority of my adolescence listening to music and writing stories. I began playing the violin in the 5th grade which helped me grow to appreciate modern music's roots from an early age. At the age of 12 my older brother introduced me to the music he grew up with; Nu Metal, Grunge, 90's Hip-Hop, Rap and Classic Rock. I became infatuated and embarked on my own music journey, discovering who I truly was along the way. During college I developed a passion for journalism, which I've now been lucky enough to merge with my love for music here at Guitar Lobby.