With advancements in guitar pedal technology in recent years, devices that simulate the results of amplifiers and cabs have grown in popularity. Preamp pedals are part of this category, offering guitarists the possibility to shape their tone whilst remaining practical in size.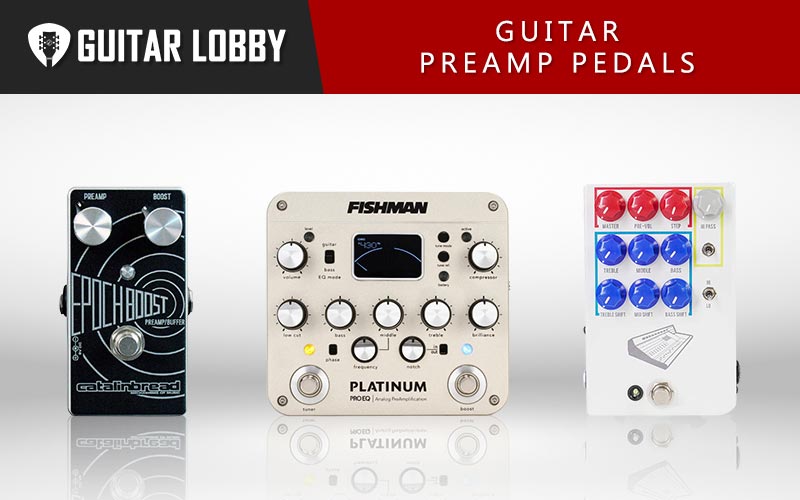 Over the years our team at Guitar Lobby has tested dozens of these pedals, and in the rest of this article, we'll be sharing the best guitar preamp pedals at each price point so that you can choose the perfect option to add to your rig.
Here Are the Best Guitar Preamp Pedals
1. JHS Pedals Colour Box V2 (Best Overall)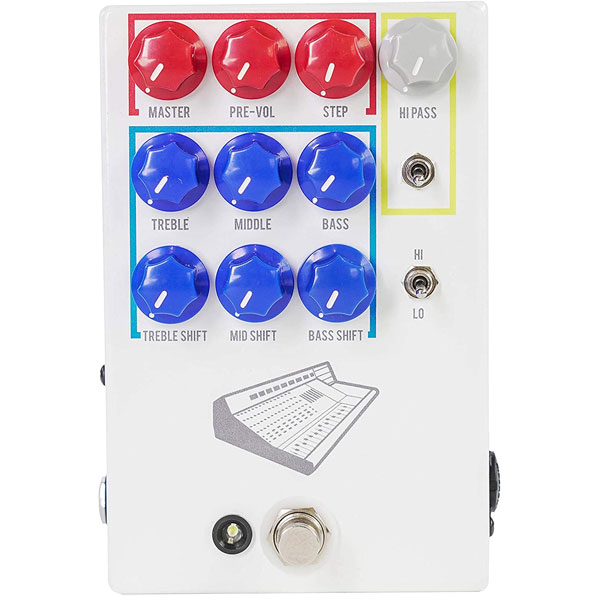 | | |
| --- | --- |
| Estimated Price | $399 |
| Type | Analog |
| Effects | Guitar Preamp, EQ |
| Connectivity | 1 x 6.35mm Jack Input, 1 x XLR Mic Input, 1 x Output |
| Power | 9 Volts DC |
My Review: The revered original version of the Colour Box was amongst the best preamp pedals I've ever had the pleasure of testing. Consequently, when I heard that JHS Pedals were releasing a second edition, I was eager to see how they had improved upon the first model.
The first thing I noticed about the Colour Box V2 was its incredibly clear and consistent signal. While some guitar preamp pedals use heavy compression to create a powerful sound, this pedal gently boosts the signal and leaves plenty of headroom for further adjustments.
I was also very impressed by the functionality of the onboard controls included on the Colour Box V2. The extensive EQ section allowed me to shape each frequency band of the guitar's output meticulously, reducing any harsh tones and making sweeter tones more prominent in the mix.
The thing that really sets the JHS Pedals Colour Box V2 apart from other guitar preamp devices is its compatibility with vocals and other instruments. This is a key difference I noticed between the original model and this second edition – it includes phantom power, an XLR mic input, and the possibility to be used as outboard gear in the recording studio.
Who is this best suited for: The Colour Box V2 is best suited for guitarists, vocalists, or other musicians who want to control every aspect of their amplified tone. Despite its extensive onboard controls, the pedal is very easy to use so you don't need a wealth of experience with effects pedals to operate it effectively.
Bottom Line: With a long list of useful features, this JHS Pedals preamp is a multi-faceted tool for guitarists. Clean and crisp headroom is provided by the 'Hi/Lo' switch, and the high-quality inner circuitry prevents any noise issues from occurring. The pedal also offers phantom power for vocal mics or recording, and an EQ section for tweaking your tone.
2. Xotic BB (Best Value)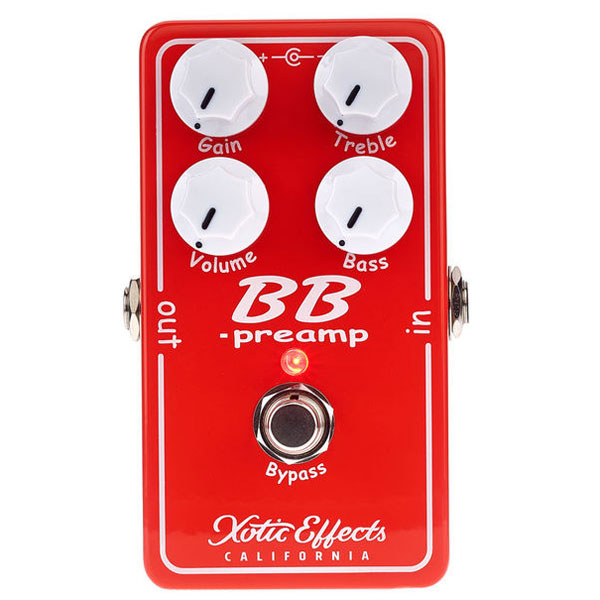 | | |
| --- | --- |
| Estimated Price | $180 |
| Type | Analog |
| Effects | Guitar Preamp |
| Connectivity | 1 x 6.35mm Jack Input, 1 x Outputs |
| Power | 9 Volt |
My Review: US-based pedal producers Xotic are a brand I've long admired. Their EP Booster is one of the best devices in its field, so I was expecting the BB preamp to be on a similar level. Right off the bat, I could tell that this analog stompbox wasn't going to disappoint!
The EQ controls installed on the BB preamp are very easy to use. I found that by adjusting the 'Treble' and 'Bass' knobs slightly, I was able to ensure that the tone produced by the preamp pedal was consistent with my guitar's clean tone. Any problem frequencies which became apparent can easily be removed by using the EQ in conjunction with the tone pots on your guitar.
The quality which I found to be most unique about the Xotic BB preamp is its ability to add an ideal amount of gain to the signal, without overdoing it. The gain produced by this pedal sounds natural, with ear-friendly harmonics which resemble a slightly cranked preamp section of a vintage tube amplifier.
Who is this best suited for: Guitarists who prefer to keep things simple when it comes to assembling their pedalboard will love the easy-to-use design of the Xotic BB Preamp. Its four-control layout doesn't take long to become accustomed to, but the sounds it produces are complex and unique.
Bottom Line: Xotic's BB proves that guitar preamp pedals don't need to be flashy and over-the-top to function perfectly. This pedal features a minimalistic design, with a 2-band EQ and two dynamic controls. It produces warm, inviting tones that prepare your guitar's signal for the amplifier.
3. Catalinbread Epoch Boost (Best Under $150)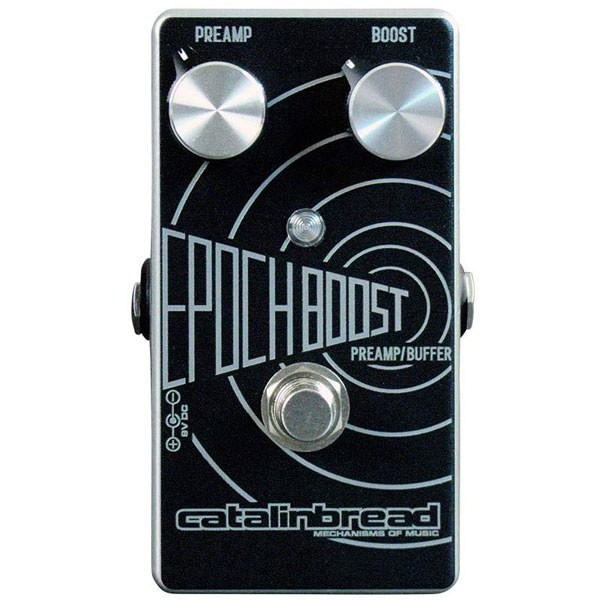 | | |
| --- | --- |
| Estimated Price | $149 |
| Type | Analog |
| Effects | Guitar Preamp, Buffer |
| Connectivity | 1 x 6.35mm Jack Input, 1 x Output |
| Power | 9 Volts DC |
My Review: The Epoch Boost pedal is based on one of my favorite preamplifier circuits of all time – the legendary Maestro Echoplex EP-3. This tape echo preamp was used by many guitarists in the prog and psych-rock genres in the 1960s to create trippy, echo-draped tones.
However, the Epoch Boost isn't limited to producing an echo effect. Like the preamp that inspired it, the device can be used with the echo function turned off. This boosts the headroom of your guitar's output, adds a shiny top-end layer, and increases the clarity of each note that is played.
I believe that the standout quality of the Catalinbread Epoch Boost is its ability to interact with other timing-based effects, such as reverbs and delays. When I positioned it at the end of the signal chain, this preamp pedal transformed added rich overtones which complemented the other pedals perfectly.
Who is this best suited for: If you're looking for a preamp pedal which will spice up your guitar tone, the Epoch Boost is a great option. This stompbox performs the conventional role of a guitar preamp pedal, but also offers a classic Echoplex effect.
Bottom Line: Catalinbread has done a commendable job of recreating the classic effect of the EP-3 Echoplex preamplifier, bringing the original outboard gear into the format of a compact stompbox. The dual-knob layout of the pedal may seem minimalistic, but you can achieve a wide range of preamp-tones by adjusting the parameters.
4. EarthQuaker Devices Arrows V2 (Best Under $100)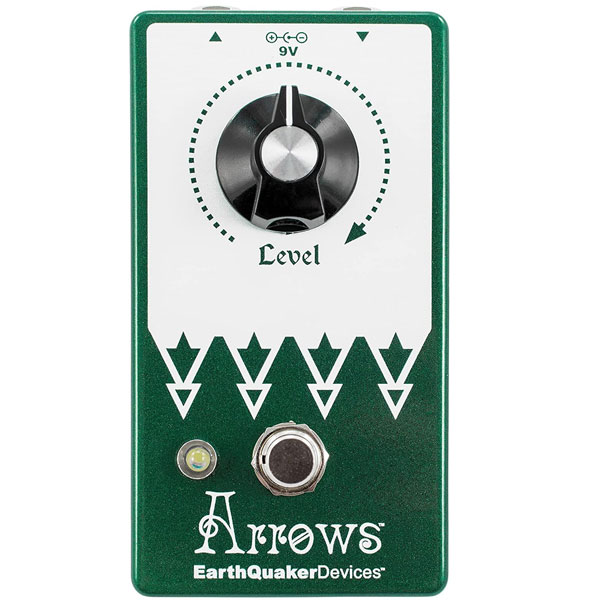 | | |
| --- | --- |
| Estimated Price | $100 |
| Type | Analog |
| Effects | Guitar Preamp |
| Connectivity | 1 x 6.35mm Jack Input, 1 x Output |
| Power | 9 Volts DC |
My Review: Preamp booster pedals don't always need to be complex and filled with adjustable controls. With the second edition of their Arrows preamp pedal, EarthQuaker Devices has proven that a single knob is all that is required.
The all-analog design of the Arrows V2 combined with a high-quality relay-based soft-touch circuit ensures a tight, responsive boost that blends nicely with the preamp and power sections of my tube amplifier. This preamp pedal performed very capably when I placed it in prior to my overdrive and fuzz pedals in the signal chain. It adds more mid-range warmth to the signal which is great if you want to push your tube amp to the point of saturation.
Who is this best suited for: Due to its very basic design, it's easy to underestimate the versatility of the EarthQuaker Devices Arrows V2. This pedal is ideally suited for guitarists who need an instant way to beef up their tone and add warmth to their signal.
Bottom Line: Housed in a robust metal chassis and with high-end analog circuitry, the Arrows V2 is a significantly improved model compared to the original. It works like a classic boost pedal but provides the color and character of a tube preamp.
5. Fishman Platinum Pro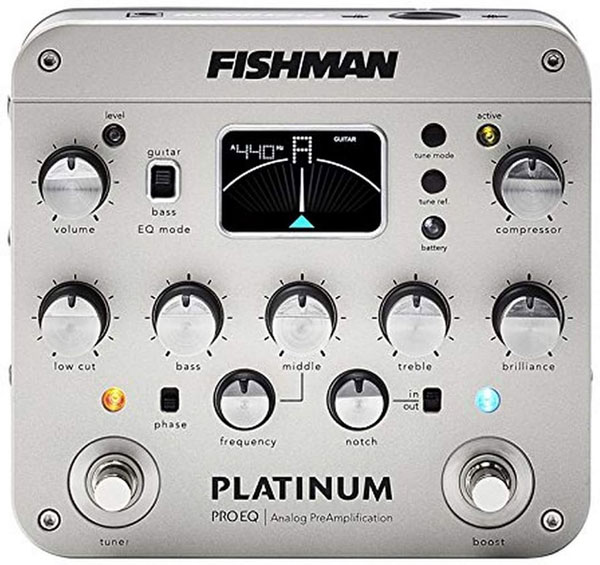 | | |
| --- | --- |
| Estimated Price | $320 |
| Type | Analog |
| Effects | Guitar Preamp |
| Connectivity | 1 x 6.35mm Jack Input, 2 x Output |
| Power | 9 Volts DC |
My Review: Fishman is world-renowned for its attention to detail. I'm a huge admirer of their Fluence pickups, so when I learned about their Platinum Pro preamp I was intrigued to see whether their quality translates into their pedals.
The Platinum Pro is one of the most detailed, comprehensive guitar preamp pedals on the market. It houses a wide range of rotary controls, each of which can be used to tailor a specific aspect of the preamp's performance. For example, there's an extensive EQ section, a low-cut filter, and a notch filter in the mid-range frequency band.
Upon further analysis, I discovered that the Platinum Pro also includes a built-in compressor. Most preamp pedals compress the signal, but this Fishman device allows you to control the dynamic range by adjusting the rotary control.
If that isn't enough, this preamp pedal can also be used with bass guitar by simply flicking the guitar/bass switch. There's also a mini screen in the center of the pedal, which provides accurate readings of your guitar's tuning.
Who is this best suited for: I'd highly recommend the Fishman Platinum Pro preamp pedal to guitarists and bassists who want an all-in-one hub which controls their instrument's dynamic and tonal characteristics. This pedal includes a plethora of controls, so some prior experience with processing guitars would be beneficial.
Bottom Line: The Platinum Pro preamp pedal by Fishman includes everything you could need to create your ideal guitar tone. It is capable of producing up to a 12dB boost and offers a notch filter for controlling feedback. There's also a 5-band EQ for adjusting the frequency output of your guitar before it reaches your amplifier.
6. Strymon Iridium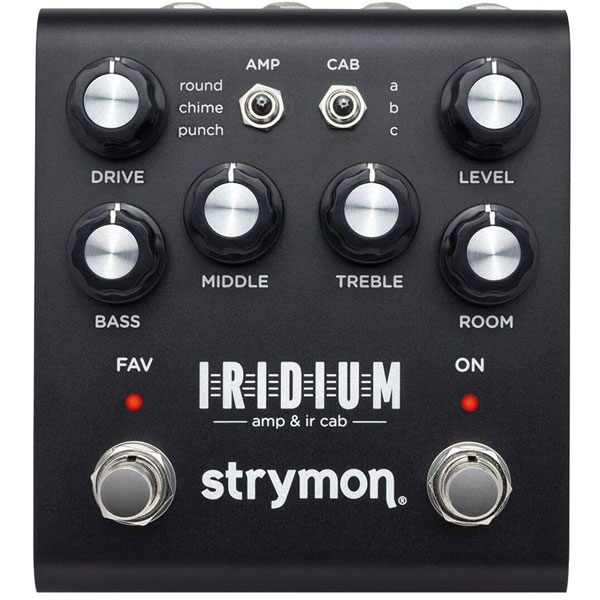 | | |
| --- | --- |
| Estimated Price | $400 |
| Type | Analog |
| Effects | Guitar Preamp, Amp Simulation |
| Connectivity | 2 x 6.35mm Jack Input, 2 x Output |
| Power | 9 Volts DC |
My Review: The Strymon Iridium combines the roles of a guitar preamp pedal and an amplifier cab simulator. After taking a close look at the specs of this pedal, I discovered that it can be used in two different ways. Firstly, it can replace your amplifier as part of your rig, allowing you to travel light to live shows or rehearsals. Alternatively, it can be used with an amplifier as a conventional preamp pedal.
Strymon is known for its boutique pedals, and the Iridium is one of the best creations I've come across to date. When it is used as an amp cab simulator, it produces authentic-sounding tube tones which range from gain-heavy to smooth and responsive.
Another thing that impressed me about this pedal is the amount of analog gain it can add to a guitar's signal. The impeccable high impedance JFET front end is capable of increasing gain by up to 22dB, which is enough to ensure that your guitar is heard above the rest of the mix.
Who is this best suited for Strymon's Iridium is best suited to guitarists who would like to have access to realistic tube-amp tones without needing to lug a bulky amplifier unit around with them. This simulator/preamp device contains a plethora of tube-amp tones in its compact housing, making it very convenient for the gigging musician.
Bottom Line: Compared to the rest of the preamp guitar pedals featured in our list, this wonderful Strymon creation stands out. It is capable of much more than your average preamp device, offering a vast range of amp simulator presets, effects, and 22dB of analog gain.
7. JHS Clover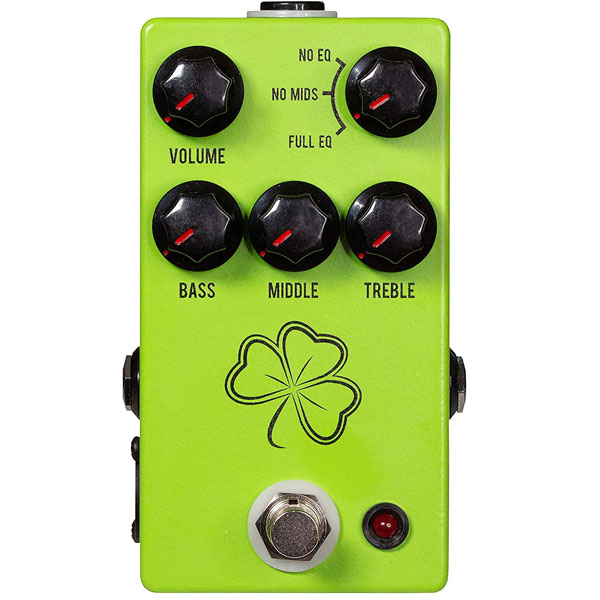 | | |
| --- | --- |
| Estimated Price | $200 |
| Type | Analog |
| Effects | Guitar Preamp |
| Connectivity | 1 x 6.35mm Jack Input, 1 x XLR Mic Input, 1 x Output |
| Power | 9 Volts DC |
My Review: I've long been an admirer of JHS' range of versatile guitar pedals, and the Clover preamp is a reminder of their capabilities. I was excited to test this pedal when I discovered that it was based on an iconic preamp from the 1980s, the F-1 FET by Boss.
The Clover keeps things simple, so the controls were very easy to familiarize me with. The three-band EQ section is provided in the form of rotary controls, which I found useful when combining the Clover with overdrive or other gain-based pedals. I found it very easy to tweak the frequency response of the preamp to create my desired tone.
Another thing that impressed me about this JHS guitar preamp pedal is its versatility. It can be used to push your tube amplifier into saturation, extract every last ounce of power from your guitar's pickups, or simply add a little warmth to your clean tone.
Finally, the inclusion of a ground lift switch made the JHS Clover stand out amongst other guitar preamp devices. This mechanism is engaged when the pedal's XLR input is in use and ensures that noise issues are minimized.
Who is this best suited for: Guitarists who are also vocalists will enjoy the freedom that the JHS Clover affords them. With an XLR mic input, this preamp pedal can be used to enhance the sound of your voice, as well as the tone of your guitar.
Bottom Line: JHS' Clover includes a three-band EQ section for adjusting the tonal qualities of your tone. It also boosts the guitar's signal in the same fashion as the revered Boss F-1 from decades gone by. This pedal is robustly constructed and very easy to use.
8. Mooer PreAmp Live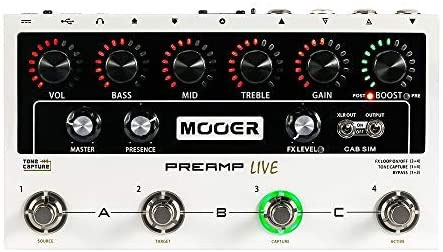 | | |
| --- | --- |
| Estimated Price | $350 |
| Type | Analog |
| Effects | Guitar Preamp |
| Connectivity | 2 x 6.35mm Jack Input, 2 x Output |
| Power | 9 Volts DC |
My Review: When I first encountered the Mooer PreAmp Live, I was instantly drawn in by its extensive range of onboard controls. The pedal could quite easily be mistaken for outboard recording gear, and in many ways, it offers a similar level of functionality.
The PreAmp Live can be used as a conventional preamp pedal for guitar or bass. I discovered that when used in this way, the pedal has a highly transformative effect on the instrument's capabilities. It includes over 50 tube amp replicas, 30 cab simulations, and several connectivity options. If I had to choose one quality that makes this Mooer preamp pedal stand out, it would have to be its usefulness in the recording studio. It can be hooked up to an audio interface, and the plethora of onboard processing tools are highly valuable when tracking guitars into a DAW.
Who is this best suited for: Guitarists or bassists who like to control every single aspect of their instrument's tone and dynamics will love the detailed design of the Mooer PreampLive.
Bottom Line: The PreAmp Live by Mooer is like installing guitar processing software on your pedalboard. It performs admirably as a preamp, but also offers a plethora of tone-sculpting tools. You can use the pedal to shape the dynamics of your output, or tap into one of the many presets to completely transform your tone. Overall, I'd say it's easily one of the best guitar preamp pedals out there right now. It's not cheap, but I do feel that the price is justified.
Popular Related Article: List of Must Have Guitar Pedals
9. Palmer Pocket Amp MK II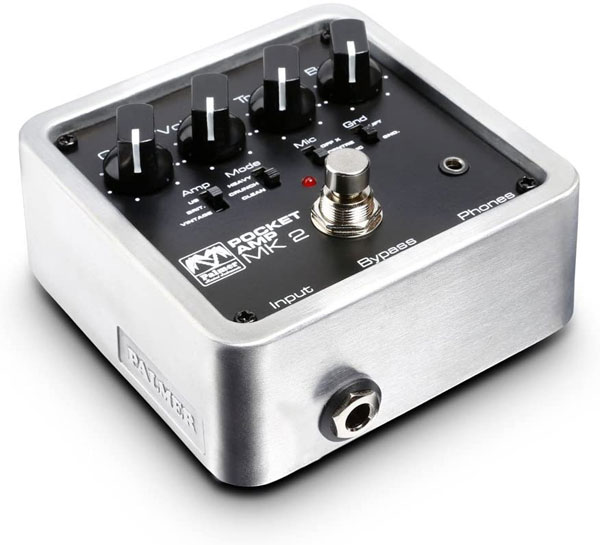 | | |
| --- | --- |
| Estimated Price | $130 |
| Type | Analog |
| Effects | Guitar Preamp |
| Connectivity | 1 x 6.35mm Jack Input, 1 x Output |
| Power | 9 Volts DC |
My Review: Palmer has made some significant improvements to their popular Pocket Amp with this second-generation model. I like the way they've combined the use of rotary knobs with a variety of switches, which makes it very easy to operate.
I believe that this preamp pedal is well suited to practicing guitar, especially in a setting where making a lot of noise is not appropriate. You can plug in a set of headphones and enjoy the wide variety of presets, amp-based tones, and simulations instantly.
The Pocket Amp MK II preamp is also very useful for recording guitar parts. If you're away from your amplifier and have a new idea for a song, you can use this device to create desirable tones to add to your recordings. The only thing I wish the manufacturer would have addressed is the quality of the XLR output, which sounds a little muffled to my ears.
Who is this best suited for: If you're tired of carrying a bulky tube amplifier to your rehearsals and recording sessions, the Pocket Amp MKII is an ideal solution. This mini-preamp provides you with access to a range of amplifier-based tones and adjustable effects.
Bottom Line: With the second edition of their Pocket Amp, Palmer has added everything a guitarist could need to control each aspect of their instrument's dynamics and tone. This guitar preamp pedal is built to withstand heavy usage and includes various connectivity options, a ground lift switch, and onboard presets.
10. L.R Baggs Venue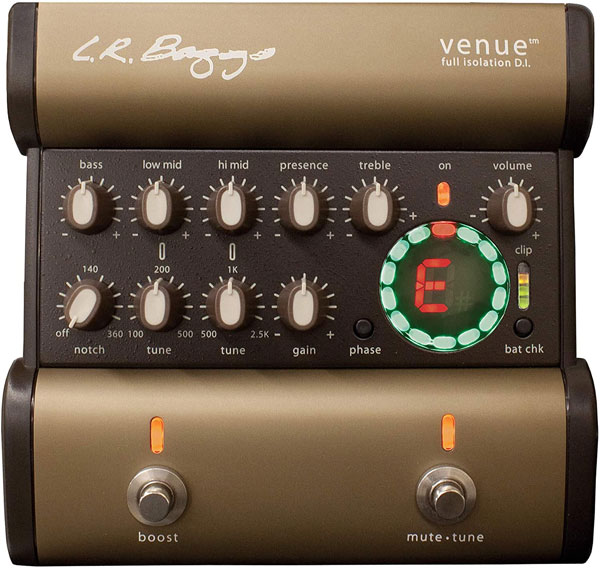 | | |
| --- | --- |
| Estimated Price | $300 |
| Type | Analog |
| Effects | Guitar Preamp, DI |
| Connectivity | 2 x 6.35mm Jack Input, 1 x Output |
| Power | 9 Volts DC |
My Review: Although the Venue preamp pedal by L.R Baggs is technically designed for acoustic guitar, I've included it in this list because I've heard many reports of it being equally as compatible with electric axes. L.R Baggs is a boutique manufacturer, and each of their pedals I've had the pleasure of testing has blown me away in terms of quality and functionality.
Consequently, it came as no surprise to me that the Venue is one of the most detailed preamp pedals on the market. At first, the sheer number of controls may be a little overwhelming, especially if you're used to more modestly designed stompboxes.
However, after analyzing the controls I realized that they are all included for a very specific and important function. For example, the addition of a notch filter allows you to control any noise issues caused by other pedals or your microphone. Then there's the onboard tuner, which is highly accurate and convenient.
Who is this best suited for: The Venue by L.R Baggs is best suited to acoustic guitarists. It works great with Piezo pickups, but can also be used with any other variety of acoustic pickup. This preamp is a little complex, so having some experience with guitar processing would be useful.
Bottom Line: With its sleek design, an array of onboard controls, and high-quality signal processing, the L.R Baggs Venue is a high-end preamp for acoustic and electric guitar. It includes all of the staple controls you'd expect from a preamp pedal, in addition to other unique features such as phase cancellation and a notch filter.
11. Orange Terror Stamp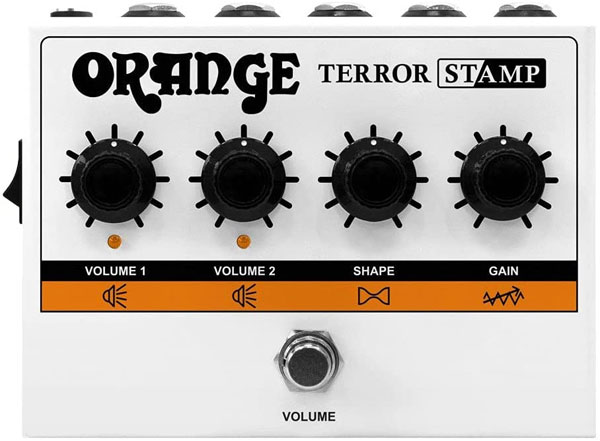 | | |
| --- | --- |
| Estimated Price | $200 |
| Type | Analog |
| Effects | Guitar Preamp, Amp Simulator |
| Connectivity | 2 x 6.35mm Jack Input, 2 x Output |
| Power | 9 Volts DC |
My Review: Synonymous with the British guitar sound that invaded American shores in the 1960s, Orange produces a selection of high-gain, warm-sounding amplifiers. The Terror Stamp brings many of their best amplifier tones into a pedal format.
I was highly impressed by the quality of the tones that this preamp/amp simulator pedal produces. It can be used to beef up your clean tone, adding slight warm overtones and a touch of compression, or you can crank up the gain to produce gritty sounds from a tube amp.
The Terror Stamp also contains an onboard effects loop. This is great for guitarists who own amplifiers that don't facilitate this. It's always useful to have the possibility of an effects loop if you need to isolate certain pedals from the signal chain for improved clarity and performance.
Who is this best suited for: I'd recommend the Terror Stamp to guitarists who enjoy the sound of Orange amplifiers, but perhaps don't have the budget or the space to add one to their rig. It's a great solution for rehearsing and recording with authentic tube-amp tones.
Bottom Line: The Orange Terror Stamp combines the roles of a guitar preamp pedal and an amp simulator device. It offers a generous number of tone and dynamic-shaping controls that range from subtle and warm to powerful and gritty.
12. Voodoo Lab Giggity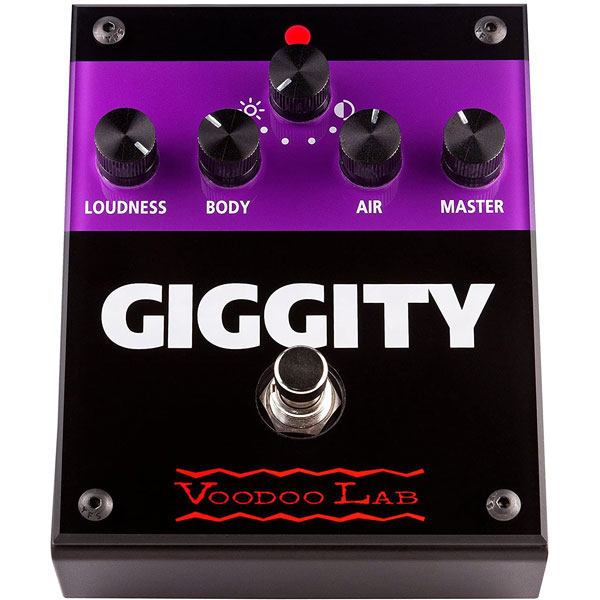 | | |
| --- | --- |
| Estimated Price | $150 |
| Type | Analog |
| Effects | Guitar Preamp |
| Connectivity | 1 x 6.35mm Jack Input, 1 x Output |
| Power | 9 Volts DC |
My Review: As a long-time user of Voodoo Lab's power supplies, I was intrigued when I found out that they also produce a small selection of guitar pedals. The Giggity is a preamp mastering device that is designed to shape the core characteristics of a guitar's signal in preparation for the amplifier.
Compared to most other preamp guitar pedals, the Giggity focuses more heavily on two aspects – EQ and compression. These are adjusted using the onboard rotary controls, which I found to be very easy to use and become familiar with. This Voodoo Lab preamp pedal can be used either at the very beginning of the signal chain to prepare the output for your other effects, or you can place it at the end of the chain to tame your processed tone before it reaches your amp.
Who is this best suited for: The Giggity by Voodoo Lab is designed for sculpting your guitar tone deliberately, so if you enjoy controlling every aspect of your dynamics and tone, you'll find this preamp mastering pedal very useful indeed.
Bottom Line: With four preamp voicings, the Voodoo Lab Giggity allows you to create your unique tones based on the presets included within the pedal. It's a very robust pedal and includes high-quality circuitry and true bypass switching for optimal performance.
13. Diezel Herbert Pedal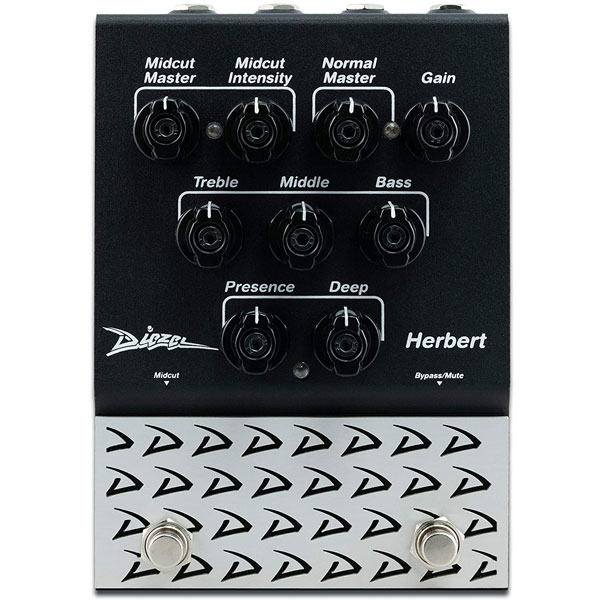 | | |
| --- | --- |
| Estimated Price | $299 |
| Type | Analog |
| Effects | Guitar Preamp, EQ |
| Connectivity | 2 x 6.35mm Jack Input, 2 x Output |
| Power | 9 Volts DC |
My Review: Before encountering this pedal, I'd heard many positive things about the Diezel Herbert tube amp head. This preamp pedal is part of the same series, and therefore I was excited to see whether it lives up to the reputation of the gain-heavy amp head which shares its name.
After analyzing this guitar preamp pedal, it soon became clear that it leaves no stone unturned when it comes to building the tonal foundations of the guitar's output. With three rows of controls that affect everything from the frequency response to the presence, the pedal is incredibly detailed and affords you all of the freedom you could need to sculpt your guitar's sound to your liking.
Two of the key qualities which I believe sets the Diezel Herbert apart from most other guitar preamp pedals are its 'Deep' and 'Presence controls. These two parameters make this pedal compatible with any tube amplifier, whether you're using a clean setting or you've already applied some gain to the signal.
Who is this best suited for: If you've ever used the Diezel Herbert tube amplifier head, you'll be aware of the powerful tones it produces. This preamp pedal gives you access to those tones, which are perfectly suited to metal and heavy-rock guitarists.
Bottom Line: Based on the preamp design of the revered Diezel Herbert amplifier, this preamp pedal certainly packs a punch. It's one of the largest preamp pedals on the market and needs a 12v power supply. It contains a total of nine controls, each of which can be used to adjust a specific aspect of your guitar's tone.
14. EarthQuaker Devices Palisades V2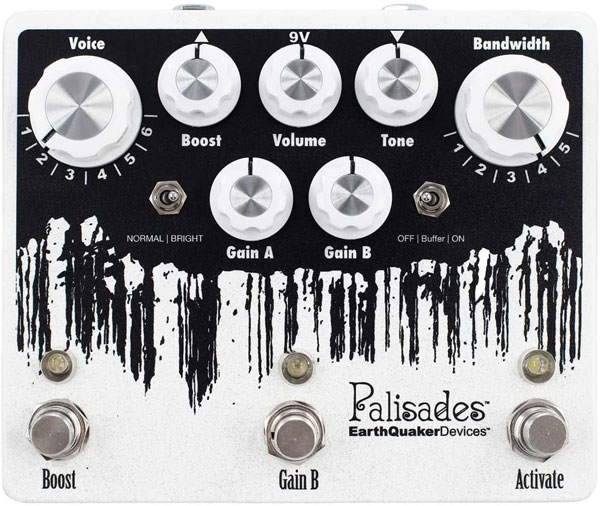 | | |
| --- | --- |
| Estimated Price | $250 |
| Type | Analog |
| Effects | Guitar Preamp, Overdrive |
| Connectivity | 1 x 6.35mm Jack Input, 1 x Output |
| Power | 9 Volts DC |
My Review: The Palisades V2 by EarthQuaker devices is a unique preamp pedal that includes several overdrive and distortion effects. I'd describe this pedal as a triple-threat, because not only does it act as a preamp booster, but it also allows you to saturate the signal before reaching the amplifier.
The trio of footswitches included on the pedal may seem a little overwhelming initially, but once you become accustomed to their functions they are very useful. One situation in which I can see this pedal flourishing would be if you were using a tube amp with a clean channel, and wanted to create three distinctive amp channels which could be accessed instantly.
Who is this best suited for: The EarthQuaker Devices Palisades V2 is a great choice for guitarists who want to create warm, tube-driven tones with the potential to push their amp into overdrive when required.
Bottom Line: With three switchable channels, the Palisades V2 is a versatile preamp/overdrive pedal that allows you to create your own presets and save them to the internal memory bank for instant recall.
15. Valeton Coral Amp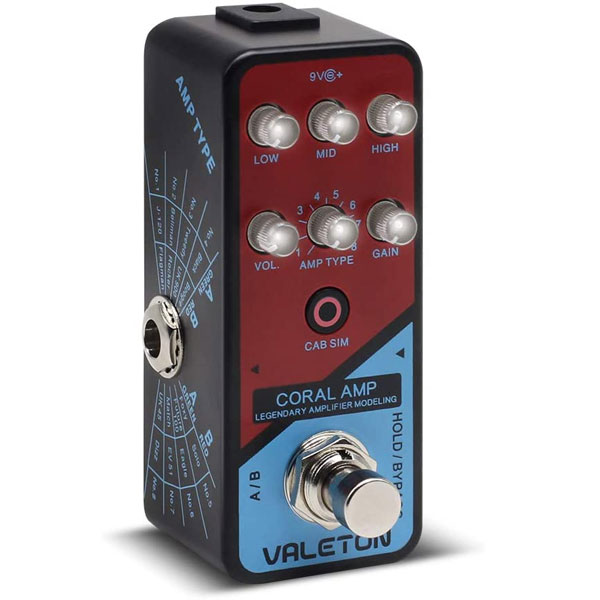 | | |
| --- | --- |
| Estimated Price | $80 |
| Type | Analog |
| Effects | Guitar Preamp |
| Connectivity | 1 x 6.35mm Jack Input, 1 x Output |
| Power | 9 Volts DC |
My Review: Despite its relatively small dimensions, the Coral Amp by Valeton has a large impact on your guitar's tone and dynamics. It includes A/B channel switching so that you can quickly toggle between clean and dirty channels.
This guitar preamp pedal operates smoothly and with no noise issues, thanks in large to the specially-designed buffer circuitry utilized by Valeton. Additionally, I was impressed by the quality of the amp cab simulations contained within the pedal, which are easy to switch between using the 'Amp Type' rotary switch.
Who is this best suited for: The Valeton Coral Amp is a great choice for guitarists looking for a capable preamp pedal which won't take up too much space on their pedalboard.
Bottom Line: With two rows of rotary controls which include a 3-band EQ and an amp voice selector, the Coral Amp covers every aspect of your guitar's tone. It also allows you to toggle between two amp settings of your choice and includes a range of cab simulations.
Related Article: Types of Guitar Pedals Explained
16. Flamma FS06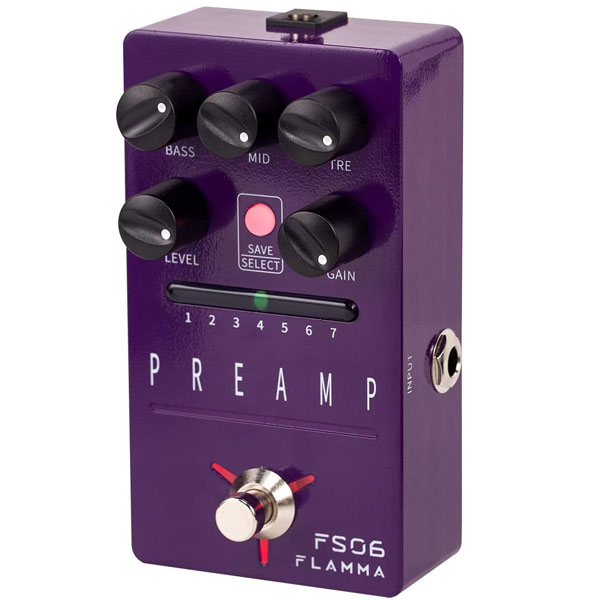 | | |
| --- | --- |
| Estimated Price | $80 |
| Type | Analog |
| Effects | Guitar Preamp |
| Connectivity | 1 x 6.35mm Jack Input, 1 x Output |
| Power | 9 Volt DC |
My Review: The FS06 by Flamma is an affordable guitar preamp pedal that includes 7 high-quality preamps presets. One of the things I liked about this pedal is its ability to recreate classic tube amplifier tones.
Included in the seven presets are models based on the Fender Blues Deluxe, Vox AC30, and the Marshall Plexi 50. After choosing my desired preamp setting, I was then able to tweak the tone using the onboard controls.
Who is this best suited for: The Flamma FS06 is a great choice for guitarists who are shopping on a budget. If you want access to a variety of tube-preamp tones, this pedal is worth considering.
Bottom Line: The FS06 is exceptionally easy to use, and with seven preamps presets based on classic amplifiers, it is a great way for guitarists to expand the tonal options they have at their disposal.
17. Dunlop EP101 Echoplex Preamp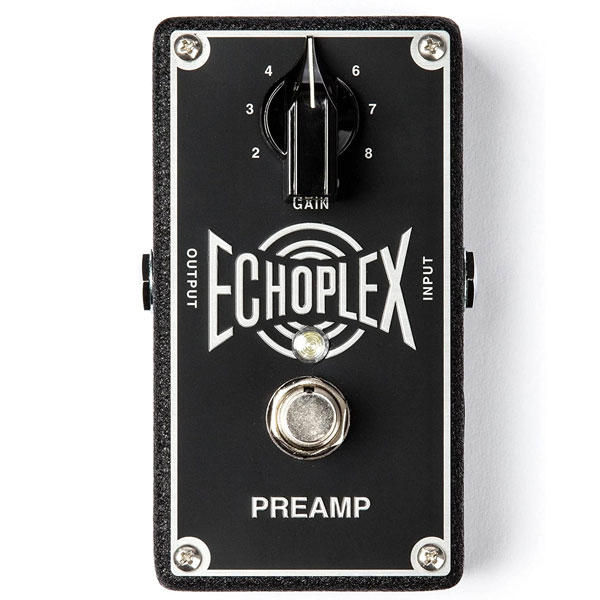 | | |
| --- | --- |
| Estimated Price | $130 |
| Type | Analog |
| Effects | Guitar Preamp, Echo |
| Connectivity | 1 x 6.35mm Jack Input, 1 x Output |
| Power | 9 Volts DC |
My Review: The name Echoplex may be a little misleading, as it conjures images of delay pedals. However, this is a preamp pedal for guitar, and a very interesting one to use. I was pleased to discover that it is based on the original Echoplex, which was popular amongst guitarists in the 1960s.
Using the same circuitry as the original, Dunlop has managed to recreate the brilliant tone-sculpting capabilities in a modern format. It includes a FET which mirrors the response of the vintage model and offers up to 11dB boost.
Who is this best suited for: If you love '60s guitar tones, the Echoplex EP101 is a preamp pedal you should strongly consider.
Bottom Line: The EP101 is a very convincing recreation of the classic Echoplex preamp. The original was popularized by iconic guitarists including Jimmy Page, Gary Moore, and Van Halen. This modern equivalent provides you with a dynamic boost and a warm increase of gain when you need it onstage or in the studio.
The Ultimate Guitar Preamp Pedal Guide
Guitar preamp pedals may be less well-known than the more common effects which make up a pedalboard, but they can be one of the most integral components nonetheless.
Due to their relatively recent invention, manufacturers are still coming up with innovative ways to design preamp pedals so that they can enhance specific styles of playing. In the remaining sections of the guide, I'll explain how preamp pedals work, and how you can get the best out of yours.
Preamps Explained
To understand what a guitar preamp pedal does, we first need to look at preamps in general. As the name suggests, the preamp is short for 'preamplifier'. This is the initial stage of an amplifier, coming before the power amplifier stage, and in some cases, the effects loop.
When you use your guitar with an amplifier, the first section that the signal comes into contact with is the preamp. In terms of the role it plays within an amplifier, the preamp section essentially boosts the guitar's signal to what is known as 'line-level, preparing its dynamics and ensuring that it is audible by the time it reaches the power amp section.
Not only does the preamp ensure that the dynamics of a guitar signal are consistent, but it also plays a pivotal role in the tone. The preamp section shapes the sound of an amplifier, and the power amp section then amplifies this signal and injects power into the output.
Tube amplifiers or valve amplifiers are they are sometimes labeled, commonly use a specific type of tube in the preamp section – 12AX7. Multiple 12AX7s are usually employed, as these are renowned for being the most reliable variety of preamp tubes by many guitarists.
Anyone who has used a tube amplifier before will know that a large part of their appeal is the natural tube overdrive that can be created when the valves are pushed to the point of saturation. Although this is most commonly associated with the tubes used in the power amp section, in the modern era manufacturers also design their amps so that the preamp section contributes to creating warm overdriven break-ups.
The Role of a Guitar Preamp Pedal
Guitar preamp pedals are designed to replicate the effect of the preamplifier section of a tube amp. The key difference here is that rather than relying on 12AX7 or some other popular preamp tube, these pedals predominantly use a solid-state design.
The tubes that are used in guitar amplifiers must be replaced after a while because as they heat up each time they're used, they begin to wear out. This explains why pedal manufacturers tend to opt for solid-state circuitry rather than installing genuine preamp tubes in their stompboxes – it would be impractical long term.
Therefore, the challenge that faces guitar preamp pedal manufacturers is to make them resemble the authentic tones and dynamic results of a real preamplifier tube, without actually using any! The competence of a preamp pedal can ultimately be measured by how realistically it recreates the sound of a 12AX7 or other preamp tube.
Another function of a guitar preamp pedal is to offer a similar level of tone-sculpting and dynamic-shaping controls that you would find on a real tube amplifier. That explains why the majority of preamp guitar pedals include EQ parameters.
All preamp pedals will also allow the guitarist to add gain to their signal, to resemble the "heating up" of a preamp tube within a valve amplifier. This means that the pedal can be used to create saturated tones with a natural tube overdrive.
Controls & Paramaters
Although the controls included on guitar preamp pedals differ depending on their designs and the purposes they were created for, there are some staple parameters that you can expect to find on most of them. These are:
The majority of preamp pedals include some form of EQ section, which may be a two or three-band. Most commonly, you'll find controls for adjusting the bass, mid-range, and treble frequencies. The reason that it's so important for preamp pedals to include EQ controls is that this allows the guitarist to shape the tone based on their style of playing, and the way that they intend for the pedal to interact with their other effects.
Gain and volume controls are quite self-explanatory. The former allows the guitarist to add heat to the signal, recreating the sound of a preamp tube being pushed to its limits within a valve amplifier. The volume control simply affects the overall level and ensures dynamic consistency.
Using a Preamp Pedal for Recording Guitar Tracks
Amp modeling and cab simulation are great ways to access guitar tones without needing to invest in an expensive amplifier. Preamp pedals essentially provide you with the benefits of a tube amplifier without actually needing to carry a large bulky unit to the recording studio whenever you want to lay down a new track.
When it comes to recording with a preamp pedal, you can either send the output directly into your audio interface or mixer, or you can use the pedal with an amplifier. Let's take a look at both of these methods in more detail.
Firstly, by recording with a preamp pedal directly, you gain the advantage of not having to contend with the coloration that an amplifier subjects the guitar's output to. All that is captured in the track is the pure combination of the guitar's pickups and the preamp pedal.
This makes it easier to mix the guitar recordings retrospectively, and you can use amplifier simulators within your recording software to create a more natural-sounding tone.
On the other hand, you might decide that you'd rather use your preamp pedal with an actual amplifier when recording. This may seem counteractive, as the amplifier will already have a preamplifier section built into it. However, the pedal differs from the onboard preamp of an amplifier because it offers you multiple adjustable controls which can be used to shape the sound to your liking before recording.
To recording using an amplifier, you'll need to either take a line-out from the back of the amp or position a microphone somewhere in front of the grille to capture to sound as it leaves the speaker. This is a great way to ensure that the sound you get in your recordings is consistent with the sound your amplifier and preamp pedal combine to produce onstage.
Buffered & True Bypass Guitar Preamp Pedals
To keep noise issues to a minimum and to ensure the strength of the guitar's signal as it passes through the chain, manufacturers employ one of two methods. These methods are known as true bypass and a buffer. Although both of these design techniques aim to achieve similar results, the way that they achieve this differs significantly.
Guitar preamp pedals with true bypass switching allow the signal of the instrument to run through their inner circuitry when they are turned off. This means that they don't weaken the signal, or cause the dynamics to become inconsistent.
Buffered guitar preamp pedals work by boosting the strength of the signal before it enters any other effects in the signal chain. This boost ensures that the signal is strong enough to pass through the entire chain, keeping the volume at an optimal level.
When choosing whether to opt for a true bypass or buffered preamp pedal, one way to decide is by considering the total cable length of your existing signal chain. If it exceeds 18 ft in length, you'll probably need to incorporate some more buffered pedals into your setup. If you use a modest selection of pedals, the true bypass will work just fine.
It's also a good idea to begin your signal chain with a buffered pedal if you are combining the two varieties. That way, you ensure that the signal strength receives an adequate boost before it enters the remaining pedals in your signal chain.
Acoustic Guitar Preamp Pedals
In this guide, I've focused predominantly on preamp pedals designed to be used with electric guitar, but many capable options are more focused on acoustic instruments. These pedals often feature more extensive EQ sections than those designed for electric axes.
Acoustic guitar preamp pedals allow you to shape the frequency response and core dynamic qualities of your instrument. Pickups tend to be less predictable on electric-acoustic guitars, so having a preamp pedal is a very useful tool.
It's common for acoustic guitar preamp pedals to have many presets which are designed to be used in a specific style of playing, or with certain pickups. For example, you might find that the pedal has a mode dedicated exclusively to piezo pickups.
Signal Chain Placement
As a general rule of thumb, a preamp pedal should be placed somewhere near the beginning of your signal chain. If you use any cab or amp simulation pedals, the preamp pedal should always be positioned before these, as this will create the conventional effect produced by a genuine tube amplifier.
Apart from your tuner pedal, all of your other effects can be placed after the preamp pedal. However, it might be wise to place it after your compressor, and perhaps your EQ pedal. There are no set-in-stone rules to follow, so feel free to experiment to find the position that suits your style.
Preamp pedals apply compression and commonly include EQ controls, so you may not need to use standalone devices to apply these effects. The order that you choose to position your pedals in ultimately comes down to persona preference and style.
Guitarists who want to create gain-heavy tones, such as hard rock or metal players, may benefit from placing their preamp pedal after their overdrive and distortion stompboxes. This ensures that the gain is cranked up when the signal reaches the preamp pedal, maximizing the effect that the distortion has on your guitar's tone.
Guitar Preamp Pedals & Effects Loops
Preamp pedals can also be used within the effects loop section of your amplifier. This is a send/return which isolates certain effects and prevents them from interacting with other pedals in the signal chain.
The advantage of using your preamp pedal within the effects loop of your amplifier is that it ensures that the pedal performs as cleanly as possible. You can also deliberately choose which other effects can be placed based on how they perform when paired with a preamp device.
Some guitar preamp pedals may include their effects send and return loop, which means that you can use them to isolate your chosen effects.
Inputs/Outputs
You may have noticed when looking at the guitar preamp pedals featured in this article, that some of them have multiple inputs and outputs. This is likely to be the case on the larger preamp pedals. Having multiple outputs means that you can use the pedal to split your signal.
Signal splitting is the process of sending a separate wet and dry signal from the pedal into two separate amplifiers. The advantage of doing this is that it allows your clean guitar tone to be isolated from your wet tone, which means it can be played through another amp simultaneously.
This method is commonly used by guitarists who need to thicken up their sound, perhaps because they are in a three-piece band and lack a second guitarist. It creates the illusion that two guitars are playing at once, when in fact it is simply a carbon copy of the wet signal being played alongside it.
When the effects are engaged, the clean tone of your guitar continues to play, creating a double-tracking effect. If your preamp pedals have two outputs, you simply need to send one of them directly into your amplifier and then send the other to your remaining pedals in the signal chain.
Preamp pedals may also include line outputs, which can be used for direct recording, and XLR inputs if they are compatible with microphones. The number of inputs and outputs featured on the pedals will vary depending on their size and quality.
Powering a Guitar Preamp Pedal
Most guitar preamp pedals require the standard 9v DC power. However, some larger pedals may require additional voltage, perhaps 12v DC. Many pedal manufacturers include the relevant power supplies for their preamp devices.
By far the most convenient way you can power your preamp pedals, and all of the other effects in your signal chain for that matter is by using a PSU (power supply unit). These devices are also sometimes called power bricks.
PSUs supply all of your pedals with the required voltage. The main power brick is connected to the pedals via power cables, which can be left plugged into the pedals when they're not being used for the sake of convenience. That way, you don't need to set up all of the connections every time you use the pedals.
PSUs vary in terms of the number of power outputs they boast, and the variations in voltages that they supply. Therefore it's important to check the power requirements of your preamp pedal to ensure that your power supply unit can provide it with the required voltage.
Additionally, you might find that many guitar preamp pedals can also be powered using a 9-volt battery. This is convenient if you're using the pedal in a setting where there's limited or no access to mains power.
The issue with relying solely on batteries to power your pedals is that you run the risk of them cutting out halfway through a performance, or a recording take. As a result, it's best to use batteries as a backup rather than relying on them too heavily.
A sensible way to power your preamp pedal would be to use a PSU, and batteries if the pedal facilitates that. That way, if either of the power sources malfunctions, the other is there to save the day and ensure that your guitar signal doesn't cut out abruptly!
Summary
Preamp pedals may not be the best-known guitar stompboxes out there, but their impact on your tone is undeniable. These useful devices essentially provide you with authentic-sounding tube tones without actually having to transport a valve amplifier from location to location.
Now that you've absorbed all of the information in this ultimate guide to guitar preamp pedals, you should be in the position to choose the ideal model for your requirements. Once you've incorporated the preamp pedal into your signal chain, you'll be left wondering how you coped without one!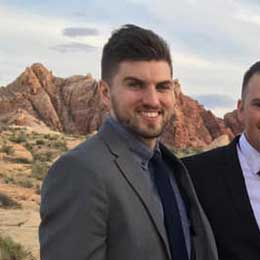 My name is Chris and I've had a passion for music and guitars for as long as I can remember. I started this website with some of my friends who are musicians, music teachers, gear heads, and music enthusiasts so we could provide high-quality guitar and music-related content.
I've been playing guitar since I was 13 years old and am an avid collector. Amps, pedals, guitars, bass, drums, microphones, studio, and recording gear, I love it all.
I was born and raised in Western Pennsylvania. My background is in Electrical Engineering, earning a Bachelor's degree from Youngstown State University. With my engineering experience, I've developed as a designer of guitar amplifiers and effects. A true passion of mine, I've designed, built, and repaired a wide range of guitar amps and electronics. Here at the Guitar Lobby, our aim is to share our passion for Music and gear with the rest of the music community.