One of the few guitar-based bands to endure the 21st century's cultural shift away from rock and toward rap and hip hop, the Arctic Monkeys have never been short of a catchy tune or ten. Although the band's style has changed markedly over the years, the riffs, lyrics, and ear-turning melodies remained consistent.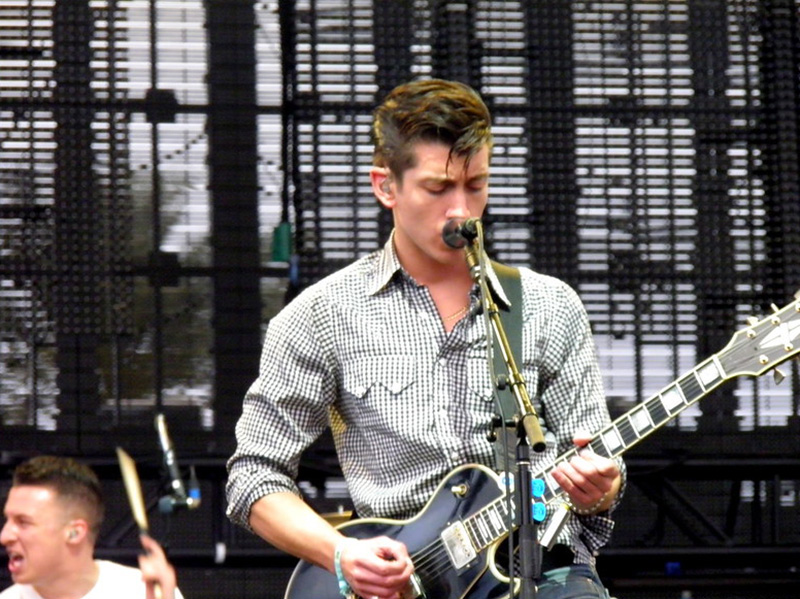 The Arctic Monkeys may have been the first rock band to truly harness the power of the internet on their way to the top, but their frontman and leader Alex Turner happily harnesses the past in pursuit of the future of rock and roll. Armed with an arsenal of vintage guitars he's gathered over the years, wry wit, and a buttery baritone range, Turner might just be one of the last true rock stars.
What Guitar Does Alex Turner Play?
Alex Turner is most known for playing Fender Jazzmasters as well as his Gibson Les Paul Custom. He's also known to have used a wide range of other guitars throughout his career such as Fender Stratocasters and a Gretsch Duo Jet, among others.
See the full list of Alex Turner guitars and gear below.
Fender Jazzmaster

| | |
| --- | --- |
| Finish | Sunburst |
| Years Used | 2008 to Present |
Around the Favorite Worst Nightmare era, it became more than evident that the Arctic Monkeys were quickly maturing in terms of sound, composition, and even making a shift to a slightly somber tone. Alex Turner picked up a Fender Jazzmaster, a coveted vintage instrument, that would be often rotated with the Bronco and his Stratocasters of the time, but for their third album, Humbug, which marked a massive stylistic departure for the Monkeys, and Turner's Jazzmaster took center stage, quickly becoming his main guitar for nearly five years.
Fittingly for Alex, considering the Jazzmaster superseded his well-loved Strats in the late 2000s, this Fender staple was initially designed as a more expensive sibling to the Stratocaster. The Jazzmaster's offset body and car-like contours made it perfect for the retro-rock reinvention and surf-inspired tremolo lines the Arctic Monkeys started experimenting with musically around the time of their third album. Under Queens of the Stoneage frontman Josh Homme's tutelage, Turner would become a far more assertive player along Jamie Cook wielding this particular Jazzmaster.
This Jazzmaster is most likely a 1959 model with a black aftermarket pickguard attached. Its thicker rosewood fingerboard, when compared to the thinner "veneer" fingerboards of mid-to late-1960s models is one hint, as are the long-discontinued clay dot fret markers. The biggest clue as to the age of this guitar, however, is its tremolo, which sports the "Fender Patent Pending" engraving, as Fender gained their patent for this tremolo system in 1960. The Jazzmaster's then-revolutionary "floating tremolo" is responsible in no small part for the Jazzmaster's distinctive tone. The Jazzmaster's bridge sits atop two fulcrum points, moving back and forth with the tremolo arm when in use. The extra-long tremolo arm helps with this, and the Jazzmaster also featured a tremolo lock, which was used to prevent the entire instrument from going out of tune should a single string break. This design clips the sustain of the guitar, giving it less sustain than the Stratocaster, but this different resonance is a key part of the iconic Jazzmaster tone.
Also critical to the Jazzmaster sound is its unique single-coil pickup configuration. Although the Jazzmaster's pickups may resemble Gibson's soap bar P90s, in reality, the two are very different. The Jazzmaster pickup has magnetic pole pieces, with the coils wound flatter and wider than the P-90, as compared to Fender's more typical tall and thin coil winding. The resulting tone is warmer and thicker than is typically associated with Fender guitars while retaining all the note definition and clarity of the classic Fender single-coil tone. Thanks to the reverse-winding of the pickups, in the middle position, they have a hum-canceling effect similar to that of Gibson's own humbucker design.
Also unique to the Fender Jazzmaster is its pickup circuit. This is one of the only Fender models to feature rolling thumbwheels and a slide switch on its pickguard for fine-tuning. The slide switch is used to choose between the "rhythm" and "lead" circuits. The rhythm selection activates the neck pickup only, reducing the brightness of the sound, and allows volume and tone control via the two thumbwheels, bypassing the other controls. The lead circuit allows tone control via the tone and volume knobs and the pickup selector switch as per most electric guitars. Generally, Alex Turner uses the "lead" circuit and the bridge pickup for his Arctic tone, rarely, if ever, using the rhythm circuit or neck pickup.
Now Turner's Jazzmaster has remained a mainstay in the Arctic Monkeys sound throughout the decades and the band's sonic evolution. From the stoner rock tones of "Humbug" to their commercial bang with "AM" and all the way to the lunar surfaced sounds of "Tranquility Base Hotel and Casino" this industry staple has become one of the closest associated instruments to one of the most important bands of the 21st century.
Gibson Les Paul Custom

| | |
| --- | --- |
| Finish | Ebony |
| Years Used | 2012 to 2018 |
Turner was commonly seen wielding this Gibson Les Paul during the Suck it and See and AM eras, often using it for live performances. This Les Paul originally belonged to fellow Arctic Monkeys axeman Jamie Cook, who played it live during the Favourite Worst Nightmare era, but Turner took a shine to the guitar, using it in the studio for both Suck it and See and AM.
The Gibson Les Paul Custom was initially released to the market to epitomize Gibson's guitar-building prowess. With a higher price point than the Les Paul Standard and its piano black finish, the Les Paul Custom was aimed at players looking for a more luxurious alternative to the workmanlike Les Paul Standard, or Gibson's other lower-end solid-bodied guitars.
The Les Paul Custom features a solid mahogany body with a mahogany neck and ebony fretboard. Its block fret inlays are made from pearl, and unlike Alex Turner's Fender guitars, the Les Paul Custom features a set neck glued to the guitar's body. This, and its solid mahogany construction, give the guitar its legendary sustain. The Les Paul Custom also uses humbucking pickups, which have a thicker, warmer sound than the single-coil pickups that Alex Turner typically used earlier in his career.
Alex Turner made the most use of his Les Paul Custom during the AM era, particularly relying on it for heavier rock songs. Turner can be seen playing the black Les Paul in the below video of "Brianstorm" from the Arctic Monkeys' 2013 appearance at the Glastonbury festival.
Fender Stratocaster


| | |
| --- | --- |
| Finish | Black/White |
| Years Used | 2003 to 2010/ 2005 to 2020 |
Fittingly for the Arctic Monkeys frontman, Alex Turner's first guitar was this Arctic White Fender Stratocaster. Turner played this guitar extensively during the early days of the Arctic Monkeys' career, carrying it around Northern England's clubs and dive bars, and used it to record his guitar parts for the debut album Whatever People Say I Am, That's What I'm Not. It accompanied Turner through the band's meteoric rise to fame, appearing on subsequent album Favourite Worst Nightmare and occasionally on tour up until 2010 when it was sold at a charity auction to raise funds for the victims of the Haiti earthquake. The Arctic White Stratocaster sold for £4,600.
Once the band picked up some notoriety and, critically, Turner had more money in his pocket, he quickly purchased a second Stratocaster, this time in black. Alex Turner toured with this guitar extensively but ultimately auctioned it, too, for charity. The black Stratocaster raised £128,544 in a charity raffle raising funds for grassroots music venues in the circuit of Yorkshire.
The first Stratocaster, in white, appears to be a USA-made 22 fret model, while its black cousin has only 21 frets, suggesting its origins in Fender's Mexico factory.
Alex Turner's favored Strats featured maple necks and three single-coil pickups, in classic Stratocaster style. It's unlikely that Turner's Stratocasters early on were anything other than stock, off-the-production-line standard guitars, if only because the then-teenaged singer couldn't have afforded customized instruments. Accordingly, it's safe to say his Stratocasters featured alder bodies, maple necks with maple fretboards, and stock Fender single-coil pickups. Both Stratocasters featured the classic six-screw Stratocaster tremolo system, albeit rarely used by Turner himself. In fact, Alex Turner removed the tremolo arm entirely, likely as it got in the way of his furious strumming style.
Turner typically played his Stratocasters on the bridge pickup alone, relying on pedals to change his tone rather than fiddling with the knobs or pickup selector on his guitars. Now, this black Stratocaster has slowly become a somewhat legendary item, it was used on the band's first appearance at the Reading Festival, and T in the Park both in 2006 and Glastonbury in 2007. But its trajectory with Turner and the Monkeys became even more emblematic when the music video for Fake Tales of San Francisco came out, signaling the rise of the Monkeys as a youngster yet colossal name in the global music scene.
As for Alex's white Fender Stratocaster in the below performance of "I Bet You Look Good On The Dancefloor" from 2003. Note the removed tremolo arm and Turner's tendency to strum from the elbow in this era, necessitating the tremolo's removal.
Fender Bronco

| | |
| --- | --- |
| Finish | Black |
| Years Used | 2007 to Present |
One of the more curious instruments Turner wielded during the Arctic Monkeys' meteoric rise to fame was the Fender Bronco. Its distinctive offset body, sole single-coil pickup, and bizarre tremolo system set it apart from his Stratocasters, which were still the main guitars in his arsenal. The Bronco, however, made several live appearances, including TV spots, likely purchased by its rarity in the guitar market during the "Favourite Worst Nightmare" era.
The Fender Bronco was a short-lived student guitar produced by Fender from the late Sixties up to 1981. Turner's, finished in black, is likely a later model, as the earliest incarnations of the Bronco were only available in Fender's Fiesta Red finish. The Bronco only had one pickup, a Fender single-coil in the bridge position, and unlike Turner's Stratocasters was only available with a rosewood fretboard. The Fender Bronco's most unique feature was its Fender steel vibrato tailpiece, the last of Leo Fender's tremolo innovations, and by far the least popular.
Perhaps because of this, the Bronco was never reissued once it was discontinued, and Alex Turner is one of the only major artists to play this guitar. Although the Bronco was initially introduced to the market with a matching Fender Bronco amplifier, Alex Turner never played the associated amp, preferring his British tube amps to Fender's American voicing at the time.
It's likely that the Bronco appealed to Turner thanks to his near-exclusive use, at the time, of the bridge pickup on his other Fender guitars. Having already removed the tremolo arms from his Stratocasters, a Strat-like Fender guitar with no neck pickup or pickup selector would have appealed to Alex Turner.
Being one of the most recognizable guitars from the "Favourite Worst Nightmare" days and well into the early stages of "Humbug", this Bronco saw a fair share of remarkable performances from 2007 and onwards becoming to an extent Alex's first choice. This guitar made several live TV appearances in Later… with Jools Holland, as well as in the Arctic Monkeys' memorable Hurricane Festival billing in 2011. Additionally, it was played in the single debut of the Monkeys mega track "Fluorescent Adolescent" as well as the music video for Teddy Picker. This is easily one of the most iconic Alex Turner guitars of all time.
Warmoth Jazzmaster

| | |
| --- | --- |
| Finish | Burgundy |
| Years Used | 2010 to Present |
Alex Turner's affection for this model wasn't limited by any means. The guitar's vintage-voiced tone and playability appealed enough to Turner for him to acquire another Jazzmaster, this time from Warmoth guitars. Well into the latter leg of the promotional tour for "Humbug" and outside the legendary Rancho de la Luna, Turner went gear hunting with drummer Matt Helders in around 2010 with no luck. But eventually and according to Alex himself, this guitar was given to him by a friend in the studio.
The Warmoth Jazzmaster has several notable differences from the Fender, including its body material and pickup configuration. Ken Warmoth founded Warmoth guitars in Seattle, Washington, in 1980. Warmoth wanted to customize guitars for working musicians, offering custom builds particularly for the Fender guitars available at the time. With Fender's reputation taking a serious dive at the time thanks to inconsistent manufacturing standards, Warmoth quickly gathered a reputation as a top American builder, often providing build-at-home kits to musicians looking to carve out a unique instrument for themselves.
The Jazzmaster is finished in glossy burgundy-brown color, but photos of the guitar suggest that this is not a rosewood guitar or a natural finish, but a paint job. Judging by the guitar's biting, treble-heavy tone, it's likely that its body is made from ash or alder. It features a maple 22-fret neck with a rosewood fretboard. It uses the American Standard bridge with no tremolo arm, as per his Stratocasters.
It features a humbucking pickup in the neck position and a Trisonic single-coil pickup in the bridge position. Alex Turner uses a piece of tape to keep the lead/rhythm circuit in the lead position live, lest any overzealous strums turn off his preferred bridge pickup.
Alex Turner played his Warmoth Jazzmaster extensively during the early 2010s, but in recent years it has been superseded by other humbucker-equipped guitars. He played the Warmoth Jazzmaster in the below Arctic Monkeys performance at Coachella 2012.
Vox Starstream XII

| | |
| --- | --- |
| Finish | Sunburst |
| Years Used | 2011 to Present |
One of the most distinctive guitars in Alex Turner's arsenal is this vintage instrument from legendary British amp builders Vox, who briefly (albeit long enough to make this guitar) outsourced guitar building to Italy. With its teardrop-shaped body and twelve – as opposed to six – guitar strings, the Vox Starstream is arguably the most eye-catching of all Alex's personal guitars.
According to an NME interview with the Arctic Monkeys' longtime collaborator and co-producer James Ford, Alex Turner picked this guitar up during the recording sessions for Suck it and See. However, as he bought the guitar so late in the recording process, it did not appear on that album. In fact, according to James Ford, Turner "actually bought it as a bit of a joke".
The "joke" guitar, equipped with all manner of onboard effects, became a source of inspiration for the follow-up album, AM, which saw the band experimenting with a wider variety of styles than ever before. Drawing inspiration from sources as disparate as Black Sabbath and Dr. Dre, the Vox Starstream provided a grounding point for the band's new sound. Ford said, "A lot of the riffs were written on that particular guitar". It was used to record the album's lead single, "Do I Wanna Know?" and was the guitar used to achieve that song's droning, atmospheric tone during the accompanying AM tour.
Vox designed the Starstream XII in the mid-1960s, hoping to capture many of the effects becoming popular on recordings. Fuzz, tremolo, a treble booster, and even an onboard wah effect are housed within the guitar's teardrop-shaped semi-hollow maple body. It featured a maple bolt-on neck and rosewood fretboard. Supposedly, the guitar's onboard fuzz circuit is identical to that of Vox's legendary Tone Bender pedal, while its "repeater" circuit offers a stuttering delay effect.
1962 Gretsch Duo Jet

| | |
| --- | --- |
| Finish | Black |
| Years Used | 2012 to 2018 |
Used almost exclusively for performances of the barnstorming "R U Mine" since 2012, Alex Tuner's vintage Duo Jet is the other humbucking guitar in his arsenal.
Turner received the guitar as a gift from then-girlfriend Arielle Vandenberg around the time that the band was in the studio recording AM. He used his Gretsch, with its dual Filtertron humbuckers, to record the grittier, high-octane rockers for the album, "Arabella" and "R U Mine".
Gretsch designed the Duo Jet in the 1950s to compete with Gibson's highly successful solid-bodied Les Paul line. The double-cutaway variation, with its semi-solid mahogany body, mahogany neck, and humbucking pickups, was introduced in 1962. Alex Turner's Gretsch appears to be an original '62 model, complete with a Bigsby vibrato system and rosewood fretboard.
Alex Turner used the Gretsch extensively for live performances of "R U Mine", but retired the guitar at the end of the multi-year AM tour.
Ovation Viper

| | |
| --- | --- |
| Finish | Yellow |
| Years Used | 2008 to Present |
Shortly after adopting his now stapled Fender Jazzmaster during the early development of "Humbug", Alex started looking for a sound to complement the darker and meatier tones of his P-90s main. Soon enough he was introduced to this Ovation Viper by producer James Ford during the recording sessions of the Last Shadow Puppets debut "The Age of the Understatement". Quickly enough, this Viper model became the second choice for Alex for quite some time, while it remained as his main Last Shadow Puppets six-string ever since the beginning.
The Ovation Viper was introduced in 1977 and it was fabricated all the way to the early 1980s in two available models, with two single-coil pickups and a version with three called the Viper III. It was created to offer a new alternative to the solid-bodied Gibson models presented in a single-cutaway with a slightly sharper and brighter sound.
Alex was first seen with this guitar when touring alongside Miles Kane with the Last Shadow Puppets, but it wasn't until the release of Humbug's "My Propeller" music video that this Ovation model would become an official part of Turner's permanent rig. This six-string also took the stage on the MTV Winter Festival at La Ciudad de Las Artes y Ciencias in Valencia back in 2010. It also made an appearance in every single Monkeys and Shadow Puppets recording since 2008.
Timetable Showing Each Guitar Alex Turner Has Played Throughout His Career
| Make | Model | Color/Finish | Years |
| --- | --- | --- | --- |
| Fender | Stratocaster | Black/White | 2003 to 2010/ 2005 to 2020 |
| Fender | Bronco | Black | 2007 to Present |
| Fender | Jazzmaster | Sunburst | 2008 to Present |
| Ovation | Viper | Yellow | 2008 to Present |
| Warmoth | Jazzmaster | Burgundy | 2010 to Present |
| Vox | Starstream XII | Sunburst | 2011 to Present |
| Gibson | Les Paul Custom | Ebony | 2012 to 2018 |
| Gretsch | 1962 Duo Jet | Black | 2012 to 2018 |
Alex Turner Amps Overview
Alex Turner's guitar tone has varied over the years, but like his taste in clothes, it typically plunders the rich history of retro-rock to deliver thoroughly modern tones. Turner's sound typically draws on tube amplifiers, typically run relatively clean, relying on external effects for distortion, grit, and crunch. As a general rule, Alex Turner prefers classic British amps like Vox and Orange, but will often include Fender amplifiers and even vintage Selmer and Magnatone amps in his setup.
Selmer Zodiac Twin 30
Alex Turner's primary studio amp for most of the past two decades was this somewhat obscure combo from Selmer. He first started playing this Selmer during the recording for the second Arctic Monkeys album, Favourite Worst Nightmare, and it appeared in the studio and live consistently ever since. Generally, Alex Turner uses this amp in combination with another, such as an Orange or Vox combo.
According to an interview with longtime Arctic Monkeys producer James Ford, Alex Turner is the go-to rhythm guitar player in the studio, and he runs this amp "pretty straight, quite bright and punchy into the Selmer".
Orange AD30TC
For the Arctic Monkeys' early shows, and during the recording and tour for "Whatever People Say I Am, That's What I'm Not", Turner's go-to amplifier was this 2×12 combo from Orange. Turner stopped using this amplifier after their first tour, but its high headroom and chiming clean tone made it perfect as a platform for the variety of sounds the Arctic Monkeys deployed on their first record. This amp's classic British sound comes courtesy of four EL84 preamp tubes and a GZ34 (5AR4) valve rectifier pushing twin Celestion Vintage 30 speakers.
Fender Silverface Twin Reverb
Alex Turner typically uses his Fender Silverface live rather than in the studio. It's not the main amplifier in Turner's rig, but typically appears in conjunction with the Selmer combo. The Fender Twin Reverb featured 6L6 tubes and an ultra-clean tone as well as "bright" switches allowing for tighter control over the amount of treble in the guitar's signal. Turner generally uses these amps with his drive and distortion pedals, particularly during later years to capture the bright, dirty tone of the first Arctic Monkeys album.
Most notably, Alex Turner played these amps during the Arctic Monkeys' performance at the London Olympics, as can be seen below.
Magnatone Custom 410
Starting during the Suck it and See era, Alex Turner began using this Magnatone amp in conjunction with his Selmer, primarily for studio use. The Magnatone is Turner's primary source of vibrato and reverb sounds in the studio and saw particularly heavy use during recording and performances with Turner's side project, The Last Shadow Puppets. Often, Turner will blend the signals from the Magnatone and Selmer in a single track, delivering the unique vibrato sound heard on Suck it and See and AM. Turner generally does not use this amp live, but it has seen occasional use as a synth or keyboard amp on the Tranquility Base Hotel and Casino tour.
Alex Turner Pedals and Effects Overview
On the first Arctic Monkeys album, Alex Turner's rig consisted simply of a distortion pedal and tuner. However, as the band got bigger, so too did his pedalboard, and a variety of drives, echos, choruses, and reverbs. Let's take a look at Alex Turner's favorite pedals.
Distortion Pedals
First and foremost was Turner's ProCo Rat, his only effects unit in use for the recording of "Whatever People Say I Am" and its subsequent tour. In fact, Alex actually used two ProCo Rats in conjunction with one another, using one for his dirty rhythm tone and the other as a boost for guitar solos. The band owes most, if not all, of the nasty, snarling distorted tone of that record to the ProCo Rat.
During the recording of "Favourite Worst Nightmare", Turner picked up a TS808, the famous little green box from Ibanez. The Tube Screamer was Alex Turner's primary source of overdrive from this period onwards, typically used to provide the warm, amp-like drive on songs like "She's Thunderstorms". The TS808 was a mainstay of Turner's rig until 2018, when he eschewed the larger pedalboard of the AM era for a far more stripped-back affair on tour supporting "Tranquility Base Hotel and Casino".
For his distorted tone during the AM era, Alex Turner took a shine to the Coopersonic ValveSlapper Dual-Valve Distortion. This provided the fuzzy distorted tone for the track "Do I Wanna Know". Live, Turner ran this pedal with his TS808 as his main source of distortion.
Modulation Pedals
Generally, Alex Turner uses the inbuilt vibrato and tremolo sound of his vintage amps but has occasionally relied on pedals to enhance or supplement these effects.
Alex Turner used a vintage Boss CE-1 Chorus Ensemble during the Humbug era for enhancing his lush, layered clean sound from the album. For Suck it and See, he turned to the Fulltone Mini DejaVibe Stereo Chorus Pedal, which remains on his board to this day. The slow, warbling chorus sound of this pedal as Turner uses it is best demonstrated in the song, "Knee Socks":
For the "Teddy Picker" guitar solo, Alex Turner used the Hughes & Kettner Rotosphere, a Leslie rotating speaker emulator. This pedal was particularly prominent during the Favourite Worst Nightmare era, as can be heard in the below video.
Echo Pedals
Alex Turner prefers using amp reverb such as those built into his Fender amplifiers, but he did use the Electro Harmonix XO Holy Grail Plus Variable Reverb Pedal during the Humbug era, likely to capture live the spacious tone of the album.
He also used the Boss DSD-3 delay during this time. However, as with his Holy Grail pedal, Turner's taste in tones turned elsewhere after the Humbug era, and he returned to using amp reverb.
Wrap Up
Alex Turner was born to a pair of secondary school teachers in Sheffield, UK, in the late eighties. Raised on a steady diet of poetry, novels, and the Britpop explosion, Turner's first instrument was not the guitar but the piano. He abandoned piano lessons at age eight and picked up the guitar at age fifteen, starting the Arctic Monkeys with his school friends not long after. Although he initially wanted just to play the guitar, with his obvious talent for turning a phrase, Alex Turner became the band's singer. In 2005, with Turner aged nineteen, after a few years bouncing around the clubs and pubs of the North of England, the Arctic Monkeys' demo tapes took off online. Their debut album became the fastest-selling debut in British history, Turner was praised as the voice of a generation, and the rest is rock and roll history.
In the years since the band's explosive debut, "Whatever People Say I Am, That's What I'm Not," Turner adopted a variety of musical and sartorial styles. Alex Turner's star turns from teenaged indie darling to bequiffed, leather-jacketed rock star, and eventual shift into the sardonic space oddity of 2018's Tranquility Base Hotel and Casino owes more, at least artistically, to David Bowie than to Liam Gallagher or Ian Brown.
Alex Turner was a pivotal figure for Britain's youth from 2005 moving over to massive pop stardom in 2013 with the release of the band's breakthrough in America with AM, a considerable accolade for any major British act.
Armed with witty lyricism and a cunning one-point perspective to deliver timeless brilliant tunes for the cross-generational gap of the 00s and 2010s. Turner may not be a guitar hero, but his style laid the ground basis for some of the most hard-hitting Arctic Monkeys and Indie rock tunes of recent times. With a career that demonstrates a relentless and ever-surprising maturity, Alex Turner is one of the main examples of what a modern singer-songwriter should aspire to be.
That does it for this article, let us know what you think of this article in the comments below.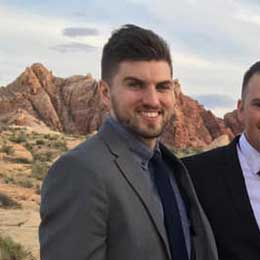 My name is Chris and I've had a passion for music and guitars for as long as I can remember. I started this website with some of my friends who are musicians, music teachers, gear heads, and music enthusiasts so we could provide high-quality guitar and music-related content.
I've been playing guitar since I was 13 years old and am an avid collector. Amps, pedals, guitars, bass, drums, microphones, studio, and recording gear, I love it all.
I was born and raised in Western Pennsylvania. My background is in Electrical Engineering, earning a Bachelor's degree from Youngstown State University. With my engineering experience, I've developed as a designer of guitar amplifiers and effects. A true passion of mine, I've designed, built, and repaired a wide range of guitar amps and electronics. Here at the Guitar Lobby, our aim is to share our passion for Music and gear with the rest of the music community.