Funky, heavy, undeniably suave, and all-around Rock N' Roll, Queens of The Stone Age frontman, Josh Homme, has cemented his reputation as one of the most creative guitar players in the industry. Becoming one of the most recognizable sounds in today's Rock music, Josh Homme has reached legendary status following the creation of several smash hits that further portray his catchiness and inescapable talent. With his unique fuzzy guitar tone, particular scales, and phrasing, Josh has consistently mesmerized fans around the world for over thirty-five years.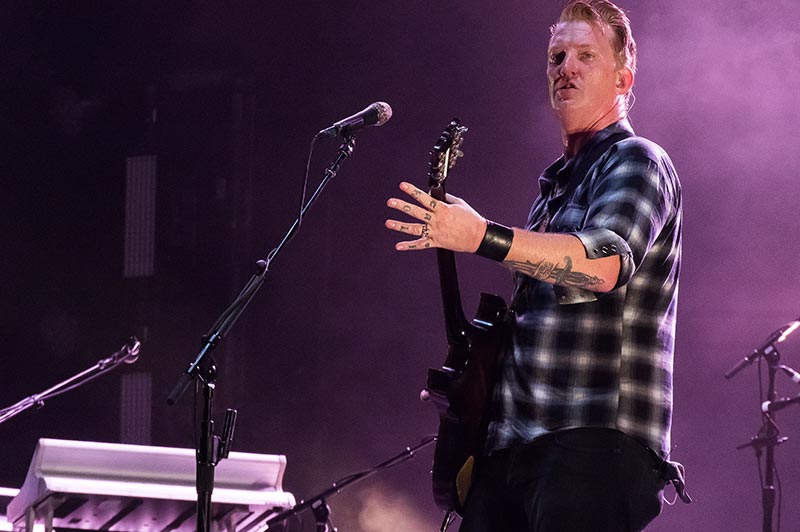 Homme's musical interest began when he was nine years old, as he was adamant about getting a drum set. Unfortunately for the young Josh, his parents denied him the noisy instrument. After his parents' refusal, Josh decided to take to guitars. He took lessons for a few years from a teacher who focused primarily on polka music (which is definitely strange considering how Josh completely detached himself from said genre).
Homme supposedly didn't learn about barre chords or even guitar picks until at least three years into his lessons! This became the foundation for his abstract style that helped propel his several bands, including QOTSA, Kyuss, The Desert Sessions, Eagles of Death Metal, and Them Crooked Vultures to the heights they've reached today.
What Guitars Does Josh Homme Play?
Josh Homme plays his signature Maton BB1200 JH guitars. Although the Maton is the guitar that has become somewhat synonymous to his aesthetic and sound, Homme also has a wide range of other guitars in his arsenal.
See the full list of Josh Homme guitars and gear below.
Maton BB1200 "Betty Blue"

| | |
| --- | --- |
| Finish | Wine Red Sunburst/Blue/Cherry and Black |
| Years Used | 2005 to 2013 |
The model that made the largest impact on Josh Homme's career is probably the Maton BB1200. Homme discovered this Australian-made guitar and immediately fell in love with both its incredible looks and its versatile sound. It was acquired on the road around 2005-2006 when the band was barely into the early stages of recording "Era Vulgaris". For Josh, it was like becoming a whole new player from one day to another, it's a guitar that stuck with him for the largest part of his career, as well as some of the most significant bits too.
The Maton BB1200 is a semi-hollow piece with a center block, giving Homme his iconic fuzzy tone without sacrificing sustain. It has two pickups: a Maton MBB1 and an MBN1 Bad Boy. Both pickups feature coil-splitting capabilities, so Homme can swap to a single-coil sound if the feeling hits just right. Said pickups are controlled by three knobs: two volume knobs (one for each pickup) and one master tone knob.
To make the guitar look as good as it sounds, the body is made from beautiful Australian Queensland Maple, while the set neck is all Rock Maple. The fingerboard is Indian Rosewood with large pearl block inlays running up the neck.
Homme liked this guitar so much that it instantly became one of his primary players both on the stage and in the studio. One of his first BB1200 guitars had the Ultra Blue finish, which he named "Betty Blue." Over the years, he also accumulated several other BB1200 models in different finishes, including Wine Red Sunburst and Black.
Maton BB1200 JH Signature

| | |
| --- | --- |
| Finish | Satin Tobacco Burst |
| Years Used | 2013 to Present |
Due to his love for the BB1200, Josh developed a close relationship with the builders at Maton, in order to make yet another and perhaps the undisputed Homme quintessential guitar. Around 2013, he started a collaboration to manufacture his Maton signature model, the BB1200 JH (Josh Homme). Both the body and neck of this signature model is very similar to the standard BB1200. It features the same incredible Queensland Maple body and Rock Maple neck. While the standard model has an Indian Rosewood fretboard, the Josh Homme signature has an upgraded Streaky Ebony fretboard.
The Maton pickups are swapped out for a Lollar Imperial High Wind in the bridge position and a Lollar Imperial in the neck to give the guitar an even fuzzier tone. The strings are held in place with a Tonepros bridge and a Trapeze Tailpiece.
Ever since its issue, this has become perhaps, Josh's main weapon of choice, alongside his Belaire and other Maton pieces, one could say that these guitars are responsible for Homme's distinctive heavy, bulky sound. It's fair to note that this particular piece is somewhat responsible for curing Josh of the severe depression he suffered back in 2013, it served as an incentive to remain involved in music during the recording sessions and throughout the entire "Like Clockwork" era.
His involvement with Maton was a symbolic comeback from the edgiest brink, Queens of the Stone Age has been in, so there's little room for argument regarding the relevance of this guitar.
Motor Ave Belaire

| | |
| --- | --- |
| Finish | Black and White/Black and Red/White and Black |
| Years Used | 2004 to Present |
Just before the decade flipped over to 2010, a Motor Avenue Belaire started to make frequent appearances on the stage. The Motor Ave Belaire came in somewhat during the 2004-2005 period, completely replacing Josh's ES-335. Nevertheless, this is a guitar that was largely preset during the recording sessions of "Lullabies to Paralyze", when Homme teamed up with Billy Gibbons to "Burn the Witch"
Compared to the 335, the main difference is the flat top, its single-cutaway, and its slightly wider waist, making the guitar seem much larger. Belaire models are all mahogany, including the body, back, and neck, but that's about where the standardization ends. Players can customize the features, finishes, and hardware they want on their Belaire to suit their preferences, making it a traditional custom six-string.
Homme's primary Belaire has a white finish, metallic aluminum pickguard, and a trapeze tailpiece. Although he doesn't typically discuss his guitars and gear publicly, pictures of Homme's Belaires (coupled with Motor Ave's pickup offerings) indicate that he uses WolfeTone Dr. V Humbuckers for both the neck and bridge positions. He also uses ebony fretboards with either the Mother of Pearl block inlays like on his red Belaire (nicknamed Ryder, after his son) or double parallelograms like on his white Belaire (nicknamed Camille, after his daughter). If you can't remember which one is which, their names are inlaid on the headstocks.
Although Homme is known for regularly switching guitars over the years, the Motor Ave Belaire has become a staple in his guitar rig for almost a decade. You can see Homme shred his black Belaire back in 2009 playing with his supergroup, Them Crooked Vultures, with fellow rock icons Dave Grohl and John Paul Jones. Homme can still be seen with a Belaire over his shoulder playing "Go with the Flow" nine years later in 2018.
Echopark Custom Crow

| | |
| --- | --- |
| Finish | Natural Sunburst |
| Years Used | 2013 to Present |
In 2013, Gabriel Currie, the luthier for Echopark guitars, got a phone call saying that Queens of the Stone Age was rehearsing in a nearby studio. Not wanting to miss a solid networking opportunity, Currie grabbed a few of the pieces he had laying around and headed over to meet the band and introduce his brand. When the luthier showed up, Homme immediately took a liking to the Downtower Custom Koa. He loved how the "beefy" neck fit his hands, and the feedback-resistant P90 pickups were ideal for his loud, shaggy tone.
After borrowing the guitar for a week, Homme pulled Currie aside and asked if he could buy an Echopark model. Of course, Currie would have loved to see his pieces on a QotSA stage, but he only had one available at the time. So, he offered to build custom guitars for the band. Naturally, they all jumped on the opportunity.
Fellow QotSA guitarist Troy Van Leeuwen knew exactly what kind of model he wanted, but Josh was a bit more unsure. Therefore, he got a completely custom guitar from the ground up. As for Homme's guitar, Currie used reclaimed 200-year-old Honduran mahogany for the back. He reclaimed the wood from a library that was demolished in LA. He loved the solidity of the old wood. It's dry, completely stable, and has unmatched resonance. Since Homme prefers semi-hollow guitars, Currie chambered the historic mahogany and added a 300-year-old burl walnut top. The top wood was so old that it still had knots, moss, and dirt in the crevices!
The guitar's body has a double-cutaway shape, reminiscent of the Gibson SG. The incredible wood on the model was finished off with a trapeze-style tailpiece, modeled after a rare 1950s Kay guitar, and a tortoiseshell headstock and pickguard. To say this six-string is "one of a kind" is an understatement. It took a combined 500 years to make!
When Currie brought the model in for the big reveal, Homme was ecstatic. He took the guitar on stage that very night for the KCRW special Queens of the Stone Age was shooting in LA. The two have been inseparable ever since. The "Crow" guitar—as it became known—has graced countless stages and studio appearances all over the world.
1984 Ovation Ultra GP 1431

| | |
| --- | --- |
| Finish | Black/Sunburst/Red |
| Years Used | 1985 to 2009 |
Before Homme took the reigns of one of the most popular modern rock bands of all time, he was just a young aspiring musician with a whole lot of dreams. After seeing Carl Perkins perform at a music festival in Idaho, he went to a local Sandpoint guitar shop and bought his first electric guitar: an Ovation Ultra GP 1431. Unlike the semi-hollow pieces home uses in his modern endeavors, the Ultra GP is a "hardbody" guitar—which is Ovation's name for solid-body. It was supposed to be a competitor to Gibson's Les Paul. In fact, the "GP" stands for "Guitar Paul."
The Ovation Ultra GPs had a heavy, solid, hardwood body and a set neck, topped with a rosewood fretboard and block inlays. The hardware was top-notch. These guitars featured two DiMarzio Super 2 pickups, a Schaller tailpiece, and dual volume and tone knobs for each pickup. With the screaming pickups and the solid body, the sustain on the Ultra GPs was incredible. But despite the high-quality parts and manufacturing, these models didn't sell the way Ovation had hoped. The Ultra GP was discontinued in 1984 after a very limited production run. Some accounts estimate as few as a couple of hundred guitars were ever made. Luckily, Homme was able to pick up a few over the course of his career.
Homme used Ultra GPs for much of his early career, including in his first band Autocracy when he was 12, all the way through Queens of the Stone Age and his supergroup Them Crooked Vultures. Over time, he managed to purchase at least three Ovation Ultra GP 1431s in different finishes: black (the original), red, and sunburst.
Due to Queens of the Stone Age's success (among other punk and grunge bands in the 90s), the previously unsellable Ovation Ultra GP has now become one of the most desirable guitars out there, retailing for around $3,000 or more—if you can even find one.
Burns Double Six

| | |
| --- | --- |
| Finish | Green Burst/Red Burst |
| Years Used | 2011 to Present |
Back in the early 10's Homme picked up a first Burns Double Six on the road from the West Coast. The guitar would remain as an almost exclusive studio and private piece up until Homme got an invitation from Iggy Pop to collaborate in the icon's latest project and band, Post Pop Depression.
Initially introduced back in 1963 as a niche/underground piece. The Burns Double Six offered one of the most user-friendly alternatives to 12-string guitars, while also providing a unique rounder sound that would fit just about any genre out there. It is made out of a basswood body and a bolt-on hard rock maple neck, sporting one-of-a-kind vintage Tri-Sonic pickups for measured crisp and creamier sounds.
Homme's eccentric 12-string would fully enter the action in 2016 when recording "the album that changed his life" "Post Pop Depression, it would make a feature on songs like "Sunday" and "American Valhalla". On another hand, the Double Six would also become a regular feature on stage, memorably, when the supergroup played live at KCRW and Austin City Limits back in 2016.
Guild Songbird S4CE-NT Acoustic

| | |
| --- | --- |
| Finish | Natural |
| Years Used | 1996 to Present |
Every player needs a beat-around guitar to carry with them on the road—something to pull out on the bus or in the hotel room when inspiration hits. For Josh Homme, that model is the Guild Songbird S4CE-NT. The Guild Songbird is technically an acoustic guitar, but it's super thin and plays like an electric. Homme likes to use it to pick around in hotel rooms between shows and practices. In an interview for Guitar rings, he says that he always liked the Guild amps and guitars because "they seem like this forgotten craftsman time."
Even though it's a thin piece, this little acoustic throws off a good bit of sound with tons of mid-range tones. It features a mahogany back and sides and a spruce top. If you want to plug it in, this acoustic features Guild Transducer electronics and a preamp to get the most from its acoustic tone.
Homme picked up his Songbird back in the mid-90s and typically uses it on the road between shows and in a few recordings. Although he rarely plugs it into an amp, he did use it on stage when Queens of the Stone Age played a stripped-down performance at the Museum of Old and New Art (MONA).

Gibson J-45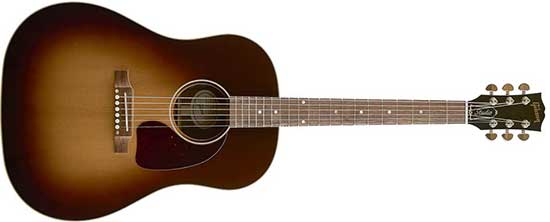 Although Josh might not be the kind of player you see often with an acoustic, this Gibson piece came through several special occasions back in 2012 and 2013 when Queens of the Stone Age started stripping back some of their most iconic tunes. Reportedly, the J-45 came directly from Rancho de la Luna as a present to Homme, since then, this acoustic six-string has remained steady on the tour bus despite rarely getting a glimpse at the limelight. Homme's J-45 is evidently a rendition of this 1942 classic, it's been nicknamed "The Workhorse" given its metallic and warm brass sound, it is to many critics and experts the standard of how an acoustic guitar should sound. It features a mahogany back and sides, while its top is hand crafted Sitka spruce. As a fun fact, this "vintage" sunburst came from an original glossing process of the wood from back in the day, now a few layers of nitrocellulose make for a shinier finish.
Motor Ave La Mirada "Wolf"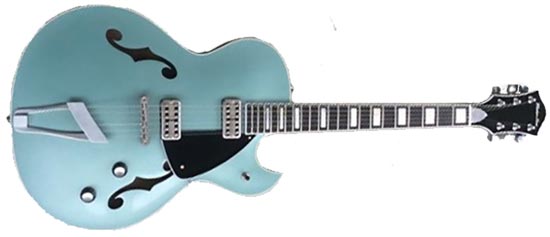 | | |
| --- | --- |
| Finish | Pelham Blue |
| Years Used | 2018 to Present |
In 2018, Josh made a few live appearances with another Motor Ave guitar, but it wasn't his tried-and-true Belaire this time. Instead, he showed up on stage with a beautiful Aged Pelham Blue Lamirada. The Motor Ave Lamirada is a semi-hollow guitar, just like the Belaire, except with a different shape. Instead of the wide, round shape that the Belaire sports, the Lamirada is more reminiscent of the Gibson ES-175. It has a thinner waist with a sharp single cutaway.
This guitar is built using the same techniques used to build violins, so it's incredibly resonant. Like most of Homme's favorite models, the Lamirada also has a solid mahogany center block to boost sustain and decrease feedback from the amps. The body features an all-mahogany construction with carved and book-matched back and top along with bent mahogany sides. Homme's model also has an ebony fretboard with block MOP inlays. The strings rest on a Tonepros AVR 2 bridge and are held in place with a handmade trapeze tailpiece.
Josh Homme's Lamirada is equipped with dual TV Jones Classic Filter-Tron pickups, a classic three-way switch on the horn, and two control knobs (one volume and one tone). Later appearances of Homme's Motor Ave Lamirada show the name "Wolf" inlaid on the headstock—after his son.
Ever since the release of "Villains" Josh has toured with this particular six-string with him and it's been a regular stay in his rig. You can see this guitar in action at many live performances from 2018 on, like this rendition of "Feet Don't Fail Me" from the Montreux Festival in Werchter.
Fender Jazzmaster Troy Van Leeuwen Signature

| | |
| --- | --- |
| Finish | Oxblood |
| Years Used | 2015 to Present |
Whether it's as a homage to his Queens of the Stone Age vampire pal or just a knack for collecting rare gear, Josh Homme has made quite a few appearances on stage with the Troy Van Leeuwen Fender Jazzmaster ever since his tenure with Iggy Pop started getting traction. As it is to be expected, Homme got one of these signature six-strings way before their introduction to the market in 2020 and has made some fair use of it both in-studio and on stage ever since then. Nevertheless, when it comes to Josh, this is a Post Pop mainstay rather than a QOTSA one.
The Troy Van Leeuwen Jazzmaster started its prototype phase back in the mid-2000s when Van Leeuwen first joined the Stone Rock Gods. Reportedly Troy was looking to make his very own outstanding sound with the initial custom-made model, featuring Pure Vintage 65′ pickups on both the neck and bridge position in addition to the ash body and maple bolt-on neck that sport an iron age finish.
While it may not be one of Josh's classical oddball guitars, this particular Jazzmaster is a brilliant guitar to experiment on, hence the compelling sound Queens of the Stone Age is known to give. Homme has occasionally popped this guitar in a few live performances since 2016 with his main tenure, however, you can usually hear it on the band's sound with Troy playing it.
Echopark Esperanto Z
| | |
| --- | --- |
| Finish | Cadillac Green |
| Years Used | 2018 to Present |
Following the wild success of his custom Echopark Crow, Josh Homme turned to luthier Gabriel Currie once again for another custom-made masterpiece. This time, he created a large semi-hollow guitar with a double cutaway. Both Homme and Currie loved the feel of the old Gibsons, specifically the ES-330 and Casino. When the duo worked together back in 2013, they came up with the Echopark 313 production model. It had a similar body style to the old ES-330s and Casinos, except it was a bit more bulbous. It had a laminate maple top with mahogany center block, sides, back, and neck.
Just a few years later, Currie developed another custom model for Homme called the Esperanto Z. It was based on the previous 313 model, with a few more custom touches. It featured dual humbuckers, with a custom-wound Arcane pickup in the bridge position and a Gold Coil in the neck. The pickups are controlled by four knobs: one volume and one tone each. The entire guitar is finished off with a gorgeous Cadillac Green finish and gold trapeze tailpiece.
Josh Homme used his green Echopark Esperanto Z for several live performances in 2018, including this version of "Burn the Witch."
The green Esperanto Z wasn't the only concoction Currie had up his sleeve, however. He also built Homme a custom 9-string guitar based on the Z specs. The only difference between the two pieces (aside from the three extra strings, of course) is that the 9-string has a white finish. The extra strings are doubles of the low E, A, and D—similar to how a 12-string would be set up. The higher three strings are regular. Homme uses his 9-string Echopark for a few specific songs, like "The Evil Has Landed."
Epiphone ES-335

| | |
| --- | --- |
| Finish | Ebony |
| Years Used | 2002 to 2007 |
Epiphone guitars are typically looked down upon by many guitarists. Sure, they may be cheaper than Gibson models, but they can rock just as hard! Josh Homme knows this, which is why he frequently used a regular old Epiphone ES-335 on stage for much of the 2000s. As far as anyone can tell, there's nothing special about Homme's Epi ES-335. It's the same piece you can pick up at any guitar shop for around $450. The only "alteration" Homme made is that he use to tune it on E Standard.
You can see this guitar in action any time he plays a song in E Standard, like "Monsters in the Parasol." As he built relationships with other guitar manufacturers, Homme's Epiphone was eventually phased out in favor of other semi-hollow guitars, like his Echopark Esperanto Z.
Popular Related Article: Josh Klinghoffer Guitars Overview
1968 Teisco V2

| | |
| --- | --- |
| Finish | Red |
| Years Used | 2005 to Unspecified |
One of the most unusual guitars that Josh Homme has ever brought onto the stage (or into the studio, rather) is a 1968 Teisco V2. This piece was featured in the Queens of the Stone Age album Lullabies to Paralyze and made a few appearances when the band played the 2005 AOL Sessions. The Teisco V2 is a funky-looking model, with wavy curves and an offset neck pickup. It features two Teisco blade-style single-coil pickups that produce a sound described as a "sparkly jangle." It has been used by surf, indie, and grunge bands since the 1960s.
This guitar has two knobs—a master tone and a master volume—and a Teisco tremolo bridge. The body is made out of Luan, which is a type of Asian mahogany. Unlike Homme's many other instruments, the Teisco is a solid-body guitar, so he uses it on only a few songs.
If you want a good shot of Homme using his old vintage Teisco, you can see him rocking it on the 2005 AOL sessions on songs like "Little Sister" and "Long Slow Goodbye." This interesting piece was short lived and didn't make many more appearances after 2005.
Table Showing Each Guitar Josh Homme Has Played at Every Point in His Career
| Make | Model | Color/Finish | Years |
| --- | --- | --- | --- |
| Ovation | 1984 Ultra GP 1431 | Black/Sunburst | 1985 to 2009 |
| Guild | Songbird S4CE-NT | Natural | 1996 to Present |
| Epiphone | ES-335 | Ebony | 2002 to 2007 |
| Maton | BB1200 | Wine Red Sunburst | 2005 to 2013 |
| Teisco | V-2 | Redburst | 2005 to Unspecified |
| MotorAve | BelAire | White/ Black With White Pickguard | 2005 to Present |
| Burns | Double Six | Redburst/Greenburst | 2011 to Present |
| Maton | BB1200JH | Satin Tobacco Sunburst | 2013 to Present |
| Gibson | J-45 | Vintage Sunburst | 2013 to Present |
| Echopark | The Crow | Natural Sunburst | 2013 to Present |
| Fender | Jazzmaster Troy Van Leeuwen Signature | Oxblood | 2015 to Present |
| MotorAve | La Mirada "Wolf" | Pelham Blue | 2018 to Present |
| Echopark | Esperanto Z | Cadillac Green | 2018 to Present |
Josh Homme Amps Overview
Undeniably, Homme's sound doesn't get to the funky, shaggy style we are familiar with without the help of a few amps. Constantly looking for new ways to make his tone even more unique than it already is, Homme has invested in quite a few different amps, heads, and speakers over his decades of rocking on the stage.
Homme is a big fan of Ampeg and GreedTone amps—especially vintage models—but he has used several different manufacturers throughout his career. Here's a rundown of the amps Josh Homme has used in both the studio and on the stage.
Ampeg VT-40
For most of his career, Josh Homme has relied on the unique tone of Ampeg amps to create his sound. Specifically, he prefers the Ampeg VT-40. In an interview, Homme said he's been using the VT-40 since he was 13 years old. Ampeg is great for two things: volume and volume. When paired with the right guitars and pedals, they produce an immense fuzzy tone, which is perfect for Homme's style and the types of shows he plays.
Over the course of his musical trajectory, Homme has used both VT-40 heads and combo amps to push his live sound. They just produce the exact tone and volume that he needs for a rocking performance.
Ampeg VT-22
The Ampeg VT-22 combo amp is a powerful rock music projector. It comes stock with a whopping 12 tubes and 4 7027 A Power Tubes for an incredible 120-watts of power. Because Josh Homme never does anything halfway, he rocks three of these intense amps whenever he goes on stage, each with its own dedicated 2×12 cabinet. Due to its immense power, the Ampeg VT-22 is great at pushing muddy, shaggy mid-tones, which, as you may have noticed, is a perfect fit for Josh. The sturdy construction also makes the VT-22 combo a go-to for many touring musicians. Although they weigh a hefty 88-pounds (so bring your roadies), they're built to last. No matter how hard the road conditions, they hardly ever need repairs.
You can see these amps in the background as Queens of the Stone age throws down "Song for the Dead" with fellow rocker Dave Grohl at Werchter in 2002.
GreedTone JHI-100
The GreedTone JHI-100 is 100-watts of all-tube perfection. It was built specifically for Josh Homme (hence, the "JH") to help him create his tone and to provide unmatched clarity for his rhythmic, minor-chord-based playing. What makes this amp so special is its simplicity. It's all handmade and wired component to component. There's no circuit board to interfere with the pure tube sound (or to break while on tour). It features four EL34 tubes and three 12AX7 (JJ) preamp tubes to drive the 100-watts of sound.
When it comes to live shows, Homme's dual JHI-100 heads each have a dedicated GreedTone RG212 cabinet to send the sound as far as possible. The RG212 has two uncovered 12-inch speakers tilted up at a 45-degree angle for maximum projection.
The entire ensemble is finished off with a striking red vinyl skin that has become a staple in the background of Queens of the Stone Age shows. You can see these heads and speaker in action in almost any live performance after the Clockwork Tour in 2013.
Popular Related Article: Thurston Moore Guitar Rig Rundown
1939 Gibson EH-150
As previously mentioned, Homme is a big fan of vintage amps. They just don't make them the way they used to! When Homme helped unite the rock supergroup Them Crooked Vultures, he was using a 1939 Gibson EH-150 to power his rig. While most guitarists would be afraid to take something so old on tour, Homme just couldn't resist its incredible sound. It produced the perfect tone he was looking for.
Unlike his sound in other bands like Queens of the Stone Age, Homme went for a more typical "rock" sound when working with John Paul Jones and Dave Grohl in Them Crooked Vultures. It was a bit cleaner with more of a bluesy edge, and the EH-150 was perfect.
If you look closely, you can see Homme's vintage Gibson amp in the background as he plays "Elephants" with Them Crooked Vultures in 2010.
Josh Homme Pedals and Effects Overview
Josh Homme's unique tone takes a bit more than an awesome guitar and some great amps. He always has a few effects pedals on stage with him to help him achieve the sound just as he wants it.
Quite a few pedals have come and gone on the Homme pedalboard over the years, but here are some of his favorite effects that have graced stages around the world.
Modified Univox Super Fuzz U-1095 "The Demon"
When it comes to fuzzy sound, Homme isn't messing around. He relies on this modified Univox Super Fuzz Pedal which provides a vintage and personalized sound. It gives players a low to medium-high gain drive with plenty of distortion capabilities. According to some sources, The Super Fuzz is designed to get the tone to "just on the verge of breakup", even at low amp drive settings. It's a perfect candidate for his pedalboard.
Electro Harmonix POG
In the world of guitar effects, there's no substitute for the Electro Harmonix Polyphonic Octave Generator. For those who find the name to be a mouthful, they just call it the POG. The POG helps guitar players dial in the exact tone they want by adjusting settings like attack, low-pass filter, detune, and octaves (both up and down). For players who want to create a truly unique tone, like Josh Homme, the POG is a must-have on your pedalboard.
Volume Pedal
Josh always has a volume pedal out on stage with him. Not only does this help when switching between his multiple pieces (you can easily turn them off to avoid string noise during the swap), but he also uses it to control the dynamics in the songs. Over the years, Homme has used several different volume pedals to help create his live sound. He has been seen with both of these brands on stage:
Dunlop DVPI
Ernie Ball VP Jr
Wah Pedal
Wah pedals make up a good part of Josh Homme's tone. Although he uses active wah pedals for solos and special sections of songs from time to time, Homme typically just uses them as standard stationary effects pedals. He'll set them to one frequency and turn them on and off as needed to achieve the tone he wants. During his musical trajectory, Homme has used a few different wah pedals to get the right tone. Here are a few of the regulars that grace his pedalboard:
Dunlop Cry Baby
Fulltone Clyde
Vintage Morely
Dunlop Cry Baby Q-Zone
Moogerfooger Low-Pass Filter
Homme's guitar tone is frequently referred to as "fuzzy," but it's also mellower and more muted than many of his fellow lead guitarists. To create such a sound, you need an awesome low-pass filter to cut the higher frequencies and give you that nice thick bass sound. When it comes to low-pass filters, Josh turns to the Moogerfooger. The Moogerfooger low-pass filter is an all-analog sound shaping pedal. With it, Homme can adjust minute details like Resonance Amount, Cutoff Frequency, Signal Mix, and Envelope Amount to get the exact tone he wants. And because it's analog, he doesn't get any unwanted synthetic-sounding tones as you'd get from many digital filters.
Popular Related Article: Billy Gibbons Guitars and Gear List
Digitech Whammy Pedal
Josh Homme loves to blend "weird" tones into his guitar sound to create something new and unique. Although it's mostly used in the studio for experimenting, Homme turns to the Digitech Whammy pedal for his pitch-shifting needs. The Digitech Whammy pedal includes all kinds of pitch shifting abilities, like adding octaves (even two octaves up or down!), dive bombs, drop tunes, harmonies, and much more. You can hear it in action when Homme plays the solo in "I Sat by the Ocean" at Live on Letterman.
Fulltone Fat-Boost FB-3
With so many pedals changing and altering his guitar sound, Josh Homme needs something to clean up all the signals before they head to the amp. That's where the Fulltone Fat-Boost FB-3 comes in. The Fulltone Fat-Boost is a field effect transistor pedal that provides a touch of gain without distorting the tone. Although the pedal is adjustable to add a little extra oomph to any part of your sound, Homme uses it to add a touch of boost to his low-end. That way, the guitar, and the bass meet in the middle and blend better into the mix. If you happen to catch QotSA during a live performance, it's sometimes hard to distinguish between the six-string and bass parts. That's because of the FB-3 sitting in Homme's pedalboard.
SIB Echo Drive
To add a little delay to his already-muted guitar sound, Homme turns to the SIB Echo Drive pedal. The Echo Drive is technically a combination delay/overdrive pedal, but it leans more heavily to the delay side. According to Vintage Guitar Magazine, it's "a delay with a little dirt mixed in."
Josh uses the Echo Drive to add delay to his tone without unnecessary distortion. He's not looking for that blues or rock-type distortion. He prefers the fuzzy, muddy tone. With the muffled repeats and dirty sound, the SIB Echo Drive pedal has become a staple on Homme's pedalboard.
Josh Homme Today
Even though he's been rocking for over 30 years, Josh is showing no signs of slowing down. Not only is he still touring with one of the most popular rock bands of the modern era, Queens of the Stone Age, but he's also scheduled for tours with both Eagles of Death Metal and Desert Sessions. There aren't many guitarists who tour with THREE bands at once! There have even been recent talks of Homme reuniting with his former band Kyuss.
Wrap Up
To create such a unique sound, Homme has amassed quite the arsenal of equipment to power his electrifying live performances. Here's a rundown of the guitars and gear that Josh Homme has used over the years.
Just like Homme's vibe, the guitars and gear he has used throughout his career are utterly strange and atypical for a legendary Rock guitarist. Homme has certainly remained a steadfast face and icon to the niche spirit of Rock N' Roll ever since his debut with Queens of the Stone Age. His style, while unconventional, delivers a shout-out to aspiring musicians to simply take up an instrument start playing, experimenting, and giving their best with what they got.
The past two decades made home one of the standing bastions of contemporary guitar music, from fronting one of the heaviest rocking bands out in the scene, to backing up Iggy Pop and all the way to producing one of Britain's most successful acts, Homme has done it all. With killer swagger and an innovative input in music, Homme is a guy worth studying and looking u to when your aim is melting faces.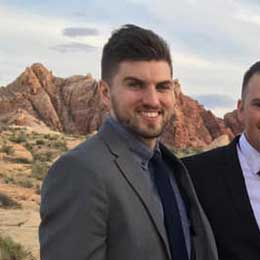 My name is Chris and I've had a passion for music and guitars for as long as I can remember. I started this website with some of my friends who are musicians, music teachers, gear heads, and music enthusiasts so we could provide high-quality guitar and music-related content.
I've been playing guitar since I was 13 years old and am an avid collector. Amps, pedals, guitars, bass, drums, microphones, studio, and recording gear, I love it all.
I was born and raised in Western Pennsylvania. My background is in Electrical Engineering, earning a Bachelor's degree from Youngstown State University. With my engineering experience, I've developed as a designer of guitar amplifiers and effects. A true passion of mine, I've designed, built, and repaired a wide range of guitar amps and electronics. Here at the Guitar Lobby, our aim is to share our passion for Music and gear with the rest of the music community.