It seems that new boutique pedal manufacturers are appearing constantly these days, which is great for guitarists who want to add the finest effects to their signal chain. Boutique pedal brands tend to be innovative, and they don't shy away from challenging the norms. Their willingness to experiment and think outside of the box leads to effects that sound unique, which attracts a certain type of musician.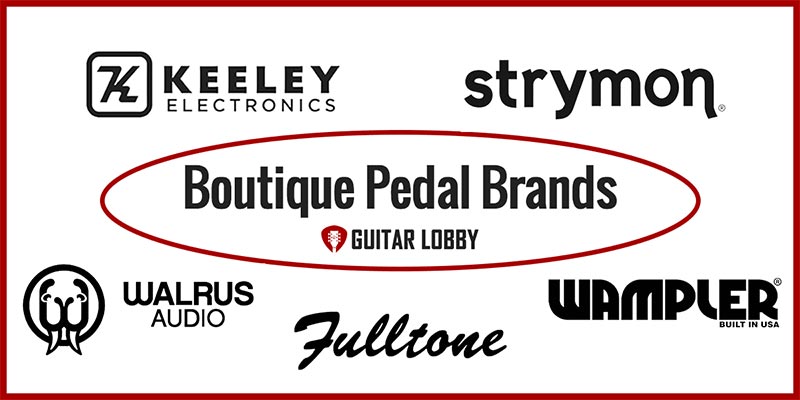 Due to the increase in boutique pedal manufacturers in recent years, it's difficult to know which ones you should be familiar with and which are unlikely to stand the test of time. This guide includes a breakdown of the best boutique pedal companies making effects pedals today.
Here Are the 16 Best Boutique Pedal Brands
1. Empress Effects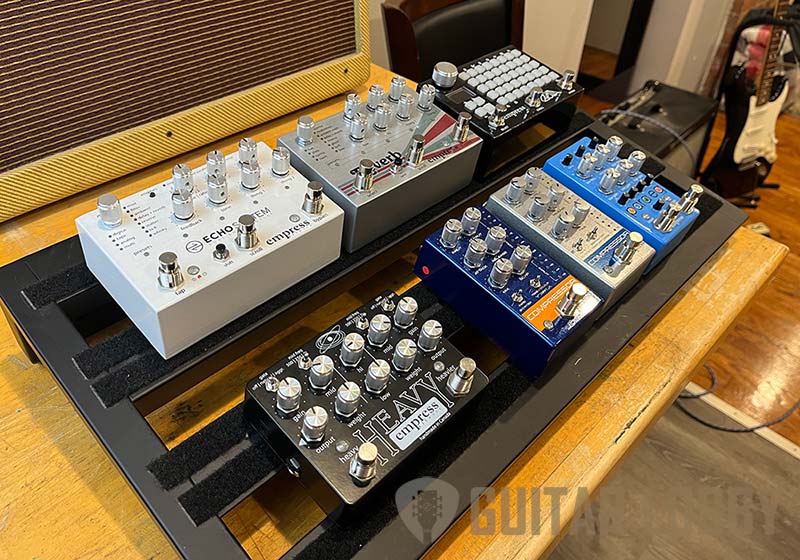 I can honestly say that every pedal I've come across from Empress Effects has impressed me greatly. Renowned for intuitive control layouts and pristine sound quality, this boutique pedal brand has gone from strength to strength since its inception around 15 years ago.
Empress Effects was originally formed unintentionally when founder Steve Bragg was asked by a friend to come up with a design for a tremolo pedal. Bragg got to work on the project. When he was done his peers were astonished by the quality of his creation, which included controls and features that were unique compared to other tremolo devices.
Since then, Empress Effects has designed a wide range of pedals for guitar, bass, and other instruments. Their creations stretch across all categories of effects, including dynamic pedals, gain-based pedals, and unique multi-effects devices.
Their boutique pedals often include an array of controls and parameters, which allow musicians to shape the effect meticulously and deliberately. They're also built using high-quality, robust components to ensure longevity.
2. Strymon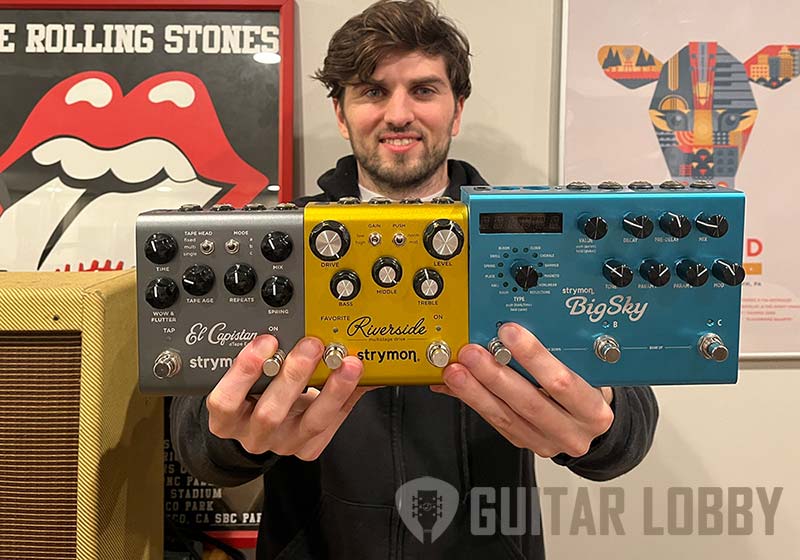 Originally named Damage Control, Strymon switched to their now world-renowned brand name in 2009. This marked a departure from the tube-based stompboxes they produced in their formative years, as they began to focus more on boutique digital pedals.
I've had the pleasure of testing several Strymon pedals, and each one has left me awestruck by their unique flavor of guitar effects. They've been recognized by the industry on many occasions, winning many accolades from highly respected guitarists and collecting awards for their outstanding creations.
One of the things I love the most about Strymon is their dedication to developing their pedals. Each new creation is different from the rest, and they tend to build upon their successful designs to keep innovating and moving their brand forward. Their wide range of boutique pedals caters to all styles of guitar playing and musical genres.
3. Keeley Electronics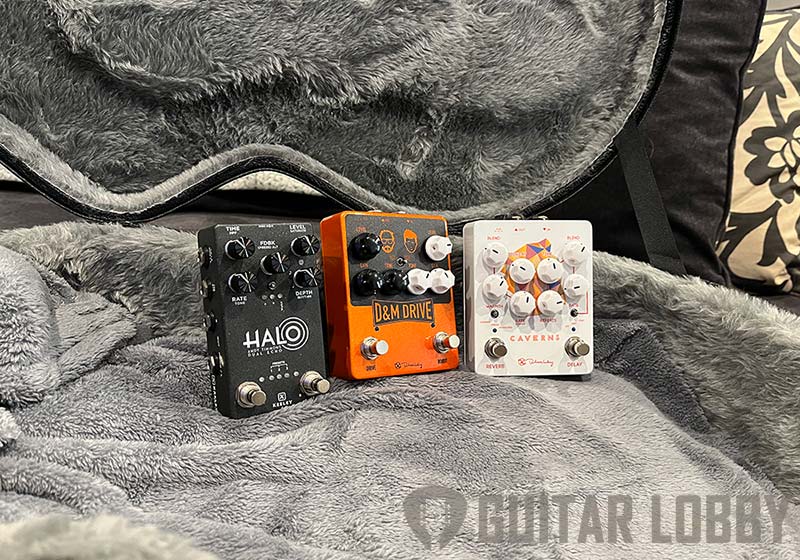 When Robert Keeley began to dabble in modifying guitar pedals and creating specialized kits for guitarists to upgrade their stompboxes, he probably couldn't foresee the success that would follow. Musicians were so impressed by his work that the demand increased exponentially, leading to the birth of Keeley Electronics.
Keeley Electronics is widely regarded as one of the original catalysts of the boutique pedal movement. Their range of high-end devices, which includes reverb and delay, reverb, distortion, overdrive, and compressor pedals features some of the most innovative models on the market.
Many manufacturers claim to be worthy of the boutique title, but Keeley is truly deserving of this accolade. They continue to branch out into exciting new effects and are used by musicians all around the world. In our opinion, they make some of the best boutique guitar pedals out there.
4. Wampler Pedals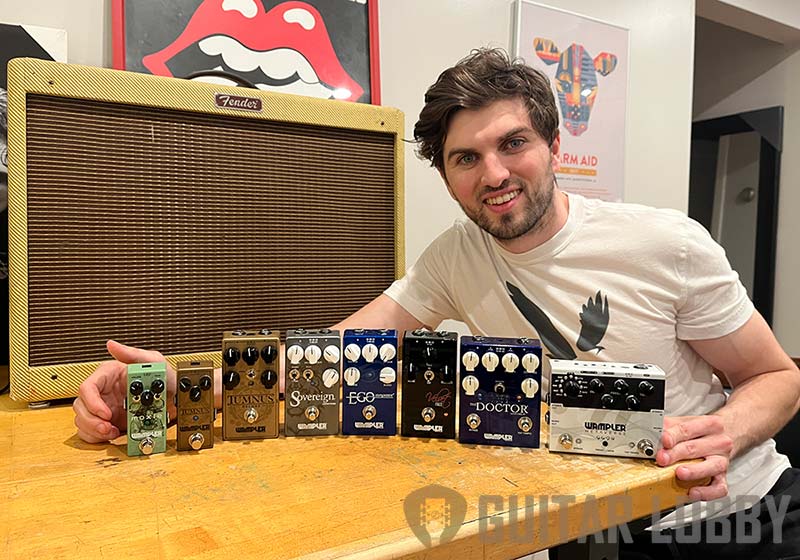 Renowned for its practicality and affordable price tags, Wampler is a highly popular boutique pedal brand. The brainchild of prolific effects creator Brian Wampler, this company has churned out exceptional pedals at an impressive rate in recent years.
Brian Wampler originally experimented with customizing the circuitry and controls of already established overdrive pedals, to create the sounds he envisaged. This turned into a slight obsession, and his determination to bring his desired tones to fruition lead to the creation of Wampler, a brand name under which he would release his unique designs.
Wampler pedals cover all categories of guitar effects, from overdrive to delays and everything in between. They also look the part, with distinctive fonts printed on the pedals, and stylish color schemes making them stand out among the crowd of boutique devices.
5. JHS Pedals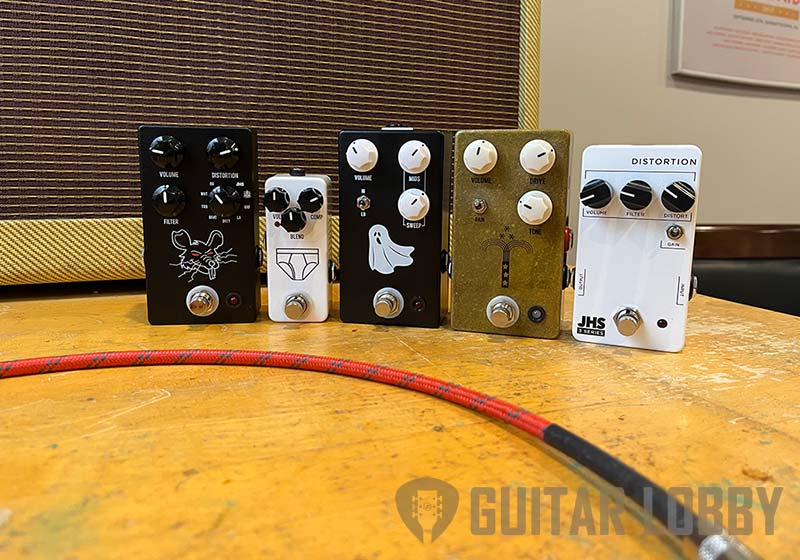 JHS is one of the few guitar brands that have one foot in the world of boutique pedals, and the other in the world of 'standard' pedals. They're equally as popular amongst budding guitarists as they are professionals, which is an indication of their versatility.
The story of JHS' origin is inspiring. Founder Josh Scott would initially take existing pedals and customize them to diversify the effects they produced. He then spent years touring and working with musicians, which allowed him to directly learn about their requirements and what they would ideally like their pedals to be capable of.
Almost twenty years on, JHS Pedals has grown into a world-renowned boutique brand. Unlike some other pedal companies who have lost sight of their original ethos after experiencing success, JHS still hand-makes the circuits for their pedals to this day.
6. Walrus Audio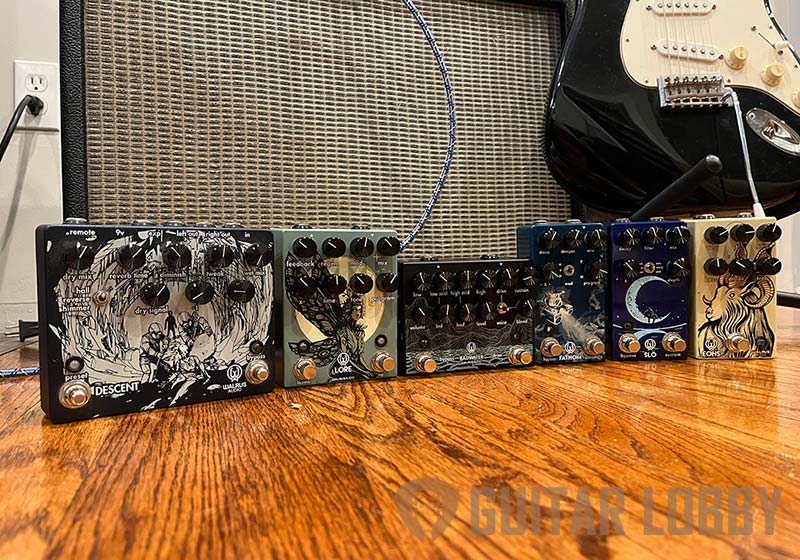 Walrus Audio represents a new generation of boutique pedal manufacturers, with their stylish designs and effects that challenge the preexisting norms. One of the things I like the most about this US-based brand is their dedication to ensuring that every pedal they release combines traditional guitar-based effects with unconventional, unique features.
The sonic and tonal qualities of Walrus Audio's pedals are indisputable, but it's their aesthetical designs that have propelled them to new levels of popularity. Rather than settling for simple designs, the brand decorates its devices in an artistic manner, which makes them easy to identify compared to other boutique pedals.
Combining two or more effects into one pedal is another trait that is synonymous with Walrus Audio. This doesn't necessarily mean they use effects from the same groups together, with some pedals offering modulation and timing-based effects for example. This leads to highly unique pedals which are well suited to guitarists who like to push the boundaries of their instrument's capabilities. Walrus Audio has certainly earned its spot as one of the best boutique guitar pedal brands out there.
7. Fulltone
Many pedal brands are considered boutique these days, but Fulltone was one of the original pioneers of the field. With a rich history dating back to the early 1990s, the company has been responsible for many iconic effects pedals, particularly in the modulation and distortion categories.
Many Fulltone pedals produce classic vintage tones and boast intuitive controls that aren't difficult to use. They're a US-based company and are also famous for the attention to detail they give to the designing of their pedal's circuits, which is largely responsible for their legendary tones.
With the technology of effects pedals advancing at a rapid pace over the past twenty years, I find it remarkable that Fulltone has maintained its position at the forefront of an ever-changing industry. Their commitment to simplicity and quality has helped the brand to connect with each new generation of guitarists that have emerged in the past two decades.
8. EarthQuaker Devices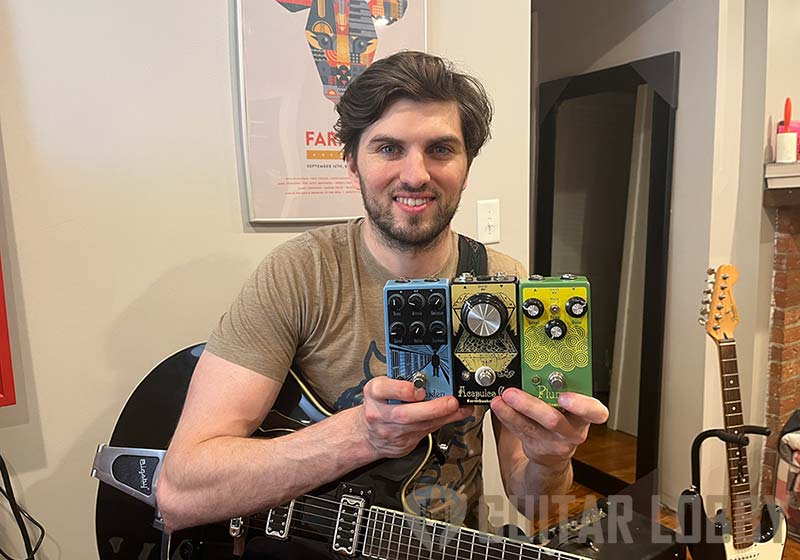 Officially founded in 2004 by musician Jamie Stillman, the origins of Earthquaker Devices can be described as a musician's repair project, turned pedal design projects, turned full-blown circuit design obsession. Fast forward to today and EarthQuaker Devices now has a 40+ product lineup of some of the finest boutique guitar pedals on the market, all designed and assembled in Akron Ohio.
9. Bogner Amplification
Although Bogner is best known for their impeccable range of tube amplifiers, they've compacted their legendary tones into some very impressive boutique pedals. Bogner amps are popular mainly amongst metal and heavy rock guitarists, due to their red-hot saturated tones. Their pedals also embody this quality.
It's not uncommon for amplifier manufacturers to venture into the realm of effects pedals, with industry heavyweights such as Fender, Orange, and Vox doing so in recent years. Bogner's pedals are, in my opinion, superior to any other amp brand that has crossed over into guitar effects, simply because they sound incredibly similar to their tube-driven amplifiers.
Design-wise, you can expect easy operation when using Bogner's boutique pedals. Some of their devices include a range of switches and rotary knobs, while others are quite minimalistic in design. Either way, Bogner tends to include all of the essential features required to create a functional pedal suitable for all guitarists.
10. Diezel Amplification
Like Bogner, German-based Diezel is best known for their high-octane tube amps, but they've also established themselves as a leading producer of boutique overdrive and preamp pedals. The Diezel tone is characterized by a prominent mid-range and plenty of gains!
The brand was originally formed back in 1994, but it was the release of their VH4 guitar amp a few years later that propelled Diezel to new heights. Many world-renowned guitarists have used that amp over the years, but due to its high price tag, it is considered less accessible to amateur musicians.
To make their powerful tones available to the masses, Diezel ventured into boutique pedal designs. They created a small number of overdrive and preamp pedals, all of which offer variations on the gain-heavy sound associated with Diezel amplifiers.
11. Friedman Amplification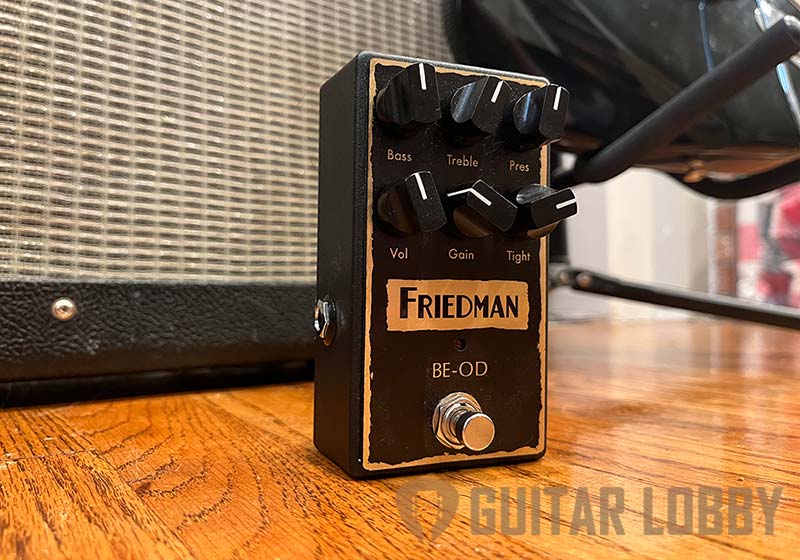 Another producer of high-end tube amps is Friedman, and similarly to the aforementioned Diezel and Bogner, this brand is also responsible for some wonderful boutique guitar pedals. Their amplifiers are of the highest quality, with pristine clean tones a staple feature on all of their cabs.
For amplifier manufacturers, boutique pedals are a great way to reach more guitarists and spread their tones far and wide. Friedman Amplification has managed to recreate their desirable overdriven and clean tones in compact stompbox formats, which has boosted their popularity amongst musicians.
In terms of their design, Friedman's boutique pedals feature many of the controls you'll also find on the control panels of their amplifiers. They're often quite simplistic, but this doesn't limit their versatility. Their larger pedals include many unique features which allow guitarists to customize their tone with ease.
12. Gamechanger Audio
The appropriately named Gamechanger Audio is no ordinary pedal brand. Formed by a group of four friends with an interest in guitar effects, this manufacturer has built a reputation for its bold experimentations and instantly recognizable boutique pedal designs.
Boutique pedals are sometimes criticized for being inaccessible to guitarists who don't have a large budget, but I respect the fact that Gamechanger Audio produces affordable devices that can be enjoyed by all musicians. And despite their reasonable cost, the brand doesn't compromise on build quality or the components they use to construct their effects pedals.
The unconventional shapes and designs of Gamechanger Audio's pedals are likely to evoke intrigue from other guitarists if they catch a glimpse of them on your pedalboard. Although they may look complex and unusual, I've found the pedals to be very easy to use, so you don't need to be an effects expert to get interesting sounds from them.
13. Red Panda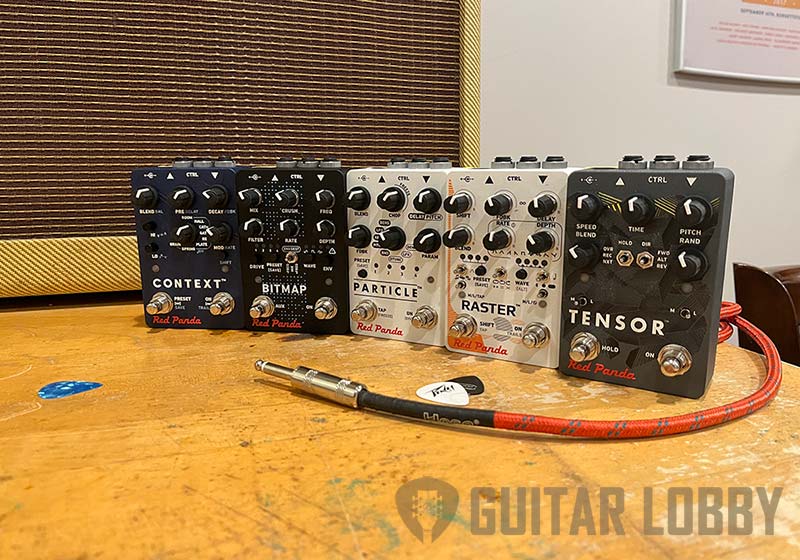 Red Panda is unlike any other boutique pedal brand. This relatively small manufacturer is based in the US, and they have built a reputation for creating otherworldly effects which transcend common categories. Each pedal has its original flavor, and the controls featured are commonly extensive.
Compared to most other pedal brands, Red Panda focuses more on the obscure side of effects. Their attention to detail can be seen in every aspect of their pedals, which is refreshing for guitarists who have become bored of conventional stompbox designs.
The process of creating Red Panda's pedals consists of firstly designing and building the circuits in their USA factory. They also have a Canada-based factory, which is where the chassis are designed and assembled, before the finishing touches are applied back in the USA.
14. Chase Bliss Audio
Chase Bliss Audio hasn't been around for very long, but in that short time, they've built a reputation as one of the most innovative, forward-thinking boutique pedal brands in the world. The story of their origins is inspiring, with founder Joel Korte naming the brand in honor of his late brother, Chase.
Joel Korte used the experience he gained working in the field of boutique guitar pedals to create his unique stompboxes. It's remarkable that in under a decade, Chase Bliss Audio has risen to the forefront of the boutique pedal market, thanks to its commitment to pushing the boundaries of analog and digital effects.
Chase Bliss Audio has become especially popular amongst experimental musicians who like to control every aspect of their effects. Each of the pedals they produce is filled with adjustable controls, many of which you simply won't find on other boutique or standard guitar pedals. They're also built like tanks, and every component is chosen specifically to add a certain quality to the device.
15. ZVEX Effects
With almost thirty years of experience, boutique pedal manufacturers ZVEX Effects has amassed a large and loyal following of guitarists across all genres. Their founder, Zachary Vex is is known for his experimentation and dedication to creating otherworldly effects pedals that are instantly recognizable.
One of the things I like the most about ZVEX Effects is that they have split their pedal selection into two categories. Firstly, they offer a range of American pedals which feature one-off, handmade designs, meaning there are no others like them in existence. Additionally, they also produce a more affordable range under the 'Vexter' label, which allows guitarists to access their exceptional effects at lower costs.
Sonically, ZVEX pedals tend to be quite experimental. They can completely transform the sound of a guitar, with atmospheric qualities that can't be found elsewhere. This explains why the brand has withstood many advancements in pedal technology over the years and continues to inspire guitarists around the globe.
16. Catalinbread
The final boutique brand featured on our list is the fantastic Catalinbread. Since its formation in 2003, this Oregon-based company has created many impressive devices which exceed the capabilities of most modern effects.
A large contributor to Catalinbread's success, in my opinion, is the fact that they've maintained a small team of pedal designers and engineers. This has allowed them to stay true to their original vision, and produce boundary-pushing effects pedals consistently.
Many Catalinbread pedals are designed to combine classic guitar tones, whether they are based on specific guitarist's sounds. Users can then modify the effects using the array of onboard controls and parameters. Catalinbread is certainly one of the best boutique pedal brands and deserves a spot on this list.
Boutique Guitar Brands & Pedals – Ultimate Guide
To many guitarists, the phrase 'boutique pedal' indicates complicated designs and high prices. Indeed, some pedal brands label their devices as boutiques simply to make them seem more high-end, to justify their cost.
However, all of the brands listed in this guide are deserving of the boutique title. This type of pedal goes beyond the capabilities of your standard stompbox, in terms of sonic quality, versatility, smoothness of operation, and design.
In the following sections, I'll outline the key qualities that boutique pedal brands offer.
Build Quality
One aspect of boutique guitar pedals that is often superior compared to standard pedals is their build quality. This is down to a combination of factors, including the materials used to construct the housing, the way that the chassis is secured, and the durability of the footswitches.
Build quality is not solely about the robustness of the pedal, but also the way that it feels, its shape, and its ergonomic design. Boutique pedal brands take great care when assembling their devices, which ensures longevity.
Design & Aesthetics
Along with their sonic qualities, boutique pedal brands focus heavily on the appearance of their pedals. Rather than using simple color schemes and designs, these pedals are often decorated with eccentric patterns and original artwork which makes them stand out.
Many boutique pedals can be identified based on their design. For example, EarthQuaker Devices, who is one of the most successful boutique brands, use distinctive artwork and fonts to decorate their pedals, and although they're all different and original, you can tell that the pedals have been made by them.
These brands may have a team of artists and designers who are responsible for the aesthetics of their pedals. Manufacturers like Red Panda have a separate factory where the housing for their pedals is designed and the artwork is printed onto the device.
Although the effects that boutique pedals produce are probably the most important aspect, one cannot deny the appeal of their striking designs and unique appearances.
Circuitry & Electronic Components
The performance of any effects pedal is correlative to the quality of its circuitry and electronic components. Affordable stompboxes often feature very basic circuits, which can be mass-produced in very little time.
Boutique pedals, on the other hand, often include sophisticated circuitry which is custom designed by a team of highly skilled technicians. This leads to an increase in the versatility of the pedal and ensures that it doesn't sound like the majority of other devices in its category.
Many boutique pedal brands share a similar origin story. The founder is likely to have started by modifying and customizing established pedals, which leads to a desire to create something new. They then use their knowledge gained from the modifying process to construct original circuits, which perhaps combine the qualities of other pedals.
Controls & Paramaters
Another thing you've probably noticed when comparing boutique pedals to conventional devices is that the former usually offer a wider range of adjustable controls and parameters. This isn't always the case, but boutique pedals do tend to feature controls that you wouldn't commonly find on other more affordable pedals.
For example, if you were to purchase a relatively cheap reverb pedal, you can expect to have control over the type of reverb, the decay time, and the mix between the wet and dry signals. A boutique reverb pedal is likely to offer these staple controls in addition to pitch and tone altering parameters, with a broader range of presets.
The only drawback of having a significant increase in the number of controls on a boutique pedal is that it can make them more complicated to use. However, the manufacturer is likely to have taken great care when designing the controls, so once you become accustomed to their functions, the intuitive layout should make it easier to navigate.
Longevity
Generally speaking, boutique pedal brands use higher quality components than their standard counterparts. Don't get me wrong, there are some brilliant affordable pedal manufacturers like BOSS or TC Electronic who create incredibly durable stompboxes, but many budget pedals are prone to buckling under the pressure of constant usage.
Several factors impact the longevity of a pedal. These include:
Chassis and housing
Electronic components
Knobs
Switches
Footswitches
Rocker plates
Boutique pedal brands are likely to ensure that all of the above components are built to last and that they are strong enough to handle the inevitable wear and tear which occurs when using them for rehearsals, live performances, and recording.
It might be tempting to fill your pedalboard with affordable devices to save on cost, but in the long run, you'll probably end up spending more to replace them. Investing in a high-end boutique pedal may cost more initially, but the likelihood of its breaking is lessened, making it a wise long-term purchase.
Versatility
One of the defining features of boutique pedal brands is that they often combine aspects of different effects into one unit. This allows musicians to blend different effects to create unique tones and sounds.
Compared to most multi-effects units, boutique pedals are likely to offer a smaller selection of effects. For example, many boutique fuzz pedals are combined with octave-shifting, or you may find a delay pedal that includes modulation controls such as LFOs and other filters.
Attention to Detail
Many of the components used by boutique pedal brands are handmade and hand designs, which gives them a level of authenticity rarely found in standard effects pedals. This attention to detail is what separates boutique pedals from the rest.
The subtleties of boutique effects pedals, whether they are linked to their sonic qualities, their appearance, or their functionality, make them very enjoyable to use. This is why many guitarists choose to use them over more affordable devices.
Some boutique pedal manufacturers even hand-design each pedal in a series so that no two devices are the same. They may also release limited numbers of certain pedals. This allows musicians to own a device that they are unlikely to find on other's pedalboards, which leads to them having unique effects at their disposal.
Connectivity
Boutique pedal brands often include versatile connectivity options on their devices. You're likely to find several inputs and outputs, to facilitate effects loops and custom signal chain placements. The plugs for the cables are also likely to be of the highest quality.
If you're investing in boutique pedals, it's a good idea to also purchase some high-quality patch cables to link them in the signal chain. This will ensure that the effects work to their maximum capabilities and that there are no noise issues causes by sub-par cables.
Powering Boutique Pedals
Most effects pedals require 9 volts DC for power. However, boutique pedals that offer multiple effects may require more voltage, such as 12v or 18v DC. Due to the increased cost of these pedals compared to standard stompboxes, manufacturers may include a power supply as part of the package.
If a boutique pedal doesn't come with its power supply, the most effective method you can use is powering your devices using a power supply unit (PSU). These devices supply the required voltages to all of your pedals, via power cables.
Using a PSU allows you to leave all of your boutique pedals plugged on your pedalboard so that you don't need to waste time connecting them every time you want to record, perform or rehearse.
Some boutique pedal brands may also make their devices capable of being powered using 9-volt batteries, but if you rely solely on this method there's always a chance that the device could cut out in the middle of a performance, or when you're trying to capture a guitar take.
Final Words
Boutique pedal brands are dedicated to innovation. They ensure that their pedals exceed the performance of regular stompboxes, by building them meticulously and including only the finest components.
After reading this guide, you should now have a good idea of which boutique pedal brands are best suited to your requirements as a musician. Whichever you choose, I'm certain that you won't be disappointed by the impact they have on your tone!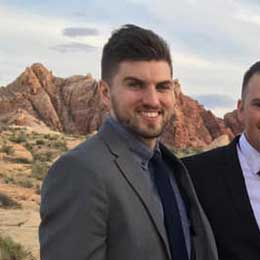 My name is Chris and I've had a passion for music and guitars for as long as I can remember. I started this website with some of my friends who are musicians, music teachers, gear heads, and music enthusiasts so we could provide high-quality guitar and music-related content.
I've been playing guitar since I was 13 years old and am an avid collector. Amps, pedals, guitars, bass, drums, microphones, studio, and recording gear, I love it all.
I was born and raised in Western Pennsylvania. My background is in Electrical Engineering, earning a Bachelor's degree from Youngstown State University. With my engineering experience, I've developed as a designer of guitar amplifiers and effects. A true passion of mine, I've designed, built, and repaired a wide range of guitar amps and electronics. Here at the Guitar Lobby, our aim is to share our passion for Music and gear with the rest of the music community.