The classical guitar has been around for centuries but has notably undergone many changes over time. Much of this has been brought on by specific guitarists and composers who brought about or popularized changes to the instrument, technique, or repertoire. Many of those famous classical guitarists will be covered in this article.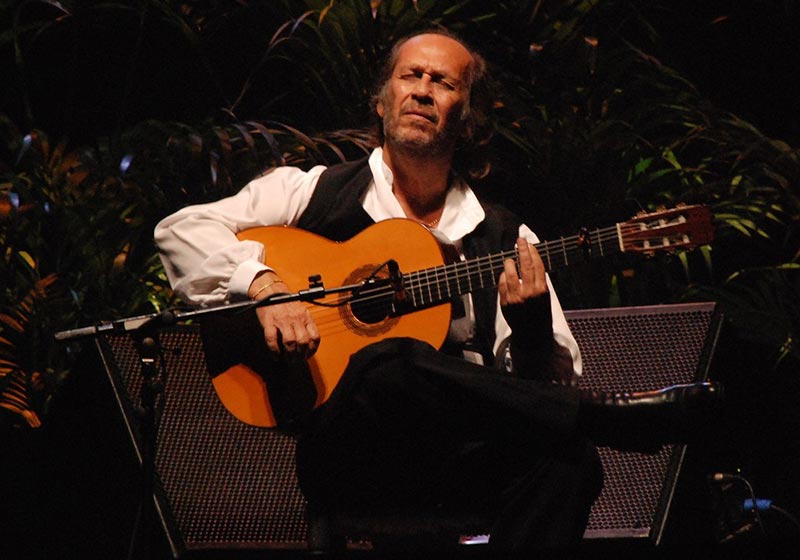 Special attention is paid to figures that are important due to their historical role, but some more contemporary players are surveyed as well. Keep in mind that ranking the best classical guitarists is no easy task and any list of this type is highly subjective. If there any guitarists we have left off this list that you feel should be included, let us know in the comments below.
Here Are the Greatest Classical Guitarists of All Time
17. Miguel Llobet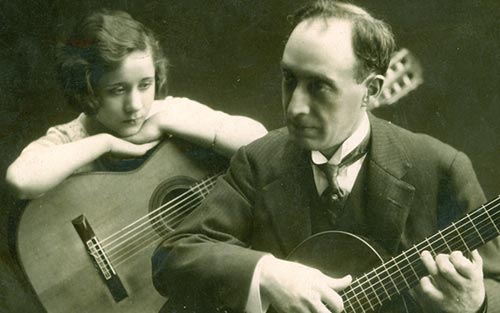 Born on 18 October 1878, Llobet was another disciple of Tárrega. He is, unsurprisingly, another virtuosic player who was associated with the rise in popularity and standardization of the guitar in the early 20th century. Llobet toured extensively throughout Europe and America, playing both his original transcriptions of Catalan folk music as well as standard pieces in the guitar repertoire.
Llobet is notable historically in that he was one of the teachers who influenced Andres Segovia, and is, therefore, one of the links connecting Segovia to Tárrega. Although it is not clear the extent to which Segovia studied with Llobet, he was one of the players that Segovia sought insight from throughout his career.
Llobet also had a connection to the Spanish composer and pianist Isaac Albéniz. Llobet transcribed some of Albéniz's works for the guitar. Many of these works are now considered standards of the repertoire, and indeed this entire period in the late 1800s in Spain involved a great flowering of guitar and romantic music. The Albéniz piece "Asturias" is an especially believed piece of classical guitar music, featuring extremely fast tremolo passages.
Llobet toured widely throughout Europe as well as North and South America. Like many other notable guitarists from this time period, Llobet played a Torres guitar that is now housed in a museum in Spain. Like other guitarists who were pupils of Tarrega, Llobet's technique emphasized a rich and mellow tone and a focus on tonality and articulation rather than sharpness of sound or speed.
16. Emilio Pujol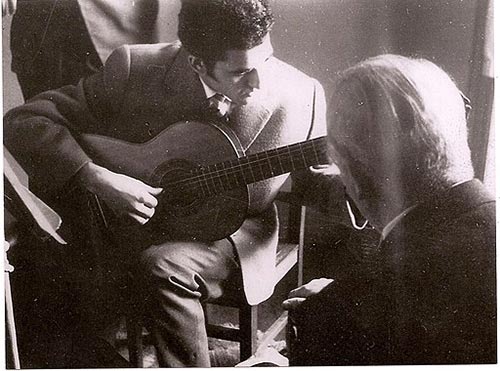 Born on 10 September 1886, Emilio Pujol was one of the closest disciples of Francisco Tárrega. He began studying with Tarrega in 1902 as a teenager and remained in Spain throughout the 1910s. By the end of the decade, he was embarking on a tour through South America, and also engaged in some publishing work that helped popularize both historical and modern guitar music from his day.
Pujol is one of the main links that we have to Tárrega's teaching method and opinions. He has been involved in guitar education since the mid-1940s, and is one of the chief popularizers of the instrument in the first half of the 20th century, along with Segovia.
Pujol has also composed several works, as well as taught and written about the 15th-century predecessor to the guitar, the vihuela.
15. Pepe Romero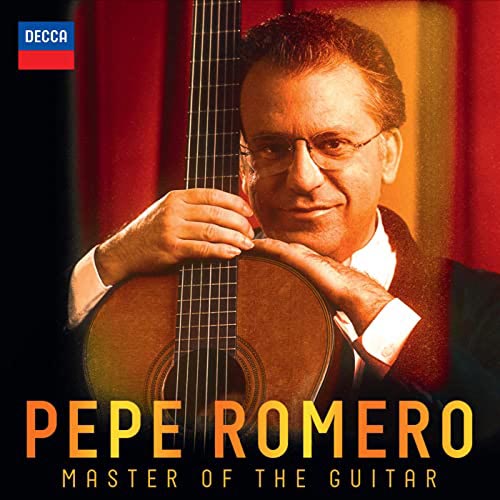 Pepe Romero is a guitar player known for his extraordinary virtuosity, as well as his embrace of flamenco. Born on March 8, 1944, in Andalucia in Spain, Romero started as a flamenco player in his teens before becoming one of the most famous classical guitarists in history. His first performance was given at the age of only seven, and he was one of the first Spanish classical guitarists who settled permanently in the United States.
A contemporary of Segovia, Romero had a similar trajectory towards stardom. Also like Segovia, he has had a number of composers write music specifically dedicated to him to play. Perhaps as a result of his experience in the world of flamenco, Romero's technical variety and vivacity of playing are his most noteworthy characteristics.
Romero has recorded widely, having released over sixty albums. He has played for many heads of state and members of royal families throughout the world. In addition to his solo work, he has also played as a member of The Romeros, a guitar quartet consisting of members of his family.
Romero has played several guitars, but notably played a guitar made by Hermann Hauser II, the son of the famous Hermann Hauser that made Segovia's guitar. Romero was still active well into the 2010s, although his output has slowed somewhat as he's gotten older.
14. Kazuhito Yamashita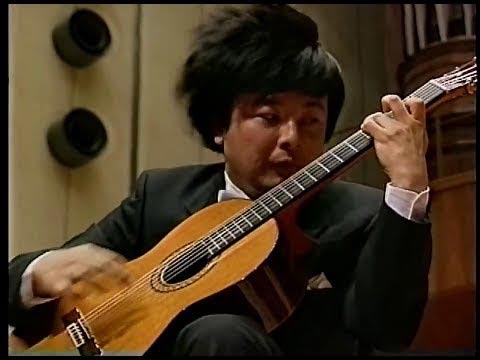 Among the many excellent players from East Asia, Kazuhito Yamashita is one of the most famous. This Japanese guitarist, born in 1961, is known for the expressivity of his playing and how active he is as a recording artist. By his 30s, Yamashita had already released over 50 albums.
Yamashita started playing professionally in Japan in 1978. Following this, he began to tour in Europe and throughout the world. Yamashita is a versatile player, as much at home as a solo artist as in a chamber or symphonic context. He plays at the top level in a variety of idioms, and his unique approach to repertoire is one of the marks that makes his output so singular.
Yamashita is also notable for his numerous original transcriptions. He has released several albums of classical music from Russia that he transcribed for the guitar, and has covered music from the baroque to the present day. In addition to these older works, Yamashita is a strong supporter of contemporary composers that create work for the guitar. To date, he has given premiere performances of over 60 new works. Yamashita plays in a quintet with his family and children and has toured with them throughout the world.
13. Paco de Lucía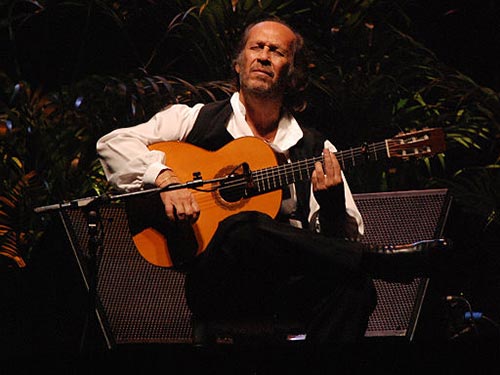 Born on 21 December 1947, Paco de Lucía is principally known as a flamenco guitarist. His energetic and virtuosic performances are widely considered to be the peak of flamenco guitar performance. He is very widely recorded and has collaborated with many other major figures in flamenco music.
Paco de Lucía started playing at a young age, immersing himself in the world of flamenco music. His unique technical style of playing was considered noteworthy as it was being developed, and much attention was put on his music as his career developed. In 1975, de Lucía was the first flamenco musician to perform in Teatro Real, a major opera house in Madrid. This signaled a shift in the consideration of flamenco as a more sophisticated musical style.
De Lucía toured extensively and collaborated with a number of fusion and jazz musicians, including John McLaughlin and others. His way of approaching flamenco as a living tradition with an emphasis on virtuosic playing brought the new style of flamenco much respect and attention.
De Lucía also made contributions to classical guitar. His technical ability was easily able to transfer over to classical compositions, and he recorded a full album of the music of Spanish composer Manuel de Falla. Despite his focus on flamenco, Paco de Lucía is an important crossover musician on the nylon string guitar.
12. Niccolò Paganini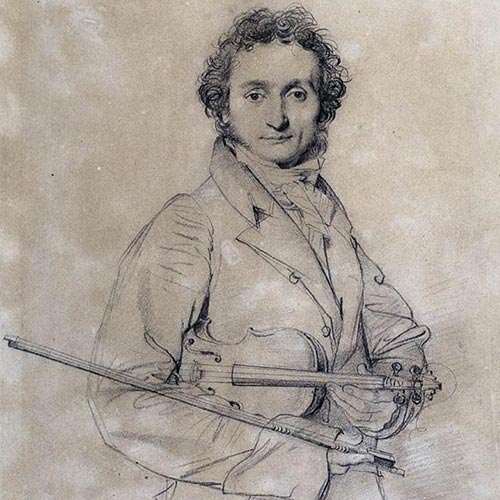 Born in 1782, Paganini is today principally known as a virtuosic performer and player on the violin. However, he also played the guitar throughout his life and composed some of the earliest settings for the guitar is an art music context.
Paganini is thought to have picked up the guitar in the late 1790s when his family was seeking refuge during wartime. Despite his lifelong dedication to the guitar, Paganini seldom performed in public, preferring to play the guitar in more intimate contexts. His adoption of the guitar was one early but important step towards more mainstream acceptance in the world of European art music. Like Sor, his playing showed his contemporaries the lengths that virtuosic guitar playing could reach.
Paganini's relationship to the guitar remains a bit of an oddity. Despite his flashy style and reputation as a virtuosic genius on the violin, he never performed his guitar compositions in public arenas. Although he did play for audiences, it was always behind closed doors and in a private and intimate setting.
Paganini's violins are today prized and kept as important historical artifacts due to their connection to him. However, there is much less information available about which guitars he played during his lifetime, although the names of certain luthiers are present in the historical record. In my opinion, Niccolò Paganini is one of the greatest classical guitarists ever.
11. Ana Vidović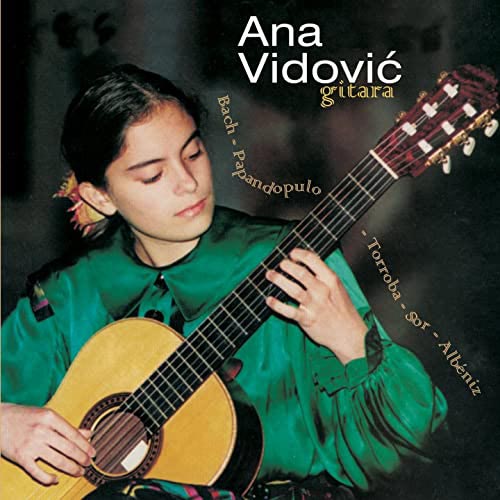 Born on 8 November 1980 in Croatia, Ana Vidović was a child prodigy on the guitar. She began to play internationally at the age of 11 and has toured throughout the world since that time. Due to her younger age and popularity, especially in Europe, she is one of the guitarists that you can find extensive footage of most easily.
Vidović has primarily been dedicated to pillars of the repertoire for most of her career. Her technical display and strength of playing when it comes to certain classic pieces such as "Asturias" put her in a league of her own.
She was a student of Cuban guitarist Manuel Barrueco from the age of 20. She plays a guitar made by Australian luthier Jim Redgate. Redgate has built guitars for some of the most famous classical guitarists of the 20th century, including Pepe Romero. His techniques emphasize clear, warm tones and intense projection. Redgate is a fellow countryman of Greg Smallman, another famed Australian luthier that works with many of the top artists in the world.
10. Sharon Isbin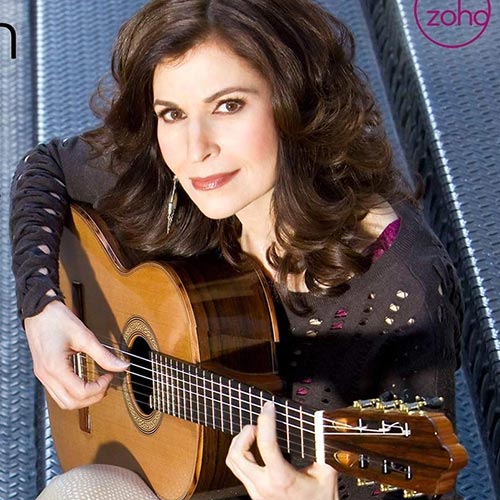 Sharon Isbin is a guitarist that is chiefly notable for the breadth of her recording career. Her versatile abilities and interests have allowed her to play in a huge variety of styles, ranging from baroque and Spanish classical to jazz and fusion.
Her extensive collaboration has allowed for the guitar to be seen in new contexts, and she has been awarded numerous times for her work. Active since the 1970s, she is one of the earliest female classical guitarists that received widespread fame. Isbin has commissioned more concertos for the guitar than any other guitarist, having many works associated with her as a result.
Isbin is also historically important as an educator. She founded the Master of Music degree program at the Julliard School in 1989, becoming their first director of the guitar department. Bachelor and doctoral programs were later added as well.
9. Leo Brouwer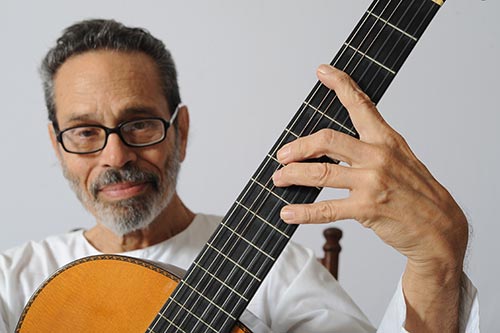 Born on March 1, 1939, Leo Brouwer is a composer and guitarist from Cuba. His knowledge of the guitar allowed him to compose music that was truly unique for the guitar while moving beyond the conceits and traditions that came before his time.
Although he has deep roots in playing classical music and Cuban music on the instrument, Brouwer is important for showing that the guitar can be used to play truly modern music. Like Villa-Lobos before him, Brouwer gave the guitar a unique voice and put it on display as a solo instrument that can go beyond the familiar repertoire to play modern music.
Brouwer has released several recordings of him playing his own compositions as well as those of other composers. His style varies from complex jazz-like improvisations to delicate classical works.
8. Heitor Villa-Lobos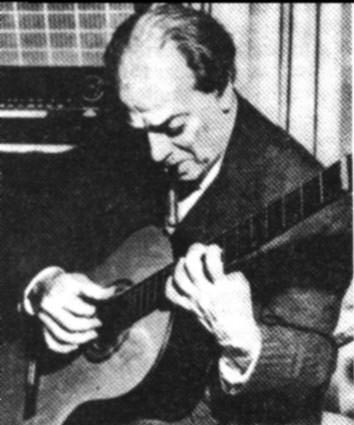 Villa-Lobos is another player who is chiefly known as a composer. Born on March 5, 1887, in Brazil, Villa-Lobos spent much of his earlier education immersing himself in the folkloric culture and music of Brazil. Villa-Lobos composed for many instrumental settings aside from the guitar, but he maintains a prominent stature in the world of classical guitar for his compositional dedication to the instrument.
Villa-Lobos is notable in that his skill on the guitar allowed him to compose in novel and interesting ways for the instrument. He was able to show that the guitar can be extended beyond the repertoire of baroque lute music and Spanish romanticism.
His compositional output is truly unique, often mixing and matching motifs and stylistic conventions of European classical music with popular and folkloric music from his native Brasil. This is most notably on display in his Bachianas Brasileiras, a series of suites that attempt a fusion of the style of Johann Sebastian Bach with Brazilian music. This piece contains Villa-Lobos' most famous work, the Ária or Cantilena for voice and guitar.
7. Fernando Sor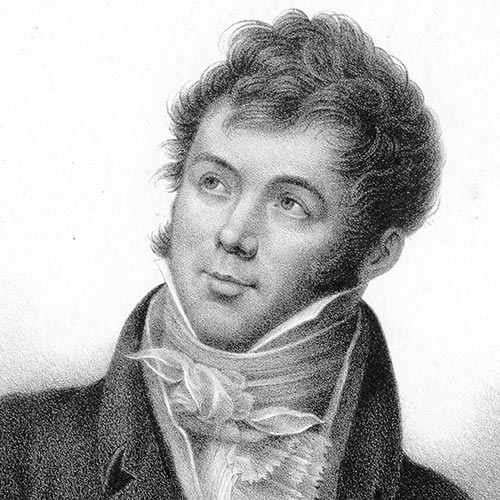 Fernando Sor is by far the earliest player on this list so far, having been born in 1778. For obvious reasons, this means we don't have any recordings of his work or even a living memory of comments by his students. Principally known today as a composer, it can seem odd to consider him as one of the most important players in history.
Sor's output as a composer is very diverse. Today, he is often remembered for writing music that was intended to help guitarists practice specific techniques. His studies for the guitar are often considered a pillar or right of passage of the classical guitar repertoire. Many of his pieces are more friendly to less advanced players, while others, such as his variations on Mozart, are both musically complex and technically demanding.
Sor's influence as a player is inestimable. During his life, he was widely considered to be the greatest living player of the instrument. Sor fought against the perception of the guitar as a backing instrument for the voice, and his virtuosity in composing and playing gave his contemporaries a taste of what the guitar was capable of. Although his influence took time to be fully realized, he was truly one of the first great players of the guitar as we now know it.
During Sor's lifetime, guitars had a very different shape and style than those that we see today. Often called "romantic guitars", these instruments were significantly smaller and differed in construction, using friction pegs for tuning rather than the mechanical tuners we use today.
Sor is also notable for his technique, which relied on the ring finger. This was not common during his day but later became common practice. Many composers and players after Sor's time still didn't adopt his ring finger based technique.
He also provided extensive notes on technical guidelines for playing without the nails. Although this is uncommon today, he considered it to provide superior tone production. Sor's guides provide diagrams and information on the exact movements required for proper tone production and are a great historical resource to discover how the guitar was played in the past.
6. Paul Galbraith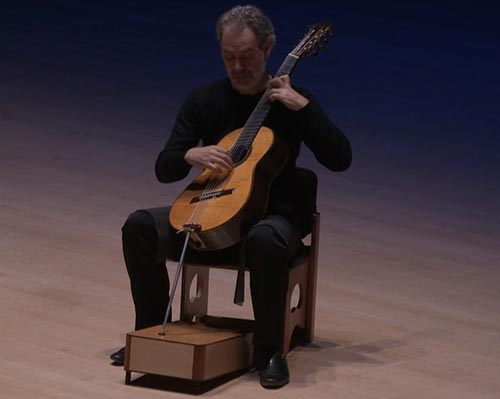 Born on 18 March 1964, Paul Galbraith is another guitarist known for his unique technique and unique gear. He started playing publicly in the early 1980s and was toured extensively as a soloist throughout that decade. His playing was very well received but was not as impactful as the innovations he would later be associated with.
In 1989, Galbraith unveiled a new instrument that was made specifically for him. It was originally devised in order to allow him to play Brahms' Theme and Variations, Op. 21. Galbraith's guitar was made by the luthier David Rubio and is immediately striking to the eye. The guitar has eight strings and is commonly known as the Brahms guitar. In addition to the extra strings (a high A and a low A), the guitar contains many nonstandard features.
Galbraith's instrument is played in an upright position, like a cello, with the neck of the guitar nearly vertical. In addition to the standard resonating body, the guitar is used with a cello-like endpin and a specially made resonating box that creates a unique timbre and significantly improves amplification. This results in a unique timbre and tone that allows for a type of expressivity and listening experience that is not normally associated with the guitar. The resonance of the instrument has a certain timbre that can't be easily mimicked due to the acoustic features that the construction allows for. The technique required to play this guitar also notably differs from more conventional guitars.
Galbraith is recognized for his delicate and unique tone as well as his globetrotting and dedication to pushing guitar performance in a new direction. He currently resides in Brazil, where he works with the Brazilian Guitar Quartet. Other guitarists have also transitioned to playing the Brahms Guitar, but it is still chiefly associated with Galbraith.
5. Narciso Yepes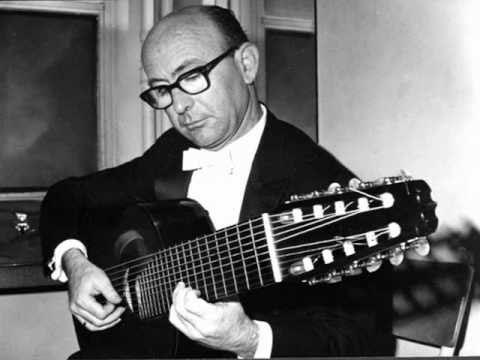 Narciso Yepes is a very unique figure in the history of classical guitar. Born in Spain on 14 November 1927, Yepes studied under the composer and pianist Vicente Asencio. Yepes' musical training contains several of the instigators of his technical achievements and innovations. He was trained primarily by non-guitarists, who urged him to match their speed and tone on the violin or piano. Yepes was motivated to push the guitar to play music that relied on a speed and clarity that were not common in much guitar music before his time.
It's reported that Yepes' teacher would demonstrate extraordinarily fast scales on the piano and tell Yepes that if he can't play that way on the guitar, he must find a new instrument. Yepes later reported that this technical education allowed him to play any music he wanted on the guitar, not just the music that the guitar wanted to bring out of him.
Yepes was one of the first notable proponents of the A-M-I playing technique, where the strings are strummed by the index, middle, and ring fingers. Before this, most guitarists played only alternating their middle finger and index finger. Because he was not trained by a guitarist but a pianist, Yepes was freer to explore alternative and extended techniques. Although other guitarists had used the A-M-I technique before him, the way that Yepes applied this technique in a more universal context was unique for the time.
In addition to his non-standard technique (for the time, at least), Yepes is remembered for playing a ten-string guitar. After 1964, Yepes exclusively recorded on the ten-string guitar, giving many performances and recordings. This guitar is today associated with Yepes, as he is one of the very few major guitarists that has specialized in a custom-made alternative instrument.
Yepes' guitar, developed in collaboration with luthier José Ramírez III, made it much easier to play baroque works on the guitar. It also allowed for chromatic string resonance, which gave it a unique color that characterizes his performances.
Yepes also engaged in scholarship on music for the guitar and lute from the 17th and 16th centuries. Thanks to his scholarship, a number of works were uncovered that had not been played in modern times. Yepes is also the first musician to record the complete lute suites of Bach on period-appropriate instruments.
4. Francisco Tárrega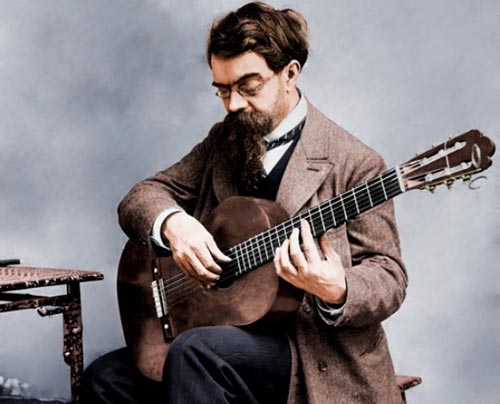 Francisco Tárrega was born on 21 November 1852. Like Segovia after him, it is truly difficult to comprehend the impact that Tárrega had on the world of classical guitar. Before Tárrega, most people still saw the guitar as an accompanying instrument rather than an instrument capable of performing high-level solo music. Although just one part of an overarching trend, Tárrega's virtuosic playing is one of the main factors that pushed solo guitar into the mainstream in Spain.
Tarrega's life and relation to music is quite striking. After partially losing his eyesight due to a childhood accident, his father pushed him to go into music, knowing that blind musicians are still able to earn a living. Both of Tarrega's earliest music teachers were themselves blind. Tarrega ran away from home a number of times as a very young child, starting at the age of ten, and tried to earn money playing music in coffeehouses or with groups of wandering Romani people.
Tarrega eventually entered a conservatory and just a few years later was already teaching several guitarists who would later be numbered among the greats. It was during this time in the conservatory that he began playing a Torres guitar that resembles those that we play in modern times.
Throughout the late 1800s, Tarrega composed many classic pieces and performed throughout Europe. He was regarded as one of the greatest guitarists of his day and is now known as one of the greatest of all time. Several of his Torres guitars still exist, with some in museums and some in private collections.
In addition to his performance and transcription of works by composers of the past such as Beethoven and Chopin, Tárrega was also one of the most notable composers for the guitar in history. He is most recognized for two pieces, Recuerdos de la Alhambra and Lágrima, which are today pillars of the classical guitar repertoire.
3. John Williams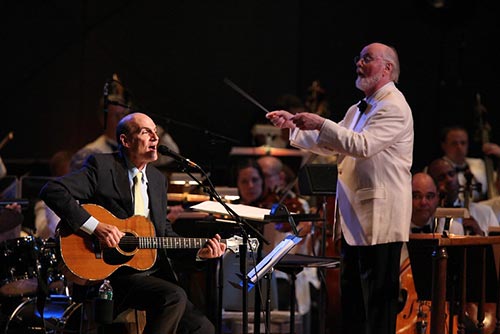 Born on 24 April 1941, the Australian guitarist John Williams is one of the most famous players of the 20th century. Williams first started performing in 1958 and has had a wide-ranging impact on the world of classical guitar.
John Williams started playing the guitar at an early age, and notably studied with Andres Segovia every summer since he was 11. In his biography, Williams makes several negative comments about his time with Segovia, noting that his teaching methods were unhelpful and that he held harmful and snobbish attitudes about classical music.
Williams describes the teaching environment in a negative way, and his extensive experiences attempting to study the guitar in this context are likely one reason for his devotion to more fluid and focused teaching methods in his own teaching career. He specifically notes that Segovia would urge students to play just like him, which wouldn't allow them to take ownership over their musical expression.
These messages are contrasted by some of Segovia's other pupils, and it is notable that some of Segovia's students play in styles very dissimilar from him. Some of his pupils were even taught to play without nails by Segovia, who famously championed playing with the nails as superior to no-nail playing. Williams also claims that Segovia didn't take South American guitar music seriously, wanting to only focus on classical music from Europe.
In his recording career, Williams often worked closely with Julian Bream and won a Grammy together with Bream for an album they worked on together in 1973. Williams has emphasized ensemble playing in his work and has written and commented extensively on the importance of the guitar in a role that goes beyond just playing the solo repertoire. His recordings include novel and unique instrumental settings, such as duet performances by guitar and pipe organ.
Williams also played other styles of music, playing as a member of the progressive fusion band Sky. His work with Sky is unique in that he often still played the nylon string classical guitar, a very uncommon instrument in progressive rock or jazz contexts. A piece played by Williams also developed into the theme for the acclaimed film The Deer Hunter, which brought his name into the mainstream spotlight. In addition to playing, Williams is also a visiting professor at the Royal College of Music in London.
He plays guitars built by Greg Smallman, an Australian luthier who has worked on guitars for many of the top players in the world.
2. Julian Bream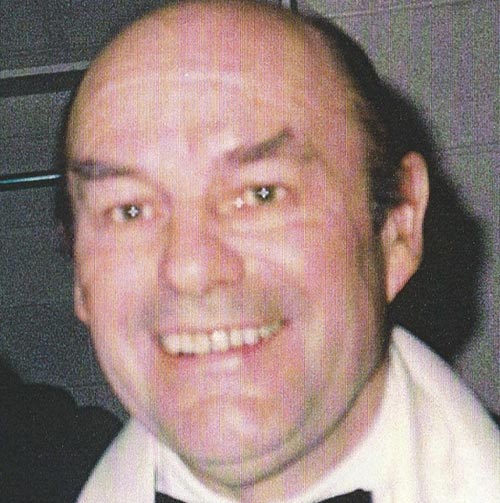 Born on 15 July 1933, Julian Bream was a guitarist and lutenist from England. He is today chiefly known for his renditions of Bach's music, as well as the music of several English and German composers. Although there is a long history of Bach's music being played on the guitar, Bream is notable in the variety of his repertoire from that time period.
His interest in guitar music was sparked by a love of jazz, in particular the guitar playing of Django Reinhardt. His education on the guitar began with jazz, and this was the focus of his early study of harmony and technique. Bream was notable as a child prodigy, playing the cello and piano in addition to the guitar and performing in recitals, and winning awards during his childhood.
Due to the unpopularity of the classical guitar as a serious concert instrument, Bream studied piano at the Royal College of Music but continued his study of the guitar on his own. At one point, he was asked to leave his guitar at home and not play it at the college, after which he chose to leave the college instead.
Bream's intensely idiosyncratic repertoire was on display during most of his performances. Rather than structuring performances thematically, he would often jump from Elizabethan music to popular pieces of Spanish romanticism, then return to the music of Bach. He also played a lot of contemporary music for the guitar, much of it written during his lifetime or even for him in particular.
Bream's technique was notable for its fluidity and expressiveness. In contrast to the even and consistent timbre adopted by many guitarists, Bream's right hand technique allowed for different angles of attack and timbral varieties that were fine-tuned to an extraordinarily virtuosic level.
Another notable historical feature of Bream's work is that he comes from the first generation of classical guitarists that was able to be widely recorded in their prime. Although we do have recordings of Segovia and other earlier guitarists, Bream and others from his generation have voluminous discographies that can keep listeners busy for days or even months on end, in contrast to the relatively few offerings from the generations prior.
In addition to his guitar work, Bream is also notable as a virtuosic lutenist. He has recorded the music of Bach, Dowland, and others for the instrument, and was a major reason for the resurgence of interest in the lute and other historical plucked instruments.
Several composers have written pieces dedicated to Bream. Perhaps the most famous of these is the "Nocturnal after John Dowland" by Benjamin Britten, which is strongly associated with Bream.
In addition to his solo work, Bream has released several collaborations with the next guitarist on this list, John Williams.
1. Andres Segovia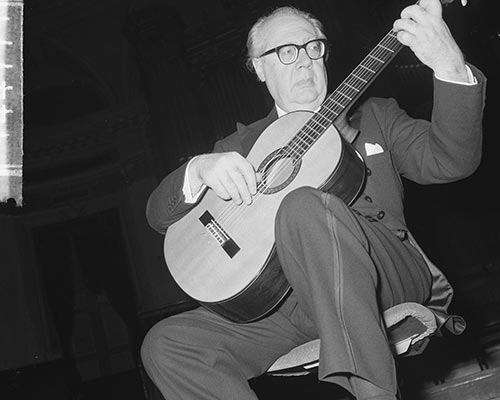 Lifespan: February 1893 to June 1987
It's hard to overstate the impact Andres Segovia had on the classical guitar. Born on 21 February 1893, Andres Segovia came from the city of Linares in Spain. In addition to his exceptional playing, Segovia had a very wide impact as a teacher, and many later players were his students at one point. Due to his popularity, many classic pieces in the guitar repertoire were written specifically for him.
Segovia was one of the first major guitarists to endorse the use of nylon strings. Prior to World War II, most guitarists used gut strings, which were made out of animal intestines. Although these strings are still used by some, especially in historically informed performances, most contemporary players prefer nylon strings due to their tonal stability and longevity, especially when played with nails.
Many techniques that are now considered standard were popularized by Segovia. This includes placing the hand to the right of the soundhole, as well as playing with the nails. Although many players who came before Segovia played with nails, this technique was not as standardized as it is today, with many important players playing only with the flesh of their fingers.
Segovia played a guitar made by Hermann Hauser, a prominent luthier from Germany. These days, original Hermann Hauser guitars have an almost mythical status due to their excellent craftsmanship, historical status, and connection to Segovia. Hermann Hauser worked on Segovia's guitar for years, making incremental changes based on comments from Segovia.
The guitar design chosen by Segovia and built by Hauser has particular historical importance. Prior to the 20th century, there were a wide variety of guitar body shapes and construction types, with most of them being significantly smaller, quieter, and more slender than the guitars used today. The modern guitar body shape that we all recognize was first implemented by the Spanish luthier Antonio de Torres Jurado. Torres guitars from the mid to late 1800s contained many of the features we recognize in guitars today, including mechanical tuners (in contrast to friction tuners like those used on violins and earlier guitars), a larger soundboard, and fan-braced construction.
Although these guitars had been around for a while prior to Segovia's time, his use of this guitar model as the preeminent version of the classical guitar is undoubtedly one of the reasons that we still associate this design with classical guitar today.
Another notable contribution from Segovia comes in the form of a guitar practice method now known as the Segovia Scales. This was published in book form as Diatonic Major and Minor Scales and consists of an extremely thorough and systematic array of scale-based practice techniques. Although there have been a number of scale-based methods published prior to Segovia's, they are unique in their focus on scales themselves and not other aspects of technique, such as arpeggios. Segovia's scales were a fundamental part of the classical guitar curriculum for many years. Although they remain popular, they do not have the centrality that they once commanded.
The full scope of Segovia's effect on the guitar is difficult to estimate. He catapulted the guitar into the spotlight and played with a level of virtuosity that is seldom encountered even among top professionals. Andres Segovia is easily one of the most famous classical guitarists of all time.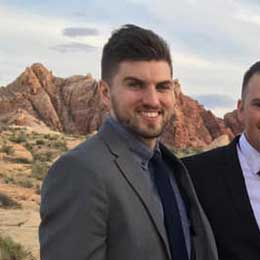 My name is Chris and I've had a passion for music and guitars for as long as I can remember. I started this website with some of my friends who are musicians, music teachers, gear heads, and music enthusiasts so we could provide high-quality guitar and music-related content.
I've been playing guitar since I was 13 years old and am an avid collector. Amps, pedals, guitars, bass, drums, microphones, studio, and recording gear, I love it all.
I was born and raised in Western Pennsylvania. My background is in Electrical Engineering, earning a Bachelor's degree from Youngstown State University. With my engineering experience, I've developed as a designer of guitar amplifiers and effects. A true passion of mine, I've designed, built, and repaired a wide range of guitar amps and electronics. Here at the Guitar Lobby, our aim is to share our passion for Music and gear with the rest of the music community.