Dan Auerbach is the heart and soul of a traditional blues guitarist put in the 21st century. He bridges a particular and classic skillset channeled through a massive feeling for his craft. There's no wondering why or how he has become an icon for the latest generation of the American rock scene, portraying a solid frame for Americana and tributing his forebears in an impeccable fashion.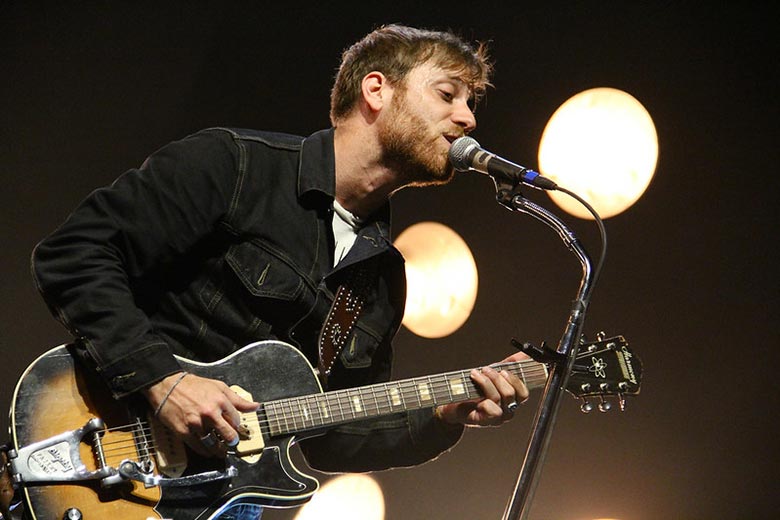 The blues take on many forms in modern music, and it's amazing how after so many years, it can still inspire musicians with the same pure energy and passion that it did in its origins. Dan Auerbach loved to listen to blues in his room and eventually learned how to play guitar. He then started playing with his friend and neighbor Patrick Carney, who wasn't really a drummer, he actually played guitar and had a drumset in his house so that he could invite people to play, but when he started playing with Dan and he saw how good he was, Patrick decided to take the drums. Let's talk more about some of the guitars Dan Auerbach has played throughout his career.
What Guitars Does Dan Auerbach Play?
Dan Auerbach plays a Guild S-200 Thunderbird as his primary guitar. He has a knack for finding and bringing to the spotlight some of the rarest vintage guitars. It took him almost a decade to find what seems to be his ultimate six-string, the Guild S-200 Thunderbird.
See the full list of notable Dan Auerbach guitars below.
Guild S-200 Thunderbird

Finish: Antique Burst
Years Used: 2010 to Present
Arguably Auerbach's favorite guitar since he first laid eyes on it, once again bringing retro to the front and center of the spotlight. This time he got a 1964 Guild S-200 Thunderbird. It has an asymmetrical mahogany body, and neck, bound fingerboard with Pearloid block inlays. It's a rather similar model to the classic Gibson Firebird but ultimately, with a few goofy tweaks on it, something that Dan certainly appreciates.
This guitar sports Guild humbuckers, the standard volume and tone controls, and pickup on/off switches. Guild guitars have reintroduced this model recently so it's available for purchase, with just a few little differences from the original. This guitar has a mahogany body, mahogany neck with Pau Ferro fingerboard, a Tune-O-Matic bridge with a Hagstrom Vintage Tremolo, and two humbucker pickups.
When it comes to the control knobs this guitar is quite a beast, it has two volume knobs, two tone knobs, two pickup switches, a rhythm and lead mode switch, and a tone slide switch.
"You would see this bridge and tremolo arrangement on a Hagstrom from the mid to late 60s too. I'm not sure who made them, maybe Burns or something like that. It's a great tremolo; it stays in tune great. Dan uses the tremolo a lot but he uses it gently, or fast but still gentle." Dan Johnson on Auerbach's Thunderbird.
This guitar rose to the limelight when the Akron Ohio brothers rocketed their fame and presence in the international rock scene. Dan saw the chance to get his hands around some new oddballs and gems, needless to say, this Thunderbird was perhaps the most cherished find. Auerbach has ever since played it in virtually every show needing a bit of a ruckus injection. From the Letterman Show to Reading and Leeds, this Guild six-string has seen everything.
Harmony H78 Semi-Hollow

Finish: Vintage Sunburst
Years Used: 2003 to Present
Dan used this guitar on his first albums, Thickfreakness and The Rubber Factory. Nevertheless, it reappeared shortly before the recording of the Keys' most visceral album, Attack, and Release, since then this Harmony six-string has remained as one of Auerbach's most aggressive and iconic guitars.
The H78 has gone through a lot of changes such as having a new bridge installed, new controls, and pots. It can be heard and seen on basically every tour up until the 2014's studio installment Turn Blue when it went from being a main to a regular rotatory guitar on Dan's catalog. On another hand, it remains as one of his most memorable and impactful six strings.
Some of its most memorable performances include the duo's first appearance on KCRW and they're Live From Abbey Roadshows.
Supro Martinique Electric

Finish: Ermine White
Years Used: 2007 to Present
Yet another of Dan's most frequented guitars, Johnson claimed that despite not being familiar with the Supro models, he was able to pull some mods into it, since he had a few of his own. Although like many of his guitars, this Martinique six-string is known to have been picked on the road sometime prior to the recording sessions of Brothers.
It has a fiberglass body, a piezo pickup, and some coils inside the bass of that bridge so it gives an interesting sound that sometimes resembles an acoustic guitar but it's not quite there yet, so it becomes a bit of a strange hybrid guitar. This guitar took inspiration from the original 1960s reso-glass instruments and it's from the Americana range of Supro guitars. It has a mahogany body and neck and a very original-shaped body that resembles the National Map.
Finally, when it comes to electronics and hardware, it has two humbuckers, volume and tone knobs, and a bridge-mounted piezo to get that classic sound. It has a Rosewood Bridge, heavy-duty vibrato tailpiece, a fashionable pickguard, and tuners.
Dan has used this guitar quite a lot in Brothers a few songs from El Camino, more specifically, you can hear this guitar in action in "Howling For You" and "Too Afraid to Love You" and enjoy that classic sound from the 60s in a modern rock-blues sound. On another hand, it saw heavy action on the band's psychedelic venture, Turn Blue.
This Supro Martinique however, has seen a massive share live appearances, It's been used for most of Dan's side projects including his supergroup The Arcs, as well as his solo albums The Prowl and Waiting on a Song. Needless to say, you can also spot it in many Black Keys concerts, memorably in every Austin City Limits appearance.
Popular Related Article: Jack White Guitars and Gear
Harmony StratoTone

Finish: TobbacoBurst
Years Used: 2000 to Present
As far as the record goes, this is one of Dan's earliest electric guitars, the Harmony StratoTone can be spotted in some of the duo's earliest photographs when they were touring in a van with no fortune or fame to their names. It's easy to speculate that it was used for the Black Keys' Big Come Up, Rubber Factory, and so on into more recent years and highlighted performances. It proves that Dan is also a very faithful player, from the liquor quenched floors of random bars to the Glastonbury pyramid, this is yet another six-string that has seen the road from a very close lense.
According to Dan Johnson, this guitar had a lot of work done to it including different tuning keys; he made a new knot for it. Dan Auerbach's dad also deals in antiques, and one of his cohorts or accomplices in the antique business gave him this guitar. But unfortunately, it didn't have any parts in it, so there were no tuners, no pickguard, no pickups, no Bigsby, or anything that was later added to it.
Harmony H78/Heath TG-46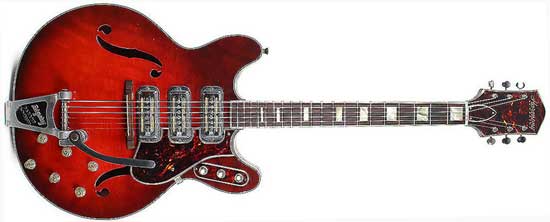 Finish: Red Sunburst
Years Used: 2007 to Present
"Everybody thinks of my Harmony by Heath as my main guitar because it's the one I play live. But it's just a good touring guitar – I don't know that I've ever even used it on a recording." Dan Auerbach on his Red Sunburst Harmony.
That being said it could be considered one of his main guitars as it is the one he personally likes to take live. He used this guitar for some parts of his set when the other musicians weren't on stage (they didn't use to have a bassist and keyboard player) as it has a strong distinctive sound given by its hollow body and DeArmond "Indox" pickups with three on and off switches, making it very versatile too in terms of pickup combinations. This guitar has a hollow maple body and a maple neck with a rosewood fingerboard.
Recent years have seen Auerbach picking this guitar to get back in action with Pat Carney, it was heavily used in the band's comeback album "Let's Rock" and it can be seen in the music video of their promotional single "Go".
1930s Dobro Spider-Bridge Resonator

Finish: Golden Brass
Years Used: 2011 to Present
If you've heard "Little Black Submarines" then you've heard this amazing guitar shine on one of the most iconic Black Keys albums, El Camino.
Dan generally prefers to use this guitar for the intro of that song because of the brass body that gives a more subdued sound to the guitar but also it's a special sound unique to resonator guitars or dobro guitars.
The Auerbach sound is mostly a vintage loud sound, so what better way to get that in an acoustic guitar than with a Dobro. What makes their sound so good for Dan's playing is that these types of guitars produce sound by conducting the vibrations through the bridge to the metal cones instead of the guitar's sounding board.
The main reason why these guitars were built, was because they were a lot louder than your regular acoustic. Also, the main reason why we don't see these as much nowadays is that electric guitars solved the volume problem, and blues evolved with loud amps and overdrives.
Still, Dan being Dan, he always stays true to the origins of bluegrass and blues so he got his beautiful Dobro managed to plug it in and blow the audience away with its powerful classic tone. This Dobro classic is still in prominent use, and it extended to Auerbach's solo discography and almost every live show.
Martin GPCPA4 Shaded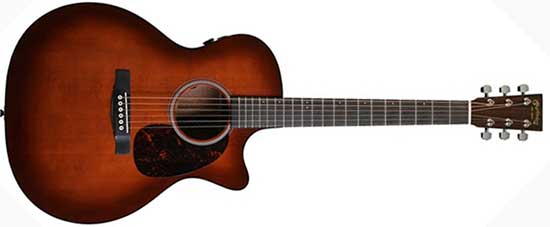 Finish: Dark Tobacco Burst
Years Used: 1990 to Unspecified
This was the start of Dan Auerbach's journey as a guitarist, a Martin acoustic guitar that his family bought him after he showed interest in bluegrass music.
His second cousin Robert Quine and his father were into blues so it wasn't hard for him to get exposed to that type of music, and luckily for the rest of the world, he got so interested that he played with that good old Martin until he decided to go with an electric guitar.
This Martin GPCPA4 can easily be found today at any store around the world.
Popular Related Article: What Guitar Does Matt Bellamy Play
Fender Classic Series 70 Stratocaster MN OW
Finish: Olympic White
Years Used: 1994 to 2000
Some people don't really like 70s Fender guitars for a number of reasons others love the fact that they are associated with Jimi Hendrix, regardless of that fact, it was this guitar that Dan used when he started playing with Patrick Carney.
At the time, he started at the university but was so caught up with learning more about blues that he ended up leaving his studies and formed a band. This band was supposed to be bigger but when the time came to record the demo the only one that was there was Carney, so they decided to record by themselves.
This guitar has an ash body, a maple neck with maple fingerboard, and a Vintage-Style Synchronized Tremolo. It has three Vintage-Style Single-Coil Strat Pickups with Alnico Magnets, a volume knob, and two-tone knobs.
Ibanez SG

Finish: Cream White
Years Used: 2004 to Present
In a way, this is inspired by the original 61 Gibson SG, but it's a very good guitar and it has been with Dan for a lot of time. It's actually very versatile in terms of tones so it's been used for many songs, even for some new ones.
This guitar has a solid, double-cut mahogany body with a maple neck, and a 22 fret rosewood fingerboard It mostly features all the good things of an original SG so it is a very good option when thinking about good quality and price. Guitars like this show that Dan doesn't really mind having a cheaper guitar as long as it's good and serves its purpose.
Although it hasn't seen much live-action recently, this guitar became highlighted during the early years of the Black Keys, making an appearance in most of their Australian tour and being featured in the music video of "Your Touch".
Blue Teisco del Rey

Finish: Electric Blue
Years used: Unspecified to 2014
He swapped his Strat for the Teisco after an instrument store clerk convinced him that it was a better choice. It was this guitar that Dan used during those first recordings and to this day, that is what makes this electric guitar such a special piece in the Black Keys history.
It has a contoured solid body, a maple neck with rosewood fingerboard, and two single-coils. It's a Japanese guitar from the 60s that was not very popular back then, but due to its high-quality sound and vintage value, it has become more and more popular these days. It's easily one of the most iconic Dan Auerbach guitars.
1960s Eko Rokes

Finish: White
Years Used: 2015 to Present
This guitar was made in 1965 and it was used by the Rokes which was sometimes referred to as the Beatles from Italy. After a year the guitar launched commercially.
It is often compared with the famous Gibson Flying V, and while it does have a lot of similarities, there are a few key differences in terms of the idea for the design and the sound of the guitar.
First of all, it's an Italian guitar, second, it was marketed as the space age Rocket Guitar due to its modern strange shape, and it was very much a European guitar. There are a few different models, including bass and a 12 string guitar. Dan bought one of the models on eBay and sent it directly to his guitar tech Dan Johnson in order to make it playable.
Johnson's first impressions were not positive as he thought it looked very "cheap" but still saw some potential in it. The way he puts it, he made a whole new guitar out of it, including adding a Bigsby, changed everything from the electronics and the pickups to the body itself, eventually making it a very good and special guitar.
Popular Related Article: Dave Grohl Guitar Rig Rundown
Jerry Donahue Fender Telecaster

Finish: Sunburst
Years Used: 2005 to Present
Dan used this one early in the Black Keys career, and it was an obvious choice for blues-rock as a Telecaster always hits the right spot. This Tele specifically was a Jerry Donahue which has a few different things than your standard Tele including a 5-way switching.
Used on the early faithful to blues-sounding tenures, it seemed as if this Tele had gone missing in action. Nevertheless, Auerbach brought it back more powerful than ever for the Black Keys' latest blues tribute and studio installment, Delta Kream. 2021 hasn't allowed festival action for this one-of-a-kind Telecaster, but it can be seen and heard in many radio performances by the Keys.
1960s "Gotham Knight" Custom Kraft Semi-Hollowbody

Finish: Green burst
Years Used: 2012 to 2016
Dan Johnson, Auerbach's guitar tech, found this beautiful guitar on eBay, and Auerbach just fell in love with it, the rest needs no explanation. It was used live during El Camino and Turn Blue tours and recording sessions of the latter one.
However it's important to know that he and Johnson made a few modifications to this guitar, including resetting the neck due to a terrible back bow, adding a two-way truss rod, new frets, replacing the nut, adding a Rickenbacker style bridge, and a "MacGyver" style solution to the tremolo. To make its background a tad bleaker, its headstock reads "Gotham Knight" which could mean a dubious manufacturer or a lesser-known brand. According to the specs of the tribute replica, this guitar has a maple body, a bolt-on neck with a bound fingerboard, and some nice block marker inlays.
This guitar is almost one of a kind, a true gem from the past, so it's not easy to find a detailed description of this beauty, however, Eastwood Guitars remade this model as a tribute to the original 1960s version of the guitar after it was made popular by the likes of Dan Auerbach.
It has two-tone and two volume controls a multi-adjustable Roller Bridge and a Jazzmaster-style tremolo. It is these sort of forgotten gems that Dan Auerbach is really interested in collecting,
This guitar became one of Dan's main studio pieces in 2013, and it would eventually escalate in importance, as it would pop out every now and then during the latter half of the El Camino tour and almost the entirety of the Turn Blue one.
National Map

Finish: Black Fiberglass
Years Used: Unspecified
In the same Auerbach style, the Black National Map Guitar keeps the 60s alive with its bright tones and innovations such as the first piezo bridge, which consists of giving the guitar an acoustic sound option as well as the standard electric sound.
Dan mainly used this guitar in Magic Potion and Brothers. However, it was mostly for live performances.
After that, it was his guitar tech Dan Johnson that started to use this guitar live.
This oddball is obviously hard to find as well, but just like the Custom Kraft, Eastwood guitars have a similar option by the name of Airline Map DLX.
Gretsch G6120TM Chet Atkins Signature

Finish: Gloss Nitrocellulose Lacquer
Years Used: Unspecified to 2019
While there are not too many details on this guitar and its history with Dan, it is a good example for showing how enthusiastic he is when it comes to getting these special classic guitars.
It was the first time Dan would get his hands on a Gretsch guitar, and to his surprise, he would get very familiar with Gretsch humbuckers. He would compare the sound it gave to that of AC/DC and he simply described it "it's just a real player. That guitar's name is Rudy. It's a one-owner guitar. I bought it from the family of the original owner and he played the shit out of it, so it's got a real soul to it."
He got this from the "American Pickers" and you can see him checking out the guitar while deciding that it's a guitar that is meant to be played, and not a collector's item.
Gretsch Bo Didley

Finish: Red
Years used: 2019 to Present
This is a very weird vintage design, but Dan really liked it. It used to be all red but Johnson got a natural wood finish for it.
Bo Diddley was on the top of his game in the 50s and it wasn't long until Gretsch decided to build a guitar especially for him. The strange part of it was the decision to make a rectangular body, which to this day one of the things that made this guitar so special back in the day.
This guitar has dual High Sensitive Filter'Tron humbucker pickups, an Adjusto-Matic bridge, and a special Bo Diddley truss rod cover. According to Auerbach, it's a very comfortable guitar.
Glenn Schwartz 10-string Hollowbody
Finish: Unspecified
Years Used: 2019 to Present
This is a strange one, just by reading the name with "10 strings" on it, maybe a bit disorienting but, those extra four strings are not in the place you'd expect.
First of all, this is a guitar that belonged to Dan Auerbach's hero Glenn Shwartz, the Cleveland rock legend, and James Gang guitarist.
Dan used to go see him play when he was 16 at small bars every week, and the guitar that Glenn used was this custom guitar which is very modified and unique.
Not only that but it was him that sparked the flame so that the Black Keys could be born, and it's the reason why Dan bought the Harmony because he wanted a guitar with the same shape as Glenn.
The best part of Dan having this guitar and using it on stage is that it was loaned by Glenn's family after a show in Cleveland so that he could honor his hero. If he ever needed a reason to feel inspired on stage, what better way than playing with the guitar of one of his biggest influences as a musician and not only having it but being given the guitar by his hero's family.
When it comes to the specs, it's hard to say aside from just having a humbucker pickup in a strange position and having ten strings on the guitar because if you play for the lord, you play with a ten-string instrument, as he used to say according to Dan.
Dan uses this guitar whenever he feels like the song deserves it, it's not really attached to a specific sound.
Peavey Razer
Finish: Black Gloss
Years Used: 2019 to Unspecified
When it comes to unusual shapes, the Peavey Razer is up there with the biggest weirdos, having strong edges like a flying v but not quite having a metal vibe to it.
The Razer was a model introduced by Peavey in 1983, and the name came from the idea that it was shaped like an electric razor, although it seems like so much more than that.
This is without a doubt the weirdest guitar made by peavey and since they were originally a brand for amps, it was very surprising at the time that they could pull off such a strange but sturdy instrument.
Dan's history with this one was that he got one and modified it to fit his musical needs including three knobs, a Bigsby, Harmony pickups, another bridge and ended up being a very good special guitar.
Table Showing Each Guitar Dan Auerbach Played Through His Career
| Make | Model | Color/Finish | Years |
| --- | --- | --- | --- |
| National | Map | Black Fiberglass | Unspecified |
| Teisco | Del Rey | Electric Blue | Unspecified to 2014 |
| Gretsch | G6120TM Chet Atkins Signature | Gloss Nitrocellulose Lacquer | Unspecified to 2019 |
| Martin | GPCPA4 Shaded | Dark Tobacco Burst | 1990 to Unspecified |
| Fender | Classic Series 70 Stratocaster MN OW | Olympic White | 1994 to 2000 |
| Harmony | StratoTone | TobbacoBurst | 2000 to Present |
| Harmony | H78 Semi-Hollow | Vintage Sunburst | 2003 to Present |
| Ibanez | SG | Cream White | 2004 to Present |
| Fender | Jerry Donahue Telecaster | Sunburst | 2005 to Present |
| Harmony/Heath | H78/TG-46 | Red Sunburst | 2007 to Present |
| Guild | S-200 Thunderbird | Antique Burst | 2010 to Present |
| Supro | Martinique Electric | Ermine White | 2009 to Present |
| Dobro | 1930s Spider-Bridge Resonator | Golden Brass | 2011 to Present |
| "Gotham Knight" Custom | Kraft Semi-Hollowbody | Green Burst | 2012 to 2016 |
| Eko | 1960s Roke | White | 2015 to Present |
| Gretsch | Bo Didley | Red | 2019 to Present |
| Glenn Schwartz | 10-string Hollowbody | Unsecified | 2019 to Present |
| Peavey | Razer | Black Gloss | 2019 to Unspecified |
Dan Auerbach Amps List
On the amp side of things, there is not too much variety as expected from a guitarist with a simple blues-rock mindset, however, it is important to check out some of the reasons behind the choices for these few amps and why not choose other amps.
There is also not much information on the amps but, there are some that have gotten some spotlight, mostly on the Rig Rundown videos.
Fender Quad Reverb
Years Used: Unspecified to Present
This 10 tube amp is a 100 watts machine with 12" speakers. Each channel has its separate controls and it has two inputs. It has normal and vibrato channels and a master volume with a push-pull switch and footswitch distortion.
As a Fender amp, it gives more of a treble sound with bright tones, and of course a very nice reverb. This amp was part of Dan's gear in 2012.
Victoria Double Deluxe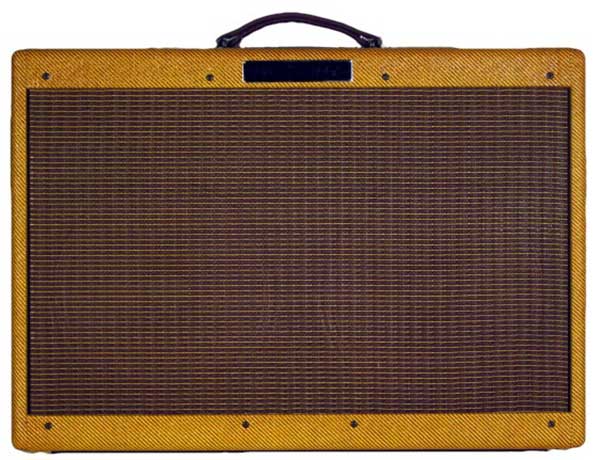 Years Used: 2009 to Unspecified
This is a simple vintage amp, that according to Dan Johnson, has a very squishy sound.
It offers 30 or 40 watts of power, and it's a cathode biased amp, which means that the voltage varies up and down, and it's going to allow for more sustain and spongier sounds with bass notes.
It was also featured in the 2012 Black Keys Rig Rundown.
Danelectro Cadet 6v6 Tube
Years Used: 2004 to 2016
This was the amp that replaced the Victoria, a 1958 Commando accordion amp with eight 8' four ceramic and four replacement alnico speakers. This is a very rare amp that gives Dan that loud and full body that his guitar needs in order to bring the duo to the high standards they deserve as a blues-rock band in the 21st century.
Dan Auerbach Pedals and Effects List
Dan Auerbach's effects are not too complicated, he mostly works with a rack controlled by an RJM Effects Gizmo and dual Mastermind controllers.
In live shows, some of the effects are controlled by Auerbach while others are controlled by Johnson, however, this mostly applies to the newer songs. While he doesn't get too crazy with effects, he does use a few that, combined, make for perfect Black Keys magic.
Boss TR-Tremolo
A tremolo is used to add depth to the chords by giving the sound a modulation effect. Thanks to the tremolo you get this 'underwater' effect.
Remember not to confuse tremolo effects with vibrato, the tremolo has a steady increase or decrease in volume, the vibrato changes the pitch.
If you see the review for the BOSS TR-2 Tremolo by Sweetwater you can clearly see why Dan has this effect on his pedalboard. It has one rate control for speed adjustment, a wave control to alter LFO waveforms, and depth control for the strength of the effect.
Boss OC-2
The point of this pedal is to add more tones to the guitar or bass sound by having one or two octaves below the original note. It has two octave controls and one for the tone.
Radial Engineering Tonebone JX-2 Pro Switchbone
This pedal is an AB-Y switcher and it allows the player to drive 2 guitar amps at the same time without any noise or hum, and switch between amps with ease.
One of the reasons Dan used this pedal was because of its power booster which had variable gain control, boost, mid and gain boost, and mute (in order to send the signal to the tuner without the amp outputs).
"I used to use it as a splitter when we had only two amps. It has such a warm boost that I have in there now just for the boost so that when we use that, which is something we kick on very often, it's not like a lot of other boost pedals that add a lot of top-end to them"- Dan Johnson on Auerbachs Tonebone.
Big Muff Pi

The Big Muff has become an important piece of tech for rock guitarists for the last 40 years.

Electro Harmonix's take on the iconic fuzz effect is as important today as an overdrive pedal, made legendary by the likes of David Gilmour, Jimi Hendrix, Steve Howe, and many more. This pedal has volume, tone, and sustain controls. Dan mostly used this pedal for the earlier years of Black Keys.
Shin-ei FY Companion Fuzz
This is a vintage Japanese fuzz pedal from the 60s, and in a way, it replaced the classic Big Muff in albums such as Brothers, El Camino, and Turn Blue.
This is a vintage companion fuzz. And the companion fuzz also goes into this EQ so that we can cut some of the lows and bring back some of the mids that are scooped out. It's a very cool octave fuzzy sound, but it kind of scoops the mids out. Even though it gets a whole lot louder, you have to bring that back into it," says Dan Auerbach's guitar tech about the Shin-Ei Companion Pedal.
Boss PH-3 Phase Shifter
This Boss phaser offers the standard up and down cycles of the effect while also producing new sounds due to the Rise and Fall effects.
It also features a stage switch and resonance, depth, and rate knobs. This phaser can be heard in the song 'Tighten Up" from Brothers.
Rosac Nu-Wa Fuzz
This is another fuzz that Dan uses, but it's also a wah, although according to Johnson he doesn't really use the wah that the pedal has.
Its mid-range sound sets it apart from the Big Muff so it gives more space for Dan to explore new fuzz sounds.
This pedal was made by Rosac Electronics in California around the 60s and it's one of those great vintage, hard-to-find pieces of tech which makes sense now that we know Dan's preference.
Analog Man Beano Boost
According to Dan, this is one of the pedals you leave on all the time, this is because he loves the sound of treble boosters, and this Beano Boost that was actually based on the old Dallas Rangemaster, does the job beautifully to get that sweet tone that Dan has in "Let's Rock".
The GigRig G2
This is an interesting one that Dan mostly used in the studio, and it's basically a pedalboard switching system that allows complete control over the rig.
It has 10 passive true bypass matrix effects loops, delay spillover, pre-gain, post gain, switchable outputs, 120 presets, a footswitch that uses light instead of mechanics, and full MIDI In and Out.
According to Dan, this pedal allowed him to feel free to experiment with his effects in a fun way, and he says "Everything goes through that, except for the wah".
Catalinbread Belle Epoch Deluxe
This is an analog delay with a JFET preamp, a high gain silicon transistor-based record, and playback amps, and more. This pedal features an internal turnable repeats trimpot and an internal bypass type switch. This one was also used in the studio and one of the reasons why is that Dan believes the line-amp in it sounds like the Maestro Echoplex EP-3 solid-state-line amp.
It's very interesting to see how the Black Keys have always kept their passion from the start, keeping everything as real as it gets, respecting the ideals of blues music by pushing themselves with new sounds while still maintaining the core of what makes a good rock blues musician.
This can be seen through Dan Auerbach's career as a guitarist, as he is not only driven by the impulse of making music and playing the guitar but also admiring the history behind some of the most legendary musicians and their instruments as well as keeping the past alive by bringing relics to a new age of music.
Dan Auerbach is the kind of guitarist that would choose a guitar over another, not just because it's really the better guitar, but because it feels better for him as a way to express what he wants.
"You have to let go," says Auerbach. "It's a weird person that wants to get good at something, but not too good … that's sort of always in me! I love people like Lightnin' Hopkins and Link Wray, but understand that if either of those guys had ever been taught any musical theory, it probably would have fucked their whole sound up."
This summarizes Dan Auerbach's personality and attitude as a guitarist, as someone who just let himself go and play whenever he feels like it, with whatever feels good.
Wrap Up
This natural spark of music eventually led these blues brothers to make some demos and play, just the two of them since they realized it was more than enough. With Carney's explosive drums and Auerbach's electric blues riffs and licks, the Black Keys wasn't short of talent. One of the things that make the Black Keys so special is Dan Auerbach's classical yet unique style, even though he's not thought of as a virtuoso, he is able to make some of the catchiest tunes and has a great sense of rhythm about his playing. As a humble student of the Mississippi blues, Dan manages to compose such authentic rock music, that sometimes it is hard to believe they managed to be a commercial success.
When it comes to Auerbach's guitars, it's not much about innovation as it is preservation in the best way possible, having a big list of vintage guitars mostly between the 30s and the 70s. Combined with the right modern effects, Dan gets his signature tone that makes a two men band sound like the best rock blues band. He is not very picky with his guitars and actually believes that the most important thing is how you play the instrument.
"I love to collect them, mostly oddballs, but I'm not married to any brand or model. Whatever guitar has the best character for the song is the one I want to use, because if you've got style, you're going to sound like yourself no matter what guitar you play." Dan Auerbach on his oddball guitar catalog.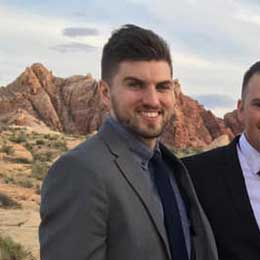 My name is Chris and I've had a passion for music and guitars for as long as I can remember. I started this website with some of my friends who are musicians, music teachers, gear heads, and music enthusiasts so we could provide high-quality guitar and music-related content.
I've been playing guitar since I was 13 years old and am an avid collector. Amps, pedals, guitars, bass, drums, microphones, studio, and recording gear, I love it all.
I was born and raised in Western Pennsylvania. My background is in Electrical Engineering, earning a Bachelor's degree from Youngstown State University. With my engineering experience, I've developed as a designer of guitar amplifiers and effects. A true passion of mine, I've designed, built, and repaired a wide range of guitar amps and electronics. Here at the Guitar Lobby, our aim is to share our passion for Music and gear with the rest of the music community.