When you think of the greatest country pickers of all time, your mind might jump to legendary players like Chet Atkins or Jerry Reed, but not all legends live in the past. As far as modern country players go, it's hard to compete with Brad Paisley when it comes to pure, twangy, Tele-driven country pickin'.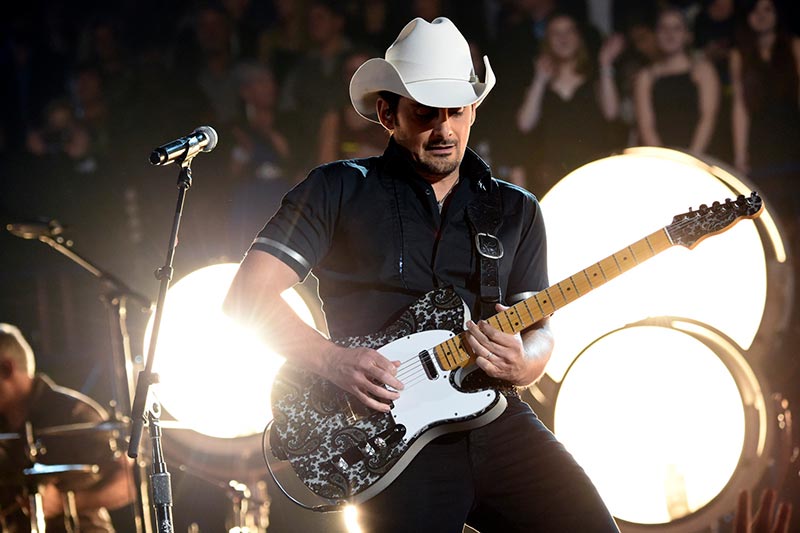 Brad Paisley started playing guitar at 8 years old and was performing by the age of 13. Over the years, he has cemented his name in the history books by winning 15 Academy of Country Music Awards, 3 Grammy Awards, 14 Country Music Association Awards (so far), and earning country music's most distinguished honor: becoming a member of the Grand Ole Opry.
Paisley has used mountains of equipment over the past twenty-plus years to create his unique rock-infused country style. Take a look at some of the guitars and gear Brad Paisley has used throughout his career.
What Guitars Does Brad Paisley Use?
Brad Paisley is best known for playing Fender Telecaster guitars. He's also been known to use his selection of Crook guitars, and occasionally a few Gibson models. But since his partnership with Fender he's been especially attached to his signature Fender guitars.
See the full list of Brad Paisley guitars and other gear below.
Fender Brad Paisley Signature Telecaster

| | |
| --- | --- |
| Finish | Silversparkle |
| Years Used | 2017 to Present |
In 2017, Paisley teamed up with his favorite guitar manufacturers at Fender to create the Brad Paisley Signature Road Worn Telecaster, which was based on Silver Sparkle itself. Although it looks very similar to the original, there are a few significant changes. Most notably, the signature model is made from a lightweight Paulownia core with a thin spruce top and back. This keeps the resonance of a solid body Tele without adding weight. It's not that Paisley doesn't like the feel of heavy guitars; he believes lightweight ones have a better tone. It also features an enhanced V-shaped neck that's designed to fit your hand for unmatched playability and comfort. The whole sparkly look is finished off with two single-coil pickups. The bridge pickup is custom-wound to meet Paisley's specifications and the neck pickup is a standard Twisted Tele.
While most artist signature model guitars carry a price tag that's out of reach for most players, Paisley worked with the team at Fender to ensure his signature model is affordable for everyone. You can grab a Paisley Road Worn Telecaster in Silver Sparkle for under $1,400. While most artists don't actually use their signature models (why would they if they own the original?) Brad Paisley does use his signature Tele on stage. It's a great piece, and he wants to show everyone that you don't need an expensive vintage guitar to sound good.
The only difference between the guitar you can pick up in any music store and the one Brad brings out on stage is the G-Bender. Otherwise, the piece you see on stage is the exact same one you can grab from any Fender dealer.
Fender Brad Paisley Signature Esquire

| | |
| --- | --- |
| Finish | Road Worn Black Sparkle |
| Years Used | 2020 to Present |
After the success of his first signature Telecaster, Brad Paisley teamed up with the pros at Fender yet again for another signature model. This time, he decided to build a Fender Esquire—the single-pickup powerhouse from the 1950s. Paisley wanted to do an Esquire because of its simplicity. As he puts it, "the aggression from one pickup, one steel bridge, brass saddles, tuners, and nothing in the way with a great piece of wood. There's nothing like it."
This signature piece has a lot of the same features as Paisley's previous signature Tele, including the Paulownia core, spruce top and back, sparkly finish, and paisley pickguard pattern. It also has the enhanced V-shaped neck that Paisley likes on his guitars. Although it looks like the Fender Brad Paisley Signature Esquire only has one pickup, it actually has two! The bridge pickup is a custom-wound '64 Tele bridge pickup and the neck has a Seymour Duncan Brad Paisley Signature Secret Agent pickup. Why is it called "secret agent?" Because it's invisible!
The hidden neck pickup is actually underneath the pickguard. It's specifically designed to pick up the strings from a distance, so the magnets don't interfere with the vibration of the strings. It gives players the true original Esquire feel without limiting tone or versatility.
Gibson Brad Paisley J-45 Acoustic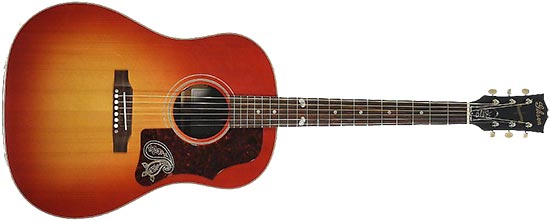 | | |
| --- | --- |
| Finish | Cherry Sunburst |
| Years Used | 2010 to Present |
Since it's not ideal to carry a 1937 Martin on tour, Brad Paisley needed a more road-worthy acoustic that could handle the bumps and bruises of the road. Early in his career, Paisley borrowed and played a few vintage Gibson acoustic models, including a 1963 J-45. In 2010, Paisley teamed up with the expert guitar-builders at Gibson to create his first acoustic signature model, the Gibson Brad Paisley J-45.
The signature model features a solid Adirondack red spruce top, one-piece mahogany sides, and solid mahogany back. The neck also features the modified V profile that Paisley prefers on his electric guitars for unmatched playability and comfort. The whole look is completed with custom pickguard etching, a beautiful Cherry Sunburst finish, and the vintage Gibson logo on the headstock.
Brad Paisley received two prototypes from Gibson before the release. One had vintage-style fretwire and the other had larger frets. Brad preferred the larger frets, but the vintage fret guitar was the one he carried in his touring rig. When his tour rig was destroyed in the 2010 floods, so was the original J-45 prototype. Luckily, he still had the second prototype with the larger frets to fall back on, so it all worked out. You can see this guitar in action just about any time Paisley needs an acoustic on stage, like for "Letter to Me."
1968 Fender Paisley Telecaster Old Pink

| | |
| --- | --- |
| Finish | Paisley Custom Pattern |
| Years Used | 1990 to Present |
The pride of Brad Paisley's electric guitar collection is his 1968 Fender Paisley Telecaster that he affectionately calls "Old Pink."When he was young, Paisley grew up listening to country greats like Waylon Jennings, Merle Haggard, and Buck Owens. Almost all of them used Telecasters to get that twangy country sound. Obviously, he just had to have one.
To Paisley, the Fender Telecaster was simply the perfect "man's" guitar—as he describes it. It's nothing but a "cutting board of wood with a neck bolted on." They don't have the fancy curves of a Stratocaster or contours of a Les Paul; they're just straightforward. Plus, the two stock Fender pickups were perfect for almost any style of music. The bridge pickup could get that twangy country tone, and the neck pickup could produce smoother jazz tones. What more could you want!?
Back in the late 1960s, Fender produced a limited run of Telecasters with a paisley finish. The finish was created by applying patterned wallpaper (no, really) to the model and spraying it with a clear polyester finish. When they were released, they were just about the ugliest guitars you could possibly buy. Most people actually stripped the paisley finish off the instrument and repainted it with a solid color. In other words, the already limited number of paisley Telecasters became even more limited! Of course, the paisley finish wasn't considered ugly forever. In 1970, James Burton decided to play a paisley Telecaster when he teamed up with Elvis Presley. They instantly became cool!
Since "Paisley" is actually Brad's birth name, he had to play a paisley guitar. As he put it, "if there's a guitar with your name written all over it, you just have to have it." It only made sense! He picked up his 1968 Fender Paisley Telecaster before he started working on his first album in 1999. He loved the piece so much that it instantly became his primary player. From then on out, Paisley's '68 Telecaster has become a staple to his shows and recordings, appearing on every album and almost every stage performance for the past 20 years.
Paisley hasn't made many alterations to the six-string. It features the same neck, pickups, and hardware that came from the factory. The only thing he did add was a Glaser G-Bender. While most players use B-Benders, Paisley prefers to bend the G string. He says he found the B string to be a bit too high for his taste, so he installs G-Benders on most of his guitars.
In 2010, Nashville, Tennessee experienced record flooding, and unfortunately, Brad's equipment storage was right in the flood's path. His locker—which held almost all his guitars, speakers, and amps—was filled with water, ruining almost his entire rig. Luckily, his 1968 Tele was safe and sound at his home. He thought it was always a bit of paranoia to keep the guitar at home instead of in his locker, but it turns out that it was the right decision. Now, he and his '68 paisley can rock stages around the world for years to come.
Pre-War 1937 Martin D-28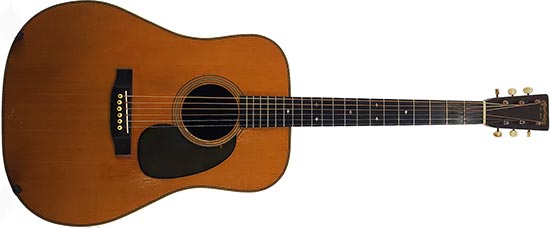 | | |
| --- | --- |
| Finish | Natural |
| Years Used | 2010 to Present |
The 2010 Nashville floods were a catastrophic event. Thousands of musicians lost countless guitars, amps, and gear, including big names like Keith Urban, Vince Gill, LeAnn Rimes, and, of course, Brad Paisley. However, every dark cloud has a silver lining – at least for this particular musician. Luckily, Brad Paisley was completely insured for all his gear, meaning he had a pretty hefty insurance check once the floodwaters receded. Generally, Paisley is pretty frugal with his guitars and gear. He likes to play things that work, not necessarily things that are expensive – that's why he loves Telecasters. But there was always one six-string he wanted but couldn't justify the cost: a pre-war Martin acoustic.
Pre-war Martins can easily cost upwards of $100,000 or more. With Paisley's frugal mentality, it just wasn't something he needed. However, when all his gear was lost and he saw that insurance check, he figured it might be time to finally fulfill a lifelong dream. He headed to Gruhn Guitars in Nashville, one of the best places to find vintage and rare instruments, and walked up the steps to the acoustic room. There, he found several pre-war Martins hanging on the wall. He took his time playing each, but he didn't really find one that resonated with him—at least until he picked up the very last guitar.
The last piece on the wall was a 1937 Martin Herringbone D-28. Once he picked it up, Paisley said it felt like the heavens parted and angels started singing. It was incredible! Of course, before dropping that kind of money, he first asked his wife (naturally) and his friend Joe Glaser (who makes his G-Benders). They both said he had to go for it!
When you buy a guitar that old, it comes with lineage papers that tell its story. When Paisley saw the papers for the '37, he couldn't believe what he read. Apparently, the person who owned the six-string for the longest period of time was from Paisley's home state of West Virginia. As if that wasn't special enough, he also worked as a telegrapher, like Paisley's grandfather. In fact, the original owner and Paisley's grandfather worked only one station apart on the B&O Railroad line around the same time after World War II. It's not too farfetched to imagine that the two men talked to one another quite frequently and maybe even strummed their guitars at their respective posts.
When all the stars align like that, it's fate. Brad Paisley bought the model, and it has never left his side since. According to Paisley, his 1968 Paisley Telecaster and 1937 Martin D-28 are the two guitars in his collection that mean the most to him. Of course, Paisley doesn't play a 90-year-old guitar on stage, but he did use it in a few studio recordings. The acoustic intro to the album version of "This Is Country Music" showcases the incredible sound of his 1937 Martin D-28. This is one of my personal favorite Brad Paisley guitars of all time.
1952 Fender Telecaster

| | |
| --- | --- |
| Finish | Butterscotch Blonde |
| Years Used | 2005 to 2010/ 2010 to Present |
In the guitar world, there's almost nothing that can compare to a 1950s-era Fender Telecaster. As his career took off, Brad Paisley was constantly on the search for a '50s Tele of his own. With this in mind, around 2005, Paisley wandered into a guitar store in California and saw a 1952 Fender Telecaster hanging on the wall. He immediately snatched it up and it became one of his primary players for both on the road and in the studio.
Paisley's '52 Telecaster has a Butterscotch Blonde finish and the much-coveted stock Alan Hamel pickups. The only part of the guitar that wasn't stock was the neck, which was from 1957. According to Paisley, "Nothing sounds like a 50-year-old piece of wood." In order to make the guitar more his "style," Paisley removed the original black pickguard and replaced it with a clear guard with black and yellow paisley fabric underneath. He also added a Glaser G-Bender. Paisley used this guitar in countless live performances and on several albums. He even used it in the music video for his song "Alcohol."
Unfortunately, Brad Paisley's 1952 Telecaster was in his equipment locker during the 2010 flood and was submerged under 3.5-feet of water. Paisley's guitar tech attempted to save the piece by spraying it down with bleach water and rinsing it under a hose (which sounds like a horrible thing to do to a 1952 Telecaster), but nothing could bring the instrument back to life. Fortunately, the music shop where Brad bought the '52 just so happened to have another one in stock. Paisley called them soon after the flood and got a second 1952 Telecaster in Butterscotch finish to replace the original. His guitar tech even saved a photocopy of the paisley pickguard pattern from the first and recreated it for the new (old) guitar. Paisley was able to continue rocking his '52 Tele on the stage and in the studio!
1963 Fender Telecaster

| | |
| --- | --- |
| Finish | Silver Sparkle |
| Years Used | 2010 to Present |
Around 2010, Brad Paisley was wandering around Los Angeles and wound up in a Guitar Center to see what goodies were inside. He spotted a Fender Telecaster hanging on the wall that someone with questionable taste had repainted. Instead of the nice factory finish, the six-string was covered with silver sparkly paint. That being said, it wasn't the silver paint job what caught Paisley's eye. As a Telecaster aficionado, he recognized the seemingly low-quality DIY guitar as a real-deal 1963 Fender Telecaster. Although the paint might not have been the highest quality, the guitar sounded incredible once he plugged it in.
Since nobody in Guitar Center really knew what it was, Paisley picked up the '63 for a low, low price, and it immediately became one of his primary stage players. You can see it in action during countless live shows, including this version of "This Is Country Music."
Shortly after Paisley purchased the six-string, he sent it off to his favorite luthier Bill Crook for a checkup and discovered that the incredible pickups were actually bone stock from the factory. The original solders had never been broken! These pickups became the inspiration for the Voodoo TE-59 pickup that Brad uses in many of his guitars. Other than a thorough cleaning, installing a G-Bender, and adding his signature paisley pickguard, Brad didn't make any changes to the guitar. It even still sports the "ugly" silver paint job, which earned the piece the name "Silver Sparkle."
Crook Custom Telecaster Guitars

| | |
| --- | --- |
| Finish  | Blue Sparkle/ Black Paisley |
| Years Used | 2000 to Present |
Just after Brad Paisley signed his first record deal and started touring, he reached out to luthier Bill Crook to build him a backup guitar that sounded as good as his favorite 1968 Fender Paisley Telecaster. Through much trial and error, Crook came up with a way to match the old Fender paisley finish and created Brad's first Crook Custom Blue Paisley. The Crook Custom Blue Paisley was Brad's first piece of this kind, and it made its grand debut in the music video for "I'm Gonna Miss Her." Brad loved the model so much that Bill Crook became his go-to luthier for countless custom pieces used throughout his career. Moreover, according to Crook's website, he has made guitars with 16 different finishes for Brad Paisley. Whenever you see Paisley on stage, there's a good chance he's playing a Crook Custom (as long as it's not his beloved '68 or '52).
Unfortunately, Paisley lost many of his Crook Custom guitars in the 2010 flood, but Bill Crook was kind enough to make several replacements, so Paisley wouldn't have to go out on the road without his favorite guitars.
Some of the other iconic Crook Guitars in Paisley's arsenal include the Blue Sparkle model that Brad refers to as his "Water Guitar" (Don't worry; Brad jumps into the pool with a non-working replica) and a black and gold paisley model used for "Waiting on a Woman."
Crook Custom Splash Telecaster
| | |
| --- | --- |
| Finish | Hand Painted Custom |
| Years Used | 2008 to 2017 |
Around 2008, Brad Paisley got a Telecaster from his favorite luthier, Bill Crook, that had the incredible Voodoo pickups based on his Silver Sparkle guitar, a V-shaped neck, and lightweight body. Naturally, the six-string sounded great, and it was comfortable to play, but Brad wasn't wild about the finish. Originally, the guitar had a flat green paisley finish. Brad and his crew called it the "Camo Guitar" because that's almost what it looked like. Paisley used the Camo model for a couple of shows, including a rendition of "I'm Just a Guy" with Hank Williams Jr., but it eventually left his rig for axes that looked a little better for Brad's taste.
After the Nashville flood in 2010, Paisley was scrambling to come up with enough six-strings to keep his shows going, so he pulled out the old Camo Guitar that wasn't damaged in the water. He still didn't like the finish, so one day at a soundcheck, he took a screwdriver, pulled the piece apart, and went at it with some acrylic paints while sitting in a folding chair outside of his tour bus.
Paisley figured that Eric Clapton has his Crash Guitar and John Lennon had Rocky, so he needed a hand-painted guitar of his own. The result was the Splash Guitar. It has a lot of different colored shapes with a big watery splash in the middle surrounding the pickups. You can see the final paint job in this live performance of "Mud on the Tires."
Table Showing Each Guitar Brad Paisley Has Played at Each Point of His Career
| Make | Model | Color/Finish | Years |
| --- | --- | --- | --- |
| Fender | 1968 Paisley Telecaster Old Pink | Paisley Custom Pattern | 1990 to Present |
| Crook | Custom Telecaster Guitars | Blue Sparkle/ Black Paisley | 2000 to Present |
| Fender | 1952 Telecaster | Butterscotch Blonde | 2005 to 2010/ 2010 to Present |
| Crook | Custom Splash Telecaster | Hand Painted Custom | 2008 to 2017 |
| Gibson | Brad Paisley J-45 Acoustic | Cherry Sunburst | 2010 to Present |
| Martin | 1937 Pre-War D-28 | Natural | 2010 to Present |
| Fender | 1963 Telecaster | Silver Sparkle | 2010 to Present |
| Fender | Brad Paisley Signature Esquire | Road Worn Black Sparkle | 2020 to Present |
Brad Paisley Amplifier Overview
When it comes to amps, Brad Paisley doesn't like to stick to just one. He's not afraid to use different amps or even mix and match different head and speaker combinations to get the exact sound he wants for a song. Sometimes in the studio, he'll even swap amps mid-song to try out different tones.
Although Paisley has used quite a few amps over the course of his career, here are a few of his favorites that he continues to go back to time and time again.
Vox AC 30
Years Used:
1990s to Present
If you had to pick a definitive "Brad Paisley tone," it would be powered by a Vox AC 30 head. Paisley bought his first Vox head in the early 90s. He was listening to some albums from the Desert Rose Band, who played Vox amps. He absolutely loved the tone and ended up buying two of them for himself. His first two Vox AC 30s were a 1962 and a 1965 model. The '62 was a non-top boost and the '65 had the top boost. Although he doesn't have the original '62 anymore, he does still have the '65 and uses it from time to time.
In the mid-1990s, Brad Paisley picked up a red Vox AC 30 combo amp at a guitar show in Dallas. Not only did it look cool, but it sounded amazing as well!
Paisley also eventually got his hands on a hand-wired 1963 Vox head, which became almost a permanent part of his stage rig. It's not always live, but it's typically somewhere behind the scenes, ready to go into action when called upon.
Trainwreck Liverpool 30 "Hattie Mae"
Years Used: 2005 to Present
If you're looking for clean sparkling tones and incredible harmonically rich overdrives, there's no substitute for a Trainwreck amp. Trainwrecks were all hand-built by tube-amp guru Ken Fischer. They have very basic designs with a single channel and no effects loops, but that doesn't mean they're not incredible.
Fischer believed in using the best materials he could possibly find to make his amps, and it showed. The tone became legendary, and Trainwreck amps became a go-to for many legendary performers like Billy Gibbons, Mark Knopfler, and Keith Urban, to name a few. Fortunately, Brad Paisley was able to scoop a Trainwreck Liverpool 30 amp for himself. He loved the clean tones that sounded reminiscent of the Vox AC 30 with a little extra crunch.
Paisley used his Trainwreck out on the road for a number of years. Since it was so rare, he liked to "pamper" it when traveling. It would get its own padded bunk on the bus to make sure it wouldn't be hurt by bumps! He took the Trainwreck off the road for a few years, but he discovered that he just couldn't live without the distorted tone.
Brad uses his Trainwreck Liverpool 30 just about any time he needs a high-gain bluesy sound, for songs like "She's Everything." He also pulled out his old Trainwreck when playing with the King of the Blues himself, Mr. B.B. King!
Dr. Z Prescription Extra Strength (Rx ES)
Years Used: 2000 to Present
After a few years of using his AC 30 amps on the road, they started getting dusty, beat up, and just generally abused. They constantly needed repairs, and he didn't think that was a good idea for such amazing vintage amps. So, he started looking for a replacement that would sound just as good. One day, in a guitar shop in Smyrna, Tennessee, Brad heard a Dr. Z Mazerati amp for the first time. He couldn't believe the tone. They sounded like they'd be a perfect addition to his rig, so he bought one.
Paisley used his Mazerati amp steadily for almost three years. Over time, he struck up a relationship with Z (maker of Dr. Z amps), and the two eventually worked together to build an amp specifically for Paisley. Brad loved the sound of the AC 30, but he wanted a little more power and low end to pair with his Dr. Z Mazerati. Over the course of a few days, Brad worked with Dr. Z in his workshop to create the Dr. Z Prescription Extra Strength head—the first collaboration between the two.
The Dr. Z Prescription ES was a 45-watt tube head, which was a bit more powerful than Brad was used to with his AC 30s. In an interview, he jokingly said, "its 45-watt output can destroy the old 15-watt Vox Blue [speakers]. Don't ask how we know that." He upgraded to 50-watt Weber speakers that could handle the extra output, and the two became a permanent part of his guitar rig for the next few years.
Dr. Z Z-Wreck
Years Used: 2006 to Present
After their first collaboration on the Extra Strength Prescription, Brad Paisley went back to Dr. Z's workshop to develop yet another amp. This time he wanted to blend the sounds of his favorite amps of all time: the Vox AC 30 and the Trainwreck Liverpool 30. The result was the Z-Wreck. It has the incredible touch response of the Trainwreck with the clean tones and the twang of the AC 30. For a player like Brad Paisley, it was basically the ultimate amp!
Dr. Z made a few Z-Wrecks just for Brad Paisley to use on the road, but they weren't a production model. They were exclusive to Paisley. But, when the 2010 flood-hit, two of Paisley's Z-Wrecks (the ones he used on stage) were destroyed by water damage. Dr. Z quickly made two more amps for Brad to take on the road, but he decided that such an incredible tone was too much for just one person to play. With Brad Paisley's encouragement, Dr. Z started mass producing the amazing Z-Wreck amp.
Brad Paisley Pedal and Effects Overview
Similar to his amp and guitar usage, Brad Paisley isn't afraid to mix and match new effects into his rack and pedalboard to match the specific tone he's looking for. According to his guitar tech, they regularly carry hundreds of pedals on tour, so Brad can pick and choose the ones he wants for each show. Generally, he prefers Wampler pedals and effects and rarely goes without at least some version of the Aqua Puss Delay.
Here's a quick rundown of some of Brad Paisley's favorite pedals and effects.
Aqua Puss Delay
Every guitar player needs a delay, especially if you want to push that twangy Tele tone. For Brad Paisley, that's done with an Aqua Puss delay pedal. He has used a few different models over the years, but he typically prefers the Way Huge Aqua Puss delay. Although he changes his tone regularly to fit the song, if you want to get that "standard" Brad Paisley tone, you'd need a 1968 Fender Telecaster, a Vox AC 30, and an Aqua Puss delay.
Brian Wampler Pedals
As the story goes, Brian Wampler (founder and maker of Wampler pedals) attended a Brad Paisley show and threw one of his modified pedals at his feet, hoping he'd pick it up and try it out. Although Brad himself didn't, his guitar tech did. After loving the sound, he gave the pedal to Paisley for a test. He loved it.
From that point on, Brad Paisley has used a number of Wampler pedals both on stage and in the studio:
Wampler Paisley Overdrive: An overdrive pedal built especially for Paisley. In a test, he compared the sound of the pedal to his Trainwreck amp, and they sounded very close. When you can get a pedal to sound as good as an overdriven tube amp, you've really got something.
Ethereal Delay and Reverb: Before this pedal was added to Paisley's rig, he was using two different delays to get the exact tone he was looking for. Luckily, Brian Wampler developed the Ethereal Delay and Reverb to merge the two effects into one pedal. You can hear this pedal in action on "The Perfect Storm."
Ego Compressor: Used to maintain output levels for Brad's guitar.
Although he does usually have a pedalboard on stage, it's typically only for special cases. Most of Brad Paisley's effects are managed by his guitar tech on the rack backstage. He'll only activate or deactivate effects with his foot when he feels like he needs a different tone. Otherwise, he just lets his guitar tech handle switching between amps and effects.
Wrap Up
As of 2021, Brad Paisley is still hitting the tour circuit hard. You can check out tour dates on Brad Paisley's Official Website.
When he's not touring the world playing his iconic Telecasters, he's probably at home on his 85-acre ranch in Tennessee with his wife, actress Kimberly Williams-Paisley, and their boys or driving one of his Corvettes. Paisley is one of the undisputed Country champions of his generation, and with his knack for massive collaborations, it's only a matter of time before we see him jump on stage again with his pop meets raw material.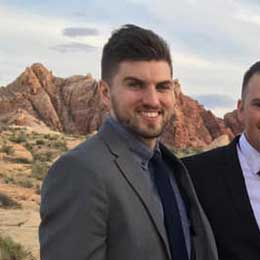 My name is Chris and I've had a passion for music and guitars for as long as I can remember. I started this website with some of my friends who are musicians, music teachers, gear heads, and music enthusiasts so we could provide high-quality guitar and music-related content.
I've been playing guitar since I was 13 years old and am an avid collector. Amps, pedals, guitars, bass, drums, microphones, studio, and recording gear, I love it all.
I was born and raised in Western Pennsylvania. My background is in Electrical Engineering, earning a Bachelor's degree from Youngstown State University. With my engineering experience, I've developed as a designer of guitar amplifiers and effects. A true passion of mine, I've designed, built, and repaired a wide range of guitar amps and electronics. Here at the Guitar Lobby, our aim is to share our passion for Music and gear with the rest of the music community.