By the time the 2000s rolled around, there were some critics who dared to claim that rock is dead, but that could not have been further from the truth. Matt Bellamy, Muse's frontman, is living proof of that. The band had its debut in 1999 with Showbiz, an album that could be described in some ways as the crossbreed of blues and grunge. At the same time, however, it gave a few classical sounds to it that made it the first step into the world of space rock. Muse packed innovative British invasion sound with Bellamy leading the way, as singer, pianist, and guitarist.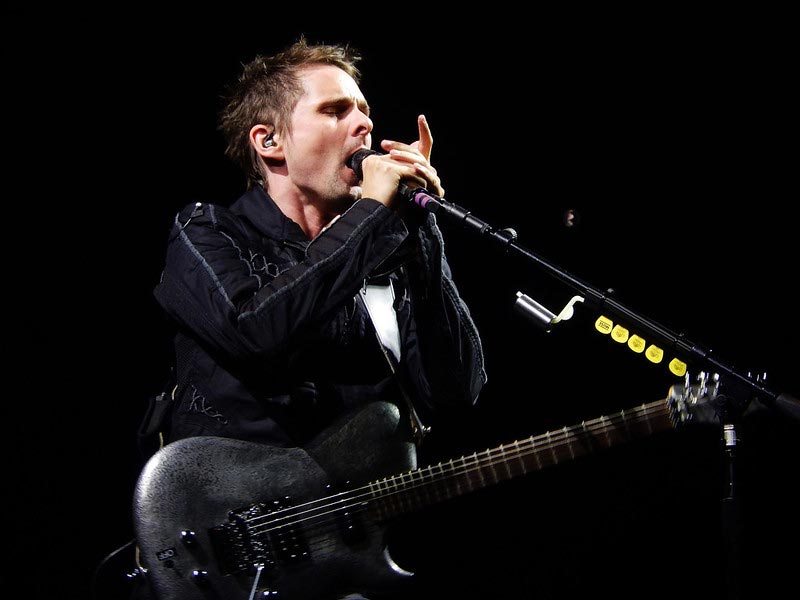 Bellamy was fond of grunge's hard-hitting sounds and a follower of Tom Morello's catchy riffs and core hitting solos. It's no surprise that his guitar work leaned towards a distortion-packed full sound. In a way, he worked as both a rhythm and lead guitarist, which was indeed his role in the band since Muse is a trio.
A few years into his career as a musician, he began pushing the limits of his guitar technique as well as his gear, getting to the point where his six-string not only sounds like a guitar but other instruments as well. The beginning of his journey as a guitarist took him to the now-famous Hugh Manson, a luthier in the UK, in order to craft a guitar that was able to suit his needs and withstand the battery that comes with the thrilling energy only Muse knows how to deliver.
What Guitars Does Matt Bellamy Play?
Matt Bellamy plays Manson electric guitars and has had a long and historic career with the brand. He's also played many other guitars including a few Gibson and Fender models.
See the full list of most notable Matt Bellamy guitars below.
Manson DL-1 "Delorean"

Finish: Starlight Silver
Years Used: 2001 to 2005
This was the first Manson guitar that Hugh Manson made for Matt Bellamy, coming to be around the year 2001. This guitar was Matt's dream come true, as he went to the Manson shop with a very clear idea of what he wanted. Before getting this guitar, he was split between the twangy tones of a classic Telecaster and the mellow classic rock sounds of an SG. This said, in his mind, he thought that if he could have both guitars in one, then he would definitely be happy.
"I wanted a guitar that would lead me down a path of 21st-century music" – Matt Bellamy
He drew some sketches where he made a guitar that looked similar to a telecaster but in his head, it had a lot of the sounds that the P-90 Gibson could give him, so when he showed his idea to Hugh Manson, he made it a reality. The Delorean has a solid poplar wood body, a birds-eye maple neck, and a rosewood fingerboard with white inlay dots.
In terms of electronics and pickups, it has a Seymour Duncan Hot P90 on the neck, a Kent Armstrong Motherbucker on the bridge, and a Roland GK-2a MIDI pickup – an interesting choice since it allowed for Roland synths sounds to be played through the guitar. However, the guitar signal is analog as it requires an external processing unit to convert that signal to MIDI. Matt also had a few pedal effects built into the guitar, these are the Z. Fuzz Factory, MXR Phase 90, Graphtech Ghost acoustic saddles, and a three-way toggle killswitch.
Even though Matt doesn't use this guitar while performing live anymore, it does hold a lot of sentimental value being the first Manson he made with Hugh, which helped solidify his sound as the cornerstone for everything that came after.
Manson Prophet Stealth

Finish: Matte Black
Years Used: 2019 to Present
This is the latest version of the Matt Black Stealth, being almost identical in many ways, but with one big difference. Matt Bellamy wanted to play synths in the tour for Simulation Theory but of course, with his history as a guitarist, it's no surprise he chose the least conventional way to do this.
Instead of just playing the synth, he literally put the synth inside one of his guitars and called it the Manson Prophet Stealth in less than a month while using the Matt Black Stealth as a starting point.
It has a solid mahogany body and a maple neck (not confirmed), a rosewood fingerboard with 22 frets, and a Gotoh Tune-O-Matic. It has two knobs, one for volume and one for tone, and a 3-way toggle pickup selector. As for its pickups Sustainiac single coil on the neck and a Psychopaf PF-1 on the bridge although this is not fully confirmed.
The biggest thing about this guitar though is the custom ELK MusicOS system that was built into the axe, running Arturia Analog Lab 6 software, and essentially turns his guitar into a synth. The Manson Prophet Stealth 2.0 is presumably just a display model as Matt has not been seen playing live with it.
The 3.0 however, is still in use, and the only big difference is that it has LED lights around the body. This guitar is mostly used to play The Dark Side live.
Cort Matt Black 3.0

Finish: Matte Black
Years Used: 2019 to Present
This is the last guitar known to be made by Manson for Matt Bellamy, and while not much is known about it, it is the result of many years of experience in playing and building guitars with Hugh.
Manson Matt Black FR

Finish: Matte Black
Years Used: 2017 to Present
This is one of the latest Manson guitars that was added to Matt's collection, and it features a slightly different body shape than the previous guitars with the Floyd Rose system, which allows him to lock the strings in place at the bridge and the nut. This system's main advantage was to be able to play with the tremolo without any concerns of going out of tune. This one was different because it did not have that rounded shape that the others have.
The Matt Black FR has a solid mahogany body with a maple neck, a rosewood fingerboard with 22 frets, and a Floyd Rose Tremolo System.
The electronics feature a volume knob but no tone knob, in its place sits a YES/NO switch that reverses the killswitch function, this allows for a different way to use the killswitch. Instead of cutting off the guitar signal, it can activate it. It has a Sustainiac pickup on the neck and a Manson MBK-2 on the bridge. The two special gadgets on this guitar are the toggle YES/NO switch that reverses the killswitch functionality and the mini killswitch itself.
This guitar is still in use, mostly for songs that require drop D tuning and whammy bar. This is one of my personal favorite Matt Bellamy guitars.
Manson Matt Black and Matt Black 2.0 (Several)

Finish: Matte Satin Black
Years Used: 2012 to 2015
At this point, Matt Bellamy was already aware of his habit of destroying guitars, and as funny as it may seem, this model was born out of the idea that he could destroy it.
Matt had a whole batch of these made for touring in 2013. While most of them share the same specs, there are a few small differences.
The Manson Matt Black has a solid body, but no known wood type, baked birds-eye maple neck, an ebony fingerboard with 22 frets, and a Gotoh Tune-O-Matic bridge. It has one volume knob, one tone, and a 3-way toggle pickup selector. The electronics consist of a Fernandes Sustainer FSK-401 and a Manson MBK-2.
Most of the guitars from this batch were smashed live but the idea of the design was carried over and evolved over the years into more polished guitars that were not so short-lived. The Matt Black 2.0 is nearly identical, with the only difference being a truss rod adjuster placed below the neck and a few touches to the bridge.
The video above is an epic compilation showing Matt's habit of destroying guitars.
Fender Aluminum Stratocaster

Finish: Brushed Aluminum
Years Used: 2015 to 2017
Matt Bellamy is known to have a very close relationship with Manson guitars but every once in a while, a bit of exploration is due. In 2015, he chose to go with a reliable Fender Stratocaster.
This wasn't the first time Matt used a Stratocaster as he had used a few for studio recordings in The 2nd Law and Hullabaloo, a Muse compilation album. However, this time he took it to the stage and continued using it for a few years.
This Fender Stratocaster has a solid body with a maple neck and a maple fingerboard with a Fender Synchronised Tremolo. It has one volume knob, two-tone knobs, and a 5-way pickup selector switch. It has three single-coils and no special circuits, which is a bit of a different thing for Matt at this point.
Once again and true to character, Matt smashed this guitar during a live performance, and that was the end of the line for it.
Popular Related Article: What Guitar Does John Frusciante Play
Manson Black 7 String

Finish: Glossed Black with Holographic Glitter
Years Used: 2012 to 2015
Going from 6 strings to 7 is always a strange sort of moment for a guitarist, and at this point, Bellamy's guitars have gone through so many experiments and uncommon mods that it was time to try something simpler, but at the same time new for Bellamy.
The 7th string fits perfectly with Matt Bellamy's signature high octane riffs, as it gave the punch he needed in the song Supremacy from Muse's sixth studio album The 2nd Law.
It was also a great way to revisit Citizen Erased – one of the band's most iconic tracks – which it is said that was actually played with a bass string as a 6th string. However, this guitar was not seen very much during live performances as it was only a big part of The 2nd Law tours.
This 7 string Manson features a solid ash body with a Birds-Eye maple neck and a rosewood fingerboard with 22 frets. It has a fixed bridge and Graph-Tech Saddles which are softer than regular steel saddles. It has its usual volume and tone knob, and a 3-way toggle pickup selector.
When it comes to a Sustainiac, this is the first time for Bellamy, more specifically a Sustainiac 7-string Pickup. While it's not confirmed, it's likely that the bridge pickup is a Manson MBK-2 specially made for a 7 string guitar.
This guitar has no special effects built-in or any crazy gadgets, so while it's quite simple in terms of Matt Bellamy guitars, it certainly packs a punch.
Manson M1D1 Black

Finish: Black Matte
Dates Used: 2006 to 2015
Matt Bellamy is not a conventional rock guitarist by any means – of course, neither are his guitars. With this one, he decided he would install a Kaoss Pad controller and introduce strange new sounds into Muse's already unique space opera.
The idea was that having an X-Y Midi pad would allow him to control midi devices such as the Kaoss Pad and a Digitech Whammy. It proved very successful since it was a feature that he decided to include in many other guitars after this one, ultimately becoming a staple for Matt Bellamy's guitars.
This piece of catalog features a Brazilian mahogany body, a bird's eye maple neck, and a rosewood fingerboard with 22 frets. It has a fixed bridge, a 3-way toggle pickup selector, a volume knob, and a tone knob. The pickups consist of a Fernandes Sustainer FSK-401 on the neck and two Bare Knuckle BKP92s on the bridge. And of course, an X-Y Midi screen controller which gave the guitar the name of "Kaoss Manson." While it hasn't been used to perform live shows since The 2nd Law Tour, it was still used in the studio while recording Drones.
This is one of the guitars that have been with Matt for the longest time from Black Holes and Revelations in 2006 to Drones in 2015.
Manson Red Glitter and Red Glitter 2.0

Finish: Red and Holo Glitter
Years Used: 2007 to 2010
This is one of his most iconic guitars to this day, sharing a similar body to the Delorean but a lot more ambitious than its predecessor.
This guitar comes after the M1D1 – one of the most important guitars in Matt's journey as a guitarist. This guitar shares a lot of similarities with the M1D1, with the biggest one being the MIDI screen controller. The really "big" thing about this guitar is its dazzling red sparkle color which was in fact the idea that led to the guitar's creation.
Hugh Manson said, "Matt said he wanted a new guitar, and I asked him to write down what he wanted, and he wrote 'sparkles.'
As we know, it's no small thing to play at Wembley Stadium, and this guitar was Matt's main companion on that iconic show, which is one of the reasons its red glitter is so important to Muse's history as a band and Matt Bellamy as a modern guitar hero.
The Red Glitter has a solid ash body with a birds-eye maple neck, an ebony fingerboard, and a fixed bridge. On the electronics side of things, it's very similar to the M1D1 with one volume knob, one tone, and a three-way pickup selector. The neck pickup is the same as the M1D1, a Fernandes Sustainer FSK-401, but on the bridge, it has a Manson MBK2. And finally the X-Y Midi Screen Controller for the Kaoss pad.
The first Red Glitter was unfortunately damaged beyond repair after being thrown and smashed into the amp a few times until it, unfortunately, became unplayable.
Still, in 2010, the Red Glitter 2.0 was born, which was almost an exact copy with a few color changes such as an extra coat of glitter, a mirror Perspex X-Y Pad frame, and a black pickup frame. The Red Glitter 2.0 was used until 2013, with its final appearance being at the Live at Rome Olympic Stadium.
Popular Related Article: 24 Best Rock Bands Of The 2000s
Gibson Les Paul DC Lite

Finish: Maple Top Yellow Finish
Years Used: 2000
Before Manson, there was Gibson. Since the beginning, Bellamy was still finding his sound as a guitarist and wasn't really in a position to ask for a crazy custom guitar just yet. Therefore, he went with a Gibson Les Paul, one he took live during the Showbiz era in the year 2000.
This guitar was the first that he used as a live performer and was considered his main guitar. However, this particular piece wouldn't last very long as Bellamy destroyed it by slamming it into a speaker cabinet in Dublin.
This guitar had a mahogany semi-hollow solid body, a mahogany neck, a rosewood fretboard and it also had duct tape around the edges of the guitar's body. It featured a tune-o-matic bridge, a Gibson 492R humbucker on the neck, a Gibson 57T humbucker on the bridge, and a Roland GK-2A MIDI pickup. It was certainly short-lived but not less important because of that.
Manson 007
Finish: Matte Black
Years Used: 2001 to 2011
This was one of the first Manson custom guitars Hugh built for Matt. Along with the Delorean, and much like that one, this one was another crazy idea from the young guitarist.
"Matt came to me and said, 'Can you build a guitar with a whammy pedal in it?' I thought for a moment and said, 'Of course we can'. Then I looked at the back of a whammy pedal and realized it draws a lot of power. Unless he wanted a guitar full of batteries that he could only use for 40 seconds, it wasn't gonna work."- Hugh Manson on Bellamy and his 007
It wasn't an easy idea, and there were a lot of complex electronics involved in order to get it working properly. In turn, Hugh asked for help from Ron Joyce and he came up with the idea to use a linear pot from the side of a keyboard, functioning as a MIDI controller pad, and then goes into a microprocessor and successfully controls the whammy.
This is one of Matt's favorite guitars and one of the few he was scared of breaking, thus making it one of the reasons it was retired from performing, with another being that it is a lot heavier than his other guitars. Nevertheless, he kept using it in the studio, mostly for Muse's sixth studio album, The 2nd Law.
The 007 has a solid mahogany body, a birds-eye maple neck, a rosewood fingerboard with black dots, and a tune-o-matic bridge. It only features one volume knob and it has a Seymour Duncan Hot P90 and a Kent Armstrong Motherbucker, but later switched to a Fernandes Sustainer FSK-401 and a Bare Knuckle Mississippi Queen P90.
When it comes to effects and electronics, it gets really crowded and crazy. It has a Fernandes Sustainer, a Z.Vex Fuzz Factory, Graphtech Ghost acoustic saddles through a preamp, which was later removed, a Z.Vex Wah Probe, a MIDI strip controller, a kill switch, and SIMS Blue LEDs on the side of the neck. Thankfully, this one-of-a-kind electric guitar was retired before being destroyed in a live show.
Manson Acoustic
Finish: Black Gloss with White Binding
Years Used: 2017 to Present
Matt Bellamy's career is filled with overdrives, fuzz, and sounds that push the boundaries of what a guitar can do, however, his beginnings featured really good acoustic flamenco style playing.
When it came to Muse's 8th studio album Matt decided to go back to his acoustic roots, which of course led him to have a custom Manson acoustic guitar. This time though, it was Hugh Manson's brother Andy who made the guitar since he was the acoustic expert.
It was fitting that Matt had his own custom acoustic guitar during this era of the band since there are three new songs that feature an acoustic sound, and it was time to bring a Manson acoustic to the stage.
There are not many particular details on this guitar other than being thinner than a standard acoustic guitar, its black gloss paint, a rosewood fingerboard with 22 frets, and an LR Baggs M1 pickup that was added afterward.
This guitar was used live a few times, with its debut at the Perfect Vodka Amphitheatre in 2017 and later in 2018 and 2019 for performing Something Human, Propaganda, and a Gospel version of Dig Down. While it's not officially stated, it's likely that this was the guitar that was used in the studio.
Table Showing the Guitars Matt Bellamy Used at Each Point of His Career
| Make | Model | Color/Finish | Years |
| --- | --- | --- | --- |
| Gibson | Les Paul DC Lite | Maple Top Yellow Finish | 2000 |
| Manson | 007 | Matte Black | 2001 to 2011 |
| Manson | M1D1 Black | Black Matte | 2006 to 2015 |
| Manson | Red Glitter and Red Glitter 2.0 | Red and Holo Glitter | 2007 to 2010 |
| Manson | Manson | Glossed Black with Holographic Glitter | 2012 to 2015 |
| Manson | Matt Black and Matt Black 2.0 | Black Gloss with White Binding | 2012 to 2015 |
| Fender | Aluminum Stratocaster | Brushed Aluminum | 2015 to 2017 |
| Manson | Matt Black FR | Matte Black | 2017 to Present |
| Manson | Acoustic | Black gloss with white binding | 2017 to Present |
| Cort | Matt Black 3.0 | Matte Black | 2019 to Present |
| Manson | Prophet Stealth | Matte Black | 2019 to Present |
Matt Bellamy Amps Overview
Bellamy has used many amps along the way from vintage amps to Fractal Audio Systems, so let's review some of his most important ones during his career as Muse's frontman and guitarist.
Vox AC30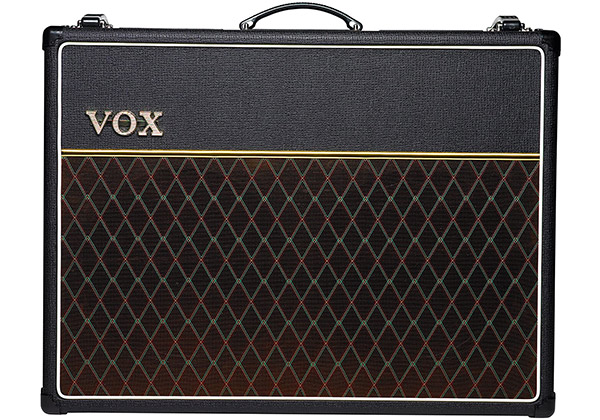 Years Used: 1998 to Present
When it comes to recording, Matt has always relied on Vox. According to him, it is definitely his favorite recording amp. He has used a few different models including the 1970 and the 1964 JMI models.
It surely is a great choice due to its extensive versatility in tone and volume, however, 30- watts can only take you so far, that's why it was his favorite in the studio but not live of course.
He did use a Vox AC30 head for a while but then switched to Kemper for a few reasons.
Kemper Profiling Amplifier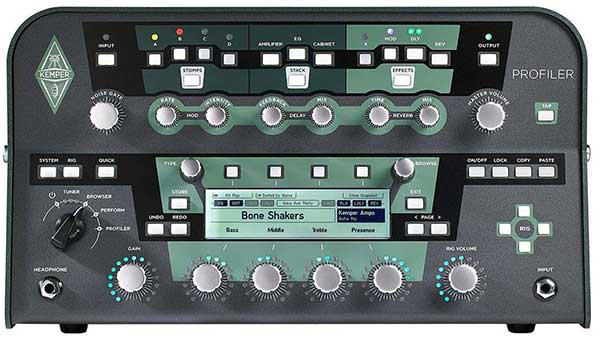 Years Used: 2011 to Present
This one may be a bit alien to some people, but it is an incredible idea that has yet to see its full potential.
Kemper Profiling Amps recreate the exact sound of any amp once it has been profiled. When you profile an amp, you capture a print of its sonic frequency response and the Kemper Profiling Amp allows you to recreate this sound as you play through it.
Not only that, but it also offers a lot more effects than your regular vintage amplifier. For Matt, this was the replacement for the Vox AC30 head, the Marshall head, and Egnater M4 Modular Preamp.
This is still Bellamy's first choice for live performances.
Diezel VH4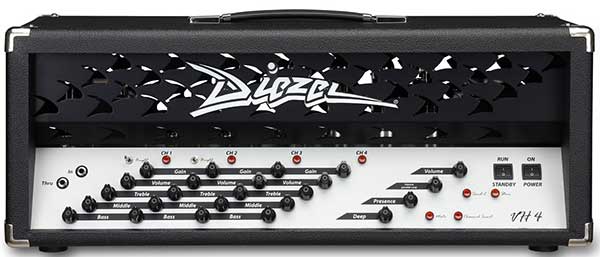 Years Used: 1997 to Unspecified
The Diezel VH4 took the world by storm in the 90s with its hard-hitting sounds and 100-watt output with four voiced preamp channels. Each one of these channels has its separate EQ, gain, and master controls. While the sound that this amp offers is very thick and strong, it's also very flexible due to its efficient sound controls and 4 channels.
The diverse sounds this amp can bring across 4 channels is incredible. 1 and 2 are great for funk and dynamic clean sounds. With these two channels, it's easy to get classic blues and vintage sounds as well. 3 and 4 give a lot more options and it's suitable for high gain types of music such as metal. Each channel also has a switchable insert loop. Finally, it offers very clear cleans and very strong high gain sounds.
Matt currently uses the VH4 combined with a Mills Acoustic 4×12 off-stage cab and the Marshall on-stage cab. He also makes the most of the four channels while also blending those sounds with his two Kemper Profilers.
This is also another one of his favorites to record, alongside the VoxAC30. This is not an easy amp to come by, they are German, midi-controlled and hand made so you probably won't find one at your nearest store.
Marshall JCM2000 DSL-100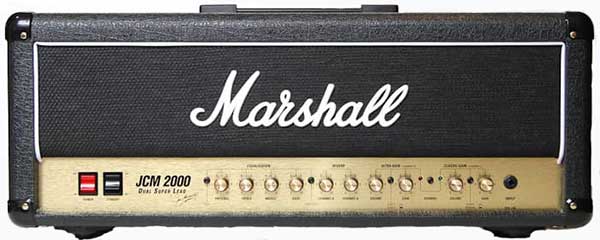 This was one of the first amps he used live, and according to Matt. "I just use a two-channel amp, full-on". A lot of people switch between channels for crunch sounds or clean sounds but I tend to stick to one channel 90% of the time, which is the volume on full, with the gain really low. You get this really attacking clean sound which I use quite a lot.
A young Bellamy also stated that he liked Marshall because of their durability while saying that if you jump on them they still sound good… then they must be good.
Matt Bellamy Pedals Overview
Along with all the crazy Manson inventions, Matt's tone and range of effects are surely interesting, to say the least.
Digitech Whammy
Years Used: 1999 to Present
This is one of the most popular and attractive effects pedals today, but it hasn't always been like that. The Whammy is a pitch-shifter pedal made by DigiTech that uses a foot controller that allows the user to control all the pitch-shifting effects that sometimes resemble the whammy bar, but also giving a lot more freedom.
Before Bellamy, Jonny Greenwood and Tom Morello were some of the most notable users of the pedal since its release in 1989.
With Bellamy being a big fan of Tom Morello, it's no surprise the Whammy got his attention, and he certainly was able to make the most of it, since it's one of the most important pedals on his rack from the first time he used it in 1999 to this day on 2021.
He even has two Whammys, the V and the DT, which he sometimes controls manually on his board or by MIDI, which is why we see him use the effect but not actually stepping on the pedal.
Roland EV-5 Expression Pedal
Years Used: 1999 to Unspecified
Matt used the Expression Pedal for the Showbiz Tour. It was plugged into his Roland VG8. This pedal is used as a controller for synths and keyboards, allowing the player to set the minimum with its volume knob and control the maximum volume with the pedal itself.
Korg DTR-2 Tuner Pedal
Years Used: Unspecified
These are the rack tuners that Matt always brings with him. He started with the DTR-2 and then switched to the DTR1000 AND DTR2000 after the first one was discontinued.
It is not known for certain why Matt Bellamy uses a rack tuner. However, some of the advantages above pedal tuners involve not needing additional cables or power supply along with other pedals, having a bigger display, and the mute function which allows you to tune without making any noise.
Rocktron All Access Foot Controller
Years Used: 2005 to 2012
This is a fully customizable MIDI foot controller that Matt used, mostly in Absolution and Black Holes & Revelations.
This pedal has three operating modes, Bank Mode, Song Mode, and Remote Mode. The first mode has 120 presets to choose from. Song Mode allows the player to store up to 150 songs with 15 presets per song. Finally, Remote Mode automatically programs the footswitch to match Rocktron remote-compatible units. Titles and individual switch functions will automatically program and continuously update themselves on both the rack unit and the All Access foot controller. Functions like tap delay, mute, boost, and effects on/off instantly appear when connected to a Rocktron remote jack without any programming.
"All settings are changed by MIDI using the Rocktron All Access and we use an immense amount of MIDI channels for Matt's setup alone. I think there are around five Rocktrons on stage, Matt has one, so do Shane (Wolstenholme's Bass Tech) and I. All three of us control different parts during the gig and the numbers on the setlist represent MIDI channels and patches within. There are many patches within the channels, so if you're on Channel 30, which is Hysteria, within it there are 15 different patches".- Paul English, on the Rockatron
It may seem like a complex pedal, and that is because it certainly is, but it can be very useful during live performances as a way of organizing all your effects in one pedalboard.
Korg Kaoss Pad KP2 and KP3
Years Used: 2005 to Present
While it's not really a guitar pedal, no one can talk about Matt Bellamy's effects without mentioning this effects controller.
It was mentioned before that Matt had an X-Y MIDI pad on some of his guitars in order to control a Kaoss Pad, but how it actually works and what the actual Kaoss Pad really is.
The Kaoss Pad is mainly a MIDI controller but the XY pad allows it to achieve very unique sounds. Essentially, what it does is that it has sampling effects like filters, delays, reverb, and flanging, along with DJ effects like isolator, slicer, and auto-panning. Programs are selectable via a rotating knob. The programs are assignable to eight of the memory buttons for instant recall. The Kaoss Pad also comes with several synth sounds including analog synth programs and ethereal ambiance-type sounds, as well as vocoder programs for MC or vocal processing. The Kaoss Pad also includes its own "light show", creating a sense of groove.
The idea came to him at the start of the Black Holes and Revelations tour, so it was mainly a live thing.
He started with the Kaoss Pad KP2 which he mainly used in the Supermassive Black Hole solo, completely replacing the original version of the solo that was recorded in the studio with a very electronic DJ scratching sound.
He started using the pad as a way to improvise on a few live shows and even incorporated it in one of the songs from Simulation Theory called Break It To Me.
Vex Fuzz Factory
Years Used: 2001 to Present
This is one of the most important pedals when it comes to Matt Bellamy's sound, as it has helped him achieve the sound he needed for Plug In Baby, Hyper Chondriac Music, Micro Cuts, Dead Star, the solo of Citizen Erased, and so much more.
This is basically a fuzz, and a very good one at that, it has five knobs, one for volume, one for gate, one for compression, one for drive, and another for stability. This gives more than enough freedom to the player in order for them to find their preferred tone and depth that they desire, and Matt surely felt comfortable with this pedal, as it was essential during the Origin of Symmetry and Absolution eras.
This effect was built in the Delorean, Lazer, Chrome Bomber, Mirror, and the 007.
Roland GK- 2A Guitar Synthesizer Driver
Years Used: 2003 to Present
This one is sometimes called a MIDI pickup and this is true due to being able to transmit patch-change and volume-control MIDI signals, however, it is important to note that the guitar does not send a MIDI signal so it needs an external process unit.
After taking care of that, this synthesizer driver will be able to send a signal from each of the strings to a Roland device and basically turn the guitar into a synth guitar.
This was installed on the Parker Fly, the Yamaha Pacifica 120, two Gibson SGs, a Gibson Les Paul DC, the Peavey EVH Wolfgang, a Gretsch G1627 Synchromatic Sparkle Jet, and two of his Manson custom guitars; the Delorean and the Laser.
Fishman TriplePlay Guitar Synthesizer Driver
Years Used: 2019 to Present
This is very similar to the Roland GK-2a Guitar Synthesizer Driver and he first started using it in an attempt to get the same sound as Plug In Baby's studio version of the guitar, but he wasn't able to do so.
Instead, the TriplePlay was later used for a few songs on the Simulation Theory. It was installed on a Matt Black Stealth but was later replaced by the Manson Prophet Stealth which has a custom synth built in the guitar
Wrap Up
Matt Bellamy has had a long career of unconventional guitar ideas, techniques, and combinations that make him one of the most important guitarists in the 21st century. Not only was he able to picture crazy ideas and make them real with the help of Hugh Manson, but also made the most of those creations, making truly innovative sounds and making music that was only possible in the 21st century, ultimately accomplishing his dreams with the first Manson guitar, the Delorean.
Now, Bellamy has been more than an outstanding guitar player. He makes for a one-of-a-kind frontman with one of the most powerful vocal ranges in modern music, his flair for genre-blending made Muse one of the most impactful acts of our generation, and thus a sought-after name for supergroup such as the new Jaded Hearts Club. There's no room for doubt when we say that it's only a matter of time before major academies acknowledge him for his massive trajectory and achievements.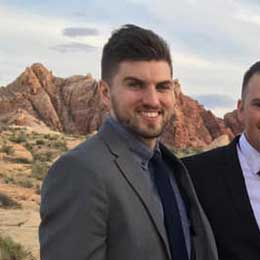 My name is Chris and I've had a passion for music and guitars for as long as I can remember. I started this website with some of my friends who are musicians, music teachers, gear heads, and music enthusiasts so we could provide high-quality guitar and music-related content.
I've been playing guitar since I was 13 years old and am an avid collector. Amps, pedals, guitars, bass, drums, microphones, studio, and recording gear, I love it all.
I was born and raised in Western Pennsylvania. My background is in Electrical Engineering, earning a Bachelor's degree from Youngstown State University. With my engineering experience, I've developed as a designer of guitar amplifiers and effects. A true passion of mine, I've designed, built, and repaired a wide range of guitar amps and electronics. Here at the Guitar Lobby, our aim is to share our passion for Music and gear with the rest of the music community.