Gary Moore was one of the most well-known and successful guitarists of all time. Music connoisseurs will often describe him as a virtuoso. Moore has often been cited as an influence by other influential guitar players and his impact in rock music extends from blues-rock to hard rock, iconic tunes from his time with Thin Lizzy, and thunderous condensed heavy leads and riffs throughout his inspiring career.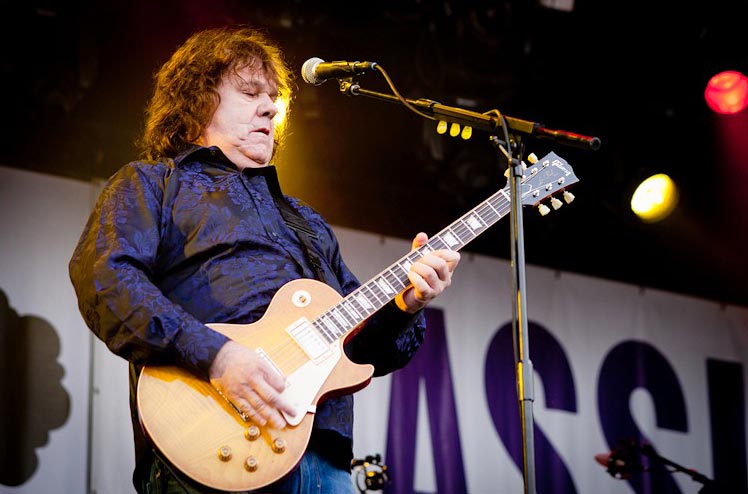 As a guitarist, Moore was a jack of all trades. His later years would see him delving into jazz fusion and massive collaborations that seemed to stop at nothing when it came to innovative guitar playing. What's more, Gary made a significant mark on music history in every active decade he played in. Some might even dare label him as a more progressive Eric Clapton.
What Guitar Did Gary Moore Play?
Gary Moore is best known for playing Gibson Les Paul guitars, the two most famous being his 1959 Gibson Les Paul Standard, aka "Greeny", which was previously owned by Peter Green of the band Fleetwood Fac and his 1959 Gibson Les Paul named "Stripe".
It was after he got his hands on Greeny that Moore developed a certain affinity for the Les Paul model. His first signature guitar from Gibson was a Les Paul that was based largely on Greeny and Stripe. Gary also went on a cyclical path that earned him other signature lines from Fender, Hamer, and Jackson before settling down with his custom-made Les Paul guitars once again. See the full list of Gary Moore guitars and gear below.
1959 Gibson Les Paul Standard, aka "Greeny"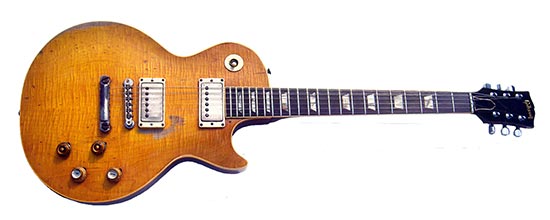 | | |
| --- | --- |
| Finish | Lemon Burst |
| Years Used | 1970 to 2002 |
If you've ever watched Gary Moore's live concerts, you'll most commonly see him playing Gibson Les Pauls. The guitar most associated with Moore was a 1959 Gibson Les Paul nicknamed "Greeny". This Lemon burst guitar is one of the most famous electric guitars in rock and roll history. The instrument was originally owned by Peter Green who sold the guitar to Gary. The 1959 Gibson Les Pauls are considered the holy grail of guitars. "Greeny" is among the most famous along with Eric Clapton's "Beano Burst", and Jimmy Page's "Number One".
Peter Green first purchased the guitar for £110 at the Selmer's in Charing Cross Road, likely sometime in 1965. During that period, Peter was already a member of John Mayall's Bluesbreakers, where he used his old Harmony Meteor guitar for the band's audition. When performing with Fleetwood Mac, Peter used this Les Paul as his main guitar. It can be heard on every album he released with the bands Fleetwood Mac, Mr. Wonderful, Then Play On, and Fleetwood Mac in Chicago.
"I stumbled across one when I was looking for something more powerful than my Harmony Meteor. I went into Selmer's in Charing Cross Road and tried one. It was only £110 and it sounded lovely and the color was really good. But the neck was like a tree trunk. Like the tree trunk was spliced down the middle and half of it was used for your guitar neck." – Peter Green speaking of his 1959 Les Paul
Once Peter left Fleetwood Mac in 1970, he offered the piece to Gary Moore, allegedly wishing for it to continue having "a good life". In interviews, however, his opinion on the guitar varied from it being nothing special to expressing high regret for selling it. In conclusion, it did seem that Peter felt a bit of nostalgia whenever the model was mentioned to him.
Gary Moore got his hands on the instrument in the early 1970s. Moore first met Peter in January 1970, when Gary's band, Skid Row, supported Fleetwood Mac. The bands spent some time together in a hotel room and eventually grew closer. After Peter Green left Fleetwood Mac in May 1970 he began selling his material possessions. Upon meeting Gary Moore at The Marquee club, he asked him if he wanted to borrow his Les Paul for a few days to try it out. From that point on, until the early 2000s, the guitar stayed in Gary's possession.
"The guitar that I use is Peter's actual guitar, and I've had that since virtually the time he left Fleetwood Mac. He let me have that in the early 70s. He let me have it for a few days and then he called me up and asked me if I wanted to buy it, and I said well there's no way I'd be able to afford a guitar like this." – Gary Moore on how he acquired his 1959 Les Paul
The model was Gary's "right-hand-man" during his early years, and almost exclusively until the late 70s. It can be heard all over his first two solo albums Grinding Stone and Back On The Streets. As years went by, he started experimenting with different guitars and brands, so it's hard to determine on which specific song the instrument was used. What we do know, however, is that the guitar was used on, what would generally be considered one of his most well-known songs, Parisian Walkways.
The Les Paul had a few modifications done during the time it was under Moore's possessions. According to Phil Harris, who at some point was the custodian of Greeny, it had the bridge and tuning pegs both replaced. The original vintage bridge was changed for a nearly identical reissue ABR-1 model and the pegs were replaced by nickel-plated Sperzels. Not everything went so smoothly though, as Gary had gotten into a car accident. A van ran into the back of his car, where the model was kept. This accident caused a broken head on the guitar. The damage required a complete re-assembly of the neck, re-assembly of the fretboard, replaced binding, lots of careful gluing, and a metal pin or a few. Around the mid-2000s, Gary ran into financial problems and decided to eventually sell the Les Paul. He wanted to keep that information private, so he wasn't keen on news writing about the transaction. After multiple buyers expressed their interest, the model finally reached Kirk Hammett.
Fast forward to 2014, Richard Henry approached Kirk Hammett with the prospect of buying the guitar. At first, Kirk declined the offer since he heard it was going to be rather expensive. However, when he realized the price tag on the guitar was just a rumor, he bought it after trying it in his hotel room.
Hammett has since used Greeny on several Metallica albums, and often uses it live. Kirk once showed Peter the guitar, but Green claimed it wasn't his 1959 Les Paul. The reason why he said that is because he doesn't see the red in the finish. However, during this event, a mutual friend who was just sitting across the room said that he knows it's his guitar.
1959 Gibson Les Paul Standard, aka "Stripe"

| | |
| --- | --- |
| Finish | Beano Burst |
| Years Used | 1988 to 2011 |
One of Moore's most prized pieces of his collection, Gary bought this guitar in 1988. with the help of his guitar tech at the time, Graham Liley. Gary nicknamed the guitar "Stripe". The previous owner was Phil Harris, who on Graham's request came down to a studio where Gary was practicing and offered him two of his guitars. Gary decided to buy this light-burst '59 Les Paul Standard, which is quite similar to the "Greeny" but it had a lot more accented flamed maple top.
"If there was a Gary Moore Les Paul that was about Gary, it was that guitar, Stripe remained with him until the very end, which I quite humble that I had the pleasure of selling him that guitar"
This guitar was first used on the "After The War" album in 1989. and it can be seen on the music video for the title song. After that, he used it on one of his best-known pieces "Still Got the Blues" and "Oh Pretty Woman" on the 1990 album. Since then, Stripe became one of his favorite guitars, using it on nearly all the records up until Gary Moore's death in 2011. This guitar is still in possession of Gary's family, but no official information seems to be available anywhere on the web.
Gibson Signature Les Paul

| | |
| --- | --- |
| Finish | Amber Burst |
| Years Used | 2001 to 2011 |
This guitar is the first Gary Moore signature model Les Paul produced by Gibson. It was released in 2000 and was in production until 2002. Gary used the guitar himself often alongside his vintage Les Pauls. The model was based on a '59 Les Paul Standard, although it did feature some very noticeable differences. The body was finished in amber burst and the neck featured the same profile as a '59, but the guitar had no binding neither on the body or the neck, and the production model was equipped with a pair of then newly developed Burstbucker pickups.
What became Gary's main guitar at the time was actually the prototype of this guitar which featured a pair of Tom Holmes pickups instead. Gary likely used a few of these models from 2001 onward, but almost every gig around that period featured the personally requested zebra pickups and chrome cover.
Popular Related Article: Eric Clapton Complete Guitar and Gear Rundown
1950s Gibson Les Paul Modified
| | |
| --- | --- |
| Finish | Red Burst on Gold |
| Years Used | 1970 to 1972 |
Back when Gary played with Skid Row, he played this specific model. The guitar can be seen during a live performance of Skid Row on the German TV music show "Beat Club".
After mid-1972, the guitar disappeared. Looking at the piece, it seems to have been modified during the early 50s. It has P-90 pickups with black plastic covers and a matching toggle switch cover which is not original, and the guitar is fitted with three 50s barrel knobs and one reflector knob. The instrument has a red sunburst finish. Also, we can see the guitar has a long trapeze tailpiece extending all the way to where the ABR bridge was fitted on later models, which gives us a clue that the guitar was modified in the early 50s, more specifically 1952.
Hammer Phantom A5

| | |
| --- | --- |
| Finish | Red |
| Years Used | 1988 to Unspecified |
The first occasion we saw Moore with the A5, was in a photo taken in the late 80s, and on the photo was Gary's guitar collection. There is no information regarding Gary performing with this guitar or it ever reaching the studio. The guitar featured a red finish, a triple-coil pickup pin the bridge, and a slanted single-coil pickup in the neck position with a Kahler tremolo system.
Needless to say, this A5 marked the 80s era for Moore, it became the most prominent six-string for live performances within his partnership with Hamer guitars.
Gibson Les Paul Custom Shop "Class 5"
| | |
| --- | --- |
| Finish | Translucent Blue/Black |
| Years Used | 2005 to Unspecified |
This model was used on several songs at the tribute concert for Phil Lynott in Dublin on August 20, 2005. This specific concert featured three Thin Lizzy guitarists showing up: Scott Gorham, Eric Bell, and Brian Robertson. The story behind this Les Paul is somewhat of a mystery but it seems to be a Standard-inspired Custom Shop Class 5 model which means it features a maple top, custom paint (translucent blue). Nowadays this guitar is on display at the OhYeah music center in Belfast.
Gibson Melody Maker (DiMarzio)

| | |
| --- | --- |
| Finish | Tobacco Burst |
| Years Used | 1978 |
This guitar can be seen performing with Moore during a live concert with Thin Lizzy. More specifically, he used it during the band's Sydney Opera House concert in October 1978, on songs "Are You Ready" and "Baby Drives Me Crazy" which were the two last songs of the set.
Gary changed the single-coil pickup with a white DiMarzio humbucker. As far as what happened to the guitar, it's believed that he sold it as it wasn't seen again. However, it has yet to be confirmed.
1980s Hamer Custom Special

| | |
| --- | --- |
| Finish | White |
| Years Used | 1985 |
This guitar was only seen on one occasion in 1985, while Moore performed a gig with Phill Lynott.
It seems like the model was specifically made for Moore. It featured a white finish and a mahogany body with two DiMarzio humbuckers, 22 fret mahogany neck with a rosewood fingerboard, and a Floyd Rose tremolo bridge.
Fender Stratocaster (Custom made, Natural, DiMarzio)
| | |
| --- | --- |
| Finish | Natural |
| Years Used | 1978 |
For this one, we are introducing the very first guitar that isn't a Les Paul on Moore's repertoire. Gary was first seen using this Stratocaster on December 20th, 1978 at the Stardust Night Club Dublin, on a gig with "The Greedy Bastards." He used the Strato during the "Thin Lizzy" gig on Top of the Pops and during the 1979 Black Rose Tour.
While doing an interview, Gary mentioned a Stratocaster that was in the process of rebuilding and talked about what he's gonna do with it. The body is original Fender, while the rest was custom-made. The neck still had a Fender logo on the headstock looking at the footage. Moore probably ended up just grabbing a neck from another piece. This model had DiMarzios humbuckers as well which Gary seemed to like very much. It seems like he had a regular vintage-style tremolo. In July 1979, Gary leaves Thin Lizzy and in November of that year, the band appeared on Top of the Pops, Surprisingly, Scor Gorham was seen playing Gary's Stratocaster, something many found odd as it seems like Gary left the instrument he made behind.
Popular Related Article: Full Rundown of Duane Allman Guitars and Gear
1955 Gibson Les Paul Junior

| | |
| --- | --- |
| Finish | Sunburst Tobacco |
| Years Used | 1978 to 1980 |
According to Gary, this six-string used to belong to Steve Jones, a member of the Sex Pistols. Moore was first seen playing this guitar during the Thin Lizzy 1979 Black Rose Tour. Gary probably got the piece during mid or late 1978. Sadly, there is not much information about this guitar since he used it only a few times while sharing a stage with Steve and "The Greedy Bastards."
1980 Charvel/Jackson Custom-made
| | |
| --- | --- |
| Finish | Metallic Red/Pink |
| Years Used | 1980 to 2003 |
After leaving Thin Lizzy, Gary traveled to Los Angeles in an attempt to make a name for himself. Eventually, he wound up recruiting a couple of musicians who ended up forming a band, G-Force. Following a recommendation from a friend, Gary visited the Charvel guitar shop and ordered a couple of pieces from Grover Jackson himself. During one of the rehearsals, Grover delivered the first guitar to Gary while working on recording the album, upon which Moore immediately changed the strings to a heavier gauge. His Charvel guitar had a metallic red/pink finish, a Strat-shaped body, rosewood fretboard, Kahler 2300 series tremolo, and two humbuckers.
Charvel Custom "Leopard"

| | |
| --- | --- |
| Finish | Custom Leopard Pattern |
| Years Used | 1980 to Unspecified |
This guitar was one of the first that Gary received from Grover Jackson, however, it remained as something of a mystery in Moore's collection. It was first seen in 1980 on a few photoshoots and in the video for the G-Force song "Hot Gossip". It features a leopard pattern finish, two humbuckers that are probably DiMarzios, a maple neck, and a transparent plastic pickguard.
1961 Fender Stratocaster

| | |
| --- | --- |
| Finish | Fiesta Red |
| Years Used | 1981 to 1984 |
Gary played this Strat in 1981 while recording with Greg Lake. Guitar tech Graham Lilly said the instrument was initially meant for Greg but found its way to Gary. It has a fiesta red finish but due to aging and inconsistencies in early Fender finishes, it's really hard to tell for sure. Gary replaced the original frets with Dunlop 6100 wire as Gary preferred larger frets. Another interesting thing about it is that both the neck and the middle pickups are not original. According to Graham Lilly, the neck pickup was rewound by Seymour Duncan in 1998, while an SD Antiquity single-coil was a substitute for the middle pickup. He also had to install a brand new tone pot since the old volume pot died. We know that Gary has been using this Stratocaster the most out of all of his Stratocaster models. This piece was used during the 2005 Strat Pack concert which marked the 50th anniversary of the Fender Stratocaster guitars.
He used this Stratocaster to record a couple of his songs from the "Still Got The Blues" album, including: "Too Tired" and "Moving On." Apparently, this six-string was lost sometime during mid-1984 when Gary traveled to the US while on tour. Rumor has it that someone stole it, but after finding out whose guitar it was, the thief returned it. Gary decided to keep playing the white reissue Stratocaster that he actually bought as a replacement.
1956 Gibson ES-5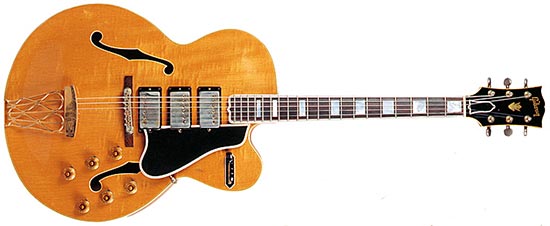 | | |
| --- | --- |
| Finish | Yellow Natural |
| Years Used | 1981 to 2000 |
Gary got this model in 1981 while recording in the studio with Greg Lake. The guitar originated from a guy who came to the studio while these two were recording. Gary bought this guitar and the 1961 Fender Stratocaster from the same person.
The guitar features a blonde finish with 3 P-90 pickups. It's most likely an early to mid-50s pre-Switchmaster model. We can see this guitar on the cover of the 1987 album "Wild Frontier". Gary decided to sell the guitar in an auction in 2000. No information has been found about its current whereabouts.
Ibanez Roadstar RS1000CS

| | |
| --- | --- |
| Finish | Sunburst |
| Years Used | 1983/84 to 1997 |
During 1983.-1984. Gary endorsed and occasionally used Ibanez guitars and equipment. There can be found several photographs where we can see Gary playing the piece. This sunburst six-string featured an alder body with a birds-eye maple top, two Maxon Super 58 humbuckers, and a "Hard-Rocker Pro" tremolo bridge. This model, at the time, was one of Ibanez's top-selling guitars. It was produced around 1981.
Charvel San Dimas

| | |
| --- | --- |
| Finish | White |
| Years Used | 1983 to 1990 |
This white Charvel guitar started as a standard Charvel San Dimas, given to Gary by Grover Jackson during 1983. He occasionally used the instrument throughout 1983.-1984., but in 1985, the guitar went through some severe modifications. The original guitar had a mirror/Chrome pickguard, and two humbucker pickups. We can see that on the cover of Gary's 1983 album "Dirty Fingers". The pickguard was replaced with a custom-cut white one.
Both pickups were removed and changed to an EMG active pickup pin the bridge position, and likely adding the battery needed to power it in the neck pickup cavity, and the original 21 fret neck was replaced with a 22 fret one with a white painted headstock. He used this model often in 1985 and loved it so much he acquired another Charvel San Dimas in the red finish in 1986 and modified it the same way as the white one. He used both guitars in 1987. during the "Wild Frontier" tour until 1990.
Before 1989, he replaced the neck on the white Charvel with a Jackson neck with rosewood fretboard. After 1990, both the white and the red San Dimas guitars faded out of his arsenal and were no longer seen.
Popular Related Article: Complete Overview of David Gilmour Guitars and Gear
Hamer Phantom Prototype

| | |
| --- | --- |
| Finish | White |
| Years Used | 1981 to 1987 |
We can see Gary using this guitar in a couple of photos taken in the 80s. The instrument had a hand-written signature which might indicate that Garry was about to sell the piece. This particular model was made in 1984, however, the guitar never made it to production. This specific prototype consisted of a Phantom-style body, with two single coils and a humbucking pickup. The neck on the guitar was a traditional Hammer one, which at the time was merely a prototype for the model as well as its Phantom headstock.
1962 Fender Stratocaster Reissue

| | |
| --- | --- |
| Finish | Cream |
| Years Used | 1984 |
This guitar was bought to replace his stolen '61 red Stratocaster which got recovered later on. For most of the '84 US tour, he used this particular Strat. The guitar can be seen in the docu-style release "Emerald Aisles", and on the live album "We Want Moore!". Once the red Stratocaster was recovered, this reissue Strat slowly became less used. Eventually, it got sold to John Norum, guitarist and one of the founders of the rock band "Europe". According to John, the guitar is a Fullerton '62 reissue from 1983. and has a humbucker route underneath the pickguard. This means that before the single-coil, it was equipped with a humbucker, but for some reason, Gary decided to put the original single-coil back in. This was an unusual move for him as his previous guitars were mostly humbucking pickups instead of single-coils. A brass block was also added to the bridge with 6100 jumbo frets. The back of the headstock features Gary's hand-written signature.
1984 Hamer Explorer

| | |
| --- | --- |
| Finish | Natural |
| Years Used | 1984 |
Hamer directly delivered this guitar to Gary in late 1984. The guitar featured a natural finish on a flame maple top, two humbuckers, and a stoptail bridge. Gary was photographed with the guitar on several occasions, but it doesn't seem like it reached a live concert or even a studio recording. The guitar is now owned by John Marks from "Rare Star Guitars".
1980s Hamer Custom Special
| | |
| --- | --- |
| Finish | White |
| Years Used | 1985 |
This guitar was only seen on one occasion in 1985, while Moore performed a gig with Phill Lynott.
It seems like the model was specifically made for Moore. It featured a white finish and a mahogany body with two DiMarzio humbuckers, 22 fret mahogany neck with a rosewood fingerboard, and a Floyd Rose tremolo bridge.
Ibanez Roadstar II RS 530 BK

| | |
| --- | --- |
| Finish | Black |
| Years Used | 1985 |
Gary used this instrument in the music video for the original song "Out in the fields" with Phill Lynott in 1985. The guitar features a flat top with red body bindings, a 24 fret neck, a Pro-Rock'r tremolo bridge, and standard passive Ibanez pickups.
Other than its MTV highlight, this guitar remained with a bleak background and usage. It is speculated that it was one of Moore's replacements when touring.
1957 Fender Stratocaster Reissue

| | |
| --- | --- |
| Finish | Sonic/ Daphne Blue |
| Years Used | 1982 to 1997 |
This model was one of the guitars that were used in the "Out in the Fields" video with Phil Lynott. It was also used throughout the 1997 European tour and most notably, it was used on a live concert at Montreux DVD, more specifically on the track "Business As Usual". The piece was made in 1982 and was one of the earliest to ever come out of the Fender factory.
Nowadays it's somewhat a collectible item but when it first came out, this model was heavily criticized due to multiple inaccuracies when compared to its original counterpart. The main problem was the neck, which had a very flat radius that differs from the original beloved Stratocaster models. Gary modified this guitar over the years completely. All of the original pickups were replaced with EMG Sas and a piezo-style pickup underneath the bridge. Eventually, the guitar was sold for £22,500 at an auction in 2017.
Fritz Brothers Bluesmaster

| | |
| --- | --- |
| Finish | Sunburst |
| Years Used | 1991 to 2005 |
Gary bought this sunburst guitar in late 1991, after trying a similar model that was owned by George Harrison. Gary used Harrison's guitar to record a song from the 1989 album "After the War." Eventually, he felt he needed his own guitar to perform the song at a live concert during the tour. The piece also featured three EMG pickups, a five-way selector switch, and Sperzel tuners. In 1992 Gary was seen playing a blue Fritz Brothers Bluesmaster which indicates that Gary's collaboration with Fritz didn't end with just one guitar.
Fritz Brothers Super Deluxe

| | |
| --- | --- |
| Finish | Light Blue |
| Years Used | 1992 to 2004 |
This guitar was used during a concert at the Royal Alber Hall in London in 1992. on the song "The Sky is Crying" and in 1993. during the live Blues concert on the song "Too Tired". The instrument consisted of a light blue finish on a semi-hollow Telecaster-type alder body with a solid spruce top. The neck was made from maple with an ebony fretboard, abalone dot markers, and a stainless steel nut. The pickups on the piece are EMG Sas, with a 7-way switch that allows for some unique pickup setups. This was the second model that was provided to Gary from Fritz Brothers.
1996 Fender Stratocaster

| | |
| --- | --- |
| Finish | Black |
| Years Used | 1997 to 2010 |
This model was used during the "Dark Days In Paradise" tour in 1997. as his main tremolo guitar. He played it on "I Have Found My Love In You" and "Like Angels". The guitar is an American Stratocaster with an EMG humbucker in the bridge position and a Floyd Rose tremolo installed in place of the standard Fender tremolo. It has a black finish and it featured a maple neck and a white pickguard. This guitar was sold through an auction in 2016 for $30.000.
Gibson Les Paul Double Cut
| | |
| --- | --- |
| Finish | Sunburst |
| Years Used | 2001 |
Gary was seen playing this guitar live at the Montreux concert in 2001 during the song "The Prophet". This model was also used while recording a song in the studio "Back to the Blues" the same year. The six-string is essentially a double-cutaway version of the standard Gibson Les Paul with 24 frets and simplified controls; One control knob for volume and one for tone each. The bridge pickup probably isn't original, most likely it's a DiMarzio humbucker.
Gibson Firebird

| | |
| --- | --- |
| Finish | Red |
| Years Used | 2005 to 2011 |
Gary bought this guitar around 2005. and used it frequently on stage throughout the years. He had no modifications done to this model, every part of the Gibson was completely stock, with two mini-humbuckers and a fixed bridge. This guitar was used in the studio for the song "Preacher Man Blues" from the 2008 album "Bad for you Baby".
Gibson SG Standard

| | |
| --- | --- |
| Finish | Cherry Red |
| Years Used | 1998 |
In 1998, Gary appeared as a guest guitarist in an instructional film titled "The Cream of Cream" where he picked up an unusual instrument from what we typically see him play. During the film, the band is composed of Jack Bruce, Gary Moore, and Gary Husband. They were performing some of Cream's best-known songs. The guitar itself was a 1961 Gibson SG reissue model, looking at how mint the finish looked on film.
1957 Gibson Les Paul Goldtop Reissue
| | |
| --- | --- |
| Finish | Gold Finish |
| Years Used | 2008 to 2011 |
Gary used this guitar towards the later part of his career, for example during the Avo Session in 2008.
The model is a reissue model of Gibson's 1957 Les Paul Goldtop. It featured a mahogany body with a carved maple top and a glued-in mahogany neck with a rosewood fingerboard. It consisted of two Custom humbuckers as Gibson made pickups which were developed to replicate the sound of the original PAFs.
Takamine 12-String Custom
| | |
| --- | --- |
| Finish | Black |
| Years Used | 1985 |
This piece was also seen in the 1985 photograph of Gary's guitar collection. He used the instrument to record "Victims of the Future". This is a unique guitar which means it is probably still around but no specific information has been found.
1989 Takamine CP132SC
| | |
| --- | --- |
| Finish | Natural |
| Years Used | 1992 |
Gary used this guitar on the "Nothing's The Same" in 1992. This piece of his collection is a nylon string classical model featuring rosewood back and sides with a solid cedar top. Its origin is from Japan and was equipped with an acuracoustic preamp. The instrument was sold through Bonham's auction in June 2016.
Lowden 022 Custom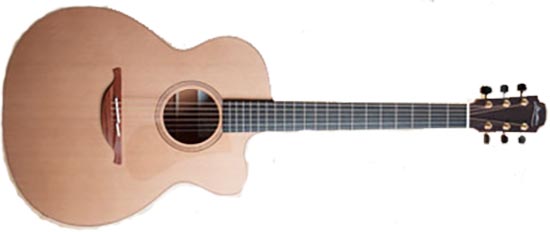 | | |
| --- | --- |
| Finish | Natural |
| Years Used | 1993 to 2011 |
Gary used this guitar around the Baker Bruce Moore era circa 1993. According to the information posted on the auction page of the model, Gary used it to some extent on the trio's album "Around the Next Dream". It was also used on April 27, 1995, during the opening song of the "Blues for Greeny" concert. The guitar consists of a natural red cedar top, American mahogany back and sides, as well as an Indian rosewood bridge. Gary ordered the guitar from George Lowden, to feature a custom neck profile. The six-string was sold on an auction after Gary's death for around $6.200 to the original makers of the instrument, Lowden Guitars. The same cooperation opened a museum in Crossgar, so the guitar is probably kept in that location.
Table Showing the Guitars Gary Moore Used at Each Point of his Career
| Make | Model | Color/Finish | Years |
| --- | --- | --- | --- |
| Gibson | 1959 Peter Green Les Paul Standard | Lemon Burst | 1970-2002 |
| Gibson | Les Paul Modified | Red burst on gold finish | 1970-1972 |
| Gibson | Melody Maker (DiMarzio) | Tobacco Burst | 1978 |
| Fender | Stratocaster (Custom made, Natural, DiMarzio) | Natural | 1978-1979 |
| Gibson | Les Paul Junior | Sunburst | 1978-1980 |
| Charvel/Jackson | 1980 Custom Made | Metallic Red/Pink Finish | 1980-2003 |
| Charvel | Custom "Leopard" | Custom Leopard Pattern | 1980-Unspecified |
| Fender | 1961 Stratocaster | Fiesta Red | 1981-1984 |
| Hammer | Phantom Prototype | White | 1981-1987 |
| Gibson | 1956 ES-5 | Yellow Natural | 1981-2000 |
| Fender | 1957 Stratocaster Reissue | Sonic/Daphne blue | 1982-1997 |
| Ibanez | Roadstar RS1000CS | Sunburst | 1983/84-1997 |
| Charvel | San Dimas | White | 1983-1990 |
| Fender | 1962 Stratocaster Reissue | Cream | 1984 |
| Hamer | 1984 Explorer | Natural | 1984 |
| Hamer | 1980s Custom Special | White | 1985 |
| Ibanez | Roadstar II RS 530 BK | Black | 1985 |
| Takamine | 12-String Custom | Black | 1985 |
| Hamer | Phantom A5 | Red | 1988-Unspecified |
| Gibson | 1957 Les Paul Standard "Still Got the Blues" | Beano Burst | 1988-2011 |
| Fritz Brothers | Bluesmaster | Sunburst | 1991- 2005 |
| Takamine | 1989 CP132SC | Natural | 1992 |
| Fritz Brothers | Super Deluxe | Light blue finish | 1992-2004 |
| Lowden | 022 Custom | Natural | 1993-2011 |
| Fender | 1996 Stratocaster | Black | 1997-2010 |
| Gibson | SG Standard | Cherry Red | 1998 |
| Gibson | Signature Les Paul | Amber burst | 2001-2011 |
| Gibson | Les Paul Double Cut | Sunburst | 2001 |
| GIbson | Les Paul Custom Shop "Class 5" | Translucent Blue/Black | 2005-Unspecified |
| Gibson | Firebird | Red Finish | 2005-2011 |
| Gibson | 1957 Les Paul Goldtop Reissue | Goldtop | 2008-2011 |
Gary Moore Amplifier Overview
Marshall 50W Head/ JMP 2204
Years used: 1968
Speaking of amplifiers, Gary acquired his first Marshall amp when he was just 16 years old which means he got the guitar somewhere in 1968, the same year he joined Skid Row.
1970 VOX AC30
Years Used: Unspecified – 1977
This VOX30 is a hand-wired amplifier, manufactured around 1974. Moore used it when he was in Colosseum II. Gary himself said that the amp had gone missing in 1977 while he was touring. Later on, Robin Millar got his hands on the amp, now known as one of the most successful record producers ever, selling more than 150 million albums. In the mid and late 1970s, he worked at "Morgan Studio sin Brussels", Belgium.
Gallien-Krueger 250 RL Amp
Years Used: 1985
This amplifier was used at the start of the Run for the Cover tour circa 1985. Gary used this amp briefly along with some Marshalls. Following this amp, Gary moved onto a smaller Gallien-Krueger Series II 250 ML combo amp which he ran through Marshall cabinets.
Gallien-Krueger Series II 250ML Combo amp
Years Used: 1985 – 1997
Gary mentioned this amp in an interview he did with International Musician in November 1985. According to the info posted on the auction page, Gary owned three 250MLs. He was photographed with one of them in 1990, but he didn't seem to use it a whole lot.
The milestone of Moore using this sound is his investment and personal twist to a speaker that was fundamentally considered a heavy metal amplifier at the time. Moore managed to blend his overdriven pop/bluesy sound with the boost that only a Gallien Krueger can provide.
1971 Marshall Model 2022 20W
Years used: 1986
Gary bought this amp sometime around 1986. He used the guitar extensively throughout his career, most notably on "Blues for Greeny" and "Wild Frontier" although it's unknown to which extent. The amp was sold in 2016. though Bonghams together with several of Gary's possessions and it ended up with "Tune Your Sound" a European-based guitar boutique.
Marshall JTM45 2245 Reissue
Years Used: 1989 – Unspecified
Gary bought this amp in 1989 while the model was still in its early stages of development. The amp was used on his 1990 album "Still Got the Blues". Reportedly he owned two of these JTM45 reissues, and as time went by and Marshall turned the 2245 into a staple, it is presumed he remained loyal to this Marshall issue.
Gary Moore Pedals and Effects Overview
Roland SRE-555 Chorus Echo
Years Used: 1980 – 1987
Gary used this effect in the early 80s and at least up until 1987 and the "Wild Frontier" tour. Gary only used the echo on this specific Roland and got his chorus from different units.
Boss CE-3 Chorus
Years Used: 1980 – 1984
Gary started using several Boss pedals during the mid-80s including this Boss pedal. He used this pedal as his main chorus effect. He stopped using the pedal around 1984. and moved onto a Roland Dimension D, which is a rack unit.
Boss DM-2 Delay
Years Used: 1980 – 1983
The Boss DM-2 was seen in the early 80s in an interview that Gary did with Rock School. The pedal was most likely replaced in 1983 with the Roland SDE-3000 Digital Delay.
Boss BF-2 Flanger
Years Used: 1979 – 1984
This is one of Gary's earliest pedals since the first half of the 80s. The flanger wasn't used much at all. According to Gary, maybe once per gig. It was eventually removed from his arsenal. Since 1984, Gary got his flanger effect from a Roland SDE-3000 rack unit.
Roland SDE-3000 Digital Delay
Years used: 1984 – 2010
Gary started using this unit around 1984. Alongside this effect, he relied on having a large number of effect pedals. Gary argues that the more effects you put between your guitar and the amp, the more you lose the authentic sound. It became one of his most trusted units and a lifelong companion for the road.
Marshall Guv'nor Mk1 Overdrive
Years Used: Unspecified – 2010
The Marshall Guv'nor Overdrive was a key component in creating the "Still Got the Blues" sound. Gary used this pedal which was introduced by Marshal in 1988. and discontinued in 1991. This first run was manufactured in the UK while later models mostly came out of Korea.
For Moore, this Marshall stompbox was one of the most authentic pieces in the collection, since he argued that it kept a neat yet distorted sound like no other drive unit
Wrap Up
Moore first made an impact when he formed Skid Row in 1968, his guitar playing would innovate and show the world what Northern Ireland was capable of producing in terms of Rock N' Roll. But arguably some of his most iconic work came through when he first partnered up with his lifelong collaborator, Phil Lynott, with whom he would leave a thunderous and unhinged mark through four decades of trajectory.
Nevertheless, this often unsung guitar hero would even influence some of his influential figures and inspire them to get with the times and to keep pushing boundaries, so was the case with Eric Clapton, who would perform Still Got the Blues in 2012 to commemorate Gary's life and memory. As a blues player, Gary would deliver soul-wrenching performances that linger on the likes of Eric Clapton and Duane Allman with an undeniable unique twist. As a hard rocker, he would shred with the swiftness of the ideal metal player, and as a jazz guitarist, Moore would display a heartfelt sensibility to his craft, and condense all of his talents in a one of a kind guitarist.
There's no wondering about the impact of this man on modern music, and while some argued his rightful place as one of the all-time guitarists in the eyes of mainstream media, 2021 saw justice being served when he ranked on Classic Rock's Magazine 100 Most Influential Guitarists of All Time. This Ace is one with a career as big as Bowie's but sadly understudied in modern times.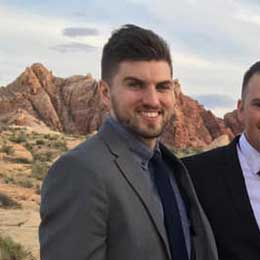 My name is Chris and I've had a passion for music and guitars for as long as I can remember. I started this website with some of my friends who are musicians, music teachers, gear heads, and music enthusiasts so we could provide high-quality guitar and music-related content.
I've been playing guitar since I was 13 years old and am an avid collector. Amps, pedals, guitars, bass, drums, microphones, studio, and recording gear, I love it all.
I was born and raised in Western Pennsylvania. My background is in Electrical Engineering, earning a Bachelor's degree from Youngstown State University. With my engineering experience, I've developed as a designer of guitar amplifiers and effects. A true passion of mine, I've designed, built, and repaired a wide range of guitar amps and electronics. Here at the Guitar Lobby, our aim is to share our passion for Music and gear with the rest of the music community.