The best way to grow as a guitarist is to expose yourself to a wide variety of genres, playing styles, and time signatures! While most of us start our guitar-playing journey by learning to play simple 4/4 songs, things get really interesting when you add more rhythm patterns into the mix, like the 6/8 pattern.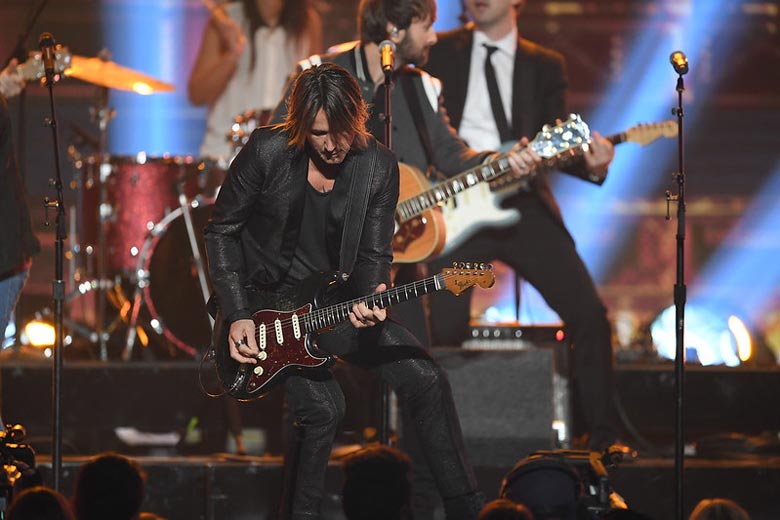 So today, we're sharing 20 popular songs in 6/8 time signature. From rock, pop, folk to country, you'll find this interesting time signature used all across. Don't forget to scroll to the end to find out how 3/4 and 6/8 time are different from each other too!
List of Songs in 6/8 Time
1. House of the Rising Sun by Animals
A traditional 19-century folk ballad, "House of the Rising Sun," first came into prominence after getting covered by British rockers the Animals in 1964. The band's rockier take on the folk staple was a huge hit with the fans, becoming possibly the first folk-rock chart-topping single ever.
The Animals' retained the folksy vibe by minimally altering the lyrics that chronicle the corrupting influence of a big city on a man's life. Since the Animals' version, numerous artists have covered the song in varied styles, including Appalachian, rock, blues, country, and even heavy metal.
It's the perfect song to get familiar with 6/8 swing time. Chord wise, if you already know Am, C, D, Fmaj7, and open E, you're golden! If not, there are plenty of excellent tutorials floating online. We've got a pretty neat one linked above to help you get started.
2. Blue Ain't Your Color by Keith Urban
Australian singer Keith Urban's 2016 chart-topper "Blue Ain't Your Color's" fascinating 6/8 rhythm and tune lends a bluesy spin to this sparsely-arranged country ballad. The soulful track features some of the best singing Urban has done yet!
Urban's smooth vocals may be the hero here, but the lyrics are not far behind! It's a witty yet empathetic conversation where he's heard cheering up a lovelorn woman who's reeling from a painful breakup.
Now, we know what an incredible guitarist Urban is, and we get to sample some of that amazing talent when he belts out a short but impactful slide guitar solo. From Urban's Ripcord album, "Blue Ain't Your Color," is a joy to learn and play. It's written in the key of G major and built around G-Am-C-D-G chord progression.
3. From the Inside by Linkin Park
Names like Metallica and Linkin Park showing up in a list of songs written in waltz 6/8 rhythm might seem surprising but also show the versatility of this time signature. "From the Inside" is one of the underrated gems from Linkin Park's seminal album, Meteora.
It's undoubtedly one of the most dramatic songs by the nu-metal giants, which kicks off melodically, picking up in heaviness and intensity as it progresses. For me, perhaps the most jaw-dropping part is when Bennington screams for ten whole seconds during the bridge! Check out this B-side wonder if you haven't already! Links and tabs above. This is one of my personal favorite songs in 6/8 time signature.
4. Nothing Else Matters by Metallica
Everything comes to a halt, and indeed "Nothing Else Matters" whenever I heard this iconic Metallica power ballad! The song cracked the top ten in many countries and made Metallica a household name. Despite being quite different from the band's usual sound, it didn't take long for this slow, melodic rocker to win over hearts across the globe.
The lyrics were penned by a homesick James Hetfield while on tour, solely for his own consumption until drummer Lars Ulrich heard it and pushed for an album release.
The emotionally charged guitar riffs and that rare and fabulous Hetfield solo are the stuff of every guitarist's dream. Now a staple at most of their live gigs, "Nothing Else Matters" was written in the time signature of 6/8 with an intro featuring E minor arpeggio.
You simply cannot dispute the timelessness and ubiquity of this track which was the first from the band's discography to clock over a billion views on YouTube as recently as August this year!
5. Gravity by John Mayer
| | |
| --- | --- |
| Album | Continuum (2006) |
| Tuning | E A D G B E |
| Genre | Blues rock, soft rock, soul |
| Tabs | See tabs for Gravity |
The emotional depth of this bluesy track is astounding! It manages to make me smile and teary-eyed at the same time! Featuring in not one but three of his albums, "Gravity" also happens to be its creator, John Mayer's personal favorite! His Live in L.A. solo is perhaps one of the most emotionally layered guitar pieces I've ever heard and manages the outshine his signature raspy, soulful vocals.
Brilliant vocals and virtuosic guitar skills aside, Mayer has a knack for coming up with very relatable lyrics. In "Gravity," he talks about the importance of loving yourself and not letting the unpleasant aspects of life spiral you into darkness. Another factor that adds to the distinctive quality of the song is its unusual time signature. "Gravity" is written in 6/8, with each measure consisting of 6/8th notes.
6. Hallelujah by Jeff Buckley
You would have definitely heard this song if not its recorded versions, then certainly at the very many televised talent shows where it is a participant favorite! Jeff Buckley's rendition of Leonard Cohen's original "Hallelujah" is considered a definitive version by many in the music community. His evocative voice accompanied only by a guitar breathes life and adds another emotional dimension to Cohen's iconic lyrics.
Every time I hear Buckley's ethereal vocals, I can't help but feel sad how he wasn't around to see the phenomenal success of this masterpiece. The song was released ten years after the untimely death of the talented singer in 1997. Not surprisingly, this gorgeous song conquered charts and won hearts all across the globe. Buckley's cover was also inducted into the Library of Congress's National Recording Registry in 2014.
If you're wondering how to go about playing your guitar, then fret not, we've got you covered! You can start by placing a capo on the first fret and brushing up on C, Am, F, G, and E7 chords. Check out the linked tabs and tutorials and get this beautiful ballad under your belt!
7. We Are the Champions by Queen
Let's kick off this list with a song that's famously called "the catchiest" in the history of rock, and there's a solid scientific explanation for why it sounds awesome! According to a team of researchers, the popular Queen earworm "We Are the Champions" is a clever concoction of neuroscience, math, and cognitive psychology that gives it a unique sing-along quality.
A frequent feature at major sports events, including the 1994 FIFA World Cup, this song is an excellent example of a slower-paced melody in a 6/8 time signature. It can be a bit challenging to figure the time signature since the half measures aren't all that easy to make out, but you can hear them clearly in the drum beats in some parts of the song.
Brian May's guitar wizardry further adds to the excitement by subtly building a melody using multi-tracked guitars before unleashing pedal, overdrives, and belting out a killer solo! Take a look at the linked tabs and add this fantastic song to your repertoire!
8. Norwegian Wood (This Bird Has Flown) by The Beatles
Many believe that the cornerstone of the Beatles' popularity was the creative partnership of John Lennon and Paul McCartney. Their synergy produced brilliantly composed gems. One of them is this 1965 psychedelic hit "Norwegian Wood," widely regarded as a significant step towards blending world music with rock, specifically pioneering the raga rock movement.
The lyrics were intended as a cryptic account of Lennon's extramarital affair as admitted by the man himself. Lennon's introspective songwriting was packaged in a dreamy, exotic vibe thanks to his double-tracked vocals and George Harrison's droning sitar. It was the first time this instrument was being used in a Beatles or any western song for that matter.
In 2004, Rolling Stone named this Beatles classic as no. 83 on "The 500 Greatest Songs of All Time." "Norwegian Wood" is written in a Dylan-inspired waltz time signature and a great pick to brush up on or get familiar with loose strumming in 6/8 rhythm.
9. Subterranean Homesick Alien by Radiohead
This 6/8-rhythm Radiohead song has pretty fascinating origins. While on his driving a country road, frontman Thom Yorke ran over a pheasant. When he got out to inspect the situation, his mind started buzzing with the thoughts of alien abduction.
He instantly recalled his first-ever school essay, which was about seeing the world from an alien's perspective, and decided to write this hypnotic sci-fi fare. Clever lyrics aside, the song is powered by brilliant synthesizers and guitars in"Subterranean Homesick Alien" render a sound similar to Miles Davis' Bitches Brew.
Originally titled "Uptight," but later changed it to "Subterranean Homesick Alien," which is a play on Bob Dylan's iconic "Subterranean Homesick Blues," being sonically and lyrically radically different from the classic.
10. Scarborough Fair by Simon and Garfunkel
Recorded by many, but Simon & Garfunkel's spell-binding version of the ancient folk ballad remains the most definitive to date. The thing that's perhaps most alluring about the duo's rendition of "Scarborough Fair" is its pairing with their ironic hit "Canticle" through vocal and instrumentation overdubs. The medieval tale of jilted love sounds even more poignant and intense, interspersed with "Canticle's" anti-war lyrics.
The duo's ethereal voices, interplaying with each other and the intricate guitar melodies create a world in itself – it's nothing less than pure sorcery. So it's no wonder that so many musicians feel inspired to recreate Simon and Garfunkel's legendary version in their own ways, even decades later.
The song sounds beautiful in both 3/4 and 6/8 time signatures. For the 6/8 rhythm, use your thumb to play the bass notes and fingers to pick the melody. The original recording is a delight for aspiring guitarists. It's packed with intricate fingerpicking and layers of guitar work to power that gorgeous melody. Emulating the original will be challenging but well worth the effort!
11. She's Always a Woman by Billy Joel
This endearing love song was written by Billy Joel for his then-wife, Elizabeth Weber. Her no-nonsense, tough style of managing Joel's career was labeled "unfeminine" by many in the record business. Bizarre, right?! This song was Joel's way of telling Weber that she was a woman ahead of her times, although many argue it to be a tad misogynistic and narcissistic.
Whatever your interpretation may be, the fact remains it is sonic delight propelled by a captivating piano-driven melody. You can replicate Joel's piano by using a capo on the first fret and employing fingerstyle. Fun fact- Joel was trying to mimic a folksy, fingerpicked guitar melody on his piano when he composed this song.
"She's Always a Woman" was a frequent feature at Joel's concerts in the late '70s but was removed from the setlist after his divorce, returning to his gig repertoire only in 2006.
12. Call Me by Blondie
"Call Me" by new wave group Blondie was a massive '80s hit that conquered all major charts and spent a whopping six weeks as no.1 on the Billboard Hot 100. Composed as a theme to the 1980 movie American Gigolo by the "father of disco" and Blondie's frontwoman Debbie Harry, the song was a phenomenally catchy rocker. Moroder wanted danceable, infectious energy, which is exactly what the track delivered.
Surprisingly, there aren't many tabs or tutorials available for Chris Stein's guitar work in this one, but we've found one to help out those of you who want to add this beauty to your setlist. You'll be playing this song in a 6/8 time signature with a capo on the first fret.
13. If You Don't Know Me By Now by Simply Red
Harold Melvin & the Blue Notes 1972 original "If You Don't Know Me By Now" was already a much-adored classic in the soul and R&B circles before it was brought into the mainstream spotlight, more than a decade later by English band Simply Red. From their 1989 album A New Flame. Not only did this track hit no.1 on the Billboard Hot 100 charts, but it also won the pop and soul group a Grammy for the Best R&B Song.
In contrast with the original's generous use of strings and saxophones, Simply Red's version was more dialed down, just the lead singer Mike Hucknall's raw, heartfelt vocals backed by a spare arrangement. You can make out the track's 6/8 time by paying close attention to the groove. The beats go 1-2-3-4-5-6, 1-2-3-4-5-6 with one and four as the more prominent ones.
14. Let Me Roll It by Paul McCartney and Wings
There's a definite sonic print in this Paul McCartney and Wings classic that's reminiscent of the Beatles' style, particularly John Lennon's. Intentional or not, that's open to debate. However, according to McCartney, he admitted the vocals bore a resemblance to Lennon, something he didn't realize while recording it.
A B-side release to "Jet," "Let Me Roll It," is a nice, catchy single that keeps you hooked from start to finish. The edgy rocker that became a staple on McCartney's live setlist kicks off with a slow organ riff followed by a great Lennon-ish riff that repeats itself through the length of the track.
Discerning time signatures takes time and patience. In this song, the 6/8 time becomes clearer once the drummer taps the cymbals, spelling out subdivisions distinctly and sticking to the 6/8th beat on hi-hat. Also, observe how the guitar and bass join in on 4,5,6 beats. Figuring out time signatures of songs is a fun little exercise, don't you agree?
15. Lights by Journey
The next song on our list fits the definition of a sleeper hit. When "Lights" first released in San Francisco rock band Journey's 1978 album, it didn't grab as much attention as the band hoped, peaking at #68 on the Billboard Hot 100. But over time, its popularity gained momentum, becoming the band's most recognizable and a favorite on the airwaves.
"Lights" also kick-started frontman Steve Perry's journey with the band. He penned the song in Los Angeles, describing his love for the place and its spectacular sunset. The city was tweaked to San Francisco in the final recording due to the band's origins. The song became a major hit in the city, enjoying immense ubiquity, especially at sporting events.
It took Perry and guitarist Neal Schon all of twenty minutes to compose! "Lights" is a great pick to practice playing in 6/8 time and features a tasty guitar solo that I bet you'll enjoy learning! This is easily one of the most popular songs in 6/8 time signature.
16. Breaking the Girl by Red Hot Chili Peppers
Red Hot Chili Peppers' fifth album, Blood Sugar Sex Magik, was an adventurous departure from their previous heavy metal-oriented Mother's Milk. Courtesy of guitarist John Frusciante, the band, decided to amp up the melodic factor and went no holds barred on the lyrics. The album became such a huge success that it made Frusciante quit the band, overwhelmed with fame and adulation!
As one of the very few songs composed by the famous rockers in 6/8 rhythm, psychedelic "Breaking the Girl" stands out not only in this album but in their entire repertoire. It's a melodically complex ballad that revolves around frontman Anthony Kiedis's tumultuous past relationship.
Frusciante plays mesmerizing Led Zeppelin-esque riffs on his 12-string that's tuned to E-flat standard. Listen closely to the percussion breakdown that happens around the bridge three minutes into the track. It's magical!
17. Tightrope by Michelle Williams (The Greatest Showman)
Sung beautifully by Michelle Williams, 'Tightrope' features in the Hugh Jackman starrer musical 'The Greatest Showman'. It's a sweet acoustic pop song about leaving your world behind and taking a leap of faith, all to be with someone who you believe in. With a gentle 6/8 rhythm and a familiar, pleasing melody, it's a pretty neat song to learn for polishing 6/8 strumming chops and to switch chords fluidly with this strumming style. The chords won't really give you a tough time either – you'll be playing the usual A, D, E, C#, Bm, Dm, C#/E# and F#m.
18. Latch by Disclosure ft Sam Smith
I'm sure you've realized by now that the 6/8 rhythm pattern is incredibly versatile, and lends itself to several genres without a hitch. 'Latch' by the English Electronic music duo Disclosure and featuring vocals by Sam Smith, is another such unique example of it being used in dance music. The track was their lead single from their debut album 'Settle', and although it did pretty well in the UK from get go, it took a little time to climb up the US charts – but climb it did.
Most EDM music written is in 4/4, but with 'Latch, Disclosure wanted to shake things up a little. So along with writing the track in an unconventional 6/8 time signature, they also blended jazz chords and lyrics of substance. But at the same time, this creative departure from usual EDM music made Disclosure that this track will be embraced by the EDM audience. Luckily for them, it was received really well!
19. Baby's in Black by The Beatles
"Baby's in black and I'm feeling blue". This poignant track is one of my personal favorites by The Beatles for many reasons. First, it's an interesting mish mash of styles and genres – incorporating elements of the waltz (that's where it gets the 6/8 rhythm from), but also borrowing from blues and folk rock. Plus, Lennon and McCartney have a really cool vocal melody going on simultaneously. So while the final product may sound coherent to the listener, it does contain a lot of cool genre elements to enjoy, if you listen closely.
The Beatles themselves considered this song to be quite unique and 'offbeat' from their usual ones, often introducing it by saying " Now, here's something different" in their live performances. If you're a guitarist, you're going to really enjoy playing this one, and the chords are not tough to get a hold of either. The track involves A, E7, D7, D, E, A7, F#m7, and B7. It may not be one of their super popular tracks, but you'll love belting this one out, I promise.
20. Back To Life by Rascal Flatts
The 39th single released by the Country band 'Rascal Flatts', Back to Life is a heartfelt song about love and togetherness, set to a groovy 6/8 rhythm that serves the theme of the track pretty well. This is the first time Rascal Flatts released a single truly as a standalone track, rather than as part of an album.
With its characteristic country style, gentle swing and relatable lyrics, Back to Life is a great song to have in your gigging repertoire. The chords are pretty easy to grasp – you'll be playing E, A, C#m, B and F#m throughout the song. The track lends itself especially to a solo acoustic performance – and the vocals will also give you a chance to showcase your singing prowess.
What Is a 6/8 Timing?
You may wonder if 3/4 time signature is the same as 6/8 and vice versa. This is a common confusion among many beginner musicians and it's easy to see why. After all, they do seem to have the same number of beats in them, isn't it? Well it's a bit more than that. ¾ and 6/8 are similar in that both time signature have 6 beats in them, ie. a total of 6 eighth notes. However, the difference lies in the way these notes are grouped.
While 3/4 time can be subdivided into 3 groups of 2 eighth notes each, whereas in 6/8 times, you have 2 groups of 3 eighth notes. So while you will count a 3/4 time as 'one-two' 'one-two'; one-two', you will count 6/8 time as 'one-two-three-' 'one-two-three'. The way we group these notes not only affects the rhythm but also the sound of the piece. Here's a quick video to explain that!
Final Thoughts
We hope you enjoy learning and adding these awesome 6/8 time signature guitar songs to your repertoire. If you're also curious about how to play ¾ guitar songs, check out our detailed guide with 20 awesome songs in 3/4 time. Happy learning!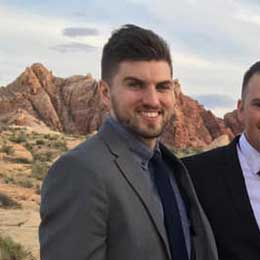 My name is Chris and I've had a passion for music and guitars for as long as I can remember. I started this website with some of my friends who are musicians, music teachers, gear heads, and music enthusiasts so we could provide high-quality guitar and music-related content.
I've been playing guitar since I was 13 years old and am an avid collector. Amps, pedals, guitars, bass, drums, microphones, studio, and recording gear, I love it all.
I was born and raised in Western Pennsylvania. My background is in Electrical Engineering, earning a Bachelor's degree from Youngstown State University. With my engineering experience, I've developed as a designer of guitar amplifiers and effects. A true passion of mine, I've designed, built, and repaired a wide range of guitar amps and electronics. Here at the Guitar Lobby, our aim is to share our passion for Music and gear with the rest of the music community.