Part of the magic of being a guitarist is getting to jam and collaborate with our fellow musicians! Whether you're a beginner or a seasoned guitar player, playing guitar duels and duets is a great way to polish your skills while having some fun.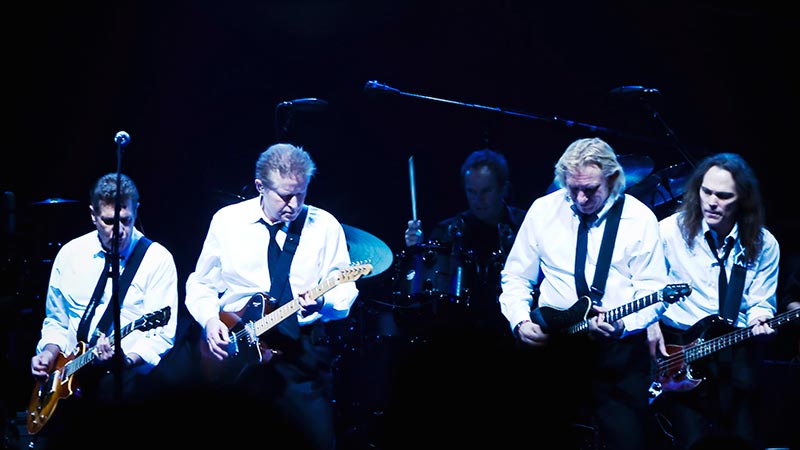 If you're a guitar novice, don't worry – there are plenty of famous guitar duet songs that can be played by two people at a time. And this blog will share all those songs with you! Scroll down for our list of famous and easy guitar duets that can be played by beginners. Let the jamming begin!
Here is a List of Easy Guitar Duets
1. Hotel California by Eagles
Song Overview: The quintessential rock anthem that every guitarist should have under his belt! And the unbelievably fantastic eclectic interplay between Joe Walsh and Don Fender makes "Hotel California" one of the most iconic guitar duet songs in rock history. In fact, with eight guitars at work in this one, you should call over your guitar buddies, learn it together and make a day of it.
This song is a gold mine for earnest guitar players. With the flamenco intro, stacked arpeggio licks, and 2 minutes and 20 seconds long dueling between Walsh and Fender, there's plenty of skill and technique to explore in this '70s classic. The recorded version is a masterpiece that'll take time and patience. If you're looking for a version that's kinder to novices, go with the live one. You can play it a capo on the 2nd fret and a few easy chords.
Both critically and commercially, "Hotel California" was a resounding success. It reigned supreme on several charts and won the Eagles' Grammy for Record of the Year. According to frontman Genn Frey, this song took shape out of the group's desire to create something strange. Interpretation varies from coming of age to something symbolic of America's socio-political landscape to self-destruction. Whatever the cryptic lyrics may stand for, they sure leave a lasting impression on the listener's mind.
2. Simple Man by Lynyrd Skynyrd
Song Overview: Every once in a while, a song comes along that is not just a treat to listen to and play but also leaves you with a life lesson you'll never forget. That's the beauty of Lynyrd Skynyrd's emotional track 'Simple Man.' The song is a beautiful one that celebrates the mother-son relationship. The lyrics share lessons on living a simple life that the mother wants her son to learn and use in his life. From talking about love, success, failure to values, the lyrics show how a mother's love can guide her child as he goes through various stages of life.
This song is a brilliant choice for a guitar duet that's not too tough to play. Whether you're playing electric guitars or acoustic, one can play the rhythm, while the other can play the solos or unison lines. The track also has an easy, but moving guitar solo played in unison by two guitarists. Check out this fabulous acoustic version of the song where two guitarists are doing a great job of playing in harmony!
3. You Shook Me All Night Long by AC/DC
Song Overview: If you're looking for crowd-pulling guitar duets, look no further than AC/DC's rich repertoire of rock classics. Together, bandmates and brothers Angus Young and Malcolm created impressive guitar-fueled masterpieces one after another. "You Shook Me All Night Long" is one such gem that every guitarist must hear and learn. This 1980 song from the band's best-selling Back in Back album boosted their popularity to phenomenal heights and earned them quite a fan following.
Angus's energetic, intense solos and hyperactive riffing in Pentatonic scales went brilliantly with Malcolm's powerful rhythm work that put them in the league of the most iconic guitar duo in the history of rock.
For this track, you and your guitar mate should ideally be well versed in open power chord shapes, arpeggiated strumming. Angus's killer solo in G minor pentatonic scale is a work of art and will take time to master. Just keep at it. We promise it'll be well worth the effort!
4. The Trooper by Iron Maiden
Song Overview: An Iron Maiden track in an easy guitar song list? Sounds surprising, yet here it is! "The Trooper" is a catchy ballad that features the band's best dual guitar work. It can be played in a beginner-friendly version using Em, D, and C chords or similar to the recorded version with two guitarists. We pick the latter.
Since we are talking about playing something by the phenomenal guitarist duo of Dave Murray and Adrian Smith, don't expect a very smooth ride. This Maiden classic is brimming with adrenaline-pumping guitar riffs and a mind-blowing duet solo that'll require a fair amount of practice to get right. Fun but challenging.
The track became so popular that the band decided to launch a beer and name it after the hit single. "The Trooper" was written by the band's bassist Steve Harris based on a pivotal event in the Crimean War. To create Iron Maiden's signature galloping guitar rhythm, you might need a metronome. By the time you are done with this song, you'll have a fair knowledge of power chords, dynamics, and harmonizing a melody.
5. Wild Thing by The Troggs
Song Overview: Who doesn't know this classic hit by UK rockers, The Troggs, that still sounds as cool and fresh as when it first came out! "Wild Thing" was written by Chip Taylor, an American songwriter, and originally recorded by an American rock band called the Wild Ones. But their version did not do so well, and the song pretty much fizzled out until the Troggs came along and turned it into an iconic chart-topper.
It's extremely fun and easy to play – whether you're on stage with your band or strumming your heart for a sing-along with your friends at a party.  While this may not be technically a duet track, it can be easily turned into one.
The song follows a repetitive A – D – E – D pattern throughout, with interesting pauses in the middle, making it very easy for beginners to follow. While you get going on the rhythm, your friend can recreate the famous Ocarina solo on the guitar. Check out this brilliant version where the legendary Queen guitarist Brian May joins The Troggs onstage to play a fabulous solo over the rhythm!
6. Bad Moon Rising by Creedence Clearwater Revival
Song Overview: A 1969 smash hit by Creedence Clearwater Revival, "Bad Moon Rising," was featured on Rolling Stone's "500 Greatest Songs of All Time" list in 2010. The song is so popular that over 20 artists have covered it in fascinatingly different styles ranging from folk to reggae to psychedelic rock. Written by the band's lead vocalist and guitarist, John Fogerty, "Bad Moon Rising" is apparently about an apocalypse waiting to happen.
With a steady and repetitive strumming pattern, it is an excellent pick for those looking to learn basic chords and transitions. Beginners can breezily get through the entire song using just three chords D, G, and A. The more proficient among you and your guitar mate can explore the song's amazing bank of rockabilly guitaring to jazz up the performance. From hybrid picking to barre chords, there are some cool techniques you can pick up here.
7. Twist And Shout by The Beatles
Song Overview: With their delightful and relatable music, the Beatles cemented their place in rock and roll history. Most of their overwhelmingly popular tracks are light-hearted sonic marvels that are also superbly beginner-friendly. Their 1963 hit "Twist and Shout" is a wonderful song to add to your setlist. Fun fact- this peppy classic is actually a cover done by the band. Originally written by Phil Medley and Bert Berns and recorded by the Top Notes, it was made famous by the Isley Brothers and then covered by the Beatles.
"Twist and Shout" is super fun to play because of its solid rhythm strum pattern that uses a bunch of chords in a simple progression. But for us, the fascinating part is the solo, hands down! John Lennon and George Harrison put together a heartwarming dual lead, creating an engaging, soaring sound.
If you want to work on some of the embellishments that feature in the song, go right ahead. Beginners will pick up some useful guitar skills like double stops, open chords, and strumming patterns. Here's a cool duet version of the song that will give you a great blueprint as to how to play it as a guitar duo!
8. Dead Flowers by The Rolling Stones
Song Overview: This 1971 classic was released by the versatile Rolling Stones when they were embarking on their country music journey. "Dead Flowers" has a lovely country vibe, and though the lyrics are dark, on the whole, the song sounds sweet. It was written by Mick Jagger and Keith Richards and inspired numerous covers, including Townes Van Zandt's rendition, which featured in The 1998 crime comedy The Big Lebowski.
You'll need at least two guitarists to play in "Dead Flowers." It'll sound even more authentic if you have a third player to help you out. The easiest part is the acoustic rhythm which is nothing but a basic 3-chord progression D-A-G throughout the song. But it is anything but monotonous. Even though it has just three chords, they are played in such a brilliant, folky way that the verse, chorus, and pre-chorus all sound different from one another.
The electric parts are more suited for intermediate players. Richards and Taylor's guitar playing lends a honky-tonk quotient to the song. All in all, an excellent track for guitar enthusiasts who wish to work on getting country-style playing right.
9. Halo by Machine Head
Song Overview: "Halo," a powerful ballad that voices concerns about organized religion, was jointly written by all four members of the band, Machine Head. A rough draft of this track was first included in a 2005 demo of the band's. Later, the band spent six months reworking the song, from lyrics to the instrumental arrangement.
What was unveiled as the final version was well worth the wait. Nine minutes of intense, thought-provoking lyrics and formidable guitar playing by Robert Flynn and Phil Demmel is capable of triggering hypnosis!
The blistering main solo is epic and true to the classic Machine Head style. After all, we expect nothing less from this great band! The dueling guitars, both tuned to drop B, showcase masterful techniques that'll enhance your skill level.
10. Dream On by Aerosmith
Song Overview: This is one power ballad that is still very much a favorite, 50 years after its release! "Dream On" was first released in 1973, and it was Aerosmith's very first hit – peaking on the 59th rank at the Billboard Hot 100. This track starts off with a memorable opening riff, and it's a fantastic guitar duet to play – there are double guitar solos flying about through the track and a steady rhythm throughout the verses.
You can choose to play the original solos or give it your own twist! Let your accompanying guitarist hold the rhythm pattern while you play a blistering solo. The chords and rhythm pattern are not hard to master, though the chords may seem like a handful at first.
11. Master of Puppets by Metallica
Song Overview: Released in 1886, 'Master of Puppets' was part of Metallica's album by the same name. And did you know that the track is the first metal song to be selected for preservation by the Library of Congress for its cultural and aesthetic significance? This blistering track features a delicious mix of crunchy aggressive riffing that is punctuated with clean, meandering parts as well – making it perfect for a guitar duet.
James Hetfield and Kirk Hammett both hold down the rhythm through the track, and there's an iconic melodic solo in the middle that has a clean arpeggiated picking in the background. So as you can see, there's plenty in this song for two guitarists to collaborate over. Check out the iconic band itself performing a pretty clean version on the Howard Stern show.
12. Wish You Were Here by Pink Floyd
Song Overview: "Wish you were here" is the kind of song that you'll never stop being your go-to choice, no matter how many other songs come and go on your favorites playlist. This poignant and expressive acoustic tribute to Floyd's late founder Syd Barett is a journey in itself. Guitar beginners – this is a super easy song to master and play! And while it can be played by a single guitarist, too, it makes for the perfect easy guitar duet to play with a fellow musician. Doing so will add more depth to the song for sure.
Its wonderful chord progression is pretty straightforward and repeats throughout the song. If you're playing this as a duet, then one of you can do rhythm duties, while the other plays the iconic intro solo as well as the expressive longer outro solo. This track is a must-have on your guitar duet repertoire. Here's a lovely guitar duet version of the track where both musicians are playing the guitar and singing too! This is one of my personal favorite easy guitar duet songs.
13. While My Guitar Gently Weeps by the Beatles
Song Overview: This legendary track by The Beatles is as powerful as it is melancholic because it was recorded during a time when the band was going through a bit of a rough patch internally. But from that tension rose this gem of a track – which lends itself beautifully to a guitar duet arrangement!
The song has two distinct chord progressions for the verse and chorus, which cycles throughout the song – getting that down perfectly is not too much of a challenge. But best of all is the fact that the song has snippets of expressive guitar licks played by the second guitarist over every other line. Whether you're a Beatles fan or not, this is one song you'd love to jam onto with your fellow guitarists. In fact, here's a fabulous guitar duet arrangement of this song!
14. Sweet Child o' Mine by Guns N' Roses
Song Overview: Guns N' Roses' top-hat and sunglasses donning Slash and Izzy were an undeniably popular duo that cranked up the '80s and '90s rock scene with their jaw-dropping guitars. Understandably, as the lead guitarist, Slash got the lion's share of the adulation, but the band's sound wouldn't have been quite the same without Izzy's solid rhythm parts.
Almost all of the band's compositions are powered by this fantastic guitar duo, so feel free to pick up any track and play. Although, we recommend you start with the band's biggest and most ubiquitous song- "Sweet Child O' Mine." This song from the band's debut album Appetite for Destruction became their signature track, topping all charts and fetching them many accolades.
Slash's solo in this one, rated as one of "100 Greatest Guitar Solos" by Guitar world, was spell-binding and backed impressively by Izzy's powerful riffs.
15. Walk Of Life by Dire Straits
Song Overview: Formed in 1977, UK rock band Dire Straits catapulted to fame thanks to Mark Knopfler's virtuosic guitar skills as well his superb songwriting. And while Dire Straits tracks may sound deceptively simple, there's a whole lot going on with Knopfler's fingerpicking that's quite hard to emulate – a technique you can hear in all its glory in Sultans of Swing.
But, fear not, the band's worldwide hit 'Walk of Life' from their 1985 album 'Brothers in Arms' has just three chords and is super easy to play. It's a great guitar duet song, and the more skilled player can take on Mark's part.
The rhythm, played by Mark's brother David Knopfler is your typical bluesy, rock and roll fare. The primary chords of the song are E, A, and B. If beginners are looking to play a simplified version of the song, they'll need to recreate the main riff with these chords throughout the song. Mark's superhuman fingerstyle is not everyone's cup of tea. But don't be disheartened! You can learn the fingerpicking pattern – and slowly work your way up. Here's a great find we came across on Youtube – a great vocal AND guitar duet of the song!
16. Breakfast at Tiffany's by Deep Something Blue
Song Overview: This one is one of the lesser-known tracks on the list but perfect for a pair of beginner guitarists as it can be played with three simple chords- D, A, and G.
Alt-rock band Deep Something Blue's most recognized and the only hit single "Breakfast at Tiffany's" was released in 1995 in their debut album 11th song. The track became an instant success charting remarkably well in many countries. The band tried to follow up on the song's success but eventually fizzled out as a one-hit-wonder.
The song's pleasing tune can be strummed in an easy-to-follow pattern. Moreover, it's devoid of any tough techniques, so you and your friends can really have fun while learning it. The rhythm player would just have to focus on chord progressions while the lead plays the solo riff that repeats throughout the song.
17. Times Like These by Foo Fighters
Song Overview: A lovely song about hope and compassion, "Times Like These" by Foo Fighters keeps listeners enthralled from start to finish. The famous rock band was started as a one-man project by Nirvana's former drummer Dave Grohl, slowly becoming a colossally successful musical entity in its own right. Over the course of their journey, Foo Fighters won 12 Grammys and sold more than 12 million albums in the U.S. alone.
In "Times Like These," you'll hear Grohl on vocals and playing the rhythm for the track with Chris Shiflett playing the lead. This song was also released in a stripped-down acoustic rendition by Grohl. So if you want to play it solo, that version is perfect for you.
The track has been covered by many. In fact, more recently, a star-studded charity supergroup Live Lounge Allstars performed it as a fundraiser. The song's message of love and kindness has become all the more relevant in these trying times.
18. South of Heaven by Slayer
Song Overview: Next up is a treat for the Metalheads! "South of Heaven" by thrash metal band Slayer is a killer riff-fueled marvel that should be banked in your repertoire if it isn't already! It kicks off with a beast of a riff that'll blow your mind. The overall vibe of the song is eerie, ominous, gloomy, and a significant departure from their ferociously paced, loud, and angry thrash fest.
The song's foreboding theme and insane riffs make for a fitting opening to their fourth album of the same name. The entire album is teeming with some of the band's best tracks, especially from a guitar point of view, showcasing the duo of King and Hanneman at their finest.
To give you an idea of how fantastic the track will sound in a duet, check out this EPIC cover by these two amazing ladies!
19. Jessica by the Allman Brothers Band
Song Overview: We simply cannot have a list featuring guitar duets and not have Allman Brothers Band on it! The legendary Duane Allman and Dickey Betts gave us some of the best guitar-propelled gems of the 20th century. Even after Allman's untimely demise, the band's legacy continued, this time by Warren Hayes and Derek Trucks.
From the band's 1973 album, "Jessica" is a tour de force, a rock instrumental piece that's full of jaw-dropping embellishments and techniques. It's played using only two fingers on the left hand! You'll miss Allman's presence in this track as it was created two years after his passing. The song was Bett's ode to Gypsy Jazz guitarist Django Reinhardt and has him playing an electric with session guitarist Les Dudek on acoustic.
Running just shy of 6 minutes, "Jessica" is a breathtaking composition with the duo harmonizing through the length of the song. If this sound appeals to you, do check out the band's extended instrumental masterpiece "Mountain Jam." It's a 34-minute long ride brimming with some of the best guitar harmonies and awe-inspiring solos by Duane Allman and Dickey Betts.
20. Hangar 18 by Megadeth
Song Overview: Conspiracy theory-inspired lyrics aren't the only thing that stands out about this track by thrash metal giants Megadeth. "Hangar 18" rose to prominence for its monster riffs and using a different tuning for bass than the lead guitars.
It begins with a speedily strummed D minor arpeggio that sets the floor for what's to come. After some relatively laid-back playing, frontman Dave Mustaine and Marty Friedman jump into a two-minute-long intense, mind-boggling guitar duet. The song is bursting with complex harmonized riffs and killer solos by the two. It's a masterclass in legato, bends, speed picking, wide stretches, sweeping, and other exciting techniques more suited for proficient guitarists.
"Hangar 18" was nominated for Best Metal Performance and became a permanent feature in all of the band's live shows.
21. Can't Stop The Feeling by Justin Timberlake
Song Overview: This sunny, feel-good track by Justin Timberlake was released in 2016 and has an upbeat vibe with elements of soul-pop, disco-pop as well as influences of funk in it. Featured in the movie 'Trolls,' the song was nominated for an Oscar, a Golden Globe as well as a Grammy – which it won!
The song is incredibly popular and can be an instant hit with the crowd for a sing-along. It's easy to adapt this song into a duet as it mainly uses the C, Am, and F chords in a C – Am – F – Am progression throughout the verse as well the chorus. It's perfect for guitarists with beginner skill levels. The F chord might seem a little tricky at first, but once you get the barre technique right, you'll be able to play it effortlessly in the future.
22. Everybody Needs a Friend by Wishbone Ash
Song Overview: In many ways, this '70s British prog-rock band changed the course of rock and metal history by influencing several greats of the 20th and 21st centuries. From Iron Maiden, Van Halen, Lynrd Skynrd, Metallica to Opeth, Wishbone Ash's sonic masterpieces have inspired a whole generation of musicians to embark on their respective journeys.
All of Wishbone Ash's songs are tailor-made for two guitarists. The twin lead guitarists duo of Andy Powell and Ted Turner were famed for their harmonizing lines and dueling solos that put them in Rolling Stone's league of "Top 20 Guitarists of All Time.". You can catch some of their virtuosic duet work in the 1973 classic "Everybody needs a friend."
This track, in particular, has its roots in classical music. According to the band's vocalist Martin Turner, the composition was heavily influenced by the second movement of Ravel's G Major Piano Concerto. Not really a surprise, as Turner is classically trained and started his musical journey as a choir boy.
23. Achy Breaky Heart by Billy Ray Cyrus
Song Overview: For a kid growing up in the 90s, "Achy Breaky Heart" can trigger some soppy memories! Written by Don Von Tress, the song became a rage after it was sung and released by Billy Ray Cyrus in his debut album. The record-breaking track went on to become Cyrus' signature song and topped the charts in several countries. Despite its incredible success, the song drew criticism for being too cheesy and lacking the spirit of country music.
Negative reviews aside, Ray's Achy Breaky Heart is a great beginner song and can be easily arranged as a duet. You only need two chords, A and E, and the chorus and verses follow the same pattern. The rhythm is simple, and so is the chord sequence. It goes three bars of A, then four bars of E, followed by one last bar of A. When it comes to strumming, you can do the basic one strum per bar or show more skill by doubling up with two chords per bar.
24. Three Little Birds by Bob Marley
Song Overview: A beautiful, endearing song, Bob Marley's "Three Little Birds" is a three-chord wonder that can be adapted into a breezy guitar duet. Although it did not rule the charts at the time of release, the song slowly won hearts for its joyful, heartfelt lyrics and uplifting tune.
"Three Little Birds" was inspired by Marley's feathered friends who often stopped by at his porch in Jamaica. To Marley, it seemed they were carrying a message for him. The song's famous refrain, "Don't worry 'bout a thing, "Every little thing is gonna be alright," is what the singer thought the birds wanted him to know.
There are just chords in the song: A, D, and E, making it easy for new learners to play. It's easy for two guitarists to collaborate on this one. One of you could play the simplified rhythm using 3 or 4 down strums per chord. The more experienced player can take up the reggae strum by playing on the up strums of each chord.
25. Victim of Changes by Judas Priest
Song Overview: For more than two decades, the revered guitarist duo of Glenn Tipton and K. K. Downing of Judas Priest ruled the hard rock and metal scene with their captivating twin guitar work. One song, in particular, is said to have had a groundbreaking influence on metal music. Rob Halford's powerful vocals and earth-shattering guitar riffs and solos by the Tipton and Downing have made "Victim of Changes" one of the band's greatest works ever.
From the word go, you know you're in for a sonic treat. The intro begins with fade-in dueling by the pair before the drums kick in. The entire song is bursting with hard-hitting riffs that are the stuff of every guitarist's dreams!
The best part is there are not one but two solos played in a distinctive fashion. The first one by Downing is mellow and intensifies slowly. The second one is way heavier and unleashed by Tipton towards the end of the track.
Final Thoughts
While perfecting one's guitar abilities in solitude is something every guitarist does, the real magic happens when we collaborate and jam with other fellow musicians onstage! Collaborating on iconic guitar duet songs like the ones we've listed out is a great way to not only polish your own guitar skills but master the art of performing in harmony with other musicians too.
We hope this blog gives you lots of ideas to jam on with your fellow guitarists! If you're looking to learn more beginner-friendly songs, here's our ultimate guide to 23 folk guitar songs. Happy playing!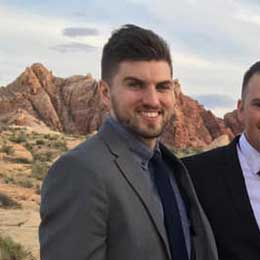 My name is Chris and I've had a passion for music and guitars for as long as I can remember. I started this website with some of my friends who are musicians, music teachers, gear heads, and music enthusiasts so we could provide high-quality guitar and music-related content.
I've been playing guitar since I was 13 years old and am an avid collector. Amps, pedals, guitars, bass, drums, microphones, studio, and recording gear, I love it all.
I was born and raised in Western Pennsylvania. My background is in Electrical Engineering, earning a Bachelor's degree from Youngstown State University. With my engineering experience, I've developed as a designer of guitar amplifiers and effects. A true passion of mine, I've designed, built, and repaired a wide range of guitar amps and electronics. Here at the Guitar Lobby, our aim is to share our passion for Music and gear with the rest of the music community.