Rock is a very broad genre of music that has its roots in the mid-20th century when musicians began creating songs using a variety of electric musical instruments. You have the classic rock n' roll music of the 50s and 60s, the soft and hard rock of the 70s, the alternative rock of the 80s and 90s, and the emo and hardcore rock of contemporary times. The themes are as varied as the subgenres, too.
It is often confusing and challenging for absolute beginner guitarists to choose the song that they need to include in their learning materials. If you're in this predicament, I understand your frustration. There are literally thousands of original songs and covers that can vie for the best rock song of the century.
However, I do suggest starting your guitar-playing adventures with these easy rock guitar songs. These songs will allow you to build on your skills and have a lot of fun at the same time.
Here Are Easy Rock Songs to Play on Guitar
1. Sweet Child O' Mine by Guns n' Roses
This is never an easy piece to master, especially if you are going to play it like the original. The guitar riffs have a simple structure. However, it is the way the chords are played that can challenge even the most seasoned rock guitarist. Playing it as close to the original as possible will give you an idea as to why this song remains Guns n' Roses greatest song ever.
You don't need to play the fingerstyle of the song to produce an amazing sound. There are simplified versions of the song that utilize only basic strumming patterns. The chords are also simple. Yet, when done correctly, these basic guitar playing techniques can still give you a song that's worthy of a performance. It is the perfect tool for brushing up on your guitar playing skills, including strumming, rhythm, and basic fingerstyle.
Playing these 35 rock songs require basic guitar-playing skills. Your mastery of these skills will help you advance to more complicated techniques. Such techniques will help you play these songs and other rock songs in a more rock star-like fashion.
2. Sweet Home Alabama By Lynyrd Skynyrd
Sweet Home Alabama is easily one of my favorite easy rock guitar songs. With its characteristic Southern charm, Sweet Home Alabama belongs to the kind of songs that fuses the beautiful melodies of country and the robust tonal structure of rock. This is a 1974 Lynyrd Skynyrd song that performed exceptionally well on the charts. Credit goes to Ed King and Leon Wilkeson for creating a guitar riff that many 21st century guitarists still use as an inspiration for their own creation.
If you're a newbie, it would be best to start off with the basic downstrums. Do it several times until you get the feel for the rhythm. The fingerstyle can follow as soon as you've mastered the groove of the song. Fingerpicking the notes of the song will exercise your fingers. This should help you get ready for playing many of the rock songs of the last 50 years.
3. Livin' on a Prayer By Bon Jovi
Very few songs can achieve the feat of Livin' on a Prayer. This song topped the charts in 1986. It still enjoys significant positioning at the charts after several decades. Both pop and rock radio stations love playing this song. Fans of arena rock and glam metal also love this song. Both the lyrics and the tonal structure of the song are catchy.
If you're new to playing a guitar, the trickiest aspect of playing this Bon Jovi song is getting the rhythm right. It is a song that has an uptempo beat of 123 BPM. And while it is not in the 140s, the tempo should still put your fingers and wrists to the test. It should still be a very interesting song to get your rock guitar playing on the right track.
4. Do I Wanna Know by Arctic Monkeys
Do I Wanna Know by Arctic Monkeys, a seductive and brooding rock anthem that oozes with swagger and introspection. It's a standout track from Arctic Monkeys' fifth studio album, "AM," released in 2013. From the first electrifying guitar riff, the song immediately commands your attention, setting the stage for a moody and captivating sonic journey. The song's hypnotic groove, driven by a powerful and steady rhythm section, pulls you into its sultry atmosphere. Alex Turner's smoky vocals, filled with a mix of desire and uncertainty, lead you through a narrative of longing and introspection.
The song's composition is a testament to Arctic Monkeys' ability to blend elements of rock, alternative, and R&B. The haunting guitar lines and pulsating bass combine with Matt Helders' precise drumming to create a mesmerizing sonic landscape that hooks you from start to finish using only five simple chords.
5. Free Fallin' by Tom Petty
Free Fallin' by Tom Petty, a timeless rock ballad that weaves together poignant storytelling, heartfelt lyrics, and an unforgettable melody. It stands as one of Tom Petty's most beloved and enduring hits, released in 1989 as part of his solo album "Full Moon Fever." From the gentle strumming of the acoustic guitar that opens the song, it instantly creates an atmosphere of nostalgia and introspection.
The melodic simplicity of "Free Fallin'" is a testament to its enduring appeal. The gentle chord progressions and memorable chorus create an instantly recognizable and unforgettable melody that lingers in your mind long after the song has ended. It speaks to the yearning for liberation and the vulnerability that comes with embracing change. Tom Petty uses only 4 chords and only 2 of them could be considered intermediate which makes this song quite easy to play.
6. American Idiot by Green Day
American Idiot by Green Day, a fiery and politically charged punk rock anthem that encapsulates the disillusionment and frustration of a generation. It serves as the title track and lead single from Green Day's critically acclaimed rock opera album released in 2004. From the explosive opening guitar riff, it immediately grabs your attention and ignites a rebellious spirit within.
The song's energy is relentless, fueled by Billie Joe Armstrong's impassioned vocals and the band's high-octane instrumentation. It's a blistering critique of society, tackling themes of media manipulation, political apathy, and the disconnection felt by many in a post-9/11 world. It being a punk song it only uses power chords which makes it easy to play.
7. Crazy Train by Ozzy Osbourne
Crazy Train by Ozzy Osbourne, a thunderous and electrifying heavy metal masterpiece that catapults listeners into a whirlwind of power, intensity, and adrenaline. It was released by Ozzy Osbourne in 1980 as part of his debut solo album, "Blizzard of Ozz." From the iconic and instantly recognizable guitar riff that kicks off the song, it grabs you by the collar and thrusts you into a realm of unrelenting energy.
The song's composition showcases the talents of Ozzy Osbourne's band, featuring blistering guitar solos, pounding drums, and a bassline that rumbles with force. It captures the essence of heavy metal, with its relentless energy and an electrifying fusion of rock and classical influences. Jamming this song will surely boost your guitar skill.
8. A Horse with No Name by America
There's no better song to start your rock music journey than with America's most successful single. This 1971 chart-topping song has a classic E Dorian mode that is perfect for an acoustic guitar. The original song also has a D, which Bunnell played on the low G and E. What you will find amazing about this song is its driving bass line. Each chorus has a hammer-hook that makes it very enjoyable to play.
Before you get to the waterfall-type of guitar solo, you might want to brush up on the strumming pattern first. This is a rock song that is perfect for teaching newbies about rhythm and about that catchy hook. The chord pattern and progression are very easy. And despite the complicated look of the D6add9/F# chord, the song is still a breeze to play.
9. Don't Let Me Down by The Beatles
Some people may think that this 1969 Beatles song is not a rock song because of its otherwise slow rhythm. At 77 beats per minute, Don't Let Me Down is hardly what you would call a head-banging number. However, this is a song that fuses the elements of rock and blues. It also has certain elements that are important in a soul type of music. Whatever the case, you will have fun learning to play this 2-chord Beatles rock song.
The tempo of the song is beneficial to beginner guitarists. The rhythm mimics the average beating of the heart. It may be tricky to get the F#m finger positioning if this is your first time playing the guitar. This should be a great tool for introducing you to other barre chords. The song is a cinch, strumming-wise.
10. Eleanor Rigby By the Beatles
Here's another easy 2-chord rock song to get you all pumped up for playing other rock songs. Eleanor Rigby is a great song that fuses elements of classical music into a rock tonal structure. Some say this song is also a great example of art rock, owing to the use of elements that are deemed unconventional at the time. You'll find the message of this song to be very timely. This is even though The Beatles released this song in 1966.
It shouldn't be difficult to become the next John Lennon or even Paul McCartney belting his guitar with this song. The strumming technique required by the song is as straightforward as any other guitar-playing technique of the 1960s. You can add your own guitar interpretation later once you've mastered the rhythm of this fabulous song.
11. Wild Thing by The Troggs
Guitar Chords: A, D, E
Haven't you noticed that our first few songs on this list are throwback greats of yesteryears? The rock song structure was a lot simpler way back then. And while the overall composition is simple, these songs never reneged on their promise of exciting harmonics and unforgettable melodies. This is what you will also get from the Trogg's 1966 song that fuses garage rock with proto-punk and hard rock elements.
Get ready to shout Wild Thing, while you strum the three basic chords with gusto. The sequencing and the progression of the song is so predictable that you can be a master of this piece in less than 30 minutes. I also have seen some guitarists giving the song an upgrade by incorporating an arpeggio style of playing. You can also do this if you have already mastered the basics.
12. Jailhouse Rock by Elvis Presley
Guitar Chords: D, G, A
You're not a rock star if you don't know how to play one of The King of Rock n' Roll's greatest songs. Jailhouse Rock is not only a chart-topper. It is also a Hall of Famer and one of the all-time greats across different music genres. One of the greatest aspects of Jailhouse Rock is its 2-chord pattern that echoes through the verses. It establishes a very firm hook that has become the envy of many songwriters, even to this very day.
The original song can be a little bit complicated to play for absolute beginners. However, there are a few online materials that transpose the original chords into something more playable by novice standards. I strongly recommend learning the actual fingerstyle of the song because this is the only way you can give justice to this all-time great.
13. Whole Lotta Love By Led Zeppelin
Guitar Chords: D, E, A
It is very easy to see why many people love the opening guitar riff of this 1969 Led Zeppelin song. The first few notes alone are enough to make you believe that this is a hip hard rock music that will have you bobbing your head and swaying your body with abandon. The song has a few elements of blues that add color to its already-exciting tonal structure.
Basic strumming techniques are ideal for the absolute novice guitarist. However, to be a true rock star, you've got to strive to play the guitar riffs in arpeggio. Don't worry. The fingerpicking techniques are almost like strumming. The fretting movements aren't difficult either. It's more about the strumming technique to get the rhythm right. Once you nail it, friends will be flocking over to sing along with you. Overall, this is easily one of my favorite easy rock songs to play on guitar.
4. For What It's Worth by Buffalo Springfield
Guitar Chords: A, D, E
Most folks think that this 1966 Buffalo Springfield song is more of a folk and country piece. Well, they are right. However, the song also happens to be played with electric musical instruments. This makes For What It's Worth a combination of folk rock and country rock. You will also hear elements of psychedelic rock in the piece. This is quite new at the time of the song's release, making this Springfield number nothing short of innovative.
The catchy tune of the song can be mastered using only three very simple chords. There aren't any barre chords in the piece that can be tricky to play. The song is also an excellent introduction to the history of rock 'n roll in this country. You don't need a complex structure to produce a song that is worth dancing to.
15. Johnny B. Goode By Chuck Berry
Guitar Chords: E, A, D
Rock n' roll wouldn't be here without the musical ingenuity of Charles Edward Anderson Berry. Everyone knows him as Chuck Berry. Unfortunately, many guitarists today don't know Berry as the pioneering legend of rock. And one of the most enduring songs of the Father of Rock n' Roll is this 1958 song, Johnny B. Goode.
You don't even need to sing the lyrics. The guitar riff is enough to captivate you in playing this piece all day long for several consecutive days at a time. While the 3-chord structure of the song is perfect for beginners, its fingerstyle is something that is best reserved for advanced guitarists. Start with the basic rhythm and the groove of the song. Get the strumming pattern right. Your mastery of these basics is key to playing the song using the recommended fingerpicking technique.
16. La Bamba By Ritchie Valens
Guitar Chords: C, F, G
Get ready to dance with one of the world's best known and earliest rock n' roll songs. It even predates Johnny B. Goode by the Father of Rock n' Roll. La Bamba is a staple folk song in the Veracruz region of Mexico. In 1958, Ritchie Valens gave the folk song a more modern and rock n' roll vibe. Los Lobos covered the song in 1987 for the biopic of the same name. It doesn't matter which version you decide to play. What's important is you'll have fun playing one of the all-time greatest songs in the music kingdom.
The fingerstyle of La Bamba can be complicated. This is especially true if you consider its tempo of 144 beats per minute. You've got to have lightning-quick reflexes to will your fingers to fret and play very fast. You'll test the coordination of your fingers as well as their string-playing precision. If this troubles you, then you can always start the song with a strum. Whatever you do, don't scrape this song off your list of must-learn rock songs.
17. Get Back by The Beatles
Guitar Chords: A, D, G
Would you believe me if I told you that Get Back is more of a potboiler rewrite? That's exactly how John Lennon described their 1969 song when he was interviewed by Playboy in 1980. Regardless of what the great Beatle thinks about their song, Get Back remains one of the most successful numbers that integrates rock and blues elements. The guitar riff is also very recognizable. It has provided inspiration to countless songwriters throughout the last 5 decades.
Playing Get Back isn't difficult, especially if you're only going to strum the chords. What is tricky is getting the right rhythm. This is easier than it sounds, since the song has a very fast tempo of 126 beats per minute. Take the first few lessons at a more manageable 70-80 BPM, just to have a feel for the rhythm.
18. Knockin' on Heaven's Door By Bob Dylan/Guns n' Roses
Guitar Chords: G, D, Cadd9, Asus4
Aspiring rockers always include this classic folk-rock song in their repertoire. Whether it is as a beginner's learning piece or an all-important live number, Knockin' on Heaven's Door is always a fun and exciting song to play. The original Bob Dylan version is perfect for beginners because the 1973 piece doesn't require fancy fingerstyle techniques. You get to develop your rhythm a lot better.
Advanced beginner guitarists should pick the 1987 Guns n' Roses version. It has a hard rock vibe that gets more amazing because of its fingerpicks. It is also twice longer than the 1970s original, allowing you to execute some of the most famous guitar riffs on the planet. The song is an excellent piece for mastering the fundamentals of rock music on a guitar. The confidence it gives you will also come in handy in the future.
19. Zombie By The Cranberries
Guitar Chords: Em, C, G, D
There is a song in 1993 that captivated the world in terms of its message and the song's unrelenting and uncompromising vocals. Dolores O'Riordan first wrote the song for the acoustic guitar. However, she deemed it a lot more engaging and more powerful in delivering the song's message if it were played on an electric guitar. This gave the world one of the most intriguing alternative rock pieces of the 90s.
Four chords should not be difficult to play. The chords aren't the barre type, either. Strumming the song is also straightforward. Beginning with a downstrum pattern, you can progress to incorporating an upstrum after every combination of downstrums. What's important here is for you to play whichever strumming pattern is most comfortable for you. The fretting movements aren't complicated, too. It makes playing this song very easy for beginners.
20. Creep By Radiohead
Guitar Chords: G, B, C, Cm
Radiohead may have grown weary of playing their song. However, the rest of the world cannot seem to get enough of this 1992 song's alternative rock vibe. It has elements of both grunge and post-grunge that give the song hints of metal and punk. The midtempo of the song is enough to get you swinging to its groove.
You'll never have a rock song with a simpler chord and chord progression than Creep. You will be playing the four chords at a tempo of 88 BPM throughout the song. Do take note that there are power chords in the song's first two choruses. It is also crucial to play three dead notes whenever you make the transition between the verse and the chorus. Hit the strings hard to give life to the otherwise 'quiet' song.
21. (I Can't Get No) Satisfaction by The Rolling Stones
Guitar Chords: E, D, A, B7
Whenever Keith Richards and Mick Jagger put their heads together, you can only expect the most fascinating results. And one of the best songs ever to come out of the musical minds of these two rock geniuses is Satisfaction. This is a hard rock number that has good qualities of blues rock. What sets this 1965 The Rolling Stones song from other rock greats is that the song's principal driver is Richard's phenomenal guitar riff.
It is true that Satisfaction only has four easy chords. However, you've got to master the fingerstyle if ever you want to perform this song in front of your colleagues. The groove is as catchy as the lyrics. It is critical for beginning guitarists to learn the fingerpicking techniques that the song requires. Only then can you play the song with the utmost satisfaction.
22. Smells Like Teen Spirit by Nirvana
Guitar Chords: F5, Bb5, G#, C#
This song underscored the entry of grunge into the mainstream music scene in 1991. It is also one of Nirvana's most popular song. It charted high on the different music charts of many countries across the globe. This Nirvana song is a Hall of Famer, a Guinness World Record holder, and an all-time great. It's no wonder that many artists today started their careers by learning and playing Smells Like Teen Spirit.
The original song has Fm, Bb, Ab, and Db for its basic chords. However, it is the set of four power chords that gives the song its distinct harmonic and melodic personality. The power chords require strumming the strings with a syncopated 16th note. It can be a very tricky song to master that is well worth your effort once you get the hang of it.
23. Losing My Religion by R.E.M.
Guitar Chords: F, Dm, G, Am, Em
R.E.M. never knew that Losing My religion will be such a big hit. Not only did this 1991 song gained extensive radio airplay. It also enjoyed rave reviews from MTV viewers. What is more amazing about this piece of music is the fact that the alternative rock group wrote the riff for the mandolin. It's a good thing, since you can easily play this rock song on your guitar.
With an uncomplicated chord pattern and progression, this is one song that any beginner guitarist should learn. The tune is captivating and the vibe is dance-enticing. You'll have your friends all over the dance floor even before you get to the first verse of the song. This is a music piece that is instrumental in developing the much-needed competencies of many aspiring guitarists all over the world.
24. House of the Rising Sun by The Animals
Guitar Chords: Am, C, D, F, E
Most of us think that this song is an original creation by The Animals in 1964. This musical piece has been around since the 17th century as a folk song of miners. It was only in 1933 when the song was 'professionally' recorded by Ashley and Foster. What the Animals did to the song was transform it from a very common folk song to something more spectacular and entertaining. This is one of the world's first true folk-rock songs.
So, how do you play this popular rock song? Start with the chords, which should be as easy as it can get. Playing the song itself takes a combination of downstrums and a purposeful fingerpicking technique. The 78-BPM tempo of the song is also great for mastering these techniques without putting strain on your wrists.
25. Cherub Rock by The Smashing Pumpkins
Guitar Chords: D, A, C, G, E
If you're ready for some hard rock music, then you've got to check Cherub Rock. Musicologists classify this 1992 song as an alternative rock, although others would prefer calling it a grunge type of music. Whatever the case, Cherub Rock is one of the smashing songs that is perfect for novice and advanced beginner rock guitarists. The song requires no complicated tuning of your guitar. If you can have your instrument in the standard E, then you should be able to play this song straight up.
Cherub Rock is a good material for learning a combination of fingerpicking and strumming techniques. Beginners can always begin their learning journey with a conventional down-up strumming pattern. The predictable rhythm allows for easy playing. And it's always a great song to hum along.
26. Bed of Roses by Bon Jovi
Guitar Chords: Bb, F, Am, C, Dm
Here's another song that wannabe Bon Jovi rockers need to master if they want to follow in the footsteps of their favorite rock band. There's no question that Bed of Roses has become the anthem of the early 90s. Bars, discos, and watering holes always devote a significant portion of their airtime to this 1992 song. While it is not as hard rock as what you would like the song to be, it happens to be one of the most exciting power ballads you can ever play.
The song comes replete with fascinating guitar riffs that are made memorable because of their fingerstyle. Learning the song should be easy without ever losing its harmonic qualities. The tempo is just right for beginners at a friendly 76 BPM. This is one Bon Jovi song worth mastering.
Popular Related Article: Recommend Beginner Guitar Songs that are Easy to Learn
27. I Love Rock N' Roll by Joan Jett
Guitar Chords: E, A, B, G, D
It wasn't Joan Jett who first recorded this hard rock classic. That distinction goes to the Arrows, which the group recorded in 1975 or about 7 years before Joan Jett decided to make a cover for the song. However, it was Jett who truly popularized the song. This hard rock anthem topped the Billboard Hot 100 in 1982. Britney Spears, Alex Gaudino, LadBaby and other artists also gave their own rendition of the song. It's proof of the undying popularity of the musical piece, culminating in its induction into the Grammy Hall of Fame.
Any aspiring rock guitarist will do well to learn the different techniques and tricks of this song. From the powerful strumming to the electrifying fingerstyles, this is an all-in-one learning piece. The song is also very engaging to play.
28. I Don't Wanna Miss a Thing by Aerosmith
Guitar Chords: G, D/F#, Em7, Cadd9, Am7
The world knows this song as the track that came with the Hollywood film, Armageddon in 1998. What many don't realize is that it is also one of Aerosmith's greatest, chart-topping songs. The musical piece is a powerful rock ballad that is the perfect platform for Steven Tyler's phenomenal vocals. And when you get to play this rock song on your guitar, you'd be playing one of the greatest tunes of all time.
True performers always play this song arpeggio to give it exceptional harmonic qualities. However, beginner guitarists can still play the song by employing a few basic strumming patterns for the different chords. Focus on the four downstrums before giving it an upstrum to complete the song's driving pattern. Its lovely melody and tune should also make the song very interesting to play.
29. Don't Stop Believing by Journey
Guitar Chords: E, B, C#m, A, G#m
Believe me. This is one of the easiest rock songs you can ever play on your trusty old guitar. You can always transpose the original chords to make playing a lot easier. Playing through the chords is simple because of the predictable pattern and progression. What you will have to pay attention in this song is the correct strumming pattern. Getting the groove right should help you play almost any other song.
The song did not enjoy instant chart success when it got released in 1981. The highest rank it reached was the 9th position on the Hot 100. However, less than 3 decades later, the song reached number 6. This is due to its cover version performed by the cast of Glee. Many musicologists consider this music piece as an impeccable rock song.
30. Seven Nation Army by White Stripes
Guitar Chords: Em, C, B7, G, A
Personally, I love the guitar riffs of this alternative rock piece. It has that very nice vibe that complements its almost anthem-like character. That is why a lot of people chant to the beat of the song whenever it gets played at sporting events and other competitions. This 2002 song marked the revival of garage rock. It gives contemporary musicians a blueprint for creating their own masterpieces without resorting to complex chord structures.
The chords of Seven Nation Army are great for beginners. If there's anything that you should focus on, that would be the song's rhythm. An understanding of the song's groove will also set you up for the more successful playing of this rock song on your guitar. The strumming technique is uncomplicated. You should be ready to play this song within minutes.
31. Born to Be Wild by Steppenwolf
Guitar Chords: E, E7, G, A, D
If there is a song that best sums up all the fine qualities of rock music and why people love it so much, this Steppenwolf song of 1968 is it. The song is the anthem of bikers, gangs, and members of other counterculture groups. People look at the song as the very first musical piece that employed heavy metal elements. However, this is a song that is as hard rock as any other contemporary rock song.
The song can teach beginners many things about playing the guitar. The guitar riffs are not only electrifying. They are excellent tools for mastering the fingerstyle, too. However, not all beginners will be able to execute the techniques right away. That's why it would be best to focus more on basic chords using only the most basic of strumming techniques.
32. The One I Love by R.E.M.
Guitar Chords: Em, Dsus2, Dsus4, G, Cadd9, D#
This is a rock song that me and my friends never grow tired of either singing or playing on our guitars. It is an alternative rock piece that features a very catchy tune and easy-to-play chords. Q Magazine listed this song as one of the greatest tracks on guitar, making its case as a great learning tool for beginning guitarists.
The chords may seem complicated at first. All it needs is familiarization with the corresponding finger positions to get the fretting movements right. What beginner guitarists should focus on is the strumming pattern. It is straightforward. However, the 128-BPM tempo of the song can be very challenging for novice guitarists. Try reducing the number of beats per minute to make playing more manageable until such time that you're already comfortable playing the song in its original tempo.
33. The Twist by Chubby Checker
Guitar Chords: G7, C, Am, F, G, C7
One of the hippest rock and roll songs of the 1950s is The Twist. Unfortunately, the original recording by Hank Ballard did not do well in the music charts in 1958. Chubby Checker covered the song two years later, creating an instant hit that soon became the craze in many dance clubs. The cover topped the charts and heralded the birth of the crazy Twist dance.
Like all rock songs of the 50s and 60s, The Twist doesn't have a very complicated structure. The chords are a breeze to play and the strumming pattern is perfect for elementary guitarists. The song is a good tool for learning the essentials of guitar playing. Its catchy tune also makes the song a great choice when entertaining a group of people. They'll dance to the beat, if not sing along to the lyrics of the song.
34. Californication By Red Hot Chili Peppers
Guitar Chords: Am, F, C, G, Dm, FM7
Californication is a very popular alternative rock song that even critics of Red Hot Chili Peppers have grown to appreciate the musical ingenuity of the group. While the song did not top the charts in the US and other major countries, it did enjoy significant airtime on radio stations all over the world.
You've got to love how Frusciante picked the Am and F chords for a full 12 measures before adding C, G, Dm, and Am to complete a section of the song. This gives the song a very simple structure and a predictable pattern for beginner guitarists to learn. Californication is a good learning tool for developing your fingerpicking skills. You can also play a simple strumming technique. However, only the fingerstyle will give the song its much-vaunted harmonic characteristics.
35. Free Bird by Lynyrd Skynyrd
Guitar Chords: G, D/F#, Em, F, C, Bb
Lynyrd Skynyrd has been performing at small-town gigs since 1964. However, it was only in 1973 that the group was able to release their debut album. One of the most striking songs on that album was Free Bird. It is a very long musical piece, spanning a full 9 minutes. The single is shorter. However, when the band plays the song in their live performances, it can extend all the way to the 14th-minute mark. And people don't seem to mind.
This is exactly how people around you react when playing Free Bird on your guitar. It has an interesting groove that makes it sound more like a slow rock than it is a hard rock piece. It helps that the song only has a 66-BPM tempo, allowing for easy learning.
36. Nothing Else Matters by Metallica
Guitar Chords: Em, Am, C, D, G, B7, A
The opening riff of this 1991 heavy metal song is so melodious that you'd be forgiven for thinking that it is an intro to a lullaby or some ballad. However, it is one of the finest characteristics of Nothing Else Matters. It is also one of those things that set it apart from other rock songs in its time. The guitar solos on this 6:28 song is also excellent. You'll never forget the basslines, either.
I don't expect you to play this song like a pro if you're only a beginner guitarist. However, you can play it like a pro in a matter of several days if you pay attention to a few details. Learn the chords and the tabs. Add the rhythm and groove of the song, and you will be on your way to playing this song like a rock star.
37. Eye of the Tiger by Survivor
Guitar Chords: Am, G, Em, F, Dm, C, Em7
There's no arguing that Eye of the Tiger has one of the most captivating and coolest riffs ever. The combination of a soul-driving bassline and the electrifying power chords are enough to get you all pumped up. This is one of the reasons why Rocky Balboa chose this song in his fight against the cocky pugilist Clubber Lang.
Most of the learning resources about this song you will see online are dedicated mostly to learning and perfecting the guitar riffs and solos of this song. The power chords are a definite must. So is the strong and enigmatic bass riff that precedes the power chords. The good news is that you can master these techniques in under a week. Once you do, you'll find yourself more confident playing almost any other song on your guitar.
38. Crazy Little Thing Called Love by Queen
Guitar Chords: D, G, C, Bb, E, A, F
Released in 1979, Crazy Little Thing Called Love is a chart-topper and a favorite piece by covering artists. It wouldn't surprise me one bit if you decide to give your own rendition of the song once you've mastered its fundamentals. It is an excellent showcase of Queen's musical ingenuity.
The easy way to learn this song is by focusing on the rhythm first. You can then take on the chords and their recommended progression. The strumming is easy, and the chords aren't that complex. From there, you can notch it up higher to give the song its ultimate form. Don't forget to have fun while learning this song. You can use this song to develop your guitar-playing skills, while also building up your confidence.
39. I Want to Hold Your Hand by The Beatles
Guitar Chords: G, C, D, Em, B7, Dm, Am
The Beatles' first-ever US Billboard Hot 100-topping song also happens to be one of the best and easiest rock songs anyone can play. You don't have to be a Beatle fanatic. You only need to listen to the song and let its groove guide you. This is pop rock at its finest and only in the way that the Liverpool quartet can deliver.
Played in the key of G, I Want to Hold Your Hand is the perfect beginner guitarist song. Even seasoned guitarists will always make time to play this piece because of the song's simple structure and beautiful melody. Warming up your fingers should be easy as the song requires a pretty standard strumming technique, although the tempo can be quite taxing for some people. It is still an exciting song to play.
40. Back in Black by AC/DC
The most iconic rock song that almost every guitarist learns is their first song. "Back in Black" is not only easy to play, but it's also the perfect example of a hard rock song. It's energetic, loud, catchy, and has an infectious melody. It was released as the title track and lead single of their seventh studio album, Back in Black, on July 21, 1980.
Learning this song on guitar will be really easy; the main riff consists of three really easy chords that every beginner should know (E, D, A). There are some tricky parts in between, so you should carefully familiarize yourself with those parts and play them slowly. After that, you can combine them with the main riff, and you basically know how to play the whole song.
41. Lithium by Nirvana
"Lithium" is a haunting and introspective grunge anthem that encapsulates the raw emotion and tumultuous spirit of the '90s alternative rock movement. As the verses unfold, the juxtaposition between delicate melodies and surging power chords creates an atmosphere that is both haunting and cathartic. After a melancholic intro, the chorus erupts with anthemic force, carrying Cobain's anguished cries to the forefront, inviting listeners to immerse themselves in the raw emotions woven into every lyric.
The song is really simple yet so powerful and haunting. To play this song, the guitar needs to be tuned a half step down (D G C F A D), which gives it that dirty, grungy sound. The chords and the strumming pattern are very easy to pick up, so you'll find yourself singing along to it with ease in no time.
42. Paranoid by Black Sabbath
Paranoid stands as a definitive masterpiece in the catalog of Black Sabbath, the pioneers of heavy metal. It was released as the title track of their second studio album in 1970. Every one of us has probably heard this song at one point in our life.
From the opening notes, a sense of dark intensity takes hold, instantly enveloping you in a sonic atmosphere of raw power and unrelenting energy. Tony's iconic guitar riffing and Ozzy's distinctive vocals make this song an instant classic. The main riff is so easy to learn yet so cool sounding. It can be played either on the E and A strings or A and D strings. I recommend you play it on the E and A since that's how you get a heavier sound.
43. 505 by Arctic Monkeys
505 by Arctic Monkeys a mesmerizing indie rock ballad that weaves a tale of longing, desire, and introspection. The song stands out as the most recognizable song from their entire discography. It was released as part of their second studio album called Favourite Worst Nightmare in 2007.
The song showcases the band's evolution and their ability to craft poignant and evocative melodies.
The song paints a sense of atmospheric melancholy as Alex Turner's emotive vocals glide over a gentle guitar melody. It is one of the easiest indie songs to play with only two chords which made it very popular with the internet guitar community. You should be able to learn this song really quickly.
44. Black Sabbath by Black Sabbath
Paranoid stands as a definitive masterpiece in the catalog of Black Sabbath, the pioneers of heavy metal. It was released as the title track of their second studio album in 1970. Everyone of us has probably heard this song at one point in our life.
From the opening notes, a sense of dark intensity takes hold, instantly enveloping you in a sonic atmosphere of raw power and unrelenting energy. Tony's iconic guitar riffing and Ozzy's distinctive vocals make this song an instant classic. The main riff is so easy to learn yet so cool sounding. It can be played either on the E and A strings or A and D strings. I recommend you play it on the E and A since that's how you get a heavier sound. If you're looking for easy rock songs to play on guitar, this is one of my top recommendations.
45. Iron Man by Black Sabbath
Iron Man, is a monumental heavy metal anthem that has become an iconic symbol of the genre. It stands as a timeless masterpiece in the extensive discography of Black Sabbath. It was released as the second track from their album Paranoid, in 1970, the song has cemented its place in music history and became an icon.
From the noisy opening, a sense of foreboding and darkness starts to envelop you. Tony Iommi's distinctive guitar riff, adorned with eerie power chords, resonates with an otherworldly quality, while Geezer Butler's pulsating bass line adds an irresistible heaviness to the composition. The song is a joy to play and sounds quite complex and really heavy.
46. Fortunate Son by Creedence Clearwater Revival
Fortunate Son by Creedence Clearwater Revival is a timeless rock anthem that serves as a powerful social commentary and an embodiment of the rebellious spirit of an era. It was released in 1969, during a shaky period in American history. The song encapsulates the band's ability to blend catchy melodies with profound lyrical messages, creating a song that resonates with generations.
From the opening guitar riff, a sense of urgency and defiance permeates the air, instantly capturing your attention. John Fogerty's distinctive and passionate vocals pierce through, channeling a spirit of protest and frustration against the societal and political injustices of the time. Once you get the hang of the opening riff, the rest of the song is easy as pie. I highly recommend this song to anyone looking for easy rock guitar songs to learn.
47. Bad Moon Rising by Creedence Clearwater Revival
Bad Moon Rising is a captivating rock and roll classic by CCR that combines infectious melodies with a foreboding sense of impending doom. It stands as a timeless masterpiece, released in 1969 during a period of social and political unrest. From the opening chords, a sense of urgency and unease fills the air, immediately capturing your attention. John Fogerty's distinctive vocals soar above the lively instrumentation, delivering a message that is both captivating and ominous.
Lyrically, Bad Moon Rising explores a sense of impending doom and an uncertain future. The song's catchy chorus warns of a "bad moon" rising, symbolizing the brewing troubles and challenges that lie ahead. Its words resonate, capturing the collective anxiety and uncertainty of a changing world. Musically, it is a catchy blues song that is extremely easy to play.
48. Ace of Spades by Motorhead
Introducing Ace of Spades by Motörhead, a relentless and electrifying rock anthem that embodies the raw power and rebellious spirit of heavy metal. The song bursts forth with a blistering guitar riff. It is a relentless assault on the senses, unrelenting in its energy and intensity. The propulsive drumming and driving bass line, delivered by Phil "Philthy Animal" Taylor and Lemmy himself provide an unyielding foundation for the sonic onslaught.
The song's breakneck pace and unapologetic attitude have made it a timeless anthem for headbangers and rock enthusiasts worldwide. Its infectious energy and powerful riffs continue to ignite concert halls and adrenaline-fueled mosh pits to this day. It is easy to play, and yet so powerful and energetic any guitarist that is into heavier music has to learn it.
49. Should I Stay or Should I Go by The Clash
A captivating punk rock anthem that encapsulates the angst and uncertainty of relationships with an irresistibly catchy melody. Should I Stay or Should I Go stands as a timeless classic by The Clash, released in 1982. From the very first chords, it grabs your attention with its infectious energy and instantly recognizable guitar riff.
It captures the tumultuous emotions and internal struggle of a relationship on the edge, where the decision to stay or leave hangs in the balance.
The song's blend of punk rock energy and catchy melodies is a testament to The Clash's musical prowess. Mick Jones' guitar work stands out, with its signature riff becoming an instantly recognizable motif that has transcended generations. The song uses a mixture of power chords and standard beginner chords, making it really easy to play.
50. Sliver by Nirvana
Sliver by Nirvana is a raw and compelling grunge anthem that captures the essence of youthful frustration and the complexities of family dynamics. Sliver stands as a powerful testament to Nirvana's ability to channel raw emotion into their music. Originally released as a single in 1990, then later included in the band's Incesticide album, the song showcases their signature blend of raw energy, introspective lyrics, and infectious hooks.
From the opening guitar riff, a sense of urgency and discontent fills the air, immediately drawing you into the narrative. Kurt Cobain's distinct vocals, filled with a mix of angst and vulnerability, guide you through the tumultuous journey of a young protagonist grappling with their upbringing and familial struggles. The song uses only three power chords that are played really fast, which makes the song really easy and fun to play.
51. About a Girl by Nirvana
About a Girl by Nirvana is a melodic and introspective gem that showcases Kurt Cobain's songwriting prowess and the band's ability to blend grunge with infectious pop sensibilities. It is a standout track from Nirvana's debut studio album called Bleach, released in 1989. It presents a departure from the band's heavier sound, offering a glimpse into their ability to craft melodic and emotionally resonant compositions.
From the opening chords, a gentle and melancholic atmosphere is established, immediately capturing your attention. Kurt Cobain's earnest vocals draw you into the introspective narrative, inviting you to explore the complexities of a troubled relationship. The main riff consists of two chords and a simple yet unusual strum pattern.
52. Suck You Dry by Mudhoney
Suck You Dry by Mudhoney is a gritty and unapologetic grunge anthem that showcases the band's raw energy and fearless attitude. It was featured on Mudhoney's third studio album called Piece of Cake. The album was released in 1992. From the moment the pounding drums kick in, and the distorted guitars take hold, you can feel that dirty, underground vibe.
The song exudes relentless energy, driven by Mark Arm's snarling vocals and the band's raucous instrumentation. It captures the raw and uncompromising essence of grunge, delivering a sonic assault that demands your attention. The song can be played with only two fingers as it uses either really simple chords or power chords. Also, you need a fuzz pedal, or at least distortion on your amplifier, to recreate the sound of the song.
53. Starman by David Bowie
Starman by David Bowie a transcendent and otherworldly masterpiece that captures the spirit of exploration, hope, and the power of music to inspire and connect. From the ethereal piano intro, it transports you to a cosmic realm, setting the stage for a musical journey unlike any other.
The song's melody creates a sense of wonder and possibility, and David Bowie's vocals really add to it. The song is really nostalgic for the older generations and a blast to play for any generation. I advise you to get familiar with all the chords mentioned in the table above since some of them might be new to you. After that, just get a hang of the strumming, and that's it!
54. Money by Pink Floyd
Money by Pink Floyd is a groundbreaking and thought-provoking rock song that delves into the corrupting influence of money. It stands as a pivotal track from Pink Floyd's classic album called The Dark Side of the Moon. The album was released in 1973. From the distinctive cash register sounds that open the song, it immediately sets the tone for a critical examination of society's obsession with material wealth.
The song's infectious groove, driven by a mesmerizing bassline and rhythmic guitar work, draws you into its hypnotic rhythm. Roger Waters' distinctive vocals guide you through a scathing critique of consumerism, highlighting the pitfalls and moral compromises that come with the pursuit of monetary gain. It has a simple, catchy bass riff that can also be played on guitar and an amazing solo which isn't surprising since it's a Pink Floyd song.
55. School's Out by Alice Cooper
School's Out by Alice Cooper a rebellious rock classic that captures the youthful spirit of freedom, rebellion, and the exhilaration of breaking free from the confines of education. It stands as a seminal track from Alice Cooper's album of the same name, released in 1972. From the iconic opening guitar riff, it immediately ignites a sense of excitement and rebellion, transporting you back to the carefree days of youth.
The song's infectious energy and catchy chorus invite you to sing along and embrace the exhilaration of the final school bell ringing, marking the beginning of summer vacation and the liberation from the structured world of academia. It's a simple, energetic song that is perfect for jamming.
56. Yellow Submarine by The Beatles
Yellow Submarine by The Beatles is an epic song that invites listeners to embark on a fantastical underwater adventure. Yellow Submarine was released by The Beatles in 1966. From the moment the song begins with its cheerful and catchy melody, it transports you to a world of childlike wonder and imagination.
The song showcases The Beatles' ability to create music that transcends age and captures the hearts of listeners of all generations. Its simple yet melody and sing-along quality have made it a beloved sing-along anthem for fans around the world. It being an old classic, it will surely be recognized by anyone, so it's a great pick to play at family gatherings.
57. Under Pressure by Queen
Introducing Under Pressure by Queen, a timeless and emotionally charged collaboration that weaves together the talents of Freddie Mercury and David Bowie, resulting in a transcendent masterpiece that explores the depths of human connection and the pressures of life. It was released by Queen and David Bowie in 1981. From the moment the song begins with its pulsating bassline and the iconic vocal harmonies of Mercury and Bowie, it envelops you in a sonic embrace that is both haunting and powerful.
The main vocals intertwine, complementing each other in a dance of emotion and vulnerability. From Mercury's soaring vocals to Bowie's distinct timbre, they convey a range of emotions that resonate deeply with listeners. The song blends elements of rock, pop, and soul which makes it a great pick for guitar practice.
58. Brain Stew by Green Day
In the early 2000s, Green Day was one of a handful of pop-punk bands that brought their sugary brand of southern Californian punk to the MTV airwaves and the rest of the world. "Brain Stew," off their fourth record Insomniac, became a classic in what would become an extensive oeuvre of hits. As prolific as they have become, listen to the song "25 or 6 to 4" by the band Chicago. We are not saying Billie Joel Armstrong ripped anyone off here, but the chord progression does sound a bit familiar.
Potential copyright issue aside, "Brain Stew" is one of every Green Day fan's favorites. It's also a great song to learn when you are just starting out on guitar. Even though the song was recorded a half-step below standard tuning, I would avoid alternate tunings. It can be challenging for beginners to tune correctly, and going back and forth between different tunings can make your guitar sound whack.
59. Come As You Are by Nirvana
If you have ever downloaded the Youscian app, you'll know that "Come As You" is one of the first songs you learn. Little do most people know the song by Nirvana has been the subject of controversy. The song shared similarities with Killing Joke's "Eighties," released in 1984. Killing Joke guitarist Geordie Walker, feeling slighted, was upset with how the whole thing was handled.
Learn "Come as You Are" by Nirvana but let us keep in mind the original. The song is performed on the low E string and A string with frets two, one, and open strings. It's easy to master parts but pay close attention to the rhythm. Listen! Listen! Listen! Don't try and tune the guitar to Kurt's guitar. First, try it in standard tuning.
60. Dammit by Blink 182
| | |
| --- | --- |
| Release Date | September 23, 1997 |
| Chords | C, G, Am, and F |
| Tabs | Dammit Tabs |
Tom DeLonge doesn't claim to be a guitar hero. This is why "Dammit," Blink 182's single off their 1997 record Dude Ranch is on our list. Before we dive into learning the part, let's hear the backstory. The bassist Mark Hoppus wrote the song about a fictional breakup and the weird feeling of seeing your former partner with someone else.
What better way to quell your emotions than to learn this easy song? The main guitar melody is what gives the song life. Learn the part slowly. Make sure you play the correct notes. The verses have power chords and palm muting. These are all great techniques new guitarists should know.
61. Smoke on the Water by Deep Purple
Give anybody a guitar, and they will play "Smoke on the Water." It's one of the very first riffs beginner guitarists learn. But it's always played wrong. Deep Purple's 1972 classic was played by guitarist Richie Blackmore. Most people play it on the low E string, but it's supposed to be played with two strings at a time.
Show Blackmore some decency and learn the song the correct way. Or at least recognize that you are misplaying it. A fun fact about this song is that Blackmore claims the riff was Ludwig van Beethoven's Symphony No. 5 but backward and inverted. Even more, reason to learn it the right way!
62. All Along the Watchtower by Jimi Hendrix Experience
Bob Dylan may have written "All Along the Watchtower," but Jimi Hendrix, the guitar god, popularized the song with his own rendition. During the late '60s, Hendrix was big into the folk revivalist and would perform versions of his other works. The song appeared on Hendrix's 1968 album Electric Ladyland and became a classic. Any movie that references the Vietnam War will play this song.
Just because it's played by Jimi Hendrix doesn't mean that it's challenging to play. Especially the rhythm part. All you need to know are some basic barre chords. It might be hard at first to press down the strings with one finger, and that's okay. There is no shame in turning them into power chords. Now you are on your way to guitar Valhalla.
63. All the Small Things by Blink 182
In the early 2000s, "All the Small Things" was inescapable. The Blink 182 single received constant airplay on radio stations, and its music video was featured nonstop on MTV. The song peaked at number six on the Billboard Hot 100 and was the band's first and biggest single. The band has been through breakups and reunions, never surpassing their 1999 zenith.
Regardless, the song is perfect for our purposes here. Guitarist Tom DeLonge has created a song that is good for beginners. The sections that use power chords should be quick to work out. However, the melody in the introduction might take a few tries to master. Go slow and make small, measured movements.
64. Basket Case by Green Day
| | |
| --- | --- |
| Release Date | August 1, 1994 |
| Chords | D, A, Bm, F#m, G, and C |
| Tabs | Basket Case Tabs |
"Basket Case" by Green Day starts with a bang. Billie Joel Armstrong sings, "Do you have the time to listen to me whine," while strumming fast palm-muted power chords. The song maintains high energy throughout the whole thing. Which makes sense when we learn the song is about struggles with anxiety.
Sometimes, it's best to embrace the mania, and you can do that by learning this catchy song. The song is pretty quick, though. You will have to learn to stay loose. Whenever you want to play faster, think about playing lighter. Play quietly and make the only movements necessary to make the strings ring.
65. Beat It by Michael Jackson
| | |
| --- | --- |
| Release Date | February 14, 1983 |
| Chords | Em, D, and C |
| Tabs | Beat It Tabs |
As if Michael Jackson needs one more reason to not like him. The pop artist turned sex offender (and his estate) have barred the tabs for this iconic duet with Eddie Van Halen. "Beat It" was released on Jackson's Thriller, the king of pop's most famous album. Safe for the face-melting guitar solo, the song's main riff is easily manageable for most beginners.
What really stands out in the song is the rhythm. Listen to the recording and pay close attention to the syncopation. Once you feel it, try your hand and play this catchy riff. Luckily for us, once you learn the riff, you've known the entire song. Canceled or not, it's still a fun song to play.
66. Boom Boom by John Lee Hooker
For those looking to get closer to the bluesier side of things, "Boom Boom" will do the job. The song was written and recorded by guitarist John Lee Hooker in 1961. If there is one song he will be known for, this is it. Many other artists, including The Animals and other bluesmen, have covered the song. You'll recognize the melody once you hear it.
Hooker wasn't necessarily a guitar genius, but he did write a catchy riff. Don't be afraid to really dig into the strings here. In fact, blues sounds much better, more authentic, when it sounds rough around the edges. Master this riff and add a steady beat with your feet. There you go, you sound just like John Lee Hooker!
67. Breaking the Law by Judas Priest
"Breaking the Law" stands for everything that rock music means. Unearth your rebellious side with this Judas Priest classic. The song was released on their 1980 album British Steel. Since then, it has become iconic for the band, instantly recognizable by its opening guitar riff.
Whether you are a metalhead, beginner guitarist, or both, "Breaking the Law" is a must-learn. As we suggest in many songs on our lists, learning the rhythm is critical. Listen and tap along to the rhythm of the guitar. Once you can feel it in your body, you can play it. This is an adage that you should live by.
68. Brown Eyed Girl by Van Morrison
You can tell it's "Brown Eyed Girl" from the opening riff. The song was released in 1967 by Irish singer and songwriter Van Morrison. The upbeat song about a girl with brown eyes peaked at number ten on the Billboard Hot 100. It stayed on the charts for sixteen weeks. The beloved song is now considered to be Van Morrison's signature song.
Everyone will know what song you are playing as soon as you start, so don't mess up! Practice the opening lead part by yourself. Once it feels comfortable and easy, learn the chords. Then learn to sing the song. There! You are a one-person band!
69. Cocaine by Eric Clapton
| | |
| --- | --- |
| Release Date | November 18, 1977 |
| Chords | E, D, C, and B |
| Tabs | Cocaine Tabs |
Before Eric Clapton was uncovered to be a racist asshole, he was a pretty good songwriter. "Cocaine" is considered one of his most well-known hits. It's not well-known that the blues rock song was first written and recorded by singer/songwriter J.J. Cale. Let's acknowledge the irony in Clapton's cultural re-appropriation habits.
Though a questionable human being, Eric Clapton created a memorable riff with "Cocaine." It's one of the first electric guitar songs you should probably learn. The blues influence is on full display here, and the dirtier you play it, the better it sounds. Put on some distortion and jam out. Don't do drugs, though.
70. Communication Breakdown by Led Zeppelin
Speaking of cultural reappropriation, the next song on our list comes from Led Zepplin. The British classic rock band has been known to recycle and repurpose African-American blues artists. Worse, they didn't really give credit where credit was due. Though the band has had questionable actions, Led Zeppelin and "Communication Breakdown" has become a rock classic.
Led Zepplin is considered one of the first metal bands, and the song features a technique that would be used countless times in the genre. The low E string is played open but as a palm mute. The chugging sound it produces gives the song its heavy sound. "Communication Breakdown" is a great gateway song to learning more complex songs in metal.
71. Day Tripper by The Beatles
| | |
| --- | --- |
| Release Date | December 3, 1965 |
| Chords | E7, A7, F#, A, G#, C#, and B |
| Tabs | Day Tripper Tabs |
John Lennon and Paul McCartney are considered among the most successful songwriters of the 20th century. Together, they produced an overwhelming amount of great music that dominated the Billboard charts. Released in 1965 as a single off their album Rubber Soul, the song draws heavily from American soul music.
In addition to proving that the duo can dabble in just about any genre, "Day Tripper" is a great first song to learn on guitar. The riff is super catchy and fun to play. In order to play it correctly, you'll need to master switching from the low E, A, and D strings. When you get it perfectly, good luck trying to stop playing it.
72. Detroit Rock City by Kiss
\\The face-painted rockers pay homage to the once bustling city with "Detroit Rock City." The song was released in 1976 on the album Destroyer, but the song actually wasn't just about Detroit. Kiss's most popular song included times on tour, more specifically, while in Charlotte when a fan was tragically run over by a car. Minus the sad backstory, the band created a now classic riff.
Grab your Les Paul for this one if you want to be like Ace Frehley. If you don't have one, that's okay. What you will need, though, are hammer-ons and pull-offs. These techniques are common for guitar players, and if you haven't learned them yet, now is an excellent time to start. The technique relies on a solid left hand. Make sure when you hammer on, you slam your finger down. When you do a pull-off, you must come off the string and pluck it with the same finger. It'll just take a little more work to get it right.
73. Dirty Deeds Done Dirt Cheap by AC/DC
Most people recognize "Thunderstruck," "Back in Black," and "Highway to Hell" as favorite AC/DC songs. A little lesser-known song, "Dirty Deeds Done Dirt Cheap," is provided here on our list. The song was released in 1976 before their lead singer Bon Scott's tragic death. But like other AC/DC hits, the song still rocks.
Past being a great example of alliteration, "Dirty Deeds Done Dirt Cheap" is great for beginners. Since it's a deep AC/DC cut, you'd expect adult students to want to tackle this one. With heavy distortion, Gibson SG, and power chords, the riff is fun and easy to learn. Feel like a bonafide rockstar after learning this fantastic song.
74. Everybody Hurts by R.E.M.
"Everbody Hurts" is a song used in romantic comedies to show the audience a character is hurting. As if it weren't obvious, most of the time, it's done ironically. Released on their eighth studio album Automatic for the People, the song from R.E.M. came out as a single in 1993. It's on the softer side of Rock but nonetheless a great song.
For "Everbody Hurts," you must have some cross-picking experience. This technique is when you arpeggiate chords with alternate picking (up/down/up/down). Don't worry about playing it up to tempo right away. Practice slowly and make sure your movements are correct. Once comfortable, try bringing it up to speed. Keep your body loose, though!
75. Hallelujah by Jeff Buckley
Landing on the softer side of Rock again, we have Jeff Buckley's version of "Hallelujah." The song was written by Canadian singer and poet Leonard Cohen. A masterful songwriter, Cohen's songs have been covered by many different artists. John Cale from the Velvet Underground recorded his own version. However, Buckley's version landed on Rolling Stone's list of "The 500 Greatest Songs of All Time."
For this song, you'll need a capo. The best way to think about playing with a capo is to imagine that whichever fret you place your capo at, those are your open strings. It avoids a lot of confusion if you are playing open chords. Start with the haunting intro, then try playing the verse. Since there is a lot of string skipping, it is a good idea to try playing it as a fingerstyle piece. For once, it's okay to lose your pick!
76. Here Without You by 3 Doors Down
The early 2000s was a great time for alternative rock. Bands like Staind, Three Days Grace, and Nickelback all enjoyed extended play time on the radio. "Here Without You" is by another "three" based band–3 Doors Down. Released as a single on Away from the Sun, the power ballad proved that tough guys have a sensitive side.
Get in tune with your emotions and learn this alternative rock staple. The most challenging part of the song will be the cross-picking, but once you get that down, it's smooth sailing from there. The rest of the song will be in basic open chords. Make sure you don't drop the beat when switching chords.
77. Hey Joe by Jimi Hendrix Experience
| | |
| --- | --- |
| Release Date | November 1965 |
| Chords | C#4/E Em7, E, C, G, D, and A |
| Tabs | Hey Joe Tabs |
"Hey Joe" kicks in with a now iconic intro. You can tell it's Jimi Hendrix within the first few seconds of playtime. The song's composer has been disputed, but it's safe to say that Hendrix's version is the best. The guitar god blesses us with some electrifying guitar playing.
Beginners might be intimated to learn something from Jimi Hendrix, but there is never a wrong time to try. I'd place the most importance on the opening guitar melody. Let the high E string ring against the notes fretted on the B string. The whole thing uses the pentatonic scale and sounds very bluesy. You can do it!
78. Hide Away by Freddie King
| | |
| --- | --- |
| Release Date | August 26, 1960 |
| Chords | E7, A7, A, E, and B7 |
| Tabs | Hide Away Tabs |
Freddie King again takes us to the bluesy side with "Hide Away." The 1960 composition was later recorded by other artists such as Eric Clapton and Stevie Ray Vaughan. Unlike some artists, King recognizes the song pulls from other songs. He credited those that needed it.
"Hide Away" might not be the first song a beginner should tackle. It's a little more complicated than the other songs on our list. If you've heard it before, that might make it a little easier. If you want a challenge, I suggest listening to the song multiple times before you begin. Get it in your ear. Then get it in your fingers.
79. I Wanna Be Sedated by Ramones
The US and England fight over who started punk music. Was it the Ramones? Was it the Sex Pistols? Who did it first shouldn't matter; they both produced great music. "I Wanna Be Sedated" captures everything that made the Ramones great. Driving drum beats, chugging power chords, and catchy choruses, the band's energy in the late 70s was unequivocal.
The song has become a trademark for the band and one first songs beginning guitarists can play. Once you master the power chord shape, all you need to do is move it around the fretboard. Your right-hand needs to be proficient at strumming. Practice slowly and notice when your wrist begins to tense up. It's important to stay loose so that you can keep up with the intensity of the song.
80. Island in the Sun by Weezer
"Island in the Sun" almost never was. While working on their second album, the band didn't want to include the song. Producer Ric Ocasek fought to keep the song, which became the band's second single. We are glad he did because it is a great song. Pitchfork even named it one of the greatest songs of the 2000s.
Our song here is a fun song for beginners to learn. One of the guitar parts sounds Hawaiian, which is well-suited for a sun called "Island in the Sun." The lead part is played on the top three strings. Though these shapes may be unfamiliar, it's a good idea to practice them. This song isn't the only time you'll encounter them.
81. Mr. Jones by Counting Crows
| | |
| --- | --- |
| Release Date | January 1, 1993 |
| Chords | Am, F, Dm, G, C, and Fmaj7 |
| Tabs | Mr. Jones Tabs |
The Counting Crows were the talk of the mid-90s though their success was short-lived. The band never really made it bigger than their first single from their debut, "Mr. Jones." During the time, there was a rumor that the singer Adam Duritz was dating Jennifer Aniston. Perhaps if things worked out between them, they would still be relevant today.
Gossiping aside, "Mr. Jones" is a great song for any Millennial or Generation Xer to learn. As long as they know most of the open or "cowboy" chords, playing the song will be a breeze. Practice the strumming pattern separately before you add the chord changes. You want your right head to move organically and automatically. Practice two chords at a time if the switching gives you trouble.
82. My Hero by Foo Fighters
| | |
| --- | --- |
| Release Date | May 10, 1997 |
| Chords | E, C#m, F#5, and A |
| Tabs | My Hero Tabs |
The Foo Fighters are among the few bands that have stood the test of time. Since its inception during the late 90s, the Foo has enjoyed consistent airplay. One of their first hits was "My Hero," a catchy post-grunge song that pays homage to those that risk their lives. The song was released on their second album, The Colour and the Shape.
It's weird to think that Dave Grohl was a drummer before the Foo Fighters. If a drummer can do it, you can too! The song features power chords, octaves, and some single notes. When you play the octaves, make sure that you mute the string. Use your left-hand finger to lightly touch the string. It might feel counterintuitive initially, but this isn't the only time you'll need to use your left-hand fingers to mute a string.
83. No Rain by Blind Melon
| | |
| --- | --- |
| Release Date | September 22, 1992 |
| Chords | E D, A, G, and E7 |
| Tabs | No Rain Tabs |
If you are a millennial growing up in the early 90s, you'll remember the "bee girl" music video. Shot for Blind Melon's single "No Rain," the video follows a young girl dressed up in a bee costume as she struggles to find her place in society. The song and accompanying video were played heavily on MTV and Vh1. Sadly, the band's career was cut short when the singer Shannon Hoon died from a drug overdose.
It's unknown how much more music Blind Melon would have given us if we had a few more years. If It is as good as "No Rain," we are missing out. Learn this great song of the 90s. Besides the guitar leads, the song is fun and easy to play. Know your open chords, know your strumming, and be able to switch seamlessly between chords.
84. Oh, Pretty Woman by Roy Orbison
| | |
| --- | --- |
| Release Date | August 15, 1964 |
| Chords | A, F#m, D, E, E7, Dm, G, C, Am, and G7 |
| Tabs | Oh, Pretty Woman Tabs |
Released in 1964, "Oh, Pretty Woman" instantly succeeded. Roy Orbison's song stayed at number one on the Billboard Hot 100 for three weeks. Later, the song was used in Richard Gere and Julia Roberts' 1990 romantic comedy of the same name. You'll notice the interesting guitar part when you listen to the song. It starts to play, then stops multiple times before playing till the end of the riff. It's almost like a tease!
Everybody will know the song you are playing when you start with the intro; besides being easy to play, it's fun because the melody is so catchy. You must have your open chords down when you arrive at the verse and chorus parts. Thankfully the song only requires four chords.
85. Otherside by Red Hot Chilli Peppers
| | |
| --- | --- |
| Release Date | December 1999 |
| Chords | Em, F, C, G, Em, and A |
| Tabs | Otherside Tabs |
Few bands have enjoyed a successful and consistent career, none other than the Red Hot Chilli Peppers. Since the group's 1982 inception, they've written and recorded several hits. One of those hits is "Otherside" from their 1999 album Californication. Heralded as John Frusciante's triumphant return following a drug addiction, the album and subsequent singles were a mainstay on the Billboard charts.
Since then, Frusciante has been in and out of the band as he struggled with personal issues. It's strange, but sometimes really beautiful things come out of pain, making the guitarist's songs satisfying. Learn this great Chilli Peppers song riff on just a few strings. When you can comfortably pick and cross strings, you can take your guitar playing to the other side.
86. Peter Gunn by Henry Mancini
The older crowd might recognize this one. "Peter Gunn" was used in the intro for an early 60s private eye television series of the same name. Created by the great film composer Henry Mancini, the theme was nominated for an Emmy and two Grammys at the time of its release. The song has been recorded by other artists throughout the years, including the progressive rock band Emerson, Lake & Palmer.
If the theme were placed in a category, it would go with the theme from Jaws. Although obviously another film, the two themes are similar. Both can be played on the low E string. There are only a few notes, making learning this theme easy. The reward for learning the riff is worth it. It sounds cool!
87. Plush by Stone Temple Pilots
| | |
| --- | --- |
| Release Date | 1993 |
| Chords | Ebmaj7/G, Fmaj7/A, D/F#, C3/E, G, F, C, D, Cadd2, G5, F5, Eb5, and D5 |
| Tabs | Plush Tabs |
In the early 90s, grunge had taken over the mainstream. Bands like Stone Temple Pilots were hoisted into the spotlight. "Plush" was the band's first single on their 1993 debut Core. Although the song is based on a new story about the kidnapping and murder of a little girl, fans liked it enough to take it to the Billboard Album Rock Tracks charts.
Tap into your darker side by learning this song. The guitar introduction is exceptionally sticky, and if you are having trouble remembering the song, it will jog your memory. The part is played on the top three strings. There is a chromatic movement in the melody that is unique. If you want someone to start singing like Eddie Vedder, play this song.
88. Pride and Joy Stevie Ray Vaughan & Double Trouble
Stevie Ray Vaughan was one of the greatest guitar players to ever live. His life was tragically cut short in a helicopter accident at a ski hill in Wisconsin. Vaughan left behind some spectacular guitar playing and this classic blues song. "Pride and Joy" appeared on his 1983 debut Texas Flood. The song was his first single and has become one of his best-known songs.
If playing like Vaughan is too intimidating, learn the chords and the strumming pattern. For much of the song, you can use open chords. The seventh chord might be new to beginners, but it's important to be able to play them. They are essential to playing any blues song and spice up your playing by adding dissonance.
89. Runnin' Down a Dream by Tom Petty
Full Moon Fever was Tom Petty's first solo album after leaving his band, the Heartbreakers. "Runnin' Down a Dream" was the second single off that album. The song was somewhat successful and peaked at number 23 on the Billboard Hot 100. Although "Free Falling" might be Petty's most recognizable song, "Runnin' Down a Dream" has its own charm.
Like any rock song, you need an electric guitar. Experiment with the fuzz effect to match the tone on the record. The outro features a pedal point of E in the bass. It's best described as a constant drone. Over the top, the chords swift. The result is built-in dynamics. Used here, the song makes you want to hear more. When my students ask me for easy rock songs to play on guitar, this is one I'm constantly recommending.
90. Santeria by Sublime
| | |
| --- | --- |
| Release Date | January 7, 1997 |
| Chords | E, G#, C#m, B, and A |
| Tabs | Santeria Tabs |
It's hard to say how much more great music Brian Nowell would have given us if his life didn't end tragically from a drug overdose. As the frontman of sunny California's ska-infused rock band Sublime, "Santeria" was one of his greatest songs. It tells a story about a jealous boyfriend who plans to take revenge on his girlfriend's new lover. The music feels upbeat even with the violent subject matter.
If you want to play what Nowell plays on the record, you'll need to be able to pick across the strings. My suggestion is to use alternate picking. Continuous pluck the strings in an up/down/up/down pattern. It might be challenging to get used to at first, but it pays off when you play it correctly.
91. Simple Man by Lynyrd Skynyrd
Lynyrd Skynyrd is most known firstly by their hit "Sweet Home Alabama." The song is played in movies anytime the South is talked about. Their second famous song, "Free Bird," has become an easy grab for hecklers in the crowd. Finally, "Simple Man" is their third most famous song, and we show it some love by featuring it on our list.
Dip your toes in some Southern Rock with "Simple Man." The guitar of choice is a Les Paul. If you are just beginning, don't spend your money on Gibson. Go with the less expensive option with Epiphone. Listen to the recording and try to dial in the tone they use on the recording. You won't be disappointed once you lock it in.
92. Sunshine of Your Love by Cream
"Sunshine of Your Love" is one of Cream's most popular and best-known songs. The riff is catchy and memorable. Bassist and vocalist Jack Bruce created it following a Jimi Hendrix concert. You can definitely tell the similarities. Both artists drew heavily on blues music. "Sunshine of Your Love" is no exception.
To play the song correctly, it is best to learn the single-note riff. Listen to the record and be able to hum the melody. The pattern repeats many times in the song, so it shouldn't be a problem getting it in your ear. Once you have it, teach your fingers. Go slow. We want to be able to connect our guitar playing to the music in our head.
93. Tube Snake Boogie by ZZ Top
ZZ Top are instantly recognizable as two of three guys with a long beard. But the group didn't just rely on distinctive looks, producing blues-inspired music such as "Tube Snake Boogie." Although the song might imply a sexual innuendo, the term "tube snake" was used in surfing communities to describe a surfboard. Get your mind out of the gutter.
The song follows a traditional blues form. If you follow the lesson in the video, you'll see that it uses power chords. The way the top voice goes back and forth is common in blues songs. Learning blues cliches is important since Rock music draws heavily from the genre. Knowing it will take you a long way.
94. Walk Don't Run by The Ventures
In the early 60s, California and the music coming from the sunshine state was all the rage. Surf rock and its carefree attitude flooded the radio waves. "Walk Don't Run" was a big hit by The Ventures. The message was to slow things down and take time to enjoy life. While spreading this gospel, the band produced one great song.
"Walk Don't Run" is an instrumental, so don't worry about adding vocals. Focus on the guitar part. I suggest learning the main melody first. Then find a friend that can play rhythm guitar. If playing single notes is too hard, switch roles. Work out the chords and support your friend. Playing with someone is part of the joys of learning an instrument.
95. You Really Got Me by The Kinks
At the time of the song's release, the British Invasion was in full effect. Many bands, including the Beatles and the Rolling Stones, succeeded on yYankeeground. "You Really Got Me" helped the Kinks find their own footing. Inspired by the blues and artists such as Lead Belly and Big Bill Broonzy, the song became a favorite. Van Halen would give the song new life with an adaptation in 1978.
"You Really Got Me" is a good song for beginners because it teaches power chords and the blues form. The sound of power chords is found all throughout the different styles of rock, and many songs from the 50s, 60s, and 70s use the blues chord progression. What better way to use your time than to kill two birds with one stone?
96. When I Come Around by Green Day
Power chords and punk music go together like peanut butter and jelly. This makes it no surprise another Green Day song is on our list. "When I Come Around" was released as their fourth single from their third studio album, Dookie. Though the song appeared in 1995, the band could be heard playing the song as early as 1992.
Let's look at the main guitar riff. When you listen to the song, it's very repetitive, with some changes here and there. Once you master the changes and the rhythm, you pretty much know the entire song. This is why Green Day songs are great for beginners.
97. Ticket to Ride by The Beatles
The Beatles have written some of the greatest songs ever. John Lennon and Paul McCartney were prolific, composing hits for over five decades. Although "Ticket to Ride" might not be their magnum opus, the song has its own charm. It marked the Beatles' ascent into more cerebral themes. Eventually, they would get sucked into the hippie counterculture of the late 60s.
"Ticket to Ride" has a tuneful intro and barre chords. The song shouldn't be terribly difficult, but if you are unfamiliar with the song, I suggest listening to it a few times. Some of the barre chords might be a little tricky for beginners. If you're having trouble, only play the chords from the top four or three strings. It won't sound as good but it will be much easier to play.
98. All Star by Smash Mouth
| | |
| --- | --- |
| Release Date | May 4, 1999 |
| Chords | G, D, Am, C, C#dim, and F |
| Tabs | All Star Tabs |
Who doesn't love Shrek? Confession. Me. I do love this song, however. Released on their 1999 album Astro Lounge, the song "All Star" was a smash hit for the band Smash Mouth. The influence of the song came from the desire to create an anthem for the misfits. Ironically, all the misfits were listening to it. The song was inescapable.
"All Star" is a good song for beginners because it requires common open chords. When starting to play guitar, building your vocabulary of chords is essential. Most of the songs you come across will feature a handle of chords. More often than not, they will be the same.
99. Are You Gonna Be My Girl by Jet
"Are You Gonna Be My Girl" was a massive hit for Jet. The 2003 single has since sold over 1.3 million copies in the United States. That's a significant achievement for an Australian rock band. The song is liked by many because of its power to evoke classic rock bands. Some say the similarities are suspicious, sounding like Iggy Pop's "Lust for Life."
"Are You Gonna Be My Girl" is excellent for young adult beginners. For the verse parts, you just need to be able to play a power chord. Learn the fancy lick to fill in the gaps. Then learn the chorus, which moves those power chords around the fretboard. The syncopated strumming pattern is infectious and sure to lure someone into dancing.
100. Beautiful Day by U2
Though this is a list of Rock songs, there's no shame in including adult contemporary music, aka your mom's favorite bands. The 2000 single "Beautiful Day" was written by the Irish rock band U2. The song was a huge success, winning three Grammy Awards. Bono and guitarist The Edge must have done something right because their album All That You Can't Leave Behind hit multi-platinum status.
"Beautiful Day" is an excellent introduction to extended techniques. Always experimenting with sound, The Edge incorporates harmonics–a technique achieved by lightly touching the strings to produce a bell-like sound. Likely, you can play the part simply by placing one finger at the seventh fret. Soon you'll be playing like the guitarist in our next band.
101. Black and Blue by Van Halen
"Black and Blue" was released in 1988. The song featured singer Sammy Hagar, who joined after David Lee Roth left the band. As the first single off the album OU812, the song did well on the charts, peaking at number 34 on the Billboard Hot 100. Although Van Halen is known mostly by their guitar player, Eddie Van Halen, Hager proved he was someone to take notice of.
"Black and Blue" is more challenging than the other songs on our list. Consider it a high-level beginner near intermediate song. The song requires a lot of single-note picking. If you don't have the proper coordination with the right hand and left hand, Eddie will turn over in his grave. Take your time learning it, though. It's a tough one!
102. Bring Me To Life by Evanescence
| | |
| --- | --- |
| Release Date | April 7, 2003 |
| Chords | Em, Am, G, D, C, Bm, Em/G, D/F#, B, and C/E |
| Tabs | Bring Me To Life Tabs |
In the early 2000s, you could hear this song. "Bring Me To Life" was a song released by the band Evanescence. The vocalist Amy Lee wrote the song when she was 19 and in an abusive relationship. It was a powerful song because it helped her regain her power and showed us that women belong in the Rock genre just as much as men.
"Bring Me To Life" is straight-up rock. The song relies heavily on power chords, which are fun and easy to play. If you are using an amp, which, if you are reading this list, you should have, crank up the distortion for the full effect if you are reading this list. Master the perfect 4ths chord in the chorus and expel your inner demons with this awesome song.
103. Closing Time by Semisonic
| | |
| --- | --- |
| Release Date | March 10, 1998 |
| Chords | G, D, Am, C, Bb, Ab, Eb, and Cm |
| Tabs | Closing Time Tabs |
Bars across America have adopted "Closing Time" as the last-call swan song. It's the perfect song to blast near the end of the night when the bar is closing. The song was recorded by American Semisonic and released on their second album, 1998's Feeling Strangely Fine. Although it was pretty much a one-hit-wonder for the band, the song is still the perfect song that nicely tells patrons to go home.
Playing this party hit, you will become popular at any gathering. The song relies mainly on power chords. Once you feel comfortable with the shape and can perform them without any strings buzzing, you'll be more than just a guy with a guitar. Your friends will love to drunkenly sing along with you as soon as you start to play. This is also one of my favorite songs to sing while playing guitar.
104. Come To My Window by Melissa Etheridge
"Come to My Window" was released in 1993 by the American singer/songwriter Melissa Etheridge. The single came off her fourth album, Yes I Am. After Etheridge publicly announced that she was a lesbian, the song grew in popularity and became a driving force for gay rights.
For this song, we travel to the lighter side of Rock. So, grab your acoustic guitar. Most of the song is relatively simple. It features open chords. The right-hand strumming pattern is a different story. When you are practicing it, don't worry about switching chords. Just focus on getting the right hand to move and feel automatic.
105. Everlong by Foo Fighters
| | |
| --- | --- |
| Release Date | August 18, 1997 |
| Chords | F#5/D, F#5/B, D5/G, C#/D, D/D, E/D, F#/D, G/D, A5, B5, and G5 |
| Tabs | Everlong Tabs |
Kurt Cobain's untimely and tragic death may have just as well ended the grunge era. Luckily, Nirvana's drummer Dave Grohl started the Foo Fighters and released several successful singles, including "Everlong." The song was released in 1997 on their second album, The Colour and the Shape. Whereas all the instruments on their debut were recorded and performed by Dave Grohl, this album debuted the Foo Fighters as a full band.
Drop D tuning is a favorite tuning by many rock and metal guitarists. Here, Grohl uses the tuning to not only make playing power chords easier but to create a unique variation. The riffs during the verse add an altered note on top, creating a perfect 4ths sound. It's a cool sound to explore when you find yourself bored with the same old power chords.
106. The Freshman by The Verve Pipe
"The Freshman" is a 1997 single by the American band The Verve Pipe. The song off their second album, Villians, was a breakthrough hit, reaching number six on the Billboard Hot 100. The song is liked for its nostalgic evocation. Singer/songwriter Brian Vander Ark said the song was inspired by an abortion, something his girlfriend experienced.
Grab your capo; we are going to need it for this song. Place it at the second fret. Study the fingerpicking pattern slowly. Figure out the chord shapes the guitarist is playing from. Often, beginner guitar players don't realize they can just hold down the chord with their left hand and let their right hand do all the work. Allow your hands plenty of time to rest after practicing this late 90s staple.
107. Here I Go Again by Whitesnake
| | |
| --- | --- |
| Release Date | October 1982 |
| Chords | G, D, C, G/B, Am, Em, Am7, D/G, C/G, D/F#, and C/E |
| Tabs | Here I Go Again Tabs |
During the heydays of hair metal, "Here I Go Again" was a popular power ballad. Performed by the band Whitesnake, the song was released in 1982 on Saints and Sinners. Only when the song was rerecorded as a radio edit, it reached number one on the Billboard Hot 100.
Tap into your softer side with this neat song. All you need to know are your open chords. If you are working through our list, let's just assume you know them by now. If not, you must practice them. The more songs you learn. The more songs you learn, the more chords you learn. The more chords you learn, the better guitar player you become.
108. I Hate Everything About You by Three Days Grace
The only redeeming quality of this song is its forward delivery. Three Days Grace isn't sugarcoating anything here. There is no question that vocalist Adam Gontier felt slighted by someone. What better way to get back at them than to air your dirty laundry in the form of a successful rock song?
Moving past the cringe, "I Hate Everything About You" is an easy song to learn if you are into that type of alternative rock music. You'll need to tune your guitar down to drop D, though. If you don't have a tuner, the best way to do this is to match the pitch an octave below your D string.
109. I Remember You by Skid Row
Skid Row was one of those bands that was popular during the late 80s when hair metal was clinging on to relevance. "I Remember You" was released in 1989 as a power ballad. The song did well on the charts and peaked at number six on the Billboard Hot 100.
"I Remember You" features some slick guitar playing. You'll need to be able to strum some chords and play some fast licks. As always, take it at your own pace. Don't rush the learning process. The movements you choose to make must be the right ones. We are building a solid foundation for your guitar playing.
110. Kryptonite by 3 Doors Down
| | |
| --- | --- |
| Release Date | January 18, 2000 |
| Chords | Bm, G6, Asus2, Em, F#m, G, and A |
| Tabs | Kryptonite Tabs |
Out of the bands in the early 2000s playing angry guy Rock, 3 Doors Down was one of the more respectable ones. Their song "Kryptonite" was a clever gem. In the back of a mathematics class, the drummer Brad Arnold penned the song. It references Superman's weakness and parallels his own human weakness.
The guitar intro is another iconic opening. Use a pick to go pluck across the strings. Your left hand can hold the chords. Let the strings ring. On your amp settings, turn to a clean channel. For the chorus parts, punch on the overdrive. Enjoy playing this alternative rock favorite once you can play everything correctly.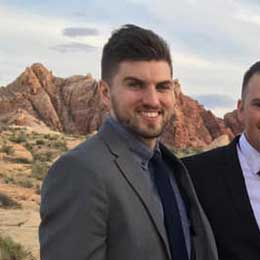 My name is Chris and I've had a passion for music and guitars for as long as I can remember. I started this website with some of my friends who are musicians, music teachers, gear heads, and music enthusiasts so we could provide high-quality guitar and music-related content.
I've been playing guitar since I was 13 years old and am an avid collector. Amps, pedals, guitars, bass, drums, microphones, studio, and recording gear, I love it all.
I was born and raised in Western Pennsylvania. My background is in Electrical Engineering, earning a Bachelor's degree from Youngstown State University. With my engineering experience, I've developed as a designer of guitar amplifiers and effects. A true passion of mine, I've designed, built, and repaired a wide range of guitar amps and electronics. Here at the Guitar Lobby, our aim is to share our passion for Music and gear with the rest of the music community.