Power chords with their root note and the fifth note structure are neutral-sounding chords with no minor or major tone qualities. Their beefy, confident sound has made them a massive hit in punk, rock, grunge, and heavy metal music. If you're looking for easy power chord songs to play, you're in luck; we have an epic list for you below.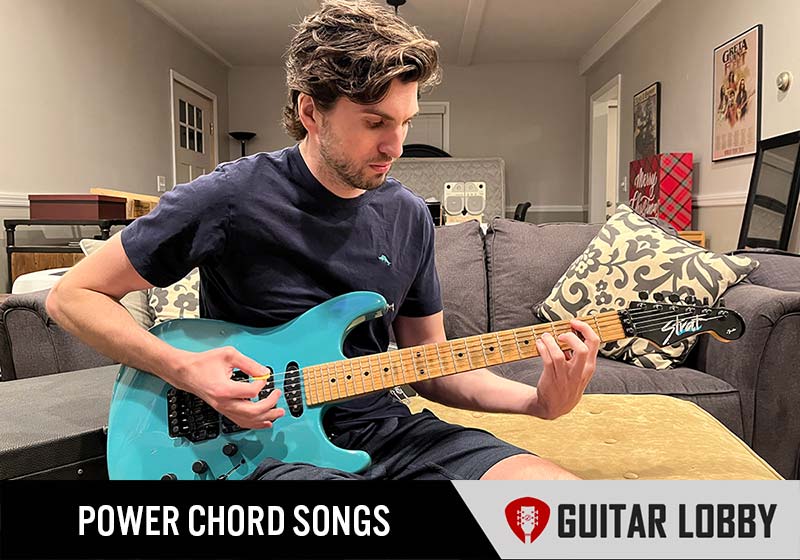 If you're just starting out with power chords, this article has plenty of popular tunes that are suitable for beginners.
1. All the Small Things by Blink 182
Tom DeLonge, the lead guitarist of Blink-182, wrote this song as an ode to his then-girlfriend. Little did he know that he was on his way to composing one of the biggest pop-punk hits ever. With simple yet catchy power chords, loud distortion, syrupy lyrics, and an infectious Ramones-esque chorus, "All the Small Things" made its way into every 90s kid's playlist.
While the power chord shapes are easy enough, it's the song's fast tempo that will take some time to practice to master. Check out the tutorial for a breakdown and where to add palm muting to sound closer to the original.
2. Smells Like Teen Spirit by Nirvana
In their three albums-wide and seven-year-long existence, Nirvana released a slew of chart-topping earworms. The most popular of their many smash hits was "Smells Like Teen Spirit." This raucous power chords-fuelled song proved to be a watershed moment not just for the band but the grunge genre as a whole.
To learn and play the track's iconic riff is every guitarist's dream. The good news is that you can nail it using four fairly simple power chords and well-timed palm muting. Click the tutorial above to get started.
3. Rock You Like a Hurricane by The Scorpions
This utterly catchy anthem wasn't the first hit for Scorpions. Still, it certainly brought them into the public eye. Even though it's been over four decades since its release, "Rock You Like a Hurricane" keeps resurfacing in one form or another. More recently, a Spanish version of the track was featured on the soundtrack of the 2019 superhero flick Hellboy.
Guitar-wise, it's one of those songs that sounds harder than it is to play. Familiarity with closed power chords and the basics of palm muting will make your lesson smooth sailing.
4. Eye of the Tiger by Survivor
This is my go-to song whenever I need a little motivation to power through the day. I don't even listen to the entire track. The opening guitar riff alone is good enough to supercharge you. "Eye of the Tiger" was recorded by American rock band survivor for the soundtrack of the third movie in the Rocky franchise. Since its release in 1982, the Grammy-winning track has been a radio staple and a frequent feature at sports events.
It's pretty easy to play and requires you to work your way around a bunch of simple power chords. The alternate picking pattern, however, will take some practice to master.
5. Last Resort by Papa Roach
On the face of it, Papa Roach's "Last Resort" sounds like an upbeat, adrenaline-pumping tune. On listening closely, the song reveals itself as a gritty piece on depression and self-harm. Iron Maiden fans would find the song's main riff uncannily similar to the one in "Genghis Khan."
Playing-wise, it's a great starting point for beginners to work on power chords, especially in an alternate tuning. To play along with the original, you'll need to tune the guitar down to drop D or D-A-D-G-B-E. The tutorial will show you how.
6. It's My Life by Bon Jovi
This pop-rock tune from Crush has all the ingredients of a crowd-pleaser: an upbeat melody, transcendent lyrics, and great vocals. And Richie Sambora's use of talkbox is the icing on the cake.
With "It's My Life," Bon Jovi, the famous rock band of the '80s, established its relevance in the new millennium. Although it's packed with techniques like string bending, vibrato, and pull-offs, the song's got a straightforward rhythm. You should be able to add the tune to your repertoire with a bit of practice.
7. Blitzkreig Bop by The Ramones
The New York-based band from the '70s is credited for pioneering punk with their three-chord melodies and catchy chants, most of which were set in a fast tempo. "Blitzkreig Bop" has all the trappings of The Ramones.
The track occupies the 18th spot on Rolling Stone magazine's Greatest Guitar Songs of All Time list but shouldn't be too challenging for anyone already familiar with power chords. So grab your electric guitar, plug in the amp, and hey ho, let's go! If you enjoy this song, check out our guide on easy electric guitar songs.
8. 21 Guns by Green Day
With 21 Guns, Green Day composed their very first arena rocker packed loaded with attention-grabbing hooks. This 5-minute-long anti-war anthem from the band's 8th studio album was their last trip to a high position on the US Billboard Hot 100.
The song's shimmering acoustic intro can be mastered by anyone comfortable with barre chords. Meanwhile, the distortion-heavy electric riffs are great for practicing power chords. Check out the tutorial for a detailed breakdown.
9. Seven Nation Army by The White Stripes
Almost every sports fan on the planet has heard this Grammy-winning song by The White Stripes. The track's iconic intro riff and catchy beats are instantly recognizable and never fail to charge up the atmosphere at a stadium.
The descending riff might sound like it was played on a bass guitar, but it was actually Jack White's Kay hollow-body paired to a whammy pedal and set an octave down. The rest of the song is mostly made up of easy power chords. You can learn the entire song by tuning in to the tutorial above.
10. Smoke on the Water by Deep Purple
Speaking of tracks with legendary guitar riffs, here's a timeless rocker by Deep Purple. Released in 1972, "Smoke on the Water" is often the first song any guitarist learns. In fact, the riff has been simplified to the extent that it's often taught to beginners and kids using just one string. However, the way the band plays this song is trickier and more suited for anyone who wants to brush up on inverted and arpeggiated power chords.
11. I Love Rock 'n' Roll by Joan Jett
Released in 1981, "I Love Rock 'n' Roll proved to be a game-changer for Joan Jett – So much so that you can't really talk about the rock icon without mentioning this track. Interestingly, this song is a cover version of a song that Jett heard when touring with The Runways.
Regardless, we can't imagine a world where Jett's spin didn't exist. You can learn how to play the power chords that make up this tune by clicking on the tabs above.
12. La Grange by ZZ Top
If you're looking for a blues-rock song that's high on swagger, this ZZ Top hit is perfect for you. In "La Grange," the flowy beards, black sunglasses, and top hats-donning legends take listeners on a vivid tour of Texas.
The main riff of the track has inspired countless blues-rock jams. And whether you're into blues or not, learning La Grange's signature riff will broaden your repertoire and skills as a guitarist. Like Deep Purple's "Smoke on the Water," this song, too, will help you work on perfecting inverted power chord shapes for a heavier, fuller sound.
13. Jailbreak by Thin Lizzy
The next one is a '70s classic by Irish rock band Thin Lizzy that made them famous in the USA. Wah-wahed guitars, killer riffs, and aggressive vocals, "Jailbreak" showcased Thin Lizzy at its finest.
Guitar-wise, it's got plenty to engage players of all skill levels. For beginners, however, I recommend the rhythm parts, which are made up of easy power chords. Check it out in the video above.
14. What's My Age Again by Blink 182
Written by the band's bassist Mark Hoppus in five minutes flat, the lyrics of "What's My Age Again" were fixated on the challenges of growing up. Together with "Mutt" and "Adam's Song," this song from the Enema of the State album played a pivotal role in catapulting the pop-punk band's popularity.
The song's arpeggiated intro is tricky but totally worth the effort. But you can skip that for now and focus on power chords that fuel the rest of the song. The tabs and tutorial above can help you get started.
15. Brain Stew by Green Day
True to its title, "Brain Stew" is a dark song about insomnia and its disturbing effects on sanity. However, sonically, it's like any other Green Day jam, packed with power chord riffs and angsty vocals. At the time of release, this song was bundled with another track, "Jaded," from the same album. The two songs together make for a mind-bending rollercoaster ride.
If the main riff of "Brain Stew" sounds familiar, you're not alone. Many feel it's lifted from Chicago's "25 or 6 to 4." To me, it sounds quite like Led Zeppelin's "Babe, I'm Gonna Leave You." Regardless, it's a fantastic beginner-friendly power chord tune to add to your arsenal. You'll need to tune down to an E-flat tuning before getting started. The chords you'll be using here are Ab5, Gb5, F5, E5, and Eb5.
16. You Really Got Me by The Kinks
When it comes to fun and easy power chord shapes, I couldn't leave this one out.
The Kinks were responsible for producing the catchiest earworms in the '60s. They also loved blending genres, and their sound had elements of R&B, folk, and rock 'n' roll. One of their best-loved tracks is the power-chord rich "You Really Got Me." The loud and energetic song inspired a legion of future musicians in punk rock and heavy metal circles.
17. Creep by Radiohead
The song's ruthless power chords, killer riffs, and frontman's unmistakable vocals proved to be a winning combination for kickstarting Radiohead's career. The funny thing is, despite how much the crowd loved "Creep," the band disliked it to the point of not making it a part of their live setlist for several years.
Now, the way the band plays it is with barre chords. However, a simplified version can be played using power chords even though it means you'll miss out on the minor tone of the C minor barre chord.
18. Enter Sandman by Metallica
Here's the thing about "Enter Sandman": It's not the most sonically complex song in Metallica's catalog, but it's undoubtedly the catchiest. The fact that it gravitates more towards rock than heavy metal is also why it was able to bring Metallica into the mainstream spotlight.
The song's main riff is so prominent that it made drummer Lars Ulrich label the track as a "one riff song." The rhythm is made up of a bunch of power chords spiced up with palm mutes, slides, and pull-offs. Nothing too challenging that you won't be able to master with a bit of practice.
19. Polly by Nirvana
There are two ways to play this grunge rock ballad. The open chords version is the most accessible, but if you want to sound like Kurt Cobain, you'll need power chords and palm mutes.
While it may not have the iconic Nirvana riffage seen in hits like "Smells Like Teen Spirit" and "Lithium," "Polly" more than makes up for it with more evocative lyrics and a captivating chord progression-fuelled melody. Learn to play "Polly" exactly how the band plays by checking the tabs and lessons above.
20. Iron Man by Black Sabbath
Tony Iommi's mind-blowing central riff notwithstanding, "Iron Man" might just be the easiest Black Sabbath tune to add to your arsenal. That's not to say it's easy how the band plays it. But the song's undying popularity has inspired many guitar pros to make it accessible even for beginners.
While it has no connection to Tony Stark's alter-ego, it's played in the end credits for the first installment in the Iron Man series. You can recreate that ominous melody on just the 6th string with power chords. This tutorial will break it down for you.
21. How You Remind Me by Nickelback
Nickelback's breakout track is so iconic that even those who don't follow the band would have heard it somewhere. "How You Remind Me" was written by Chad Kroeger to vent his feelings after arguing with his then-girlfriend. Lucky for the band, the track became their first bonafide hit and one of the most-played radio songs in the USA.
A simple four-chord power chord progression of C5-F5-Bb5-Eb5 shows up in the verse, post-chorus, and pre-chorus but strummed in different patterns. Nail this progression, and you've got most of the song down.
22. Du Hast by Rammestein
"Du Hast" thrusting riffage and tight rhythm is an excellent opportunity to master power chords in the drop D tuning. Even if you haven't heard of the German industrial metal band, chances are you would've heard this track because of its use in the famous sci-fi Matrix Trilogy.
The song's impressively high head-banging quotient and call-and-response format helped Rammstein conquer the US heavy metal scene. You can learn this song and all its single-note melodies and power chords by checking the tutorial and tabs here.
23. What I Got by Sublime
Power chords aren't limited to rock, punk, and metal genres. Sublime shows the versatility of these chords in their reggae rock "What I Got." With hip-hop drums, organs, reggae-style vocals, and acoustic solos, this infectious tune proved to be a radio goldmine for the ska punk band.
Two chords, D5 and G5, will get you through the tune. The D power chord is to be played from the 5th fret on the A string. For the G chord, you'll have to start from the 3rd fret of the E string. Reggae calls for relaxed, rhythmic style playing. So, once you've figured out the chords, take time to practice the laid-back strumming.
24. Whole Lotta Love by Led Zeppelin
Jimmy Page created some of the most iconic riffs in rock history. The killer distorted riff around which "Whole Lotta Love" isn't the easiest to learn but great for building accuracy while tackling fast rhythm. It's played using an E5 power chord combined with four-note individual picking.
Released in Led Zeppelin II album, "Whole Lotta Love" propelled Led Zeppelin to the highest echelons of rock music. Don't go looking for tabs and tutorials. We've got them right here for you.
25. Sharp Dressed Man by ZZ Top
Another awesome track by ZZ Top to hone your power chord playing skills. "Sharp Dressed Man" is set in a common time of 4/4, packed with groovy riffs and a solo so brilliant that it features on Guitar World magazine's list of Greatest Guitar Solos.
The track kicks off with a sensational riff played using F5, Eb5, and C5 power chords. This riff shows up multiple times in the course of the song. Once you have the riff down, you can learn the fun verse section. The chords you'll need to play the verses are Cm, Bb, F, and G.
26. Wake Me Up When September Ends by Green Day
Here's another punk rock gem by Green Day to perfect your power chords skills. In "Wake Me Up When September Ends," Bille Joe Armstrong pens a soul-piercing ode to his father, who succumbed to cancer. The emotionally compelling track was also played in several tributes to the victims of the 9/11 attacks.
The song begins with a melodious flat-picked acoustic intro and picks up the pace when the power chords-led electric section kicks in. There's also a beautiful-sounding solo that's quite easy to play. You can learn both acoustic and electric parts by clicking the video lesson above.
27. Teenage Dirtbag by Wheatus
Wheatus' gritty take on the struggles of a high school underdog remains to this date, their most popular composition. Released in the rock band's self-titled album in 2000, "Teenage Dirtbag" won the crowd over with its edgy lyrics and catchy melody that many found utterly relatable. The song recently went viral again when people started using it as a background track while sharing their teenage pics on TikTok.
It's a must-learn for building up on your power chord prowess and palm mutes. For the most part, you'll be using a four-chord progression to play the guitar parts. The tutorial shows you a simplifies the chord transitions and strumming patterns for beginners.
28. Let's Hurt Tonight by One Republic
Besides helping us expand our electric repertoire, power chords are a great way to tackle parts that require complex barre chords. Take this soft rock ballad by One Republic, for instance. In "Let's Hurt Tonight," the band plays most parts using barre chords.
So, if you've yet to come to grips with playing full-barre chords, try playing them as power chords first. Once more confident, you can work your way up barre chord shapes. The tutorial here breaks this helpful tactic down for you, nice and easy.
29. Pumped Up Kicks by Foster The People
With its hard-hitting lyrics about gun violence built on a catchy alt-pop dance
melody "Pumped Up Kicks" was a game changer for the LA-based Foster the People. It's a bass-led anthem that you can emulate on your guitar by mimicking the bass notes with the help of power chords.
You can play this tune using a four-chord progression of F, Ab, Eb, and Bb chords. The trick to nailing the punchy rhythm is keeping track of the beats, especially the first beat of every bar. Check out the tabs to get started.
30. Feel It Still by Portugal, The Man
Here's another bass-heavy tune that can be adapted on a guitar using power chords. This groovy track from Portugal, The Man's Woodstock album, conquered hearts and charts. It sat pretty on the top spot on the Billboard charts for 20 weeks.
You can emulate the iconic bassline with the power chord version of the barre chords mentioned in the tab. The chords will become C#, E, and F#, instead of C#m, E, and F#m.
31. Whole Lotta Rosie by AC/DC
You'll find plenty of power chord masterpieces in AC/DC's vault, but "Whole Lotta Rosie" is perhaps the easiest one to play. The track was a part of the Australian rock band's fourth album, Let There Be Rock.
The song's catchy and imaginative riff inspired many covers by famous bands like Guns N' Roses and Bullet for My Valentine. It can be played using three beginner-friendly power chords A5, C5, and D5. Check out the tutorial and have a whole lotta fun learning this one! If you're looking for songs with power chords, this is one I highly recommend!
32. There's Nothing Holding Me Back by Shawn Mendes
This mushy pop banger by Shawn Mendes has funky power chord-based riffs designed to pull the crowd to the dance floor. It's an upbeat piece where you see more instrumentation and percussive elements getting added into the mix as the track progresses.
The way it's written, especially the pre-chorus parts, are reminiscent of Justin Timberlake's early sound. Guitar-wise, "There's Nothing Holding Me Back" is made up of single notes and power chords. You can also learn a simpler, sing-along version using open chords by clicking the tutorial above.
33. Jessie's Girl by Rick Springfield
This song finds Rick Springfield singing about a young man crushing on his friend's girlfriend. It so turns out that the lyrics were personal to Springfield, and he, at one point in time, harbored unrequited feelings for his best friend's partner.
This ultra-catchy rhythm guitar-led track became Springfield's biggest and only chart-topping act. He even won a Grammy for it. The song uses four power chords. To make your performance smooth like Springfield's, work on getting the rhythm and strumming patterns right.
34. Vertigo by U2
For U2, "Vertigo" turned out to be a radio jackpot. It was released as a lead single from the Irish rock giants' eleventh album, How to Dismantle a Bomb. Although in the US, its chart journey ended at number 31, the track topped charts in numerous countries. That's not all. "Vertigo" also won the band three Grammies and has become a permanent occupant in best-of lists.
The song started as a rock 'n' riff, created by the legendary guitarist the Edge. The iconic riff is entirely power chords-driven. So, take the overdrive up a notch and get started!
35. False Start by Bikini Kill
Once you find yourself comfortable playing two or three power chord tracks, give this six-chord wonder by Bikini Kill a go. The all-girl band broke out in the '90s with their infectious punk rock female empowerment anthems and kickstarting the riot grrrl movement.
For those unfamiliar with the band, I cannot recommend a better track than "False Start" to warm up to their sound. The chords you'll need here are A5, B5, C5, D5, C#5, and G5.
36. Song 2 by Blur
Woo hoo! This highly recognizable call-and-response rock anthem by Blur is pure hook heaven. It so happens that Song 2's strange title was actually a working title or placeholder. In fact, according to the frontman Graham Croxon, the entire song was meant to prank the record company.
With killer riffs and the catchy woohoo chorus, the joke song ended up becoming their biggest-selling single. What's great is that the riff is entirely power chord-based and repeats throughout the song.
37. Run to the Hills by Iron Maiden
The thing about power chords is that they deliver a beefy, complex sound when in fact, they are easier to play than most chord shapes. You can sample the glory of simple but punchy power chords in Iron Maiden's signature track, "Run to the Hills."
This poignant song chronicles the atrocities inflicted on Native American folks by the British armies. The song is driven by galloping power chord triplets that the band is so famous for. You can learn it by clicking the tabs and tutorials here.
38. What I've Done by Linkin Park
Released in 2007, "What I've Done" stood out in the Nu metal heavyweights' repertoire in the sense that it had no vocals from Mike Shinoda but ended up becoming their biggest commercial hit in pure sales.
This lead single is one of the easiest power chord tracks on the list. Why do I say this? Well, for starters, it has simple power chord shapes and a straightforward strumming pattern. Moreover, the lead parts are also pretty accessible and made up of basic melodies. This is easily one of the most fun songs to play on guitar, in my opinion.
39. Baba O'Riley by The Who
Known to many as "Teenage Wasteland," a term that keeps coming up in the chorus, "Baba O' Riley" is driven by basic power chord shapes of F5, C5, and Bb. This rock and roll perfection is hailed as the greatest song to come out of English rock giants The Who's vault. It also features in Rolling Stone's 500 Greatest Songs of All Time because of the amazing guitar work, pulsating drums, fiery vocals.
40. Holy Diver by Dio
This one might not match other songs on this list in popularity, but it's a great track to practice triplets and palm mutes for beginners." Holy Diver" was released as the lead single by Ronnie James Dio-fronted heavy metal band.
Although it managed to crack only the top 40s in the US Billboard charts, it became a rage among headbangers across the globe. The 1983 hard rock classic resurfaced when Killswitch Engage covered it in 2006.
41. Molly's Lips by Nirvana
The speedy punk meets grunge banger from Nirvana's Incenticide is so easy that even absolute beginners can add it to their arsenal without much hassle. Power chords of G5 and C5 in a straightforward, repetitive strumming are all you need to get this one going.
Fun fact: "Molly's Lips" is not a Nirvana original but recorded by the Vaselines, a Scottish rock band. It was only when the grunge giants covered it that it entered the mainstream spotlight.
42. All Day and All of the Night by The Kinks
If you've got "You Really Got Me" under your belt, this Kinks classic won't take you much time to pick up. "All Day and All of the Night" was released by the English rockers in 1964 and has remained a fan favorite.
Both songs are pretty similar in structure, beats, and the use of power chord riffs. In this one, the tempo is fast, and the rhythm is tight, so listening to the song a few times will make the lesson easier.
43. Fortunate Son by Creedence Clearwater Revival
This 1969 anti-war anthem was recognized by the Library of Congress for its cultural and historical significance. Not a shocker as it was written by the extremely talented John Fogerty.
"Fortunate Song" appeared as a track on CCR's 1968 album Willy and the Poor Boy and didn't take long to become one of their biggest hits. To play this song, you'll need to work through power chords with plenty of palm mutes to capture the groove.
44. Talk Dirty to Me by Poison
Poison's breakout track has all the trappings of a quintessential glam metal: catchy distorted riffs, shredding, and simple and repetitive song structure. The intro riff is the most recognizable from Poison's riff repertoire. If you've already learned Black Sabbath's Iron Man, this tune will be a more upbeat, fast-moving version of that track.
45. Crimson and Clover by Joan Jett
Joan Jett was hailed as the Queen of Covers for a good reason. Like I Love Rock 'n' Roll, "Crimson and Clover" was not a Joan Jett original but was written and released by Tommy James and the Shondells. But as always, Jett's fairy touch brought the cover way more attention.
What's great about this track is that it can be played with just three power chords, C5, G5, and F5, in a simple chord progression. The verses are slower in pace, and the chorus really packs a punch, making it a great exercise for practicing fast power chord switching.
46. Breaking the Law by Judas Priest
My favorite metal riff comes from "Breaking the Law" by Judas Priest single. In fact, the entire melody, including the sound of a police siren and shattered glass, is instantly recognizable in rock and metal circuits.
The catchy minor-key riff is made up of only single notes, making it easy to play. The verse section is driven by basic power chords, which vary slightly between the first and second verses. You can learn all the parts, including the 8th note palm muted chorus, by checking the detailed lesson above.
47. Fly Away by Lenny Kravitz
You can give this one a shot once you've got the hang of power chords and are ready for something more challenging. This Grammy-winning hard rock tune by Lenny Kravitz will help you spice up rock power chords with mutes, stops, and other fun embellishments.
To sound even more like a pro by playing a full bar chord and emulating the funky bassline. So bring out your overdrive pedal and check out the lesson to get started.
48. God Save the Queen by Sex Pistols
British punk rockers Sex Pistols loved ruffling feathers and challenging the social norm. With this song, they took things to another level. The controversial track, which was a scathing attack on the monarchy, climbed to no.2 on the charts. It was later banned airplay in the U.K. Playing-wise, it is perfect for new power chord learners to amp up their strumming speed and add in slides.
49. The Zoo by The Scorpions
I won't count "The Zoo" among the best of Scorpions, but the talkbox solo and grungy guitar work are delightful to the ears. The melody is slow and groovy, with a dark, ominous vibe. The rhythm parts are perfect for adding to your power chord arsenal. However, I won't recommend learning the song in one go. Instead, what you should do is pick it up portion by portion.
50. Fire It Up by Black Label Society
If you're looking for an easy power chords track for your band, this is a must-add to your setlist. It captures the essence of Zakk Wylde's virtuosic guitar playing yet remains accessible to upper-level beginners.
For the uninitiated, Wylde was a lead guitarist for Ozzy Osbourne before fronting Black Label Society. In "Fire It Up," Wylde taps into the talk box to give the distinctive moaning sound to the central riff. It's a belter of a riff guaranteed to woo the crowd. You can learn it by clicking the tutorial above.
51. Give It All by Rise Against
Punk bands tap into power chords for their dirtier, heavier sound. These chords do well in distortion and fast tempo. You can sample the glory of power chords in Rise Against's "Give It All."
Lyrically, this hard rock punk gem is a soul-baring take on what it feels like to be a punk rocker. Before the release of this song, Rise Against spent many years as an underground band. In "Give It All," they found the springboard they needed for a long and rewarding stint.
52. New Kid in School by The Donnas
The Donnas started its journey three decades ago with a garage-pop sound and underwent a major sound revamp. Their post-1999 catalog had glam rock, hair metal, pop-punk, and classic arena rock pieces with solos.
This endearing classic belongs to that era. It's a perfect example of how even a handful of simple power chords can turn a track into a catchy masterpiece if it's got the right groove.
53. Pretty Fly (for a White Guy) by The Offspring
Cringeworthy lyrics aside, "Pretty Fly of a White Guy" is an ultimate power chord workout to test your newly acquired skills. So, it's only natural that it is featured on this list. The song appeared in Offspring's fifth album and only reached 53rd rank on the charts, but it became a rage back in 1998 when it was released.
I call it a workout because of the number of power chords it has, and it's a handful. That said, none of the chord shapes will give you sleepless nights.
54. Go With the Flow by Queens of the Stone Age
Power chords rule the world of Queens of the Stone Age. In their Grammy-nominated "Go With the Flow," they sing about living life to the fullest. They emphasize the spirit of living in the moment not just through lyrics but also through the energetic, high-intensity sound.
You can skip the intermediate-level riffs and focus on getting the steady and fast-paced rhythm right. Adding palm mutes will help in making your performance closer to the original.
55. American Idiot by Green Day
If you want easy power chord songs with crowd-pulling qualities, you should head to Green Day's discography. "American Idiot" is arguably one of the band's most recognizable tunes.
A brilliant blend of melodic punk and hard rock, this protest anthem earned them four Grammy nominations and a legion of fans. The tutorial shows you how to play the power chords and shares tips on nailing the distinctive Green Day guitar tone.
56. Hit Me With Your Best Shot by Pat Benatar
American rock singer Pat Benatar no longer performs her most popular song because of the endless violence in the USA. But for years, this 1980 classic was a staple at her live gigs as well as sports events.
It's a great piece to level up your power chord playing with fast chord switching in a steady rhythm. It's always a good idea to begin learning a fast-tempo track by slowing it down first to get the technique right.
57. Wicked Game by HIM
Chances are you may not have heard of this Finnish alt-rock band. But their power chord-based cover of Chris Isaak's iconic love ballad is great for beginners, especially if you've got the hang of palm mutes. You can play it with three power chords of B5, A5, and E5 with lots of palm muting.
Final Thoughts
Playing power chords is a core skill for every guitarist, especially those looking to add heavier jams to their arsenal. We hope this list has given you a headstart on mastering this technique. If there's a particular power chord-based song that you wish to learn, leave us a comment below. We'll be sure to add it right away.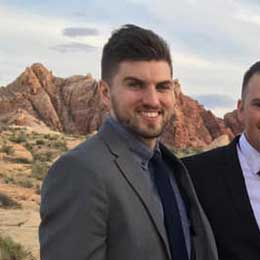 My name is Chris and I've had a passion for music and guitars for as long as I can remember. I started this website with some of my friends who are musicians, music teachers, gear heads, and music enthusiasts so we could provide high-quality guitar and music-related content.
I've been playing guitar since I was 13 years old and am an avid collector. Amps, pedals, guitars, bass, drums, microphones, studio, and recording gear, I love it all.
I was born and raised in Western Pennsylvania. My background is in Electrical Engineering, earning a Bachelor's degree from Youngstown State University. With my engineering experience, I've developed as a designer of guitar amplifiers and effects. A true passion of mine, I've designed, built, and repaired a wide range of guitar amps and electronics. Here at the Guitar Lobby, our aim is to share our passion for Music and gear with the rest of the music community.