In drop D tuning, the guitarist takes his standard tuning of EADGBE, and only the low E string is tuned down a full step lower to a D resulting in a DADGBE tuning pattern AKA Drop D.
Why tweak the tuning this way? Well, there are several reasons why some musicians love to use the drop D. For starters, it gives the player access to a lower pitch. You'll also get a perceivably heavier sound as the loosened low D sting will sound heavy when played open compared to the open low E.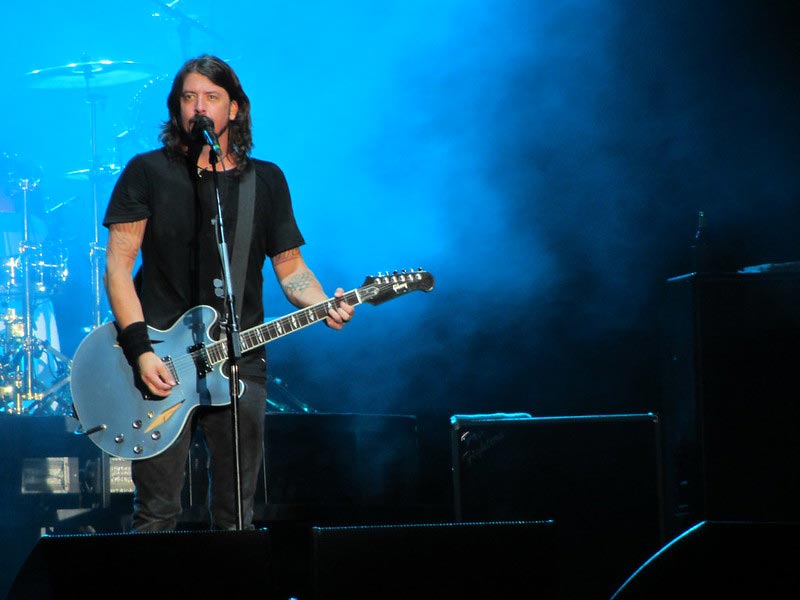 Another reason drop D tuning is popular is it makes it super easy for beginners to nail power chords. Instead of the normal power cord finger shape for standard tuning, the player can play across the 3 low strings on any fret for each power chord.
Drop D tuning can open a lot of possibilities to any guitar player. It is a favorite of heavy metal bands and groups from different subgenres. This tuning is also useful in blues, classical, folk, and country music. Aside from being useful it's also generally very fun and there are a lot of great songs that were written and performed in Drop D. In this article, I'll outline all of the best songs in drop D tuning, and include video tutorials so you can learn to play them yourself. These songs aren't ranked in any particular order. Regardless of what kind of music you like most, I'm sure you'll find some songs on this list that you know and love.
Here is a List of the Best Songs in Drop D Tuning
1. Everlong by Foo Fighters
Genre: Post-grunge
The Foo Fighters are a huge fan of drop D tuning. The American rock band loves the uniquely rich and deep sounds that this kind of tuning has on their songs. In fact, very few of Foo Fighters' songs are not in this guitar tuning. And when it comes to the powerful drop D, Foo Fighters have Everlong to brag.
Dave Grohl has claimed he did not mean to create Everlong. It only happened because he had nothing more worthwhile to do than to fiddle with his axe while recording Monkey Wrench. He got a chance to listen to a riff from a Sonic Youth song and thought that the vibe closely resembles one of Foo Fighters' songs. By the end of the recording, Grohl already had a rough draft on how to proceed with Everlong.
Released in 1997, Everlong became an instant hit. It topped Rolling Stone's readers' choice for the best songs of Foo Fighters in 2013. It also became one of Grohl's landmark musical pieces. Media personalities and organizations were also quick to use the song in their endeavors. Even David Letterman became a devout follower of the band because of this song. Letterman credited Everlong for his recovery from heart surgery.
If you listen to Everlong, you will appreciate the deep bass of the tweaked 6th string. Try to imagine this song in the standard tuning and it would be different. The drop D tuning gave the song a more powerful sound as if you have a dedicated bass accompanying the rest of the guitar sounds. It is a testament to the way drop D tuning can enhance the power of your guitar playing.
2. Heart-shaped Box by Nirvana
Genre: Grunge
This 1993 musical piece offers a rare glimpse into the musical ingenuity and humanity of the band's main man, Kurt Cobain. Heart-shaped Box is a love song, constructed in a unique way that only Cobain knows how to deliver. The lyrics are very graphic. If you are going to digest them word by word, you'll see Cobain is pouring his heart out.
Heart-shaped Box gives us a convoluted way of saying I love you to the ones we hold dear. This is especially the case when someone is holding on to dear life by the thread. Cobain wrote the song with children with cancer in mind and heart. It is a sad song, relieved only by Cobain's raspy vocals and the driving rhythm of both Grohl and Novoselic.
3. Radioactive by Imagine Dragons
Genre: Electronic rock
I bet you didn't know that this popular 2012 rock song is in a drop D tuning. I also have friends who play the song in the standard guitar tuning.
Radioactive has a rhythm that will have you hooked. The song has excitement and drama and an incredibly catchy chorus. It's hypnotic with an intensity of driving bass that's enough to have you feeling your heart trying to burst out of your chest.
4. Dear Prudence by The Beatles
Genre: Rock
The Beatles were not particularly known for use of drop D tuning. However, they did use it in one of their songs in 1968. Dear Prudence is a great song with a strong rhythm. The low D provides a very deep sound that complements the treble notes.
The instrumentation of Dear Prudence is a roller coaster of booming intensity and wistful quiet. And while the song is not as popular as other Beatles songs, Dear Prudence is an incredible song and a great example of the implementation of drop d tuning.
5. You are My Sunshine by Chris Stapleton
Genre: Country
Here is definitive proof that drop D tuning is not only for the fast-slinging and distortion-heavy metal songs and electrifying rock pieces. Drop D can also be a great way to spice up a folk or country song.
As such, heads turned when country singer-songwriter, Chris Stapleton decided to give an American folk standard an update. Everyone knows You are My Sunshine. This is a classic that requires no lengthy introductions. Almost any guitarist on the American continent has heard this piece. We also know that countless artists have already covered the 1939 country classic. However, no one has ever covered this song so uniquely different than Chris Stapleton.
Stapleton worked with his wife, Morgane, in giving this classic a more soulful feel. While Chris did the vocals on the high registers, he did complement Morgane's angelic country vocals with the deep bass of his guitar. If drop D tuning works with a timeless classic, I am confident you can integrate it into your other songs as well.
6. Slither by Velvet Revolver
Genre: Hard rock
One of the greatest advantages of a drop D tuning is the ease of integrating power chords into the song. Take this 2004 rock song by Velvet Revolver, for example.
The opening riff strikes the 6th string D, although it also takes note of the 4th string D and 5th string A. Slash gives a thunderous rhythm. You'll have this riff stuck in your head for weeks and be itching to experiment with drop D tuning yourself.
Slither might be a bit more on the difficult side for beginners to nail down right away. The fingerstyle can be complicated and the rhythm is a bit fast. Getting your muscle memory down will be key to mastering this one. Finger dexterity will be important, too. However, if you are persistent I'm confident you'll nail it. This is one of those songs in drop D that will have you searching for more songs to learn and improve on.
7. Monkey Wrench by Foo Fighters
Genre: Alternative rock
Rock fans will love this Foo Fighters song in drop D tuning. It is one of those musical pieces that are very fascinating to listen to and very tricky to master. I love the intro riff with its finesse and palm-muted execution. The low-D also makes a great platform for springing one of the song's power chords, the E5 on the prechorus. This is easily one of the best songs in drop D tuning
8. Moby Dick by Led Zeppelin
Genre: Blues rock
So, this song doesn't have lyrics that you can sing. However. This musical piece has its blues riff executed in drop D tuning. The power trio of Jones, Page, and Bonham in the opening of the song is on full display. Look at it as a fitting introduction to the mesmerizing drum solo that makes up the middle two-thirds of the song. Page and Jones then rejoin Bonham towards the end in a fitting climax to one of the most celebrated instrumentals ever to grace the rock arena.
The song's unique structure translates to shorter guitar sections to learn. It does not mean it is going to be easy, though. This is one of those pieces that require precision fingerpicking. If you know the works of Jimmy Page or even the bass lines of John Paul Jones, you know that this is never going to be a walk in the park.
However, the shortened guitar sections should make it easier for you to focus on the key elements of the song. The opening features a slide that introduces the riff of the song. A combination of ear-splitting fingerings and punchy bass notes hallmark this section of the 1969 song. Try it and you might be able to create your own drop D-tuned song.
9. Killing in the Name by Rage Against the Machine
Genre: Alternative metal
This song is as faithful to the ideals of authentic heavy metal music as any other piece about nonconformity and provocative themes. It is a revolution of all sorts, calling out abuses by authorities and those in power. It also challenges racist ideals that can stir a nation to move. Killing in the Name remains Rage Against the Machine's most recognizable song. It has an anthemic nature that is now the band's signature piece.
You will love the guitar riff of this provocative song. It is quite easy to master if you already know the basics of the fingerstyle. Most players prefer to pick each string with a plectrum (pick). You can use your fingers, too, if you are more comfortable with it. The lowered tune of the sixth string gives the song a deep tone instead of the twangy tune that you would get from an electric guitar. I believe the bass notes of the guitar riff is a great prelude to the drum solo of the song.
10. Harvest Moon by Neil Young
Genre: Folk rock
Some people do not like the quasi-religious undertones of this 1992 folk rock classic. However, I find it very inspiring because of its wonderful message about long-lasting relationships. I know some people may find it difficult to believe that such relationships can still exist in a world too preoccupied with instant gratification.
The flawless melody provides a solid backdrop to the phenomenal songwriting of Young. The beauty of the drop D tuning just works for this song as it adds depth to the amazing harmonics of the guitar chords.
11. Never Going Back Again by Fleetwood Mac
Genre: Folk pop
Fleetwood Mac has been around since 1967. While they have yet to reach the status of other 1960's-era rock bands, they have made many breakthrough songs throughout the decades. One of the most notable musical pieces that the band has ever recorded is Never Going Back. It is a very fun piece that even Matchbox Twenty decided to cover the song.
The delightful vocals belie the gloomy subject matter of the song. It has the philosophies and sensibilities of a Southern Californian who is trying to pick himself up from a failed relationship. It is bubbly and gorgeous at the same time. The song's lyrics provide enough motivation for anyone to never repeat the mistakes of the past. It is a great song overall, and one that uses the drop D tuning on guitar.
You can place a capo on the fourth fret whenever you play this song. Most players prefer to use barre chords, although open chords can make it a cinch for beginner guitarists.
12. Schism by Tool
Genre: Progressive metal
Tool's 2000 progressive metal song and 2002 Grammy Award winner, Schism, is a great piece that comes in drop D tuning. It is also one of those most intriguing songs when it comes to time signatures because of its ever-changing nature.
The song is an excellent example of the ease of incorporating power chords if you have the 6th string tuned down a full step from low E to low D. The heaviness of Drop D has become a big part of the dark, raw, aggressive tone that Adam Jones is known for.
I know heavy rock and metal songs are not always the genre that beginner guitar players prefer to start learning. But I highly suggest you experiment with the songs from different esteemed players. You never know what type of knowledge you'll catch on to. Think of a drop D tuning as another way for you to widen your guitar playing skills. You will never know when this skill will come in handy.
13. Meant to Live by Switchfoot
Genre: Alternative rock
The different parts of the song have their unique chord progression and sequencing, making it easy to learn for beginner guitarists. Jonathan Foreman's vocals, while not Axl Rose-esque, is both hopeful and melancholic. It has this nice way of uniting the song's different parts. The power of the guitar gets more amplified by the use of a drop D tuning. It is the perfect guitar tuning to complement the song's message of vulnerability and world-weariness.
The low pitch of the sixth string is perfect for highlighting the song's sentimental nature. It is sympathetic and provides an idealistic viewpoint of living life the way it is meant to be lived. Meant to Live is both powerful and evocative that self-respecting guitar players should always try to master. This is easily another one of my favorite songs in drop D tuning.
14. Animal I Have Become by Three Days Grace
Genre: Alternative metal
Many of us can relate to what Adam Grontier was going through when he wrote Animal I Have Become in 2005. We have all faced our demons before. More often than not, the only relief we got came in the form of pills, inhalants, and injectables. Such measures offered relief. Unfortunately, they also take something from ourselves until we can no longer face the mirror without asking who that guy in the reflection is.
Grontier was in this state when he decided to write this song. He was angry with himself for allowing OxyContin to take full control of his life. You can feel his angst in the powerful lyrics. He starts off in a very melodic way, only to shock your senses during the chorus with the raspiness of his voice. These emotions get more amplification with the excellent use of mid-paced, heavily down-tuned guitar riffs.
Learning to play Animal I Have Become is not that difficult as it sounds. All you ever need is knowledge of the basics, especially in reading guitar tabs. Start with the opening riff by flexing your fretting fingers and mastering your grip of the plectrum. Take it slowly if you must. I can tell you now that the intro guitar riff is so addicting that you might be compelled to make it into an entirely new song.
The chorus is the easiest part. It is an open chord playing that focuses more on the sixth string. On that note, you will feel like you are playing a bass guitar. That is the beauty of this song. It has a very deep tune that reaches well to your core.
Wrap Up:
Think of a drop D tuning as another way for you to widen your guitar playing skills. You will never know when this skill will come in handy.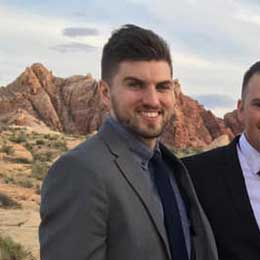 My name is Chris and I've had a passion for music and guitars for as long as I can remember. I started this website with some of my friends who are musicians, music teachers, gear heads, and music enthusiasts so we could provide high quality music related content as well as some of the most accurate and in-depth gear review and demo information on the internet.
I've been playing guitar since I was 13 (over 15 years now) and am an avid collector of all thing's guitar. Amps, Pedals, Guitars, Bass, Drums, Microphones, Studio, and recording gear, I love it all.
I was born and raised in Western Pennsylvania. My background is in Electrical Engineering earning a Bachelor's degree from Youngstown State University and with my engineering experience I've developed as a designer of guitar amplifiers and effects. A true passion of mine, I've designed, built, and repaired a wide range of guitar amps and electronics. Here at the Guitar Lobby, our aim is to share our passion for Music and gear with the rest of the music community.