One of the biggest and most famous names of Seattle's Grunge Scene started as an ordinary blue-collar man. Eddie Vedder, now a household name, was a worker at a gas station until one day, in 1990, friend and former Red Hot Chilli Peppers drummer, Jack Irons told him that there was a band looking for a frontman. The band that Irons referred to, would be Eddie's future act, Pearl Jam. In later years, Eddie would experiment with a guitar for a few songs, becoming a singer, songwriter, and guitarist all at the same time.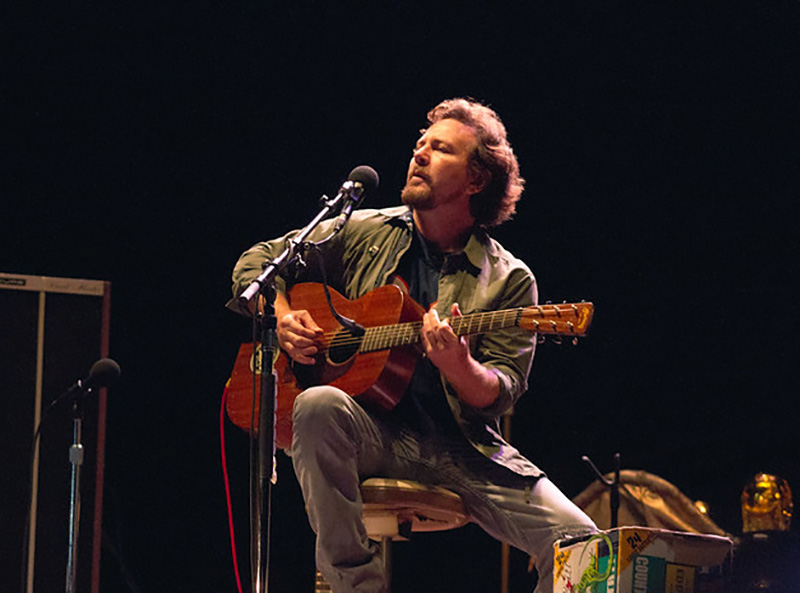 During his initiation in Pearl Jam, he met and eventually befriended Chris Cornell, Soundgarden's lead vocalist and songwriter. Cornell would eventually conceive a supergroup, now known as Temple of the Dog. Part of the lineup included the entirety of Pearl Jam and, on occasions, Vedder, serving as a guest member of the band.
But ever since his first hiatus from his initial act, Eddie saw a chance to cultivate his talents, and went on to become one of the most renowned singer-songwriters America has to offer. From original soundtracks to ambitious minimalistic projects, Vedder's musical vision is certainly intertwined with a deep musical soul.
What Guitars Does Eddie Vedder Play?
Eddie Vedder relies on his trusty Fender Telecaster selection when playing with Pearl Jam. Vedder also plays extensively on his acoustic guitars to which he goes straight to his Gibson J-200 Pete Townshend Signature and J-180 Everly Brothers Signature models.
See the full list of Eddie Vedder guitars and gear below.
Gibson J-200 Pete Townshend Signature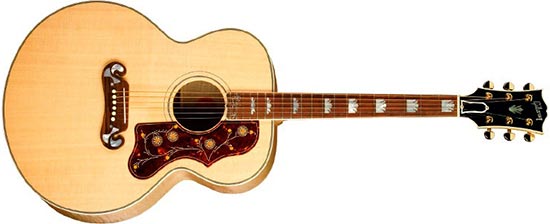 | | |
| --- | --- |
| Finish | Natural Sitka Spruce Wood |
| Years Used | 2016 to Present |
Eddie Vedder has been, for his entire life, a huge fan of Pete Townshend and as a respectable fan, he owns one of Townshend's signature guitars. This has become Vedder's festival, and fundraisers designated guitar to the point that it is one of the most associated models to his name. He initially got his hands on this iconic signature model on his own accord back in 2014, ever since then, it's become a live and studio staple.
Among Eddie's memorable performances with the J-200, there's his cover of "Good Woman" by Cat Power, but also in 2020 he was invited to the Howard Stern Show, and during this interview, he played "Elderly Woman Behind Counter in a Small Town" and "Sometimes", both songs by Pearl Jam.
This axe is modeled after the 1960's Gibson J-200 and has Pete Townshend's signature on the fingerboard, near the soundhole. The Gibson J-200 also features a rosewood fingerboard with 20 frets in total, mother-of-pearl crown fingerboard inlays, and a solid Moustache bridge with a floral pattern pickguard. Eddie has modified this guitar into a full-on electro-acoustic six-string by adding a set of pickups.
This Gibson J-200 has a beautiful tone and its characteristic premium folk sound is both melodic and raspy, reminiscent of Vedder's voice. Reportedly, it has a special exhibition spot at Eddie's home.
Fender Holo Flake Telecaster

| | |
| --- | --- |
| Finish | Black Holo Flake with Custom Graphic |
| Years Used | 2001 to Present |
Fender Telecasters have been part of Eddie Vedder's arsenal of guitars throughout the years, and his holo flake has been around since he cemented his place as McCready's rhythm man in Pearl Jam. Vedder's Tele has his personality written all over the body through aesthetical additions just like the arrow sticker on the white pickguard, the bullseye sticker between the pickups, and the tape all over the guitar's lower-end.
This '63 Fender Telecaster features 21 vintage-style frets on a maple fingerboard, a 3-way toggle switch, a white pickguard over the black holo flake body, and originally the guitar featured two single-coil pickups, but Vedder replaced the pickup on the neck position with a P-90 pickup.
This guitar became and stayed as Eddie's main to play "Better Man" and "I am Mine". Vedder continued using this irreplaceable guitar for over 16 years during live shows to play other songs like "Don't Dream It's Over", a song originally made by Crowded House, covered by Eddie Vedder, Neil Finn, and Chris Martin. Due to this, the holo flake Telecaster is to this day heavily associated with Eddie's career as a singer and guitarist, while also being one of his favorite guitars in his collection, giving him the energetic and loud sound he needs.
It may not have been present during the glorious days of Pearl Jam as the powerhouse grunge act it used to be, but certainly, it serves as a homage to the time when Vedder was growing as a musician and songwriter. Nowadays, Vedder wields this six-string on Pearl Jam shows when playing some classic tunes.
Gibson J-180 Everly Brothers Signature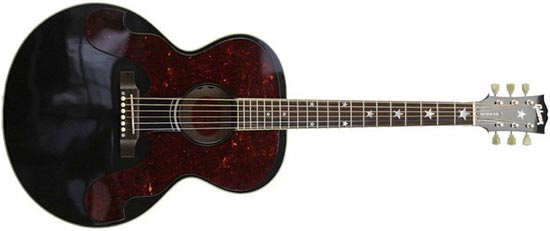 | | |
| --- | --- |
| Finish | Natural Dark Maple |
| Years Used | 2013 to Present |
Ever since the late 90s, Vedder has been the highlight of the annual Bridge School Benefit event, and this Gibson J-180 would make its first appearance on it in the year 2013 only to become one of his most frequented and trademarked guitars. Reportedly, Eddie got this six-string as a present from a friend sometime near 2013, and while it may be a late entry for his highlighted equipment, it has ever since becoming a tremendously battled axe.
Often regarded as one of the finest guitars ever produced by the Gibson company, the J-180 was initially introduced back in 1951 with the intention of delivering an in-between sound for the dreadnought J-45 and the fabled Super Jumbo J-200. It sported maple back and sides, a spruce top, two Maltese cross inlays on the bridge, and a 19-fret rosewood fingerboard. However, it was only in production for eight years before being completely retired from the market, and the only rendition of it to date has been the Billie Joe Armstrong J-180. So Vedder's model is speculated to be an original one from the 50s.
Despite having little studio trajectory with Eddie, this Gibson made appearances in Pearl Jam's "Dissident" live album from 2019 and Vedder's solo 2020 EP "Matter of Time" only playing second to his J-200. While its history is still in the making, it's only expected to make more and more stage appearances, especially with Pearl Jam's announcement of a new upcoming record.
Martin 00-17

| | |
| --- | --- |
| Finish | Dark Mahogany Natural Finish |
| Years Used | 2004 to Present |
This Martin acoustic is memorable from Eddie's Solo Live Compilation Album "Water on the Road". During the acoustic sessions on the installment and film, Vedder picked up the legendary Martin 00-17, a model that has been around for over 80 years in the guitar market. He's rocked this guitar with many different artists, he has played his original song "Society" with Johnny Depp, and "Redemption Song" with none other than Beyonce for the Global Citizen Festival 2015. This is an instrument that has been through thick and thin, and it's seen Vedder's evolution and grandeur as a collaborator artist.
This six string's first appearance was in 1931 when bluesmen were in their prime making American folklore and culture on the road and as they went. The reissue of this guitar shares similar specs to the original 1931 Martin 00-17. Eddie's guitar features 12 frets from the 3×3 headstock to the body on a Brazilian rosewood fingerboard, and 20 frets in total; sides, back, top, and neck are all made out of genuine mahogany wood, and it also features a faux tortoise pickguard.
Eddie played this guitar during a symphonic Pearl Jam concert, and one of the songs that stood out from that event was "Just Breathe". The ringing of his Martin 00-17 matches blends a perfect folk tone into the classical orchestra arrangements in the most peculiar of ways. Additionally, Vedder made his most significant mark as a folk artist with this particular guitar recording the original soundtrack- eventually turned album- for the 2007 film "Into the Wild". He was hand-picked by Sean Penn for this particular venture which also happened to be his official solo debut, and needless to say, Eddie lived up to the task, making his most successful and heartfelt record since the glory days of Pearl Jam.
Schecter PT

| | |
| --- | --- |
| Finish | Black |
| Years Used | 1996 to 2001 |
In 1994's "Vitalogy", Vedder wanted to jump into the instrumental side of the album as a guitarist. Following this decision, McCready and Gossard (Pearl Jam's lead and rhythm guitarists) had to make room for Eddie and his Schecter PT, sometimes even pulling back and letting him do the solos.
The guitar's first recorded appearance was in November 1996 during a concert in Berlin, specifically when the band performed the iconic song "Better Man" in front of their devoted fans. This had been one of the first times Eddie Vedder played guitar with all his bandmates from Pearl Jam, or in front of an entire audience even.
The Schecter PT features 22 jumbo frets on a maple fingerboard, a PT-H String-Thru bridge, Grover Rotomatic tuners, two knobs (volume and tone), a three-way toggle switch, and what gave the guitar the unique tone that Vedder used for five years were the Schecter Diamond SuperRock pickups.
Even though the PT was part of Eddie's life for a very short time (compared to other guitars), it was one of the guitars that set a before and after in his life as a musician. It helped him cement his image and status as a singer-songwriter, and it paced his and Pearl Jam's growth, immediately setting them apart from their inherent grunge background.
Martin 0-18

| | |
| --- | --- |
| Finish | Natural Sitka Spruce |
| Years Used | 1995 to Present |
Everyone loves acoustic versions of our favorite rock songs, it sets a different mood to the songs that normally would be energetic and intense. Eddie Vedder used his precious Martin 0-18 for some acoustic versions of Pearl Jam's tunes. One of the most memorable live performances with this Martin 0-18 involved, was prior to a Guns 'N' Roses show where Eddie opened up for them and played "Last Kiss" and "Elderly Woman Behind a Counter in a Small Town", two of the greatest songs Eddie has written.
This guitar hasn't suffered any major change or modification, it keeps almost all the original specs, like the ebony fingerboard with 20 frets in total, an Indian rosewood neck, and the faux tortoise pickguard. The only thing that has been added to the guitar was a pickup so it can be played with an amp instead of using guitar mics.
Eddie's Martin 0-18 has been around for quite some time, he has had many live acoustic sessions where he has played his solo songs, Pearl Jam songs, and even covers from other artists, like this one time in the '98 where he covered "Trouble", originally by Cat Stevens!
Fender Esquire "Old Man"

| | |
| --- | --- |
| Finish | Worn Vintage Yellow with Sticker |
| Years Used | Unspecified to 2012 |
This is one of the most recognizable pieces on Vedder's catalog and one of the few electric guitars that have made a mark on his career. There's also a few misleading stories surrounding its origin, while some suggest this six-string use to belong to Pearl Jam's Mike McCready others point out that this came from a vintage shop tour he took in the 2000s. Whatever the case may be, this Tele symbolizes the mark that the model has left in Eddie's career.
The Fretboard Journal #24 features on its first page a picture of Eddie Vedder holding the Old Man, a Fender Esquire extremely modified on its outside and with some modification on the technical part of the guitar. On the outside, the paint was chipped and has an unknown sticker from what seems to be an inverted pentagram from Obey. Reportedly, the fashion brand made a batch of personalized stickers for the singer-songwriter in the 2000s, and ever since then, they've been a regular feature on his instruments.
Eddie Vedder used this piece for a very short time, but is remembered with this guitar for his excellent performance in Venice in 2010, where he played Pearl Jam's hit "MFC" in front of thousands of his European fans!
Eddie's Old Man featured a P-90 pickup on the neck position at some point during 2012, 21 frets from the headstock in total on a maple fingerboard, one master volume knob, one master tone knob, and a three-way pickup switch. It also has another single-coil pickup on the bridge position, but it's unknown what specific type it is.
Even though it's had a limited run on-stage, this is one of Eddie's most recognizable and iconic guitars for its unique aesthetic and all the shows he played with it.
Timetable Showing Each Guitar Eddie Vedder Has Played at Each Point of His Career
| Make | Model | Color/Finish | Years |
| --- | --- | --- | --- |
| Fender | Esquire "Old Man" | Worn Vintage Yellow with Sticker | Unspecified to 2012 |
| Martin | 0-18 | Natural Sitka Spruce | 1995 to Present |
| Shecter | PT | Black | 1996 to 2001 |
| Fender | Holo Flake Telecaster | Black Holo Flake with Custom Graphic | 2001 to Present |
| Martin | 00-17 | Dark Mahogany Natural Finish | 2004 to Present |
| Gibson | J-180 Everly Brothers Signature | Natural Dark Maple | 2013 to Present |
| Gibson | J-200 Pete Townshend Signature | Natural Sitka Spruce Wood | 2016 to Present |
Eddie Vedder's Amplifier Overview
You can't rock an electric guitar or shout the most intense lyrics to a packed stadium without a good amplifier, and neither can our buddy Eddie. Here's a list of some amplifiers Eddie Vedder has used throughout his career and has helped him reach his fans with his music and Pearl Jam's music.
Music Man 212-HD 130
This amp was Eddie's one-time ride, he only used it once for a show and never used it again, even though this machine from the '70s was still up to date in the '90s. It featured two channels and both had a sound control panel with knobs that controlled volume, treble, mid, bass, and a bright/normal switch. It had also integrated reverb and tremolo effects which could be controlled on channel two. The reason Eddie didn't like this amplifier was that the sounds came out too clean and loud, while he was looking for something with a rasp.
Fender '57 Custom Deluxe
Seen on Pearl Jam concerts as well as in Eddie Vedder's solo sessions, this amp has been one of Eddie's frequent uses during his career, normally in a two or three-amp combo from the same model. This 12-watt amp features two 6V6 tubes; two inputs, one for instrument and the other one for a microphone; a very minimalistic sound control panel with two volume knobs, one for the mic and the other one for the instrument, and a tone knob for the instrument.
Straight Face Marshall 1960 Cabinet
Built for stadium-level crowds, this amp provides a huge blasting sound. Like every other cabinet, it doesn't feature any sound control other than volume, so it was preferably used with a head amp connected directly into the cabinet. This powerhouse provides 150×2 watts on stereo mode and 300 watts on mono and features two inputs for either instruments or other amps.
Hiwatt DR504 Custom 50
Now, this amp is what would be connected to Eddie's cabinets during a great show. This 50-watt British head amp features a sound control panel with knobs that control normal volume, bright volume, bass, mid, treble, presence, and master volume. It also features two channels with dynamic control of your EQ, perfect for any kind of guitar with any kind of pickup. Built especially for huge crowds ready for the most excellent show!
Fender Super Reverb
It is believed that this amp was not only used during shows but that he also cranked this machine during the recording sessions of "Vitalogy" and "Vs.". Either way, this 45-watt amp is great for both recording and live performances. It features a built-in spring reverb effect, vintage overdrive effect, 6L6 tubes. Perfect for an amazing jam at the stage, because it fits amazingly well with any type of pickup and pedal effect. The Fender Super Reverb was created for every type of genre, it doesn't matter if you play jazz, rock, blues, country, and even fusion, this amp will do an excellent job at blasting a perfectly crafted sound into the spectator's ears.
Roland JC-120 Jazz Chorus
The JC-120 was an occasional amp in Eddie's arsenal, it was used by him during a BadRadio – a band Eddie was part of- concert and was probably used during the Pearl Jam era as well. This 120-watt amp was crafted in the mid-'70s and is one of the few that could be called a legendary artifact. It features a tree-band EQ; two input channels, normal and effect; and has built-in vibrato, overdrive, and spring reverb effect. There's no doubt that this amplifier is a piece of luxury, built for those special few musicians who are willing to go an extra mile for a great sound. Typically this amplifier can be found in plenty of shoegaze bands and recordings.
Eddie Vedder Pedals and Effects
Certainly, there's no way to reach the desired sound with just an amplifier, most musicians want to build a perfect tone through different effects having their own part in different amounts. Eddie Vedder is one of those musicians who want to create a great sound and therefore he uses different pedals that have helped him throughout his career build great melodies and legendary riffs. Here is a list of the pedal effects he has used the most and that have set a difference between him and other musicians!
Line 6 DL4 Delay Modeler
This is a pedal that every musician should have in their arsenal, it features 16 different types of delay, delay control, repeat, tweak, tweeze, and mix controls as well. It provides the user full control of the delay tempo. This little guy is essential for psychedelic riffs and it is as versatile as a wallet. Definitely a gold mine inside of a tiny box.
MXR M-104 Distortion+
Have you ever wondered how Eddie gets that full raspy and thrashing tone? The answer is the M-104 Distortion+ from MXR. This pedal is able to turn the most beautiful melodies into angry singing voices. With only two knobs, an overdrive control, and output control, this single pedal can do wonders for guitarists, even Eddie has to thank this pedal for those great tunes with his buddies at Pearl Jam.
MXR Carbon Copy Analog Delay
Unlike the DL4 Delay modeler, this little guy only features a basic delay sound that can be modified to give the sound different shapes. The Carbon Copy Analog Delay from MXR is a versatile pedal that features only three knobs which are: Delay, mix, and regen. This pedal has a very distinct and unique psychedelic sound which could be hard to replicate with other delay pedals. The Carbon Copy is a must for musicians who want to search for sounds and create very distinct melodies.
Wrap Up
Starting his music career as Pearl Jam's singer, there were few expectations for him during the band's humble beginnings. Eddie started experimenting as a third guitarist alongside McCready and Gossard for their third studio album. When it comes to being a solo artist, Eddie hasn't held back in regards to the quality of his performance – be it guitars or ukeleles. Though mastering Vedder's talent might be a harrowing task, we want to help you get as close as you can. Up next, the list of the iconic stringed instruments Eddie Vedder has used during his music career, from Pearl Jam to his solo albums!
While Eddie Vedder's mark may be memorable to some as part of the Seattle Grunge Scene, his trajectory as a solo musician is perhaps even more remarkable than his glory days back in the 90s, of course, one doesn't disqualify the other. Both of his tenures have something in common, and it's his voice and overall musical sensitivity, continuously delivering some of the most heartfelt tunes in Rock N' Roll.
As a solo artist, Vedder has thrived and grown as a musician, and his footprint in music is one that can't be paralleled by many contemporary artists. While he may not be the virtuoso guitarist, he is a game-changing name that won't release anything other than honest and sincere music
To this day he continues to work and tour with his original bandmates from Pearl Jam. When it comes to Eddie Vedder, his role becomes a secondary matter, just as long as he's performing, putting on show after show with the one-of-a-kind charisma he's known for.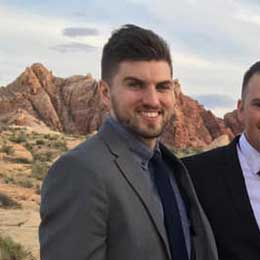 My name is Chris and I've had a passion for music and guitars for as long as I can remember. I started this website with some of my friends who are musicians, music teachers, gear heads, and music enthusiasts so we could provide high-quality guitar and music-related content.
I've been playing guitar since I was 13 years old and am an avid collector. Amps, pedals, guitars, bass, drums, microphones, studio, and recording gear, I love it all.
I was born and raised in Western Pennsylvania. My background is in Electrical Engineering, earning a Bachelor's degree from Youngstown State University. With my engineering experience, I've developed as a designer of guitar amplifiers and effects. A true passion of mine, I've designed, built, and repaired a wide range of guitar amps and electronics. Here at the Guitar Lobby, our aim is to share our passion for Music and gear with the rest of the music community.