Few musicians have distilled youthful fire, rage, and hope into song as well as Alice Cooper's original lead guitarist, Glen Buxton. Fewer still have as many hits to their name, with Buxton's raw, distinctive playing showcased on the likes of perennial youth-gone-wild anthems "School's Out" and "Eighteen".
The seeds of this rebellious, rambunctious spirit were sewn early. His first heroes were American iconic bad boys, James Dean and Elvis Presley. This rebellious attitude, shaped by the formative years of rock and roll, expressed itself repeatedly through Buxton's career, particularly in the shock-rock provocateur work of Alice Cooper.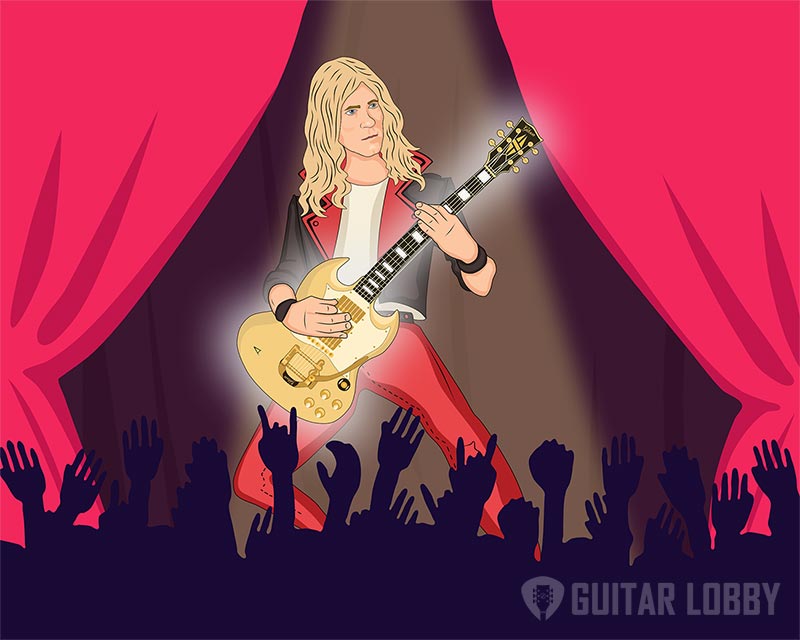 Buxton first picked up the guitar at twelve and was quickly inspired by the likes of Les Paul, Chet Atkins, and Jeff Beck. In fact, Buxton's progress with the instrument was so fast that he would eventually teach friends around him how to get around an instrument. So would be the case with his very first band, The Earwigs. The young boys debuted back in 1964 along with future Alice Cooper bandmate Dennis Dunaway as well as Cooper himself, Vincent Furnier. The band went through various lineup and name changes before settling on The Spiders and eventually "Alice Cooper". When their outgoing drummer and guitarist were replaced by Neal Smith and Michael Bruce, respectively, the group rechristened themselves Alice Cooper, and a rock and roll legend was born.
If you listen to the choppy, snarling opening riff to the classic tune "School's Out", and indeed any of the lead guitars from the album of the same name, you'll hear Glen Buxton's guitar tone. Clear, overdriven, and articulate, it was firmly rooted in classic American Rock N' Roll. With double-stops and pentatonic runs aplenty, Buxton's guitar playing borrowed heavily from the likes of Hendrix, Scotty Moore, and Chuck Berry. Nevertheless, there's an evident wild, untamed approach to these techniques in the age of psychedelia and flower power that set Alice Cooper apart from their contemporaries. If Alice Cooper was the villainous frontman, Buxton provided the chaotic backing to deliver the group's greatest songs.
What Guitars Did Glen Buxton Play?
Glen Buxton was enamored and championed the sound of the Gibson SG, it was with his white 67 Custom model that he dominated his very own sonic identity and delivered many of the riffs that made Alice Cooper an iconic sound.
See the full list of Glen Buxton guitars and gear below.
1967 Gibson SG Custom

| | |
| --- | --- |
| Finish | Cream |
| Years Used | 1971 to 1979 |
In 1971, a relatively unknown, weird band from LA fronted by a man with a woman's name unleashed an album that would change the face of rock and roll forever. "Love it to Death" featured the enduring anthem "I'm Eighteen", fuelled in no small part by the in-your-face guitar stylings of one Glen Buxton. Glen's heavy, dark sound came to define not only the Alice Cooper sound but largely hard rock and heavy metal guitar for decades to come. Dripping with attitude and authentic rock and roll rebellion, Glen had a new instrument to thank for this ascent to stardom: his white Gibson SG Custom.
Accordingly, this early SG Custom is the guitar most associated with Glen Buxton and the early years of Alice Cooper's backup band. With its distinctive three-pickup layout, white finish, and gold hardware, its look matched the performance and stage presence in a now-legendary fashion.
This SG Custom featured a Bigsby B-5 vibrato arm, according to Alice Cooper's drummer Neal Smith who currently owns the guitar. The SG Custom featured three stock Gibson humbuckers. The body and neck were both solid mahogany, giving this SG a darker, more robust sound than many of the maple-necked guitars Gibson was building in the 1970s. It had a set neck with an ebony fretboard boasting mother-of-pearl block inlays, as well as pearloid inlay in the headstock for the Gibson logo. The tune pegs at the time were gold-plated Grover pieces, just like any other Gibson six-string of the era. The headstock and neck of this SG were triple bound, and with luxurious gold-plated hardware. The guitar is likely a '66 or '67 model, as it has the full-sized white pickguard extending past its pickups, as opposed to the smaller "batwing" pickguard of the previous SG releases.
The Bigsby B-5 vibrato was originally designed for flat-topped solid guitars such as the SG and Fender's various solid-bodied electrics. Previous Bigsby models were aimed at jazz players using archtop guitars. Unlike later Floyd Rose vibrato arms, the Bigsby is not intended for aggressive dive-bombs and squeals. The Bigsby simply provides a wider vibrato than a guitar player can achieve with their fingers, and allows gentle wave-like vibrato from lowering the guitar's pitch rather than raising it. The extended string length afforded by this bridge likely added to the sustain on Glen's guitar as well.
Glen used this SG on the classic Alice Cooper albums Love it to Death, Killer, and School's Out as well as most tours and TV appearances up until his departure from the Alice Cooper band later during the 70s.
Glen's original SG was sadly broken sometime in the late 1970s. However, following the band's induction to the Rock and Roll Hall of Fame in 2011, the surviving members of the Alice Cooper group set about trying to resurrect Glen's famous guitar.
In 2014, the group's drummer, Neal Smith, found this beautiful old guitar's body in the possession of a guitar collector. He took the body of this guitar to his friend and luthier Rick Tedesco, who made it his mission to restore this piece of rock and roll history to its former glory.
The guitar's body had been completely gutted, with all hardware removed, and the neck snapped off. However, Tedesco was not one to be discouraged by this and set about acquiring period-correct parts for the guitar, from its bridge and pickups all the way to the tuning heads. The guitar's neck, sans headstock, still lives with original Alice Cooper group bass player Dennis Dunaway. Tedesco had to get a new neck built with period-correct appointments, this time by guitar builder Pat Wilkins. Even the split-diamond inlay in the headstock was restored, this time by Ron Thorn of Thorn Custom Guitars & Inlay
Glen Buxton was notorious for taking his guitars apart and frequently modifying them. Various photographs of this SG throughout its tenure in the Alice Cooper band show different appointments to the tailpiece, vibrato bar, various glow-in-the-dark stickers on the instrument, and even swapping the gold hardware for a nickel-plated one.
Neal Smith claims that Buxton played few if any, other white SGs during the Alice Cooper years. But more than photographic evidence, there's his bandmates testimonies on him spending time with this particular guitar even if it was just sitting on the couch with it.
Today, Neal Smith owns the restored Gibson SG detailed, and he's reportedly shared his experience helping restore the original piece.
Gibson SG Deluxe

| | |
| --- | --- |
| Finish | Walnut/Cherry Red |
| Years Used | 1972 to 1978 |
Playing second fiddle to the mythical white SG Custom was this SG Deluxe. Glen acquired this guitar sometime in the early 70s, with its earliest appearance in 1972. Gibson first introduced their SG Deluxe line in 1971. It was a significant departure in form for Gibson, a radical change to their core SG model, which itself had once been a radical change from the Gibson Les Paul. These included a front-routed control cavity, zero degrees neck pitch, deeper set neck and, most noticeably, a Les Paul style pickguard instead of the screwed-on "batwing" pickguard SGs were then known for.
It is likely that this departure from shape appealed to the ever-rebellious Glen Buxton, who relished any opportunity to break rules and expectations. Using a strange new guitar that others considered "uncool" was likely an attractive prospect to the young guitarist.
Early SG Deluxe models, like Glen's, retained full-sized humbuckers, although later variations eschewed these in favor of thinner-sounding (and far cheaper) mini-humbuckers. Glen's SG, most likely a '72, had rectangular mother-of-pearl inlays on a rosewood fretboard and a three-piece laminated mahogany neck. The body was made from solid mahogany. The "horns" on the SG, its twin cutaways, lack the bevels of later models, giving it a distinctive brutalist appearance. The pickups, stock Gibson humbuckers, used hot Alnico V magnets, perfect for the aggressive hard rock the Alice Cooper group were performing at the time. Glen's SG had a nitrocellulose walnut finish, surprisingly understated for the Alice Cooper guitarist.
This guitar was relegated to backup duty compared to Glen's number one SG Custom, but it appeared several times over the years. Its whereabouts are currently unknown.
Popular Related Article: Randy Rhoads Guitars and Gear Rundown
Gretsch Chet Atkins Tennessean

| | |
| --- | --- |
| Finish | Natural |
| Years Used | 1965 to 1968 |
Before he played Gibson SGs, Glen Buxton was partial to the rockabilly cool of this classic Gretsch guitar. In the 60s, Grestch instruments were significantly cheaper than Gibsons, particularly when compared to Gibson's premium hollow-bodied line of instruments such as the 335. Buxton was a devoted Chet Atkins fan, and quickly gravitated towards this signature guitar.
Chet Atkins' rapid-fire picking style was a big influence on Glen Buxton, which can be heard in the title track from Billion Dollar Babies. Of course, Glen's use of the Tennessean was unorthodox compared to the polished Nashville pop of its namesake, extending from Alice Cooper's raucous rock and roll to using a spoon as a guitar slide.
Gretsch launched the Chet Atkins Tennessean in 1958, originally intending it as an affordable alternative to their higher-end Atkins signature models. As Gretsch guitars were already more affordable than the high-end instruments Gibson was making at the time, this was perfect for high-school-aged Glen Buxton.
Glen's Tennessean featured dual Gretsch single-coil HiLo'Tron pickups and a Bigsby tailpiece with a vibrato arm. The guitar featured a laminated maple body with a maple neck and a rosewood fretboard. It featured a three-position tone switch, master volume knob, and thumbnail fret markers. Curiously, Tennessean models from 1964 onwards featured painted-on F-holes, rather than actual holes. Available photos of Glen's guitar don't show any wiring through the holes as many actual carved guitars do, so it's likely this was a post-64 guitar with the painted holes.
Popular Related Article: Dave Murray Guitar Rig Rundown
Rickenbacker 330

| | |
| --- | --- |
| Finish | Cherry Burst |
| Years Used | 1969 |
Glen briefly used this Rickenbacker Hollowbody in the final years of Alice Cooper's glam-psychedelia phase, as can be seen in the photos above. He clearly prioritized twanging trebly guitars at this stage of his career, moving from the Gretsch to this Rickenbacker before eventually settling on his prized SG Custom.
The Rickenbacker 330 was a 22-fret model with a hollow maple body and "toaster" pickups. The neck was a maple and walnut 3-ply laminate while the fretboard was rosewood, with pearloid fret inlays. Rather than the standard four-knob control layout common on dual-pickup Gibson guitars, the Rickenbacker 330 featured a fifth knob designed to balance out the volume between neck and bridge pickups. The Rickenbacker's days were numbered once Glen acquired his Gibson SG, but it did feature in live performances in the Prettiest for You and Easy Action eras.
Table Showing Which Guitars Glen Buxton Played at Each Point in His Career
| Make | Model | Color/Finish | Years |
| --- | --- | --- | --- |
| Gretsch | Chet Atkins Tennessean | Natural | 1965 to 1968 |
| Rickenbacker | 330 | Cherry Burst | 1969 |
| Gibson | 1967 SG Custom | Cream | 1971 to 1979 |
| Gibson | SG Deluxe | Cherry Red/Walnut | 1972 to 1978 |
Glen Buxton Amplifier Overview
Alice Cooper's 1971 album Killer opens with maniacal, screeching guitars, a cacophony of chunky, articulate guitar tone. Glen's white Gibson SG was no small part of this sound, but it was the roaring Marshall stacks that gave Killer its punch.
Glen Buxton, like so many of his early hard rock contemporaries, relied on the high-octane sound of British amps such as Marshall and Hiwatt to fuel his sound. The Alice Cooper group were often seen playing before Marshall or Hiwatt stacks, 100-watt heads running through twin 4×12 cabs. Here, we take a close look at the amps that Glen used to rock, and shock, the world.
Marshall Super Lead
There may be no amplifier more indelibly associated with the sound of classic hard rock than the Marshall Super Lead. The Super Lead was first developed in London by Jim Marshall, who was catering to the likes of Ritchie Blackmore and Pete Townshend, regulars in his drum shop looking for a nastier, more overdriven guitar amp. The Super Lead can be heard in abundance on virtually every classic hard rock and heavy metal album, from AC/DC to ZZ Top.
The Marshalls used by the Alice Cooper group were early non-master volume Super Leads. The above video, interestingly, shows a rare early Marshall cabinet with eight speakers rather than four, as later models used. These Marshalls, affectionately nicknamed "Plexi" due to their Plexiglas-like faceplate, featured KT66 tubes, although Buxton may well have used post-1966 models with EL34 tubes for higher-gain work. Buxton used the treble channel in these Marshalls frequently, a sound that can be quite harsh on its own but sounds pleasant next to another guitarist with a similar rig.
Glen used the Super Lead extensively on tour in the early 1970s as well as in the studio from Love it to Death to Killer, in these albums, Buxton would reportedly use a 71 Super Lead, one that is considered to be the most aggressive Marshall amp to date.
Hiwatt Head
Alice Cooper used Hiwatt heads in the late 60s, before switching to Marshall during the harder-edged Love it to Death era. The band were big fans of Pink Floyd in 1969, particularly Glen Buxton, who loved Syd Barrett's guitar playing. It may have been the Pink Floyd influence that led the group to Hiwatt amps, as Pink Floyd were high-profile endorsers of the Hiwatt brand.
The characteristic, chiming sound of 60s Hiwatt amps comes from their use of Mullard valves rather than the KT66 valves widely used by Marshall at the time. The wiring of Hiwatt's amps and cabs was also significantly more meticulous and precise than that of other manufacturers, who were often scrambling to meet demand. Hiwatt amps were popular among the hard-touring ranks of rock and roll due to their durability and quality when compared to the relatively fragile Marshall amps available in the US in the late 70s. Hiwatt's quality control was revered then, as they produced only forty units per month to ensure that all amps carrying the Hiwatt name stuck to the exacting standards of its owners. Hiwatt amps' legendary durability came from the use of 14-ply Baltic Birch, an extremely heavy wood, which protected the fragile valves and wiring within. Hiwatts were built to withstand a relentless touring schedule and the type of abuse routinely handed out by The Who's Pete Townshend.
The Alice Cooper group can be seen playing the bulky, square-looking Hiwatt stacks in the below video from 1970.
Glen Buxton Pedals and Effects Overview
Little is known about any effects Glen Buxton may have used. The Alice Cooper group's stage show was far too chaotic to allow for the use of pedals on stage. Accordingly, his live rig was extremely simple, lacking in stompboxes and expensive effects units. Few guitarists were extensively using live pedalboards, as such a habit was not yet commonplace by the time Glen left Alice Cooper in the early seventies. However, some effects can be heard on the Alice Cooper albums, particularly echo and fuzz.
Fuzz Pedals
On the song "Shoe Salesman" from Easy Action, a distinctive horn-like fuzz is all over the chorus. The precise fuzz unit Glen used for this album is unknown. There are, however, some likely candidates. The Alice Cooper band were great friends of fellow Detroit rockers The Stooges, who notably used fuzz pedals all over their hit album Raw Power. Stooges axeman Ron Asheton was a devotee of the Mosrite Fuzzrite, later switching to the Dunlop Fuzz Face in imitation of Jimi Hendrix.
It's likely that the Easy Action fuzz is either one of these two pedals, or the Gibson Maestro FZ-1, the first mass-marketed fuzz pedal. The FZ-1 is a likely candidate because it was known specifically for its saxophone-like tone, made famous on the Rolling Stones "Satisfaction".
Popular Related Article: Adrian Smith Guitar Rig Rundown
Maestro Echoplex
The warm, rich sound of the Echoplex delay can be heard all over Alice Cooper's early albums. In particular, Glen's opening guitar solo on "No More Mr Nice Guy", from Billion Dollar Babies, is drenched in this classic effect.
The Echoplex was first popularized by Glen's hero Chet Atkins and his "Nashville Sound", which was a tighter slapback-style delay. Glen Buxton used the guitar as more of an echo to emulate the sound of the cavernous arenas Alice Cooper became accustomed to playing in.
Buxton owned an Echoplex and reportedly used it to write songs, particularly in the late sixties. Alice Cooper said that Glen Buxton even used his Echoplex to jam along with legendary Pink Floyd frontman Syd Barret: "he would sit in the room and play his Echoplex with his guitar, and Syd Barrett was on the other bed with his Echoplex. Glen would play one thing and Syd would play something back."
Wrap Up
Buxton's contribution to Alice Cooper was through his brilliant creative knack for writing guitar riffs, with a remarkable ear to help him blend commercial with ragged kerrang, thus ultimately creating some of the most trademarked rebellious guitar leads of all time. Cooper or Furnier himself stated in an interview following his passing: "Glen was not a songwriter. He would write riffs, though Glen was always sorted of our icing on the cake." With his choppy, syncopated style, Glen Buxton's aggressive sound characterized the early Alice Cooper work, credited by his bandmates as "one of the greatest rock guitar players of all time".
Although Alice Cooper went on to enjoy a critically and commercially successful solo career, enduring to this day, Glen Buxton's departure from the band was the end of his career in music. When he left Alice Cooper in 1973 due to the excessive lifestyle of , Buxton returned to relative anonymity, never recording another album, and rarely performing. He eventually passed away in 1997, due to pneumonia, but his legacy as a shock rock pioneer lives on.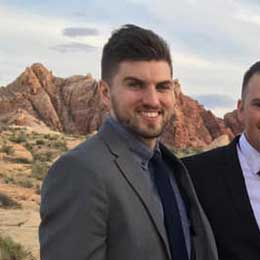 My name is Chris and I've had a passion for music and guitars for as long as I can remember. I started this website with some of my friends who are musicians, music teachers, gear heads, and music enthusiasts so we could provide high-quality guitar and music-related content.
I've been playing guitar since I was 13 years old and am an avid collector. Amps, pedals, guitars, bass, drums, microphones, studio, and recording gear, I love it all.
I was born and raised in Western Pennsylvania. My background is in Electrical Engineering, earning a Bachelor's degree from Youngstown State University. With my engineering experience, I've developed as a designer of guitar amplifiers and effects. A true passion of mine, I've designed, built, and repaired a wide range of guitar amps and electronics. Here at the Guitar Lobby, our aim is to share our passion for Music and gear with the rest of the music community.