Angus Young is certainly one of the most electrifying performers in rock and roll history. Over the past 45 years, he has donned his signature schoolboy uniform and duck walked his way across stages around the world. He has created some of the most iconic guitar riffs in history, including "Back in Black" and "Thunderstruck," which landed him at number 24 of Rolling Stone's 100 Greatest Guitarists list. His hard rock guitar riffs and solos are legendary for being polished yet aggressive, and incredibly melodic in a way that crowds around the world can't help but rock out to.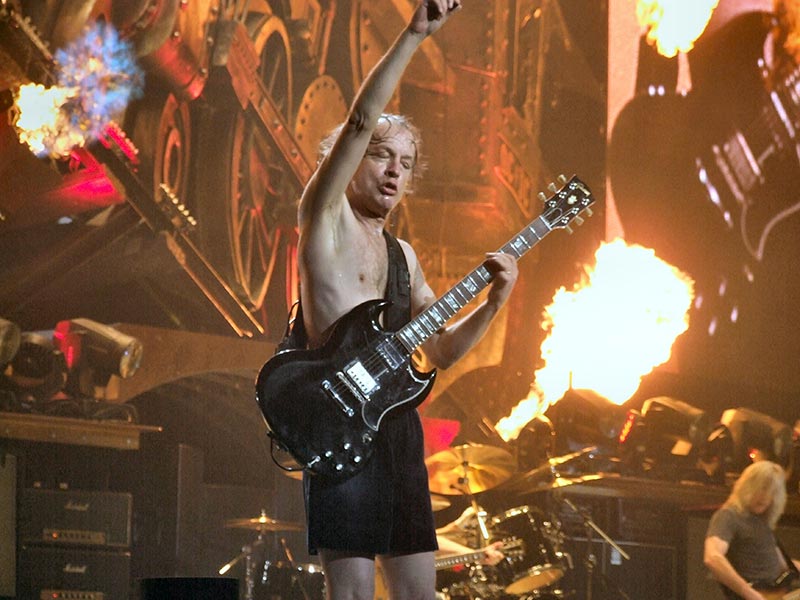 Young was born in Scotland, but his family (fifteen members strong) emigrated to Australia when he was at an early age. He learned to play the guitar listening to other rock legends like Jimi Hendrix, Pete Townsend, and The Kinks, along with blues players like Freddie King and Muddy Waters. Chuck Berry was also a major influence for Young and inspired his high-energy on-stage performances. Throughout his long and action-packed career with AC/DC, Angus Young has managed to develop quite a signature sound.
What Guitar Does Angus Young Play?
Angus Young notoriously plays Gibson SG guitars. Throughout his entire career, Angus has only ever used one model of guitar. Whether you're watching early AC/DC shows from the 1970s, listening to studio albums, or watching a more recent performance, Angus can always be seen playing an SG.
While many guitar heroes use dozens of guitars to create the sounds of their various songs, Angus Young likes to keep things simple with his Gibson SG guitars and his Marshall amps. He's also known to live by an "if it ain't broke, don't fix it" mentality when it comes to his gear. Angus does own and play many SGs and prefers early models, specifically the '60s and '70s models. When he goes on tour, instead of bringing dozens of guitars, like man other professional guitarists do, Angus typically only brings three guitars, one primary, a backup for if his primary goes out of tune, and a backup just in case something breaks. And of course, they're all SGs. See the full list of Angus Young Guitars below.
1967 Gibson SG Standard

| | |
| --- | --- |
| Years Used | 1977 to Present |
| Finish | Black |
In 1977, before the Let There Be Rock album, Angus Young picked up a black Gibson SG with a black pickguard. He wasn't quite sure what year model the guitar was. He guessed it was either a '70 or '71, but the serial number on the headstock matched a 1967 model.
Despite not knowing what year the guitar was, Young fell in love with it right away. He used it on the Let There Be Rock album, and it became his primary player ever since. He used this guitar in every performance and every album from 1977 all the way through AC/DC's Rock or Bust tour, in 2016.
Young still uses this guitar as his primary player, but he doesn't use it on stage anymore. He loves the guitar so much that he wants to preserve it as much as possible. Now, it's used only in the studio.
Surprisingly, there haven't been many alterations to the guitar over the years. Angus Young sweats profusely on stage, as you might guess from his high-energy antics, and the sweat destroys the electronics. He's had to replace the pots a few dozen times. But every time they need to be swapped, Young puts a fresh set of 500K Gibson pots right back in, so it keeps the same stock tone and feel.
Just about the only change Young has made to the guitar is to install custom-wound wax Seymour Duncan pickups. Angus Young likes pickups at a specific DC resistance between 7.8 and 7.7. According to his guitar tech, they're not quite as hot as a Seymour Duncan JB, though that seems to be up to interpretation.
Why wax pickups? Because they don't rust from sweat like metal! Sweat resistance is essential for Young's guitars. Without it, he wouldn't be able to play through an entire show.
If you want to see this guitar in action, you don't have to look very hard. Young uses it just about every time he's on stage! As long as it stays in tune and nothing breaks, he's been known to play this one guitar for entire shows without switching!
Here's a video of Angus Young shredding "Thunderstruck" on the iconic black SG in 2009.
1970 Gibson SG Custom

| | |
| --- | --- |
| Years Used | 1980 to 2016 |
| Finish | Walnut (original), Repainted Black |
In 1980, Angus Young headed out to local music shops to pick up some new guitars. There was a walnut Gibson SG with a tremolo bridge that looked similar to his very first guitar—except with three pickups. It looked so nice he just had to buy it!
Of course, with Angus Young's affinity for keeping things simple, the three pickups didn't last long. The guitar was soon on the workbench getting a few modifications to suit Young's preferences.
The first modification the guitar underwent was to remove the middle pickup and the tremolo tailpiece. It just wasn't necessary for what Angus needed to do.
This was also around the age when wireless guitar transmitters became popular for high-energy rockers who wanted to jump all over the stage without being physically tethered to their amps.
Unfortunately, AC/DC fans are almost as high-energy as Angus himself. Whenever he ran to the edge of the stage, the fans would grab at him from the audience, sometimes ripping his wireless battery pack off his guitar strap or belt. To solve the problem, Young had a block routed out of the back of the guitar, so he could put the wireless battery pack directly into his guitar and away from the screaming fans' reach! This was a modification Young made to many of his guitars over the years.
While the solution might have seemed like a good idea on paper, everyone forgot how much Angus Young sweats on stage. Battery packs and sweat don't mix well…
After a few test runs, the battery pack was moved back to the guitar strap and the block on the guitar was filled in. Since routing giant holes tends to ruin the finish, the entire guitar was repainted black and outfitted with a white pickguard.
Angus Young used this guitar as his primary for the Back in Black tour and album. Following the tour, it became Young's backup guitar for several more tours all the way through 2016. If his primary '67 went out of tune, this is the guitar he'd swap to. This is easily one of the most iconic Angus Young Guitars.
1970/1971 Gibson SG Standard

| | |
| --- | --- |
| Years Used | 1971 to 1978 |
| Finish | Walnut |
Although Angus Young is known for his loud, energetic, amplified guitar playing, he didn't start his musical journey on an electric guitar. His very first instrument was actually a banjo that was restrung with six strings. Shortly after he learned the banjo, his mother picked up a proper second-hand acoustic guitar for him to learn.
Of course, an acoustic guitar wouldn't be enough to satiate Angus Young. Around 1970, he went out to pick up his first "real" guitar from a music store down the street from his house. He played around with a few different guitars until he finally picked up a Gibson SG.
Standing at 5' 2", Young isn't a very large guy. He loved how light the SG felt compared to other Gibson models like the Les Paul, and the slim neck was perfect for his hands. As an added bonus, the double-cutaway looked like little devil horns, and what could be more rock and roll than that!? As any AC/DC fan knows, the devil horns became a very important part of the band's identity over the years.
Angus Young's first Gibson SG had a walnut finish and a Lyre Maestro tremolo bridge. It also had a set of the legendary PAF pickups that so many guitar heroes have loved over the years.
By 1975, the guitar had undergone a few modifications to suit Young's preferences. First, he removed the pickup covers to give them a little more bite. He also moved the input jack to the bottom of the guitar, instead of on the face like a standard SG. Since he wasn't a master woodworker, he just plugged the original input hole with some tape.
Since the roll of tape was already out from "fixing" the input jackhole, Young also wrapped the edges of his pickups in tape to prevent sweat from getting in and damaging the electronics.
This guitar was Young's primary player for much of AC/DC's early history. Check out this video of him shredding "TNT" way back in 1977 on his duct-taped Gibson SG Standard.
He played this guitar so much that the neck completely warped due to rot from sweat damage, and it had to be retired around 1978.
1970s Gibson SG Standard (Factory Second)

| | |
| --- | --- |
| Years Used | 1978 to 1982 |
| Finish | Cherry Red |
Before heading out on the Highway to Hell tour, Angus Young went out on his usual shopping trip to pick up a few more SGs to stock his arsenal—especially after he had to retire his original SG. He went to a music store on 48th Street in New York City and saw a guitar that looked almost identical to his first '70-'71 SG, except it had a red Cherry finish.
When he pulled it off the wall, there was a "#2" stamped into the back. He asked the clerk what it meant, and he said it was a factory second—a reject. Angus immediately thought, "Yep, that's me!" and bought the guitar.
This guitar went on to be Young's primary guitar for the Highway to Hell album and tour. Here's a clip of him playing his bright red cherry SG in 1979. He also used it for a few subsequent tours, but it seemed to be replaced by other SG models sometime around 1982.
1960s Gibson SG Standard

| | |
| --- | --- |
| Years Used | 1978 to 1988 |
| Finish | Cherry Red |
After his original 1970/71 SG was retired, Angus Young picked up a few classic SG models along with his factory second from the music shop in New York City. Since he preferred playing the older model guitars, most of these were 1960s-era Gibson SGs.
Throughout the late '70s and well into the '80s, Angus Young played either his 1970s Factory Second SG or one of his 1960s Gibson SGs. Most of these SGs had a red cherry finish and a stop tailpiece. Everything on them was completely stock, except for a bit of tape around the pickups to prevent sweat from reaching the electronics.
This standard cherry red SGs made quite an impact in Young's history, he made the standard model quite a staple for Gibson, and reportedly, sales skyrocketed after Back in Black was released. You can see Angus playing one of his stock Cerry SGs for an entire show during their presentation in Landover, 1981.
1981 Jaydee Custom SG

| | |
| --- | --- |
| Years Used | 1981 to 1986 |
| Finish | Red |
The only slight diversion from Gibson guitars Angus Young ever made (and it's very slight) was to a Jaydee SG given to him in 1981. The Jaydee was built by famed British luthier John Diggins— "J.D." spelled out "Jaydee". It was modeled after the Gibson SG (of course) with a few key alterations.
First, the Jaydee SG was bright red and featured gold hardware. It also had custom-wound Jaydee "Hooligan" pickups that Young absolutely loved.
Diggins also included a built-in wireless battery pack on the back of the guitar, like Young, was adding to his other SGs. Since Young sweated so much on stage, the battery pack would shock him occasionally, which is why he opted for strap-mounted battery packs in the future.
While it might be purely aesthetic, the real draw to this guitar was the iconic lightning bolt fret inlays—a feature that would later be incorporated into the Gibson SG Angus Young Signature. They were perfect for a band called AC/DC. Plus, Angus puts on one electrifying performance!
John Diggins built the guitar especially for Angus Young in secret. Jaydee gave it to Angus right before AC/DC took the stage for the 1981 Monsters of Rock Donington Festival. Angus loved the guitar so much that he took it right out on stage and played the entire show with it after owning it for only a few hours.
Young continued to use the guitar sporadically throughout the '80s, but he eventually went back to exclusively Gibson SG models by the turn of the decade.
Popular Related Article: What Type Of Guitar Does Slash Play?
1963 Gibson Custom Brian Ray SG

| | |
| --- | --- |
| Years Used | 2016 |
| Finish | Black |
In 2015, Paul McCartney guitarist Brian Ray got his very own signature SG model from Gibson. Being a huge AC/DC fan, he couldn't wait to show Angus Young his new model. So, he had one specially made with Young's specs and presented it to Angus personally!
Angus Young's Gibson Custom Brian Ray '63 SG is equipped with Seymour Duncan pickups to suit Young's preferences, but the rest of the guitar is just as you'd get it from the Gibson Custom Shop.
It has a black, translucent finish that gives the guitar the dark look without hiding the wood grain. Young's Brian Ray model also has a stop tailpiece instead of the Bigsby that comes on the standard Brian Ray signatures.
The whole guitar is finished off with a white pickguard and truss rod cover to give the guitar a really striking appearance.
Angus Young used the Gibson Custom Brian Ray model for AC/DC's tour in 2016. Since he was still using his favorite '67 on stage, the Brian Ray model was his backup.
Gibson SG Angus Young Signature

| | |
| --- | --- |
| Years Used | 2000 to Present |
| Finish | Aged Cherry (also has an Ebony one) |
In 2000, after almost 30 years of loyal SG playing, Angus Young finally got to team up with his favorite guitar maker to build his very own Gibson SG signature model.
The Gibson SG Angus Young Signature is modeled after Young's first 1970s SG. It has a 12" radiused fretboard, mahogany body, and neck, and the same smaller neck profile that Young loved so much.
For pickups, Angus Young got to work with the pros at Seymour Duncan to develop a custom bridge pickup based on the SH-PH1, which is one of Young's favorites. The neck position has the tried-and-true '57 classic humbucker.
To make this guitar truly unique to Angus Young, Gibson took a cue from his Jaydee custom and put lightning bolt fret inlays all the way up the neck. Young finally had a bonafide Gibson complete with lightning bolts!
To top the guitar off, Gibson put a "devil schoolboy" inlay in the headstock and Angus's signature on the truss rod cover. The devil schoolboy didn't come on every Gibson SG Angus Young signature, so it became somewhat of a collector's item. Many just have the standard "Gibson" on the headstock.
Angus Young rocked his signature model SG for the Stiff Upper Lip tour and a few subsequent shows. You can hear how great Angus's signature sounds as he rips through "Stiff Upper Lip" in 2003.
The Gibson signature models seemed to disappear from Young's rig for the last few AC/DC tours, but they reappeared in the music videos for the new 2020 album Power Up. You can see him shredding a beautiful ebony signature SG, complete with lightning bolt fret inlays, in the "A Shot in the Dark" music video.
Gibson SG Junior

| | |
| --- | --- |
| Years Used | 1997 to 2001 |
| Finish | Cherry |
In 1997, Angus Young and AC/DC singer Brian Johnson went on the Howard Stern show to talk about music, touring, and life. While in the studio, the duo played a stripped-down version of "You Shook Me All Night Long," which was quite unusual for a band known for their high-voltage rock (no pun intended).
Although Angus had a Gibson SG (of course), it wasn't one of his usual guitars that have been seen on stage. Instead, he had a Gibson SG Junior.
The Gibson SG Junior is essentially a stripped-down version of the SG—which was perfect for a stripped-down performance! It has only one P90 pickup, a tone knob, and a volume knob. For a player like Angus Young who likes to keep things simple, it seems like the perfect guitar!
Young's SG Junior never made any stage appearances, but it did show up once again during a 2001 interview on "The Guitar Show." For the interview, Young sat on his couch and ripped through songs from his favorite guitarists and a few iconic AC/DC riffs. He then describes the SG Junior has his "beat-about" guitar. It's the guitar that sits in the corner of the room he picks up and plays when he's in the mood.
Although, if you watch Angus Young's live performances, you might think all his guitars are "beat-about" guitars!
Popular Related Article: What Guitar Did Randy Rhoads Play?
Table Showing Each Guitar Angus Young Has Played in His Career
| Make | Model | Color/Finish | Years |
| --- | --- | --- | --- |
| Gibson | 1970/71 SG Standard | Walnut | 1971 to 1978 |
| Gibson | 1967 SG Standard | Black | 1977 to Present |
| Gibson | 1970s SG Standard (Factory Second) | Cherry Red | 1978 to 1982 |
| Gibson | SG Standard | Cherry Red | 1978 to 1988 |
| Gibson | 1970 SG Custom | Walnut (original), Repainted Black | 1980 to 2016 |
| Jaydee | 1981 Custom SG | Red | 1981 to 1986 |
| Gibson | SG Junior | Cherry Red | 1997 to 2001 |
| Gibson | SG Angus Young Signature | Aged Cherry (also has an Ebony one | 2000 to Present |
| Gibson | 1963 Custom Brian Ray SG | Black | 2016 |
Angus Young Amps Overview
Once Angus Young finds something he likes, like the Gibson SG, he sticks with it forever. The same thing goes for his amps.
Young has been a devoted Marshall user throughout his entire career. If you want to build a rig like Angus Young, grab an SG and plug it into a Marshall amp. That's about it!
Here are the Marshall amps that Angus has used to send rock and roll to the masses over the decades.
Marshall 100-Watt Super Lead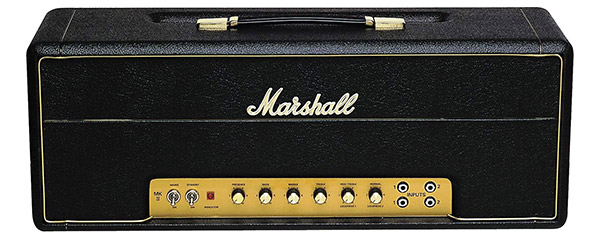 Years Used: 1970s to Present
If a stadium is rockin' with AC/DC songs, Marshall 100-watt Super Lead heads are the cause. Angus Young has used nothing but Marshall's 100-watt heads for almost the entirety of his musical career. He will use a 50-watt Marshall head occasionally for recording or stage monitoring, but most of the time, everything is 100-watt.
His favorite head is the Marshall 100-watt Super Lead. Depending on the venue, he'll have dozens of heads pushing his live sound. During a rig-rundown interview, Young was using nine (yes, nine) 100-watt tube heads, and that was only for a "medium-sized" show of 20,000 people. For stadiums, he uses even more!
Although all the heads are Marshalls, each one is a little bit different. They might have different wiring configurations, parts, or setups, but they all produce about the same tone. Almost all of Angus Young's amps run on EL34 tubes.
Every single head goes directly to the cabinets, except for one. One head—which is usually a pristine, authentic vintage model—pushes a mic'd cabinet that goes to the front-of-the-house sound engineer, so they can mix the live sound.
Despite his hard-rocking sound, Angus uses a surprisingly clean tone. He sets all his heads to almost identical settings:
Presence: 1
Bass: 3
Middle: 3
Treble: 3
Volume: 6
Preamp: 8
The way Angus Young finds the right amp settings is to mess with each head individually, find the perfect sound, then turn it up a bit more. He really likes to push the envelope when it comes to making noise.
Because of his affinity for playing loud and proud, Young goes through quite a few amps on the road. In fact, he has a full-time amp tech whose entire job is to fix amps and swap out tubes. According to Young's guitar tech, he has been known to blow up as many as three amp heads in one show!
Marshall 4×12 Cabinets
Angus Young's various tube heads push Marshall 4×12 cabinets. The number of cabinets he brings on tour depends on the venue. At a "medium-sized" show, he uses five stacks of three 4×12 cabinets. That's 15 cabinets total!
In addition to the ridiculous stacks on stage, there's usually one 2×12 cabinet under the stage that's used mainly for mixing front-of-house sound.
All of Angus's cabinets use 25-watt Celestion Greenback speakers.
Most rockstars have a wall of cabinets behind them just to look cool; they're typically not all live. Angus Young, however, isn't most rockers. At an AC/DC show, every single head and cabinet are hot, live, and making lots of sounds! Angus Young doesn't use in-ear or stage monitors, so he relies on his cabinets to hear what he's doing. There better not be any holes in the sound!
Angus Young Pedals and Effects Overview
If you haven't figured it out yet, Angus Young likes to keep his setup as simple as possible. According to him, "When you get on stage and you're playing rock and roll, the big lesson is this: If you've got too many toys up there, then there are too many things that can go wrong." Plus, when you're jumping around on the stage as Young does, there's not much time to mess with a pedalboard.
Because of his minimalist mentality, Angus Young doesn't use any official effects! There's nothing on the stage except for him and his guitar.
While he might not have a pedalboard or any official effects in front of him on stage, he does have a few unique pieces of equipment that help him create his iconic tone.
Kikusui PCR4000M
The Kikusui PCR4000M is considered the "secret weapon" in Angus Young's live-sound arsenal. It's not an effect, per se, but it does help create Angus Young's sound.
The Kikusui is a power supply. It allows Angus to control how much power is sent to his amps. Mike Hill, the creator of the Marshall JCM800, suggests Marshall amps run at 234V. Being who he is, that's just not enough power for Angus Young. He found the recommended power rating made his tone too "spongy."
To fix the problem, Angus sets the Kikusui to 236V, sending just a touch more power to his amps than what's recommended. While it might blow a few more tubes, it makes his amps a bit hotter. Besides, he has a full-time amp tech, so what does he care about a few blown tubes?
Schaffer-Vega Diversity System Wireless Unit
Angus was an early adopter of wireless guitar units. He loved the idea that he could jump around and duck walk all over the stage without having to worry about tripping over guitar cables. He started using Schaffer-Vega Diversity System wireless units all the way back in the late 1970s.
Back then, wireless units weren't as advanced as they are now. When the feed from the guitar was transmitted wirelessly, some of the signal was lost. For a gain-heavy player like Angus, that just wouldn't do.
To sustain the feed, Schaffer-Vega incorporated a preamp into their wireless units. The preamp gave the feed a little bit of a boost that would keep a strong signal through the transmission to the amps. Although Angus Young didn't really know about this magic (he was just happy to be wireless), it became a big part of his sound.
One story says that Angus was recording in the studio using cables and just couldn't get the tone he wanted. Someone asked what was different? Well, he wasn't using his wireless unit. So, they plugged in the wireless unit, and voila, his tone magically reappeared.
Schaffer-Vega Diversity System wireless units became a big part of Angus's sound both on stage and in the studio for many years. Eventually, he switched over to using more modern and reliable Shure Axient wireless units, but he still kept the old Schaffer-Vega sound with a custom-made Schaffer Replica Tower.
The Schaffer Replica Tower adds the same preamp sound to Angus's rig without the actual Diversity System units. This pedal was only added in 2016 for AC/DC's Rock or Bust tour. This is about the only true "effect" in Young's rack, although it's really only a preamp.
Rocktron HUSH Pedal
Besides the Schaffer Replica Tower, the only other item in Angus Young's guitar rack is a Rocktron Hush pedal. All it does is help keep the amps under control as they're overpowered and over-boosted. It helps to eliminate feedback, hiss, and pickup buzz, giving Angus the pure tone he's looking for.
Other Equipment
Angus Young doesn't like to use too many (any) effects to create his sound. In his opinion, rock and roll is all about keeping it simple and keeping it loud!
Without effects, he makes sure to use the same guitar equipment for his entire rig to help keep his tone consistent. He can't just turn up the distortion pedal if something changes; everything has to be the same! Here are some of the other equipment Young uses to create his tone:
Picks: Angus uses Fender Extra Heavy picks, just the regular ones you'd find in any old music store. He prefers to use hot-stamped picks instead of printed ones. He says they tend to have more grip. Unfortunately, Fender doesn't make hot-stamped picks anymore, but since he uses extra heavy, his picks tend to last for a long time. He does have some special Angus Young picks, but they're usually just for throwing out into the crowd.
Strings: Every Angus Young guitar is strung with the exact same strings. He uses Ernie Ball Super Slinkies .009-.042 gauge. Again, the same strings you can pick up in any music store.
When you're as good as Angus Young, you don't need fancy effects pedals or equipment to hide behind. All you need is a guitar, an amp, and lots of energy.
Angus Young Today
AC/DC had a great run from the '70s all the way well into the 21st century. In 2014, the band ran into some hard times when Malcolm Young, founding member, and Angus's brother, was diagnosed with dementia. He left the band to get treatment and didn't accompany the band on their 2016 tour, Rock or Bust. He was replaced on rhythm guitar by his nephew, Stevie Young.
Following the Rock or Bust tour, AC/DC singer Brian Johnson was told by doctors that he would never be able to hear again if he didn't stop hurting his ears with loud noises. Being the lead singer of a band like AC/DC, that posed a serious problem. It seemed like their 2016 tour would be their last.
Unfortunately, Malcolm Young passed away from the effects of dementia in 2017, leaving a massive impact on his bandmates. They were determined to keep playing and keep his memory alive. Brian Johnson worked closely with doctors to develop state-of-the-art hearing aids that would allow him to keep rocking for years to come!
In 2019, the band made of almost all original members headed back to the studio to record their 17th studio album, Power Up. In an interview with Yahoo Entertainment, Angus Young and Brian Johnson said this album is a tribute to Malcolm and all he did for the band. He might not be there in person, but he was with them in spirit.
The band even did a few music videos that featured Angus Young in his iconic schoolboy outfit, duck-walking his black Gibson SG Custom to stardom. Even at almost 70 years old, he's showing no signs of slowing down yet! After all, it's a long way to the top if you want to rock and roll.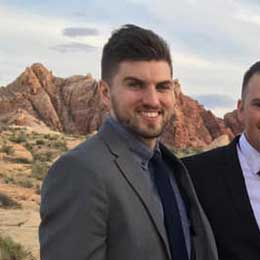 My name is Chris and I've had a passion for music and guitars for as long as I can remember. I started this website with some of my friends who are musicians, music teachers, gear heads, and music enthusiasts so we could provide high-quality guitar and music-related content.
I've been playing guitar since I was 13 years old and am an avid collector. Amps, pedals, guitars, bass, drums, microphones, studio, and recording gear, I love it all.
I was born and raised in Western Pennsylvania. My background is in Electrical Engineering, earning a Bachelor's degree from Youngstown State University. With my engineering experience, I've developed as a designer of guitar amplifiers and effects. A true passion of mine, I've designed, built, and repaired a wide range of guitar amps and electronics. Here at the Guitar Lobby, our aim is to share our passion for Music and gear with the rest of the music community.