Although metal music has traditionally been male-dominated, over the past couple of decades, we have seen a significant rise in all-female and female fronted metal bands. These powerful female figures have made their definitive mark on the music industry, playing a critical role in the continuous innovation of the metal genre into an increasingly inclusive voice of expression for millions of fans worldwide.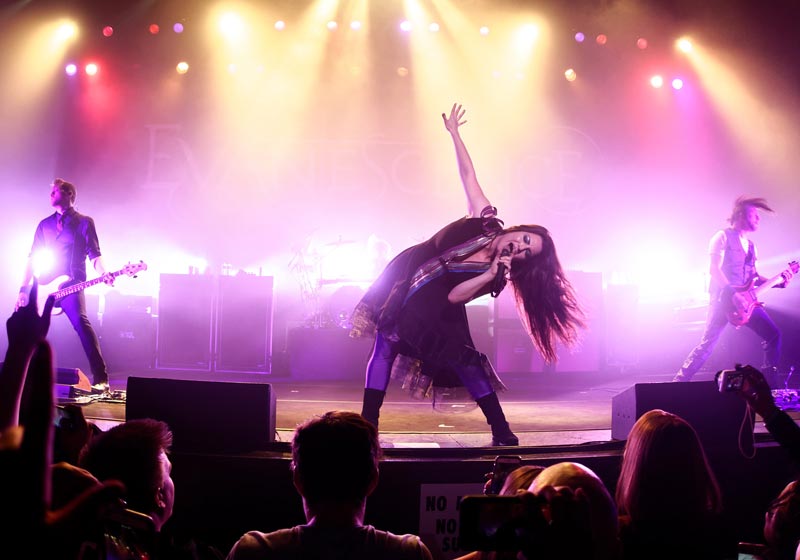 Derived from psychedelic and blues rock, metal is perhaps one of the most diverse genres within modern rock music. Artists such as Black Sabbath, Deep Purple, Alice Cooper, and Motörhead pioneered the sound as early as the late 1960s which has since expanded far beyond its shiny roots. The genre has since developed an array of subgenres and fusion genres, such as black metal, death metal, power metal, gothic metal, and progressive metal. In the rest of this article, we'll be looking at the best female metal bands of all time.
Here Are the Best All Female and Female Fronted Metal Bands
1. Vixen
Originally formed in Saint Paul, Minnesota, Vixen is considered one of the earliest female bands to emerge within the Los Angeles, California, glam metal scene.
Though Vixen was created in 1980 by guitarist Jan Kuehnemund after leaving her high school band Lemon Pepper, it wasn't until 1987 that the iconic lineup came to be, featuring vocalist Janet Gardner, drummer Roxy Petrucci and bassist Share Pedersen.
The group was signed to EMI Manhattan the following year and went on to release their debut eponymous studio album, which featured one of their greatest hits to date, Edge of a Broken Heart. The band went on to headline their own tour the following year but also supported Bon Jovi, Ozzy Osbourne, and Scorpions on their tours.
In 1990, they recorded their second album, Rev It Up, which led to another successful tour alongside bands Deep Purple and KISS. The group disbanded a year after the tour, supposedly because of "musical differences" between the members. The group had a small reunion in 1997, briefly replacing Kuehnemund and Pedersen with Gina Stile and Rana Ross. They released their 1998 third studio album, Tangerine, before splitting again shortly after its release.
In 2001, the group reunited again with the return of Kuehnemund and new bassist Pat Holloway. They released their final studio album in 2006, Live & Learn, just two years following their appearance on VH1's show Bands Reunited.
In 2012, Kuehnemund gathered the band's original members to reunite the iconic original lineup. However, just days before the reunited band was about to make their reformation public, Kuehnemund was diagnosed with cancer and passed away ten months later at the age of 59. The remaining three members decided to carry on with the band's reunion in her honor.
Though they haven't released new music in over a decade, Vixen has left their mark on the early glam metal sound, serving as one of the truest and most iconic female metal bands.
2. Evanescence
Perhaps one of the most well-known and praised gothic metal bands of all time, Evanescence has become a household name since their early formation in Little Rock, Arkansas, in 1995.
Vocalist Amy Lee and former guitarist Ben Moody formed Evanescence (meaning "fading away" or "disappearance") after Moody heard Lee play I'd Do Anything for Love by Meatloaf on the piano at a Christian youth camp. Inspired by artists such as Nirvana, Björk, Nine Inch Nails, Pantera, and Danny Elfman, the duo released three EPs the following year: Evanescence, Sound Asleep, and Whisper.
In 2003 the duo was permanently joined by their friends Will Boyd, John LeCompt, and Rocky Gray just before the release of their debut studio album, Fallen. Executives for Wind-up Records refused to release the album unless the group agreed to a full-time male co-vocalist. However, Lee and the band disagreed and eventually settled for having male vocals featured only on their single, Bring Me to Life.
The album went on to spend 104 weeks on the Billboard Top 200 chart, became certified 7x platinum in the United States, and ended up selling over 17 million copies worldwide. It became one of the only albums in history to spend at least a year on the Billboard Top 50. The album's two singles, Bring Me to Life and My Immortal, received audience acclaim, with each peaking at number 5 and 7, respectively, on the Billboard Hot 100.
Following the success of Fallen, Moody left the band with Lee, later reporting to the Sydney Morning Herald that "if something didn't change, we wouldn't have been able to make a second record. I wanted to do the more artistic weird thing, and he'd want to do the thing that people would want to hear." A year later, the band released a CD/DVD compilation, Anywhere by Home, which sold over a million copies worldwide.
In 2006, the band released their second studio album, The Open Door, which reached number one on the Billboard Top 200 chart. In 2011, the band released their third and long-awaited eponymous studio album. As said by Lee in an interview with MTV News, the album's themes included "the ocean, quest for freedom and falling in love." In 2018, they released their fourth studio album, Synthesis, which contained the song Hi-Lo, which featured violinist Lindsey Stirling.
Most recently, the band released their fifth studio album, The Bitter Truth, in March of 2021. The music video for the album's single, Wasted on You, featured shots of each of the band members at home in 2020. The album's other single, Use My Voice, featured Taylor Momsen (The Pretty Reckless), Sharon den Adel (Within Temptation), and Lzzy Hale (Halestorm), which encouraged Americans to vote. Evanescence is without a doubt, one of the best metal bands with a female singer of all time.
3. Arch Enemy
Classified by Kerrang! and AllMusic as melodic death metal, Arch Enemy emerged in Halmstad, Sweden, in 1995 when Michael Amott left the band Carcass. Joined by his younger brother Christopher, drummer Daniel Erlandsson, and vocalist Johan Liiva, the band released their debut studio album, Black Earth. The album featured their first single, Bury Me an Angel, which was on heavy rotation on MTV.
The band released two more albums before vocalist Angela Gossow replaced Liiva in 2000 after interviewing the band for a German webzine. She gave the group a demo that she believed to be "poor quality," but the band called her in for an audition and was immediately chosen. They went on to release their fourth studio album the following year, Wages of Sin. The band went on to play at Japan's Beast Feast 2002 concert alongside Motörhead and Slayer.
Just before their tour to promote the album, Gossow was diagnosed with vocal cord nodules, which led her to attend vocal therapy, where she was able to successfully recover her voice. She was able to recover in time for the release of the band's next album the following year, Anthems of Rebellion. In 2004, they released the EP Dead Eyes See No Future, which featured covers of songs by Megadeth, Carcass, and Manowar.
In 2007, the band played at the Bloodstock Open Air Festival and on the Black Crusade tour alongside Trivium, Machine Head, and DragonForce. The following year, they released their first DVD, Tyrants of the Rising Sun, which featured a live performance in Tokyo, Japan.
In 2009, the band released their first compilation album, The Root of All Evil, which featured twelve re-recorded songs that spanned the band's career before Gossow had joined as the lead vocalist. They went on to perform at the Loud Park Festival the same year alongside Rob Zombie, Judas Priest, Anthrax, Megadeth, and Slayer.
In 2014, Gossow stepped down as the band's lead vocalist and became their business manager instead so that she could "be with her family and pursue other interests." Gossow recommended Alissa White-Gluz of the metalcore band the Agonist, who gladly accepted, saying in an interview with Metal Hammer that "music is forever, metal is limitless, and this is only the beginning." They released their ninth studio album shortly after, War Eternal.
Their latest album, Covered in Blood, was released in 2019 and featured a compilation of songs they had covered over the years. Most recently, the band announced that they will be performing at the European Siege Tour in 2021 with Carcass, Unto Others, and Behemoth.
4. Within Temptation
Known for their "gloomy, doomy, slow-moving, atmospheric, symphonic gothic metal," Within Temptation was formed in Waddinxveen, Netherlands in 1996 by long-term partners Sharon den Adel and Robert Westerholt.
The duo originally formed the doom metal band The Portal, which featured guitarist Michiel Papenhove, bassist Jeroen van Veen, drummer Ivar de Graaf, and keyboardist Dennis Leefland before renaming themselves as Within Temptation. The band released their demo, Enter, before being signed onto DSFA Records later that year.
Named after their demo, the band released their debut studio album in 1997, which was generally well received, leading to a tour across the country and a performance at the Dynamo Open Air, which helped to elevate their profile in the metal scene. While taking time off to build their own recording studio, they released their debut EP, The Dance, which featured three songs and two remixes.
In 2000, the band went on to play at numerous Dutch festivals while working on their second album, Mother Earth, which became a moderate success, as the single Ice Queen became their breakthrough release, reaching number 2 in the Netherlands and number 1 in Belgium. In 2002, they went on to headline their first show in France and Mexico City. Later that year, they won the Dutch Silver Harp, which pushed them to embark on an international tour.
The band released their third album in 2004, The Silent Force, which became an instant number 1 in the Netherlands and charted across Europe. They went on to headline their first festival, Bloodstock, the following year in the UK. In 2007, they released their fourth studio album, The Heart of Everything, and embarked on their first US tour, kicking it off in Boston, Massachusetts, and ending in Tempe, Arizona.
For the band's 15-year anniversary in 2013, they covered fifteen songs in their own style, some being Behind Blue Eyes by The Who, Grenade by Bruno Mars, and Titanium by David Guetta featuring Sia. The following year, they released Hydra, their sixth studio album and first to chart outside of the Netherlands, reaching number 16 on the US Billboard Top 200.
Most recently, the band has teased the upcoming release of their eighth studio album, though they released their newest singles in 2020, Entertain You, The Purge, and Shed My Skin. In my opinion, Within Temptation is easily one of the best female fronted metal bands of all time.
5. Nightwish
Described by Metal Hammer as "mainland Europe's most successful metal band, give or take a Rammstein," Nightwish emerged from Tuomas Holopainen's plan to create a solo project based on the experimental acoustic music he'd written while in the Finnish Army.
Holopainen recruited Erno "Emppu" Vuorinen as a secondary guitarist and vocalist, Tarja Turunen. Nightwish was the first song the trio recorded and became the band's name before the release of their debut demo the same year.
They released their debut studio album, Angels Fall First, the following year. Jukka "Julius" Nevalainen joined just before the album's release, which added the band's heavy metal elements to their experimental style, "forming the core of the Nightwish sound." They made their live debut in their hometown of Kitee, Finland.
The band released their second studio album, Oceanborn, in 1998, which became an instant success, reaching number 5 on the Finnish album charts. The album's single Sacrament of Wilderness reached number 1 on the Finnish singles charts. The album was originally released solely in Finland. However, with the album's wide success, it was released internationally the following year.
After receiving international success, the band released their 2000 third studio album, Wishmaster, which went gold after settling at number 1 on the Finnish album charts for three weeks in a row. The band went on to perform their song Sleepwalker in the Finnish Eurovision Song Contest, finishing in third place.
The band released their fourth studio album in 2002, Century Child, which featured a cover of The Phantom of the Opera from the musical of the same name by Andrew Lloyd Webber, which quickly became a fan-favorite. The song became a staple for their live set lists until Turunen was replaced with Anette Olzon in 2006, as the band stated they'd never play the song live again.
Olzon went on to leave the band in 2012 following an illness that left her unable to perform. Floor Jansen joined as the band's permanent vocalist in 2013. Troy Donockley was also made a full-time member at this time, making the band a sextet. Two years later, the band released their eighth studio album, Endless Forms Most Beautiful, and went on a world tour starting in New York City and ending in Saitama, Japan.
Most recently, the band's ninth studio album, Human. :II: Nature., was released in April 2020. The band also announced that they'd joined forces with an international conservation charity organization named World Land Trust, which focuses on raising money to protect and purchase threatened habitats. In July 2020, a new crab species was discovered by Dr. Adiel A. Klompmaker of the Alabama Museum of Natural History, who named the species Tanidromites nightwishorum after the band.
The band has since become the third-best-selling Finnish band of all time, selling over 9 million records and earning over 60 platinum and gold awards, earning them the title of the most successful Finnish band worldwide.
Popular Related Article: Greatest Female Rock Stars of All Time
6. Kittie
Heavy metal band Kittie formed out of Ontario, Canada, when Mercedes Lander and Fallon Bowman met in their high school gym class. Lander's sister Morgan joined as the duo's vocalist after a few weeks of the two jamming together, and Tanya Candler completed the band later as their bassist.
The band began making demos and playing live shows in 1998 and was signed to Artemis Records the following year. Kittie released their debut studio album, Spit, in 2000 and went on tour with Slipknot. The album and supporting tour received favorable reception, earning them coverage in Metal Edge magazine, where they won five awards, including Home Video of the Year and Female Performer of the Year, New Band of the Year, Most Underrated Band, and Who's Going to be the Next Big Thing.
The band continued their rising success until 2017 when their bassist since 2005, Trish Doan, died at the age of 31. Two years later, Morgan Lander expressed her concern about the band's future, saying that "she didn't feel right moving the band forward without Trish Doan."
Though Kittie is known for being a widely successful all-female band, drummer Mercedes Lander said in an interview with MTV News that she wants Kittie to be known simply as a metal band, saying, "You don't call Machine Head a 'boy metal band,' you call them a metal band… why should they make an exception [for us] just because of the gender? It's almost exactly the same kind of music, except we don't have penises."
7. Halestorm
Founded in Red Lion, Pennsylvania, Halestorm became one of the most popular heavy metal bands of the late 2000s and beyond.
Vocalist Lzzy Hale and her sister Arejay began writing and performing music at the ages of 10 and 13 years old, respectively. The siblings released two EPs while they were still in school: Forecast for the Future in 1997 and (Don't Mess With The) Time Man in 1999.
The band finally came to be in 2005 when they were signed to Atlantic Records and released their debut live EP as Halestorm, titled One and Done, the following year. Their eponymous debut studio album was released in 2009 and featured the singles I Get Off, and It's Not You, which received generally favorable reviews.
The band released their second studio album, The Strange Case Of…, in 2012 and went on to support Bullet for My Valentine the following year. During one of the band's live shows, Lzzy was told that the band had been nominated for a Grammy in the best hard Rock/Metal Performance category for their song Love Bites… (So Do I). The band won the award on February 10, 2013, becoming "the first female-fronted band to both be nominated and win in that category."
The band's success has been on a steady rise ever since, appearing on Jimmy Kimmel Live in 2013 and, most notably, performing nearly 250 shows each year. The band has released two more albums, Into the Wild Life in 2015 and Vicious in 2018. Most recently, they released an EP in 2020 titled Reimagined, which features six songs, one being a cover of Dolly Parton's I Will Always Love You.
8. Otep
Described by AllMusic as "art house nu metal," Otep got their footing after Sharon Osbourne watched one of their earliest live performances.
The band formed in Los Angeles, California, in late 2000 and started playing regularly at Ozzfest before releasing their debut EP, Jihad, in 2001. They released their debut studio album the following year, Sevas Tra, with record producer Terry Date, who's known for his work with Deftones, White Zombie, Slipknot, Soundgarden, and Limp Bizkit.
In 2004, they released their second studio album, House of Secrets, which peaked at 93 on the American Billboard 200. The music video for their single Warhead reached the top ten on MTV Headbanger's Ball the same year. Otep went on to tour for three consecutive years before releasing their next album in 2007, The Ascension.
The band was nominated for a GLAAD Media Award for Outstanding Music Artist for their 2009 album Smash the Control Machine. In 2011, they released their fifth studio album, Atavist, which peaked at number 10 on the US Independent Charts, number 19 on the US Rock Charts, and number 61 on the Billboard Top 200.
In 2013, the band released the studio album Hydra, which vocalist Otep Shamaya stated would "be her band's final album," in an interview with The Gauntlet. However, Otep went on to sign with Napalm Records, which ignited a fire within the band, leading them to release their seventh studio album, Generation Doom, in 2016.
Most recently, the band released their eighth studio album, Kult 45, in 2018. Shamaya discussed the album, saying, "it's important for fans to know that this record is not just an indictment of Trump. The idea is rather to empower people to stand up and remind them this is our country and we have the power."
9. Flyleaf
Founded in Bell County, Texas, Flyleaf has become one of the most popular and admired metal bands with a Christian message of the mid-2000s and beyond.
Lacey Sturm, James Culpepper, Jared Hartmann, and Sameer Bhattacharya founded the band in 2002 and played over 100 shows across Texas in a span of two years. In 2004, they were signed to Octone Records and went on tour with Skillet, 3 Doors Down, Staind, and Breaking Benjamin to promote their eponymous EP. They released their eponymous debut studio album in 2005, which featured Dave Navarro of Jane's Addiction.
Flyleaf became well known while touring across the country and performing at numerous festivals over the years with bands such as Three Days Grace, Stone Sour, Sick Puppies, and Seether.
The band released their second album, Momento Mori, in late 2009 and their third, New Horizons, in 2012. Vocalist Sturm left the band later that same year after the birth of her son and the death of one of the band's lead audio engineers, Rich Caldwell. She was replaced by Kristen May. The band released their first album with May as their vocalist in 2014, Between the Stars. May ended up leaving the band two years later, saying on Facebook that she "never really felt as if she was part of the band."
10. Epica
Epica's attraction, according to AllMusic, "ultimately hinges on exploring the sonic contrasts of light and dark" due to their skillful blend of death grunts and airy female melodies.
Formed in Reuver, Limburg, Netherlands, in 2002 after Mark Jansen left the band After Forever, Epica was assembled with vocalist Simone Simons, a small choir, and a string orchestra and was immediately signed to Transmission Records. The band released their debut studio album the following year, The Phantom Agony.
After the release of their second studio album in 2004, Consign to Oblivion, Epica went on their first North American tour with the power metal band Kamelot. In 2007, they headlined their first North American tour and released their third studio album, The Divine Conspiracy, followed by their first live album in 2008, The Classical Conspiracy.
They released their fourth studio album in 2009, Design Your Universe, which received generally positive reviews both critically and from fans, reaching number 8 in the Dutch music charts, which was their highest ranking yet. In 2012, they released their fifth studio album, Requiem for the Indifferent. AllMusic stated that it was "incorporating copious amounts of choral work and classical arrangements into the band's neatly established blend of goth, progressive, power, and symphonic metal."
The band continued to receive wide acclaim, going on to create their own music festival, Epic Music Fest, in 2015. They were joined at their inaugural festival by bands such as Fear Factory, Periphery, Moonspell, and DragonForce. They also released their own book in 2019, The Essence of Epica, which details the band's beginnings with exclusive interviews and photos.
Most recently, Epica released their eighth studio album, Omega, after it was postponed. The band also performed on a live stream titled Omega Alive to promote the album in June 2021.
Popular Related Article: The 23 Best Female R&B Singers of All Time
11. In This Moment
Formed in Los Angeles, California, In This Moment emerged when vocalist Maria Brink and guitarist Chris Howorth met at an audition in 2005. The duo recruited drummer Jeff Fabb, guitarist Blake Bunzel, and bassist Josh Newell before recording a few demos and posting them to MySpace. Rob "Blasko" Nicholson, the bassist for Ozzy Osbourne, came across their online profile and became their manager. They went on to release their debut studio album later that year, Beautiful Tragedy.
The band went on to perform on numerous tours throughout the mid-2000s and early 2010s, including The Hottest Chicks in Metal Tour 2007, Ozzfest, and Rob Zombie and Ozzy Osbourne's tour.
They released their second studio album, The Dream, in 2008, which became their debut on the US Billboard 200, reaching number 73. The release followed a tour with Mudvayne, Papa Roach, Five Finger Death Punch, and Filter. The band has since toured extensively across the world, performing at festivals such as the Soundwave Festival, The Hellpop Tour, and The Mayhem Festival.
In 2018, the band's sixth studio album, Ritual, debuted at number 23 on the US Billboard Top 200. Most recently, in 2020, the band was nominated for their first Grammy award in the Best Metal Performance category for their son, The In-Between. In 2021, the band announced their next tour, which is scheduled for September 2021 alongside Black Veil Brides.
12. Babymetal
Perhaps one of the most unique metal bands to emerge from the early 2010s, Babymetal has been credited for pioneering the genre known as kawaii (cute) metal, which merges elements of J-pop and traditional heavy metal.
Consisting of Su-Metal, Moametal, and Yuimetal, the trio was brought together in Tokyo, Japan by Kobametal, a long-time heavy metal enthusiast who longed to create an idol/heavy metal fusion group. Though none of the girls were familiar with metal, they quickly grew to enjoy the genre before the release of their 2014 eponymous debut studio album.
The album featured thirteen tracks and was additionally sold as a limited-edition DVD with live performances and music videos. It was well received by critics and reached number two in Billboard Japan, selling almost 40,000 copies during its release week. It also reached number 187 on the US Billboard Top 200 chart and number four on the Billboard Heatseekers chart. The trio went on to perform two concerts at Budokan in Tokyo, Japan, becoming the youngest-ever female group to perform at the arena.
The band has since garnered cult status, becoming one of the most popular Japanese acts of all time. In 2016, the band's album Metal Resistance became the first Japanese album to chart in the US Billboard Top 40 in over 50 years. In 2019, they became the first Asian group to top the Billboard Rock Albums chart with their third studio album, Metal Galaxy. The Los Angeles Times has stated that Babymetal is "the most diverse thing in heavy music right now," and Judas Priest's Rob Halford said that the group is "the future of metal."
13. Butcher Babies
Frontwomen Carla Harvey and Heidi Shepherd came together after discussing their admiration for punk rock legend Wendy O. Williams and her avant-guard innuendo-riddled and violent antics. the name Butcher Babies came as a homage, and the band was officially formed in 2010. With a signature gore aesthetic that bridges their metal charm with an interactive "assaulting" performance, their rich musical landscape is known for including punk rock and thrash cues that make this a unique, defying project in its core.
Initially, Butcher Babies garnered recognition in the up-and-coming metal scene upon the release of their many covers, particularly their Youtube rendition of Fuckin Hostile by Pantera. Nevertheless, the girls were working on their own material, and with the help of Avenged Sevenfold's Murdock, they produced their debut single, Mr Slowdeath, which became the seminal track of their eponymous EP. Later, in 2012, the band signed with Century Media Records, and within a year, they released their debut album, Goliath, immediately charting at #3 in the US Heat charts and #112 on the Billboard Hot 200.
Quickly after gaining global recognition as metal figures, Butcher Babies has been an ever-evolving band that doesn't shy away from a bold frontal presentation and reinvention. Where Goliath boasted a more melodic edge, their 2015 follow-up Take it Like A Man benefited from its rotating members and throwback the sound to the band's thrasher roots. This sound remained and became all the more poignant when Chase Brickenden -who had recently played with Megadeth as a touring member- took on the mantel of the drummer, deepening and infusing the band with a deeper dive into the sound of their influences.
As of 2023, Butcher Babies continues to release new music and affirm the core of the project as a defiant testament for women in all genres. In a recent interview, Shepherd stated that the band is still deep in gratitude to the icon that inspired them to continue in their endeavors to make transgressive tunes and shows, remarking that "Wendy O. Williams was the first female in heavy metal. And she was the first female to just really go all out. She didn't care what anyone told her. She was going to be the performer she wanted to be without anyone telling her 'No".
14. Nemophila
One of the fastest-growing metal bands and widespread phenomena, Nemophilia was founded in 2019 after vocalist Mayu had left her original project, Lipstick, to put together a band for a self-produced live session. She had contacted her former classmate and bass player Haraguchi-san. The missing ingredient? Mary's Blood guitarist Saki, who would eventually become the band's musical director, brought fellow guitarist Hazuki. Needless to say, everyone involved felt the flowing chemistry was bound for more than just a one-time show. The new-wave metal behemoth from Japan had been born.
With a few gigs under their belt in 2019, the group went on as an opening act for the iconic Japanese metal band Loudness and Hammerfall. Garnering a paced traction amongst local audiences, they would self-produce and release three independent single releases within a year, from 2020 to 2021, and gained attention from British label JPU. This granted them the means to record and publish their first album, Revive, in 2021 and Seize the Fate the following year. The girls captivated a worldwide audience with an English rendition of their track Dissension, which marked the biggest debut for JPU in their history.
For this relatively small group and large growing sensation, their first U.S. tour came in 2022, and it took place across the entire country's Zepp venues. Their introduction to the American audience catapulted Nemophila to international exposure. Though they're still growing, their charm and fresh approach to the genre remain poised and escalating through their dominantly melodic lines and prowess.
Nemophila's allure lies in its unique concept, as described by Saki: "to infuse metalcore with "yurufuwa," meaning to embrace a softer, truer nature rather than forcibly projecting a masculine image. This is notably reflected in Saki's all-round genre-infused guitar sections, which stand out amidst the band's heavy metal barrage, solidifying her as one of the most instantly recognizable figures in the genre to no surprise as this notion has permeated in all of her bandmates.
15. Jinjer
Known for their boundary-pushing approach to Metalcore, Jinjer has become a seminal, leading European act that continues to include intricate blends into their sound. Formed in 2008, Jinjer departed from its original lineup when frontwoman Tetiana Shmailyuk took her creative role to the raw powerhouse that it is today. Now composed of Roman Ibramkhalilov on guitar, Eugene Abdiukhanov on bass, and Vladislav Ulasevic on drums.
The band's breakthrough, however, came with a considerable 8-year trial and error dynamic. As 2016 saw their commercial and critical success flourish with their second album, King of Everything. The wave of success that Jinjer saw with this album was largely attributed to their flagship single, Pisces, which garnered international attention for the group, with Metal Hammer placing it at No. 74 in their list of "The 100 Greatest Metal Songs of the 21st Century".
Furthermore, 2019 saw Macro, their follow-up length LP, which was seasoned with an even more intricate blend and derived elements from reggae and prog rock, a spice they've been tampering within the years that followed King of Everything but didn't fully manage to convey at the time. Nevertheless, the success of the album landed them Loudwire's accolade as the #21 best record of 2019.
Defined by Tetiana's massive range, from melodic singing to guttural growls in a seamless run-through with a dynamic stage presence and the band's tight musicianship. Jinjer has toured extensively in Europe and America, gaining a global fanbase and playing at major festivals and venues worldwide. This eventually earned them the title of Ukrainian Cultural Ambassador in 2022.
16. Crypta
Founded after the fallout of their previous tenure in Nervosa, Crypta is composed of some of the most prominent ladies in the death metal scene. With former Edu Falaschi and Nervosa drummer Luana Dametto at the backbone, complemented by longtime bandmember Fernanda Lira in this powerhouse metal lineup, these founding members soon found their partners in crime in Tainá Bergamaschi in rhythm and Jéssica di Falchi in lead guitars soon after the departure of Sonia Anubis.
The birth of Crypta took Lira and Darmetto by surprise, as in an interview, they pointed out: "We never thought it would end up being the main project of our lives, But after we left Nervosa, it was good because we didn't feel like we had to start from scratch. We were still writing the first songs, but it was good to have Crypta, even if it was in its baby steps." they said in an interview with Remezcla Magazine.
Nevertheless, fans of the genre and these metal ladies were pleasantly shocked as well, as Crypta announced they're coming together upon the release of their flagship single, "From the Ashes," as a teaser for their debut studio installment, "Echoes of the Soul." Needless to point out, success would follow their intentions. They've often been labeled as the band responsible for taking Death Metal to new extremes.
In virtually no time since the initial foundation of Crypta, the band has become a staple at every festival of the genre, from Porão do Rock in Brasilia and Rock in Rio to the massive audience of Wacken Open Air in Germany. If these have been achieved in only three years in trajectory and two albums, imagine this band in a few years!
17. Lovebites
Metal Hammer, Golden Gods of 2018 Lovebites, is the power metal sensation that has swept the world from its feet, challenging the general conception of how the genre should sound and look since its debut in 2017. Founded in Tokyo by drummer Haruna and former bass player Miho after the project Detrose went on indefinite hiatus, they soon found support and initiative in guitarist Metaliche's guitarist Midori Tatematsu and keyboardist Miyako. Once the lineup was formed and songs were penned, they chose Asami as their lead singer immediately after listening to her tape audition for the project.
Named after Halestorm's track, Love Bites (So Do I), the band quickly decided to take up on the equation of soaring melodies and shocking anthems, largely defined by Asami's potent range. Within barely a year of their formation, The Lovebites EP came out, and though the intention behind it was leaning more towards a demo tape rather than a featured work, it managed to gain them sufficient exposure to get UK's JPU label to promote and release their work in Britain while in America, Sliptrick Records handled the ordeal.
The result of this virtually immediate rise to fame saw them record their follow-up EP Battle Against Damnation while performing on the Japanese leg of the Warped Tour as well as in Wacken Open Air in that year. 2018 saw Lovebites become the best new metal band in the world, placing them as practically an over-the-night phenomenon.
In 2022, Lovebites established themselves as one of Japan's biggest acts truly transcending their genre. This was something that was initially debated by many, but upon the release of their fourth studio installment, Judgement Day, which saw the girls embrace their new-wave British influences and adapt them to their unique, fresh approach, there was no other choice but to accept that Lovebites is a testament to the new ways of metal.
18. Eleine
Known for their unique blend of thrash, death, and black metal, Eleine is perhaps regarded the most due to their dark symphonic sound. Founded in 2011 as initially a collaborative project between vocalist Madeleine Liljestam and guitarist/songwriter Rikard Ekberg, the two started composing as early as 2012, but it wasn't until 2014 that they decided to recruit Sebastian Berglund on keyboards, Andreas Mårtensson on bass, and drummer David Eriskkon to release their debut single and music video for Gathering Storm and present the project to the world as a band.
Following the release of their eponymous album in 2015 and constant band rotation, it wasn't until 2017 that Eleine cemented themselves as a force to be reckoned with. Playing several festivals across the globe and touring as a supporting act for the legendary band W.A.S.P. Within a year, Eleine would publish Until the End, which was their very first work to chart at #22 in the Swedish Music Charts, propelling them as an international band.
As of 2023, Elaine has made a name for themselves through their signature blend of symphonic metal, stylish and monumental in their seductive delivery both in their recordings and live shows. This is thanks in no small part to Madeleine's operatic performance. Her ability to recreate her studio vocals with precision and energy puts her amongst the most commanding energies on stage.
Now a household name in the modern metal scene of Sweden. They've toured with legendary names such as Sonata Arctica on their Acoustic Adventures Tour in 2022 and played in colossal stages of the likes of Gefle Metal Festival, Svedala Rock, Rock It Festival, and Sweden Rock. As a product of this, their remarkable success has seen them grow at an astonishing pace. Moreover, having recently signed with Atomic Records, their latest installment, We Shall Remain, surpassed the band's own record and became their most successful studio venture within only 3 months of its release.
19. Lacuna Coil
Blasting their unique blend of gothic and alternative metal since 1994. Lacuna Coil was founded by Andrea Ferro and Marco Coti in Milan. The two started out as a four-piece before asking their most captivating piece, then backing vocalist Cristina Scabbia, to officially join the band within a year of their formation. At the time, they were known as Sleep of Right, which later changed to Ethereal, but after finding out that the name was taken by a Greek band, they finally settled on Lacuna Coil when signing with their first label, Century Media, in 1997.
Within a year of settling into their new identity, the band released their first eponymous EP, and a debut full-length album, In a Reverie, would follow later that year. It received positive criticism, labeling them as an exciting prospect in the scene. They would spend two years touring as a supporting act, mainly until deciding to head back to the studio for their second installment, Comalies. During this era, two single releases would change the course of the band. Swamped would become a hit, featured in the soundtrack of the 2002 film Resident Evil Apocalypse, introducing them to a wider, worldwide audience.
Nevertheless, when Karmacode hit record shelves, Lacuna Coil became a global act and one of the first contemporary metal bands to hit the Billboard 200, debuting at #28, marking the biggest success for their record label. Soon after, they would start touring America in a regular fashion, sharing the spotlight with Ozzy Osbourne and System of a Down. What's more, this became the very first female-led band to ever co-headline a metal festival in history at the Ozzfest 2006.
The 2010s saw Lacuna Coil establish themselves as a household name in the genre. Their 2012 album Dark Adrenaline won Best Album in the Best Female Metal Voices Fest. 2016 saw them sweeping the Metal Hammer Awards in Germany, where they won Best International Band following their extensive and dynamic live performances while touring Delirium that same year. And finally, in 2018, Metal Hammer consecrated them as the Best Live Act at the Golden Gods Awards.
Always expanding on their influences, Lacuna Coil has grown more than just in followers and regard. The band has matured and infused more and more their influences with their characteristic gothic imagery and dramatic lyricism, and in 2023, the release of their latest more seasoned material since their latest release in 2019 with Black Anima, it's safe to speculate that their expansive nature won't be short of their eclectic nature.
20. New Years Day
Founded by friends Adam Lohrbach, Ashley Costello, and Keith Grober, the three of them started this project as a means to cope with the hardships that had defined the years leading up to the inception of the group and decided to record an emotionally charged Demo EP in 2005. After struggling to find a stable bass player for the group, they found Wakefield guitarist Mike Schoolden and drummer Russel Dixon, who suggested the band should be called New Year's Day.
Within a year of their formation, this was one of the very first bands to gain notoriety through social media, particularly by promoting their music through MySpace, garnering considerable traction in the platform. They even had a few of their self-produced tunes in the MySpace Records Volume 1 Compilation, which led to their eventual featuring in the video game Saints Row. Following this initial spike in popularity, they rejected Pete Wentz's Decaydance Records and chose instead to go with TVT, which prompted them to record their official debut with an eponymous, lengthier EP.
Their debut album, 2007's My Dear, would see them once again venture as a truly independent project as their label was struggling to keep afloat. Though a lack of promotion slowed down the performance of the record, their flagship single I Was Right managed to break into the polls of MTV and earned them the "Freshman Face" of the month. Nevertheless, the band grew enough to tour Europe as a supporting act for Ozma, The Fall of Troy, and The Red Jumpsuit Apparatus.
However, following this initial tour, the band would begin on a spiral that has marked it with a constant rotation of members that has preserved Ashley Costello as the sole founding member of the project and the head creative force behind it. Moreover, the last decade saw her rise as an item for the genre, with 2015's Malevolence marking New Year's Day's biggest success, charting at #45 in the Billboard 200 of that year.
As the project has evolved, so has Costello, shifting her lyricism and driving thematics forward into empowerment, replacing the "self-pity" that dominated earlier material. And, in fact, it has worked! As her 2019 flagship single, Shut Up, managed to peak at #17 in the Mainstream Rock Charts, positioning Unbreakable as one of the most anticipated releases of that year.
Nowadays, New Year's Day is fiercer than ever, with Costello constantly reinventing her melodic approach and deepening within herself in her lyricism. This is one of the longest-standing projects of its generation, thanks to its charismatic frontwoman.
Wrap Up:
That does it for this list. Let us know your favorite female and female fronted metal bands in the comments below!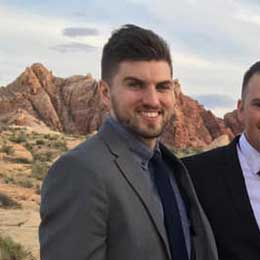 My name is Chris and I've had a passion for music and guitars for as long as I can remember. I started this website with some of my friends who are musicians, music teachers, gear heads, and music enthusiasts so we could provide high-quality guitar and music-related content.
I've been playing guitar since I was 13 years old and am an avid collector. Amps, pedals, guitars, bass, drums, microphones, studio, and recording gear, I love it all.
I was born and raised in Western Pennsylvania. My background is in Electrical Engineering, earning a Bachelor's degree from Youngstown State University. With my engineering experience, I've developed as a designer of guitar amplifiers and effects. A true passion of mine, I've designed, built, and repaired a wide range of guitar amps and electronics. Here at the Guitar Lobby, our aim is to share our passion for Music and gear with the rest of the music community.