When it comes to the most influential songwriters and personalities of all time, it's impossible to overlook John Lennon. Both solo and with The Beatles, Lennon helped write and record some of the most iconic songs of the entire 20th century that still pander and echo to this day.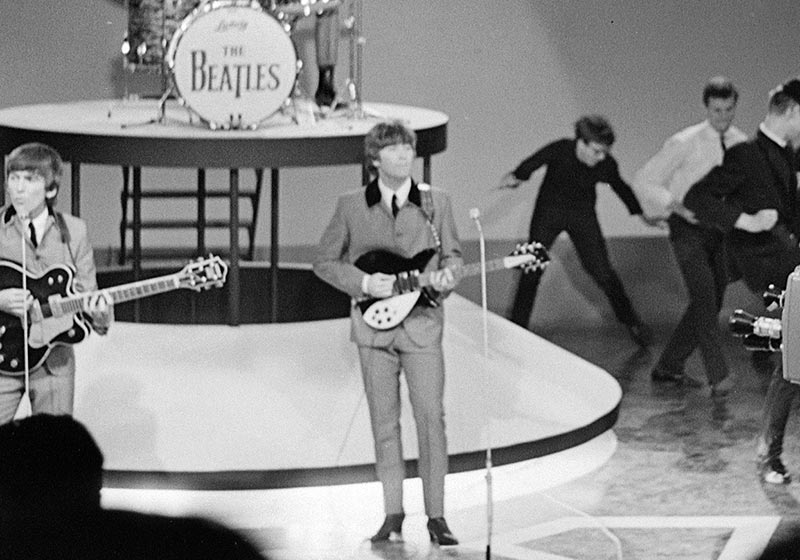 Over the course of his career, Lennon wrote more than 25 singles that made it to number one on the Billboard Hot 100 chart, won seven GRAMMYs, was nominated for 34, is rated as the fifth-greatest singer and 38th greatest artist of all time by Rolling Stone, and was inducted into the Rock and Roll Hall of Fame twice—once for his work in the Beatles and again as a solo artist. But he didn't accomplish all that alone, Lennon accomplished his celebrated stardom with a fine support system of great musicians and a closed circle.
What Guitar Did John Lennon Play?
John Lennon's most iconic electric guitar was his 1965 Epiphone Casino. This guitar was his workhorse instrument during the later years of the Beatles and into his solo career. Most of John Lennon's acoustic recordings were performed on his Gibson J-160E.
See the full list of John Lennon guitars and gear below.
1965 Epiphone Casino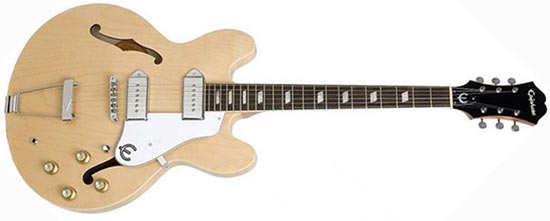 | | |
| --- | --- |
| Finish | Natural |
| Years Used | 1965 to 1970 |
Of all the electric guitars in John Lennon's arsenal, his 1965 Epiphone Casino is probably his most famous. Although Lennon was the Beatle to make the Casino famous, he wasn't actually the first to own an Epiphone.
In late 1964, Beatles bassist Paul McCartney picked up an early 1962 Epiphone Casino after hearing records of blues players using hollow-body guitars. He really wanted to get that tone for himself, so he went out and bought the Casino.
When he went to the next Beatles rehearsal, both John Lennon and George Harrison couldn't believe the tone. They both fell in love and went out to get Casinos of their own.
John and George both got brand-new 1965 Epiphone Casinos with sunburst finishes. Lennon's Casino had a trapeze tailpiece, a small black ring around the selector switch, gold-covered adjustment knobs, and dual P90 single-coil pickups. The only difference between Lennon's and Harrison's Casinos is that Harrison's had a Bigsby tremolo tailpiece instead of the trapeze.
Once John and George picked up their matching 1965 sunburst Casinos, this became the only guitar model to earn the distinction of being owned by all three guitar-playing Beatles!
The Beatles loved their Casinos so much that both John and George played their matching models on their 1966 performance of the BBC's Top of the Pops TV show. McCartney had to play the bass, so he didn't bring his on stage.
In 1968, the Beatles took a trip to India to study transcendental meditation. During the lessons, a friend named Donovan Leitch told Lennon that his guitar would sound better if he took off the heavy sunburst finish. Apparently, it would let the wood breathe. John Lennon took his advice, grabbed some sandpaper, and removed the finish, leaving nothing but the natural wood behind.
It didn't take long for Harrison to discover other guitars, so his Casino slowly left the limelight. But for John Lennon, the Epiphone Casino would be one of his primary electric guitars for the remainder of his career. You can see Lennon's now-natural Epiphone Casino in the Beatles' iconic final live performance on the roof of Apple Records in 1969.
Since Lennon hardly performed live after the Beatles' split in 1970, it's safe to assume he moved his beloved Casino to a more liminal use eventually keeping the guitar as part of his collection. After Lennon's death in 1980, his wife, Yoko Ono, put the guitar on display in the John Lennon Museum in Saitama, Japan.
1962/1964 Gibson J-160E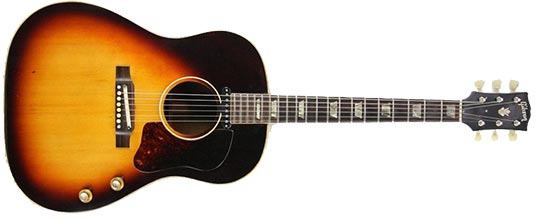 | | |
| --- | --- |
| Finish | Sunburst/Natural |
| Years Used | 1962 to 1980 |
Although the Epiphone Casino earned the distinction of being the only guitar used by all three guitar-playing Beatles, there's only one guitar that gets the extra-special honor of being used on every single Beatles album. And that guitar is the Gibson J-160E.
In the summer of 1962, the Beatles learned they finally scored a record deal. A big record deal also comes with a big paycheck, so Lennon and Harrison hit the local music stores to find some "professional" equipment to take them into the next phase of their career. They both found matching 1962 Gibson J-160Es with sunburst finishes.
The J-160E is Gibson's first stab at a true electro-acoustic guitar. It had the dreadnaught "jumbo" body of the acoustics at the time, but it also had 15-frets above the neck joint for almost-electric playability, a P90 pickup just below the fretboard, and an adjustable bridge. It also had a tone and volume control knob built into the lower part of the body. It was the most electric acoustic guitar you could find at the time—and maybe even still today!
John used his J-160Es to write iconic songs like "She Loves You," "I Want to Hold Your Hand," and "All My Loving" to name a few, and even used it to record Please Please Me and With the Beatles albums.
Around 1963, John and George decided to swap instruments for some unknown reason, but the J-160E was still a staple for both Beatles guitarists. Unfortunately, not long after, John Lennon's favorite acoustic was stolen (or got lost, depending on who you ask). Being the good friend he was, George Harrison gave Lennon his J-160E to replace his missing guitar until he could find another. It didn't take long for Lennon to pick up a new 1964 Gibson J-160E, which became one of his primary guitars for the rest of his life.
In 1967, hippie culture was in full swing. Everything was getting repainted in psychedelic colors. This was the time George Harrison took Day-Glo paint to his 1961 Fender Stratocaster to create the iconic "Rocky" guitar. Well, Lennon didn't want to be left out, so he asked artists Simon and Marijke Posthuma (known as The Fool) to give his J-160E a funky paint scheme. They took off the pickguard and added blue and purple wavy lines all over the body of the guitar. Lennon used the newly painted guitar on the famous "All You Need Is Love" satellite broadcast.
Unfortunately for hippies everywhere, the paint scheme didn't last long. During Lennon's 1968 trip to India, he was told by a friend that stripping the paint off his guitars would let the wood breathe and make the guitar sound better. While he was sanding the finish off his Casino, Lennon also took the psychedelic stripes off his Gibson J-160E, leaving nothing but a natural finish. This is how the guitar looked during Lennon and Yoko Ono's famous Bed-Ins and concerts.
To commemorate the bed-ins, Lennon carved characters of himself and Ono into the top of the guitar. Since there were two bed-ins, he added two sets of characters.
Lennon continued to use the Gibson J-160E for the rest of his life. Not only was it used on every single Beatles album, but he also used it to write songs after the Beatles' split in 1970. It was easily his favorite guitar and definitely had the most longevity of any of Lennon's instruments.
Although Lennon never learned of its whereabouts, his original stolen 1962 Gibson J-160E did eventually find its way back into the mainstream. When it was stolen (lost) back in the '60s, it ended up in a San Diego guitar shop called the Blue Guitar, where it was bought for $175 by a man named Tommy Pressley. Pressley eventually sold the guitar for the same price he bought it to his friend John McCaw, who held onto the guitar for decades.
McCaw played the vintage J-160E on and off for decades, never knowing what the instrument really was. In 2014, he saw a copy of Guitar Aficionado magazine with a picture of George Harrison's 1962 Gibson J-160E and noticed how close the serial number was to his guitar. He took his J-160E to a Beatles gear expert who discovered it was, in fact, the missing Lennon guitar!
Feeling the guitar was all of a sudden "too big for me," McCaw decided to put it up for auction. Being one of the most influential guitars in all of music history, John Lennon's original 1962 Gibson J-160E sold for a record-breaking $2.41 million in 2015.
Rickenbacker 325

| | |
| --- | --- |
| Finish | 1960 to 1966 |
| Years Used | Orange/Black |
In 1960, the Beatles were still very early in their career. They had just adopted the name "Beatles" and the lineup consisted of John Lennon, Paul McCartney, and George Harrison. They were signed by a club in Hamburg, picked up original Beatles drummer Pete Best, and set off on the road.
Before they made it to their destination, John Lennon bought a new guitar in Germany to accompany him on his first "tour." The guitar was a Rickenbacker 325. He originally saw the guitar on a Jean Thielemans' album and thought it was so cool that he just had to have it.
Lennon admitted he wasn't quite sure how he paid for the guitar, but he got it, and it became an iconic part of Beatles history.
Lennon's first Rickenbacker 325 was a 1958 model with an orange finish. The 325 is a short-scale guitar at only 20¾ inches and had a typical Rickenbacker shape with dual sharp cutaways and a large pickguard. Unlike many guitars of the time, the Ric 325 came with three single-coil pickups. When the Beatles scored their first big contract, John Lennon decided to repaint the guitar in a black finish.
This is the guitar that Lennon used to record many of the Beatles' early hits that rocketed them into the mainstream and launched full-blown Beatlemania. It was also the guitar Lennon used on the Beatles' very first American appearance on the Ed Sullivan Show.
Not long after their appearance on the Ed Sullivan Show, John Lennon's original '58 Rickenbacker played its last note. He wasn't very good at taking care of guitars, so it didn't make it through the tour. Of course, he couldn't keep touring without his favorite guitar, so he quickly replaced it with a 1964 model.
The 1964 Rickenbacker 325 is the guitar Lennon used for the Beatles' second appearance on the Ed Sullivan Show just a couple of months later. He also used it extensively in the studio to record more major Beatles' hits like "A Hard Day's Night."
John Lennon's 1964 Ric carried him all the way through 1966 and the Revolver album. He also picked up a 12-string Rickenbacker 325 in Fireglo finish after George Harrison got his Rickenbacker 360/12.
1956 Gibson Les Paul Jr.

| | |
| --- | --- |
| Finish | Cherry Red |
| Years Used | 1972 |
John Lennon was a serious humanitarian and always believed in peace and love for everyone. In 1972, a few years after the Beatles' split, Lennon decided to put on a benefit concert for the students of Willowbrook School, a state-run institute for children with mental disabilities in New York City. The concert was to take place in Madison Square Garden.
To prepare for his first big concert in years, Lennon grabbed a new guitar to suit the occasion. Just a few months before the performance, he bought a 1956 Gibson Les Paul Junior with a natural cherry finish.
The Les Paul Junior has the same shape as the Les Paul Standard with its single cutaway, but unlike the original, the Junior is a flat-topped guitar. Most Juniors also came equipped with one P90 pickup in the bridge position.
John Lennon's Les Paul Junior was modified slightly from its original condition. He added a Charlie Christian pickup in the neck position to give the guitar more tonal variety. It also had a pickup selector switch in the top and thumbwheels on either side of the bridge for easy adjustments.
Of course, the vintage Les Paul Juniors are incredible guitars, which is why Lennon used the guitar for his entire 1972 performance. Since this was his final major public concert and his only solo concert outside of the Beatles, it made the guitar almost as iconic as the man himself! You can hear this amazing Les Paul Junior in action in this version of "Come Together" from the Madison Square Garden performance.
1962 Fender Stratocaster

| | |
| --- | --- |
| Finish | Sonic Blue |
| Years Used | 1965 to 1968 |
In 1965, the Beatles were in the studio (as always) recording their latest album Help! John and George were looking for some new sounds to add to the album, so they sent a roadie to go out and buy some new guitars. He came back with matching 1961 Fender Stratocasters with matching Sonic Blue finishes.
Lennon loved the Stratocaster so much that he immediately took it into the studio to record "Ticket to Ride." Once George picked up his, he found it was just as awesome, and you can hear both Strats together during the solo break on "Nowhere Man."
Unfortunately, neither of the Sonic Blue Strats ever made an appearance on stage. Lennon preferred to use his favorite Rickenbacker 325 when he played live. He did, however, continue to use it in the studio all the way through the recordings of Rubber Soul and Revolver albums.
Although John Lennon eventually phased his blue Stratocaster out of rotation in favor of other guitars, George Harrison continued to use his and decided to paint it in bright, psychedelic colors, transforming it into the iconic "Rocky" guitar.
1959 Höfner Club 40 126/B

| | |
| --- | --- |
| Finish | Blonde |
| Years Used | 1959 to 1960 |
Before they even became the Beatles, the Quarrymen frequently played at a local Liverpool coffee shop called Mona's Best Casbah Coffee Club. It was a small venue, but it was great for a new, young band just cutting their teeth.
The gig was all lined up, but John Lennon didn't have a guitar! He wasn't very good at taking care of instruments, and his first electric guitar wasn't up for the task. He grabbed his Aunt Mimi and ran out to the local guitar store. His Aunt put down a £17 deposit on a 1959 Club 40 Höfner guitar.
The Höfner Club 40 was a hollow-body guitar with a single rounded cutaway. It had only one single-coil pickup that looked like a simple black bar in the neck position. The tone and volume controls were mounted in a black box on the bottom of the guitar, which included one volume knob and three-tone switches.
Despite her eagerness to help John pursue his musical aspirations, it was his Aunt Mimi who gave Lennon perhaps the worst advice anyone could give a future Beatle: "The guitar is great, John, but you'll never make a living with it." Good thing he didn't listen!
The 1959 Höfner Club 40 became Lennon's primary guitar during the Quarryman's first residency at the Casbah Coffee Club and all the way until the Beatle's Hamburg residency, when he picked up his favorite Rickenbacker 325. Overall this is easily one of the most iconic John Lennon guitars of all time.
1966 Guild Starfire XII
| | |
| --- | --- |
| Finish | Cherry Red |
| Years Used | 1966 to 1968 |
Just before the Beatles embarked on their last U.S. tour in 1966, they were met by Mark Dronge—son of Alfred Donge, the founder of Guild Guitar Company—and given some very special gifts. Trying to emulate Rickenbacker's success after the Beatles' first U.S. tour, Guild made a few custom guitars specifically for the Beatles to use.
At the press conference, the representatives from Guild pulled out a beautiful Cherry Red 12-string guitar. Since playing 12-strings was his "thing," George Harrison thought it was meant for him. He admitted he was a bit annoyed when they handed it to John Lennon, but Lennon couldn't be happier!
The guitar was called a Guild Starfire XII. It was a semi-hollow guitar with a laminated maple top and back and mahogany sides. The shape resembled Lennon's favorite Casino, with a large, round body and dual cutaways.
For electronics, the Starfire featured dual 1950s DeArmond Model 2000 pickups with white covers. A three-way selector switch and two tone and two volume knobs controlled the pickup tone. It also had all gold hardware, including an intricate harp-style tailpiece. All in all, it was an incredibly beautiful guitar.
John Lennon was so excited to use his fancy new 12-string that he took it to the studio and used it to record the rhythm parts for "While My Guitar Gently Weeps." There are also rumors that Lennon continued to use the guitar all the way through the Sgt. Pepper's Lonely Heart Club Band sessions in 1967 and even into some of the later Beatles albums in 1968.
Somehow, the guitar ended up with Yoko Ono's second husband, Tony Cox. Nobody is entirely sure how that happened, but Cox eventually sold the guitar to the Hard Rock Café in Honolulu to put on display.
1965 Martin D-28

| | |
| --- | --- |
| Finish | Natural |
| Years Used | 1967 to 1968 |
After the incredible success of Sgt. Pepper's Lonely Hearts Club Band, the Beatles needed to up the ante even more for their next album. Not only did they decide that their next record would be a double album, but they were also going to record it during a transcendental meditation course in India. They wanted to "get away from everything" to re-engage with songwriting instead of the craziness of Beatlemania.
Since the band was getting into traditional and folk music, John Lennon wanted to bring a new acoustic guitar with him on the trip. He chose a 1965 Martin D-28.
The Martin D-28 has been the benchmark for outstanding acoustic guitars since the 1930s. It features a high-quality solid Sitka spruce top and East Indian (fittingly) rosewood back and sides for a well-balanced tone and that iconic Martin boom.
John Lennon used the Martin to record the Beatles' self-titled album, which became known as the White Album. You can even see the guitar in the music video for "Hello, Goodbye."
After he returned from India, it's unclear what happened to his 1965 Martin D-28. He did, however, pick up another Martin D-28, this time a 1962 model, which he used for the remainder of his career. He even used it during his final live performance with Elton John on Thanksgiving in 1974.
In 2016, the expert builders at Martin decided to honor Lennon's memory with his own signature model, the D-28 John Lennon 75th Anniversary Model to commemorate what would have been his 75th birthday.
The John Lennon D-28 features a VTS aged spruce top to give it a period-correct look and tone along with vintage hardware. There were also several custom touches to really make the guitar all about John Lennon:
Peace sign rosette inlay around the soundhole
Peace sign body zig-zag purfling
Pearl inlaid sunbeam pickguard
Eyeglasses and autograph pearl fingerboard inlays
John Lennon self-portrait headstock
While it might not be in production anymore, these guitars have become quite the collector's pieces for Beatles and John Lennon fans everywhere.
Sardonyx 800 D II
| | |
| --- | --- |
| Finish | Black |
| Years Used | 1980 |
The Sardonyx 800 D II might not be the first guitar that jumps to mind when you think of John Lennon, but it was certainly the most interesting guitar in his collection.
The Sardonyx has a very unusual appearance with a center block body and two stainless-steel outriggers that come out from either side. It's almost like a guitar without a body. While the guitar might look completely synthetic, the center block is actually wood, and the neck is finished with an ebony fretboard.
For electronics, the Sardonyx featured dual Bill Lawrence pickups, but they weren't wired like a normal guitar. Instead of one output, the Sardonyx had three! You could plug the guitar into three different amps to send completely independent pickup combinations. Since the pickups were also wired for phase-reverse and series-parallel configurations, this allowed for an incredible array of sounds to be produced from one instrument.
From the very beginning of his musical career, John Lennon was always looking for new sounds to make music. The super-strange look of the Sardonyx probably caught his eye, and he just had to wonder what wonderful sounds he could make with it.
John Lennon picked up a Sardonyx 800 D II while he was living in New York and used the odd guitar on his final solo album Double Fantasy. There are even rumors that he was playing the Sardonyx in the studio on the same day he was killed.
Although there aren't any videos of him playing the Sardonyx, you can see pictures of him with the odd guitar in behind-the-scenes footage from the making of Double Fantasy.
Ovation 1651 Legend
| | |
| --- | --- |
| Finish | Natural |
| Years Used | 1980 |
After the Beatles split up in 1970, John Lennon didn't let that stop him from a lifetime of creating music. He continued to hit the studio hard, pumping out plenty of solo albums and collaborations. After his stint in India and getting more interested in folk and traditional music, many of his songs featured acoustic guitars. For the last few albums of his lifetime, Lennon used an Ovation 1651 Legend to get his acoustic sound.
The Ovation 1651 isn't a particularly "good" guitar by most players' standards. It's actually a budget guitar that can be bought for around $700 today! Although it might be a cheapy, that doesn't mean John Lennon didn't use the guitar to its fullest potential.
Lennon used the Ovation 1651 extensively to record the final albums of his life. If you're not sure why such a legend who could afford any guitar he could ever want would use such a budget guitar, just listen to how it sounds on this acoustic rendition of "Real Love." Its tone works perfectly for the song! Lennon knew a guitar's price tag meant nothing. It's all about finding that perfect sound.
John loved his Ovation 1651 so much that it was even featured on the cover of his posthumous Acoustic album.
1964 Framus 5/024 Hootenanny 12-String
| | |
| --- | --- |
| Finish | Natural |
| Years Used | 1965 to 1970 |
John Lennon's favorite acoustic guitar was and always will be his prized Gibson J-160E, but sometimes, you just need a few extra strings to add some depth to the sound. Occasionally, he would put down the Gibson and pick up a Framus 5/024 Hootenanny 12-string acoustic.
The Framus 5/024 Hootenanny has a spruce top and mahogany back and sides. The 12 strings were held in place with a large rosewood bridge and ran over a rosewood fretboard with pearl dot inlays. It also had a zeroth fret to give it that iconic Beatles "jangly" sound.
John Lennon used his Hootenanny to record popular Beatles songs like "Beatles for Sale," "Help!," and "Rubber Soul." You can even see the guitar in action in the music video for "You've Got to Hide Your Love Away." If you hear a 12-string acoustic in a Beatles song, it's probably Lennon's 1964 Framus.
Table Showing the Guitars John Lennon Played Throughout His Career in Chronological Order
| Make | Model | Color/Finish | Years |
| --- | --- | --- | --- |
| Höfner | 1959 Club 40 126/B | Blonde | 1959 to 1960 |
| Rickenbacker | 325 | Orange/Black | 1960 to 1966 |
| Gibson | 1962/1964 J-160E | Sunburst/Natural | 1962 to 1980 |
| Fender | 1962 Stratocaster | Sonic Blue | 1965 to 1968 |
| Epiphone | 1965 Casino | Natural | 1965 to 1970 |
| Framus | 1964 5/024 Hootenanny 12-String | Natural | 1965 to 1970 |
| Guild | 1966 Starfire XII | Cherry Red | 1966 to 1968 |
| Martin | 1965 D-28 | Natural | 1967 to 1968 |
| Gibson | 1956 Les Paul Jr. | Cherry Red | 1972 |
| Sardonyx | 800 D II | Black | 1980 |
| Ovation | 1651 Legend | Natural | 1980 |
John Lennon Amplifier Overview
Even with the best guitars of the time (and arguably of all time), Lennon still needed some amps to ensure people around the world could hear his history-making music. Like most of the Beatles, Lennon preferred the Vox AC30 early in his career, but he also used several Fender amps over the course of his life.
1962 Vox AC15 Twin
Early in the Beatles' career, they struck up a deal with Vox amplifiers to get free equipment to promote their products. Being a young band, they eagerly accepted the deal. Plus, Vox amps were the best around in the UK at the time.
John Lennon's first Vox was a twin-speaker AC15 with fawn-coloring. The Vox AC15 was a 15-watt combo amplifier that featured two 12" speakers and eight tubes to create that classic Vox (aka. Beatles) sound.
Although it wasn't quite as powerful as George Harrison's AC30, Lennon used his AC15 to provide rhythm for many of the Beatles' early hits like "Love Me Do" and "Please Please Me." In many early videos, it seems like the two Beatles guitarists are playing the same amp, but the AC30 and AC15 are actually the same size and shape, making it hard to tell which is which.
1963 Vox AC50
As the crowds at Beatles concerts got louder and louder, the band needed a bit more power so they could even be heard. At the time, amps weren't as powerful as they are today. 30-watts was about as much as you could get, and more so for British bands who would rely on VOX's AC30 as their top-of-the-line choice. However, that all changed around 1963.
The expert amp-makers at Vox created the brand-new AC50 piggyback unit specifically for the Beatles. Instead of a "measly" 30-watts, these new amps had 50-watts of ear-blowing power—perfect for the Beatles in the middle of Beatlemania.
Both John Lennon and George Harrison were outfitted with brand-new AC50s. The AC50 produced the same iconic "jangly" sound as the AC30, but it was a lot louder. Of course, even that wasn't enough to overpower all the screaming fans. The Beatles and Vox took it up a notch farther with the AC100 (Super Beatle) a few years later.
1967 Fender Twin Reverb
There are two distinct eras of the Beatles' career: early Beatles and late Beatles. In the mid-1960s, the fantastic four went through a "creative" change. They discovered the hippie culture, traveled around, and discovered a new sound. Instead of the "jangly," upbeat tunes of the early '60s, they were now producing more innovative, some might even call them "weird," songs.
Behind that change—aside from a few chemical substances—was the 1967 Fender Twin Reverb. The Twin Reverb has been the go-to for musicians throughout the decades playing rock, blues, and jazz. In 1968 for their very last concert on the roof of Apple headquarters, both John Lennon and George Harrison can be seen playing two Fender Twin Reverb Silverfaces.
Although Fender had been making the Twin Reverb since 1963, the Silverface was a new addition to their amp lineup in 1967. Not only did it have a shiny new silver face, as the name might imply, but it was also packing 100-watts of tube-driven combo power! The Beatles might not have played any concerts after that fateful day on the roof, but the Fender Twin Reverb was ready to overpower any number of screaming fans.
1959 Fender Tweed Virbolux
In 1960, the recently named Beatles scored a residency gig in Hamburg. Wanting to sound like the big rockstars they wanted to be, John, George, and Paul went out to get some new gear. Of course, they didn't have much money yet, so they couldn't get the "best" gear—at least, what they thought wasn't the best gear.
John became the envy of the group when he picked up an American combo: an American guitar with an American amp. He paired his brand-new Rickenbacker 325 to a 1959 Fender Tweed Virbolux. According to an interview with George Harrison, they bought the equipment "on the knocker." Money down and the rest when they catch you!"
Whether he paid it off or not, Lennon used his Fender Tween Vibrolux during the Beatles' residency in Hamburg. Its great sound paired with the Rickenbacker 325 helped give the Beatles the rhythm guitar they needed to make some waves in the music scene and launch their career.
John Lennon Pedals and Effects Overview
Pedals and effects weren't a big thing back in the 1960s. The technology wasn't quite there yet. Most musicians used their amps to create tone, but the Beatles did use a few pedals to add some depth to their songs. Here's a list of the pedals and effects that John Lennon used throughout his career.
WEM Rush Pepbox
The WEM Rush Pepbox was created in 1965 to give guitar players a little bit of crunch or fuzz to their sound. The pedal itself had a metal casing and a single footswitch on the front panel. The tone adjustments were on the front of the pedal and let the player adjust effect (which is basically gain) and level.
John Lennon used a WEM Rush Pepbox when the Beatles were in the Abbey Road studios during the Revolver Session. If you hear a fuzzy tone in the background of "Come Together," it's probably Lennon with his Pepbox.
Dunlop JDF2 Fuzz Face
The Dunlop Fuzz Face was one of the most popular fuzz pedals used in the 1960s. It was most famously used by Jimi Hendrix. Although Hendrix might have shone the spotlight on the pedal, John Lennon also used the pedal in the background to create iconic recordings like the "Let It Be" sessions.
The Dunlop Fuzz Face—originally called the Dallas Arbiter Fuzz Face—is a simple round metal pedal with two-tone adjustment knobs. It let artists adjust the volume and fuzz; what more could you need!? George Harrison also used the Fuzz Face to add a little oomph to his solos and lead parts.
Wrap Up
As a singer-songwriter, Lennon surpassed the various definitions of success and transcended into an exemplary icon. Along with Paul McCartney and over their career, their handwritten songs inspired countless peers and generations to come whilst changing the world forever.
It didn't take long for the Beatles to go from a small-time skiffle group to the biggest rock band on the planet. By 1964, Beatlemania had swept across the globe as the Fab Four made their way on their first U.S. tour.
Over the years, the members of the Beatles grew in different directions, and the band split up. Following the Beatles' split, John Lennon spent a lot of time with his wife Yoko Ono, recording songs, and holding anti-war demonstrations. He was very active in politics and tried his best to push the world toward peace and love.
Unfortunately in 1980, while he was recording his eleventh studio album outside of the Beatles, John Lennon was shot by a deranged fan outside of his Manhattan apartment and was pronounced dead at the hospital later that night. He was cremated, and his ashes were spread throughout Central Park, where the Strawberry Fields memorial now stands.
Although John Lennon's time might have been cut short, he made the most of the time he did have. The impact he had on music and on the world will be felt for generations. He'll easily go down as one of the greatest songwriters of all time. Let us know if you have any questions or comments about the information presented in this article in the comments below.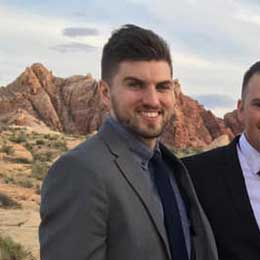 My name is Chris and I've had a passion for music and guitars for as long as I can remember. I started this website with some of my friends who are musicians, music teachers, gear heads, and music enthusiasts so we could provide high-quality guitar and music-related content.
I've been playing guitar since I was 13 years old and am an avid collector. Amps, pedals, guitars, bass, drums, microphones, studio, and recording gear, I love it all.
I was born and raised in Western Pennsylvania. My background is in Electrical Engineering, earning a Bachelor's degree from Youngstown State University. With my engineering experience, I've developed as a designer of guitar amplifiers and effects. A true passion of mine, I've designed, built, and repaired a wide range of guitar amps and electronics. Here at the Guitar Lobby, our aim is to share our passion for Music and gear with the rest of the music community.