Known as the Man in Black, The Outlaw, or even The Last Great American, Johnny Cash outlived his own ethos as one of the most sincere and powerful songwriters of all time. Few figures of the 20th century evoke a remote emotion the way Cash does. At a first glance of his career, his appeal to the downtrodden, poor, and beaten is undisputed given his controversial stance in the late 1960s, he was placed at a unique intersection of Folk music and Rock N' Roll armed with a traditional yet brilliantly original approach to traditional Country music.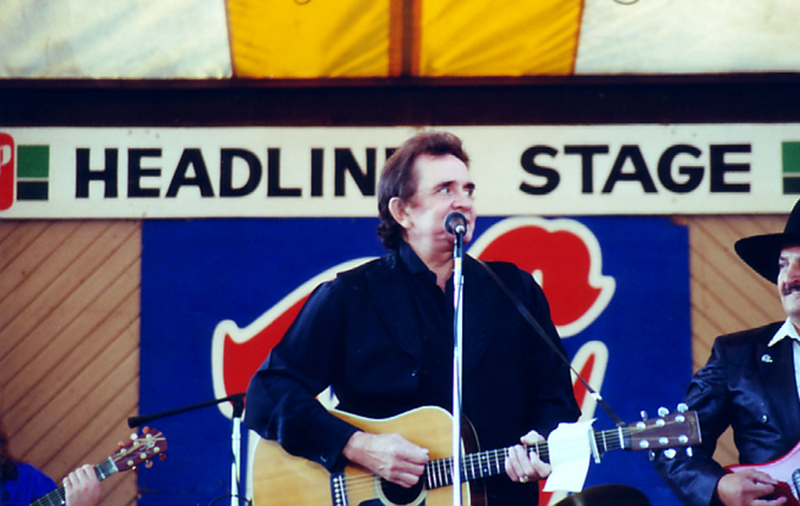 As a musician, Johnny Cash developed his very own strumming technique and movements, but as a performer, he fixated on a tender honesty to his tone and message delivery. Following his passing back in 2003, Johnny Cash's legacy is an abundant catalog of original recordings, and of course his always defiant figure.
What Guitar Did Johnny Cash Play?
Johnny Cash was most known for playing Martin guitars. Notably, he played a D-28 for almost his entire career, while his signature black D-35 and D-42 models became inherent to his name and influence.
See the full list of Johnny Cash guitars and gear below.
Martin D-35 JC

| | |
| --- | --- |
| Finish | Black |
| Years Used | 1982 to 2003 |
Following some of his most memorable performances with his original Martin D-35S, and his reinvented stage and public presence as The Man in Black, Cash took the opportunity to revamp his most trusted instrument into a more suitable version. Back in 1982, Cash had spent a few decades being a Martin champion, prominently in the "Johnny Cash Show". Needless to say, the American manufacturer saw a fit opportunity to honor and further cement their relationship with this man, and make him his first signature model, one that he would use to record and perform some of his most memorable songs on the iconic "American" album series and the larger part of his later career.
The Johnny Cash D-35 was in fact the very first black Martin guitar, painted behind the company's president C. F. Martin III back since he didn't want any of his models to ever be featured in said color. On another hand, the entire specs and features on this model were completely consensual, it sported a D-14 Fret body size and a Solid Engelmann spruce top with solid East Indian rosewood back and sides along an additional solid ebony bridge.
As for the model itself, it had an evidently limited run but it pops back from time to time, and needless to say, it's a sought-after collector's item with an entry value of $5000. The interior label is signed by C.F. "Martin IV & John Carter Cash" since the Man in Black outlived the company's predecessor.
This was Cash's workhorse for over 20 years and well until his final days. Being the natural successor for Johnny's original D-35, this was his primary guitar for the album "Solitary Man" released in 2000, and "American IV" in 2003, arguably his second peak in fame as a living legend that would soon pass on his legacy. It can be seen in the music video for his Nine Inch Nails cover of "Hurt" which re-established Johnny's status into the mainstream.
Additionally to being one of his preferred recording six-strings for his long period as an exclusive studio artist, it was also used for Johnny's final live performance, a 30 minute set in which he performed "Like the 309" and "Understand Your Man," which Cash said he hadn't been played in 25 years, ultimately receiving a standing ovation at the Carter Family Fold in Hiltons, Virginia.
As for the current whereabouts of this legendary D-35, it is currently on display along with the entire Man in Black outfit at the Artist Gallery of the Musical Instrument Museum of Phoenix, Arizona.
Martin D-28

| | |
| --- | --- |
| Finish | Natural |
| Years Used | 1961 to 2003 |
Johnny cash had two of these D-28 models, one of them was used from 1961 all the way through 1982 when he spray-painted it black in an early attempt to keep up with his persona"The Man in Black", even though this guitar would eventually be replaced by a more adequate version, it made a crucial appearance on Cash's career at Folsom Prison, when he blasted the stage sympathizing with the inmates. On another hand, Cash kept another standard D-28 would reportedly become one of his most precious possessions, given its simplicity and connection to " a far simpler time" as described by June Carter.
The Martin D-28 is a legendary guitar, and so it's only fit that Cash used it to smith some of his most renowned work. After World War II, the D-28 was reimagined and crafted with a puritan yet visionary input to its design, it wasn't up until the mid-50s that this centerpiece Martin model would become the workhorse of the emerging folk, and country scenes before taking part in the very first British Invasion with Beatlemania. Made out of sturdy Solid Sitka Spruce with a Solid East Indian Rosewood back the D-28 makes for one of the most enduring six-strings in the industry that's been around for almost a century. Its neck is crafted from select hardwood with a solid Ebony fingerboard. Johnny's most treasured D-28 had the serial number 291114.
There are more than a few albums Cash used this guitar in, some of them include more iconic and defining such as "I Walk the Line" in 1964, "Orange Blossom Special ",1965, and "The Man in Black" in 1971. However, it was also a quintessential tool for his venture into derivate genres, for one there are the 1980s "Rockabilly Blues".
After extensive touring in 1971 in the US and abroad, Johnny Cash would take long vacations and hiatuses from his life as a star. His biography covered his intimate relationship with this Martin, claiming that he named this particular six-string as the "Bon Aqua", after Cash's 100-acre farm near Bon Aqua, Tennessee, where it was kept for his personal use. Cash would visit his farm alone as he wrote in his autobiography to "cook my own food, read my own books, tend my garden, etc". As such, Johnny kept this retirement ritual a faithful practice in his life, playing nothing but this D-28 during those times, keeping it as his main songwriting tool for the last 30 years or so of his life. Cash also claimed that this particular guitar came to be more intimately connected to him than the plethora of over 100 guitars that came and went through his hands on the road during his career.
Soon after his passing, this relic piece was sold to Sharon Graves, of Grand Island who along with her husband shared a fair collection of Johnny Cash memorabilia and would from time to time give their guitars for exhibition to several museums.
Martin D-35S
| | |
| --- | --- |
| Finish | Natural |
| Years Used | 1968 to 1982/2003 |
This customized issue of the Martin D-35 is arguably the ultimate piece on Johnny Cash's catalog, it was the most recurring guitar that Johnny would jump on stage with from 1969 to 1971 for his primetime network show dubbed "The Johnny Cash Show". Needless to say, it would become a rather familiar sight to millions of viewers across America. This was the one six-string in which Cash would transition into the ever-iconic "Man in Black" on February 16th, 1971 when the protest song debuted on Nashville's Columbia Studios. Furthermore, this D-35S would see Cash flirting with other styles in his music, be it rockabilly, Rock N' Roll, or Gospel, this particular guitar helped the man to pioneer the genre that perhaps defined him the most, outlaw country.
The Martin D-35S was made under special order, and what really made it stand out from the standard issues of the model was its sparkling pearl binding and Cash's specified acorn-and-leaves inlays across the fretboard. Other than its distinguished panache this D-35 follows its regular craftsmanship with a top of select Sitka spruce and its iconic East Indian rosewood three-piece back. Its tonewood is focused on top-of-the-line playability and sound projection, two features that caught Johnny's attention back in the day.
Johnny lived the height and descend of his career with this as one of his most reliable six-strings. For nearly two decades, this guitar was used to record over twenty studio albums, one of them being the legendary "Live at San Quentin" back in 1969 when Cash visited yet another notable prison to entertain the inmates. While this guitar is appointed as one that never left rotation, its presence on stage would slowly diminish, given the introduction of its successor, the Johnny Cash Signature D-35 painted of course, with a coat of black.
Nevertheless, it's fair to note that this Martin guitar also accompanied Cash's heated exit from Columbia Records as The Man in Black outlawed himself from labels, from that point on, he would rely mainly on his larger-than-life performance for recording and distributing. It would even be featured in a few collaborations with Tom Petty, and Willie Nelson, at that point Johnny was a living legend, and would eventually join forces with producer Rick Rubin, who encouraged him to pick up some of his older, more natural models for his "American Recordings".
After Johnny's passing in 2003, the Cash-Carter estate put this six-string on display at the Johnny Cash Museum in Nashville, Tennessee.
Höfner Congress

| | |
| --- | --- |
| Finish  | Natural Sunburst |
| Years Used | 1950 to 1959 |
Originally acquired in Germany while stationed with the U.S Air Force, Johnny Cash got himself this Höfner Congress Archtop in Öberammergau for a little less than $5. Soon after, Cash would spend his free time forming ragtag bands, playing along with other musical servicemen in his base where he would remain stationed until 1954. During this time, Johnny Cash would start writing songs on his very first own guitar, including early versions of his iconic "Folsom Prison Blues" and even the breakthrough hit "I Walk the Line". Needless to say, Cash brought his Höfner Congress home after his service was over, soon after he'd meet longtime friend and bass player, Marshall Grant, with whom he'd found the Tennessee Three and eventually, sign with Sun Records while the rest is history.
The Hofner Congress was a very simplistic European approach to archtop guitars, focusing resonance in a rather traditional way through two F-holes on a superior acoustic level, this particular model had a wonderfully balanced treble and bass sound. It was made out of plain Maple Veneer for both the top, back, and sides.
This particular archtop model served Cash well for almost a decade, he saw a relative rise to fame after recording his first single "Cry Cry Cry!" and subsequently "Hey Porter" which made enough noise to gain some traction for the Tennessee Three. Eventually, the Congress would even record " Johnny Cash with His Hot and Blue Guitar!" which included the No 1 hit "I Walk the Line" and the controversial "Folsom Prison Blues".
After fame brought some money, Johnny would switch to a Gibson J-200 as a main, nevertheless, he kept his very first guitar in rotation until it was eventually retired. Whatever happened to it remains somewhat unclear, but it's speculated that it was kept at his estate in Bon Aqua Tennessee.
Martin D-42JC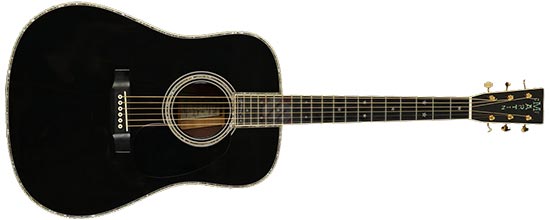 | | |
| --- | --- |
| Finish | Black |
| Years Used | 1997 to 2003 |
One of the rarest guitars ever handcrafted by Martin, it was made to commemorate Cash's tenure with the American company back in 1997 with a very exclusive run of only 80 issues offered across the entire country. While this upgraded version from his original signature the D-35 and blueprint model D-28, this tailored made six-string was not among Johnny's most frequented instruments, as he had reached an age and point in his career where he preferred to stick to his originals.
Often confused with other signature black Martin's the only cosmetic difference that sets the D-42JC apart from the D-35 is its ornamented bindings and golden tuning pegs. Furthermore, it embodies a more complex handcraft of varied solid woods with East Indian Rosewood as the main material. Its neck on another hand was completely inspired by Martin's D-45, while the fingerboard is genuine ebony and is inlaid with abalone stars, delicately bordered with mother of pearl.
It is known that Johnny used a broad arsenal during his time recording with Rick Rubin, it was during this final period of his career that mostly employed the D-42JC, it can be heard in his rendition of Depeche Mode's "Personal Jesus". This is easily one of the most iconic Johnny Cash guitars of all time.
Fender Kingman

| | |
| --- | --- |
| Finish | Black |
| Years Used | 1966 to 1969 |
The Fender Kingman became a rather popular guitar in the late 60s, especially among household names of the likes of Elvis Presley, Ray Davies, Robbie Robertson, and eventually, Johnny Cash. The legend suggests that the story of how Cash met the Kingman in fact has a lot to do with "The King of Rock N' Roll" himself since Johnny crossed paths several times with Elvis and considered him a friend, The Man in Black also shared in various interviews that both artists held a lot of respect for each other's work. Eventually, years after "sharing a good time" with the Million Dollar Quartet (Presley, Cash, Lewis, and Carl Perkins) their initial collaboration in 1956, Elvis encouraged Johnny to try a few of his guitars. With his natural country orientation, Cash was drawn to the original version of the King, before getting a 1966 Kingman for himself.
Originally dubbed "The King" this was the top of Fender's nascent acoustic guitar line introduced in the latter half of 1963, subsequently discontinued and reintroduced in 1966 as the now known, Kingman. Given its very limited run it was a rather hard find in the market, so a few models were issued to notorious artists. The Kingman was an experimental approach to dreadnought acoustic guitars, it meshed a highly-playable neck more akin to a Fender electric attached to a standard-sized acoustic body. While some praised this "experiment"-Presley who made it popular, and Dylan bolstering its notoriety in the booming folk scene- others regarded it as simply disastrous.
While this particular guitar might not be the most notorious piece on Cash's catalog it certainly was a key instrument during the height of his career from 1966 and onwards. It was one of his main choices for big venues, gigs, and TV appearances, some suggest his attraction to this particular Fender might have been for its unusual black finish, which was a rather strange thing for the 60s. Some of Johnny's most notorious appearances with the Kingman was at his big comeback to the Grand Ole Opry in 1968.
Johnny Cash kept using his Fender Kingman for a few years after his appearance at the Grand Ole Opry, but he slowly grew out it as he would retire it over time and completely replace it for a broader selection of Martin models.
Gibson J-200
| | |
| --- | --- |
| Finish | Cherry Sunburst |
| Years Used | 1958 to 1962 |
The Gibson J-200 was a sign that you had made it big in the world of country music in the '50s and 60's and Johnny Cash had done just that after debuting with his breakthrough hit No 1 "I Walk the Line" in 1957 and its Billboard enduring parent album "Johnny Cash with His Hot and Blue Guitar". This originally folk meant Gibson followed his Höfner Congress as his main, and soon he'd become closely associated to his oddly looking trademarked J-200.
Johnny's J-200 was made in 1958 and had a cherry-burst finish. The guitar itself had two black batwing pickguards that went around the soundhole, but Cash went the extra mile having his name engraved on the fretboard, making for a remarkably unique instrument. The particular thing about the 1958 J-200s was that this was the year when Gibson enabled their customers to personalize their guitars, for one a widely popular custom feature during this year of production was in fact the full body pickguard.
Made out of flamed maple for its entire body, and Brazilian Rosewood fretboards made this Gibson model one of the most fashionable guitars at the time. Some extra features included the first inclusion of Grover tuners in Gibson designs, and in Cash's case as it is largely similar to most J-200 issues of 58, golden plated hardware.
Some albums he used this guitar on were "The Fabulous Johnny Cash" in 1958, "Hymns by Johnny Cash" in 1959, nevertheless, this guitar wouldn't receive massive exposure given its short-lived time, soon to be replaced by a broad variety of Martin models.
Gibson "June Pride" Hummingbird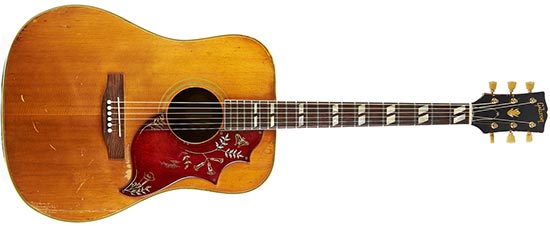 | | |
| --- | --- |
| Finish | Natural |
| Years Used | 1967 to 2003 |
Although this guitar did not belong to Johnny Cash, it takes an important place in his catalog and career. This particular historical Gibson belonged to Johnny's wife, June Carter, initially, she acquired it when looking for a more distinctive and organic sound to replace her original ES-125, which she used to be heard over the band. The Hummingbird would be microphoned and Carter would become a relentless player and singer along with her husband.
The Gibson Hummingbird is a Sitka Spruce top with mahogany back and sides piece of craftsmanship that's been around since 1960, it was one of the first Gibson acoustics to feature a Rosewood fingerboard.
Some of the couples' live appearances would include them sharing this guitar back and forth on stage, with sometimes Johnny slinging while dueting with June, and many other times vice-versa. Nevertheless, it's fair to note that Cash playing this Hummingbird was something of a rare sight, since this guitar would only appear if June did, and after their children were born, this became more unusual.
Timetable Showing Each Guitar Johnny Cash Played Throughout His Career
| Make | Model | Color/Finish | Years |
| --- | --- | --- | --- |
| Höfner | Congress | Natural Sunburst | 1950 to 1959 |
| Gibson | J-200 | Cherry Sunburst | 1958 to 1962 |
| Martin | D-28 | Natural | 1961 to 2003 |
| Fender | Kingman | Black | 1966 to 1969 |
| Gibson | "June Pride" Hummingbird | Natural | 1967 to 2003 |
| Martin | D-35S | Natural | 1968 to 1982/2003 |
| Martin | D-35 JC | Black | 1982 to 2003 |
| Martin | D-42JC | Black | 1997 to 2003 |
Johnny Cash Amps Overview
While Johnny Cash himself relied mainly on his voice, usually completely acoustic guitars and whatever backline his venues provided for him, usually as detailed by his longtime bandmate and guitarist, Luther Perkins. His backing band used Fender Tweeds for the larger part of the 60s and Fender Deluxe Reverb Blackface amps.
Wrap Up
After a few years stationed in Germany with the U.S Air Force, Johnny Cash had returned home to his new wife and aspirations to become a country musician. Cash finally landed an audition with Sun Records and its founder, Sam Phillips, in 1955. Initially, Cash presented himself as a gospel singer, just to be turned down by the label. Phillips asked him to come back with something more commercial. But Johnny returned with "Hey Porter," and an early version of "Folsom Prison Blues" which immediately caught Phillips' ear. Soon, Cash released "Cry Cry Cry" and "Hey Porter" as his official debut as a Sun Records artist.
As history goes, Phillips billed Cash as "Johnny," which upset the singer because he felt it sounded too young; the record producer also dubbed Perkins and Grant as the Tennessee Two, but soon enough they would transition into the Tennessee Three. Garnering early success in 1955, and with a foot into the country charts at number 14. Cash withdrew to a spot on The Louisiana Hayride, where he stayed for nearly a year to work and further develop his musical talents, before releasing his long-postponed charted single, "Folsom Prison Blues," which smashed through the country Top Five charts in early 1956 only to be reinforced by his legendary tune, "I Walk the Line," which remained at number one for six weeks and crossed over into the pop Top 20.
Success and turmoil followed Cash as he would transition into various eras of his career, but so when it seemed that Country music was having a fallout, Johnny Cash and his relentless personality managed to stay afloat. Needless to say, the man would become the legend we know today staying atop of his game through hardship and spring, as the 20th century came to a closure, Cash became a sought after name amongst artists of diverse genres and upbringings, all of whom he had inspired with his work.
Known for his larger-than-life figure, Johnny Cash pushed the boundaries and defied the Country genre even while remaining as a dominant and influential personality within it. Embodying the spirit of the outlawed American, Cash could be even heavier and tougher than any emerging rock band, armed with nothing but his voice and acoustic guitar.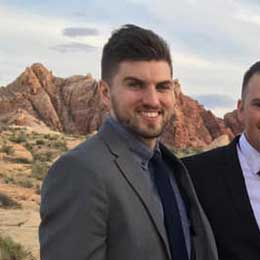 My name is Chris and I've had a passion for music and guitars for as long as I can remember. I started this website with some of my friends who are musicians, music teachers, gear heads, and music enthusiasts so we could provide high-quality guitar and music-related content.
I've been playing guitar since I was 13 years old and am an avid collector. Amps, pedals, guitars, bass, drums, microphones, studio, and recording gear, I love it all.
I was born and raised in Western Pennsylvania. My background is in Electrical Engineering, earning a Bachelor's degree from Youngstown State University. With my engineering experience, I've developed as a designer of guitar amplifiers and effects. A true passion of mine, I've designed, built, and repaired a wide range of guitar amps and electronics. Here at the Guitar Lobby, our aim is to share our passion for Music and gear with the rest of the music community.