Carlos Santana is a transcending influential figure in the music industry, and his sound is almost as iconic as the voice of some of the most recognized singers, with a unique culturally groundbreaking style that goes only under his signature. Carlos rose to fame with his Latin-infused rock band Santana in the late 1960s, and he was crucial in bringing Latin-American music to the world stage. He's known for fusing "unusual" instruments into the Rock 'n' Roll genre, and he often including timbales and congas into his music, to establish a new fusion genre that became synonymous with Psychedelia in the late 60s and early 1970s.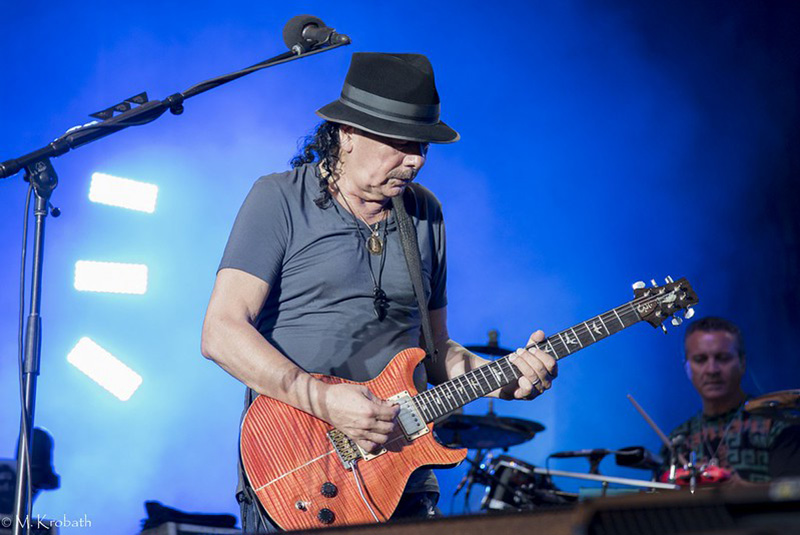 It wasn't until 1999 when Santana recorded "Smooth" with singer Rob Thomas that he yet again achieved massive popularity and stayed as the #1 single on the Billboard Hot 100 for twelve weeks. Amassing many more hits, Santana is recognized on the list of the "100 Greatest Guitarists of All Time" and became inducted to the International Latin Music Hall of Fame.
What Guitar Does Carlos Santana Play?
Carlos Santana plays custom-made Paul Reed Smith guitars. The Santana PRS Signature line has gone through a wide range of specs and color variations throughout the years, but it's always suited the needs of Santana's playing style and incredible tone throughout the years.
See the full list of Carlos Santana guitars and gear below.
PRS Santana I/ PRS Supernatural


| | |
| --- | --- |
| Finish | Santana Yellow Top/Supernatural Red |
| Years Used | 1982 to 2000/ 1995 to Present |
The relationship between Paul Reed Smith and Santana is quite extraordinary, and the two of them share a bond that goes back to the late 70s. Paul Reed Smith was a young craftsman at the time he approached Santana with a guitar at the Merriweather Post Pavilion. When Paul tried to approach him with his guitar, he ended up showing the six-string to Santana's roadie.
Even before Paul Reed Smith approached Santana, he was already making his name as a custom guitar maker. He had made guitars for guitarists like Al Dimeola, Ted Nugent, and Howard Leese. The initial instrument that he showed Santana was a mahogany body with P90 pickups. Santana was initially very impressed with the feedback coming from it, and the fact that every note really sang on it. But he was still reluctant about Paul as a luthier, besides his already ongoing relationship with Yamaha. Regardless, Paul was given another chance under some requested modifications.
Santana requested a tremolo system with a Stars bridge, locking tuners, and Seymour Duncan pickups. Carlos also specified 24 frets instead of 22, and all these mods lead to the creation of the very first Santana signature model – The PRS Santana I, a unique guitar that started a long fruitful relationship between the two of them, its also fair to note that Carlos refers to this six-string as "an accident of god". The 24 frets allow him to play all four octaves and give him massive creative freedom on the fretboard.
The mahogany body with curly Maple top was one of the things Carlos loved the most from his first PRS model, ever since then, it remained as the main characteristic of the signature line. It provides a beautiful deep, woody tone and long sustain that makes PRS stand among other electric guitars. When Santana got the second revised guitar from Paul, he instantly fell in love with it, and PRS guitars are all that he plays ever since then. This special guitar remained Santana's personal custom for many years until the mid 90s, and this model was only offered from 1995 to 1998. By the 2000s, this original Santana custom guitar got the name of PRS Santana I.
There is one quintessential Santana I model, known as the "Supernatural" red PRS, although it's a tad of a mystery when it was precisely conceived, the red variation has maintained its rightful spot in Carlos' repertoire. The reason behind this is rather simple, it was the guitar that Santana used when he returned to the mainstream stage and truly acquired a legendary status back in 1998-1999. As a clear example, it was the guitar he used when he started his collaborations with post-grunge stars such as Rob Thomas from Matchbox 20. Additionally, he recorded the Grammy-winning single "Smooth" with it and it makes an appearance on the music video along with some of its siblings as well.
There are few original models he still uses on stage, nevertheless, their seminal status is more than clear when it comes to live performances.
PRS 25th Anniversary Santana model

| | |
| --- | --- |
| Finish | Red/Emerald Green |
| Years Used | 2009 to Present |
The Santana MD model was a huge success, and it had everything that Santana requested in one guitar. Despite its raging popularity, it was only sold for 18 months in 2009, and PRS announced a brand new model, which was the PRS 25th Anniversary Santana model. The 25th Anniversary model was a culmination of many features of the MD model and even more upgrades.
Some features that were kept from the previous models are the neck profile and the body material, as Santana guitars are known for their "Santana wide fat" neck, It's also the same body material – all-mahogany body with carved flame Maple top and Abalone Purfling. The electronics and the hardware is pretty much the same as the MD model.
The differences are there but they are not groundbreaking new features. The radius changed from 11.5'' to a sharply curved 10'' radius on the 25th Anniversary and the selection of colors and finishes. PRS also took out the "multidimensional" circuitry or the Strat-like tone switch and went back to the original setup. Because the differences are pretty subtle, the PRS 25th Anniversary model can be seen as more of a collector's item rather than a touring/gigging guitar.
PRS Santana II


| | |
| --- | --- |
| Finish | Santana Yellow/ Natural Lacquer Top/ Red |
| Years Used | 2002 to Present |
The Santana I model became a very rare commodity after being only sold for 3 years (1995-1998), and it left the guitar players and fans wanting more. By this time, Carlos Santana and PRS were inseparable, and the two of them thought they could release another signature model. They tried to upgrade the Santana I model in various ways, and the upgrade also led the price to double as well. The price point went from $4000-$5000 to $7000-$8000 for Santana II guitar. Now let's look at some of the upgrades on the Santana II.
First off, they made the top of the body much fancier. The previous version had the curly Maple top, and now they used Carved Artist Grade flamed maple top. Inlays also got fancier – with high-gloss Rosewood overlay on the headstock.
The Santana II comes with an unusually thick neck, and it's so thick that PRS labels it "Santana wide fat". The wide fat neck has a radius of 11.5'', and it's even described as a "baseball bat" by some players. Santana seems to prefer very thick necks, and it'll definitely allow players to get a thick, and creamy tone with lots of sustain. The thick neck also helps with the prevention of tendonitis and other RSI conditions because it forces the left hand to stay in an open position.
The Santana I model was only offered in "Santana Yellow" color, but the Santana II was offered in over 20 finishes at the time, which was a huge upgrade in terms of looks. The hardware was also upgraded. While the Santana I only had 2-mini-toggle switches to alter between the neck and bridge pickup the Santana II marked a new standard with a 3-way toggle switch. The pickups on this guitar are also unique, in that one is a bass pickup. Santana II came with Santana Zebra Bobbin treble and bass humbuckers.
It's fair to note that some special versions and finishes were issued to Carlos, most noticeably there's his Emerald Green II, which he used a few years ago to dictate his online Masterclass on guitar. Needless to say, he keeps some of these second renditions of his signature line as mainstays on stage.
1961/62 Gibson SG Special

| | |
| --- | --- |
| Finish | Cherry Red |
| Years Used | 1969 to 1970 |
After wearing out the paint on his 1950s Gibson Les Paul Special and playing the hell out of that special edition six-string, Carlos Santana played the 1961 Gibson SG Special. It became fairly iconic after the famous performance at the Woodstock Festival in August of 1969.
As a very natural progression from his 1950s Les Paul Special, given the fact that Gibson made this SG model as an upgraded successor from the LP. It was intended as an effort from Gibson to create an affordable and popular version of the classic Les Paul, given the body departure from the name. It's also worth noting the fact that Fender was becoming rather popular with the Stratocaster, which bolstered Gibson into investing in their very own double cutaway model.
This particular gem of a guitar features a bright cherry red finish and an all-mahogany body with a Brazilian rosewood fingerboard. The pickups are the classic Gibson P90 single-coil pickups, and the hardware remains the same – ABR-1 Tune-o-matic bridge with wrap-around stop-tailpiece and a set of Grover tuners, just as the Les Paul Special. Santana also kept the VMA-1 version of the Maestro tremolo bar on the 1961/62 Gibson SG. While he kept the back tremolo bar to balance the weight of the guitar and add more sustain, it would eventually be removed.
Sadly, this guitar was short-lived in Santana's hands, and he eventually moved on to play a black SG Special with white P90s in 1970 before switching them for humbuckers. The story goes that Carlos destroyed this precious instrument because the guitar didn't stay in tune very well. Even though Santana only played this guitar for a very brief period of time, it became one of his most iconic pieces of catalog after his immortal performance at the 1969 Woodstock Festival.
PRS Santana MD

| | |
| --- | --- |
| Finish | Yellow/Red/Emerald Green |
| Years Used | 2008 to Present |
The PRS Santana MD is sort of like a special edition guitar from Santana and the PRS team. After PRS and Santana having a tight relationship for two decades and producing three special models over the years, they have accumulated so much information and know-how over the years. MD Guitar is an accumulation of all that knowledge and features some of their favorite features from all the previous versions. MD stands for "Multi-Dimensional" and it's designed to be versatile and the amount of tones you can achieve from this guitar is jaw-dropping.
The Santana II and Santana III came with a 3-way pickup selector switch that allowed for a very versatile set of playing and tone combinations. And on top of the volume and tone knobs, with a new feature – the "Mastering Voice Control". This control is basically a mini-toggle that is placed between the tone and the volume knobs. When you flip the switch, you can achieve a Strat-like '60s tone. And having this option gives the players so much more possibilities in terms of sound. Early versions of the MD were issued with a knob on the switch instead of the traditional toggle. In fact, Carlos removed the caps on his personal versions.
Other than this, the classic Santana signature setup remained on this guitar. The PRS Santana MD comes with a "wide fat" neck shape, all-Mahogany body, carved flame maple top, and Rosewood fretboard. It also has an upgraded version of the inlays, and they've added outlines to the Abalone bird-shaped inlays on the fretboard.
Other features on the guitar are pretty much kept the same, except the placement of the volume and tone knobs. Because of the newly added mini-toggle switch, the tone and volume knobs are spread apart, and the mini-toggle switch is placed in-between the two knobs. Carlos and PRS spent two years making this guitar, and it was inspired by a Stratocaster that Santana used before taking on the big stage. The PRS Santana MD is on the guitar rack and you can expect it to be in his rotation and regularly played by Carlos.
1950s Gibson Les Paul Special

| | |
| --- | --- |
| Finish | TV Yellow |
| Years Used | 1969 |
This was one of the early guitars that we can find on Santana, and you can see him playing this guitar live on stage in his younger days. Carlos Santa used this guitar to record his early music, like his first album and it seems Santana owned the Les Special with the TV Yellow finish, as well as the traditional P90 pickups and the Maestro tremolo attached to it.
The Gibson Les Paul Special was a special model from Gibson that was meant to be targeting low-budget customers and it was almost a precursor to the famous Gibson SG. From the looks of it, the Gibson Les Paul Special almost looks like a little toy guitar with its tiny body compared to a full-sized Les Paul. When this guitar was first out in the world, Gibson added a finish that would look great on a black and white TV at the time, and from the picture, we can see that Carlos owns the really early version of the guitar, probably the 1955 OG version with original TV Yellow finish. In 1958, the model went through a major change, and the single-cut eventually evolved into a double-cut model, which probably became the Gibson SG in the future.
By the end of 1969, documents and pictures show that Santana's Les Paul Special's original finish and its paints were all stripped down, and the Maestro tremolo bar was also removed from the body, only leaving the visible screw holes on the guitar. We can find his missing Maestro tremolo bar in his other SG guitars in the future. Now, we don't know the exact reasons why Santana bought this unique affordable guitar at the time, maybe it was because he did not have much money at the time. But for the brief moment that Santana owned and played this guitar, the 1950s Gibson Les Paul Special was very much worn out and damaged during the time that he spent playing this guitar.
Gibson SG Special

| | |
| --- | --- |
| Finish | Black |
| Years Used | 1972 to 1973 |
Looking at his earlier guitars, we can safely assume that Carlos still hasn't found "the one" and he's working through multiple versions of SG to find his special guitar. Now, this variant is a little different from his 1960s Gibson Specials. This particular version of SG has humbuckers installed on them, and the original version came with the factory-default P90s, but Santana personally modified the guitar and installed humbuckers on it.
This model appeared made its debut back in 1972, and while the legend suggests that it's the same SG Special model, transformed into a more standard version, it's hard to say for sure. However, in 1973, Santana made an appearance with yet another SG – this time with a white one. There is a possibility that this white SG was the final version of Santana's evolution with the model, and at this point, Santana seemed to have explored all options before ultimately retiring them, and moving on to a couple of Les Pauls he would often share with his band.
1960s Les Paul Standard

| | |
| --- | --- |
| Finish | Cherry Burst |
| Years Used | 1970 to 1977 |
In the 1970s, Carlos Santana moved on to Gibson Les Pauls after a decade of playing exclusively on scaled-down Special models. But after entering a new decade, Santana and his bandmates got themselves a couple of Standard and Custom models, and since then they found a match to further explore their sound. Fairly enough, the Les Paul has been a preferred model among salsa, mambo, and other Latin music genres for guitar given their full body and controlled treble sound. Carlos Santana can be seen playing this guitar around 1970/71 for live performances noticeably their 1971 Montreux performance.
It is believed that Santana didn't do much recording with this guitar, and he probably just played live shows with it as he would eventually switch to his notorious sunburst Custom Les Paul. Nevertheless, this piece served him well during his early years. Sporting an all-mahogany solid body with AA figured maple top, and a slim taper 60's style mahogany neck with a rosewood fingerboard with trapezoid inlays. The hardware on this guitar is the classic Tune-o-matic bridge with a stop bar tailpiece and a set of Grover Rotomatic "Kidney" tuners. The pickups on this guitar are most likely the default – which were the Burstbucker 61R for the neck and Burstbucker 61T for the bridge.
It's fair to note, however, that rather than retiring this particular Les Paul both Carlos and his band kept it as a regular rotatory piece.
1968 Gibson Les Paul Custom

| | |
| --- | --- |
| Finish  | Sunburst |
| Years Used | 1971 to 1973 |

The 1968 Gibson Les Paul Custom was Santana's go-to guitar for very much of the early 1970s. This was his most widely used variation of the model, as it saw non-stop action during three consecutive albums between 1971 and 1973, and many live shows as well.

This 1968 Les Paul took on a large role before Santana's PRS days, being used in essentially every iconic tune such as "Black Magic Woman/Gypsy Queen" and "Oye Como Va" all recorded with this guitar. This was according to Carlos a "spiritual guitar", crucial in getting his fiery lead guitar tone for over a decade.

Santana bought this guitar in 1970, at a place called Prune Music in San Francisco. He says in an interview with Guitar Player Magazine, "This guitar was my main workhorse for at least seven albums. It's got the tone, the feel. You grab it and it's ready to go." This guitar is probably a late '60s model of the Gibson Les Paul Custom, and it's been his main go-to guitar in the early 70s up until the 80s when it would start rotating with his Yamaha models before being retired.
Yamaha SG-2000

| | |
| --- | --- |
| Finish | Natural with Custom Artwork/Black/ Sunburst |
| Years Used | 1976 to 1982 |
During the mid-to-late 70s, Carlos Santana was looking very pleased with the performing sound of a rather strange-looking guitar when he jumped on stage. This was a period of Santana's career where he experienced a huge boost in popularity and had so much success with his studio installment, "Abraxas". After receiving so much love from the general public, Carlos decided to explore more of what he was really passionate about. He had entered yet another experimental phase in his career when jazz became yet another additive to his already condensed sound. He started to steer further away from mainstream rock music, and all the while this was happening, Carlos was reportedly "still looking for his perfect guitar sound".
By the mid-70s, an innovative company called Yamaha approached Santana with their all-new Yamaha SG-175, hoping to land an endorsement deal with the world-famous guitarist. Now, we have to keep in mind that Santana was very ahead of the curve, and was very particular about the tone and sound that he was looking for in his guitar.
After Santana agreed to try out the new model, he made a list of all the things he disliked about the guitar. The revisions included the weight being too light, lacking enough sustain, and he wanted a 24 fret neck instead of a 22 neck. For a while, Santana continued to add revisions and modifications to the model. Some changes included neck-through-body design, T-Cross construction (the process of two pieces of mahogany going through the whole width of the guitar), and changing the hardware to brass. There was also a sustain plate that was added under the bridge, and Santana requested OPG-1 Alnico V pickups on the guitar.
After going through all these changes, Carlos was issued the Yamaha SG-2000 which he sorted for a couple of years, from 1976 all the way up to 1982. The visual aspect of the guitar was also pretty unconventional – it had a dark natural finish, custom Buddha headstock inlays, and body decals. Carlos seemed pretty satisfied with the final prototype of the Yamaha SG-2000 because he used this guitar almost exclusively for his even more "experimental" period.
PRS Santana III

| | |
| --- | --- |
| Finish | Santana Yellow/Red/ Black |
| Years Used | 2000 to 2008 |
The third addition to Santana's signature collection was a much more affordable version that shared many similar features to the Santana II. Becoming a more accessible entry for aspiring musicians. The body shape and the general look are quite similar to its forbears from the double-cutaway solid body shape to the headstock shape. To reduce the price, PRS removed some of the fancy visuals like Abalone Purfling on the top or Rosewood overlay on the headstock. The top, on the other hand, lacks the visible flamed grain on the top, it was still made with the same standard of maple on a mahogany body.
And to appeal to the general public, PRS negotiated with Santana on reducing the neck size and got it down to more standard 10'' curvature. But it's on the wider side compared to other guitar necks, and it's still labeled as "Santana wide fat" neck. The fretboard went from Brazilian Rosewood to East Indian Rosewood. This was also to reduce the price, and East Indian Rosewood is generally more available and less expensive than Brazilian Rosewood. The pickups are pretty similar as well, and they just changed the name to "Santana III's" from "Zebra bobbins" or "Zebra coils". Santana III is basically a cheaper version of Santana II in many ways, and it still retains many of the qualities that Santana II had.
Nittono Model-T Jazz Nylon
| | |
| --- | --- |
| Finish | Natural |
| Years Used | 2003 to Present |
The Nittono Model-T Jazz Nylon is more than just a rare find in the market, it is also a very special piece to Carlos. Toru Nittono is a Japanese master luthier/craftsman, and he's been making guitars since the 1970s. After moving to LA in 1981, he's been known as one of the top artisans who has crafted and repaired guitars for legends like Tom Petty, Robben Ford, Ted Greene, and Santana. His most well-known guitar is his signature "Model-T" series, and they are basically right in between acoustic and electric.
His unique boutique status and seal means that it often takes over a year to produce one single guitar. It perfectly suits Santana's playing, as every single note on this guitar sings with clarity. The Nittono Model-T Jazz Nylon has been Santana's main acoustic from when he got the instrument in the 2000s.
The body is made with Spruce Arched Top and Mahogany on the back, and the top is finished carved Spruce. The neck is also made of Mahogany and the fretboard and the bridge is finished with Ebony. Santana's version of this guitar has a natural finish and sports a black pickguard. He also uses LR Baggs T-Bridge saddle pickup and a custom pre-amp to control the output. Overall, it's a gorgeous and luxurious boutique instrument that evenly matches a legendary guitarist like Santana.
Alvarez Yairi CY127CE

| | |
| --- | --- |
| Finish | Natural |
| Years Used | Unspecified to 2004 |
The Alvarez Yairi CY127CE was the go-to acoustic choice for Santana before he got his Nittono Model-T Jazz Nylon and you can actually find Carlos with this guitar on his famous hit single "Maria, Maria"s music video. This guitar is also pretty rare to find, given it was specially crafted for Carlos himself. This Alvarez Yairi was handcrafted in a remote Japanese mountain village by master luthier Kazuo Yairi. He is known to use only the finest quality woods and uses natural processes for creating his guitar. Some unique features might be that Kazuo used hand-sanded bracing and it has unusual dovetail neck joints with bridge and neck design.
The CE stands for classic-electric and this guitar has double bound 2-¾ inches to 3-¼ inches body depth and has a rounded single cutaway shape. The guitar body consists of a solid cedar top, rosewood back and sides, mahogany neck with ebony fretboards and has 19 frets in total. The pickups are factory-installed with an Alvarez natural response pickup system with pop-up volume, bass, and treble controls.
Timetable Showing the Guitars Carlos Santana Played at Each Point of His Career
| Make | Model | Color/Finish | Years |
| --- | --- | --- | --- |
| Alvarez Yairi | CY127CE | Natural | Unspecified to 2004 |
| Gibson | 1950s Les Paul Special | TV Yellow | 1969 |
| Gibson | 1961/62 SG Special | Cherry Red | 1969 to 1970 |
| Gibson | Les Paul Standard | Cherry Burst | 1970 to 1977 |
| Gibson | 1968 Les Paul Custom | Sunburst | 1971 to 1973 |
| Gibson | SG Special | Black | 1972 to 1973 |
| Yamaha | SG-2000 | Natural with Custom Artwork/Black/ Sunburst | 1976 to 1982 |
| PRS | Santana I/Supernatural | Santana Yellow/Supernatural Red | 1982 to 2000/ 1995 to Present |
| PRS | Santana III | Santana Yellow/Red/ Black | 2000 to 2008 |
| PRS | Santana II | Santana Yellow/ Natural Lacquer Top/ Red | 2002 to Present |
| Nittono | Model-T Jazz Nylon | Natural | 2003 to Present |
| PRS | Santana MD | Yellow/Red/Emerald Green | 2008 to Present |
| PRS | 25th Anniversary Santana | Red/Emerald Green | 2009 to Present |
Carlos Santana Amps Overview
Fender Twin Reverb
Years Used: 1969 to 1970
This was one of the earliest amps that Santana used, and we know that Santana had multiple Twin Reverb amps that used to record his first two records. The Fender Twin Reverb is one of the most widely used by guitarists around the world, and this iconic amp has been in the spotlight since the 1960s. For jazz, rock, blues, or country guitarists, this amp has been the holy grail of amps for a long time. With the Twin Reverb, you can get a timeless tube amp tone that is full of harmonics and full-throated.
Gallien-Krueger GMT
Years Used: 1969
The Gallien-Krueger GMT 226A was the famous amp that Santana took to Woodstock, and at the time it was just a local amp that was made by Robert Gallien. The story goes that in 1968, an engineer named Robert Gallien had just made an amplifier in his garage, and he had brought his newly-made amp to a local music store. On the same day, a local club musician named Carlos Santana walked into the same music store and ended up taking this amp to Woodstock. Since this amp was a prototype, the features and specs of this amp are unknown.
Fender Princeton/Boogie
Years Used: 1970 to 1973
An engineer and inventor named Randall Smith collaborated with Santana on creating a new kind of amp. Randall used a small Fender Princeton amp and started experimenting with the amp – by modifying it with a dual-6L6 circuit and using a JBL D-120 12'' speaker. Santana was also one of the main contributors in the process, helping shape the guitar tone as well. One of the key things that Carlos looked for in the sound was being able to sustain the notes as long as possible. He complained that with the Princeton amp, he couldn't get enough sustain and craved more sustain. The solution was for Randall to make high-gain and distortion sounds, which would sustain the notes for a long time. During the Abraxas album, the collaboration of Santana and Randall Smith introduced the high-gain sound to the world, which had tons of sustain in the notes.
In the process, Carlos said, "Man, that little thing really boogies!" Randall was inspired by Carlos' remark and named the amps Mesa-Boogie. Mesa-Boogie amps became a legendary amp company that became one of the leading amplifier companies today.
Mesa Boogie King Snake
Years Used: 1973 to Present
The Mesa Boogie King Snake is an amp that was the result of the collaboration between Carlos and Randall Smith. They had created a revolutionary new sound and introduced amazing sustain and distortion to the guitar world. Santana continues to use this amp to this day, and the compact 100 watt 1×12 combo is a monster of an amp. The King Snake has gain preamp(sustain), foot switching (clean to overdrive), half-power switch (100/60), Pull-gain boost, onboard graphic EQ, and more. It provides a spectrum of overdrive tones and has tons of midrange that will make your guitar tone cut through a band sound.
Dumble Overdrive
Years Used: 2007
The Dumble Overdrive was specially built for Carlos in 2007, and its powerful head provides 100-Watt Dumble with reverb and it has all the classic settings built-in. After getting this amp head in the late 2000s, this amp head had been on Santana's tour rack and has been used often while on tour. For all these years, Santana keeps his amps simple and just uses his favorite Mesa Boogie amps and sometimes uses Bludotone Universal Tone heads as a spare. Recently, he's been using PRS 4×12 cabs for speakers. One cab has four Celestion Vintage 30s, the other has two Celestion Vintage 30s and two Celestion G12-65s.
Carlos Santana Pedal Overview
Carlos is known for keeping things simple, other than a Wah effect and a trusty Ibanez Tube Screamer, he credits his sounds to five simple things "Soul, heart, mind, boy, and vitals". Recent years saw Santana as a global music teacher, claiming his stance, faces and momentum simply inspire him on the spot to pursue a new sound every time he hits the stage or studio.
Accessories
Guitar Strings
Santana has his signature line of guitar strings that he uses – the GHS Carlos Santana Big Core. It has unusual string gauges – 0.0095, 0.0115, 0.016, 0.025, 0.033, 0.043 and they were designed by Rene Martinez, who was a guitar tech for Carlos.
Guitar Picks
Santana publicly endorses the thick 3.0mm V-Picks, and he's been known to use very thick guitar picks like Fender 355s.
Wrap Up
As Santana has stated himself, the only reason behind his success relies on simply "expressing my very own soul". While that may come off a little abstract to many, Carlos' inherently rich musical upbringing helped him channel a perfectly balanced sound that appeals to global audiences based on his authenticity and masterfully condensed genre diversity.
His childhood matched his music, and it was filled with influences from all over the place. Born in Mexico in 1947, Santana grew up in a musical family and eventually moved to Tijuana at an early age, and then to San Francisco in the 60s. Under the unusual tutelage of many teachers, a young Carlos would go to early mastery of Funk, Blues, Rock and Pop, to Afro-Cuban and Latin rhythms. He mentions when he was growing up and hanging out with the other musicians, it was like being at a university.
With already heavily rooted artistry, Santana would display his soul sound wherever he went, eventually leading him to land a record deal with Columbia Records. While the rest might be history, it's fair to note that the project's mainstream debut was over at none other than the legendary Woodstock Music and Arts Festival, instantly becoming a massive hit that would pivot the psychedelic wave that soon followed in and swept the next decade. However, personal complications would strand Carlos from the limelight.
In 1976, Santana returned to the charts with hits like "Europa", and from that point on he regained his popularity and would eventually go on to become a household name. From here, he went on to collaborate with the biggest names in the music world from Bob Dylan, Weather Report, Grateful Dead, Eric Clapton, Lauryn Hill, CeeLo Green to Michael Jackson.
It's really as simple as praising his seamless fusion, Carlos Santana is a musician who revolutionized music with a judgment-free approach and a whole lot of heart to his unique style.
Let us know if you have any questions about Carlos Santana's guitars or gear below.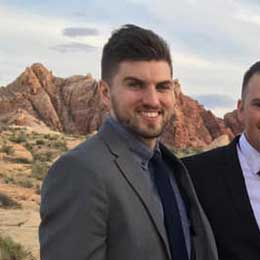 My name is Chris and I've had a passion for music and guitars for as long as I can remember. I started this website with some of my friends who are musicians, music teachers, gear heads, and music enthusiasts so we could provide high-quality guitar and music-related content.
I've been playing guitar since I was 13 years old and am an avid collector. Amps, pedals, guitars, bass, drums, microphones, studio, and recording gear, I love it all.
I was born and raised in Western Pennsylvania. My background is in Electrical Engineering, earning a Bachelor's degree from Youngstown State University. With my engineering experience, I've developed as a designer of guitar amplifiers and effects. A true passion of mine, I've designed, built, and repaired a wide range of guitar amps and electronics. Here at the Guitar Lobby, our aim is to share our passion for Music and gear with the rest of the music community.