Eric Clapton has been cited as an influence by millions of guitar players, including professionals, weekend warriors, seasoned veterans, and beginners alike. By the time he was 17 he was already a massive name on the British rock and blues scene, and soon enough he would be baptized as the god of electric guitar. With his unique style of playing, exquisite tone, and unparalleled songwriting it's safe to say that he's one of the greatest blues guitar players of all time.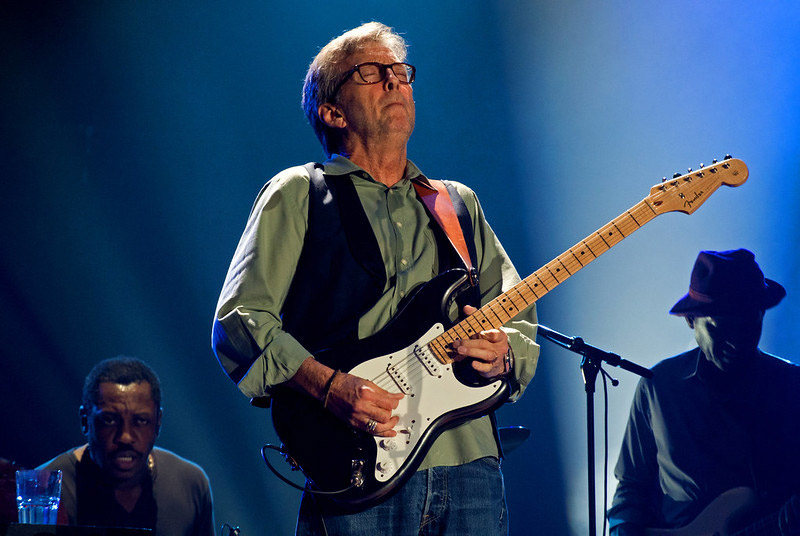 Aside from being a top performer and one of the most soulful instrumentalists of all time, he is also credited for creating and participating in globally renowned acts, such as the infamous Yardbirds, John Mayall's Bluesbreakers, Blind Faith, Derek & The Dominoes, and of course, Cream. Clapton has also been highly prolific as a one-man act, ever since the 80s he shined as a solo artist and in the early 90s he cemented himself into the culture as an individual behemoth, by far one of the most recognizable faces of blues, and rock n' roll alike.
What Guitar Does Eric Clapton Use?
Eric Clapton is best known for playing Fender Stratocaster electric guitars and Martin Acoustic Guitars. His most famous Stratocaster guitars are a Sunburst 1956 Stratocaster known as "Brownie", and a Black 1950s Stratocaster known as "Blackie", which he put together himself from parts.
Over the years, Clapton has used a vast selection of guitars, including Gibson models such as the Les Paul, SG, and ES-335, as well as Fender's staple models the Telecaster and Stratocaster models. Fender, Gibson, and Martin have all produced limited series of Clapton signature models.
1950s Fender Stratocaster aka "Blackie"

Finish: Matte Black
Years used: 1970 to 1983/ Present with similar replicas
Every guitar Clapton played can pass on as iconic, but Blackie's uniqueness sets it apart from all of his other instruments. It was assembled from four 50's Strats and bits and pieces of stock hardware and is certainly one of the most iconic Eric Clapton guitars.
George Gruhn, who sold him the Stratocasters, said that Eric came to his shop when he was on the Johnny Cash Show in 1970. He recounts that Clapton was playing with Derek and The Dominos at that time and that he bought the parts from Sho-Bud Guitars, probably that very same day.
According to some, Blackie wasn't constructed by Eric Clapton himself; rather it was supposedly put together by Ted Jones while Eric was still in the United States, although Eric refuted this by saying that he hauled the Stratocasters back home before he disassembled them (and obviously, put the Blackie together).
On the surface, Blackie looks like an ordinary Strat. Its dimensions and the recognizable single-cutaway design aren't too far removed from conventional Stratocasters, and the same can be said about the standard Gibson headstock, the tailpiece, and the positioning of the pickup selector.
Speaking of which, three-pickup setups on Stratocasters were fairly normal during those times, so when unplugged, Blackie didn't seem out of the ordinary. However, when wired to an amp, it's significantly different than any vintage Strat ever made.
Eric's guitar technician Lee Dickson recounts that Clapton used the '56 Strat body alongside a '57 Strat neck. The magnets were pulled from the third Stratocaster, although little is known regarding which models were used in particular.
He may have gotten attached to it because he pieced it together himself or simply because it sounded completely unique, but it quickly became his main guitar. Clapton was using it for rehearsals, demos, and recordings over the course of a couple of years after creating it, but it wasn't until 1973 at the famous Rainbow gig that he used it live.
Just like his previous go-to Brownie was, Blackie became the tool he used as his main instrument, both in-studio and during live shows. The most detailed picture of its sound and versatility was painted on his second studio record called 461 Ocean Boulevard.
1956 Stratocaster aka "Brownie"

Finish: Brown Burst
Years used: 1967 to 1970
The Brownie is easily one of the most iconic Strats out there. Eric bought it around mid-1967 at the Sound City shop, and it's been a staple in his arsenal for a good number of years. This Stratocaster featured a fast neck made of Maple, a body made of alder, and classic black-dot inlays.
He mainly used it in the time period between 1967 and 1970, after which it became one of Clap's backup guitars.
It was bought as a stock mid-range guitar, and it was used without any modifications for Cream's US touring cycle in 1967 and afterward with Derek & The Dominoes. It's presumed that Eric wrote and played the iconic Layla on this very guitar, among many others.
Claton had said that he was purposefully looking for a Strat with a worn-out maple neck since that was 'trendy' at the time.
Eric's a world-renowned philanthropist aside from being one of the most recognized guitar idols on the planet – Brownie was one of his biggest contributions in terms of charity work, as it was auctioned for approximately half a million dollars with the intent of bolstering the Crossroads Rehabilitation Centre.
1960 Gibson Les Paul Standard

Finish: Beano Burst
Years used: 1965
Clapton used many Les Paul models over the years, and his very first one was apparently the 1960 Beano Burst. The stories revolving around the purchase of this guitar are numerous; some claim that he bought it in Lew Davis's shop in 1965, others state that he bought it during his time with the Juniors in 1966.
Andy Summers shed some light on this issue, saying that Clapton got the Beano Burst when they played the Flamingo in London in 1965.
Be that as it may, Eric made this guitar popular during his time with the Bluesbreakers around the same time. Collaborating with John Mayall, Eric & The Bluesbreakers made their debut studio record the following year. The footage of those sessions clearly shows Clapton sporting the Beano Burst.
Right after he finished recording with The Bluesbreakers, Eric formed Cream. He may have used this guitar during rehearsals, but it was stolen before Cream played their debut show in 1966.
1939 Martin 000-42

Finish: All Natural
Years Used: 1992 to 2004
Highlighted by the iconic acoustic version of Layla during Eric's 1992 showcase on MTV Unplugged, this vintage icon needs little introduction. This 1939 Martin acoustic has a bleak background, it is theorized that it was acquired as early as 1970, but further confirmation is still needed on how this guitar came to Clapton's hands. However, during an interview with Stephen Stills, he stated that he gifted the six-string to the guitarist after seeing how it only gathered dust on a corner at his house.
This guitar is not only rare from being a pre-WWII model, the 000-42 was a special, limited line back then, it was only manufactured for five years, so there must be about a handful of these around, and only one of them belonged to Eric Clapton. Made with Brazilian rosewood before supply fell short to the U.S, this only makes the piece even rarer, not to mention its usage on MTV's stage and Clap's studio as well.
With Clapton, this Martin 000-42 model debuted in 1992, and from there on it was one of his most frequented guitars up until 2004 when it became the most expensive acoustic guitar, auctioned for $791,500.
1964 Gibson SG

Finish: Custom Artwork
Years used: 1967 to 1969
Once Cream was formed, the trio played local London shows and toured across England before going to America in the early spring of 1967. Eric was first seen with the 1964 Gibson SG during this performance.
What makes this guitar special and unique in comparison to other Gibsons is its custom-painted body. Simon Posthuma & Marijke Koger designed the aesthetics of '64 SG's body. Eric presumably contacted them personally for this paint job.
For many, this guitar is referred to as "The Fool", and its artwork was inspired by the psychedelic paint job on George Harrison's Mini Cooper and The Beatles' boutique facade in London. The specs on the 1964 introduction to the Gibson SG were rather innovative at the time, it featured a 1-piece solid lightweight mahogany neck and body with an Indian rosewood fingerboard. It also sported Alnico III humbuckers, it was one of the first guitars to do so.
Eric had said that this was one of his personal favorite workhorses before switching over to the Gibson Firebird. Its departure from Clapton's hands came to occur as he befriended and began frequenting George Harrison's apartment, eventually, he just left this SG at his apartment and so it changed owners as the years went by. Currently, it's owned by American multi-instrumentalist, Todd Rundgren who acquired it back in 1971.
Gibson Firebird

Finish: Tobacco burst
Years used: 1968
The legendary Gibson Firebird, which is sometimes referred to as 'Reverse Firebird' because of its headstock, is one of Clapton's most famous guitars. Moneywise, it's one of the first boutique guitars in his arsenal, costing nearly a thousand dollars, whereas the vast majority of his prior instruments were only half of that amount.
He bought this guitar somewhere between late spring-early summer in 1968, probably at the Electric Factory in Philadelphia.
Clapton used this guitar throughout the year. The footage of him playing it shows the Reverse Firebird on almost every picture of a live performance during the second leg of 1968, after which it was seen here and there, presumably as a backup.
Eric had also said that as much as he was fond of his SG, he was also enamored with that specific Firebird model. He praised the simple, straightforward sound of its single-pickup system.
The Gibson Firebird is one of the most playable guitars of that era, featuring optimal string spacing, fair action, and a small, easily manageable neck. Sound-wise, it may not be the most versatile guitar Gibson had ever produced, and its straight-ahead sound yielded remarkable results on almost any amp.
Gibson ES 335

Finish: Cherry Red
Years used: 1964 to 1967
Among the many great guitars Clapton had in his arsenal while playing with some of his first bands, Gibson's ES 335 is easily one of the highlights. As he stated in his autobiography, he confirmed that he had it as early as the Yardbirds era. He continued to use it throughout his time with Cream, as well as on the farewell tour at the Albert Hall.
Aesthetically, the ES-335 is a representation of the blues sound, but at the time, this image was barely cementing itself to culture. When his, at that time, main guitar was stolen (the Beano Burst Les Paul), he was borrowing guitars from his friends for a few months. It was then when he purchased this Gibson staple in London in 1964, whether it was acquired from Denmark Street or Charing Cross Road is up to theories craft, but regardless of the case, Clapton had found a companion.
The aggressive outlook and punchy performance of the ES 335 fit his style like a glove, and so he kept it as his main ax for several years. His tenure with this piece was far from the limelight as we see it today, but it was nothing short of impactful and it would later inspire a signature line from Gibson in more recent years.
1977 Juan Alvarez Classical Guitar

Finish: All Natural
Years Used: 1992 to 1996
This is a seminal piece on Clapton's catalog, this nylon-stringed Spanish acoustic guitar was the chosen one for Clapton during a crossroads in his life. It was used to record Tears in Heaven, and Lonely Stranger in 1992, later on, it became a regular on his shows when it was time for a stripped-back tune.
This guitar was showcased and immortalized during Eric's 1992 MTV Unplugged, one of his most notorious recordings to this day. Clapton chose this guitar over a traditional folk acoustic for the warm tones that this handmade craft provides. It was manufactured by luthier Juan Alvarez in 1977 and assembled under the highest Spanish Guitar standards as it can be noticed by its bridge, nevertheless, it is unknown how Eric got his hands on it.
This Juan Alvarez made a fair number of appearances during this reinvention time for Clapton, until 1996 when it was given to fashion designer Giorgio Armani. Later on, it was donated in 2004 for $253,900.
1957 Gibson Les Paul aka "Lucy"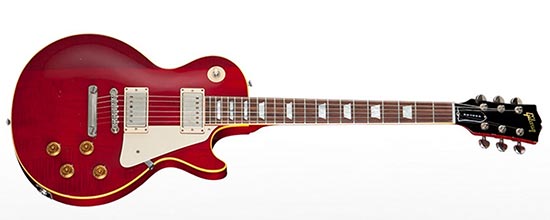 Finish: Wine Red
Years used: 1966 to 1968
When Clapton realized the allure of Les Paul guitars, he started stocking up with both boutique and mid-range backups. The 1957 'Lucy' was one of the guitars he was using while playing with Cream, and this was the guitar that was famously gifted to no other than the Beatles' George Harrison when he returned from the tour in the USA. The history behind this Les Paul is the reason it is one of my favorite Eric Clapton guitars.
According to various Beatles-based books, Harrison got the '57 Lucy around mid-1968, which means that Eric had it at least a few months before that. Time-stamped pictures of early Cream shows tell us that Clapton played it around early spring of the same year, although we can't say with certainty whether he had it in the previous years or not.
Eric had said that he had several reasons why he decided he wanted to gift Lucy to Harrison, despite being both an expensive and a great-sounding guitar. One of those was the fact that he already had an (at least one) Les Paul guitar.
Specs-wise, this guitar has bar inlays, two humbucking pickups, four tone control knobs, a robust fretboard made of Rosewood, a maple top, and a body made of very light mahogany. The pickup selector switch was placed on top of the bridge pickup, which made accidental switching a much lesser nuisance.
1950s Les Paul Gold Top

Finish: Goldtop
Years used: 1968 to Unknown
The '50s Gold Top was one of Clapton's spare Les Paul guitars, and there's little evidence to how extensively he relied on it (and during which periods of time). What we can say with certainty is that he used it at the Hunter's College in New York while playing with Cream on the 29th of March in 1968.
According to some, this guitar wasn't even his – he may have borrowed it for that one show, or more precisely speaking, for the final part of the Cream set.
However, if we compare it to the '57 Les Paul Lucy, we can see that it fits his 'taste'. Both of these are single-cutaway guitars with four control knobs, the same layout of frets with the same inlays, a virtually identical neck, the pickup selector is in the same position, and so on. The main difference is that it has two soap bar pickups instead of humbuckers, so it's a bit tamer in contrast to Lucy's vehement performance.
Gibson "Korina" Explorer

Finish: Yellow
Years used: 1974 to 1977
Younger fans of rock music are probably associating Gibson Explorers with Metallica's James Hetfield, but Clapton played it much, much earlier. Its unique shape, oversized headstock, and somewhat petite body have appealed to numerous guitar players from various walks of music.
Typical Explorers of that time weren't drastically different from the models released in the 80s and 90s; the Korina Explorer, the one that Clapton bought sometime around the 70s, was exquisite in the sense that its bass bout was slightly shorter than average.
There aren't many reliable sources who can back the popular theory of whether or not it was modified; comparing the traditional stock Explorers with Korina tells us that it most likely was.
Clapton had been using this guitar for at least several years, but apparently, it was never his main ax. It was one of his many backups, but it was also used on a few of the songs from his live record E.C. Was Here that was released in '75.
A few years later, more specifically speaking in 1977, Eric gifted Korina Explorer to Jr. Marvin, who later sold it around the '80s. It's currently in possession of a Japanese guitar collector named Kunio Kushida.
Fender Telecaster

Finish: Cherry Red
Years used: 1963 to 1967
Eric got into The Yardbirds immediately after leaving The Roosters. Aside from changing his band, he also changed his go-to guitar. His Kay was replaced by the Red Fender Telecaster, which he used for most live performances and recordings with the band.
According to some, this Tele was handed to him by the Birds' management, and he supposedly returned it when he left them. Interestingly enough, this was the very same guitar that Jeff Beck used when he joined The Yardbirds before he bought his Fender Esquire.
Clapton famously used the Cherry Red Tele on the '64 Live record at London's Marquee Club, and on The Yardbird's most massive hit called For Your Love that came out the year after. According to writing and recording credits, the For Your Love record featured both Clapton and Jeff.
Clapton recorded the majority of the tracks while Jeff recorded I'm Not Talking, My Girl Sloppy, and I Ain't Done Wrong tracks – all on this Red Telecaster.
Eric stated that the main reason why he switched to (and stuck to) the Tele is that his strings were breaking consistently; the Fender Telecaster boasted superior intonation and hardware, so it's no wonder that it remained in his use throughout his Yardbirds era.
Danelectro 3021

Finish: Custom Painted
Years used: 1969
There are several mysteries surrounding the infamous 3021 Shorthorn. First and foremost, it's a unique guitar with an exquisite outlook, made by a decently big brand, but its playability is questionable since its fretboard is painted with harsh colors in relatively random patterns.
Secondly, Eric's arsenal of guitars was fairly large and eclectic by the year '69, but it was mostly comprised of Fender and Gibson guitars. Additionally, there's little footage, and even fewer mentions of the Shorthorn as far as live gigs and studio recordings.
The Danelectro 3021 was featured in a photo of Eric with Blind Faith during a rehearsal in the early '69, but it's hard to say whether it was actually his or whether he borrowed it for that particular occasion.
Gibson Byrdland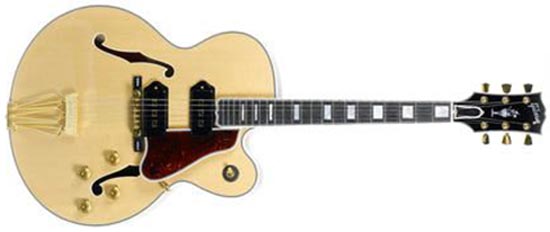 Finish: White
Years used: 1971 to Unknown
Numerous collectors nowadays are dreaming of owning the '71 vintage Byrdland. Everything about this guitar is massive, in both literal and metaphorical sense. Its tone, sound, its sturdy tonewoods; every single bit of it had cast a long and true shadow over most guitars of the 70 and 80s.
Clapton had, on many occasions, said that this guitar was one of his absolute favorites. He was first photographed with it while playing a charity gig in '71. The Bangladesh charity concert was organized by the Beatles' George Harrison alongside Ravi Shankar, who was a professional sitar player from India. He used the Byrdland for the first gig while the second show featured him on his Brownie guitar.
Despite his fondness of the Byrdland, there's little evidence that could confirm him playing it on any other live performance. Some claim that he used it in Chuck Berry's Movie, although credible sources disagree.
1960 Kay Jazz II K775
Finish: Tobacco burst
Years used: 1962 to 1963
Although it wasn't Eric's very first guitar, it was his first electric one. His first musical experience was with an acoustic guitar made by Hoyer, a brand that was fairly popular and remarkably well-established in the '40s and '50s.
Fast-forwarding to '62, Eric received a gift from his grandmother. He stated that it was precisely this guitar that got him into his very first band – The Roosters.
One of the most surprising things about the Kay K775 is that it's a massive, fairly heavy electric guitar that can easily pass for a professional one. Even so, he disclosed in his autobiography that his particular model was basically little more than a copy of Gibson's ES 335.
Another interesting fact is that Clapton's grandmother bought this guitar for no more than $10, as a part of a hire-purchase sort of scheme. He tinkered with it over the months, mostly in terms of aesthetics; he put black Fablon over it, as the guitar had seen its fair share of days on stage by the time it reached his hands.
From the standpoint of sonic performance, Kay K775 could easily hold its own against modern jazz guitars. Its pickups are fairly hot, its versatility is beyond decent due to the four control knobs, and its tonewoods offer much in terms of both durability and sound.
Eric spent only a few years on this guitar before he famously switched over to Fender's Telecasters, which he stuck with for the better part of his music career.
| Make | Model | Color/Finish | Years |
| --- | --- | --- | --- |
| Kay | Jazz II K775 | Tobacco burst | 1962 to 1963 |
| Fender | Telecaster | Cherry Red | 1963 to 1967 |
| Gibson | Es-335 | Cherry Red | 1964 to 1967 |
| Gibson | 1960 Les Paul Standard | Beano Burst | 1965 |
| Gibson | 1957 Les Paul | Wine Red | 1966 to 1968 |
| Gibson | SG | Custom Artwork | 1967 to 1969 |
| Fender | Stratocaster | Brown Burst | 1967 to 1970 |
| Gibson | Firebird | Tobacco Burst | 1968 |
| Gibson | Les Paul | Goldtop | 1968 to Unknown |
| Danelectro | Danelectro 3021 | Custom Painted | 1969 |
| Fender | Stratocaster | Black | 1970 to 1983/ Present with similar replicas |
| Gibson | Byrdland | White | 1971 to Unknown |
| Gibson | Explorer "Korina" | Yellow | 1974 to 1977 |
| Juan Alvarez | 1977 Classical Guitar | Natural | 1992 to 1996 |
| Martin | 1939 000-42 | All Nautral | 1992 to 2004 |
Eric Clapton's Amp Overview
Vox AC 30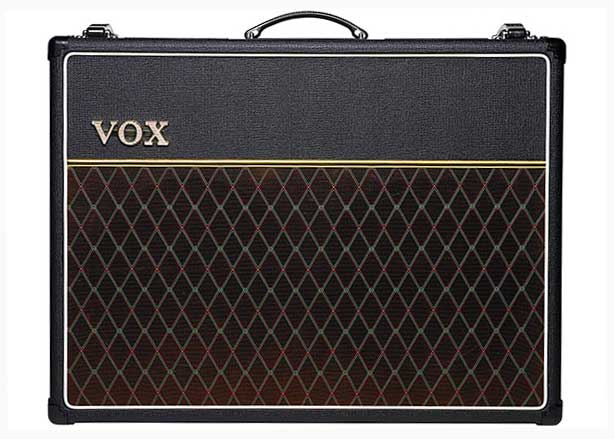 Years used: 1964 to 1965
Before he joined his first band, Eric was mainly busking on an acoustic guitar without any need for an amp. As his grandmother gifted him his Kay Jazz II, it seems that he saved up some cash and bought his first amplifier, which was the Vox AC 30.
Today's version of Vox AC 30 features two 12-inch Celestion Alnico speakers (AC30C2X) and four EL84 tubes. Now, the specific model that Clapton had used was fairly similar, although it is believed that the tubing was different.
Additionally, the controls were probably slightly different too. The re-issued (and reimagined) AC30 features a master volume knob, master tone cut knob, normal volume, top boost volume knob, bass boost, treble boost, reverb tone, and a handful of other controls.
The pictures showing Clapton with this amplifier are smudgy, most of which are taken from beneath the stage, so we can't say with certainty what types of controls were equipped to the original AC 30.
1962 Marshall Bluesbreaker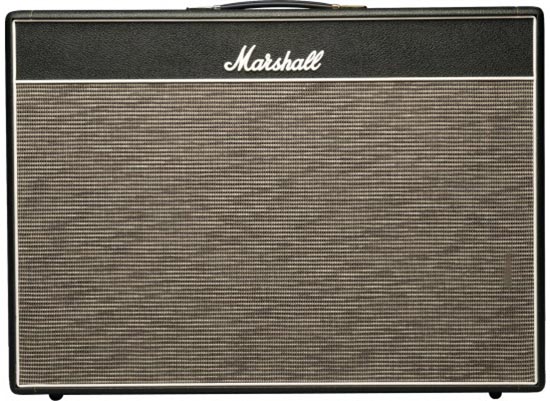 Years used: 1966
Clapton's first big-time group was the infamous Bluesbreakers, and he used Marshall's '62 amp with the same name while recording with them. The story revolving around the creation of this amp is unique in more ways than one.
Namely, Clapton was friends with Jim Marshall, the founder, and owner of Marshall Amps brand, and the two would spend quite a lot of time in the Marshall shop. Back then, Eric was frequently visiting the shop and used to extensively practice there. According to Jim, Eric asked him to build him a combo amp that he could fit in his car.
Jim recounts that Clapton was the first musician who asked him to craft a combo amp. Some of the main reasons why he had such a request included the low wattage of his amp heads and the bulkiness of his cabinets.
He used the Bluesbreaker combo amp with his Gibson Beano Burst for the recording sessions with John Mayall & The Bluesbreakers.
1966 Marshall JTM 45

Years used: 1966
As we know, Eric's time with the Bluesbreakers was quite brief. He had quite a few shows, and possibly some forms of impromptu tours around London, but by the time the record was completed, he left and focused on putting Cream together.
The '62 Marshall amp had such a distinct personality and voice that were, at that time, attributed to John Mayall's troupe, so he figured he needed another amp when he created his own band. He used several stock Marshalls and various mid-range amps from relatively obscure brands (of which there are only a few unverified records) before he got the '66 JTM 45.
This amp came to life as per Pete Townshend's request, the legendary The Who's rock and roll legend, who was looking for a stronger version of his '65 Marshall (that packed a 50-watt strong punch). As the story has it, Pete didn't have any specifications in mind aside from those that were already integrated into the amp – he simply wanted it louder.
The JTM45 underwent a series of incarnations in the years that followed, but specifically between the years of '65 and '66, there were a few that featured different tubes, slightly different circuitry, and minor changes in terms of lettering (and colors thereof).
The one that Clapton used was, according to many, the model that was supplied with KT66 tubes and a Drake 1204 43 transformer. Later versions featured EL34s tubes and Radiospare's transformer. Essentially, the tone of most Marshall JTM 45 models wasn't substantially changed over time, but the minor differences meant the world to up-and-coming players and bands.
Even though JTM 45 was one of the loudest 100-watt amps of that time, Clapton wanted to create a wall of sound that was so outrageous, so over the top that he used two of them fully cranked up. He even said in one of the early Rolling Stone interviews that his normal rig setup featured 'full-on everything', which means treble, bass, presence, and guitar controls set on full blast.
Additionally, he concluded that amps such as JTM 45 (with KT66 tubing), if you set them the way that he did, could be heard hundreds of miles away and that he was shooting for the feedback generated by the sheer loudness on stage.
1966 Marshall Super Lead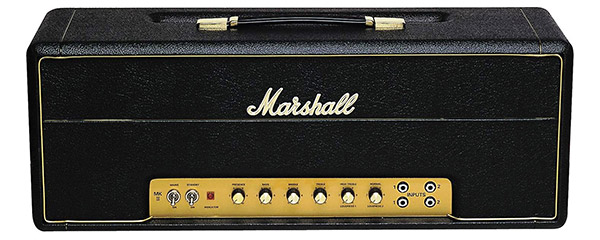 Years used: 1967
When he brought Ginger Baker & Jack Bruce together and formed Cream, he was using the KT66-tube version of '66 Marshall JTM 45. It served him well for at least a year before he upgraded to the '66 Super Lead, most likely somewhere in late '67.
The JTM had set the tone for Cream's sound, but there was still some room for improvement. Jim was tinkering around this series of amps and tried several different types of tubing and circuitry, and we can safely say that the '66 Super Lead was the product of the perfect combination of such.
Just like his previous amp, he was mainly using the Super Lead with Cream. You can hear its tone and unapologetic power on their Fresh Cream album. Additionally, there are hints of it being used for both the 2nd and 3rd Cream records, albeit little is known whether it was modified or stock.
Fender Dual Showman

Years used: 1970
Over the course of just four years, Cream had made a tremendous impact on the rock and roll landscape. Eric, alongside Ginger and Bruce, made history, but what's surprising is that they managed to do so with 'mere' three albums.
Though short-lived, Cream had set the bar with the Fresh Cream album, raised it with Disraeli Gears, and completely changed the rules of the game with their iconic Wheels of Fire LP. During the second half of the band, Clapton was alternating between JTM 45 and the Super Lead, although he also used at least a couple of other amps.
As the group's end was coming near, Eric was mainly switching guitars and had a brand-new set of cab stacks; his go-to amp was the Super Lead during Cream's farewell tour, and possibly the two years that followed it.
Clapton joined with Ginger Baker, formed Blind Faith, and took Steve Winwood into the fold. It's believed that by this time he already had the Dual Showman, although he didn't bring it onto the stage as much.
It wasn't before he joined Delaney & Bonnie, the power singer/songwriter duo, that he started relying on it more and more. He did an interview with GP Flashback in 1970, stating that he used this amp, albeit with a slightly different setup of controls.
Eric stated that he would rarely crank the knobs up (as he was famous for doing in his earlier bands and gigs); he would rather scoop the highs and treble while adding the mids and bass.
The Dual Showman was a piece of cutting-edge technology in the 70s, sporting stabler channel inputs and a more versatile selection of tone knobs. Even so, its unfiltered tone was not akin to the traditional punchy Marshall sound that he was most famous for, so he didn't stick with it for too long.
He would alternate between his Stratocaster and Brownie when playing with Delaney & Bonnie, which seemed to fit nicely with the amp's all-around sound.
Fender Vibro Champ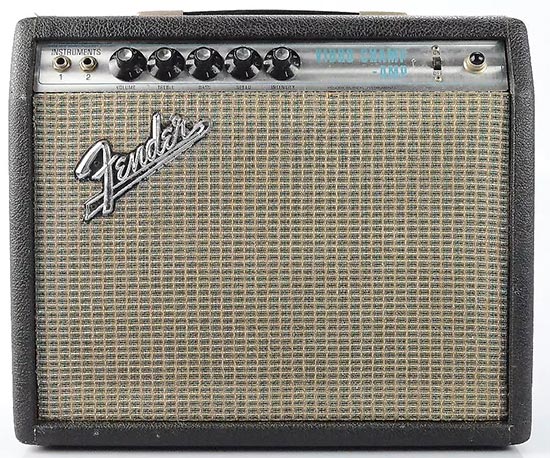 Years used: 1971 to 1976
The Vibro Champ is essentially a small, practice amp that boasts enough power to bring down the roof of a mid-sized venue with a half-stack of Marshall cabinets. The photos and videos of Eric playing through one are smudgy at best, so some argue that he rather used something similar.
Sound-wise, the Vibro Champ is close to the Dual Showman, although it has a built-in reverb that is controllable via 'speed' and 'intensity' knobs. That's what makes it so perfect for rehearsals, along with the fact that players didn't need to use pedals; it's an essential vintage amp for jams, which is the reason why Eric is believed to have used it approximately a year after parting ways with Delaney & Bonnie.
Music Man HD 130 Reverb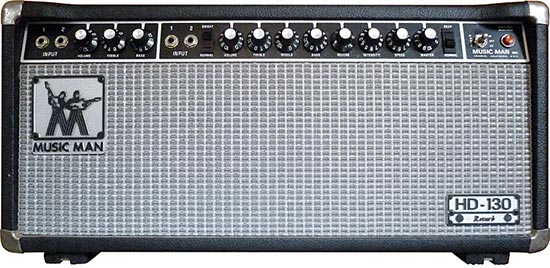 Years used: 1976 to Present
Music Man's advertisement that popped around 1976 is one of the most authentic sources that tell us that Clapton used the HD 130. Just like the Vibro Champ, MM HD 130 is a versatile amp that features onboard effects, as well as the amp that will sound tremendously well with almost any guitar or cabinet.
This is a strong tube amp that Clapton used for a variety of events, ranging from in-stores, club shows, and rehearsals. He was spotted playing it through his Explorer around two years later, and according to Music Man's roster list, he was certainly their endorsee during this time.
What makes this amp stand out from typical tube amps of that time is the eclectic array of tone control knobs, most of which double as onboard EQ that can simultaneously control the integrated effects. However, this is also the reason why it was, perhaps, a bit more difficult to use on stage. It's a robust workhorse with two input channels, but it needed some time to properly warm up.
Fender 57 Twin-Tweed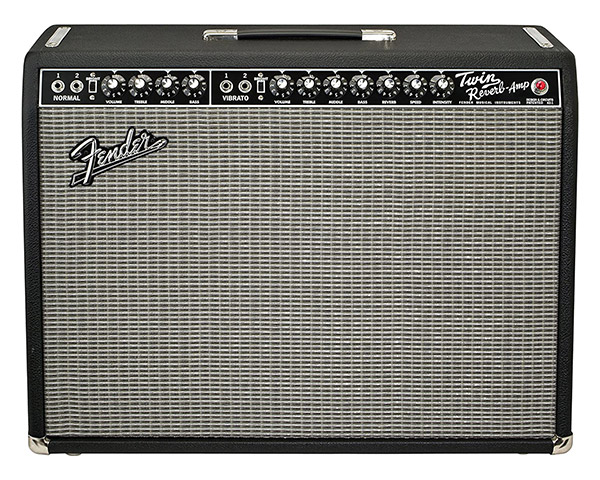 Years used: 2004 to 2005
Eric recorded From the Cradle record in 1994, which signaled his return to his writing mode. He had numerous gigs, both world-famed and relatively intimate in the years that followed, and during which time he had roughly fifty guitars and at least five custom amplifiers.
He alternated between his many axes and amps with consistency throughout the 80s and early 90s. This era of his music career was the time where he started experimenting with various acoustic instruments, which is probably the reason why he didn't need a new workhorse amp.
Around the year 2004, he started using the '57 Tweed by Fender. Various photos show him using two Twin Tweeds, and he seemed to like this setup enough for it to be his new standard for the following six years.
Fender 57 Bandmaster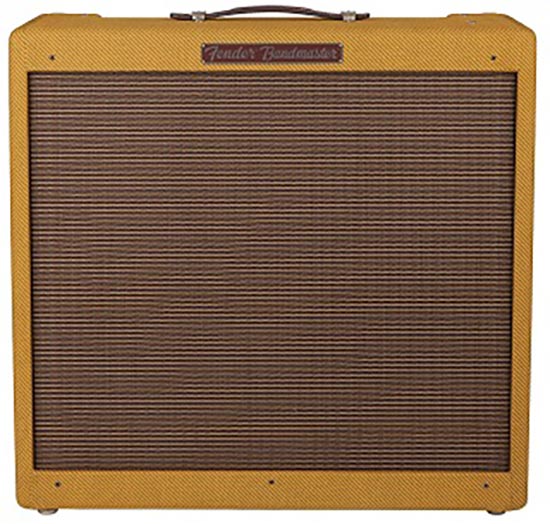 Years used: 2005 to 2011
Eric's return to Fender was greeted with yet another amp from their catalog. Namely, he started using the '57 Bandmaster alongside his Twin Tweeds in the period between 2005 and 2011.
The '57 Bandmaster is a 40-watt combo amp with three built-in 10-inch speakers, a 3-Band eq, and a dedicated vibrato channel. It operated on the 5G7 circuitry, which separated it from the previous three incarnations of Bandmasters.
Surprisingly enough, the '61 Bandmaster, which succeeded the '57 model, was drastically more versatile, but Clapton still decided to stick with the latter. Fun fact – aside from the '57 model, the 1955 Bandmaster and the '60 Bandmaster were the only versions in the series that featured three speakers.
Fender EC Twinolux
Years used: 2011
The EC Twinolux amplifier is essentially a modified '57 Twin. Fender took the list of specifics of Eric's '57 Twin and made minor tweaks to boost its already great sonic performance.
From the aesthetical standpoint, Twinolux is virtually identical to the Twin, although their top parts are slightly different. Furthermore, The EC Twinolux has Eric's initials next to the grill of the speakers.
As far as specifications go, Twinolux features the same 12AX7 preamp and 2 6l6 GE tubes, as well as two 5U4 GB rectifier tubes. This amp is, sadly, discontinued from production, but it wasn't the most expensive boutique amp on the market, unlike most of Clapton's gear.
Eric Clapton Pedals and Effects
Vox V846
Years used: 1968
Eric Clapton has and will always sound like Eric Clapton, no matter what amp he's plugged into, no matter what guitar he's sporting, and whether or not he has a single pedal, a myriad, or none at all.
He may have used other pedals sparsely, but his tone came was the product of his guitars and amplifiers for the most part. In an interview with GP Flashback in 1970, he was asked what type of wah effect did he use on the number called White Room, where he briefly replied 'Vox'.
Rummaging through the records of how Vox's wah was developed, and of course, how it evolved throughout the years, he is presumed to have used the V846. Furthermore, similar sounds and tones were present on Cream's previous album (Disraeli Gears), so it's also believed that he had it in 1987 already.
Boss TR-2
Years used: 1969
Eric's tone on Cream's Wheels of Fire was largely influenced by Boss's TR-2 tremolo pedal. Even though this stompbox is fairly simple and straightforward, it enriched his sound tremendously.
According to some, he used this pedal during his 90s touring cycles, although its most notable use was on Hyde Park concert that occurred in 1996.
The wave-shaping capabilities of TR-2 keep it relevant even today, and according to some, Clapton used this pedal on several occasions with Blind Faith and on his solo shows, although we lack the photographic evidence to prove such claims.
Boss HM-2
Years used: 1986 to 1989
Although it's widely recognized as a metal pedal, Boss's HM-2 was in Clapton's rig throughout the 80s, alongside the CE-1 chorus, Roland's SDE 3000, and Ibanez HD 1000 Harmonics stompboxes. All of these guitar effect pedals were a part of his BB rack system, although he rarely used them all simultaneously.
What's almost completely certain is the fact that whenever he had HE-2 in his rig, it was first in the chain, and he would use it more than his other effects.
DigiTech Crossroads
Years used: 1996 to 2004
Eric Clapton collaborated with DigiTech on the Crossroads Overdrive stompbox pedal. Essentially, it features DigiTech's proprietary modeling circuitry, which allows guitar players to emulate a portion of Eric's tone.
It's unclear whether he ever used it himself or whether he simply helped it bear fruits, but his name is stamped on the box, so it's certain that he at least tried to prototype out.
Wrap Up
He is a collector of boutique and vintage guitars and amps, but unlike most collectors, he had actually played every piece of equipment that he bought. Clapton also made a few guitars and is considered to be a virtuosic tinkerer.
More than an icon, Clapton pioneered by recycling a genre that would root heavily and later transform itself through the first British rock invasion in the 1960s. Growing up in post-war Britain, Clapton condensed the blues foundations of his idols BB. King, Freddie King, and Buddy Guy, and made his own approach to the guitar one of the most compelling ones in the modern day.
Now after six decades of a remarkable trajectory Clapton is more than a Hall of Famer, there's no room for debate regarding his status as a guitar god, and his righteous place as #2 on Rolling Stone's 100 Greatest Guitarists of All Time, arguably second to none other than Jimmi Hendrix. If there's ever a need to study a guitar player, rest assured that Eric Clapton won't ever run out of lessons to impart.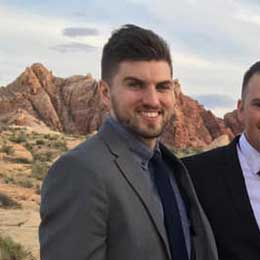 My name is Chris and I've had a passion for music and guitars for as long as I can remember. I started this website with some of my friends who are musicians, music teachers, gear heads, and music enthusiasts so we could provide high-quality guitar and music-related content.
I've been playing guitar since I was 13 years old and am an avid collector. Amps, pedals, guitars, bass, drums, microphones, studio, and recording gear, I love it all.
I was born and raised in Western Pennsylvania. My background is in Electrical Engineering, earning a Bachelor's degree from Youngstown State University. With my engineering experience, I've developed as a designer of guitar amplifiers and effects. A true passion of mine, I've designed, built, and repaired a wide range of guitar amps and electronics. Here at the Guitar Lobby, our aim is to share our passion for Music and gear with the rest of the music community.