You don't need to be a guitar virtuoso to start playing songs on your guitar. In fact, there are countless amazing songs you can play with just 3 easy chords: G Major, C Major, and D Major! Today we are going to show you exactly how to play these three essential chords, and share 24 iconic and fun GCD songs that you can play with just these magic chords.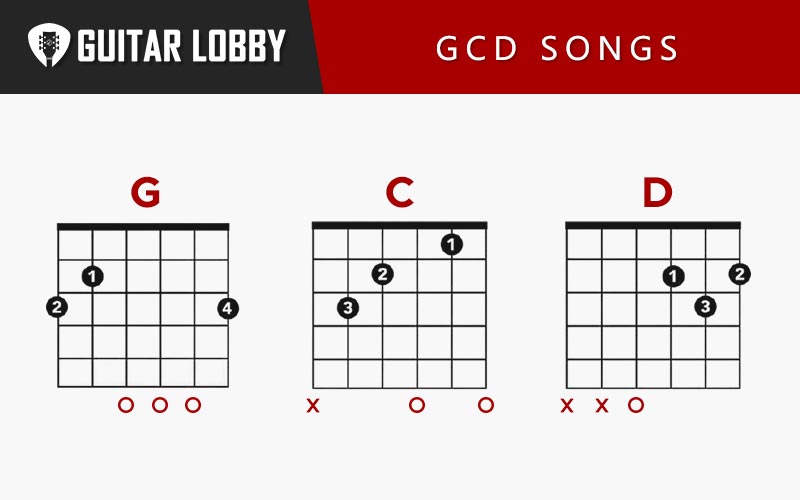 Even though there are countless more chords that you will learn while on your music journey, learning essential chord progressions like G, C and D is a handy and quick way to start playing songs even while you are still in the beginner's stage. As time goes on, you can expand your chord repertoire and add more interesting voicings and melodies to it.
By knowing how to play just these three chords, you can enjoy playing an entire universe of songs that have been composed in this progression. Musicians and bands from across various genres have used the GCD chord progression to compose beautiful songs, be it blues, folk, rock, or even hard rock!
As you'll see on this list, everyone from The Beatles, Bon Jovi to AC/DC have used the GCD chord progression in their songs! So that means you can easily play all these songs too, once you figure out how to play these chords. And the best part? They're super easy to play as well. Let's show you how in the next section.
Here is a List of GCD Songs to Play on Guitar
1. Sweet Home Alabama by Lynyrd Skynyrd
Chords: G, C, D
Sweet Home Alabama can be played by guitarists of all skill levels with just a little bit of effort. It utilizes three simple chords in a D-C-G progression, and most of the song can be played using just these three chords. There's just one place that needs an F chord, but that's still easy enough, isn't it? And once the chords have been perfected, you'll be able to pull off the main solos without much trouble.
Tailor-made for fans of old country rock, this song became a rage when it was released by Southern rock band Lynyrd Skynyrd in 1974. Surprisingly none of the band members ever lived in Alabama! It was the band's second hit single and a part of their album, Second Helping.
2. Ring Of Fire by Johnny Cash
Chords: G, C, D
A song almost as iconic as the musician behind it, "Rings Of Fire" was released by Johnny Cash in 1963 as a part of his album "Ring of Fire: The Best of Johnny Cash." There's a reason why this song became one of the biggest hits of his career. The infectious "Boom-Chicka-Boom" rhythm, mariachi horns, and Cash's signature baritone turned it into a country classic.
With just three simple chords G-C-D, this timeless single conveys a lot. Apparently, this song is not a Johnny Cash original. "Rings of Fire" was written by his future wife June Carter and American singer-songwriter Merle Kilgore and later recorded by June's sister Anita Carter. Contrary to its gritty title, the song's lyrics professed June's fiery love for Cash. This claim was, however, later contested by Cash's first wife, Vivian Cash, in her autobiography. According to her, the song was penned by Johnny in an inebriated state. But whatever the real meaning behind this amazing track may be, it sure leaves a lasting impression on the listener.
3. Knockin' on Heaven's Door by Bob Dylan
Chords: G, C, D, Am7
Only a few tracks boast the far-reaching appeal of the soulful "Knockin' on Heaven's Door" by Bob Dylan. The song became a massive hit, climbing the Top 10 in many countries across the globe. Covered by countless artists and bands, including Guns N' Roses and Eric Clapton, this iconic song was penned by Dylan for a 1973 movie. It plays during an emotional moment in the film Pat Garett and Billy the Kid in a scene featuring a character's death.
With only two short verses, this touching song is pretty easy to play. It uses just three major chords, G-C-D, and a minor chord, Am7. The G and D chords split a measure and are two beats each, while the C and Am chords are full measures. We recommend you also try out the rockier version of this song by the American hard rock band Guns N' Roses. It has the same key and is honestly quite mind-blowing!
4. Leaving on a Jet Plane by John Denver
Chords: G, C, D
This wonderful country classic is an easy-to-play crowd-pleaser. The song was penned by the legendary American singer-songwriter John Denver under the title "Babe, I Hate to go." Miserable at constantly being on the move, the 24-year-old Denver wrote this heartbreaking track during a layover at an airport. "Leaving on a Jet Plane" was first released in 1966 in his album John Denver Sings. Popularity came when it was recorded by the American folk group Peter, Paul, and Mary in 1969. The song ended up becoming the trio's final and greatest hit.
This beautiful song's three major chords G-C-D and a simple verse-chorus-verse-chorus form make it quite beginner-friendly. Also strummed by some using A, D, and E chords, it sounds fantastic on the acoustic. The easiest way to play it is by strumming four down strums per chord, and those who want to show more technique can try some syncopation.
5. Love Me Do by The Beatles
Chords: G, C, D
A sweet composition by the highly influential English rock band the Beatles, "Love Me Do," was co-written by Paul McCartney and John Lennon. The famous duo spent a fair amount of time scribbling songs back in their high school days, which later became phenomenal hits. The track did not do as well in the UK, where it was first released in 1962, as it did in the United States. This incredibly catchy song was one of the band's seven songs, which hit number one in the US charts the very same year, 1964.
Practically a two-chord song, G and C, with the third chord only popping up in the bridge part, "Love Me Do" is a joy to play. The strumming pattern is not hard to master with a down, down, up, up, down, and up. A total of three chords, easy chord switching, and rhythm make it ideal for beginners.
6. I'm Yours by Jason Mraz
Chords: G, C, D, Em
Let's check out some simple chord songs from the more recent times, shall we? This swoon-worthy hit by Jason Mraz is another relatively easy song to play. A party favorite, "I'm Yours," from Mraz's 2008 best-selling album, is super catchy and groovy. While nailing the song's groove can get a bit tricky, you should be able to get it right with some practice.
For starters, get comfortable with the simpler version, which uses only three major chords, G-D-C, and a minor chord, Em. You can play the entire rhythm with a 4-chord progression I-V-vi-IV made famous by the comedy band Axis of Awesome. For this song, it'll go G-D-Em-C throughout except the bridge. To make your rendition sound more similar to the original, add in some palm muting. There are plenty of online tutorials to help you master that technique.
7. Brown Eyed Girl by Van Morrison
Chords: G, C, D
By now, you would have figured that the G-C-D chord combination is the most common one that makes up most songs. Here's another jewel that can be played with the same set. Released in 1967, "Brown Eyed Girl" by the Northern Irish singer and songwriter Van Morrison became such a classic that it has inspired hundreds of covers over decades. "Brown Eyed Girl" ended up becoming a springboard for Morrison's fame and music career. With a cracking tune, this song is a rage at weddings and parties.
It's mainly played using just three chords, G-C-D. There's a minor chord, Em, which pops up only at the bridge. Beginners can start with the simple, straight version. The song has a 4X4 rhythm, so we suggest you start with just one strum per beat on each bar.
8. Wanted Dead Or Alive by Bon Jovi
Chords: G, C, D, F
This song started the "unplugged" style of playing when Bon Jovi and Richie Sambora decided to perform "Wanted Dead or Alive's" acoustic rendition at the 1989 MTV Video Music Awards. The performance was such a show-stopper that the MTV guys decided to come up with a full-blown "Unplugged series." Played using only four chords- G-C-D-F, "Wanted Dead Or Alive" is a great track to learn for those who are into '80s rock ballads.
If you are a beginner, start with the more manageable bits while honing your 16th note strumming pattern and chord embellishments along the way. This composition is a 12-string song. Sambora used a multi-neck 12-string Ovation guitar to play a shimmering intro and solo. Don't fret if you don't own a 12-string; your standard acoustic will work just as well. This is one of the best-known songs with GCD Chords.
9. Good Riddance by Green Day
Chords: G, C, D, Em
Formed in 1987, influential rock band Green Day is often credited with popularizing pop-punk and punk rock in the United States, especially with their break-through albums Kerplunk and Dookie. With plenty of catchy and simple chord songs, Greenday's repertoire is one of the most beginner-friendly ones out there. The band's worldwide hit "Good Riddance" from their 1997 album Nimrod is easy and incredibly fun to play.
The song's mellow vibe and reflective lyrics evoke nostalgia, making it a crowd favorite at proms. In 2015, Rolling Stone magazine picked this composition as one of the 20 Best Graduation Songs of the Past 20 Years(1995-2015). The fingerpicking in the intro can be a little tricky to nail, but the rest of the song, with its simple chord and strumming pattern, is perfect for beginners.
10. You've Got To Hide Your Love Away by The Beatles
Chords: G, C, D
The Beatles are hailed for their unique music that includes a range of iconic songs that are also superbly beginner-friendly. "You've Got To Hide Your Love Away" from their 1965 album Help! is one such song. As acknowledged by John Lennon, this song bears a strong resemblance to Bob Dylan's style of music. Like Dylan, Lennon poured his heart out in this one, leaving the interpretation up to the listeners.
This beautiful gem has Lennon's emotional vocals backed by 12-string acoustic guitar and not much else. It has no backing vocals, only a hint of percussion in the form of a brushed snare, tambourine, and maracas. Instead of Dylan's harmonica, John decided to go with a tenor flute recorded by John Scott. "You've Got To Hide Your Love Away" begins with a straightforward G-D-C progression and switches to G-C-D during the chorus.
11. Wonderful Tonight by Eric Clapton
Chords: G, C, D, Em
No one plays the guitar quite like Eric Clapton. The man is clearly one of the greatest and most influential guitarists of all time. With over 100 million records sold and 18 Grammy Awards under his belt, he inspired and continues to inspire an entire generation of guitarists that came after him. Clapton's melodic, lyrical style of playing and signature soulful vocals came together to create many masterpieces, time after time.
Written by Clapton for his then-wife while she was getting ready for a party, "Wonderful Tonight" is a love ballad that never fails to tug at your heartstrings. The beautiful guitar riff, heartfelt lyrics, and tender vocals all work brilliantly to create this iconic song. Beginners will learn plenty from this composition, such as picking chords, open chords, and strumming the rhythm and exciting lead parts, just to name a few.
12. Wonderful by Everclear
Chords: G, C, D
"Wonderful" by '90s prominent rock band Everclear is a poignant song that talks about divorce and the effect that it has on a child. And when these touching lyrics are power by frontman A.P. Alexakis' passionate vocals, they hit home. This emotional song went on to become one of Everclear's best-known singles, peaking at number 11 on the US Billboard Hot 100.
Within the layers of emotions lie crunching guitar riffs and the "na-na-na-na" chorus makes it an incredibly catchy track that you'd love singing and strumming along to. The G-D-C-D chord progression is pretty easy to play and makes for a great addition to your repertoire.
13. Let Her Cry by Hootie & the Blowfish
Chords: G, C, D
"Let Her Cry" was undoubtedly a high point in Hootie & the Blowfish's successful run. Once a household name, the band produced sixteen chart-topping singles, including the 19th best-selling album of all time in the United States. Part of their breakthrough album Cracked Rear View, "Let Her Cry," was a raging success, winning them a Grammy and charting all the way to number two on Billboard US Pop Songs chart.
A soaring chorus, infectious rhythm, and a memorable guitar solo are the driving force behind this 1994 ballad. After listening to "She Talks To Angels" by The Black Crowes, lead vocalist Darius Rucker's wanted to compose something on similar lines. So he decided to write about a man struggling to deal with his alcoholic wife. The song's strumming pattern is easy enough, and barring a few minor chords, a major chunk of this song uses only three chords, G, C, D.
14. Every Rose Has Its Thorn by Poison
Chords: G, C, D, Em
This 1988 classic by the popular glam metal band Poison became their biggest hit, occupying the top spot on Billboard Hot 100 for three consecutive weeks. For a kid growing up in the '80s, "Every Rose Has Its Thorn" sure brings back some soppy memories! The track begins with an aching sigh by Bret Michaels just moments before he starts strumming his flat-tuned acoustic. It begins slowly with a brooding intro, Poison's trademark pounding drums and electric guitars only show up after the first chorus.
To play this melancholic track, you'll need to retune your guitar down half a step (1 semitone down). So your standard tuning E-A-D-G-B-e would become Eb-Ab-Db-Gb-Bb-eb. Featuring just C, G, Em, and D chords, "Every Rose Has Its Thorn" is a beginner-friendly track. While rhythm parts are perfect for new learners, solos could get a bit challenging but can be nailed with persistent practice.
15. You Shook Me All Night Long by AC/DC
Chords: G, C, D
Formed in 1973, the Australian rock band AC/DC has undergone many line-up changes, the most prominent being the arrival of lead vocalist Brian Johnson. Formerly with rock band Geordie, Johnson joined the band after Bon Scott's tragic death from alcohol poisoning. The new version of the band dedicated their first album to Scott's memory. Released in 1980, Back in Black catapulted AC/DC to colossal heights, becoming one of the best-selling albums of all time.
"You Shook Me All Night Long" is a brilliant example of how simple chords can be webbed to create pure magic! It showcases some pretty neat guitaring by guitarists Malcolm and Angus Young in the form of a catchy intro, breathtaking duel, and a wicked rock 'n' roll riff that'll blow your mind! Only three chords can get you through most of the song and the killer solo is all in G minor pentatonic scale. But it is more complex than it sounds. Teeming with open chords, open power chord shapes, and arpeggiated strumming, this song is more suited for intermediate-level players.
16. The Joker by Steve Miller Band
Chords: G, C, D
Make way for a fun and endearing song by Steve Miller Band that made them a household name in the '70s. Known for their psychedelic music style, "The Joker" had the rock band adopt a more pop-oriented, mainstream sound. Notwithstanding old school fans' disapproval, the song's catchy elements gave the band a wider reach than they earlier had.
Its uplifting tune, goofy lyrics, cool bassline, and that famous "wah-wah" wolf whistle earned it the top spot on US Billboard Hot 100 in 1974 and then again in 1990 when it was reissued. Made up of just three chords, G, C, and D, and a straightforward strumming pattern, "The Joker" is a joy to play. It'll be a good idea to break down the challenging bits; for instance, start strumming the three chords with down-strokes and slowly work your way up to tackling the strumming pattern.
17. Love On The Weekend By John Mayer
Chords: G, C, D
John Mayer sure knows how to craft a tune! The lead single from his 2016 album The Search For Everything is a lovely composition that blends Mayer's pop-rock roots with some bluesy guitar style. A mellow vibe created by the superstar's subtle crooning, laid-back drum work, and sweet fingerpicked riffs makes "Love On The Weekend" a swoon-worthy fare.
Mayer's songs are generally not easy to play, but thankfully this one is. To play this track, all you need to know are the GCD chords. The progression is easy enough. The only place where beginners can find themselves in a bit of a pickle is the finger-picked main riff. Mayer's fluid, unique fingerstyle is hard to emulate. But, fear not, there are plenty of online tutorials to guide you through this part.
18. Viva La Vida by Coldplay
Chords: G, C, D, Em
Another beginner-friendly song, this time by Britain's biggest rock band Coldplay, "Viva La Vida," is a four-chord wonder that'll be a fun addition to your repertoire. Jointly written by all members of the band, the track featured on their fourth album Viva la Vida or Death And All His Friends, opening to rave reviews. It aced the charts, becoming Coldplay's first chart-topper in both the U.S. and U.K. and also fetching the band a Grammy for Song of the Year in 2009.
"Viva la Vida's," offbeat lyrics tell the story of a king who lost his kingdom. Sonically, it is a departure from the band's usual guitar or piano-driven pieces. This one features a prominent string section, anthemic melodies, and an infectious chorus that'll tempt you to sing along. Guitar-wise, it is made up of four chords C, D, G, and E minor. That's it! The strumming pattern might take some getting used to. Beginners can start with the simpler pattern, divide it over two chords and switch the chords midway.
19. I'm A Believer by The Monkees
Chords: G, C, D, Em
You're looking at one of the most recognizable songs in pop music history, even if you don't know the name, we're sure you've heard it somewhere! "I'm a Believer" is a foot-tapping Neil Diamond composition that was recorded by the rock and pop band the Monkees back in 1966. The track was an instant hit, charting at no.1 on Billboard's chart. It has since become a timeless hit that was later covered by pop-rock band Smash Mouth for the movie Shrek. A rendition that many of us are more familiar with than the original.
It's propelled by infectious energy, catchy melody, twangy guitars, and irresistible lyrics you can't help singing along to. Here's a bit of trivia for you, the Monkees sang this song but did not play the instruments. The producers roped in session musicians, and this did not go down well with the band. But either way, this four-chord song will be a fantastic, crowd-pulling addition to your song bank.
20. Zombie by The Cranberries
Chords: C, G, D, Em
This 1994 seminal hit by Irish alt-rock giants the Cranberries is a masterclass in using songwriting for expressing complex emotions in a manner that can kick start a revolution- and personally, it gives me goosebumps with its power! "Zombie" has been hailed by critics as a masterpiece of alternative rock, and deservingly so. Pained by the Warrington bombings that took the lives of two children, lead vocalist Dolores O'Riordan wrote the song and used her phenomenally distinctive voice to breathe life into the lyrics.
With a steady and repetitive strumming pattern, it is a great pick for those looking to learn basic chords and transitions. Beginners can breezily get through the entire song using just four chords C, D, Em, and G. For the more proficient guitarists, "Zombie" offers plenty of techniques to explore, such as syncopated strumming, pull-offs, hammer-ons, to name a few.
21. What I Got by Sublime
Chords: G, D
This laidback, sunny and reggae-inspired song uses just G major and D major chords, to fantastic results! A song off the reggae-rock and ska-punk band's third album titled 'Sublime', it was released after their vocalist Badley Nowell's tragic death and it turned out to be the band's biggest success. 'What I Got' made it to the Billboard's no. 1 spot at the Modern Rock Charts, and has been rated as one of the 100 Greatest Guitar Songs by Rolling Stone Magazine at rank no. 83.
The chilled-out acoustic guitar solos and riffs dance over the simple yet memorable rhythm, while the energetic rapped vocals and the steady 4/4 drum beat get you right in the pocket. The video was put together after their vocalist passed away, and is a fun montage of Nowell's videos and photographs, to pay a tribute to him through the track. This track has a wonderful 90's nostalgic quality to it and is super easy to play and sing along to, so it's a fantastic one to have in your repertoire.
22. La Bamba by Ritchie Valens
Chords: G, C, D
Criminally catchy best describes this Mexican folk song made famous by the rock and roll legend Ritchie Valens in 1958. The song was later recorded by Los Lobos for the 1987 movie, La Bamba, based on the life of Valens which was tragically cut short in an air crash. This spunky and rhythmic song showcases the Mexican "Son Jarocho" style, which boasts a fascinating mix of Spanish, indigenous, and African musical elements.
With just three simple chords, you can get the party going! Start off by playing the G chord, then move to the C, then D, and back to C, and repeat! This song is so easy to play and a must-add to the repertoire of any guitarist. Chords go the same throughout the song in an I-IV-V progression. That's it! La Bamba's infectious strumming pattern also features in "Twist and Shout" by the Beatles.
23. Tonight's The Night by Neil Young
Chords: D, C, D7
A meandering, smoky track with a bittersweet story that slowly grips your senses, tonight's the night is a gorgeous song written by Neil Young for his sixth studio album of the same name. The album was recorded in 1973, but ended up being released in 1975, and is included in Rolling Stone's 500 greatest albums of all time at the 302 spot.
This acclaimed track was written by Young for a person called Bruce Berry who was a roadie of the band who passed away due to a drug overdose. The track, both in its lyrics and progression, takes the listener along on an emotional road trip as a tribute to Berry's life, talking about how he was on the road with the band while driving the van for them, and goofed around with Nel Young's instruments after their gigs. This track just needs you to play D and C major for the chorus, with D7 being strummed all through the verses. This song is really easy to play and has a slightly western vibe to it, so make sure to give it a go. Overall this is one of my favorite GCD guitar songs.
24. To Be With You by Mr. Big
Chords: G, C, D, Em, F
An iconic ballad by American rock band Mr. Big, To Be With You was part of the band's second album 'Lean Into It', and was catapulted to the No. 1 spot on the Billboard Hot 100 charts for three whole weeks, and we're sure you've heard the track sometime, somewhere! With the melody arrangement by the band's guitarist Paul Gilbert and written by the band's vocalist Eric Martin back when he was a teenager, this track was written for a girl he had a crush on back then. This song may need you to know a few more chords along with G, C, and D. You'll also need to know Em and F to play the verse, but it will be well worth it. It is an iconic campfire sing-along that you will love to play.
How To Play G, C & D Chords and How to Read Guitar Tabs
Guitar tabs are a fun and easy way to learn how to play chords, and that's why we've got the guitar tabs of all three classic chords here for you today.
Before we jump into the individual chord tabs, here's a quick refresher on how to read guitar tabs. Take a look at this tab below for the G Major chord as an example.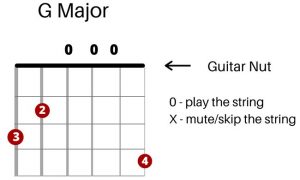 First of all, do you see the thick black line at the very top? That is the guitar nut, and you can imagine seeing the guitar fretboard vertically, as if you've propped it upright. And the thinner horizontal lines under it? Those are used to demarcate the guitar frets, so the first thin line is the 1st fret, the one under it is the 2nd fret, then it's the 3rd fret and the bottom-most compartment is the 4th fret.
Then, the vertical lines from the left to right are the 6 guitar strings, with the leftmost (thickest line) being the Fat E string or the 6th string, and the rightmost being the thinnest E string, which is the 1st string on your guitar.
Then, you will see that there are red circles with the numbers inside them placed at different frets. The red circles are referring to the string and the fret you need to press down, while the number inside them is the finger you are supposed to use to press that string down. 1 refers to the 1st or the index finger, 2 is the middle finger, 3 is the ring finger, and so on.
Finally, you will see 0 or X at the very top of the diagram on top of some strings. While the 'X' means that you do not play or strum that string while playing this chord, and '0' means you play that string open without pressing any fret down on it.
How To Play C Major Chord
Similarly, below is the diagram for the C major chord. As you can see, this chord involves pressing the 3rd fret on the 5th string with your 3rd (ring) finger, 2nd fret on the 4th string with your 2nd (middle) finger, and 1st fret on the 2nd string with your 1st (index) finger. Plus, you need to skip the 6th string and play the open 3rd and the 1st string.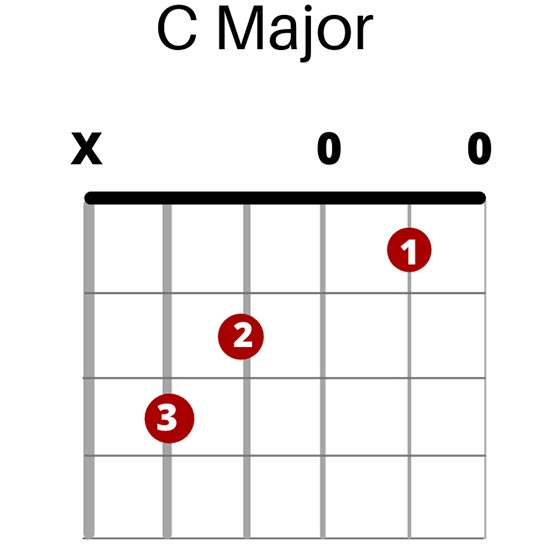 How To Play D Major Chord
Finally, the diagram below shows how you can play the D Major chord. To play the D Major chord, press the 2nd fret of the 3rd string with your 1st finger (index finger). Then, press the 3rd fret on the 2nd string with your 3rd finger (ring finger). Then, press down the 2nd fret of the 1st string with your 2nd finger (middle finger). Finally, make sure you skip the 6th E string while playing the chord, and strum both the open 5th and 4th strings.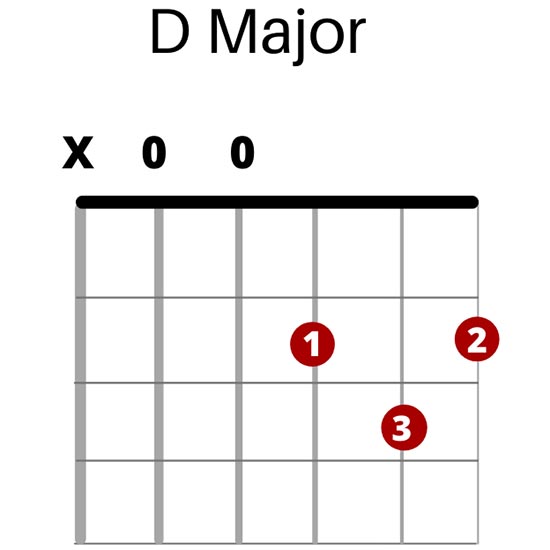 Need a little more help? Here's an awesome video that takes you through easy ways to play all three chords:
Now that you know how to play the G, C, and D chords, how many songs will you be able to play on your guitar? A million of them! So let's jump right into the 24 easiest G-C-D chord songs to play for guitarists, especially beginners.
Bottom Line
As this list of 24 songs demonstrates, well-written songs don't need to necessarily need to have complex chords, these legendary musicians managed to convey a limitless degree of emotions and songwriting prowess with just GCD chords! All the songs featured on this list can be played using these three chords or even less, which makes them great starting points for beginners starting off on your guitar journey.
The basis of most blues tracks is a three-chord progression like GCD, and it's the same for a lot of rock n roll songs, only differing in tempo most times. Of course, this doesn't apply to all of the popular tracks, several of them have complicated structures that can be a task for even experienced guitarists.
We hope this blog gave you all the information you need to grasp these three evergreen chords and expand your arsenal of songs. Can you think of any other songs that are played in GCD? Let us know in the comments below!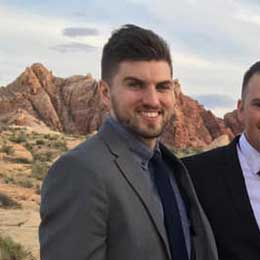 My name is Chris and I've had a passion for music and guitars for as long as I can remember. I started this website with some of my friends who are musicians, music teachers, gear heads, and music enthusiasts so we could provide high-quality guitar and music-related content.
I've been playing guitar since I was 13 years old and am an avid collector. Amps, pedals, guitars, bass, drums, microphones, studio, and recording gear, I love it all.
I was born and raised in Western Pennsylvania. My background is in Electrical Engineering, earning a Bachelor's degree from Youngstown State University. With my engineering experience, I've developed as a designer of guitar amplifiers and effects. A true passion of mine, I've designed, built, and repaired a wide range of guitar amps and electronics. Here at the Guitar Lobby, our aim is to share our passion for Music and gear with the rest of the music community.