For beginner guitarists, getting into metal can be daunting. Many tracks in the genre are complex, often seeming out of reach for those just starting out. However, Metallica's vast discography offers a unique blend of songs that are both iconic and accessible for beginners.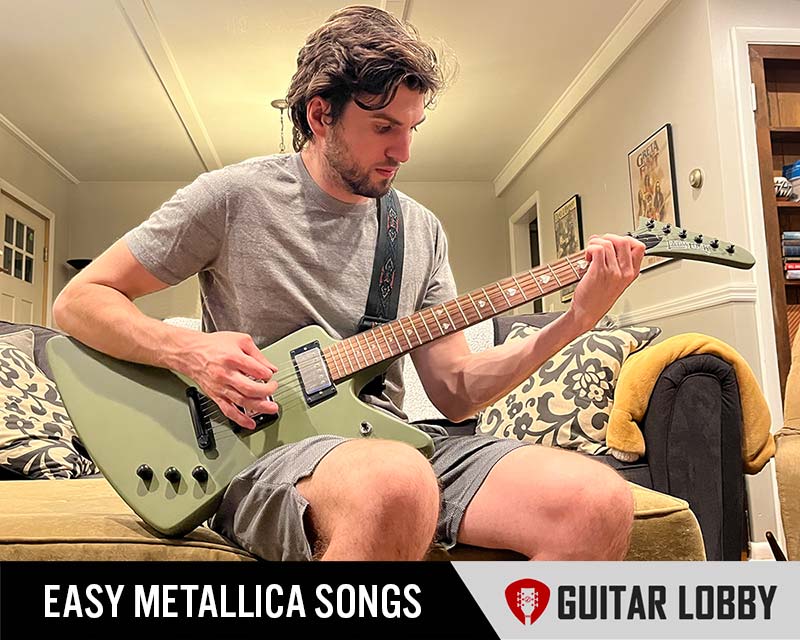 While a lot of Metallica tracks boast intricate solos, many also feature riffs that are straightforward yet impactful. Notably, the "St. Anger" album even completely forgoes traditional solos, making it a more approachable choice for newcomers.
This guide has been curated to ease your transition into the world of metal guitar. Metallica's ability to shift keys, while a common technique in rock, is done exceptionally well by this band. So, if you're seeking tabs, tutorials, or just a starting point, this list of easy Metallica songs is tailored for you.
1. Enter Sandman
"Enter Sandman," from the iconic "Black Album," is arguably one of Metallica's most recognizable tracks. Centered on E minor, the song frequently shifts up to F sharp. This adds a sense of unease that complements its nightmarish theme. The main hook's blue note, a diminished 5th, adds a touch of bluesy darkness, making the riff unforgettable. This song, with its standard tuning, is a must-learn for budding guitarists due to its catchy riffs and iconic status.
Upon its release, "Enter Sandman" skyrocketed in popularity, becoming an anthem for rock enthusiasts worldwide. The song's success wasn't just due to its catchy riffs. Its thematic depth, exploring childhood fears and nightmares, resonated with many. For guitarists, mastering this track is mastering a piece of rock history.
2. For Whom the Bell Tolls
The distorted bass intro on "For Whom the Bell Tolls," crafted by Cliff Burton, predates his tenure with Metallica. Burton played this riff with his former band, Agents of Misfortune, during a live 'battle of the bands' performance. This band also featured Jim Martin, who later became a part of Faith No More. The song draws inspiration from Ernest Hemingway's novel of the same name. It made a brief appearance in the Plan B skateboarding video, "Virtual Reality," from the early 90s.
"Ride the Lightning," Metallica's second studio album, holds a special significance for many fans, including myself. It boasts tracks like "Creeping Death," "Trapped Under Ice," "Fight Fire with Fire," and "For Whom the Bell Tolls." There really never is a dull moment in this album.
3. The Struggle Within
"The Struggle Within" is a great track from Metallica's iconic "Metallica" album, commonly referred to as "The Black Album." The song immediately captures attention with its militaristic drumline, setting the stage for the harmonized guitar work that follows. The track's dynamic shifts, from its rapid tempo changes to its intense breakdowns, are reminiscent of 90s metalcore. Despite its complexity, the riffs remain relatively straightforward, making it approachable for guitar players.
"The Black Album" was the beginning of Metallica's collaboration with producer Bob Rock, a partnership that spanned over a decade. While the album retained its metal essence, it hinted at the band's impending shift towards hard rock. "The Struggle Within," as the closing track, perfectly encapsulates the album's blend of innovation and homage to Metallica's roots.
4. Hero of the Day
Tuned in E flat standard, "Hero of the Day" from the "Load" album is primarily played in A major. However, it takes an unexpected turn to F phrygian, adding a darker atmosphere. The song gained popularity with its MTV video and is one of the catchier songs of this era. Lars Ulrich's drumming shines with refreshingly dynamic fills, while Jason Newsted's bass, played through a flange effect, enhances the sound.
For many fans, "Hero of the Day" stands out even among Metallica's vast discography. It's a song that captures the essence of the "Load" era, blending traditional Metallica elements with new experimental sounds. The song's tuning and modulation make it an interesting piece for guitarists looking to explore beyond standard scales and tunings.
5. Some Kind of Monster
From Metallica's "St. Anger" album, "Some Kind of Monster" stands out with its unique blend of bluesy and heavy riffs. The song's drum patterns, shifting between d-beat and half-time grooves, offer listeners a rhythmic experience that's both captivating and intense. The track shares its name with a documentary that delves into Metallica's challenges and band dynamics during this period.
"St. Anger" marked the conclusion of Metallica's tenure with Elektra Records. Although Rob Trujillo, the band's bassist, was a prominent figure during the album's tour, he didn't participate in the actual recording. Jason Newsted had previously left the band, and producer Bob Rock filled in on bass for the recording sessions. Also notable on this album is Lars Ulrich's notorious snare tone. Overall, I really enjoy playing this song, and it's definitely one of the easiest Metallica songs to play on guitar.
6. Seek & Destroy
"Seek & Destroy" is a track that resonates with every Metallica fan, especially those familiar with the band's early days. The song, from the "Kill 'Em All" album, boasts an opening riff that's instantly recognizable. This riff, one of Metallica's first iconic hooks, has been a staple in their live performances. It echoes the raw energy of their formative years. The song's mid-paced tempo, combined with its memorable melodies, has cemented its status as a fan favorite.
Interestingly, "Seek & Destroy" also made an appearance on Metallica's 1982 demo, "No Life 'Til Leather." This demo version offers a rawer, unpolished sound, giving fans a glimpse into the band's evolution. The "Kill 'Em All" album, being their debut, was a genre-defining record in the thrash metal world.
7. Purify
"Purify" offers a raw, unfiltered glimpse into Metallica's "St. Anger" era. With its drop C tuning, the song exudes a heaviness that's both visceral and emotive. The 3/4 simple meter in the verses sets it apart, offering a rhythmic variation that's refreshingly unconventional. This track is a reflection of Metallica's willingness to push boundaries, even if it meant polarizing fans.
The album's distinct snare sound and the absence of traditional guitar solos make "Purify" a unique listening experience. For guitarists, this song is an invitation to experience a different facet of Metallica's musical identity. The bass on "St. Anger" was actually performed by producer Bob Rock. This is due to Jason Newsted's earlier departure (Rob Trujillo didn't join as bassist until the album was already finished).
8. Halo On Fire
"Halo On Fire," from Metallica's tenth studio album "Hardwired… To Self-Destruct," is a masterclass in blending different tempos and moods. The song commences with a slow to mid-tempo rhythm, enveloping listeners in its melancholic embrace. Its apocalyptic chorus riffs, reminiscent of doom metal, add a haunting depth to the composition. As the track progresses, there's a noticeable shift in energy, with the pace intensifying.
The "Hardwired… To Self-Destruct" album occupies a special place in the band's discography. Drummer Lars Ulrich notably stated that it's the album he has "the fewest issues with." This sentiment speaks volumes about the album's quality and cohesiveness. "Halo On Fire," with its intricate layering and emotive resonance, exemplifies the album's brilliance and Metallica's enduring artistry.
9. Ronnie
"Ronnie," a track from Metallica's sixth studio album "Load," stands out for its distinctive twangy sound. This song leans heavily into a rock vibe, making it one of the most "rock-centric" compositions in Metallica's vast catalog. James Hetfield's spoken narration adds a unique touch, enhancing the song's storytelling aspect. Musically, "Ronnie" revolves around the Ab major pentatonic scale. Its conclusion on the IV chord leaves listeners in a lingering state of suspension. It might not be among the most celebrated tracks on "Load." But its straightforward composition offers a refreshing change of pace.
"Load" itself was a pivotal album for Metallica, coming as a follow-up to their massively popular previous release. While it polarized critics with its experimental approach, the album was a commercial success.
10. 72 Seasons
"72 Seasons" is a tribute to Metallica's deep-rooted thrash metal heritage. The song's dynamic shifts from rapid to steady tempos are masterfully executed, interspersed with atmospheric breakdowns. As the title track of their 2023 album, it signifies a remarkable resurgence for the band. The track boasts impeccable lyrics, resonant vocals, and stellar instrumentation, highlighting Metallica's unmatched musical prowess.
The album "72 Seasons," released in 2023, is a monumental piece with a duration extending beyond an hour. Metallica's promotional tour for the album was a grand spectacle featuring a plethora of guest appearances. Among the most notable was the inclusion of a reformed Pantera, exciting metal fans across the world. This latest work solidifies Metallica's esteemed position in the annals of metal history.
11. Cure
"Cure" from Metallica's "Load" album starts with a simple AC/DC-esque progression and beat. This bluesy hard rock track helped propel Metallica's evolution towards a less metallic sound. The song's composition, with its blues-infused riffs, showcased the band's versatility and willingness to experiment beyond their thrash metal origins.
The "Load" album itself was both experimental and divisive among fans. While Metallica faced criticism for their new direction, many of their contemporaries were actually also exploring similar styles. The rest of the "Big 4" made comparable stylistic shifts throughout the 90s. Various underground metal bands (e.g. Carcass and Entombed) even incorporated classic and hard rock elements around this time. Metallica's "short hair" phase might have been controversial, but they weren't alone in their musical exploration during this era.
12. Invisible Kid
"Invisible Kid" from Metallica's "St. Anger" album offers a unique blend of influences. The vocals channel a 70s aura, reminiscent of iconic bands like Deep Purple and KISS. This vintage vocal vibe contrasts with the musical backdrop, which leans more towards the 90s groove metal sound. Bands like Sepultura and Machine Head come to mind when listening to the track's instrumentation. The combination creates a distinctive sound, setting "Invisible Kid" apart from many other Metallica songs.
The band chose an unconventional recording location for "St. Anger," converting a San Francisco US Army barracks into a studio. However, the recording process eventually shifted to a studio in San Rafael. Notably, unlike most of their albums, "St. Anger" features no guitar solos, marking a significant departure from their normal style.
13. Until it Sleeps
"Until It Sleeps" from Metallica's "Load" album made significant waves upon its release. The song's music video garnered significant recognition, winning Best Rock Video at the MTV Video Music Awards. It was directed by Samuel Bayer, who'd also made several other notable rock videos. Adding to its historical significance, "Until It Sleeps" became one of the first songs to be pirated on the internet.
Kirk Hammett showed his versatility by playing both lead and rhythm guitar on the "Load" recordings. This album also stirred some internal discord, particularly concerning its artwork. James Hetfield, Metallica's frontman, was notably not a fan of the album's cover art. Despite these internal differences, "Load" and its tracks, including "Until It Sleeps," remain integral parts of Metallica's storied discography.
14. One
"One" from Metallica's "…And Justice For All" album is a masterclass in dynamic songwriting. Known for its haunting music video and iconic double-bass drumming, the song starts in B minor, setting a somber tone. As it progresses, there's a beautiful modulation to D mixolydian, displaying the band's ability to seamlessly transition between scales. This modulation doesn't just serve a musical purpose; it narratively shifts the song's mood, preparing listeners for the impending intensity.
The bridge of "One" serves as a musical turning point, leading to the song's explosive climax. By the end, the song transitions into E phrygian, culminating in a heavy rhythm that's become emblematic of Metallica's sound. For guitarists, the song's standard tuning and diverse range of techniques make it essential to learn. While the song is rather easy, it does have a very challenging guitar solo.
15. Frantic
"Frantic," from Metallica's "St. Anger" album, features a guitar tone reminiscent of bands like Queens of the Stone Age. This song dives deep into the theme of addiction, a poignant subject that's unfortunately relatable to many. James Hetfield's vocals are particularly notable here, as he briefly employs a screaming technique, a rarity in his vocal performances. The song's music video further amplifies its impact, featuring a dramatic car crash that leaves a lasting impression on viewers.
"St. Anger" is known for its experimental recording techniques, setting it apart from other Metallica works. This album marked a pivotal moment for the band, as they veered back towards a more aggressive sound. Say what you will about "St. Anger," but "Frantic" embodies the raw energy and emotion that Metallica is renowned for.
16. Screaming Suicide
"Screaming Suicide" kicks off with an intro that showcases the band's unique ability to play heavy in a major key. This track seamlessly blends elements of hardcore and speed metal, resulting in a sound that's both aggressive and melodic. The song's modulation keeps listeners on their toes. The guitar solos, though flashy, lean towards the bluesy side, and are accessible for inexperienced guitarists.
"72 Seasons" is Metallica's eleventh studio release. It's been met with positive acclaim from critics and fans alike. It reinforces Metallica's legacy as pioneers in the metal genre, continuously evolving their sound while staying true to their roots. The song's lyrics deal with the taboo subject of suicide and has gotten praise for its handling of it.
17. Wasting My Hate
From the opening notes of "Wasting My Hate," listeners are immediately drawn into its captivating stoner rock riffs. The song masterfully plays with pacing, transitioning between rapid-fire sections and more languid moments. This track stands as a clear indication of Metallica's exploration into varied rock subgenres, pushing boundaries and challenging musical norms.
It's evident that Metallica was on a journey of musical discovery with "Load." As their sixth studio offering, it was met with a spectrum of reviews. Some critics were unsure of the band's new direction, while others applauded their evolution. Regardless of opinions, the album's commercial success was undeniable. "Wasting My Hate" is a prime example of the band's ability to innovate. They blend their iconic sound with fresh influences, ensuring their music remains both relevant and original.
18. Escape
"Escape" is a criminally underrated track from Metallica's "Ride the Lightning" album. Despite its captivating riffs, intriguing chord progressions, and memorable vocal melodies, the song is rarely (if ever) played live. James Hetfield's reported dislike of the track might be a reason, but for many fans, it's a favorite. The fact that it was written in the studio proves the band's exceptional creativity. It's been covered by hardcore legends Hatebreed and French metal luminaries Gojira.
Around this period, John Bush, known for his work with Armored Saint and Anthrax, declined an offer to join the band. Apparently, James Hetfield wanted to focus on rhythm guitar. But thanks to John Bush turning the offer down, we get to hear great Hetfield performances like this one. When students ask me for easy metal guitar songs to practice, this is one I often recommend to them.
19. Cyanide
"Cyanide," from Metallica's "Death Magnetic" album, offers a nod to the band's 90s hard rock and alt-metal era. Yet, it doesn't shy away from aggression, blending the past with a renewed vigor. The track's energy and composition reflect a band that's evolving while acknowledging its roots. For long-time fans, it's a refreshing blend of familiarity and progression, capturing the essence of Metallica's vast musical journey.
"Death Magnetic" marked a significant milestone for the band, being the first album to feature bassist Rob Trujillo. His inclusion added a fresh dynamic to the group's sound. Furthermore, having the iconic Rick Rubin as the producer elevated the album's quality. Rubin's influence is palpable, guiding Metallica to strike a balance between their classic sound and the need for contemporary relevance.
20. Now That We're Dead
Kicking off with a captivating drum pattern, "Now That We're Dead" immediately grabs the listener's attention. The anthemic and melodic chorus stands out. It's a heavy riff with a catchy hook, and ultimately a memorable piece in their vast and colorful discography. Metallica even delivered a powerful performance of the song on The Late Show with Stephen Colbert.
"Hardwired… To Self-Destruct" serves as Metallica's tenth studio album. The over 70-minute long record proves their enduring relevance to metal and modern music in general. Garnering positive reviews, the album demonstrates the band's commitment to producing quality music, even decades into their career. "Now That We're Dead" is a shining example of their continued prowess and significance in the ever-evolving world of music.
21. Prince Charming
"Prince Charming" from Metallica's "Reload" album is a gem that often goes unnoticed. The track seamlessly blends elements of hard rock, punk, and speed metal, creating a mixed retro sound. James Hetfield's vocals truly shine in this piece, delivering both power and nuance. The harmonization in the song adds great depth to the sonic landscape.
"Reload," originally envisioned as a continuation of the "Load" album, eventually evolved into its own distinct entity. The album goes deeper into the southern rock influences hinted at in their previous works. This exploration of new sounds, combined with their signature metal roots, resulted in an impressive collection of tracks. "Prince Charming" is exemplary of Metallica's ability to innovate while staying true to their core sound.
22. Lux Æterna
With "Lux Æterna," Metallica pays homage to the 70s/80s speed metal era. This style heavily influenced their musical journey and that of many other thrash bands. The song's rhythmic intensity and fiery spirit are evident, capturing the essence of a bygone era while still feeling fresh. Their performance on "Jimmy Kimmel Live" highlighted the band's lasting musical dexterity.
It's not just the music that shines here; the lyrics are also great. The song's title, "Lux Æterna," which translates to "Eternal Light," is a reflection of Metallica's enduring presence in metal. While other bands from the Big 4 face transitions or diversions, Metallica continues to shine, evolving while honoring their roots. This track and album show their ability to adapt, innovate, and remain at the forefront of the genre.
23. King Nothing
"King Nothing" kicks off with an eerie feedback, setting the stage for a sliding, blues-infused bass riff. This track, with its dark undertones, demonstrates Metallica's ability to blend their heavy metal roots with blues elements. The bridge, with its intriguing modulation, is a highlight. It shows the band's talent for shifting between tonal centers, making them stand out in metal.
The song's title, "King Nothing," hints at themes of emptiness and the fleeting nature of power. It's a reflection on the pursuit of desires and the eventual realization of their hollowness. Released in the wake of the colossal success of the "Black Album," this track is catchy and memorable. It helped perpetuate Metallica's status as pioneers in heavy metal and hard rock.
24. My World
"My World" features melodic vocals and unique vocal mixing, offering a fresh perspective on Metallica's sound. The song's verses exhibit a call-and-response quality, reminiscent of classic rock from the 70s and late 60s. There's an intriguing section in 3/4 simple meter showing the band's rhythmic experimentation. It also gets extremely heavy in the last half of the song.
Lyrically, "My World" addresses themes of personal turmoil and inner conflict, delivered in styles ranging from hard rock to hardcore. While "St. Anger" has faced criticism, tracks like "My World" highlight Metallica's ability to take risks and evolve. The absence of guitar solos on the album, including this song, marked a departure from their traditional sound. But "My World" still manages to capture the essence of Metallica's musical prowess.
25. Ride the Lightning
"Ride the Lightning" bursts forth with an unmistakably heavy intro, immediately capturing listeners' attention. The song's pace is relentless, driven by rapid thrash metal drumming. A standout breakdown paves the way for an electrifying guitar solo, which isn't so easy to play. But the main riffs are pretty simple for beginners to learn. An intriguing tidbit: Dave Mustaine, prior to his exit from Metallica, contributed to this song's composition.
The album "Ride the Lightning" is undeniably one of Metallica's crowning achievements. Every track has an impact, underscoring the band's ability to craft memorable metal songs. At a time when many of their contemporaries were still finding their footing, Metallica delivered a groundbreaking masterpiece. This album not only helped define their career but also set a benchmark for the genre.
26. The House Jack Built
"The House Jack Built" is one of the moodier tracks from "Load." Its deliberate pace, combined with the weight of its riffs, creates an atmosphere that's both haunting and immersive. The song's sonic landscape is further enriched by the use of flange and wah guitar effects, adding layers of texture.
"Load" as an album marked a notable shift for Metallica, both in terms of image and musical direction. The lyrics ventured into more socially conscious themes than normal for them, reflecting the band's evolving perspectives. The music press made a big fuss over Metallica's new look and sound during this time. But the band had been subtly integrating elements of classic rock and country into their music for years prior. "Load" was a natural progression more so than a radical departure in a lot of ways.
27. The Shortest Straw
"The Shortest Straw" kicks off with a distinctively staccato intro. It's built around some simple but heavy power chord progressions. However, its thrash groove, characterized by a sliding guitar riff, adds a layer of complexity. The chromatic progression further showcases the band's ability to weave intricate patterns into their music. Aspiring guitarists might find the solo challenging, but it's a rewarding endeavor for those who master it.
"…And Justice For All" marked a pivotal moment in Metallica's career. The album's tracks, including "The Shortest Straw," displayed a heightened level of musical intricacy compared to their previous releases. At its debut, it quickly became their best-selling record, a clear indication of its widespread appeal. Critics too recognized the band's growth, lauding the album for its depth and sophistication.
28. 2×4
"2×4" is a track that captures the essence of Metallica's exploration into new territories. The song's foundation is built on straightforward riffs, which, while simple, are undeniably catchy. As track two on "Load," it sets the tone for the album, with James Hetfield delivering a memorable vocal performance.
The "Load" album itself is a significant chapter in Metallica's storied career. With its expansive duration, it holds the distinction of being their lengthiest album. Another notable aspect of "Load" is its introduction of the Eb standard tuning, a departure from their previous works. This change in tuning brought a fresh dimension to their music. The album, while a departure from their earlier thrash metal roots, highlighted Metallica's adaptability and their commitment to musical growth.
29. The Memory Remains
"The Memory Remains" exudes a stoner/doom ambiance, setting it apart from Metallica's more energetic tracks. The song's main riffs create a haunting atmosphere that's further intensified by the vocal harmonization.
Marianne Faithfull's guest vocals add a distinctive touch, her voice weaving dramatically with the instrumentation. The track concludes with a unique vocal performance, leaving a lingering impression on the listener. It may be jarring to some casual listeners. But Metallica never shied away from surprising people.
While "Reload" came out just a year after its predecessor, it exemplified Metallica's relentless drive to produce music. "The Memory Remains" reflects the band's ability to collaborate with artists from different genres and produce something extraordinary. This fusion of styles and the band's adaptability are among their many unique strengths.
30. The Four Horsemen
"The Four Horsemen" is a musical odyssey stretching over seven minutes and showcasing Metallica's early inclination for intricacy. After all these years, the track is still one of their heaviest offerings. Its multifaceted structure, while challenging, offers a good exercise for new guitarists.
The song's history is interesting, considering Dave Mustaine's involvement and subsequent departure from the band. His refusal to relinquish the song led to its reincarnation as "Mechanix" by Megadeth. This song is different lyrically but very similar musically.
"The Four Horsemen" encapsulates Metallica's raw energy and ambition. To promote "Kill 'Em All" (the album featuring this song), they toured America with Raven, a contemporaneous early metal band. The album's release on Megaforce Records was just the start of Metallica's ascent to metal royalty. If you're looking for easy Metallica guitar songs, this is one of my top recommendations.
31. Fixxxer
"Fixxxer" is a unique auditory experience, beginning with a gradual fade-in that sets a moody atmosphere. The song's doom metal undertones are evident, creating a dark and immersive soundscape. Metallica's experimentation with the delay guitar effect in this track adds a distinctive layer to its composition. That's not an effect they otherwise use a lot.
As the song progresses, the energy surges, culminating in a crescendo towards the end. The slide guitar solo, while straightforward, complements the song's overall vibe, making it a memorable conclusion to "Reload."
While "Reload" garnered mixed reactions from critics, it remains a significant chapter in Metallica's discography. It was their last album of the 90s. "Fixxxer," as the closing track, encapsulates the album's essence, blending traditional Metallica elements with fresh experimental sounds.
32. Shoot Me Again
"Shoot Me Again" is a divisive track in Metallica's catalog, with some fans considering it their least favorite. The song exudes a manic and chaotic aura, a stark departure from the band's traditional sound. James Hetfield's rare screaming vocals add to the song's raw intensity, while the guitar work remains minimalistic. The track's hardcore punk influence is palpable, adding a fresh dimension to the Metallica sound.
The backdrop of "St. Anger" is fascinating, as it was released amidst Metallica's highly publicized dispute with Napster. This tumultuous period might have influenced the raw and unfiltered emotion evident in "Shoot Me Again." The song, as polarizing as it is, pushes the band's sonic limits. And it's pretty easy to learn on guitar.
33. Confusion
"Confusion" blends the essence of Metallica's iconic "The Black Album" with a fresh, modern touch. The song is complemented by a gripping music video. This visual narrative explores deep into the psyche of an ex-soldier, portraying her intense struggle with trauma. The video includes a chilling climax in which the soldier is nearly strangled to death by her own doppelganger.
The backdrop to "Confusion" is the album "Hardwired… To Self-Destruct," which marked a significant moment for Metallica. After an eight-year gap, the band returned to the studio, but not without challenges. Kirk Hammett's misfortune of losing his phone, filled with potential riffs, meant he had to start over with his bandmates. This unexpected twist led to the album being the first where Hammett didn't have any writing credits.
34. Too Far Gone
"Too Far Gone" is a masterful blend of aggression and melody, a hallmark of Metallica's evolving sound. While the riffs may seem straightforward, they pave the way for a challenging solo, which you can learn with practice. The rapid alternate picking further elevates the track, making it stand out among the others on the album. It's an underrated track on arguably Metallica's best album since their self-titled, and possibly even since "Ride the Lightning."
The thematic depth of "72 Seasons" is evident in tracks like "Too Far Gone." The album goes into the intricacies of aging, juxtaposing it with the innocence and memories of childhood. This song, in particular, seems to echo the sentiment of cherishing past moments while confronting the present's complexities.
35. Fade to Black
"Fade to Black" breaks the mold as an iconic thrash metal ballad. Its guitar melodies, from the poignant beginning to the intense climax, underscore Metallica's dynamic range. The song transitions seamlessly from gentle passages to robust crescendos, mirroring its profound narrative. Unexpected key shifts and the brisk concluding riff enrich its musical depth. It's a trip through emotional peaks and valleys.
The lyrics of "Fade to Black" convey a sense of melancholy and introspection, striking a chord with many. This emotional narrative, coupled with the band's innovative approach, solidifies its place as a standout track on "Ride the Lightning." This album marked a significant step forward in Metallica's musical journey. "Fade to Black" remains a testament to their artistry and impact on metal music.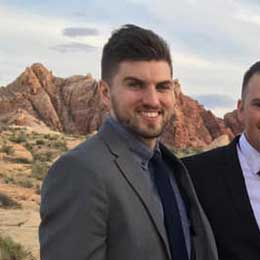 My name is Chris and I've had a passion for music and guitars for as long as I can remember. I started this website with some of my friends who are musicians, music teachers, gear heads, and music enthusiasts so we could provide high-quality guitar and music-related content.
I've been playing guitar since I was 13 years old and am an avid collector. Amps, pedals, guitars, bass, drums, microphones, studio, and recording gear, I love it all.
I was born and raised in Western Pennsylvania. My background is in Electrical Engineering, earning a Bachelor's degree from Youngstown State University. With my engineering experience, I've developed as a designer of guitar amplifiers and effects. A true passion of mine, I've designed, built, and repaired a wide range of guitar amps and electronics. Here at the Guitar Lobby, our aim is to share our passion for Music and gear with the rest of the music community.