If a picture paints a thousand words and music paints a picture, how do we measure the quality and emotion of instrumental songs? Is it by the number of hearts they touch? The number of notes per second?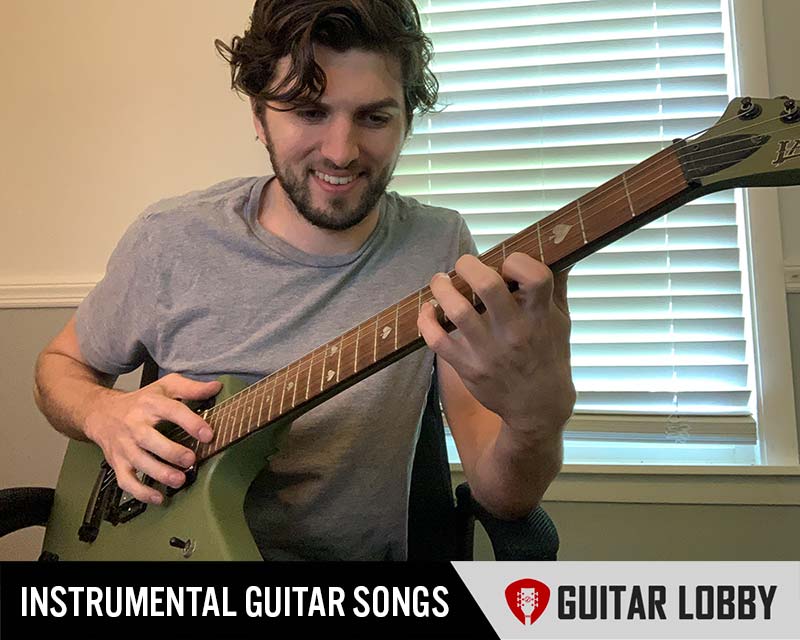 Sometimes instrumental guitar songs can tell a much more vivid and emotionally evocative story than a song with even the most heartfelt lyrics can. Andy Timmons, Steve Vai, Buckethead, Laurence Juber, and Brad Paisley are all incredible and wildly talented guitarists who do a wonderful job of blending emotion and technical prowess. So how do we measure the honest depth of a song with no lyrics? Check out our list of the best instrumental guitar songs and decide for yourself!
1. Jordan by Buckethead
Buckethead is widely regarded as one of the (if not THE) best guitarists in this realm (because who knows where this enigmatic figure really came from)! Gaining major popularity after having his song featured in Guitar Hero 2, Buckethead found a major following from guitarists and music fans alike. Probably his most notable song, "Jordan," leads off with a two-stage pitch-shifting killswitch riff which breaks down into an atonal tapping riff that kicks off a barrage of inexplicably face-melting solos that reach as high as 15 notes per second. Two-handed tapping, insanely fast legato sections, killswitch technique, and subtle use of wah just ignite this track and drop jaws wherever it's played. Fun fact: the solos were recorded in one take; Buckethead played the entire stretch in one unedited playthrough.
2. Lunar Eclipse by Laurence Juber
Wings guitarist Laurence Juber takes us on an incredibly emotional and thoughtful journey with his song "Lunar Eclipse," a poignant and peaceful release from 2000 that is anything but simple. Elegant and defined, Juber displays his masterful approach to dynamic fingerstyle guitar playing with soaring melodies, quaint harmonies, catchy and memorable riffs, and an overall sense of tranquility that renders the listener in a state of calm before getting them grooving again with an impressive lead/rhythm duet that includes a tasty acoustic legato solo in the middle of the song. Take a look at the tab provided and see if you're ready to take on this remarkable example of fingerstyle guitar for yourself!
3. Crystal Planet by Angel Vivaldi
Ice Nine Kills guitarist Dan Sugarman joins guitar maestro Angel Vivaldi in "Crystal Planet," a technical shred masterclass of a song that sees the two guitarists facing off and trading solos with style and finesse as well as technique and groove. Right from the beginning, we're assaulted by legato, flaming-hot melody, and an avant-garde selection of chord progressions that lead into a catchy and solid hook riff. Vivaldi makes good use of open notes throughout this song, peppering them through his phrases to give them a sense of speed and fullness. He also takes full advantage of his tremolo arm, making just indescribable melodic creations with them. Check out the music video to watch Vivaldi and Sugarman trade riffs and pranks!
4. For The Love of God by Steve Vai
Probably one of the most classic and instantly recognizable Steve Vai songs and an incredible testament to not only Vai's playing and composing ability but to his guitar's ability to keep the strings in tune throughout the performance. Steve Vai bends and wails his guitar into oblivion (especially in the live performance provided above. Skip ahead to around the 4:36 mark to watch Vai nearly set his fretboard on fire as he plays at nearly the speed of light! Not an impossible song to learn, but one to take slowly and practice with as much heart and soul as was put into writing it.
5. YYZ by Rush
Speaking of classics, let's take a moment to appreciate how many insanely talented musicians were in one space when YYZ was conceived! Geddy Lee, Neil Peart, and Alex Lifeson. Household names in rock and roll and the masters behind the beloved song we present today. Watching the live performance linked above is a spectacle to behold and proves that age is just a number but class is forever. So much going on in this complex and dynamic song! Focusing specifically on Lifeson's guitar playing, we see mostly the catchy legato melody (which might just quickly become muscle memory!) and some fun chords here, so take a peek at the tab and give it a shot!
6. Scarified by Racer X
This has to be one of the most fun riffs to play (and a great warm-up exercise to boot)! Paul Gilbert slays this Racer X classic and shows us just how many notes you can try to cram into such a short passage. There's no shortage of incredible and masterful playing here as Gilbert lets loose with the main phrase before slowing down to halftime and giving us an emotional and melodic solo that quickly climaxes into a hyper-shred fill that falls back into the main riff and some not-quite-sweeping arpeggios that just absolutely melt the faces of anyone watching. Check out the attached tab if you feel like attempting this song yourself! And if not, at least take a look at Paul Gilbert's robotic fingers in the video linked above!
7. Paradigm Shift by Liquid Tension Experiment
Beginning as a side project for Dream Theater drummer Mike Portnoy and ending up as a world record attempt by John Petrucci for most notes played in a single second, Liquid Tension Experiment leaves us guessing at every bar as to where the song will go next, especially with the live performance linked above. Right away Petrucci is making an attempt at cutting his fretboard in half with his lighting fast opening legato before kicking us in the face with a rockabilly-esque riff and taking off again into the far reaches of solo insanity. There are a lot of really cool and interesting time changes within the song, so beware as you're making your first through playthroughs (if you dare to try)!
8. Hanuman by Rodrigo Y Gabriela
You probably haven't heard such stylistic and heartfelt playing as Rodrigo Y Gabriela is going to present. They really bring out everything the acoustic guitar has to offer in their song "Hanuman." Don't take my word for it, though. Check out the video linked above and listen to (and watch!) how they combine flamenco-style strumming patterns with rock legato and percussive body-smacking to captivate and ensnare you in their web of emotion. Their guitars really come to life here! Four minutes goes by incredibly fast here, so take a few listens if you need to before making an attempt for yourself. From a performer's perspective, the legato is pretty intricate but nothing too intense while the chords are fast and seem relentless but, again, are accessible and definitely within your reach if you take it slow!
9. Teeth of the Hydra by Steve Vai
Steve Vai is playing 3 (three!) guitars at once. I think I need not say any more. We have to come back to the master of guitar to witness this incredible feat because, if you haven't seen it by now, Vai really is taking on the hydra with a triple-neck guitar. This beast comes equipped with a half-fretless headless bass, half-fretless 12 string and a 7 string lead machine. Vai lays down plucked and tapped open-note bass riffs while playing 12-string chords and ripping leads on the 7-string. And he makes it looks so effortless! Linked above is a tab for each head of the guitar if you feel like attempting this yourself. Oh, did I mention there's a small judy harp on the lower end of the guitar as well? I could go on and on and on, but you'll just have to see for yourself. "Teeth of the Hydra" is easily one of the best instrumental guitar songs of all time.
10. Cry for You by Andy Timmons
Andy Timmons shines and shimmers with the clean riff passage that begins his song "Cry For You." Maybe one of Timmons' most prolific tunes, there's something so melancholy and heart-wrenching about those beautiful leads. This is a song you'll definitely have to try for yourself. The dynamic and moving lead riffs are executed with precision and emotion in equal measure, leaving the listener bereft and wanting more. Notes bent and squealed before climaxing into an incredible and uplifting chorus that flat out ROCKS, on fire with Timmons' insane solos. This is a song written with the heart, not the pen; no words are necessary here. So many techniques and so many different ways to excel shown by Timmons here, so check out the tab and take a stab at the song yourself!
11. Huckleberry Jam by Brad Paisley
Most notable for his incredible discography from the 2000s and beyond, country music superstar Brad Paisley goes above and beyond with his musical prowess, delivering songs that pull on your heart, send you into spirals of nostalgia and peaceful longing, make you laugh and set your speakers on fire. From his 2008 album Play comes "Huckleberry Jam," a delightful, upbeat, and speedy instrumental that only times out to three minutes but still manages to paint a vivid picture of the modern country soloing style that Brad Paisley defines. Paisley uses a hybrid-picking technique to layer melodies and solos over the rhythmic grooves he's known for, playing at lightning-fast speeds with creativity and a unique flair. Check out the tab linked above if you're feeling like giving this song a shot yourself!
12. Impulse by An Endless Sporadic
An Endless Sporadic gained major popularity after their song "Impulse" was featured on Guitar Hero 3. And while their entire Ameliorate album is outstanding, "Impulse" stands out as one of the most dynamic and fun songs on the record. Taking off right away with a quick legato riff before exploding into the biggest and fullest riff you've probably never heard before, "Impulse" is only beginning to challenge your understanding of music theory and song composition. Funk, prog metal, Time changes galore, and even a few genre changes mid-song? Take "Impulse" as you will, but there's no denying that it's a song for the ages in terms of guitar versatility. It's no surprise that An Endless Sporadic is led by a Berklee College of Music alum!
13. Nandemonaiya Fingerstyle by Sungha Jung
Japanese rockstars Radwimps wrote the soundtrack for the wickedly popular and incredibly moving anime Your Name, a movie where two high school students swap bodies and wreak havoc in each other's lives. The main theme, "Nandemonaiya," is an impressively emotional piece of auditory art in itself, but when played in a fingerstyle version by guitar whisperer Sungha Jung, the song takes on an entirely new feeling and promises to whisk you away in its beauty. Playing both vocal melody and guitar instrumental in one voicing, Jung masterfully captures the character and energy with his intricate articulation and percussive playing. Listen to the original song if you haven't yet, but absolutely check out the video linked above to bare witness to Sungha Jung's interpretation.
14. Lazy Afternoons Fingerstyle by Paul Yoon
Composer Yoko Shimomura is responsible for some of the most beautiful and emotional music in video game history, spanning dozens of consoles and over 45 separate video games from the Final Fantasy series, the Mario & Luigi RPG series, Xenoblade, Street Fighter, and more. But one song, in particular, stands out among her discography, a song that rests with the spirits of Kingdom Hearts fans everywhere. The main theme song for the game's Twilight Town level is "Lazy Afternoons." Paul Yoon performs a fingerstyle cover of the song in the video linked above and transports the listener back to simpler times with memories of doing odd jobs, sea salt ice cream, Struggle tournaments, and summer vacation with friends.
15. Awakening by Ichika Nito
Japanese guitar slayer Ichika Nito enjoys spending his time devising new ways to completely and utterly annihilate our conception of what a guitar's purpose and ability truly is. Playing what sounds like 4 or 5 melodies at once are no challenge at all for Nito, who regularly graces his YouTube audience with 30-second songs that somehow manage to raise the bar from each song before it. Incredible and in-human multi-finger tapping while using his left hand to craft complex and quick shifting chords leads the way for mesmerizing legato and what can only be described as something beyond godly. Just take a look at the video linked above and see for yourself!
16. Blood Moon by Tim Henson
Another guitarist known for pushing his way beyond the boundaries of modern guitar playing as we know it, Tim Henson of Polyphia, makes himself known in this 2020 fret-shredder "Blood Moon." Complex chords and tapped melodies mingle with tremolo arm tricks and hybrid-picked phrases to create an impressively confusing soundscape that just somehow works! The song itself is only 48 seconds long and consists of two main sections; a 4-bar intro and an 8-bar main phase riff take up the remainder of the airtime. But for as quick of a song as it is, Henson manages to fill less than a minute to the brim with new-age math rock pizzazz and a vibe that will have you bobbing your head and grimacing in surprise at the same time.
17. Physical Education
Animals As Leaders might be leading the charge in the new wave of 8-string progressive metal/math rock. Tosin Abasi is at the helm here with an incredible and distinctively destructive array of techniques, from percussive slapping to breathtaking legato melodies that intermingle much more smoothly than you might think from just thinking about it. Transitioning from bass riffs to main leads with just one guitar is nothing for Abasi, who shows us what it means to master the 8-string way of life. "Physical Education" has a few time changes in here that add a mix of awe and majesty to a song that grabs you by the throat right from the first bar, so be sure to check out the live performance linked above and peek at the tab if you dare.
18. Satch Boogie by Joe Satriani
Another guitar god to add some class and style to our list is Joe Satriani, a household name in guitar rock and the envy of probably anyone to pick up or even look at a guitar. Satriani just lets loose in his song "Satch Boogie," starting off with the funkiest of funky intro riffs before fully assaulting anyone within hearing range with an endless barrage of bluesy solos, squeals, legato licks, wailing melodies, pick tapping, and straight 6-string madness (or magic?). Check out the live performance above for an awe-inspiring five minutes you won't regret.
19. Cliffs of Dover by Eric Johnson
One of his most profound and instantly-recognizable songs, Eric Johnson states he's unsure as to whether or not he can even take credit for "Cliffs of Dover," saying it just came to him and wrote itself within minutes of being thought of. "Cliffs of Dover" won a Grammy award for "Best Rock Instrumental" in 1991, undoubtedly for its massively catchy hook and undeniable style that might be the epitome of "often copied, never duplicated". The live performance linked above showcases Johnson beginning Cliffs of Dover with what might be one of the most beautiful guitar pieces I've ever heard before, so definitely give it a listen! The song itself begins at around the 2:04 mark.
20. Freeway Jam by Jeff Beck
Guitar mastermind Jeff Beck starts off the song with an impressively legit impersonation of rush-hour traffic; mimicking the horn to the Doppler effect sound of a passing car, Beck shows us it's not just his brand of bluesy-rock that he can dole out on the guitar! He's plenty good at that, too, though, as he lets us know with "Freeway Jam," a smooth blues-rock jam session put to tape that just feels like cruising down the open highway in a convertible Mustang in the summer heat! A song with this much groove and feel shouldn't be left in the rock and roll vaults, so take a look at the tab linked above and see if you're ready to take on a classic hit from the late legend himself.
21. Donna Lee by Guthrie Govan
If William Shakespeare had a way with words, Guthrie Govan would have a way with everything else that words cannot express. As he shows us in this live rendition, Goven is perfectly capable of and satisfied with playing a walking upright bass-style rhythm while also chickenpickin' his way through a smooth and rich melody. With the audio aesthetic of 50s jukebox rock fused with a modern low-gain twang, Guthrie Goven promises us a nostalgic sound until he opens up his overdrive and melts our faces with lightspeed legato riffs! Then we're right back to the shimmering string-skipped chord melodies with transitional speed quick enough to give you whiplash!
22. Mediterranean Sundance by Al Di Meola
Classical fans and shredheads rejoice! Al Di Meola is here to satisfy all your musical desires with his flamenco jazz fusion song "Mediterranean Sundance." If you've ever wondered how a guitarist could rip it up on a nylon stringed guitar with grace, culture and ease, look no further. This song will transport you somewhere far away, and you might just have a spiritual awakening on your way back home. The live performance linked above takes place at Berklee College of Music's Valencia campus, but make sure to check out the original studio recording as well to get a full sense of the song's majesty and power.
23. Arpeggios From Hell by Yngwie Malmsteen
The name "Yngwie Malmsteen" was whispered in hushed tones among my musician friends when I was a budding guitarist in high school, and "Arpeggios From Hell" was always the first song on the tips of everyone's tongues. In his own words, Malmsteen describes the song as having "the most extreme arpeggios" that he's ever come up with. Malmsteen plays these hellfire riffs on a strat with a scalloped fretboard, where the surface of the fretboard between the notes is filed down to a concave shape between each fret as opposed to being flat on a normal guitar. Malmsteen has proven himself a true master of masters on the guitar, adding custom-modified guitars to his arsenal to craft insane soundscapes such as this one.
24. Thunder March by Marty Friedman
Metal king Marty Friedman drops jaws in Japan in the video linked above, where he unleashes the major-key laden riff powerhouse "Thunder March", an instrumental ballad of epic proportions with big soul and bigger tone. Friedman kills it with his brand of Something akin to a patriot anthem meets guitar solo contest, "Thunder March" will be sure to stun no matter what your musical preference is. If you feel handy with a six string, check out the tab linked above for an accurate and detailed representation of the song (with 4 different guitar tracks tabbed to choose from!).
25. Flight of the Wounded Bumblebee by Nuno Bettancourt
Nuno Bettencourt slays bees and frets in this melodic and inspired take on the classical Rimsky-Korsakov composition. Displaying a thrilling tremolo riff that flies its way across the fretboard and promises a wrist of steel upon successful completion of the riff in its entirety, Nuno Bettencourt convinces us that he's unworthy of being so underrated by modern metal listeners. A true virtuoso, Nuno Bettencourt makes timing and control cool again. "Flight of the Wounded Bumblebee" is only the first song played from a selection in the video linked above, but stick around to get a glimpse of just how impressive Bettencourt's style and approach to guitar really are!
26. Playing With Pink Noise by Kaki King
Hailing from Atlanta, Georgia, Kaki King brings us a spectacle to behold with her song "Playing With Pink Noise." The acoustic guitar is no longer an instrument but a weapon used to assault us with intricate percussive patterns reminiscent of world music that are woven into fingerstyle strumming and melody phrases. King takes on a two-handed approach to tap out a chorus melody while barring the rhythm chords before heading back into the percussive verse. King never breaks concentration either, keeping a razor-sharp focus on where she's playing and where the song is taking her. Check it out for yourself with the video linked above!
27. Drifting by Andy McKee
Humble to the core, Andy McKee describes himself as "just this guy from Topeka, Kansas, who kind of blew up on the internet about a week before Christmas." And by blowing up, he means becoming Candyrat Record's best-selling artist after going viral for his technical guitar skills on YouTube. Take a look at the video linked above, where McKee performs his song "Drifting" on an extended-range acoustic guitar. Right away, were subject to an incredible array of body slap drum beats before heading into a stunningly beautiful melody that evolves into a harmonic-laden emotional cinematic hook that sounds like it was composed specifically for a heartfelt montage in a rom-com. "Drifting" will grip your spirit and cradle it for the nearly three and a half minute run time.
28. Here's To The Crazy Ones by John 5 and the Creatures
Marylin Manson guitarist John 5 runs solo with his band of creatures for this riff-ripper, "Here's To The Crazy Ones." Right away, we're hit with a complex and powerful tapping riff before being stopped in our tracks and given a funky half-time slap riff. John 5 then brings the main event, an ultra-catchy hook riff that doesn't skimp on charm or technique. Sweep picking, atonal phrases, tremolo picking, a blazing guitar solo, and even killswitch playing, all with the typical John 5 style and finesse, "Here's To The Crazy Ones" is a song you'll have to hear to believe. And if you're feeling brave, check out the tab linked above to give it a try for yourself!
29. Eruption by Van Halen
"Eruption" is a song that needs no introduction! Giving us a fantastic tremolo-picked intro riff, throwing his pick into the crowd, and proceeding to tap the skin right off his fingertips is just the Van Halen way. One-handed tapping, insane legato, and massive tone from a single pickup on the signature frankenstrat, it's all a part of the majesty. Check out the tab linked above if you think you're ready to try it out for yourself! Also, don't forget to head over to about the 4:50 mark of the video to check out a 1986-era Mr. Van Halen destroy the crowd at the Veteran's Memorial Coliseum in New Haven, Connecticut.
30. Double Guitar Solo by Micheal Angelo Batio
Before Steve Vai took on the hydra with his triple-necked guitar monstrosity, Micheal Angelo Batio toured playing a double-necked guitar, but not double-necked in the usual sense. Check out MAB playing an ambidextrous anthem on his Dean mirrored-neck guitar in the linked video above. Left-handed playing, right-handed playing, crisscrossed playing, upside-down playing, this is just an incredible sight to behold. And all without missing a note! We're talking about high-speed metal legato here too, played each and every way you can think of and without breaking a sweat! If you weren't watching him play, you'd never realize how often he was switching necks or playing positions; it's that seamless. Check out some of the live footage too, if you're still in disbelief!
31. Miserlou by Dick Dale
Dick Dale heads down to Guitar Center Sessions to show us why they call him the King of Surf Rock in the video linked above (skip to about the 1:30 mark to see the song itself). With his guitar strung in reverse, Dale takes on a wild journey through an otherworldly musical experience. His rapid-fire left-hand technique stuns with its quintessential 60s surf rock style. Probably the most iconic track in Dale's arsenal, Miserlou (which started out as a traditional Mediterranean folk song and was rewritten and transformed by Dick Dale) still resounds with power and the fury of the seas to this day.
32. Third Stone From The Sun by The Jimi Hendrix Experience
Jimi Hendrix is never short on anything groove, funk, or blues related, and this psychedelic funk/blues rock majesty proves no different. Hendrix steps back from the mic in this song (save for a short poem recitation) to jam out with Mitch Mitchell and Noel Redding to take you on a seven-minute journey into the unknown. Jimi Hendrix brings us along for the ride as he explores a fusion of jazz, rock and blues influences with cosmic contemplation and an otherworldly atmosphere. Throughout the song, Hendrix relies on dynamic string bending, controlled distortion, and feedback manipulation to add texture and emotion to the tune, making it a true testament to the musical genius and legendary legacy of Jimi Hendrix.
33. Rebel Rouser by Duane Eddy
1958 saw the release of "Duane Eddy and his 'twangy' guitar", featuring what would become a hit song, "Rebel Rouser." Played on a modified amplifier, Duane Eddy's pronounced tone and reverb add an unmistakable texture and energy to a song that helped shape the sound and path of rock music from then on. Eddy shows an incredibly innovative approach to playing the electric guitar, especially for a song played and released in the late 50s, an era where the musical landscape was filled with country music, blues music, doo-wop, and a lighter flavor of rock and roll from artists such as Elvis Presley, Chuck Berry and Little Richard.
34. Blood Orange by Berried Alive
Before you don your headphones and check out the video linked above, I'm going to need you to take everything you think you know about modern guitar music, organize it into a nice little pile. and set it on fire. Because if you don't, Berried Alive is going to burn it all for you anyway. Berried Alive (made up of power couple Charles and Kaylie Caswell) takes influence from EDM, pop, trap, avant-garde, hip-hop, and brutally-technical metal and assembles it into atmospheric, ethereal, and theatrical performances so intricate and delicately timed that watching them being played so effortlessly just makes you want to quit playing yourself. Looking specifically at "Blood Orange," we start off with a 'cursed arcade machine' kind of synth sound with some humorous vocal adlibs before dropping feet first into a melody-mirroring tapping/squealing/sliding riff pulsing with crushing guitar tones. Careful but creative tremolo arm usage, multi-finger chord tapping, eccentric slides, pitch shifting, staccato pick scraping, face-melting solos. Did I mention this is all being played on a multi-scale 8-string? It's okay if you need to stop and catch your breath before reading on.
35. Under The Influence by Rusty Cooley
Rusty Cooley straps on his trusty Dean guitar to melt our ears and faces with the insanely thrilling and ever-evolving "Under The Influence," a song that starts off with a thick and powerful intro riff that can't help but throw some lightning-fast legato between chords. Fingers fly for almost the entire seven minutes this song plays, an incredible testament to the strength, endurance, and creativity of Cooley's style. Between the technical prowess, intricate fretwork, and the pure awesome of his insanely fast solos, "Under The Influence" is a must-listen for shredheads anywhere! A veil of fierce and undying power surrounds this track and goes to show that Rusty Cooley isn't slowing down anytime soon.
36. Rumble by Link Wray
Link Wray was a pioneer who had a major part in defining what rock and roll would soon become. Playing incredible slow-burning, hyper-distorted chords with bluesy walk-downs and overtones of shoegaze-y feedback from long-held and dying chords, Wray quickly transitions into tremolo surf rock-ish runs before circling right back around to the chords and walk-downs. "Rumble" showcases intense and raw energy coupled with the genre-defining tone (thanks to the punctured speaker cone in Wray's amp) that has successfully concreted as a pillar of the rock and roll genre. Check out the video linked above for an incredibly impressive performance from November of 1974! (Bonus homework, check out the 11/12/1984 version of Rumble to see an older Wray playing with the distorted tones he helped inspire on more modern gear!)
37. Chasing A Beat by Tom Quayle
Dazzling legato runs, fluid arpeggio phrases, complex rhythms, intricate jazz overtones, and a contemporary fusion groove all blend together in Tom Quayle's "Chasing A Beat." Quayle's fretwork is all over the place in the best way possible. There's no rushing the soloing techniques, no overkill, and no tension; it's all liquid smooth legato, tasty licks, and a level of technical dexterity that I, up until now, only thought was possible by god or machine. Check out the tab linked above if you feel like attempting the genre-bending, near-undefinable Tom Quayle masterpiece for yourself (and make sure to check out the video linked above as well to see the wonderful Mr. Quayle showing us just how it's done)!
38. Where Do I Begin? by Slash
An instrumental cover of the main theme from the 1970's film Love Story, "Where Do I Begin?" starts with an emotionally gentle classical guitar piece that tugs at heartstrings as well as guitar strings. Before long, however, the classic Slash finesse kicks in and delivers a punch to both face and gut. Are you crying from the punch to the face or the wailing and longing of Slash's leads? I don't know, either. No matter what, this soul-stirring composition showcases Slash's signature hard rock sound through its versatile, poignant, and heartfelt atmosphere, creating an introspective and profound musical experience that transcends the normal level of Slash's soulful and creative artistic range into something that lifts the listener into another world.
39. The Cataclysm by Takayoshi Ohmura
"The Cataclysm" is one of those songs that will knock you right on your butt if you're not expecting it! It starts off with a pretty incredible rock riff that doesn't skimp on groove before heading into a melodic solo that rapidly evolves into extreme hyper-shred legato, sweeping, string skipping, tapping, and playing you'd have to see for yourself to believe! If you look closely, you can see Ohmura utilizing hybrid picking to pluck notes here and there during his fast legato runs. Check out the first three minutes of the video linked above to witness Takayoshi Ohmura absolutely slaughtering his fretboard with this masterpiece!
40. The Lesson by Victor Wooten
Bass is still a guitar! And if we're going to cover bass guitar instrumentals as well, then there's nobody else to turn to but the master himself, Bass Player magazine's Top Bassist (three times in a row) Victor Wooten. In the video linked above, Wooten sets the crowd of EMGtv aflame with his performance of "The Lesson." The song starts out with a slow and easy slap percussion groove that intertwines solo playing between the rhythms and slaps before jumping into an effortlessly-played chord section played across all four strings. "The Lesson" is almost played as an acoustic fingerstyle song transposed to bass, with Wooten's fingers spanning four or five frets at a time to deliver phrases that can only be described as 'the epitome of intricacy.' All of this building up leads to the epic climax of the song, where Wooten uses eight fingers in total to deliver a tapped melody that gives way to a slapping, popping percussion solo that hits an uncountable number of notes per second. A jazzy solo jam played out with soul and style, "The Lesson" can be looked at as a pilgrimage to bass guitar mastery.
41. When The Lights Go Down by Igor Paspalj
Croatian musician and guitar virtuoso Igor Paspalj delivers the stunning and moving "When The Lights Go Down," an electronic beat-infused, orchestra-backed ocean of rhythm that leads to kill and unmatched soul. Paspalj runs us through some incredible legato, making tasteful use of his tremolo between sweeping passages and insanely heartfelt melodies reminiscent of Slash or Steve Vai. Delicate use of delay right before an orchestral intermission gives that moment a modern Buckethead feeling. The guitar rejoins the storm, inviting the orchestra to stay for the outro, a cinematic and intense finale that slowly fades out into a feeling of wanting so much more. Igor Paspalj effortlessly blends genres and musical tastes into one breathtaking creation, earning him the title of "criminally underrated"!
Popular Article: Guitar Songs That Are Perfect for Beginners
42. Nottingham Lace by Buckethead
Enigmatic guitar god Buckethead returns once more to our list to sonically assault our minds and spirits with his unique ability to seamlessly blend genres, play impossible solos with grace and elegance and write 10,000 songs in a lifetime without repeating himself, sounding repetitive, or getting boring. This time we're diving into "Nottingham Lace," a multi-leveled and groovy track. From the beginning, we're hit with an incredibly thick, heavy-hitter of a riff before being whiplashed into a wah-soaked distorted funk riff and psychedelic leads over some more of those deep-cutting rhythms. A climactic and anticipatory lead melody section beings to build while ping-ponging chords set the tone for what becomes an epic and soulful four-minute guitar oddessy. Buckethead plays this song a little differently in every live performance, so for a classic take on this supreme Big B tune, check out the studio version from the Enter The Chicken album!
43. Crowd Chant by Joe Satriani
While this list focuses on instrumental guitar songs, and this song technically has vocals in it, the vocals are supplied by the crowd as part of a call and response game played by Joe Satriani for his song "Crowd Chant". Before moving into a beautiful and enchanting prog rock chorus melody, Satriani calls upon the crowd to supply their voices for the verse of his song, where they sing out a vocal that matches the guitar riff played directly before. Part karaoke, part musical, Simon says this would be a good song to whip out at an open mic night or party to get the crowd involved! There are still plenty of epic guitar riffs in this signature Satriani track, so check out the attached tab and the live performance linked above to see for yourself!
44. Crossroads Guitar Dual by Steve Vai
A classic piece of both music and film history, the guitar dual between Steve Vai and Ralph Macchio pits metal against slide blues, technical against classical, and show against soul. While both sides of the dual were actually played and recorded by Vai and dubbed into the movie, Macchio learned to mime the parts while learning to play guitar for real under instruction of Arlen Roth. Steve Vai plays a new-age modern player obsessed with high gain and higher notes on his charvel while Ralph Macchio dons a suit and slide to rip Vai apart with his telecaster. Who really won the battle, though? Check out the classic Crossroads clip linked above to decide for yourself. Why don't you grab a friend and check out the linked tab above as well, and have a duel of your own?
45. Lenny by Stevie Ray Vaughn
A poignant and touching tribute to his wife, Stevie Ray Vaughn plays "Lenny" with love, spirit and tenderness. Incredibly authentic changes in dynamics make this song a tune you want to sit back and enjoy with your whole mind and heart, not just your ears. Each note paints a vivid portrait of affection with a depth untouchable by most, proving that you can say so much with an instrumental song. Released on his 1983 album Texas Flood, "Lenny" remains to this day a testament to true love and raw romance. Check out the linked tab above so you can be ready to serenade the special someone in your life.
46. Marwa Blues by George Harrison
Released posthumously a year after George Harrison died, "Marwa Blues" carries a serene and contemplative ambiance and invites the listener on a meditative and introspective journey through a slide-laden soundscape. Ethereal overtones bathe the song in tranquility, due in part to the Marwa raga inspiration, a scale of classical Indian music renowned for its meditative nature. Harrison's lifelong exploration of diverse and exciting musical influences reflect in "Marwa Blues" and promises a timeless and profound ability to communicate emotions through music, especially through the guitar. Take a moment to pause and reflect as you listen to the linked recording above, and if you're feeling especially moved, take a look at the tab linked above as well to play the song yourself.
47. Samba Pa Ti by Santana
Carlos Santana stands as one of the greatest guitarists who ever lived, known across the globe as a master of soulful playing, emotional guitar riffs, and stylistic phrasings that grip your heart and your ears alike. "Samba Pa Ti" is no different and shows just how important it is to Santana that the listener be connected with the song. Take a look at the video linked above where Santana plays for a crowd in Montreux in 2011, sitting on a stage riser feet away from the audience and just playing guitar. And I don't mean "just playing" like it's no big deal; quite the opposite. Santana infuses every single note with more heart than can fit in the room and, on this night, connected with his audience in a way that wasn't showy, wasn't theatrical or over the top. It was just music and love.
48. Mabel's Fatal Fable by Jason Becker
Jason Becker is an absolute madman, and "Mabel's Fatal Fable" is here to prove that. Mabel's fable was probably fatal because she stood too close to Becker's amp as he played the blistering sweeping solos from this song, and she spontaneously combusted. While that may or may not be the case, one thing's for sure. Neoclassical evil genius Jason Becker was not shy about breaking boundaries and causing fretboard mayhem wherever he went. A formidable composer while incredible technical skill, Becker regularly shows us just how simple it is for him to rip through shredding legato, arpeggios, and tapping sections without breaking a sweat. Fun fact: At sixteen, Becker teamed up with a guitarist friend to form a duo named Cacophony, who released two albums. This friend? None other than Marty Friedman.
49. Jessica by The Allman Brothers Band
Perhaps one of the greatest instrumentals of all time, The Allman Brothers, gives us the masterpiece that is "Jessica". This upbeat, melodic, and infectiously groovy tune exudes a carefree sense of spirit and adventure. The dueling guitar harmonies and catchy melody made the song not only a radio classic but a must-play at any Allman Brothers show. Fusing a bit of classic rock, blues and Southern rock into one massive hit never seemed so effortless as it does when being performed by the Allman Brothers. Take a quick look at the tab linked above if you're feeling like adding this classic rock gem to your repertoire!
50. Orion by Metallica
We have to close the list with one of the most prolific and timeless metal bands of all time, Metallica. In 1986, Metallica released "Orion", an eight-minute thing of beauty from one of the greatest albums of all time. Written majorly in part by Cliff Burton, who tragically passed months after the Master of Puppets album was released, "Orion" began with Burton's bass section, where Lars Ulrich is quoted as saying that Burton's bass parts were "very different sounding" to what they'd been writing up until then. Two different bass solos within the song are often confused with guitar solos and were achieved through Burton's use of a wah pedal on his bass. Check out the video linked above for a 2018 performance in Italy and feel the chill and the goosebumps when the crowd joins in to sing the guitar riff at around the 1:00 mark.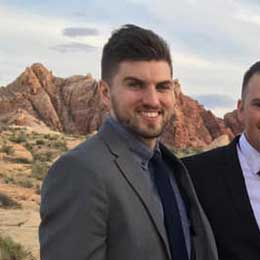 My name is Chris and I've had a passion for music and guitars for as long as I can remember. I started this website with some of my friends who are musicians, music teachers, gear heads, and music enthusiasts so we could provide high-quality guitar and music-related content.
I've been playing guitar since I was 13 years old and am an avid collector. Amps, pedals, guitars, bass, drums, microphones, studio, and recording gear, I love it all.
I was born and raised in Western Pennsylvania. My background is in Electrical Engineering, earning a Bachelor's degree from Youngstown State University. With my engineering experience, I've developed as a designer of guitar amplifiers and effects. A true passion of mine, I've designed, built, and repaired a wide range of guitar amps and electronics. Here at the Guitar Lobby, our aim is to share our passion for Music and gear with the rest of the music community.