Over the years, Petty has cemented himself as one of the most legendary artists and songwriters of the modern era. He was nominated for 18 GRAMMY awards, won three, earned a star on the Hollywood Walk of Fame, was inducted into the Rock N' Roll Hall of Fame, and is currently ranked 91st on Rolling Stone's 100 Greatest Artists list.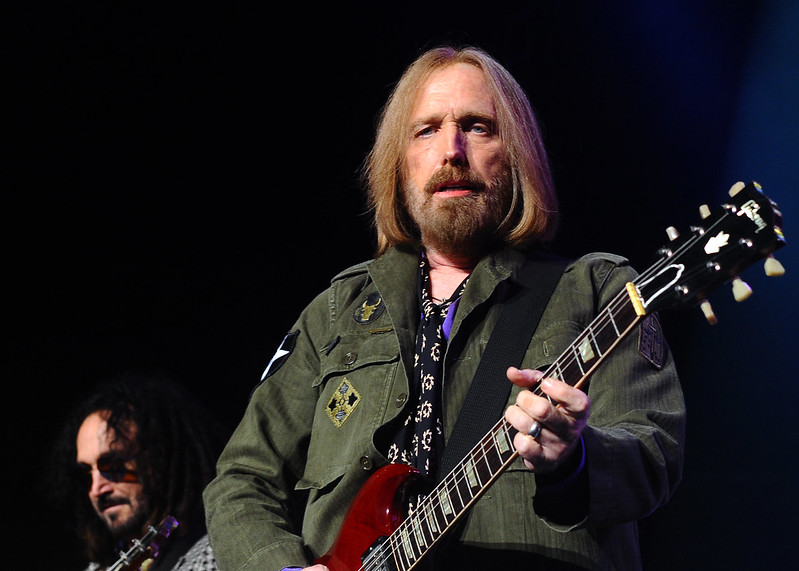 If you want the inside scoop as to how he created his iconic sound, here's a list of the guitars and gear Tom Petty has used over the decades. As Petty said in an interview with Vintage Guitar magazine, "If I see something that's really special, I buy it just because I don't want it to be lost to the sands of time or be put behind glass or something. I think it's better that they get used." Petty bought loads of vintage gear on tour wherever he went and constantly used it onstage.
What Guitars Did Tom Petty Play?
Tom Petty is most known for playing Rickenbacker guitars, however initially, a Fender Stratocaster was his main guitar for much of the first several albums he released with his band the Heartbreakers. He's also played numerous other electric and acoustic models as well.
See the full list of Tom Petty guitars and gear below.
Rickenbacker 660/12TP


| | |
| --- | --- |
| Finish | Fireglo/Jetglo |
| Years Used | 1991 to 2017 |
In 1991, after years of showing off what Rickenbacker guitars are capable of, the manufacturer finally decided to give Tom Petty his own signature model, the 660/12TP. Petty's signature model was based on the guitar that helped bring Rickenbacker into the mainstream: the fireglo 660/12 featured on the album "Damn the Torpedoes". The Rickenbacker 660/12TP (TP stands for Tom Petty) featured top-of-the-line materials and a neck built specifically for Tom's "demanding" standards.
Petty reportedly loved small-necked guitars, but with 12-strings, he needs a little more bulk to play accurately. Despite his affinity for Rickenbacker's 12-strings, he always felt that their necks were a bit too small to fit all those strings. With his signature model, he widened the neck taper for improved playability.
In addition to the neck upgrades, the 660/12TP also features high-quality Eastern Rock Maple solid-body construction, checked binding, and vintage-accurate pickups, knobs, and tuners. Each 660/12TP comes with a gold pickguard engraved with Tom Petty's name.
When would be the best time to pull out a signature model on stage? At your very own induction to the Rock and Roll Hall of Fame, playing "American Girl" with this signature model at the Heartbreakers' induction ceremony in 2002.
1964 Fender Stratocaster

| | |
| --- | --- |
| Finish | Sunburst |
| Years Used | 1976 to 2017 |
Before the foundation of the Heartbreakers, Tom was the bass player for another band called Mudcrutch (which included future Heartbreakers members Benmont Tench and Mike Campbell). In 1975, Mudcrutch split up after failing to reach the charts with their single "Depot Street," and within a year, The Heartbreakers was formed.
Since Petty was the bassist for Mudcrutch, he didn't even own an electric. All he had was an old Gibson Dove acoustic. Lead guitarist Mike Campbell had an extra 1964 Fender Stratocaster lying around, so that's what Tom Petty used for the first several years and albums with the Heartbreakers.
Petty's (Campbell's) Stratocaster had a sunburst finish and the standard three single-coil pickups. It was played almost exclusively from 1967 to 1982—until he discovered Rickenbacker guitars. In an interview with Vintage Guitar magazine from 2006, Petty said he and Campbell were watching some old concert films. They saw the old Strat and thought, "How's that guitar doing?" Since neither Petty nor Campbell are ones to get rid of guitars, they got it out and discovered it was doing great!
Despite fining a new couple of mains throughout the years, Tom made sure to bring out his 1964 Stratocaster from time to time all the way until his passing back in 2017. If you want to hear the sunburst 1964 Fender Stratocaster in all its blazing glory, check out this video of Tom Petty and the Heartbreakers playing "Shout" in 1978 in Santa Monica, California.
Rickenbacker 360/12

| | |
| --- | --- |
| Finish | Mapleglo |
| Years Used | 1980 to 2017 |
When you think of Tom Petty, there's a good chance he's holding Rickenbacker's staple 12 string guitar. Unlike many guitarists, he doesn't think of his individual tone when choosing a guitar; he thinks about how the sound will mix with the band. He's a true rhythm player who just wants everything to blend perfectly.
Twelve-string guitars add a unique flavor to the band that Tom can't just live without. One of his favorite 12-strings is a vintage Rickenbacker 360/12 with a mapleglo finish (which is blonde, if you don't speak Ric). He picked up the guitar from the famous Norman's Rare Guitars back in 1980, and it became one of his primary players for the remainder of his career. He even dubbed it as his favorite guitar in a few interviews.
Petty wasn't a fan of making alterations to his pieces. When he buys a guitar, it's because he likes the way it sounds and feels. Why mess with perfection? his 360/12 is completely stock with two high-gain single-coil pickups, twelve strings, and five knobs. The 360 is also semi-hollow, which gives the guitar a warmer tone without all the feedback. Additionally, Petty used his blond 360/12 to record some of the most iconic 12-sting parts ever made, including "The Waiting." You can even see the guitar make an appearance in the music video.
Fender Telecaster "Torucaster"

| | |
| --- | --- |
| Finish | Blonde |
| Years Used | 1981 to 2017 |
Second to his main choice catalog of Rickenbacker semi-hollow guitars, back in the 80s, was a particular selection of Telecasters. One of his favorite six-strings was this blonde model he picked up from Norm's Rare Guitars back in 1981. According to an interview with Guitar Player magazine, Petty said he found the guitar hanging on the wall. Norm told him to take it home, try it out, and tell him what he thought. What he thought was that this guitar was yet another one in a million.
Although it looked like a vintage Telecaster, it was actually a custom piece built by one of Fender's former master luthier named Toru Nittono from L.A. Guitar Works—hence, "Torucaster." Petty wasn't sure whether Nittono used old components or not, but the guitar played and sounded just as good—if not better—than the amazing vintage Fender models.
Once Petty discovered the Torucaster was, he never put it down. It became one of his primary choices for the remainder of his career. In an effort to find a backup for his favorite Tele, Petty asked people to bring him all sorts of vintage Telecasters to try out, but he could never find one that sounded or played as good as the Torucaster. According to Petty, "If I lost my main Tele, I'd die."
After the release of the album Wildflowers in 1994, Petty adorned his beloved Torucaster with a Wildflowers sticker to commemorate the album. It's not hard to find this Telecaster in action. It makes an appearance in just about any occasion Petty took on the stage. It would even become his go-to for the song Mary Jane's Last Dance.
1967 Rickenbacker 660/12

| | |
| --- | --- |
| Finish | Fireglo |
| Years Used | 1979 to 2017 |
By 1979, Tom Petty and the Heartbreakers had already become a household name. They hit mainstream success in the UK and their second album "You're Gonna Get It!" struck gold in the U.S. While their third album, "Damn the Torpedoes" was released in 1979 and became their first album to reach platinum status.
But "Don't Do Me Like That" wasn't the only hit from that album. The cover featured Tom Petty holding a gorgeous 1967 Rickenbacker 660/12 with a Fireglo finish. It made Tom Petty almost synonymous with Rickenbacker guitars.
Unlike the 360, the Rickenbacker 660/12 is a solid-body guitar. It has asymmetrical cutaways—with the top shoulder more rounded and pronounced, while the lower shoulder is small and sharp. Tom Petty's Rickenbacker 660/12, like most of his guitars, is bone-stock. It features the iconic Toaster Top single-coil pickups that produce the unmistakable Rickenbacker "jangle." Tom Petty's 660/12 had a fireglo finish with a white pickguard.
At the time, Rickenbacker hadn't quite broken into the mainstream. They were still shadowed by the big name manufacturers like Fender and Gibson. However, with Tom Petty's unintentional endorsement, "Damn the Torpedoes" was almost as much of a success to Rickenbacker as it was to the Heartbreakers. The builders at Ric were so grateful they thanked Tom Petty profusely and even offered him his own signature model, which he was happy to accept.
1964 Rickenbacker Rose-Morris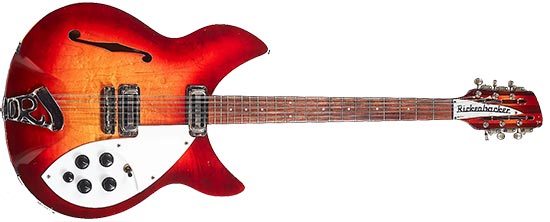 | | |
| --- | --- |
| Finish | Fireglo |
| Years Used | 2007 to 2017 |
Around 2007, Tom Petty was at his favorite guitar store, Norm's Rare Guitars, looking for some new additions to his collection. He was already an avid collector of Rickenbacker 12-strings when he saw this fireglo model on the wall that looked an awful lot like a 330/12. However, this one was a bit different and sported a treble clef f-hole instead of the standard Rickenbacker slash.
Although Petty didn't know much about the specs of this Rickenbacker guitar—other than he liked how it played and sounded—the guitar he fell in love with was a 1964 Rickenbacker Rose-Morris model 1993. The Rose-Morris models were export guitars sent all over the world. They featured similar hardware and electronics to their U.S. counterparts, but with a few changes. The most obvious change was the f-hole styling.
Tom Petty liked his new Rickenbacker Rose-Morris 12-string so much that he used it to play the 2008 Super Bowl XLII halftime show. It became one of his go-to guitars for the rest of his touring career.
1965 Gibson SG

| | |
| --- | --- |
| Finish | Cherry Red |
| Years Used | 1986 to 2007 |
Tom Petty played with many legendary artists over the years, and one of his best friends (and inspirations) was Bob Dylan. In 1987, Petty got a chance to play with Dylan on his True Confessions Tour. Before the two legends hit the road, Tom made a stop at Norm's Rare Guitars, to see if anything struck right. Needless to say, something did.
Petty picked up a vintage 1965 Gibson SG in a cherry finish. The guitar featured dual uncovered Gibson humbuckers, a large chrome tremolo tailpiece, and a black pickguard. Like just about every guitar in his collection, Petty didn't make any alterations. It was perfect right off the shelf.
Petty played the vintage SG almost exclusively for the entire tour. You can see the guitar in action on many Bob Dylan classics, including a duet rendition of "Knockin' on Heaven's Door." Tom Petty wouldn't usually get rid of guitars, but once he discovered the Rickenbacker Morris-Rose over at Norm's guitar store in 2007, he traded his 1965 Gibson SG for a chance to own the vintage Ric. Owner Norm Harris had Petty sign the SG and kept it in his collection for years.
After Tom Petty passed in 2017, Harris decided to put the SG up for auction, where it was expected to sell for around $300,000.
Gibson SJ-200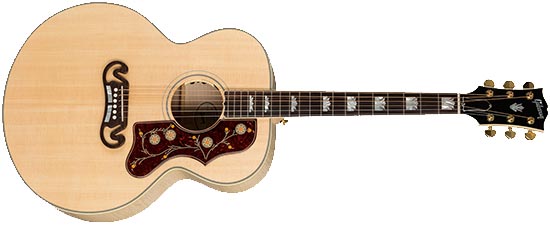 | | |
| --- | --- |
| Finish | Natural |
| Years Used | 1991 to 2007 |
With roots firmly planted in folk music, what's a folk singer without an acoustic six string. When he wants a stripped-down sound, Tom Petty turns to the Gibson SJ-200. With its thin waist, mustache bridge, and decorative pickguard, the Gibson SJ-200 has been a style icon since 1937. It has been played by some of the most iconic guitarists throughout history, including Elvis Presley, Jimmy Page, Pete Townshend, Bob Dylan, George Harrison, and of course, Tom Petty.
The Gibson SJ-200 is crafted with the finest tonewoods, including a Sitka Spruce top and Flamed Maple back and sides. The 2-piece Maple neck is nice and round for maximum comfort without losing playability, and the scalloped X-bracing ensures every beautiful note rings loud and clear.
All SJ-200s come standard with LR Baggs VTC electronics for studio-quality amplified tone. Tom Petty loves the LR Baggs under-saddle pickup so much that he installs it on all his acoustics, whether they come with it or not. It's just about the only modification he ever makes to his guitars.
Tom Petty has been playing the SJ-200 for decades. It's one of his most played acoustic guitars for both the studio and stage. He even used an SJ-200 to record his smash hit "Wildflowers" way back in 1994. Petty continued to love the sound of the SJ-200 throughout his career. You can hear it in action over 15 years later as Petty plays with Stevie Nicks for this incredible stripped-down rendition of "Learning to Fly."
Because of his love for the SJ-200, Gibson released the Gibson Tom Petty SJ-200 Wildflower signature model in 2020 to commemorate the rock icon's passing. It was based on the original SJ-200 Wildflower made specifically for Petty in the late 1990s. It featured the same high-quality build materials as the standard SJ but with a large batwing pickguard, upgraded hardware, and engravings that include Tom Petty's name on the pickguard and "Wildflower" lyrics on the back of the headstock.
Martin HD-40 Tom Petty Signature Acoustic

| | |
| --- | --- |
| Finish | Natural |
| Years Used | 2004 to 2017 |
In the early 2000s, the master guitar builders at Martin reached out to Petty to see if he'd be interested in making a signature model. Reportedly, Tom knew exactly what he wanted: a matched set of six- and twelve-string guitars built to his precise specifications.
The six-string Martin HD-40 and its twelve-string counterpart the HD12-40 feature top-of-the-line materials and unmatched build quality worthy of Tom Petty's name. They both feature Italian Alpine Spruce tops, Sitka Spruce scalloped bracing, and East Indian Rosewood back and sides for incredible tone, sustain, and of course, that incredible Martin boom!
The neck is crafted from genuine mahogany and features a low profile to suit Tom's preferred playing style. The whole guitar is finished off with beautiful Mother of Pearl inlay and intricate herringbone binding to create a one-of-a-kind pair of guitars for a one-of-a-kind rockstar.
The HD12-40 had seen the limelight when Petty assisted a massive collaboration playing "While My Guitar Gently Weeps" with fellow rock legends Prince, Steve Winwood, and others for a George Harrison tribute in 2004.
1966 Vox Mark VI Teardrop

| | |
| --- | --- |
| Finish | White |
| Years Used | 2005 to 2017 |
One of Petty's most peculiar guitars is this 1966 Vox Mark VI, otherwise known as the "teardrop". With quite a unique look, this guitar is one of Tom's all-time favorites due to its unparalleled sound. The Vox Mark VI was created back in the 1960s in an effort to get Vox into the string crafting scene. They didn't want to copy any existing guitar shapes like the Stratocaster or Les Paul, so they had to design something unique—and that's exactly what they did.
The Mark VI has a smooth teardrop shape with no horns, cutaways, shoulders, or any other contours. It features three single-coil pickups, three control knobs, a tremolo tailpiece, and a three-way selector switch. Early models had a three-position dial as the pickup selector. They also had a few optional onboard effects like a palm wah and a fuzztone switch.
Tom Petty owns a few Vox Teardrop guitars, though he prefers his white model. Heartbreakers guitarist Mike Campbell also owns a few Vox guitars with special built-in effects. He says the Mark VI makes a great rhythm guitar because of the various sounds it can make. Tom's white Vox Mark VI made several appearances over the years, including a few renditions of "Listen to Her Heart."
Höfner Club Bass 500/2

| | |
| --- | --- |
| Finish | Sunburst |
| Years Used | 1990 to 2017 |
Before the foundation of Tom Petty and the Heartbreakers, Tom played this timeless piece with his initial project Mudcrutch. He decided to be the bass player because "nobody else wanted to." Although he got the job for unfortunate reasons, Petty actually learned to enjoy playing the bass and continued all throughout his career, including for several Mudcrutch reunions and many solo recordings.
In an interview with Vintage Guitar magazine, Petty said it's the best sounding bass he's ever found. He's constantly looking for something that could replace it (even another Höfner), but he just can't find anything that sounds close.
The 500/2 was introduced in 1964 was introduced as an alternative to the super popular model 500. It has the same hollow build as the violin bass but with a bigger body for even more resonation and that iconic Höfner bottom end "thump." It's also shorter than most basses with a 30" neck, and it's super light because of its hollow body.
The Club 500/2 also features dual Höfner 511B "Staple" humbuckers, the same ones you can find on the violin bass. It also has two volume controls, two on/off switches, and a rhythm/solo switch for a little volume boost when you need to pop a bass solo. Tom Petty played his sunburst Höfner Club Bass 500/2 just about any time he needed four extra strings.
Tom Petty Amplifier Overview
Tom Petty might be a rockstar, but he's not looking for loud, in-your-face sound. He prefers to use a few mid-size amps to produce the perfect mixture of volume and tonality. You can usually find him with a Vox AC-30, Marshall JMP50, and a few Fender combo amps. As with his guitars, he's a big fan of vintage equipment. Most of his amps are either true vintage or reissue models.
Vox AC-30
The Vox AC-30 can be credited for a lot of Tom Petty and the Heartbreakers' sound, as both Petty and lead guitarist Mike Campbell use it extensively. The Vox AC-30 is a smaller 30-watt amp that's widely known for its "jangly" high-end sound, which you can hear loud and clear on songs like "Breakdown."
Although he's not sure of the exact year model, a late '70s Vox AC-30 has been Tom Petty's primary touring and recording amp for many years. According to Petty, he and Campbell both used 30-watt Vox amps for years, then swapped over to using other amps like Marshalls or Fenders, before coming full circle back to the Voxes. There's just something about that iconic Vox jangle that belongs in a Tom Petty song.
1959 Fender Bassman Reissue
After relying on his Vox for years, Tom Petty wanted to switch things up a bit. He started using a vintage 1959 Fender Bassman Reissue.
The '59 Fender Bassman Reissue is a 45-watt combo tube amp. Not only did it sound like a vintage Fender amp, but it looked like one too! It was a bit louder than the Vox and produced more of a deeper, mid-range sound.
While the Bassman is a solid amp, Petty found it to be a bit too "growly" for his sound. He eventually swapped out the Bassman for some vintage Marshall amps.
1969 Marshall JMP50 Plexi
There's hardly a rockstar out there who hasn't used a Marshall JMP50 Plexi at some point in time, and Tom Petty is no exception. After his stint with the Fender Bassman, he was looking for something with a bit more crunch for when he needs it but without sacrificing clean tones. Enter the Marshall JMP50.
Tom Petty picked up a vintage 1969 Marshall JMP50 Plexi—the holy grail of rock and roll amps! It's a 50-watt tube head that packs plenty of punch for when you need it. Of course, Tom Petty never turns it up to 11; he keeps it at a lower volume to keep the tone nice and clean.
Although he has gone back and forth between amps throughout his career, his vintage Marshall always seems to end up in the mix. In later tours, Tom Petty typically takes the stage with a Marshall and Vox running simultaneously. He uses a footswitch to select which amp he wants to use for each song to get the perfect tone every time.
Marshall 1987X Vintage Series
Since vintage JMP50s are extremely hard to find these days, Tom Petty needed a modern equivalent to use as a backup. For that, he turned to the Marshall 1987X.
The Marshall 1987X is another 50-watt tube head from the experts at Marshall. Its design is based on the iconic vintage Marshalls from the past but with a few modern features thrown in. It features the same rock and roll sound with a 3-band EQ, presence control, and preamp valves to help players achieve the exact tone they're looking for.
Vox Speaker Cabinets
Tom Petty can't go without a Vox on stage for long. Even when he's using Marshall heads, they're typically pushing Vox speaker cabinets to keep that iconic Vox jangle. For many years, Petty's onstage setup was a Marshall tube head pushing a Vox speaker cabinet and a Vox head pushing another Vox cabinet. He would then use his footswitch to control the blend of the two setups.
Vox Super Beatle
The Vox Super Beatle was originally developed for the Beatles, as the name might suggest. Originally, the Fab Four used Vox AC-30s, as did most British rockstars of the era. Over time, it became hard to hear the music over the hordes of screaming fans. To give them a bit more power, Vox came up with more substantial version of their amps.
The Vox Super Beatle was the solution to projecting sound to tens of thousands of fans. It was 120-watts of pure Vox power! The solid-state head pushed four 12-inch speakers for tons of onstage volume without losing the sparkly Vox tones.
Tom Petty and the Heartbreakers played Vox Super Beatles in the band's early days, but they swapped to other amps for a while. Around 1999, Petty decided he missed the sound of the old Super Beatles, so the band pulled them back out for the Echo tour. They sounded so good Petty decided to keep them in the rotation for more years to come.
You can see the massive Vox Super Beatle amps taking up some serious stage space in this version of "Mary Jane's Last Dance" from 2006.
Fender Vibro-King
The Fender Vibro-King is a 60-watt combo tube amp that packs a serious vintage Fender punch. It was released in 1993 and became renowned for its hand-wired construction. It features eight tubes and three eight-inch Jenson speakers to really push the sound out to the crowd. It's great for producing unique clean tones filled with sparkling reverb and tons of overdrive (when you want it).
Tom Petty used two Fender Vibro-King amps in his onstage rig for years. You can hear them in action from this performance from Jimmy Kimmel Live in 2014.
Tom Petty Pedals and Effects Overview
For being a folk/rock rhythm guitarist, Tom Petty keeps a pretty full pedalboard. If you want to sound as good as Tom Petty does, you'll need some vintage gear, a whole lot of talent, and these effects pedals.
BOSS CE-2 Chorus
Tom Petty's Voxes have plenty of jangle, but it also helps to add a little warble sometimes. When it comes to the chorus, Petty turns to the BOSS CE-2. The BOSS CE-2 has been a go-to pedal for guitarists looking for a tried-and-true chorus effect for decades.
This pedal gives players a vintage chorus sound, which is perfect for a vintage lover like Tom Petty. The two control knobs let Petty alter both the rate and depth of the chorus to create the perfect warble for any sound.
BOSS RV-5 Digital Reverb
Every guitarist needs a little reverb. Tom Petty uses the BOSS RV-5 to add some echo to his sound. The RV-5 creates an outstanding spring reverb sound (just like the old days) and crams it into a small, stereo effects pedal. Since it sounds just like the spring reverbs of the past, Tom Petty uses this pedal to add even more vintage sound to his already vintage guitars and amps.
The BOSS RV-5 has four tone knobs to let players dial in the exact sound they're looking for. Three knobs help dial in the reverb settings like level, tone, and time, while the fourth knob switches modes between spring, plate, hall, gate, room, and modulate. No matter what sound you're looking for, the RV-5 can handle it.
Although the RV-5 is no longer in production, you can pick up the latest iteration of the pedal, the BOSS RV-6, from just about any retailer.
Demeter TRM-1 Tremulator
When Tom Petty wants to add some tremolo, he kicks his Demeter TRM-1 Tremulator. The TRM-1 is yet another pedal that copies the sound of vintage equipment while adding a healthy dose of modern technology. It's designed to emulate the classic Fender tremolo/vibrato. So even when Petty is playing his beloved Vox, he can still get some of that iconic Fender sound.
The Demeter TRM-1 comes with two knobs to adjust the depth and speed of the tremolo, just like the old Fender amps used to have. It gives Petty plenty of vibrato without hurting his vintage tone that he's worked so hard to achieve.
Ibanez TS9 Tube Screamer
Even folk-loving rockstars like Tom Petty need some overdrive now and then. When Tom Petty really wants to rock out, he stomps on an Ibanez TS9 Tube Screamer.
The Ibanez TS9 Tube Screamer is one of the most popular overdrive pedals on the market. It has three knobs to adjust the drive, tone, and level to find that perfect sound for any rock song. The TS9 has been a part of Tom Petty's pedalboard, among countless others, for decades.
Way Huge Electronics Red Llama
Tom Petty loves classic Fender amps. He's used them for decades. However, he doesn't like to turn up his amps too far. To keep the sound levels bearable and still introduce some vintage Tweed overdrive, Petty uses the Way Huge Electronics Red Llama overdrive pedal.
The Way Huge Red Llama is an overdrive pedal similar to the Ibanez TS9, except it's modeled after a different amp. While the TS9 sound is based on overdriven Marshalls, the Red Llama focuses on overdrives from the classic Fender Tweed amps.
The Red Llama is nice and straightforward. It has two knobs: one controls volume, while the other controls the tone. But just because it's simple doesn't mean it's not powerful. The Red Llama can emulate just about any vintage Fender overdrive tone you could possibly want. It's one of the most iconic overdrive pedals on the market.
Real McCoy Custom RMC5 Wizard Wah
It's not all about reverb and overdrive. Sometimes you need a pedal you can put some feeling into. For Tom Petty, that's the Real McCoy Custom RMC5 Wizard Wah.
The RMC5 Wizard Wah has an extended sweep range, natural top end, smooth mids, and tight lows that let players create unique wah sounds that don't sound like anything else on the market. Although he doesn't use wah often, Tom Petty has had the RMC5 on his pedalboard for decades.
Wrap Up
Tom Petty has been one of the most emblematic faces of rock music since the late 1970s. He joined his first band in 1966 at the nice young age of 16. They called themselves The Epics. Petty hadn't even started as the incredible rhythm guitar player he's known for.
When you're looking for steady, straightforward, unapologetic rock music, you crank up Tom Petty, and there's nobody quite like this heartbreaker. He took all the best parts of Rock N' Roll, mixed them with a healthy dose of folk, and created some of the most songs of all time.
Once the Heartbreakers were formed, the "sky was the limit." They wrote hit after hit, albums went platinum, and they enjoyed an incredibly successful career for decades. All the while, Tom Petty kept up his own successful solo career. In 1988, Petty also joined the supergroup the Traveling Wilburys with other rock legends including Bob Dylan, Jeff Lynne, and Roy Orbison. To say he kept busy is an understatement!
Unfortunately in 2017, four days before his 67th birthday, he passed away in his home in California. Tom Petty and his music will be remembered forever. He stood for uncompromised creativity and pure, unadulterated rock music. No matter what, he "wouldn't back down," and he'll certainly be missed.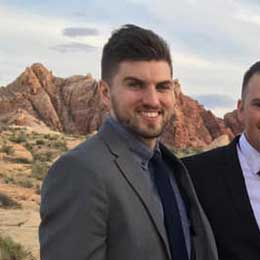 My name is Chris and I've had a passion for music and guitars for as long as I can remember. I started this website with some of my friends who are musicians, music teachers, gear heads, and music enthusiasts so we could provide high-quality guitar and music-related content.
I've been playing guitar since I was 13 years old and am an avid collector. Amps, pedals, guitars, bass, drums, microphones, studio, and recording gear, I love it all.
I was born and raised in Western Pennsylvania. My background is in Electrical Engineering, earning a Bachelor's degree from Youngstown State University. With my engineering experience, I've developed as a designer of guitar amplifiers and effects. A true passion of mine, I've designed, built, and repaired a wide range of guitar amps and electronics. Here at the Guitar Lobby, our aim is to share our passion for Music and gear with the rest of the music community.