There's no mistaking Willie Nelson any time you see him on stage or TV, and that's even before you hear him sing. He's one of the most iconic figures in American music and recording history, with his ever-iconic braids and woven guitar strap. He and his guitar, "Trigger", played a critical role in bringing outlaw country to the mainstream along with other legends, such as Johnny Cash.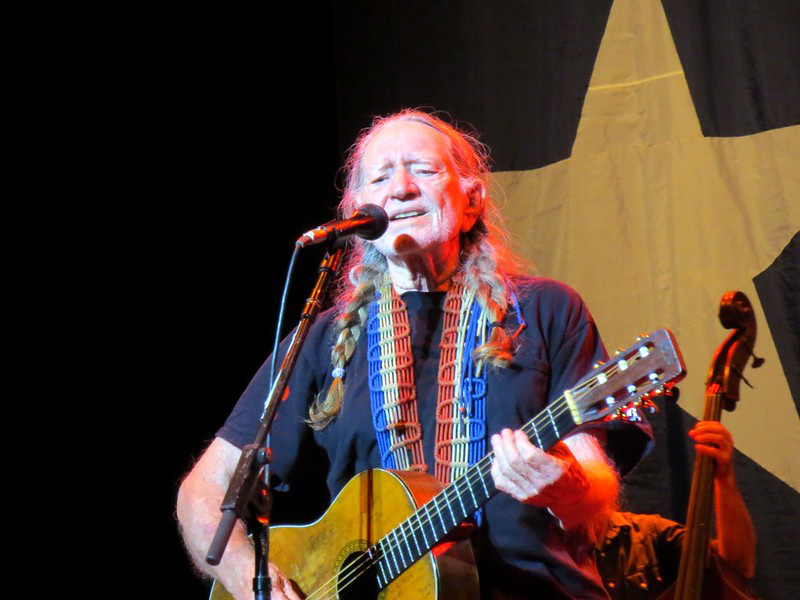 With nothing but his trusty guitar by his side, Willie has enjoyed a career spanning an incredible 65 years run and still counting. He has earned just about every award a musician can earn, including an induction into the Country Music Hall of Fame, the lifetime award of the Library of Congress, the Gershwin Prize, and 10 Grammys (with 52 total nominations). Rolling Stone even ranks him as the 81st greatest singer of all time! With such a long and illustrious career, Nelson has used quite a few pieces of equipment. Here's a rundown of Willie Nelson's most iconic guitars and gear.
What Guitar Does Willie Nelson Play?
The guitar Willie Nelson plays is known as "Trigger". It is a 1969 Martin N-20 model acoustic guitar. Although Nelson has played a handful of other guitars throughout his career, he and Trigger have been nearly inseparable ever since he acquired the guitar in 1969.
See the full list of Willie Nelson guitars and gear below.
1969 Martin N-20 "Trigger"

| | |
| --- | --- |
| Finish | Natural Relic |
| Years Used | 1969 to Present |
In 1969, a struggling singer/songwriter named Willie Nelson was playing a gig at John T. Floore's Country Store in Helotes, Texas—a suburb of San Antonio. Little did he know, this gig would change his career, his life, and the course of music history forever.
After the show, Nelson put his guitar at the time, a Baldwin C800 acoustic, on the floor of the stage. Unfortunately (or perhaps not), an inebriated patron wandered up onto the stage and accidentally stepped on it. Willie Nelson sent the guitar to be repaired at a local guitar shop called Sho-Bud Music, which was owned by fellow country singer Shot Jackson. Jackson declared the guitar totaled.
Although Nelson couldn't get his Baldwin back, Jackson offered him a replacement. In his store, there was a brand-new 1969 Martin N-20 classical acoustic that he thought would fit the bill. Willie Nelson didn't have any attachments to his Baldwin, but he did really like the Prismatone ceramic pickups it had (one of the earliest acoustic pickup systems). Jackson said that for $750, he'd install the Baldwin pickups into the Martin and send the guitar straight to Nelson's tour bus.
Willie Nelson wasn't so sure about buying a guitar without even seeing it, so he asked Jackson if it was a good guitar. Jackson replied, "Well, it's a Martin. They don't make bad guitars!" So, sight unseen, Willie Nelson took a chance and bought the 1969 N-20 equipped with Baldwin acoustic pickups for $750 (which is equivalent to around $5,652 today), and the two became inseparable for the next 50 years and still counting.
Trigger was built specifically for fingerpicking and nylon strings. Unlike standard steel-string guitars, Trigger has no bracing under the top of the guitar. Of course, Willie Nelson uses a pick quite frequently, which is what created the iconic hole in the soundboard.
Built with the highest-quality materials. It has a Sitka spruce top from the Pacific Northwest, Brazilian rosewood back and sides, African ebony fretboard and bridge, an Amazonian mahogany neck, and brass tuning pegs built in Germany. All its pieces were gathered from every corner of the world to create one of the most iconic instruments ever made!
The top has an aged lacquer on it that Willie Nelson described as "mellow yellow." Of course, there's not much of the original finish left.
While the N-20 came from Martin's factory as a pure acoustic guitar, Willie Nelson had his old Baldwin's Prismatone piezo electronic pickups installed in the bridge. The Prismatone was revolutionary at the time. It was one of the very first electronic systems designed specifically for acoustic guitar. It featured six tiny ceramic sensors, one under each string, that amplified the acoustic sound without much feedback. When Willie Nelson put it into a Martin, it made Trigger one of the very first acoustic/electric guitars!
The reason he liked the guitar was because it looked and sounded so much like the guitar Django Reinhardt used to create his jazzy riffs. Needless to say, Nelson was a devoted fan of Reinhardt and often called him the best guitar player in the world, even though he only used two fingers to play. Willie figured if Reinhardt can play the same guitar like that using only two fingers, imagine what he could do with five!
Now that he had a guitar with a little more "Django" in it—as he put it—Nelson knew he needed to hold on to it. Well, Willie Nelson wasn't a cowboy, so he didn't have a horse to name like the cowboys of the time. He figured a guitar to him was like a horse to a cowboy, he named it Trigger after Roy Rodger's stallion.
Unfortunately, shortly after he got Trigger, a fire broke out at his Tennessee house. He came back from a party in Nashville to find the entire home up in flames! He quickly sprung into action, ran into the burning house, and saved his two favorite things in the world: his trusty guitar Trigger and a pound of marijuana.
After the house fire debacle, the two were inseparable. He took the guitar on stage right away. Check out this clip from 1970 when Willie played a brand-new, shiny, and scratch-free baby Trigger on The Glen Campbell Goodtime Hour. It's probably the only time Trigger can be seen without any holes or dings.
Once Willie lost his Tennessee home, he took it as a sign to get out of Nashville. He packed up all his stuff, grabbed Trigger, and moved back to his original home of Austin, Texas.
Willie Nelson took in all the Austin inspiration he could find. Instead of the prim and proper Nashville stars, he started to look to players like Doug Sahm, Townes Van Sant, and Jerry Jeff Walker. So, he swapped out his suit jackets and hair gel for a bandana and braids.
The Austin music scene had never seen anything like Willie and Trigger. The mellow nylon acoustic sound pumped through an amp was brand-new in the music world. Nobody had ever successfully amplified an acoustic guitar before for some reason, Willie Nelson took his new sound and started to blend country, rock, blues, and a little bit of hippy influence to break the "standard" country mold set by Nashville. Little did know he was helping create outlaw country.
The major shift in Willie Nelson's career was when he released his album Red Headed Stranger in 1975. Instead of the templated music he was writing in Nashville, Nelson kicked it up a gear or two and really showed off what Trigger can do with a little Austin flavor.
For the album, Willie Nelson stripped back the sound and let Trigger do all the work. It didn't need all the pomp and circumstance Nashville demanded; it's an incredible instrument, and Nelson wanted to show it off.
Although the record label was less than enthused about the "simplistic" album, audiences loved it! It solidified the outlaw country genre in the mainstream and launched Willie Nelson to a household name. He wasn't a struggling Nashville singer/songwriter anymore.
By this time, Trigger had already received the iconic hole just below the strings. Since classical guitars like the Martin N-20 are only meant for fingerstyle, Willie Nelson's pick easily wore a hole straight through the top of the guitar.
After the success of Red Headed Stranger and outlaw country, Willie Nelson and Trigger continued to tour, record, and collaborate with other legendary acts. One night, he played a show with Leon Russell, and Russell asked Willie to sign his guitar. Willie Nelson pulled out a marker, and Russell stopped him. Instead, he handed him a ballpoint pen and asked him to scratch his name into the wood. He said it would be worth more!
Once Willie scratched his name into Leon's guitar, he asked Leon to return the favor. After all, it'd be rude not to! Leon Russell was the first signature Trigger acquired. From there, Willie Nelson asked many, many people over the years to sign Trigger. Overall, there are more than 100 signatures that cover Trigger's top—some more readable than others.
These are just a few of the more recognizable names scratched into Trigger's top:
Leon Russell
Kris Kristofferson
Roger Miller
Paul English
Jamey Johnson
Gene Autry
In addition to the signatures, Trigger has also received its fair share of abuse from being on the road. Aside from the hole that just kept getting bigger and bigger, Trigger also got plenty of other scratches and dents just from extreme usage. According to some first-hand witnesses, you could almost see shards of wood flying off the guitar as he played—especially on fast, heavy picking songs like "Bloody Mary Morning."
In 1991, Willie Nelson got into some trouble with the IRS for "just a few" back taxes. In total, Nelson owed the IRS $16.7 million. Since he couldn't pay that up front, Willie became afraid that the government would come for anything valuable to pay off his debt. At that point, Trigger was almost as iconic as he was and would certainly fetch a ridiculous price at auction. To keep the IRS away from Trigger, Nelson asked his daughter to grab the guitar from his studio before any agents showed up and deliver it to him in his home in Hawaii. There, he hid the guitar at his manager's house until he could repay his debt in full.
Trigger stayed hidden in Hawaii until around 1993. When the debt was settled, he and Trigger could get back "On the Road Again."
Seeing the condition Trigger is in these days, it's almost a wonder it even still exists. Nelson has credited luthier Mark Erlewine for this job. Twice a year, Trigger wanders into Erlewine's shop for a reconditioning. The goal is to not mess with the guitar too much, just enough to keep it going.
Surprisingly, Trigger hasn't needed too much major maintenance over the years. It still has most of the original pieces. The main addition to the guitar has been a wooden block behind the hole. No, not the soundhole. The hole Willie bore into the top Erlewine would put some hardwood behind the hole to support the guitar, but of course, Willie would just cut through that too.
Before every show, Nelson's guitar tech puts Trigger right at the front of the stage, so audience members can come up and see the incredible guitar for themselves. It's almost as big of a draw as the music. It's the centerpiece of the concert according to the man himself.
In an interview with Acoustic Guitar Magazine, he said, "I feel we'll give out about the same time. We're both pretty old and have a few scars here and there, but we still manage to make a sound now and then."
Despite going into their 5th decade together, Willie and Trigger are still going strong. They even performed at the 2021 Farm Aid concert with Willie's son, Lukas Nelson. Here's to hoping both Willie and Trigger have quite a few years left in them. Overall, Trigger is the most iconic Willie Nelson guitar by far.
Grammer G-20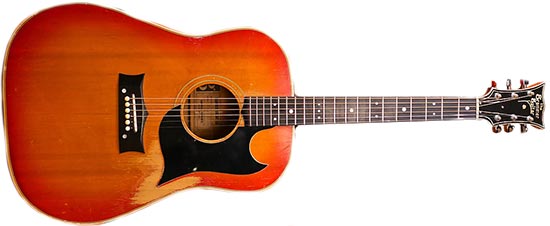 | | |
| --- | --- |
| Finish | Sunburst |
| Years Used | 1965 |
Early in his career, Willie Nelson would basically play whatever guitar fell into his lap. It was common for guitar manufacturers to send guitars to recording artists for a little extra publicity. One of the guitars that happened into Nelson's path in the mid-1960s is a Grammer G-20.
Grammer guitars were made in Nashville, which made them an easy go-to for Nashville recording artists like Willie Nelson. It was a large-bodied dreadnaught, steel-string acoustic guitar. It was a bit flashier than Willie's other guitars. It had fancy binding around the body and fingerboard, a bright red sunburst finish, a multi-pointed headstock, and a unique pointed pickguard.
With all the fancy touches, it was almost made specifically for a singing cowboy with a rhinestone suit, a turquoise bolo tie, and flashy boots that have never touched dirt. For tonewood, the G-20 featured a spruce top with a maple back and sides.
Baldwin 800C
| | |
| --- | --- |
| Finish | Natural |
| Years Used | 1969 |
In Willie Nelson's pre-Trigger life, he was a recording artist for RCA. That meant he regularly received guitars from various manufacturers to try out. The last guitar he received before he met Trigger was a Baldwin 800C classical acoustic-electric guitar.
The Baldwin 800C had a small concert-shaped body that's similar to the Martin N-20. It has smaller shoulders, a wider bottom, and a slotted headstock that was built for nylon strings. For tonewood, the 800C sported a natural spruce top. Willie admittedly wasn't thrilled with how the Baldwin played. But where it really stood out was with amplification.
The Baldwin 800C is one of the very first acoustic-electric guitars ever made. Not only is it one of the first, but it also had the legendary Prismatone piezoelectric pickups! The Prismatone featured six tiny ceramic sensors that could pick up vibrations from the individual strings.
The clean-cut amplified tone that kept Nelson close to this 800C model was mainly thanks to the Prismatone pickups, which delivered a true acoustic tone, even when played through an amp. It also didn't give much feedback, which is ideal for an acoustic-driven artist like Willie.
Unfortunately, Willie Nelson left his Baldwin 800C sitting on a stage after a show at John T. Floore's Country Store in Helotes, Texas, and a drunk audience member wandered up onto the stage and stepped on it. Willie tried to get the guitar repaired, but it was too far gone. Nelson took the pickups out of his destroyed 800C, swapped them into a Martin N-20, named the guitar Trigger.
Martin 000-18

| | |
| --- | --- |
| Finish | Natural |
| Years Used | 1965 to 1969 |
Trigger wasn't Nelson's first Martin. He frequently played a Martin 000-18 on and off for years before he discovered the appeal of the N-20 classical.
The Martin 000-18 features a smaller 000-style body that has a thinner waist compared to the ever-popular dreadnaughts. Its smaller size makes it much more comfortable to play with, yet the round body shape maintains enough projection to fill a room.
The "18" part of 000-18 means it's a lower-tier model compared to the 000-28 or high-end 000-45. It doesn't really affect the sound; it just has fewer fancy touches like inlays and patterned binding.
Unlike Willie's other models like the N-20 or Baldwin 800C, the 000-18 is a steel-string guitar. It has plenty of bracing under the top and a standard headstock to support the increased string tension. It's more similar to what country music stars were playing at the time.
Because it's a Martin, the 000-18 features high-quality construction that includes a solid Sitka spruce top, solid genuine mahogany back and sides, and solid ebony fretboard and bridge.
Willie Nelson brought the Martin 000-18 out on stage several times in the mid-to late-1960s. Here, you can see him with a 000-18 playing his big hit "Hello Walls." You might not recognize him in a suit without his trademarked bandana and braids—until he starts singing, at least.
Timetable Showing Each Guitar Willie Nelson Has Played Throughout His Career
| Make | Model | Color/Finish | Years |
| --- | --- | --- | --- |
| Grammer | G-20 | Sunburst | 1965 |
| Martin | 000-18 | Natural | 1965 to 1969 |
| Baldwin | 800C | Natural | 1969 |
| Martin | 1969 N-20 "Trigger" | Natural Relic | 1969 to Present |
Willie Nelson Amps Overview
Willie Nelson is known for playing acoustic guitar, specifically his old buddy Trigger! But one of the things that makes Trigger great is its electronics. It was one of the very first acoustic-electric guitars ever made! Because he has to show off those great pickups, Willie Nelson does use an amp, and it's very specific to the pickups in Trigger.
1969 Baldwin C1 Custom Professional with Supersound
When Willie Nelson received his Baldwin 800C with that amazing Prismatone acoustic pickup system, it wasn't the only gift Willie got from Baldwin. They also gave him a matching amp that was designed to work perfectly with the revolutionary pickups: a 1969 Baldwin C1 Custom Professional.
The Baldwin C1 isn't your run-of-the-mill guitar amp. It's built specifically for acoustic guitars using piezo-style pickups, like the Prismatone. It features 45 watts of power, with a 125W peak, pushing two Baldwin-designed nylon-reinforced 12" speakers.
There are also two channels with two inputs each. The first channel is clean with adjustment knobs for volume, treble, and bass. The second channel had the same three knobs with three more to control tremolo speed, tremolo intensity, and reverb.
When a C1 says "with Supersound," it means it has colorful push buttons on the top that look like something off a 1980s boombox for kids. These switches can give a boost to treble, mix, mid I, mid II, and bass. It also has a three-way switch to toggle speaker usage between "Supersound," Dual, and Normal.
Although Willie Nelson's Baldwin 800C didn't stick around long, its pickups live on with Trigger. He's used the Baldwin C1 Custom for technically longer than he's used Trigger. In a way, this amp is just as responsible for the legend of Willie Nelson as his iconic guitar. You can see two C1 amps sitting on the stage when he played at the Woodstock festival in 1999.
Wrap Up
Willie Nelson has been a permanent fixture in the music scene for over half a century and counting! He has played tens of thousands of shows and recorded over 70 albums during his tenure at the helm of outlaw country.
Willie Nelson grew up during the Great Depression in Abbott, Texas, and later moved in with his grandparents in Arkansas. Nelson's grandparents were singing teachers on the side and taught their grandkids about music. Willie's grandfather even bought him his first guitar when he was six, and he started writing music by age seven.
Picking cotton was the thing to do in Arkansas if you wanted to make a little money, but Willie Nelson hated it. Instead, he would earn a few bucks playing music in dance halls, honky-tonks, and taverns around town. He cites his early influences as Hank Williams, Django Reinhardt, and Louis Armstrong.
After a stint of wandering to find a place to play music—which included everywhere from San Diego and Portland, down into Missouri—Nelson eventually made his way back to Texas. Unfortunately, he never hit it big. He even took a year off from music to sell vacuums and bibles door to door.
In 1960, Willie headed to Nashville to finally make his dreams come true. He enjoyed moderate success as a songwriter after a record executive heard him sing what would become his first big hit, "Hello Walls." He continued to write songs for other artists, regularly making it into the charts. Unfortunately, all the money he earned from royalties were invested into tours that didn't work out, he ended up getting divorced, and his Tennessee ranch burned down. He decided to cut his losses and head back to Texas by 1970.
When Nelson moved back to Austin, Texas, he discovered the burgeoning hippie music scene. He threw in some country, jazz, and blues, and outlaw country was born! Texas is really where Willie Nelson revitalized his career and changed the world, just him and Trigger. The rest is history.
Aside from his longevous and prolific music career, Nelson has also worked as an actor, with over 30 credits to his name. He is also very active in politics and works as an activist for several issues, including marijuana legalization (of course), animal rights, and the LGBT movement to name a few. He is also responsible for creating the ever-popular Farm Aid concert series (he's even the president of the board). Because of his work with Farm Aid, Willie Nelson was inducted into the National Agricultural Hall of Fame!
Overflowing with authenticity, Willie Nelson has managed to transform mainstream country music. He got away from the prim-and-proper conservative Nashville music scene to create something true that the world had never heard before. With his unique style and voice—along with a little help from his trusty sidekick Trigger—Willie Nelson will certainly go down in history as one of the most legendary singer/songwriters ever.
Even though he's pushing 90 years old, Willie isn't showing any signs of slowing down. He still takes the stage with Trigger, playing real country music. Here's to hoping he can continue to go "On the Road Again" for plenty more years to come!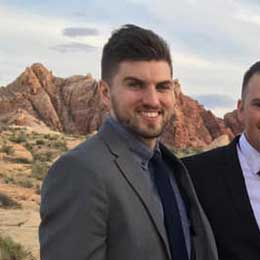 My name is Chris and I've had a passion for music and guitars for as long as I can remember. I started this website with some of my friends who are musicians, music teachers, gear heads, and music enthusiasts so we could provide high-quality guitar and music-related content.
I've been playing guitar since I was 13 years old and am an avid collector. Amps, pedals, guitars, bass, drums, microphones, studio, and recording gear, I love it all.
I was born and raised in Western Pennsylvania. My background is in Electrical Engineering, earning a Bachelor's degree from Youngstown State University. With my engineering experience, I've developed as a designer of guitar amplifiers and effects. A true passion of mine, I've designed, built, and repaired a wide range of guitar amps and electronics. Here at the Guitar Lobby, our aim is to share our passion for Music and gear with the rest of the music community.