From street performer to international superstar, Ed Sheeran has seemingly taken over the world with nothing more than an acoustic guitar and a loop pedal. His incredible talent for playing and looping different parts into a seamless composition has made him one of the biggest pop stars of the time.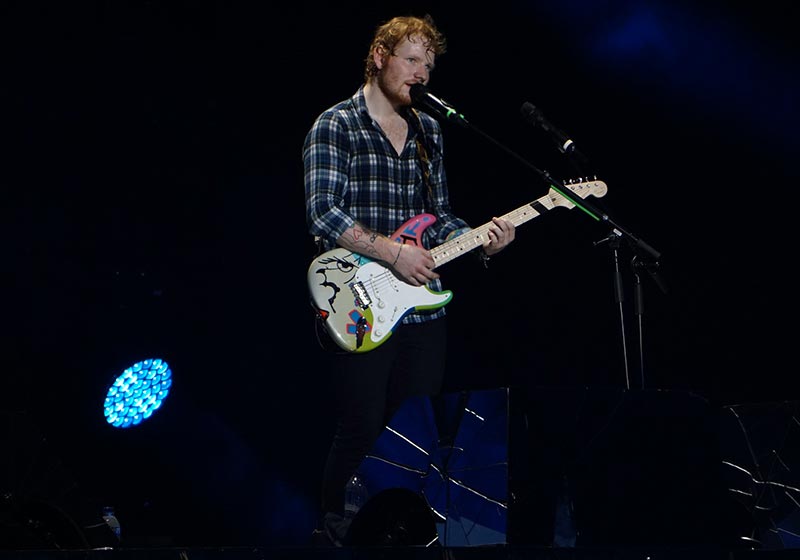 He started singing in the church choir at the tender age of four and started playing guitar when he was eleven. Sheeran picked up songwriting while he was in high school and became known for his incredible performances. His schoolmates even voted him most likely to be famous. According to Sheeran, some of his musical influences include Bob Dylan, Joni Mitchell, Eminem, and Paul McCartney. He credits Eric Clapton for making him want to play guitar in the first place.
What Guitar Does Ed Sheeran Use?
Ed Sheeran plays Martin LX1E acoustic-electric guitars of which he owns several customized versions of the model. Sheeran also has his own signature model of the LX1E produced by Martin. As for electric guitars, Ed often plays Fender Stratocasters, most notably his Eric Clapton Signature model.
See the full list of Ed Sheeran guitars and gear below.
Martin LX1E

| | |
| --- | --- |
| Finish | Natural |
| Years Used | 2008 to 2013 |
Ed Sheeran has always had a thing for smaller guitars. Earlier in his career, he played a Martin Backpacker acoustic, which is just about as small as you can get! Around 2009, he discovered what turned into one of his favorite guitars of all time: the Martin LX1E.
The Martin LX1E, also called the Little Martin, is a 3/4 scale guitar. That means its body is about 3/4 the size of a standard acoustic guitar. Because of its smaller size, it's more comfortable to play and much easier to carry around—which is great for a traveling musician and former full-time busker like Ed.
The LX1E features a modified 0 body shape with 14 frets clear from the body, a solid Sitka spruce top, and mahogany back and sides. Despite its size, the LX1E features Martin's inverted 1 style crowned cross brace across the top of the guitar to maintain that iconic Martin projection and tone, even in such a small package.
What puts the "E" in LX1E is the electronics. The Martin LX1E is the acoustic/electric version of their all-acoustic LX1. Ed Sheeran's early LX1E models (and his favorite) feature the Fishman Q Preamp. According to Sheeran, it's the best pickup for his percussive playing. Later LX1E models moved to a different system call the Isys T that Sheeran didn't like as much.
Ed Sheeran bought his very first LX1E around 2008, just before he played the Suffolk Coastal Soundwaves CD launch. He hadn't quite made his big break yet, but he was very, very close. Over the years, he has owned several LX1E guitars, each with its own name.
Martin Ed Sheeran x Signature Edition

| | |
| --- | --- |
| Finish | Natural |
| Years Used | 2015 to Present |
In 2015, Ed Sheeran teamed up with Martin once again to create his second signature guitar model. This time, he named it after his latest album release, "x."
The Martin Ed Sheeran x Signature Edition is based on Sheeran's favorite little acoustic, the LX1E. It features the same 3/4 scale smaller body with a solid Sitka spruce top. Instead of the rosewood back and sides like the original LX1E, the x signature edition has beautiful koa wood back and sides, similar to his custom rarer 00-28VS.
Like his first signature model, this guitar also has an "x" symbol on the body just below the neck joint. It also has little x's inlayed all the way up the fretboard instead of the standard dot markers. All Ed's royalties for the x guitar are also donated to Each, though the name isn't engraved on this particular guitar.
Ed Sheeran played his Martin x Signature Edition back when he sold out Wembley Arena where he used it to play "I'm a Mess." Furthermore, these days one can see him playing this signature six-string along with its "divide" successor version in regular rotation.
Fender Eric Clapton Crash 1 Stratocaster

| | |
| --- | --- |
| Finish | Crash Custom Artwork |
| Years Used | 2015 to Present |
Eric Clapton was always a major inspiration for Ed Sheeran. In fact, he's the whole reason Sheeran got into playing guitar! To emulate his hero, Ed Sheeran picked up a Fender Eric Clapton Crash Stratocaster.
The Crash Stratocaster is a typical Strat with a fancy paint job by a graffiti artist named John "Crash" Matos. Eric Clapton is an avid collector of street art, and back in 2001, Matos painted a Stratocaster-style body for Clapton with a custom graffiti finish. It became known as the Crash guitar, and Clapton used it as his main working guitar between 2001 and 2004.
Ed Sheeran found a Fender Eric Clapton Crash 1 Stratocaster and just had to buy it. He used it on stage whenever he wanted to play electric between 2015 and 2017, typically on "Thinking Out Loud."
Unfortunately, Sheeran found out that his "Crashocaster" is actually an unauthorized reproduction, so stopped using it onstage. Instead, he commissioned his own "Crash" guitar from the same artist.
In 2015, Sheeran reached out to Crash and another street artist named Teddy M to paint a custom guitar just for him. The Crash x Teddy M Strat, as it became known, replaced Ed Sheeran's original Eric Clapton Crash when he played electric on stage until 2017. This is easily one of the coolest looking Ed Sheeran guitars of all time!
Lowden WL-35

| | |
| --- | --- |
| Finish | Natural |
| Years Used | 2018 to Present |
Ed Sheeran received his first Lowden guitar in 2012 from Gary Lightbody, the frontman for the Irish band Snow Patrol. Ed expressed an interest in Lowdens, and Gary simply gave him one from his own personal collection. Sheeran took the guitar and used it to record five songs on his album "X" (Multiply).
Seeing how much Sheeran liked the guitar, Lightbody went to George Lowden, owner and head luthier for Lowden guitars, and asked him to make a special guitar to give Sheeran as a present. George created a unique small-body guitar he knew Ed Sheeran would love that would eventually become the WL series (or "Wee Lowden").
The Wee Lowden series blossomed into a friendship between Sheeran and Lowden. It wasn't just a signature model; it was a signature series! It included several models in the S (small) and WL (wee Lowden) lines that now carried Sheeran's name on the headstock.
Ever since his line went official around 2018, Ed Sheeran has been seen on stage and in the studio playing Lowden guitars, specifically the WL-35.
The Lowden WL-35 features the tiny Wee Lowden body shape to make playing and transportation a breeze. It's built with Indian rosewood back and sides with a red cedar top. Lowden keeps everything simple and straightforward without any fancy inlays or decorations, and the dolphin-shaped X-bracing ensures premium resonation and projection, even from such a small package.
To maintain intonation, the WL-35 is equipped with a split bridge. And for electronics, the WL-35 features an LR Braggs Element VTC pickup system.
When it was first released, Ed Sheeran had a signature "÷" model that had the divide symbol laser etched on the body of the guitar, similar to his signature Martin line. However, since new albums have been released since then, Sheeran is usually found on stage with a decoration-free guitar.
The Lowden WL-36 has been Ed Sheeran's primary acoustic guitar since 2018. You can see the WL-35 in almost every recent performance, including his latest Tiny Desk Concert on NPR Music.
Martin LX1

| | |
| --- | --- |
| Finish | Natural |
| Years Used | 2012 to 2014 |
Although he hopped over to Maton for a little while, it didn't take Ed Sheeran long to miss his Martin guitars. After a brief stint with the EML6, he went back to his tried-and-true Little Martin. Except for this time, he chose the non-electric model, the LX1.
The Martin LX1 is the exact same guitar as the LX1E that Sheeran played for the beginning of his professional career. It has the same 3/4 scale 0-shaped body, solid Sitka spruce top, and mahogany back and sides. The only difference is that it doesn't have any electronics. It's all acoustic!
Of course, by 2012, Ed Sheeran was busy playing large auditoriums and festivals. There was no way an all-acoustic guitar would work! So, instead of going with the electrified LX1E with the Isys T electronics he already knew he didn't like, he just bought the non-electric LX1 and installed his favorite Fishman Q Preamp himself.
There were a couple of Martin LX1s (with the Fishman Q Preamp) Ed Sheeran used between 2012 and 2013. As usual, they all got their own names, too.
Lowden GL-10

| | |
| --- | --- |
| Finish | Natural |
| Years Used | 2017 to Present |
Around the same time Ed Sheeran started working with Lowden guitars for his signature acoustic line, he also picked up a GL-10 to play on a few electric songs.
The Lowden GL-10 was first introduced in 2018, making Ed Sheeran one of the earliest adopters of the model. Its super thin, single cutaway design makes it comfortable to play, which is exactly what Ed Sheeran looks for in a guitar.
This incredible looking guitar features a solid Brazilian mahogany body and a gorgeous AAAA solid top (that's right, four A's). For electronics, the GL-10 is equipped with super smooth dual Lollar P90 pickups, a three-way selector switch, and three adjustment knobs (two volume and a master tone). All the hardware is gold to create a striking look against the amazing solid wood top.
Whenever Ed Sheeran takes the stage to play "Thinking Out Loud," there's a good chance he'll have a Lowden GL-10 slung over his shoulder.
Martin LX1E Ed Sheeran Signature "Each" Edition

| | |
| --- | --- |
| Finish | Natural Sapele |
| Years Used | 2013 to 2014 |
In 2013, Ed Sheeran teamed up with his long-time go-to guitar manufacturer to create the Martin LX1E Ed Sheeran Signature Edition. It was based on his favorite Little Martin, the LX1E, with a few special touches.
Most obviously, the Ed Sheeran Signature doesn't have the standard blonde natural finish that's common for most Martin acoustics. Instead, it's made with Sapele—which is a much darker wood that's similar in looks to mahogany. In fact, it's often called the "poor man's mahogany," since it looks and acts almost the same but at a cheaper price tag.
The switch in tonewood was requested by Sheeran to keep the guitar affordable. Most signature guitars are much more expensive than the model they're based on. The Martin LX1E Ed Sheeran Signature is only $40 more than the standard LX1E.
In addition to the darker tonewood, Ed Sheeran also added a few extra touches to make the guitar his. Instead of stickers or paint, his signature model has the "+" symbol laser etched into the body just below the neck joint. There's also a bright orange plus sign in the headstock with "est. 1991" underneath. Martin guitars typically have "est. 1833" (Martin's establishment date). Ed Sheeran added his own establishment date (birth year) instead.
Where Ed Sheeran usually puts the name of his guitar, his signature model has the word "each" etched into the body. Each stands for East Anglia's Children's Hospices, which is an organization that supports families and cares for children and people with life-threatening conditions in the UK. All the royalties Ed Sheeran receives for guitar sales go straight to each to help them in their mission.
For pickups, the Martin LX1E Ed Sheeran Signature got the Fishman Isys electronics. It's just what Martin was using for LX1Es at the time. Of course, the Isys isn't Ed Sheeran's favorite, which is why he didn't play his first signature model very long. It accompanied Sheeran on the road through the end of 2013 and the beginning of 2014 before he switched back to a standard Martin LX1 with an installed Fishman Q Preamp.
Despite its relatively short run, Ed Sheeran used his first signature model on perhaps one of the biggest tours of his career, when he accompanied Taylor Swift on her Red tour! You can see Sheeran take the stage next to Taylor Swift with his sapele Martin LX1E Signature in this 2013 performance of "Everything Has Changed."
PRS Hollowbody II

| | |
| --- | --- |
| Finish | Faded Whale Blue |
| Years Used | 2014 to Present |
Sometimes, even acoustic players need to go electric. Between 2014 and 2015, Ed Sheeran relied on a PRS Hollowbody II for his amplified sound.
The PRS Hollowbody II is a gorgeous electric guitar from the expert builders at Paul Reed Smith. It features an incredible figured maple top and matching back, mahogany sides, a thin comfortable shape, and a completely hollow body with dual f-holes. Ed Sheeran's PRS had a Faded Blue Whale finish.
For electronics, the Hollowbody II sports dual 58/15 humbuckers for a smooth, soulful sound, but that's not where it really stands out. In addition to the humbuckers, it also has a built-in LR Baggs piezo system for acoustic overtones—perfect for an acoustic player who wants to dabble in electric like Ed Sheeran.
Ed Sheeran used his PRS Hollowbody II when he played at the 2014 iTunes Festival. You can hear and see this incredible guitar in this clip from a 2015 performance of "Thinking Out Loud" at Live at Rock Rio.
Martin XL1E Ed Sheeran Divide Signature Edition

| | |
| --- | --- |
| Finish | Natural |
| Years Used | 2017 |
As if two signature Martin guitars weren't enough, Ed Sheeran returned to the Martin workshop yet again in 2017 to create another signature model. This time, it was to promote his latest album, Divide.
The Martin Ed Sheeran ÷ Signature Edition has the same body shape as the tried-and-true XL1E Little Martin. The main difference with the Divide model is the tonewood. Instead of the spruce and koa combo of the last signature, the divide edition features laminated mahogany back and sides paired with a spruce top. The lamination is designed to make the guitar virtually weatherproof and resistant to warping—perfect for the traveling musician!
Aesthetically, the divide signature guitar shows a laser-etched "÷" symbol on the body just below the neck joint and small blue divide symbols as fret markers all the way up the neck. The blue against the dark ebony fretboard makes quite the striking look. The divide symbol and headstock lettering are also blue.
Ed Sheeran used his own Martin Ed Sheeran ÷ Signature Edition for much of 2017 after it was released. You can hear it in action in this performance of "Castle on the Hill" from the 2017 Billboard Music Awards.
Martin LX1E "Cyril"
| | |
| --- | --- |
| Finish | Natural |
| Years Used | 2008 to 2011 |
Cyril was the first guitar Ed Sheeran ever bought, his first Martin LX1E, and the one that started it all. "She" was used during his first proper performance at the Suffolk Coastal Soundwaves CD Launch. Back then, Ed Sheeran's symbol was a paw print, so Cyril had a paw print sticker stuck right to the soundboard. He even has a matching paw print tattoo!
Sheeran used Cyril extensively between 2008 and 2010 for countless shows and recordings—pretty much everything before his "+" album.
Over the years, the guitar accumulated several other stickers. In 2010, Sheeran moved to the U.S. and put two more stickers on the guitar. They were both white and featured a drawing that was most likely done by Sheeran himself. You can see the new stickers in this video of "Give Me Love" from Hinge Studios in Chicago. You might also be able to see Cyril's name written on the soundboard, just above the neck joint.
Because it was an earlier model, Cyril had Sheeran's favorite Fishman Q Preamp system, which helped get him hooked on the LX1E in the first place. It was ideal for his percussive playing style.
Unfortunately, Ed Sheeran plays his guitars pretty rough. After almost exclusive use for two years, Cyril was retired sometime around 2011. Sheeran moved on to the next LX1E in line, which he called "Nigel."
Martin LX1E "Nigel"
| | |
| --- | --- |
| Finish | Natural |
| Years Used | 2010 to 2013 |
Nigel is another Martin LX1E with the same setup as his original, Cyril. It featured a natural finish and the same Fishman Q Preamp electronics that he loves so much. Sheeran picked up his second LX1E shortly after he moved to the U.S. in 2010.
Like Cyril, Nigel also has a paw print sticker on the soundboard, except it's a bit smaller and at a slightly different angle. It also has "Nigel" written on the other side of the neck from the paw sticker. Other than that, Nigel didn't get any other cosmetic alterations, aside from the worn patches on either side of the soundhole.
Ed Sheeran used Nigel along with Cyril throughout 2010. Once Cyril was retired in 2011, Nigel became his primary guitar all the way through 2013, when he moved on to his "+" themed guitars to promote his newest album. By 2013, however, Nigel had also received his fair share of road abuse and had to be retired.
Nigel accompanied Ed Sheeran for many iconic performances, including his appearance at the 2012 SXSW festival.
Martin LX1 "Trevor"
| | |
| --- | --- |
| Finish | Natural with Custom Stickers |
| Years Used | 2012 to 2013 |
Trevor was the first Martin LX1 Ed Sheeran bought. He picked up the guitar around 2012 as his first official "+" themed guitar. As with all his themed six-strings, Trevor had a plus sticker on the soundboard where the paw print sticker used to go. He also made sure to put the guitar's name on the top shoulder of the body.
The first thing Sheeran did when he bought Trevor was to install his favorite Fishman Q Preamp system. He likely didn't like the Fishman Isys T Martin "upgraded" the LX1Es with, so he just made his own LX1E like he had back in the day. It was much better for Sheeran's percussion loops. Trevor and Sheeran tore up the concert circuit between 2012 and 2013, notoriously when Ed took on the stage during his Australian tour back in 2k13.
Martin LX1 James II
| | |
| --- | --- |
| Finish | Natural |
| Years Used | 2013 |
At the beginning of 2013, Trevor had received his fair share of abuse from being on the road so much, so Ed Sheeran needed a replacement. He ordered another Martin LX1 without built-in electronics and installed his own Fishman Q Preamp system, added his signature "+" logo, and named it James II.
The name James II implies that there was a James I at some point in time. At the end of 2012, Sheeran posted a statement, saying he was very sad about one of his beloved guitars breaking after just two shows. He didn't comment on its name, but it could be a safe bet that it was the original James I. Sheeran didn't waste much time replacing it with James II.
Once he got James II up and running, it instantly became his primary guitar. For about the first half of 2013, the two were inseparable! You can hear the duo performing a rousing rendition of "You Need Me, I Don't Need You" in a 2013 performance at the Artists Den.
Martin LX1 "Murray"
| | |
| --- | --- |
| Finish | Natural |
| Years Used | 2013 to 2014 |
Every performer needs a backup guitar or two. James II's backup was called Murray. Murray was another Martin LX1 that came from the factory without pickups, but Sheeran made sure to install his favorite Fishman Q Preamp and signature "+" logo.
Since James II held up better than its predecessor James I, Murray didn't get to see much use. It typically sat backstage waiting for its 15-minutes of fame. It did, however, get a few shows in toward the end of 2013 and into 2014. You can see the two play "I See Fire" at the 2014 Southside Festival.
Martin LX1 "Chris"
| | |
| --- | --- |
| Finish | Natural |
| Years Used | 2014 |
The final Martin LX1 in Ed Sheeran's arsenal is named Chris. Chris appeared on the scene in 2014 to use in tandem with his first signature acoustic model from Martin (which we'll get to). Chris had all the same features as its LX1 predecessors, including the Fishman Q Preamp system. The main difference is that Chris doesn't have any stickers or decals, aside from its name written on the body just above the neck.
Ed Sheeran used Chris for a few appearances during 2014 between the releases of his first and second signature models. He might have even preferred the old setup over his first signature model, which could explain the swap back to the LX1.
If you want to see Chris in all its non-stickered glory, check out this performance of "I See Fire" from a 2014 Live at BBC Radio performance.
Once Chris was retired in favor of his second signature acoustic from Martin, Ed Sheeran never named his guitars again. Chris was the last guitar that ever earned a name.
Martin 00-28VS Custom
| | |
| --- | --- |
| Finish | Natural |
| Years Used | 2014 |
Toward the middle of 2014, Ed Sheeran went back to his favorite guitar manufacturer to make a few new custom models. This time, he strayed from the Little Martin and went for a "full-size" 00-28VS Custom.
The Martin 00-28 is just about as good as it gets for people who like smaller-bodied guitars. The 00 body has a thinner waist and overall smaller frame to provide a more balanced tone. Some dreadnaught acoustics go heavy on the bass overtones, but the 00 Grand Concert body style keeps everything in check to maintain an even sound. It also helps to prevent feedback, which is great for live performers like Ed Sheeran.
This guitar features top-of-the-line building materials, including a Sitka spruce top sitting on top of East Indian rosewood back and sides. Top it all off with an ebony fretboard, ebony bridge, and tapered fingerboard to make the guitar play and sound as good as it looks!
Ed Sheeran's guitar is a 00-28VS. The VS stands for Vintage Series, which means Martin takes a lot of care to reproduce the guitar just like they would "back in the day." They age the tonewood so it resonates much better right out of the case. It's also finished with a few more vintage touches like special binding and an aged toner on the top.
Because it was a custom job, Ed Sheeran also added a few more personalized touches to his guitar. In total, Sheeran ordered four Martin 00-28VS Customs. Two of them have intricate gecko inlays at the bottom of the fingerboard (which matches his tattoos). Instead of the East Indian rosewood back and sides, Sheeran's custom guitars are built with figured koa! Even the headstock is koa. It's hard to find a more beautiful acoustic guitar.
To finish everything off, all four guitars also have an "x" on the front to promote his album, making them the first of the x-themed guitars.
For electronics, Ed Sheeran went with the Fishman Matrix Infinity system. He typically uses his 00-28VS Customs to play ballad-type songs, though they're pretty versatile. You can hear Ed Sheeran talk about writing "Thinking Out Loud" and showing off his beautiful 00-28VS Custom with the gecko inlay in an interview with Acoustic Guitar Magazine. Most notably, though, he performed on All of the Stars with Christina Gimmie using one of his 00-28VSs without the gecko inlay.
Timetable Showing Each Guitar Ed Sheeran Has Played THroughout His Career
| Make | Model | Color/Finish | Years |
| --- | --- | --- | --- |
| Martin | LX1E "Cyril" | Natural | 2008 to 2011 |
| Martin | LX1E | Natural | 2008 to 2013 |
| Martin | LX1E "Nigel" | Natural | 2010 to 2013 |
| Martin | LX1 "Trevor" | Natural with Custom Stickers | 2012 to 2013 |
| Martin | LX1 | Natural | 2012 to 2014 |
| Martin | LX1 "James II" | Natural | 2013 |
| Martin | LX1E Ed Sheeran Signature "Each" Edition | Natural Sapele | 2013 to 2014 |
| Martin | LX1 "Murray" | Natural | 2013 to 2014 |
| Martin | 00-28VS Custom | Natural | 2014 |
| PRS | McCarty 594 Hollowbody II | Faded Whale Blue | 2014 to Present |
| Martin | Ed Sheeran x Signature Edition | Natural | 2015 to Present |
| Fender | Eric Clapton Crash 1 Stratocaster | Crash Custom Artwork | 2015 to Present |
| Martin | XL1E Ed Sheeran Divide Signature Edition | Natural | 2017 |
| Lowden | GL-10 | Natural | 2017 to Present |
| Lowden | WL-35 | Natural | 2018 to Present |
Ed Sheeran Amplifier Overview
Ed Sheeran mostly plays acoustic guitars, but every now and then, he'll pull out an electric guitar to really "amplify" his sound. When he goes electric, there's really only one amp Ed Sheeran turns to, a Vox AC15C1.
Vox AC15C1 Combo
The Vox AC15C1 might not be the biggest and loudest amp that ever was, but that's not what Ed Sheeran is going for. He wants an amp that puts out an amazing tone and is easy to carry along on the road. There's no better amp to serve those purposes than the Vox AC15C1.
The Vox AC15C1 is a 15-watt combo amp that provides that classic Vox chime that musicians have loved for decades—including legends like Paul McCartney, The Edge, Brian May, and Tom Petty, just to name a few.
The main difference between the AC15C1 and the standard AC15 is the speaker. AC15C1 (the C stands for "custom") has a 12" Celestion 25-watt Greenback speaker that's ready to pump sweet guitar tones well over the rest of the band, even in such a small package. It also helps provide a more mellow, mid-range sound, which is ideal for softer rock/pop like Ed Sheeran plays.
Ed Sheeran Effects and Pedals Overview
When it comes to pedals and effects, Ed Sheeran keeps it pretty basic. He doesn't really use the standard distortion, wah, or reverb pedals like most guitarists. Instead, it's all about the loop pedals!
Boss RC-20XL Loop Station
When Ed Sheeran first started his career, he was a simple street performer roaming from corner to corner playing his songs. What set him apart from other street artists—aside from his voice, guitar-playing abilities, and outstanding songwriting—is his looping.
Ed Sheeran likes to play all the parts for his songs, including rhythm guitar, lead guitar, percussion, harmonies, lead vocals, and whatever else he decides to cram into his songs. Since he's just one person, this makes putting on live performances quite a challenge. At least, without a loop pedal.
Early in his career, Ed Sheeran used a Boss RC-20XL Loop Station to create his various sounds. It's a small, portable pedal that allows up to 11 separate loops and 16 minutes of recording time. It even has multiple inputs for mics and guitars, so you can loop whatever kinds of sounds you want.
Chewie Monsta Looper
Once Ed Sheeran hit it big, he had some money he could spend on custom gear. He worked with his guitar tech Trevor Dawkins to develop a brand-new looping rig designed to meet his specific needs—and to make it easier to loop a whole bunch of different parts. That's when they built the Chewie Monsta Lopper.
The Chewie Monsta Looper is essentially four Boss RC-20XLs linked together on one pedalboard. It gave Sheeran so much looping power that he could easily conquer the pop music scene—which he totally did. It also has two LCD screens that told Sheeran which parts were which, so he could easily keep track of the different parts and cut them in and out as he saw fit.
Chewie II
After a few years with the Chewie Monsta Looper, it was time for an upgrade. Ed Sheeran once again went to his guitar tech Trevor Dawkins to create a new generation of Chewie looper. This time, they created the Chewie II Loop Station.
The Chewie II did all the same great stuff as the Chewie Monsta, but with a bit more oomph. The Chewie II featured even more lights and screens to help Ed Sheeran stay on top of his parts. It also included a memory bank so Sheeran could save parts between songs and a couple more modes.
Wrap Up
Following high school, Sheeran started releasing independent EPs and promoting his music on YouTube, where he amassed an incredible following. He even received praise from Elton John himself! The more shows he played, the more attention he got.
In 2011, Ed Sheeran released his first debut single "The A-Team," which was the lead single for his first full album "+" (pronounced "plus"). "The A Team" hit number three in the UK Singles Chart and earned Sheeran international success. The album + ended up selling almost 800,000 copies and was certified platinum six times!
Now grown up and with massively scaled celebrity status, Ed Sheeran has sold over 150 million records, making him officially one of the best-selling artists of all time. In 2019, he was even recognized as the UK artist of the decade by the Official Charts Company, and his ÷ Tour is still the highest-grossing of all time!
After his success, Ed Sheeran never slowed down. He has released four studio albums and collaborated with some of the biggest artists in the world, including Beyonce, Justin Bieber, Eminem, Taylor Swift, The Weekend, Macklemore, and many others.
In addition to a remarkable music career, Ed Sheeran regularly gives to charities and helps promote them to an international audience. His humanitarian efforts have raised millions of dollars for charities all over the world.
Over the course of his decade-long career, Sheeran has earned countless accolades, including four Grammys (and 14 nominations), six Billboard Music Awards, and five Brit Awards. For his services to music and charity, he was also appointed a Member of the Order of the British Empire (MBE).
Seeing that he accomplished all this before he even turned 30, there's no doubt that Ed Sheeran has a long, will eventually become one of the most respected artists of his generation.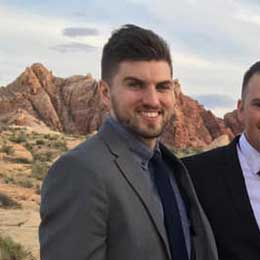 My name is Chris and I've had a passion for music and guitars for as long as I can remember. I started this website with some of my friends who are musicians, music teachers, gear heads, and music enthusiasts so we could provide high-quality guitar and music-related content.
I've been playing guitar since I was 13 years old and am an avid collector. Amps, pedals, guitars, bass, drums, microphones, studio, and recording gear, I love it all.
I was born and raised in Western Pennsylvania. My background is in Electrical Engineering, earning a Bachelor's degree from Youngstown State University. With my engineering experience, I've developed as a designer of guitar amplifiers and effects. A true passion of mine, I've designed, built, and repaired a wide range of guitar amps and electronics. Here at the Guitar Lobby, our aim is to share our passion for Music and gear with the rest of the music community.