Iron Maiden's signature sound is characterized by operatic vocals, galloping rhythms, and, of course, those intricate, fleet-fingered guitar harmonies. Adrian Smith's role in Iron Maiden isn't merely that of a guitarist, but a songwriter and occasional vocalist. Unlike most of his 80s metal contemporaries, Adrian Smith's playing was firmly rooted in the blues, with Johnny Winter and Pat Travers as his main influences.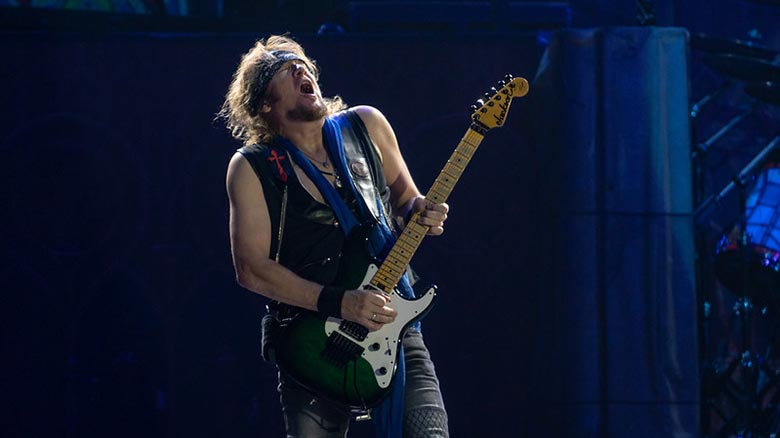 He first picked up the guitar after befriending fellow Iron Maiden guitarist Dave Murray as a teenager, long before Maiden was even a twinkle in Steve Harris' eye. Smith was inspired initially by the attention Murray received from girls, but he quickly developed a more profound interest, eventually shaping the melodic, riff-driven style that defined Maiden's early sound.
What Guitar Does Adrian Smith Play?
Adrian Smith is most known for playing his Fender Stratocaster guitars. He's also played a wide variety of iconic guitars including his personal collection of Jackson Saint Dimas six-strings, Gibson Les Paul Goldtop, and Gibson Les Paul Custom. See the full list of Adrian Smith guitars and gear below.
Fender American Standard Stratocaster

| | |
| --- | --- |
| Finish | Sunburst |
| Years Used | 1999 to Present |
Surprisingly for someone who used Stratocaster-shaped guitars for so long, it wasn't until Smith's return to the Iron Maiden fold that he started using genuine Fender Strats live.
After some extensive touring and recording with Maiden in 1989, Smith was growing unsettled and uneasy with the direction the band was taking for Iron Maiden's eighth studio album, "No Prayers for The Dying". Moreover, Smith felt his involvement was undermined, which only propelled his first departure from the band in search of new sounds and a more personal engagement with music. He rejoined the band in 1999, along with singer Bruce Dickinson who insisted on his return. This return included a more experimented Adrian, who had already delved in solidifying his sound, entering what would become one of his most associated guitars, his American Standard Strat.
Smith may have started using the Stratocaster to better complement the new arrangement of the band, as some of his older guitars may have been obscured in the mix against two other lead guitarists. Also contributing to his use of this six-string may have been that both Dave Murray and Janick Gers were wielding Stratocasters of their own at that point, and the use of a mahogany-bodied guitar would only serve to obscure Maiden's meticulous guitar arrangement.
Smith's Stratocaster is fitted with a Floyd Rose locking tremolo system and the same DiMarzio Super Distortion bridge humbucker as his Jackson. This guitar has a finished maple fretboard and was Smith's main guitar for both live and studio use until Jackson built his custom San Dimas model.
In the image above, Adrian Smith's Stratocaster has a wire sticking out of its bridge pickup. This is likely a Fender Fishman TriplePlay Stratocaster. These advanced guitars use the Fishman Triple Play system, which includes the Fishman hex pickup, TriplePlay D-pad controller, and MIDI volume control. Iron Maiden included synthesizers in their sound in this era, so Smith may have used this wireless guitar transmitter to create synth sounds, or it might just have been a handy built-in wireless connector for his Strat.
Gibson Les Paul Deluxe

| | |
| --- | --- |
| Finish | Goldtop |
| Years Used | 1971 to Present |
Adrian Smith's first serious guitar was a 1972 Les Paul Deluxe Goldtop that he purchased for 235 pounds back in 1974. The Les Paul Deluxe was a more inexpensive model than the others Gibson had for sale at the time, a step up from the Les Paul Junior but a far cry from the luxury of the Custom.
Les Pauls were fast becoming one of the most popular instruments for aspiring hard-rock guitarists. This was thanks in no small part to the genre-defining guitar work of Jimmy Page and Eric Clapton, both of whom wielded their 1959 Les Pauls with the power and authority of guitar gods. However, for a young Adrian Smith, it was Thin Lizzy's Scott Gorham who inspired him to pick up the Gibson. Smith thought that seeing as Gorham played a Les Paul Deluxe if he owned one, he, too, would sound like Scott Gorham. Thin Lizzy's influence is most evident in Iron Maiden's turbo-charged dual lead guitar attack, and the band would later cover Lizzy's live staple "Massacre" as a B-side.
One thing that separates this guitar from many of its brethren is the addition of an aftermarket DiMarzio Super Distortion humbucker in the bridge position. Gibson bought the Epiphone guitar company in the late 1950s, and with it their patent on mini-humbuckers as well as a large stock of the mini-humbuckers themselves. They were smaller than the humbuckers Gibson had made popular in their guitars and produced a thinner, more trebly sound than Gibson's PAFs. Mini humbuckers sounded about halfway between the PAF and a Stratocaster, and Gibson took advantage of their new supply of pickups by placing them in several of their guitar models from the 70s, including the Les Paul Deluxe.
The Les Paul Deluxe produced a thinner sound than the fat, creamy tone of the late 50s Les Pauls, so many rockers replaced these mini-humbuckers with full-sized humbucking pickups like the DiMarzio. The DiMarzio in this guitar has open coils with no pickup cover for extra bite and twang.
There are a few performances on Iron Maiden's 1983 World Piece tour in which lead singer Bruce Dickinson was allowed to play a Les Paul Goldtop for "Revelations". The six-string Bruce was playing has the same modifications as Adrian's own '72, so we believe that Adrian lent his singer's Les Paul for this short section of Maiden's set.
To this day, Adrian Smith tours with his original Les Paul, calling it "probably the best guitar I've got".
Jackson Adrian Smith Signature San Dimas Dinky

| | |
| --- | --- |
| Finish | White |
| Years Used | 2007 to Present |
When Adrian Smith inked an endorsement deal with Jackson in 2007, it was his first guitar company endorsement in fifteen years. As part of the deal, Jackson released several signature guitars for Smith, including this Dinky model. The Dinky has been Smith's mainstay on stage since 2007, with all other pieces including his original Jackson signature relegated to second place. In fact, Smith loves his signature model so much he travels with two identically appointed guitars!
Fender Musical Instruments Corporation bought Jackson guitars in 2002, five years before this endorsement. Because of this, Fender licensed their Stratocaster headstock shape, a Fender trademark, to their subsidiary, and the Adrian Smith model comes stock with a Fender-style headstock based on the 1950s Stratocaster Smith was using at the time. Early concertgoers mistook this guitar for a Fender for this reason, but this high-octane metal machine is Jackson through and through. In
This guitar is heavily based on Adrian Smith's original custom Jackson from the '80s, with several cutting-edge modern appointments. The first prototype Jackson built for him as part of the deal featured an ebony fretboard, although a later variation has a maple fretboard.
The Jackson has an original Floyd Rose in the bridge. Adrian's favorite pickup, the DiMarzio Super Distortion, is in the bridge position, with Fender Samarium Cobalt Noiseless pickups in the neck and middle positions. Because the modern configuration of Iron Maiden has three guitar players, Adrian Smith often uses the single-coil neck pickup to help him stand out from Dave Murray and Janick Gers on stage. The guitar's neck is a compound radius, with twenty-two jumbo frets to aid in the pursuit of Smith's fleet-fingered lead playing. The instrument's hardware is black-plated, including its Gotoh tuners. A solid alder body helps to minimize feedback and noise when playing the kind of high-octane metal that Maiden is best known for.
Adrian Smith also uses a customized variation of this guitar with a gold finish. This one-of-a-kind Jackson is identical to his signature model, but with a gold finish inspired by Smith's very own Les Paul goldtop.
Ibanez Destroyer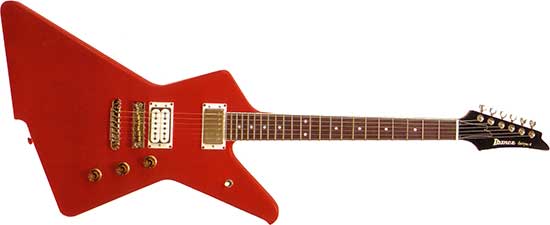 | | |
| --- | --- |
| Finish | Red |
| Years Used | 1982 to Present |
Adrian Smith's favored guitar until the arrival of his signature Jackson was the Ibanez Destroyer. With its brilliant red color, searing tone, and unparalleled playability, it was a frequent sight at Iron Maiden gigs through the early 80s.
Modeled after Gibson's radical Explorer, the Destroyer was a favorite among heavy metal bands for its extreme shape, upper-fretboard access, and powerful, distorted tone.
Smith relied heavily on the Destroyer throughout the recording of Iron Maiden's seminal Number of the Beast album, and it was his main instrument on the accompanying tour. It can be seen in almost every song in this tour video from 1982.
This guitar's bright, Ferrari-red finish and pickups, according to this 1983 interview, were all stock. The Destroyer has a mahogany body and the stock pickups seem to have been DiMarzios, likely Super Distortions. These were the favored pickups for many hard rock and heavy metal players, Adrian Smith included.
This guitar even appeared in the official video for "Run to the Hills", one of Iron Maiden's biggest hit songs. The Destroyer still makes appearances in Iron Maiden's live performances to this day, although it was relegated upon Smith's receipt of his signature Jackson.
This Ibanez was so heavily associated with Iron Maiden's Number of the Beast era that Jackson built a copy of the guitar for Smith to play on the Legacy of the Beast tour in 2018. Cleverly named the "Adrian Smith X-Stroyer", this carbon copy of Smith's original features gold hardware and three control knobs. This is easily one of the most iconic Adrian Smith guitars ever.
Popular Related Article: What Guitar Does James Hetfield Play?
Gibson Les Paul Custom

| | |
| --- | --- |
| Finish | Black |
| Years Used | 2000 to 2017 |
The classy tuxedo finish of a Les Paul Custom is not what one would expect from Iron Maiden! Nevertheless, Adrian Smith proudly played this Gibson in the video for Maiden's 2000 single "The Wicker Man". It made sporadic appearances in Maiden's live performances since then, most recently appearing on the Book of Souls world tour for "The Great Unknown", as seen in the video below:
Adrian used this guitar on the tour for Iron Maiden's comeback album, Brave New World, their first with Smith and Dickinson since 1989. Adrian's Les Paul is somewhat unique among his instruments in that it appears to be unmodified, with an ebony fretboard, block fret inlays, headstock binding, pearl Gibson logo, and split-diamond headstock inlay. It features gold hardware and what appears to be the stock Gibson humbuckers. These are probably Gibson PAFs, which have a sweeter, darker tone with less snarl than the DiMarzios Smith prefers in his other instruments.
Jackson USA Signature Adrian Smith San Dimas SDQM

| | |
| --- | --- |
| Finish | Transparent Green Burst |
| Years Used | 2017 to Present |
This eye-catching variation on Adrian's signature Jackson Superstrat comes in vibrant green! It was released to the public in 2019 and Smith used it on the promotional tour for Iron Maiden's album The Book of Souls. Smith can be seen playing the guitar in the photo below:
This Jackson signature model comes with a Seymour Duncan JB-4 humbucker in the bridge position, while the neck and middle are Samarium Cobalt Noiseless pickups. This guitar has an alder body with a flamed maple top, a Floyd Rose locking tremolo system, and a five-way pickup selector.
Dean Baby ML

| | |
| --- | --- |
| Finish | Cherry Burst |
| Years Used | 1983 to 1999 |
Smith made use of this guitar in 1983 on the World Piece tour, but it hasn't been seen since. The Dean resembled the unholy offspring of a Flying V and Explorer, and Smith likely enjoyed its extreme shape. He ultimately moved on to other guitars following this tour.
The ML has a tune-o-matic bridge, a floating tremolo with locking tuners, and a maple neck. The open-coil pickups are likely DiMarzios to maintain consistency of sound with his other guitars from the era, but this has not been confirmed.
After the two had left Iron Maiden, Adrian Smith joined Bruce Dickinson's solo band for their 1998 release Chemical Wedding. He can be seen playing his old Dean Baby during many live shows in The Chemical Wedding.
1986 Jackson Custom Adrian Smith Prototype

| | |
| --- | --- |
| Finish | White |
| Years Used | 1986 to Unspecified |
Jackson custom-built this strat-shaped speed machine for Smith ahead of Iron Maiden's Somewhere in Time tour. Although Smith loves his Les Paul, it suffered from tuning issues on stage, and in the 80s he sought to take advantage of the locking tuning mechanism pioneered by Eddie Van Halen.
This Adrian Smith prototype is heavily based on a Fender Stratocaster, with a few updates to better suit Iron Maiden's needs. Although the neck and middle pickups are single-coil like a Stratocaster, this guitar has an aftermarket DiMarzio Super Distortion fitted in the bridge position. The neck and middle positions feature Samarium Cobalt Noiseless pickups, to counteract any feedback and buzzing incurred by Smith's high-gain guitar tone. It also has an ebony fretboard, unlike many Strat-type guitars which tend to use rosewood or a finished maple fretboard. It has a Floyd Rose floating bridge and locking tuners, with only two controls: one volume, one tone. This guitar's understated elegance is completed by Pearloid dot inlays.
This was the guitar on which his most recent Jackson signature line was modeled, and it remains an integral part of his live sound. He occasionally switches between using a white and black pickguard on this instrument, most recently switching to black so it better resembles his new Jackson signature line.
Popular Related Article: Kirk Hammett Rig Rundown
1970s Gibson SG Standard

Finish: Natural Walnut
Years Used: 1983 to present
| | |
| --- | --- |
| Finish | Natural Walnut |
| Years Used | 1983 to Present |
In a 1983 interview, Adrian named his two main guitars being the Ibanez Destroyer and this Gibson SG Standard. Live, this guitar was a backup for Smith's favored Destroyer. These days, the guitar is kept in drop D tuning and brought out for Maiden's signature song, "Number of the Beast".
Adrian Smith played this Gibson SG for Maiden's 2010 tour. With stock Gibson humbuckers and a nifty peace sticker on the body, this guitar is in a gorgeous natural finish and is one of Smith's more understated guitars.
Smith has not confirmed the guitar's age, however, several clues in the picture above make it likely to be either a '75 or '72 SG. The rectangle-shaped fret inlays, which were introduced to the SG standard line in the early 70s, are one. It lacks the harmonica bridge and vibrato bar that came with earlier 70s SG standards, instead of having a Gibson tune-o-matic bridge. Finally, the black speed knobs, natural walnut finish, and mother-of-pearl crown inlay in the headstock match the specs advertised in this 1975 Gibson catalog.
This SG is crafted from a solid mahogany body, with an ebony fingerboard and chrome-plated tuning heads.
Adrian played an SG with a vibrola in the early 80s, so it is possible that this guitar is in fact the same instrument, with the bridge altered. Smith may well have removed the vibrato bar added a tune-o-Matic bridge and covered the resulting holes in the body with his peace sticker.
If that is the case, his SG is a 1972 standard. In some lighting, the natural walnut finish has been misattributed to cherry red, but as is evident by the porous wood, the guitar has not been finished with a paint job.
Charvel San Dimas

| | |
| --- | --- |
| Finish | Black |
| Years Used | 1986 |
Adrian Smith deployed this single-pickup-equipped guitar for Iron Maiden's "Wasted Years" video. The "superstrat" type guitar was popular among hard rock and metal players in the 80s, brought about largely by Eddie Van Halen's frenzied playing and aftermarket installation of humbucking pickups in Stratocaster bodies. Charvel's San Dimas model resembled a Stratocaster with its maple neck and double-cutaway body, but instead of single-coil pickups, it had alone humbucker in the bridge. The San Dimas also featured a Floyd Rose locking tremolo system.
Wayne Charvel founded this company in the 70s but sold it to Grover Jackson in 1978. Jackson eventually founded Jackson guitars to produce innovative revamps of radical shapes like the V. In Iron Maiden's 1980s heyday, Charvel and Jackson were, for all intents and purposes, the same company, producing the same instruments for Iron Maiden.
Popular Related Article: Jerry Cantrell Guitar List
Lado Earth
| | |
| --- | --- |
| Finish | Silver Burst |
| Years Used | 1984 to 1988 |
Another Explorer-like shape was this Lado Earth guitar, which Smith used to play "Rime of the Ancient Mariner" from 1984-1985, making its debut on the '84 Powerslave tour. Iron Maiden was riding high in the middle of their peak era, with three hit albums under their belts. Guitar manufacturers were lining up to have Maiden play their instruments, and Canadian maker Lado was no different. Iron Maiden actually endorsed Lado guitars for a few years in the '80s, which is likely how Adrian Smith wound up playing these instruments.
In this photo, Adrian's guitar looks to have active Lado pickups instead of the DiMarzios that came with other models. Active pickups produced by EMG were later popularised by thrash bands like Metallica and Ozzy Osbourne's lead guitarist Zakk Wylde, but in 1984 they were still relatively niche. At some point, Adrian replaced the bridge pickup with his preferred DiMarzio Super Distortion.
The Lado Earth guitars were built using birdseye maple for the body, which gives this guitar a bright, snappy sound. The fretboard is ebony, and the locking tremolo was perfect for the dive bombs and guitar acrobatics Adrian deployed on a nightly basis.
At the time of its recording, "Rime of the Ancient Mariner" was Iron Maiden's longest ever song. It's likely that Adrian Smith preferred using his Lado Earth for this lengthy epic thanks to its locking tremolo and tuners, keeping its tuning stable for its fifteen-minute duration.
Adrian still owns his Lado, although he does not play it live and has not reported using it in the studio in recent years.
Table Showing Each Guitar Adrian Smith Has Played in His Career
| Make | Model | Color/Finish | Years |
| --- | --- | --- | --- |
| Gibson | Les Paul Deluxe | Goldtop | 1971 to Present |
| Ibanez | Destroyer | Red | 1982 to Present |
| Dean | Baby ML | Cherry Burst | 1983 to 1999 |
| Gibson | 1970s SG Standard | Natural Walnut | 1983 to Present |
| Lado | Earth | Silver Burst | 1984 to 1988 |
| Jackson | Custom Adrian Smith Prototype | White | 1986 to Unspecified |
| Charvel | San Dimas | Black | 1986 |
| Fender | American Standard Stratocaster | Sunburst | 1999 to Present |
| Gibson | Les Paul Custom | Black | 2000 to 2017 |
| Jackson | Adrian Smith Signature San Dimas Dinky | White | 2007 to Present |
| Jackson | USA Signature Adrian Smith San Dimas SDQM | Transparent Green Burst | 2017 to Present |
Adrian Smith Amplifier Overview
When you think of Iron Maiden, you think of a loud, ballsy classic heavy metal band. There's no point in Adrian Smith having all his gorgeous shred guitars without a roaring heavy metal amp to play them through!
Adrian Smith, like most hard rock and heavy metal players of his generation, relied heavily on a roaring Marshall for his tone. Marshall amps defined the sound of 70s and 80s metal, and towering walls of Marshalls are a common sight at metal shows to this day. Adrian Smith preferred a meat-and-potatoes approach to his amps, relying mainly on classic vintage Marshall oomph to deliver his molten solos and galloping rhythm playing.
This big, British sound never failed Maiden back when they were first conquering the world, and it remains a mainstay of their live rig to this day. Adrian Smith has dabbled in using other amplifiers like Blackstar and Peavey, particularly since rejoining Iron Maiden, but all had massive volume and distortion to spare.
Marshall Super Lead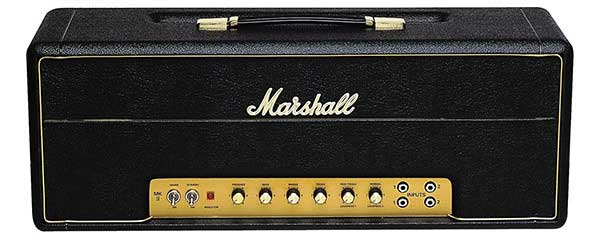 Smith used a 100-watt Super Lead for Iron Maiden's World Piece tour in 1983, and his choice of amps has remained similar through much of his career. It is believed that Smith was using 50-watt Marshall amps for earlier tours and upgraded to 100-watt models as Maiden began playing larger venues.
The 100-watt Super Lead was a classic Marshall Plexi, likely a Marshall 1959. These amps had a Plexiglas panel, which gave them their name. The 100-watt Plexi is universally considered to be the amp for classic hard rock. Information is unclear as to the age of Smith's amp, but it was likely a post-1967 model with EL34 tubes and no master volume. These amps required either the use of a boost pedal or the volume cranked all the way up to achieve the thick, distorted tone that Iron Maiden is famous for.
Marshall Super Lead amps comprised the majority of Adrian Smith's backline, and indeed that of the rest of Iron Maiden, throughout his first tenure in the band.
Gallien-Krueger 250ML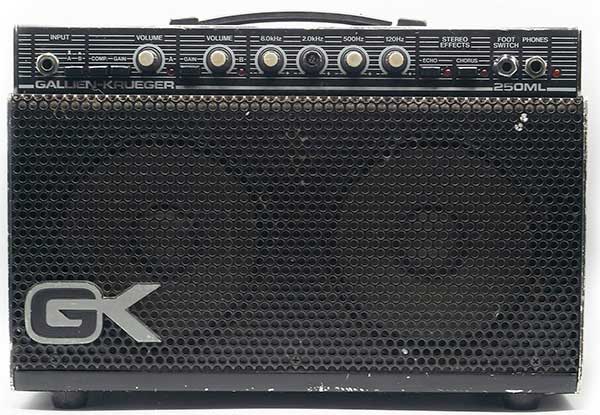 Although Adrian stuck to his base Marshall sound, he and fellow Maiden guitarist Dave Murray dabbled in playing Gallien-Krueger amps in 1986.
Gallien-Krueger is a Californian brand more associated with bass amps than guitar amplifiers. Carlos Santana famously used Gallien-Krueger amplifiers at Woodstock, but the high-gain metal market of the 80s saw the brand become famous.
They played through these amps on the 1986-87 Somewhere in Time tour, as well as on the Seventh Son of a Seventh Son album and accompanying tour. The amplifier's built-in chorus and echo effects as well as an external effects loop perfectly complemented Maiden's new, more progressive direction. The Gallien-Krueger amps allowed Maiden to replicate in the live environment the lush, layered guitar effects on their recent studio albums. Although these amps were small, they packed a serious punch, with 100 watts of power and a built-in overdrive channel.
Marshall JMP-1
When Adrian Smith returned to Iron Maiden, he was so impressed by Janick Gers and Dave Murray's tones that he took to using the Marshall JMP-1 rack unit. The JMP-1 preamp remained part of his rig up until 2010 at least, as he used two units in the picture above. These emulate four distinct Marshall sounds, but Smith is more associated with the use of a powerful tube amplifier.
Marshall JVM410H

Since Smith's second Maiden tenure has been the requirement to sound different from his bandmates, a consistent theme has been the requirement to sound different from his bandmates. In a three-guitar heavy metal band with each player using a similar guitar, this is critical to ensure a crisp, full sound. Smith told Premier Guitar that, after using the JMP-1, "And then I thought I'd do something different and I went back to the Marshall heads. It's a different sound."
At the time, this meant deploying the then-new Marshall JVM410H.
This 100-watt tube head has four channels, two master volume controls, an outbound effects loop, and built-in reverb. This amp has four ECC83 preamp tubes, and four classic EL34s with a sole ECC83 in the power amp.
Marshall JCM2000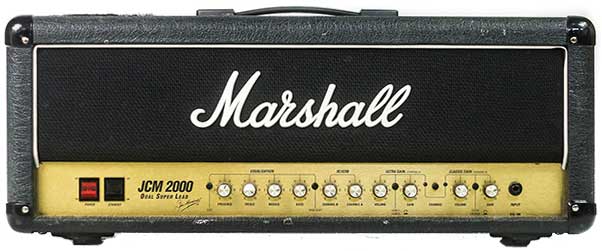 In 2010, Smith's touring rig included two high-powered Marshall JCM2000 heads. The JCM2000 was released at the turn of the century, coinciding with Smith rejoining Iron Maiden. UK models used Marshall EL34 tubes, with an extra clipping diode for the lead channel. This provided additional onboard distortion for guitarists without necessitating the use of a distortion pedal.
Blackstar HT-5 & Series One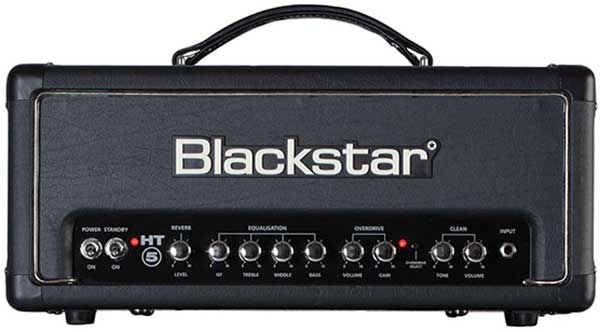 According to this interview, Adrian Smith took a liking to Blackstar amps in the late 2000s, when Iron Maiden started recording The Final Frontier. Former Marshall employees founded the British company in 2007, and its amplifiers quickly made their way to Adrian Smith.
Smith's first Blackstar amp was an HT-5 mini stack, a five-watt tube amp designed for recording purposes. This and the Series One 100 head were the backbone of Smith's dense, bone-crunching guitar tone on The Final Frontier.
Smith again returned to Blackstar amps to record their latest studio effort, The Book of Souls, on which he used 100-watt Series One 1046L6 and 104EL34 amps, as well as his trusty HT-5.
Adrian Smith Pedals and Effects
Adrian Smith was an early adopter of guitar pedals, adding distortion and various effects to his rig in the early 80s when many rockers were still relying on the old-fashioned plug-and-play method.
Smith's choice of guitar pedals reflects his blues-rock roots, with a focus on classic drive and distortion. His various dirt boxes are used both live and in the studio to boost his guitar signal, turbocharging his amplifiers to deliver Iron Maiden's powerful riffage. In addition to his distortion pedals, Smith employs multi-effects units, some modulation, delay, wah, and compression.
In this list, we look at the effects that informed major aspects of Smith's sound over the past four decades.
Ibanez TS808 Tube Screamer
Is there any overdrive pedal more iconic than the Tube Screamer? The little green box from Japanese builders Ibanez graced the boards of countless guitarists, including Eric Johnson, Gary Moore, and, of course, Adrian Smith. The Tube Screamer is such an integral part of Smith's sound that he tours with two rack-mounted TS808s.
Ibanez released the original TS808 in the late 1970s when it was immediately adopted by metal guitarists looking to tighten up their distorted tone. The Tube Screamer boosts the mid-range frequencies of the guitar and amp, helping the guitar signal to stand out in the mix.
Interestingly, Smith was not an early adopter of this classic pedal, only adding it to his rig in 2006. He seemed to prefer the natural overdriven sound of his roaring Marshalls throughout his original Iron Maiden years.
Dunlop Cry Baby Wah
The Cry Baby, first introduced in 1966, is one of the best-selling guitar pedals of all time. First popularised by Smith's early blues-rock heroes like Hendrix and Clapton, the Cry Baby is synonymous with the wah effect.
"Wah" pedals use foot-controlled potentiometers to alter the frequency of the guitar's signal before it gets to the amplifier. This sweep shapes the guitar's sound, and rapid sweeps from bass to treble sound as if the guitar is saying "wah", which gives this effect its name. It was originally designed to imitate the effect of a muted trumpet but has since taken on a life of its own.
Adrian Smith first deployed the Dunlop Cry Baby as his only effect pedal on the Number of the Beast tour. It has remained a steadfast feature of his pedalboard since this period, although Smith has only recorded one solo with this effect, on 2000's Brave New World. He uses the effect heavily in his live solo for "Tears of a Clown", "Die With Your Boots On", and "2 Minutes to Midnight".
 Boss DD-3 Digital Delay
Today, Adrian Smith prefers the Boss DD-3, although in the past he has used other digital delay models.
In the 80s, guitarists looking to supplant the breakable, expensive tape delays of the 70s such as the Echoplex and Copicat turned to digital delays. These didn't require the purchase of tape before performances and could fit on a touring pedalboard. Perfect!
Smith's first recorded use of a delay unit is Yamaha's analog delay, which he used for the Piece of Mind tour. He quickly switched to digital delay, however, taking both a Boss DD-2 digital delay and an Ibanez digital delay on the following tour in support of Iron Maiden's Powerslave album.
You can hear the precise digital echo effect all over Smith's Iron Maiden solos, particularly from the mid-80s (such as "Caught Somewhere in Time") and his second tenure in Iron Maiden. Smith prefers to reserve delay for his lead parts and uses a drier sound for most of the rest of his playing. Using delay during Iron Maiden's rhythm parts or their lightning-fast harmonies would only serve to muddy up the overall sound, and distract from the intricacy of their harmonized melodies.
 Boss CH-1 Super Chorus
When Iron Maiden adopted a more synth-heavy sound for Powerslave and its follow-up album, Somewhere in Time, Adrian Smith responded by making his guitar sound more like a synthesizer. He achieved this at first by adding a Boss Stereo Chorus CE-3 to his touring rig.
Since his return to Iron Maiden, Smith has adopted the Boss CH-1 Super Chorus, which also offers stereo capability. The Super Chorus allows fine-tuning of the chorus effect's EQ, helping it to sit right in the mix against Murray and Gers' guitar signals.
 DigiTech Eric Clapton Crossroads
Some may have labeled this the "worst pedal ever", but Adrian Smith took it into the studio for Iron Maiden's 2015 album, The Book of Souls. Smith told Premier Guitar that "a few settings on that sounded quite good".
This pedal was designed to emulate several of Eric Clapton's classic guitar sounds, including those on "Sunshine of Your Love" and "Crossroads". This pedal stayed on Smith's board up until the 2015 Maiden England tour.
Boss CS-3 Compression Sustainer
Like the Digitech Crossroads, this Boss pedal made its way into Smith's rig around the time that Iron Maiden was recording The Book of Souls. Fellow Maiden guitarist Janick Gers describes Smith's sound like the most compressed of the three Iron Maiden axemen.
Compression is popular among shredding guitarists. It makes loud sounds quieter and makes soft sounds louder. Adrian Smith's playing style depends heavily on low-attack legato techniques, such as trills, hammer-ons, and pull-offs. He likely uses the compressor to ensure that the volume of his lead lines does not vary wildly from a picked section to a legato section, and likewise that his higher-pitched flurries of notes are as clear as his crunchy power chords. The additional benefit of this effect is its sustain boost, allowing Adrian's chords and notes to ring out long after they've been played.
Roland GR-20 Guitar Synthesizer
The Roland GR-20 allows Smith to use his guitar to produce synth sounds. Some of Iron Maiden's mid-80s albums use synth sounds heavy, which this unit would help with. The GR-20 also synthesizes saxophone, woodwind, and brass sounds, but Smith has yet to use any of these effects live. The unit also has built-in reverb and delay.
Wrap Up
Heavy metal is undoubtedly a genre with an extensive history, however, there are few bands quite as influential, as dominant, or as long-lived as Iron Maiden. Cited by virtually every heavy band to emerge after them as a key influence, and still thrilling headbangers around the world five decades after their inception, Iron Maiden are one of the genre's true greats.
Adrian Smith spent his early years playing with a variety of British hard rock acts, including Evil Ways and Urchin. He flirted with joining Iron Maiden a few times in the late 70s, switching between Maiden and Urchin, including one incident in which he was fired over a fight with then-singer Dennis Wilcock.
In 1980, Smith joined Iron Maiden for good, replacing guitarist Dennis Stratton and debuting on Maiden's second album, Killers. He was soon contributing songs to the Maiden canon, forming one of metal's greatest songwriting partnerships with singer Bruce Dickinson.
As any great guitarist will tell you, having the right tool for the job is critical to rock and roll success. Adrian Smith played a wide variety of guitars over the years, reflecting his blues-rock roots and ascent to 80s metal stardom. However, one of Smith's most astonishing attributes is his vast ability to condense his virtuoso skillset with a massive range of influences, something that highlighted him as one of the most prominent shredders of all time.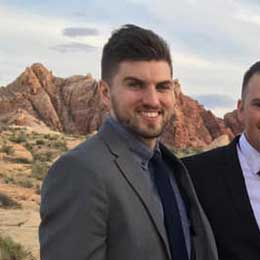 My name is Chris and I've had a passion for music and guitars for as long as I can remember. I started this website with some of my friends who are musicians, music teachers, gear heads, and music enthusiasts so we could provide high-quality guitar and music-related content.
I've been playing guitar since I was 13 years old and am an avid collector. Amps, pedals, guitars, bass, drums, microphones, studio, and recording gear, I love it all.
I was born and raised in Western Pennsylvania. My background is in Electrical Engineering, earning a Bachelor's degree from Youngstown State University. With my engineering experience, I've developed as a designer of guitar amplifiers and effects. A true passion of mine, I've designed, built, and repaired a wide range of guitar amps and electronics. Here at the Guitar Lobby, our aim is to share our passion for Music and gear with the rest of the music community.