If you compile a list of the greatest bass players to ever live, Geddy Lee would easily end up toward the top of the list. Lee's sound was so unique that he inspired countless musicians, including Metallica's Cliff Burton, Primus' Les Claypool, Rage Against the Machine's Tim Commerford, Iron Maiden's Steve Harris, and Dream Theater's John Myung, just to name a few. If you play bass, there's a good chance Geddy Lee has inspired at least some of your playing.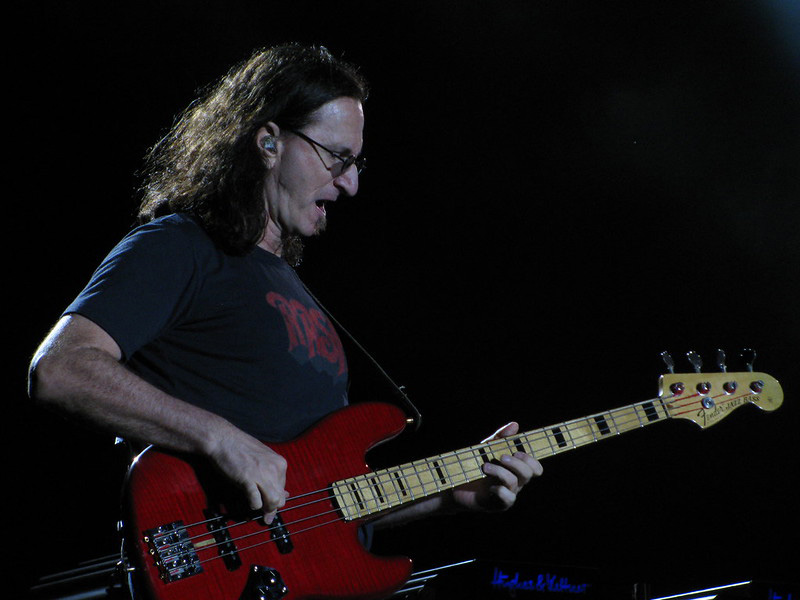 Over their massive 40-year run, Rush released 19 studio albums and 11 live albums, forever changing the musical world. In 2013, the band was inducted into the Rock and Roll Hall of Fame after a massive fan write-in campaign.
What Bass Guitar Does Geddy Lee Play?
Geddy Lee is best known for playing a black 1972 Fender Jazz Bass, also known as "Number One". He acquired it from a pawn shop in Michigan where he purchased it for roughly $200.
Lee is known for being a devoted long-time player of both Fender and Rickenbacker brand bass guitars. However, he also has a massive collection of over 250 vintage basses of which not all but many have been seen used on stage and in the studio. See the full list of the most historically significant Geddy Lee Bass Guitars below.
1972 Fender Jazz Bass "Number One"

| | |
| --- | --- |
| Finish | Black |
| Years Used | 1979 to 1982/1989 to 2014 |
One of Geddy Leddy's most iconic bass guitars "Number One" has an interesting backstory. One day in Kalamazoo, Michigan, Lee had a day off and decided to roam around the city to kill some time between shows. One of the guys on his crew liked visiting local pawn shops to see what treasures they had. Without anything better to do, Lee joined him.
They went into one of the pawnshops, and there he saw it. There was a black 1972 Fender Jazz Bass hanging on the wall. It didn't look like anything special. There was a cigarette burn in the neck, and it didn't even come with a case! The shopkeeper was asking $200 for the instrument.
Well, $200 didn't seem too bad for bass, so Lee bought it. Why not!?
This story isn't about love at first sight. Lee owned and played the bass for a couple of years, but it never made it into permanent rotation on the road or in the studio. He just left it at home and played with it when he wasn't working.
When the band was in the studio recording Moving Pictures, Lee was looking for a different sound for some of the songs. At that time, he was still playing almost exclusively Rickenbackers. So, he went home, grabbed the old pawn shop Fender, and headed back to the studio.
Almost immediately, Geddy Lee noticed how easily he could shape the top-end to sound just like his favorite Rics—which he obviously loved. The major difference was in the bottom end. The Fender Jazz Bass just had so much more punch! He loved the sound so much that he used the $200 bass when recording "Tom Sawyer."
From that moment on, Lee and his 1972 Fender Jazz Bass were inseparable. It instantly became his top player, which is how it earned the nickname "Number One."
Because of the immense wear over the decades, Lee has made a few modifications to the bass. First, the original cigarette-burned neck had to be replaced; it just got too worn out. He replaced the neck in 2010 with a Fender Custom Shop neck built to his specifications. They removed the finish on the back of the neck and used only a rubbed oil, so Lee's hands and sweat wouldn't stick to the clearcoat during hard-rocking shows. This is a feature that Lee uses for most of his basses.
The original Fender bridge was also replaced with Lee's favorite bridge, the Badass Bass II. Lee also likes to put alchemical symbols on his basses. His Fender Number One has the "Amalgamation" symbol engraved in the white pearl pickguard—which represents the action of combining or uniting.
Surprisingly, the pickups are completely original. The bridge pickup did need to be rewound in 2010, but it was done to almost exactly original specs. The bass just sounds that good!
You'll see this bass in action almost any time Rush takes the stage, and you can hear the distinct low-end sound on just about every record after 1980. It's by far Geddy Lee's favorite bass and led his transition from Rickenbackers to Fenders. After a stint with Wal basses in the late 80s and early 90s, Lee played Fenders almost exclusively from about 1994 on.
In 1998, Geddy Lee teamed up with the experts at Fender to create a Geddy Lee signature bass. He basically recreated his Number One Jazz Bass, so everyone can enjoy the instrument as he does. Ever since its release, the Geddy Lee Signature Jazz Bass has been one of the top-selling signature models Fender has ever created.
In 2015, he released another signature model, the USA Geddy Lee Jazz Bass. It's basically the same as the original signature, except it's made with higher-quality components. You can hear him talk about it in an interview with Fender (along with the story of how he found his original '72).
1969 Fender Precision Bass

| | |
| --- | --- |
| Finish | Tobacco Burst |
| Years Used | 1972 to 1978 |
After a nice run together, Geddy Lee traded his Hagstrom for an early 1970's Fender Precision Bass. It wasn't necessarily anything special, but it was the instrument he used to propel Rush from its humble beginnings to start opening for some of rock's biggest names.
Around 1975, Lee started to stray away from Fender basses, but he would eventually find his way back with one lucky trip to a pawn shop, which we'll get to later!
After he discovered Rickenbacker basses, his old P-bass got pushed to the backburner. Eventually, it would undergo some "slight" alterations to become his oddly shaped conversation piece, the Teardrop bass.
The sides and headstock were cut down, making the body into a teardrop shape (hence, the name). The guitar was then repainted white with blue around the edges. It's quite a unique guitar that has made a few appearances on stage over the years.
Fender Jazz Bass

| | |
| --- | --- |
| Finish | Candy Apple Red |
| Years Used | 1993 to Present |
Though Geddy Lee has played countless basses over the years, the Fender Jazz Bass is the one that holds a special place in his heart. After 1994, they're really all he played in both the studio and on tour, with few exceptions.
Aside from his "Number One" black 1972 Jazz Bass, there isn't a specific Jazz bass that Lee uses most frequently. His candy apple red Bass, however, is a designated replacement that takes on the stage from time to time, perhaps the most used instrument from his personal collection.
Surprisingly, Geddy Lee never got into collecting basses until later in his career, but once he did, he amassed quite the collection of old Fender Jazz Basses.
For Rush's 40th anniversary, the band took to the road for the R40 tour—which would end up being their last. In the show, Lee showcases many of his prized vintage basses by switching guitars for almost every song! In total, he uses 26 basses in every show. Most of the vintage basses he uses are Fender Jazz and Precision basses with model years ranging from 1959 to 1972.
Hagström H11B

| | |
| --- | --- |
| Finish | White |
| Years Used | 1968 |
Once Geddy Lee discovered that he actually liked playing the bass, he went out and bought a slightly better guitar, a Hagström H11B. Lee's Hagström rocked countless parties and school dances in the early years playing with Alex Lifeson, but it wasn't quite the bass Lee had his eyes set on. After a few years of gigging, he finally got the chance to upgrade to a bonafide Fender Precision Bass.
Although he eventually traded his old Hagström, this was the beginning of Geddy Lee's bass journey that set all the wheels in motion and would change the course of rock and roll forever.
Rickenbacker 4001

| | |
| --- | --- |
| Finish | Jetgo Black |
| Years Used | 1975 to 1984 / 2007 to 2008 |
Geddy Lee's first love (bass-wise) was a Rickenbacker 4001. He just loved the clean, punchy sound and swapped over to playing Rics almost exclusively for many years.
Lee's most famous Rickenbacker is a 4001 model in Jetglo black. This bass featured a Badass II bridge but not many other alterations. He used his Ric 4001 for just about every album and live performance between 1975 and 1984. It also made a few returns in 2007 and 2008 for the Snakes & Arrows tour.
Rickenbacker 4080/12-String Double Neck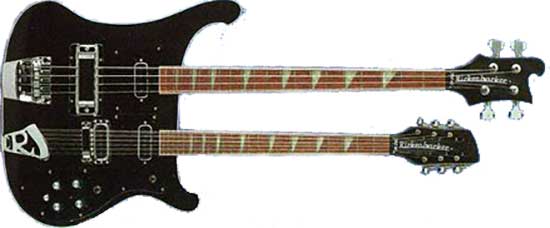 | | |
| --- | --- |
| Finish | Black |
| Years Used | 1977 to 1980 |
As Jimmy Page can attest, it's hard not to be iconic when you're playing a double-necked guitar. Geddy Lee shredded the double-neck from 1977 into the 1980s, but his guitar was a bit different than the other multi-neck rockers of the day.
Geddy Lee's iconic double-neck guitar was a black Rickenbacker 4080. The body was modeled after his favorite Ric, the 4001, except, obviously, it has two necks. The top neck is a standard four-string bass with the same pickups as his 4001. The bottom neck is a 12-string guitar, complete with two humbuckers.
This famous guitar made its first appearance in the Rush song "Xanadu." To make it even cooler, bandmate Alex Lifeson also plays a double-necked Gibson SG on the same song. Two iconic rockers both shredding double-necked guitars, what could be better!?
Steinberger L2

| | |
| --- | --- |
| Finish | Black |
| Years Used | 1982 to 1986 |
There's hardly a bass that tilts more heads than the Steinberger L2. That's right; it's so odd-looking that it doesn't just turn heads, it tilts them in confusion. Well, in the 1980s, one "tilted" Geddy Lee's head too.
The Steinberger is a headless bass that features active EMG pickups and a tiny, lightweight, plastic body. Lee loved the size and weight of the guitar. He joked that as the band progressed, more and more gear would clutter up his side of the stage. From keyboards and mics to amps and guitars, he ran out of space quickly! Since he had to play everything basically simultaneously, he was always knocking things over by accident.
Geddy Lee picked up the Steinberger L2 just before the Signals tour. He loved the compact size and low weight, so he could maneuver around his side of the stage more easily. Luckily, he also liked the tone.
Lee said the tone was much more resonant than you think it'd be for such a small-bodied bass. He also said it had a tremendous low-end and almost synthetic sound. Lee said it doesn't really sound natural, but it's definitely interesting and perfect for some songs. It has a lot more punch than some of the more natural sounding basses. He likes to use it on some of the older songs like "Digital Man."
The Steinberger L2 and XL2 were staples for Geddy Lee both on the stage and in the studio for a good chunk of the 80s.
Wal Precision Bass

| | |
| --- | --- |
| Finish | Black |
| Years Used | 1985 to 1993 |
In 1985, Geddy Lee picked up a Wal bass for the first time. He instantly realized it had a very good sound and that it was super easy to play—and play fast! It had a thicker neck than the Steinberg, which made it easier to play for his style. For a bassist like Geddy Lee, it's crucial to have a bass that can keep up with your busy, technical basslines.
While the bass was super easy to play, the clarity is where the Wal really shined. According to Lee, his Wal bass had outstanding definition, especially in the mid tones. With his intricate basslines, some bass sounds were too muddled to really show off everything that's going on. The Wal had light gauge Rotosound Superwound Funkmaster strings (say that ten times fast…) and had tons of detail in the high-end. He found it really mixed nicely with the drums.
Even his sound techs noticed the difference. At a few shows, Lee was going to use his Steinberg, but his sound engineer said the Wal blended so well that it was much easier to add to the mix. Lee started to use the Wal bass more and more in both his live shows and on albums.
After a while, the Wal bass almost replaced his Steinbergs entirely. When recording the album Power Windows, Geddy Lee started trying out basses to get the right tone for the first track, "The Big Money." After trying a few Rickenbackers and his Steinberger, the Wal ended up sounding the most suitable. The same thing happened on the second track, and the third track, and before he knew it, there was a Wal bass in every song on the album!
Because it sounded so good on the album and easy to add to the band's mix, Lee's Wal bass made quite a few appearances on stage, too. Check out this video of Rush playing "The Big Money" in 1989. Not only does it feature the black Wal bass, but it also shows off some pretty slick 1980s hairdos from Geddy Lee and Alex Lifeson!
Geddy Lee also had a five-string Wal bass for a few songs like "Lock and Key," but he found it a bit too cumbersome and hard to play to ever become a real primary player.
Canora Precision Bass
| | |
| --- | --- |
| Finish | Custom Painted Finish |
| Years Used | 1965 to Unspecified |
Geddy Lee started his musical journey with a Canora Precision Bass. Originally, he had no interest in being a bass player. As he so colorfully put in an interview, "No one becomes a bass player willingly. You get voted to be the bass player when the bass player that was chosen originally quits."
Well, when the bassist in his band at the time quit, Geddy Lee was appointed to the bass throne. He borrowed a little money from his mom, went to the local department store, and picked up a Canora Precision Bass.
Canora basses were essentially Japanese knockoffs of the Fender Precision Bass. They had the same look but a much lower cost—something that a young, up-and-coming musician could afford. Geddy Lee and Alex Lifeson both owned Canora basses and, imitating their musical icons like Jack Bruce and Eric Clapton, painted the instruments themselves with psychedelic patterns that a 1960s teenager would love.
Table Showing the Bass Guitar Geddy Lee Played At Each Point of His Career
| Make | Model | Color/Finish | Years |
| --- | --- | --- | --- |
| Canora | Precision Bass | Custom Painted Finish | 1965 to Unspecified |
| Hagström | H11B | White | 1968 to Unspecified |
| Fender | 1969 Precision Bass | Tobacco Burst | 1972 to 1978 |
| Rickenbacker | 4001 | Black | 1975 to 1984/ 2007 to 2008 |
| Rickenbacker | 4080/12-String Double Neck | Black | 1977 to 1980 |
| Fender | 1972 Jazz Bass "Number One" | Black | 1979 to 1982 / 1989 to Present |
| Steinberger | L2 | Black | 1982 to 1986 |
| Wal | Precission Bass | Black | 1985 to 1993 |
| Fender | Jazz Bass | Candy Apple Red | 1993 to Present |
Geddy Lee Keyboards and Synthesizers
As if the bass guitar and lead vocals weren't enough responsibility for one person, Geddy Lee is also Rush's keyboard player. He often plays the keys and bass at the same time!
The keyboards weren't really a part of Rush's sound until 1977 when they made their first appearance on the Farewell to Kings album. From there, synthesizers were a mainstay in Rush's arsenal. Lee didn't just use them for background tones, but he also frequently played lead melodies and even solos.
Geddy Lee took piano lessons as a kid—even before he picked up a bass—but they were never really an interest of his. Even when the band wanted to add synths to the sound, Lee was a bit reluctant to take the helm. But eventually, he learned to become one of the best keyboard and synth players that rock and roll has ever known.
Just like his guitars, Geddy Lee has used several keyboards over the years to achieve the perfect sound. Here are a few of the keyboards that have made appearances in Geddy Lee's rig during his tenure with Rush.
Moog Taurus Bass Pedal
Years Used: 1977 to 1984
Despite the fullness of their sound, Rush has ever had only three players. For some songs, they thought it would be nice to have some extra rhythm guitar behind Alex Lifeson's solos. With Neil Peart busy on the drums, the only option was to get Geddy Lee to play rhythm. Of course, that would leave the band without a bass part, and that's just unacceptable!
To add an extra rhythm guitar part without losing the bass, Geddy Lee turned to a Moog Taurus pedal. The pedal is like a keyboard that you can play with your feet. It produces several synth noises that you can program to suit your style. Obviously, Geddy Lee stuck with a low bass sound for the most part, with a few higher pitches here and there.
You can hear this pedal in action on songs like "Xanadu" when Lee has to play rhythm guitar and bass at the same time. You can really hear the synth bass sound at the end of the video, during Alex Lifeson's solo.
Minimoog
Years Used: 1978 to Present
The Minimoog is a small-scale synthesizer made by the same folks at Moog who made the Taurus pedal. Unlike the Taurus, the Minimoog is meant to be played with the hands, instead of the feet. Geddy Lee added the Minimoog to his rig during the A Farewell to Kings tour, and it remained a mainstay ever since.
Lee attaches the Minimoog to the top of his keyboard, so he can switch between the two easily. You can hear the Minimoog in action whenever there's a synth-sounding part in a Rush setlist, like during the intro of "Tom Sawyer."
PPG Wave 2.2
Years Used: 1985 to 1988
The PPG Wave 2.2 was a digital synthesizer that made appearances during the Power Windows tour. From an interview in "Keyboards" magazine, Geddy Lee said he loved the PPG Wave because it's both a digital and an analog synthesizer. To be more precise, it has digital oscillators with analog filters.
What that meant was that Lee could create the strange sounds of a digital synth with the power and tone of an analog synth for the best of both worlds. Of course, a full-digital synth won't have exactly the tone of an analog synth, but the PPG Wave had a very specific sound that worked great for certain songs. It also featured a sampler, which Geddy Lee took advantage of quite frequently.
Oberheim OB-Xa
Years Used: 1982
For power and tone, nothing beats an analog synthesizer. For much of the 1980s, Geddy Lee turned to an Oberheim OB-Xa to add synth layers to iconic Rush songs like "Subdivisions." You can even see Lee's Oberheim (and his black Rickenbacker 4001) in the official music video.
According to Lee, there's just nothing like the punch and powerful sound of an analog synthesizer.
Roland Jupiter-8
Years Used: 1985
The Roland Jupiter-8 (abbreviated to JP-8) is another analog synthesizer that graced the Rush stages in the mid-1980s. It had that great power and tone that you get from an analog synthesizer, but it also allowed Geddy Lee to create tons of different sounds.
One of the most iconic sounds that Geddy Lee created with his Roland JP-8 is the fretless bass sound from the song "Manhattan Project." He even sampled the sound into his emulators to use on stage while playing the bass and keyboards at the same time.
Geddy Lee Amps
While Geddy Lee has certainly gone through his fair share of guitars, he hasn't used many amps over the years. In 1996, Lee actually stopped using traditional amplifiers altogether for something a bit different… Here's a rundown of Geddy Lee's amps throughout his musical career.
Ampeg SVT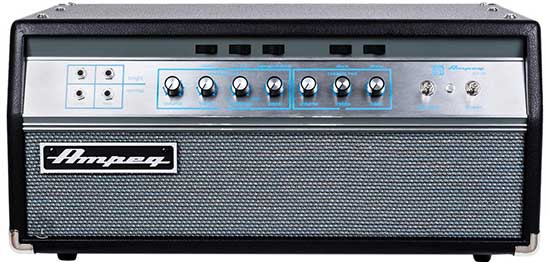 Years Used: 1970 to 1993
The Ampeg SVT was one of the first bass amps that Geddy Lee took on tour with Rush. He used it both on-stage and in the studio to achieve the bass sound that launched Rush from school dance band to stadium rockers.
Lee used dual Ampeg SVT bass heads to power his cabinets in the early years of Rush. You can even see them in action in the "Fly By Night" music video. He got away from using Ampegs for a few years, but eventually made his way back to them around 1993, while working on the Counterparts album. According to Lee, the band was looking for a more retro sound, so he decided to go back to his old Ampeg SVT to bring out the incredible low-end of his Fender Jazz Bass.
Sunn 2000 S
Years Used: 1973 to 1980
Lee had always been a huge fan of Chris Squire, the bass player from the band Yes. Squire always played with a Rickenbacker bass and a Sunn 2000 S amp. Well, when Rush got their first advance from their record company, Lee ran straight to the guitar shop and picked up his Rickenbacker 4001 and a Sunn 2000 S amp to match. He hooked his amp to two twin 15" cabinets. He was in the big leagues now!
The Sunn 2000 S had a great high-end sound, which Geddy Lee eventually paired with his Ampeg SVT to fill out the low-end. He used this combo for much of Rush's early history.
Orange AD200B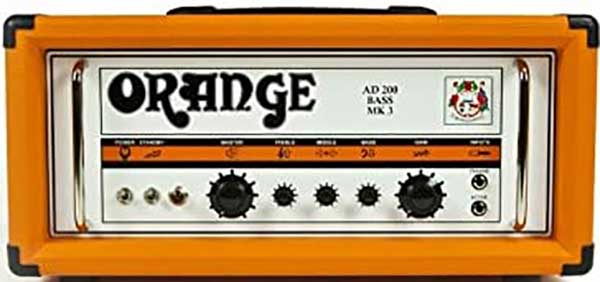 Years Used: 2010
For the Time Machine tour in 2010, Geddy Lee wanted to create a different kind of sound. He needed a bit more crunch and overdrive to push his vintage tone. For that, he turned to Orange amps.
Geddy Lee used an Orange AD200B bass head to push an OBC410 cabinet for his sound. According to Lee, this setup was an important part of the Rush tone that fans have come to love over the years.
Maytag Dryers
Years Used: 1996 to 1997
Without a wall of amps behind him, Geddy Lee had the great idea to fill the space with random appliances! For the Test for Echo tour, he put three coin-operated Maytag dryers behind him. He swapped out the dryers for other appliances like vending machines and refrigerators as the tour went on.
The best part of the Maytag dryers is that they were completely mic'd by the crew to simulate how a real amp would look on stage! The dryers were also fully functional and filled with special Rush t-shirts that you couldn't buy at the venue. Geddy Lee would take them out at the end of the show and throw them to the audience.
Rotisserie Chicken Ovens
Years Used: 2007
For the Snakes & Arrows tour in 2007, Geddy Lee decided to switch up his "amp" selection yet again and put three or four full-sized rotisserie chicken ovens behind him on the stage. All the ovens were fully stocked and even had an attendant in a chef's hat and apron checking on them throughout the show.
According to fans who were at the show and went backstage to meet the band, Geddy Lee actually roasts the chickens on stage during his two-hour set; they're not just props! The whole backstage area smells like delicious chicken. After the shows, Lee would donate all the chickens to local homeless shelters in the city where they were playing.
Steampunk Time Machine and Sausage Maker
Years Used: 2010 to 2011
For the Time Machine tour in 2010, Rush got into the steampunk style and decided to make their stage equipment look like retro-futuristic steampunk contraptions. Alex Lifeson had his amps modeled in the steampunk fashion, while Neil Peart added copper fittings around his set. Of course, Geddy Lee still wasn't using amps, so instead, he put a steampunk-style "time machine" and sausage maker on his side of the stage.
Just like the rotisserie chicken ovens, the sausage maker had an attendant who would come out and add material throughout the show.
The "Geddison"
Years Used: 2012 to 2013
In 2012, Rush went on the Clockwork Angels Tour. For Geddy Lee, a new tour meant a new set of contraptions to fill his side of the stage. How do you outdo rotisserie chicken ovens and a steampunk sausage maker? With a hodgepodge machine called the "Geddison."
The Geddison is another steampunk-styled machine from the wonderful mind of Geddy Lee. It's a mixture of a few different devices that are about as random as having Maytag washing machines behind you during a rock show. It had a giant phonograph horn, a set of brass horns, a working popcorn popper, and an oversized brain in a jar. Why? Well, why not!?
Geddy Lee used the Geddison on stage throughout the entire Clockwork Angels tour and brought it back out for portions of the R40 tour in 2015.
Geddy Lee Pedals and Effects
While you might think an artist who's so particular about their sound would be all-in when it comes to effects pedals, Geddy Lee doesn't really pay them much attention.
Aside from a few synthesizers he uses to create soundscapes and odd noises, his pedalboard is surprisingly bare for a high-profile rock and roll god. He typically relies on his sound engineers to create the right sound, only using his pedalboard for quick on/off switches.
Here a few of Geddy Lee's favorite pedals and effects he has used over the years.
Tech 21 SansAmp GED-2112
Years Used: 2017 to present
Since Geddy Lee doesn't use many effects pedals on stage, he relies on his sound mixer to get the tone he wants. In 2017, Lee teamed up with the experts at Tech 21 to create the Geddy Lee Signature SansAmp GED-2112.
This SansAmp takes an entire rackload of equipment and crams them into a single rack slot. It features two internal preamps that can run in parallel, low-end boost, high-end saturation, tube-like compression, an EQ tuned to Geddy Lee's personal specs, and much more.
Basically, plug in the GED-2112 and sound like Geddy Lee. It works so well that Geddy Lee actually used the SansAmp during Rush's performance at their Rock and Roll Hall of Fame Induction ceremony in 2013. That way, he could get the tone he wanted without worrying about pesky foot pedals.
Since not every player has a full-size equipment rack, Tech 21 made the GED-2112 into three different models.
Boss CEB-3 Chorus
What would a synthesizer-heavy, 80s rock band be without a good chorus pedal? Geddy Lee has been seen using a Boss CEB-3 Bass Chorus pedal on stage to add a little warble to his bass parts. Oddly enough, this is just about the only sound-related pedal he uses on stage. Most of his other pedals are only for utility purposes to make it easier to switch between instruments—which he does quite a bit.
Morely Volume Pedal
Anyone who has to switch instruments in the middle of a concert knows how important it is to kill volume at a moment's notice. To turn his basses on and off when he has to play the keyboard, Geddy Lee relies on a Morely Volume pedal. Again, he doesn't really use the pedal for effects; it's just an easy way to turn his bass on and off.
Boss LS-2
The Boss LS-2 is a line selector pedal that helps musicians switch between multiple amps and effects devices, like a bass and a synthesizer. Just like the Morely volume pedal, this pedal has nothing to do with creating the iconic Geddy Lee sound but everything with helping him switch between instruments and equipment setups.
Wrap Up:
Geddy Lee earned his Rock-god status while playing bass for Rush with two other virtuosic players, guitarist Alex Lifeson and drummer Neil Peart. Lee founded Rush with Lifeson way back in 1968. Once they found Peart in 1974, the trio stayed together, rocking stadiums around the world for over four decades!
Lee started playing music at a young age. He played in his school band around age ten or eleven, and he picked up his first acoustic guitar around 14. His interest in music wasn't fully peaked until he started listening to the various rock bands of the time, including Cream, The Who, and Jeff Beck. He loved listening to progressive rock because their bass parts were never boring—something he incorporated into his own sound later on.
Rush started small at first. In 1969, the band was playing in small coffee shops and rocking high school dances. By 1971, they were playing in clubs and bars all over the city. At that point, Lee described the band as "weekend warriors," who all held down full-time jobs and rocked the weekends. Finally, in 1972, the band started to find their stride and began opening for big-time bands of the day like New York Dolls, Aerosmith, Blue Öyster Cult, and Kiss.
Through all that time, the band stuck with just three members. Alex Lifeson played guitar, Neil Peart banged the drums, and Lee filled out the rest of the sound, singing lead vocals and playing both bass and keyboards—often at the same time!
Geddy Lee has transcended from an icon into a total rock god thanks to his all-rounder, generous and virtuosic style. In a band that is often referred to as a staple for the talents and well-balanced power each member provides to the project, it is worth noting that each of these players are worth studying.
Lee is living proof that Bass players are much more than the guy that just sets the backbone of a song structure as if that weren't enough, he is also a skilled singer, songwriter, and massive assembler, the fact that he does all this while he plays and sings makes him an easy freak of nature in the music industry. There's no wondering how he made it into Rolling Stone's Top Ten Bass Players of all time as number 4.
It's hard to imagine a more influential group of people than the members of Rush. Of course, 40-years of creating world-changing music takes a lot of gear. Let's take a look at the guitars, amps, and other gear that led Rush from local high school auditoriums to stadiums all over the world. If you want a more in-depth look at Geddy's incredible bass collection, you can read all about it in his book, "Geddy Lee's Big Beautiful Book of Basses."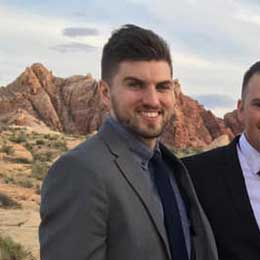 My name is Chris and I've had a passion for music and guitars for as long as I can remember. I started this website with some of my friends who are musicians, music teachers, gear heads, and music enthusiasts so we could provide high-quality guitar and music-related content.
I've been playing guitar since I was 13 years old and am an avid collector. Amps, pedals, guitars, bass, drums, microphones, studio, and recording gear, I love it all.
I was born and raised in Western Pennsylvania. My background is in Electrical Engineering, earning a Bachelor's degree from Youngstown State University. With my engineering experience, I've developed as a designer of guitar amplifiers and effects. A true passion of mine, I've designed, built, and repaired a wide range of guitar amps and electronics. Here at the Guitar Lobby, our aim is to share our passion for Music and gear with the rest of the music community.