An acoustic guitar, in the right hands, is a tool of expression that no synthesizer or electronic instrument can quite replicate. It gives a voice to emotion and sets the scene for words to come to life in melody. From Johnny Cash protesting and explaining his alias to Nick Drake's wanderlust in Pink Moon, there's simply an inherently intimate feeling to a stripped-back acoustic tune that nobody can deny.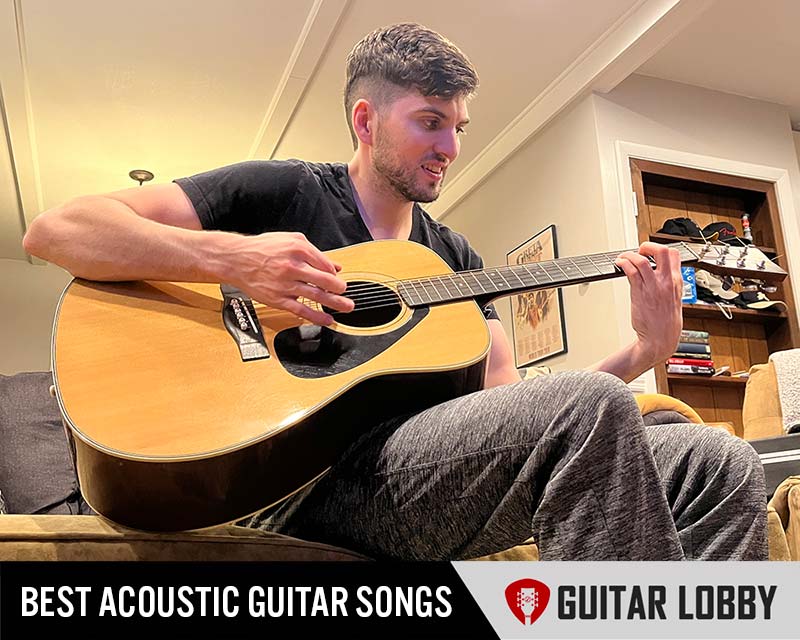 Sometimes it seems like the acoustic guitar has been largely set aside in modern popular music, but that wasn't the case a few decades ago, or even a few years back. The acoustic guitar has been used to create some of the most compelling tunes in recording history. In this article, we'll be giving you an overview of some of the best acoustic guitar songs of all time, and we've even included music videos to accompany each song, so all you have to do scroll through the list and find your favorites.
Here Are the Best Acoustic Guitar Songs of All Time
1. Jane Says by Jane's Addiction
One of the most iconic alternative rock songs of all time, "Jane Says" by Jane's Addiction, features a couple of common chord progressions. Perry Farrell's voice and Dave Navarro's guitar riffs make this song addictive. Stephen Perkins' steel drumming was added to this version to make it even more interesting.
The 1987 self-titled debut album featured the first version of this song. The more well-known version came out on their 1988 album, "Nothing's Shocking." Many renditions of this song feature an extended ending that includes a guitar solo.
Although it's easy to learn, feel free to improvise when playing. It's a great piece for some improvisation. So, let your fingers dance and groove to this sensational song. You'll be amazed at what's possible with just a few basic chords and standard tuning!
2. Good Riddance (Time of Your Life) by Green Day
"Good Riddance (Time of Your Life)" by Green Day, from their album "Nimrod," is a song that resonates deeply with many. Written in 1993 by Billie Joe Armstrong, the song was a reflection of his tumultuous emotions towards his girlfriend, who decided to move to another country. The title Good Riddance was an expression of his anger and frustration towards her departure.
The song's influence extended beyond the music charts, making its way into popular culture. It was notably featured in the penultimate episode of the TV show Seinfeld, titled "The Chronicle," where it underscored a montage of bloopers and behind-the-scenes moments.
An earlier, faster-paced version of this song, simply titled "Good Riddance," was released as a B-side to the European single "Brain Stew/Jaded."
3. Blackbird by The Beatles
Paul McCartney was greatly inspired by classical music. He revealed in 2005 that the idea for the guitar part in "Blackbird" came from Johann Sebastian Bach's Bourrée in E minor, a popular lute piece that is frequently played on classical guitar. He and George Harrison even attempted to learn it as teenagers.
"Blackbird" would begin with a portion of the Bourrée (transposed from its original key to G major), which McCartney then turned into a fully-formed song. Its lyrics symbolize the struggle for civil rights in America's segregated South.
In 2016, Dave Grohl of the Foo Fighters paid tribute to recently-departed music icons during the In Memoriam segment at the 88th Academy Awards, and this included a lovely rendition of "Blackbird."
4. Elderly Woman Behind the Counter in a Small Town by Pearl Jam
"Elderly Woman Behind the Counter in a Small Town" by Pearl Jam, featured on their album "Vs.," is a reflection on the passage of time, memories, and the choices we make in life. The song's narrative captures the essence of aging, the weight of regret, and the bittersweet nature of memories that resurface after long periods of separation.
Set to 6/8 timing, the song's rhythm adds a wistful and contemplative feel. The acoustic arrangement stands out in the album, making it one of two memorable acoustic tracks, with the other being "Daughter." The song serves as a reminder of the paths we choose, the relationships we leave behind, and the inexorable march of time that shapes our lives and memories.
5. Fast Car by Tracy Chapman
"Fast Car" is a classic late-1980s ballad from Grammy Award-winning folk singer-songwriter Tracy Chapman, and indisputably one of her biggest hits. Released on her 1988 debut album, Tracy Chapman, the song tells the story of a young woman trapped in an unfulfilling life who dreams of leaving it all behind.
Played with a capo on the 2nd fret in standard tuning (EADGBE), the song's melody carries over a few simple but effective chord progressions. It has a very strong acoustic guitar presence, and Chapman's vocal performance shows her unique ability to emote with the lyrics' story.
With "Fast Car," Chapman penned a timeless classic that remains just as relevant today, if not more so, than it was over three decades ago when it debuted.
6. Hole Hearted by Extreme
Extreme is often better known for their chart-topping ballad "More Than Words," but their song "Hole Hearted" also achieved significant radio play and recognition (and is a better song, in my humble opinion). Released as a single in 1991, "Hole Hearted" peaked at No. 4 on the Billboard Hot 100 chart.
The song set itself apart from other radio rock anthems of the time. It's one of the band's most popular tracks and is a staple in their live performances. It features a lot of fancy pull-off riffs and unexpected chord transitions on the guitar, which sounds like a 12-string in the recording.
Since his days with Extreme, versatile guitarist Nuno Bettencourt has gone on to work with music heavyweights like Rihanna, Steve Vai, and many more.
7. Nutshell by Alice in Chains
Alice in Chains is widely celebrated for their grunge and alternative rock sound, and the band achieved sensational success during the early 1990s. One of their mellower and more depressive tracks, "Nutshell," made an appearance in the legendary MTV Unplugged performance, sporting lyrics that reflected the mounting internal struggles of now fallen frontman, Layne Staley.
The original version of "Nutshell" appeared on Alice in Chains' 1994 EP, "Jar of Flies." This album, along with 1992's "Sap" EP, emphasizes the band's acoustic side.
Although Staley's soaring vocals took center stage, guitarist Jerry Cantrell's intricate and melancholic acoustic performance almost steals the show. Fast forward more than two decades since its debut, and "Nutshell" remains a beloved track, celebrated by fans and critics alike.
8. Roger Patterson Van by The Mountain Goats & Kaki King
The Mountain Goats and Kaki King collaborated on an EP called "Black Pear Tree." It features an amazing acoustic guitar performance by King in "Roger Patterson Van."
A point of interest in this collaboration is John Darnielle's lyrics paired with Kaki King's musical sensibilities. The former has a gift for storytelling, while the latter has a way of evoking emotions with her melodic and intricate guitar parts.
Given the title of this song, it could very well be a reference to the tragic death of Roger Patterson, the talented bassist for technical death metal pioneers, Atheist. Patterson died in 1991 in a van accident while on tour. He was memorialized on Atheist's "Unquestionable Presence" album, which was dedicated to his memory.
9. To Be With You by Mr. Big
Mr. Big's most successful single, "To Be With You," is a simple tune that accomplished what many tracks aspire to: it went straight to the top of the charts in several countries. The song also helped Mr. Big gain the recognition they needed to propel their career forward.
Released as the second single from their "Lean into It" album in 1991, "To Be With You" is an acoustic-driven rock anthem, built around a catchy chord progression. The tune was written by frontman Eric Martin, guitarist Paul Gilbert, and producer David Grahame.
The song contains some very simple chord progressions and has a conventional structure. It also features a memorable guitar solo by Gilbert, which notably had no shredding and instead focused on melody and harmonization.
10. Never Going Back Again by Fleetwood Mac
With his unique fingerpicking style and expressive vocals, Lindsey Buckingham has contributed several timeless musical pieces to Fleetwood Mac's catalog. And one of the most recognizable of those is "Never Going Back Again" from the "Rumours" album. The song is played in drop D tuning with a capo on the fourth fret and features Buckingham's signature syncopated fingerpicking feel.
The song requires pretty advanced fretting and fingerpicking skills in order to play it properly. There are several alternating bass patterns going on throughout the piece, and it's easy to lose the beat. So be prepared to spend a little time getting the hang of it. It took me a while when I learned it years ago, but it was definitely worth it!
11. Flesh and Blood by Johnny Cash
"Flesh and Blood" is a heartwarming song by Johnny Cash, which was featured in the 1970 film "I Walk the Line." The song became a single and went on to enjoy considerable success. It peaked at number one on the Billboard Hot Country Singles and number 54 on the Hot 100.
"Flesh and Blood" stands out as a beacon of authenticity and raw emotion. The song's lyrics, combined with Cash's iconic voice, paint a vivid picture of life's intricacies and the beauty of human connection.
"Flesh and Blood" reflects Cash's deep connection to nature and humanity. It showcases his empathy and understanding of people from all walks of life, making it one of his most memorable tracks in a storied career. If you're looking for other fun country songs, check out our favorite beginner country songs here.
12. Trains by Porcupine Tree
"Trains" by Porcupine Tree was written by lead vocalist and primary songwriter Steven Wilson, and it's one of the band's most beloved tracks. It's an acoustic-guitar-driven, alternative-progressive rock track and was released on the band's critically acclaimed seventh studio album, "In Absentia," in 2002.
Wilson is an incredibly skilled guitarist, and his playing on this tune is filled with the intricate strumming patterns and unique chord voicings that Porcupine Tree is known for. There's also some electric guitar in this song, which is used to add another layer of intensity.
The song has an awesome guitar solo, too, which I managed to learn how to play with the help of a guitar teacher many years ago. Sadly, it's not included in the video above, but there are videos you can find online dedicated to just the solo.
13. Fade Into You by Mazzy Star
If you're a fan of alternative rock and dream pop, chances are you already know and love "Fade Into You" by Mazzy Star. First released in 1993, it was the band's biggest hit, and is still widely regarded as one of the best alternative rock songs of all time. The song opens with a hauntingly beautiful chord progression, played on acoustic guitar in standard tuning.
The slide guitar provides the perfect contrast to the acoustic strumming, adding a unique and mesmerizing texture to the already dreamy sound. "Fade Into You" is often considered a dream pop or shoegaze song. It's in the key of A, and its chords are relatively easy to play, which makes it a great choice for beginner or intermediate guitarists.
14. Wonderwall by Oasis
There's no doubt that Oasis are one of the biggest bands to emerge from the British music scene in the 90s. Known for their rock and roll attitude, catchy hooks, and instantly recognizable songs, it's no surprise that their back catalog is littered with crowd-pleasers. And one of their most popular is "Wonderwall."
Released in 1995, the song was the fourth single from the band's second studio album, "(What's the Story) Morning Glory?" A bittersweet acoustic number, "Wonderwall" was written by lead guitarist and main songwriter Noel Gallagher. The track was hugely successful, both commercially and critically, and remains one of Oasis's most recognized and frequently played songs.
The lyrical themes have been subject to much speculation throughout the song's history. While originally widely believed to be a love song, it's more recently rumored to be about an imaginary friend who can save you from yourself. Overall, "Wonderwall" is easily one of the best acoustic guitar songs of all time.
15. Mmm Mmm Mmm Mmm by Crash Test Dummies
Crash Test Dummies broke into the alternative rock scene in the 90s with their deep, baritone vocals and eccentric lyrics. Their debut single, "Mmm Mmm Mmm Mmm," resonated with audiences worldwide. The song quickly climbed the charts and became the band's signature hit.
Written by the band's lead vocalist, Brad Roberts, the song is characterized by its stark and unforgettable guitar picking pattern. The lyrics read like three separate tales of children who have experienced different forms of isolation in their lives. The song's simplicity, haunting melody, and ethereal harmonies capture the essence of this theme.
If you're a fan of alternative music, you'll feel a slight tinge of nostalgia when you listen to this one. The distinctive riffs and Roberts' unmistakable voice transport you back to an unforgettable era of music. You can play the song in standard tuning with a capo on the third fret.
16. Going to California by Led Zeppelin
Led Zeppelin's "Going to California" is one of the band's most beloved tracks. It's celebrated for its lyrical depth and melodic beauty. The lyrics express a longing for California life and a search for spiritual clarity. This is combined with some truly remarkable acoustic guitar work, which seems to serve as an atmospheric backdrop to Plant's introspective lyrics. Jimmy Page's delicate fingerpicked guitar melody captivates the listener.
This song is played in double drop D tuning, whereby the 1st and 6th strings are lowered to D notes. The guitar part itself mixes melodic flourishes in a way that masterfully combines complexity with simplicity. With Plant's dynamic vocal performance and Page's intricate guitar playing, this song makes for an enduring acoustic classic.
17. The World I Know by Collective Soul
One of the most well-known hits from the rock band Collective Soul, "The World I Know" was released in 1995 and instantly became a chart-topper, reaching number one on the Billboard Mainstream Rock Tracks. This was partially due to the memorable music video that was made for the song.
Opening with a sequence of heartbreaking guitar chords, the song transitions seamlessly between the major and minor keys, alluding to the theme of transition and transformation apparent in the lyrics.
Though it initially explores feelings of despair and emptiness, it also carries an underlying sense of hope and renewal, making it an anthem for people on the brink of giving up. The last verse, in particular, paints a comforting picture of understanding, encouragement, and belief that things can be better.
18. Solsbury Hill by Peter Gabriel
For his first solo outing after leaving Genesis, Peter Gabriel released this upbeat, folksy track, which he wrote about a spiritual experience he had atop Solsbury Hill in England. A mixture of Celtic rhythms and progressive rock elements, the song was intended as Gabriel's reflection on his decision to leave his previous band. The tune, which touches upon themes of freedom, change, and personal rebirth, was the standout hit from Gabriel's debut album.
"Solsbury Hill" remains a favorite among fans of Gabriel's body of work. The lyrics are simple, yet full of emotion and significance. The track also features some unconventional timing, which adds to its uniqueness.
The song isn't often performed live in the same way it was recorded, so players who tackle this tune on guitar have some leeway for interpretation.
19. Nothing Else Matters by Metallica
This famous acoustic ballad by Metallica is a lot more approachable than many of their typically shreddy tunes. It was written by James Hetfield and Lars Ulrich, and first appeared on their fifth studio album, "Metallica" (1991), which is also widely known as the "Black Album."
Though it's not primarily an electric guitar song, some of the parts in Nothing Else Matters call for their presence. For the most part, however, it's an acoustic tune with a main riff that you'll go back to at the end. It's also a great tune to sing along to.
Want to see how well you can nail this timeless classic? You can look at the tabs right here and start practicing right away.
20. Warehouse by Dave Matthews and Tim Reynolds
Dave Matthews and Tim Reynolds have performed "Warehouse" numerous times in their two-man live setting, and their rendition is always a fan favorite. Acoustic guitars replace the original instrumentation, which also includes acoustic guitar but much less prominently.
The Dave Matthews Band first released "Warehouse" in 1994 on "Under the Table and Dreaming." The hugely popular band would later develop a following known as the Warehouse, who are often treated to exclusive releases and performances.
"Warehouse" is an introspective cut, and Matthews's words are brought to life by his powerful voice. The song's thoughtful lyrics and melancholic musicality make for a captivating performance. The dueling guitars of Matthews and Reynolds give even more depth to the song, resulting in an exceptionally emotive performance. The Luther College rendition is especially moving and indicative of why Matthews and Reynolds's shows are always highly anticipated.
21. Low by Cracker
Cracker are among the greatest of the great alt-rock bands that broke through to commercial success in the early 1990s. "Low" is one of their biggest hits. It's a bouncy yet melancholic tune that garnered plenty of airplay. It's also a perennial live favorite, featuring as a focal point the superb bendy and twangy guitar Johnny Hickman.
While "Low" is the Cracker song you'd hear most on the radio in the 90s, they had some other good ones as well. Sadly, the song's extensive airplay didn't pay off much into the digital age. In an article for The Trichordist, frontman and songwriter David Lowery expressed his dissatisfaction with the amount of money he received for 1,159,000 Pandora streams of "Low": $16.89. Six-teen dollars. Eight-y-nine cents. Total.
22. Abstract Plain by Frank Black
"Abstract Plain" is a standout track in Frank Black's discography, blending catchy melodies with raw, alternative rock power. The song is notable for its lyrics, which discuss themes of personal dissatisfaction and the desire for a new perspective. This tune demonstrates Black's unique songwriting style, showing he was thriving creatively even after the dissolution of The Pixies.
"Teenager of the Year" was the second solo album from Frank Black after the breakup of his influential previous band. It received mixed reviews upon its release, but has since come to be recognized as a fantastic record and important moment in 90s music. "Abstract Plain" is one of many great songs on the album, and a great example of Frank Black's ability to write memorable, sometimes a little odd, but almost always great tunes.
23. Skalds and Shadows by Blind Guardian
Blind Guardian's "Skalds and Shadows" is told from the perspective of an Old Norse Skald. In case you're not familiar, a Skald was a poet or bard who was highly regarded in Viking culture. The song explores the tales and stories told by these Skalds, which often involve elements of Norse mythology. It contains references to the Saga of the Volsungs, a collection of Norse myths.
Skalds and Shadows is mainly driven by an acoustic guitar, which gives it an intimate sound not often associated with Blind Guardian. Indeed, the song's folk and bardic feel is further enhanced by the fingerpicking technique used. Additionally, the guitar lines intertwine with the amazing vocal performance, enhancing the storytelling aspect of the song.
24. The Hand of the Almighty by John R. Butler
Folk and country tunes have long been vehicles for stories, and singer-songwriter John R. Butler's "The Hand of the Almighty" is a great example. Hailing from his 2003 album "Surprise!," the song is a satirical look at religion, delivered with a hefty dash of humor. Using a faux-serious tone and a unique delivery, Butler manages to take aim at some sacred cows with a smile. Be aware, though: some people might find "The Hand of the Almighty"'s jokes a bit too irreverent.
This one-man-band offering sticks to a traditional country-folk framework, employing straightforward acoustic guitar strumming with minimal embellishment. The tune serves as a great example of humorous songwriting that'll appeal to fans of classic country or folksy novelty tracks.
Side note: The Hand of the Almighty was used to great effect in the surreal horror-comedy film, "The Catechism Cataclysm."
25. Wonderboy by Tenacious D
Possibly the most popular song from this hilarious duo's catalog, "Wonderboy" is the debut single from Tenacious D's eponymous debut album. In the hit song, Jack Black tells the tale of his fateful encounter with Kyle Gass, and the birth of Tenacious D. The charmingly animated narrative recounts their exploits together, as well as their subsequent rise to glory.
"Wonderboy" embodies Tenacious D's uncanny ability to mockingly tease the absurd conventions of the rock world with their funny lyrics, while maintaining a high level of earnestness and skill. To spice things up, Foo Fighters frontman and former Nirvana drummer Dave Grohl filled in on drums for this song, giving the track added depth and groove. Grohl and Tenacious D also collaborated on many other tracks for this album.
26. Tears in Heaven by Eric Clapton
Not only is Eric Clapton an exceptional guitarist, but he's also an incredible songwriter. In 1991, his four-year-old son Conor tragically fell from a 53rd-floor window, inspiring Clapton to compose one of his most notable songs, "Tears in Heaven." This hauntingly beautiful ballad, written by Clapton and Will Jennings, appears on the soundtrack of the film "Rush."
The track opens with a well-known guitar riff that's both uplifting and sad. It's a tune that's difficult to forget. Clapton's fingerpicking style is accompanied by a soothing and tear-jerking melody that helped "Tears in Heaven" become an instant classic.
Clapton won three Grammy Awards in 1993 for the track, including Song of the Year, Record of the Year, and Male Pop Vocal Performance.
27. Needle in the Hay by Elliott Smith
"Needle in the Hay" is a song by American singer-songwriter Elliott Smith. It was released in 1995 as part of his self-titled album.
It's no secret that Elliott Smith had his struggles with drug addiction, and many of his songs wrestle with that. "Needle in the Hay" is very much one of those songs. There's not much explicit mention of drugs in the lyrics, but it's heavily implied.
Even if you don't know the song, there's a good chance you've heard it. "Needle in the Hay" has been featured in a number of movies and TV shows, including "The Royal Tenenbaums" by Wes Anderson. It's a somber and haunting song that makes heavy use of dynamics, especially with the very soft vocals.
28. Drifting by Andy McKee
Andy McKee's "Drifting" gained significant attention when a video of him playing the song went viral on YouTube. The video showcased not only his exceptional guitar skills but also his innovative playing techniques. In "Drifting," McKee employs a combination of fingerstyle techniques, two-hand tapping, and percussive hits on the guitar body.
In addition to being an amazing display of technique, "Drifting" is a beautiful composition. It has a haunting, ethereal melody and a lush, complex harmony. The song is played in DADGAD tuning, which is a type of open tuning that allows for rich harmonics and unique chord voicings.
Andy McKee initially gained popularity for his fingerstyle cover of "Africa" by Toto. He followed this up shortly after with Drifting, which showed his skills as a uniquely talented composer as well as performer.
29. The Crossing (Osiyeza) by Savuka
"The Crossing (Osiyeza)" is a tribute to Dudu Zulu, a key member of Savuka who was tragically killed in 1992. Zulu was a close friend and dance partner of Johnny Clegg, the frontman and founder of the band, and his death had a profound impact on the group.
The lyrics reflect on the journey of life, the trials and tribulations faced along the way, and the hope for a brighter future. The song acknowledges the struggles and sacrifices of those who came before us and ultimately calls on us to continue their work and make the world a better place.
The music of Savuka, which roughly translates to "awaken" in Zulu, was renowned for its fusion of traditional Zulu influences with Western pop and rock. The band was formed by Clegg in 1986 after the disbanding of his first group, Juluka.
30. Grantchester Meadows by Pink Floyd
Pink Floyd's "Grantchester Meadows" is a beautifully mellow song that pays homage to the natural world. This soothing acoustic track can be found on the "Ummagumma" album, released in 1969. The song was written and performed entirely by Roger Waters.
Grantchester Meadows in Cambridgeshire was a direct inspiration for Waters when he composed this song. This space is located in Grantchester, just south of Cambridge. These meadows are part of a broader green floodplain, an ideal setting for anyone looking to immerse themselves in nature's tranquility.
The track features Waters' softly sung lyrics accompanied by his acoustic guitar. But what sets the song apart is the background: the ambient sounds of chirping birds. This element provides listeners with an even greater sense of calm and immersion in nature. This is one of those acoustic guitar songs that everyone loves.
31. Question by The Moody Blues
"Question" was released as a single in 1970. The song is characterized by its driving acoustic guitar riff, which gives it its distinctive sound. The track blends elements of rock with the band's signature symphonic quality. It was a significant hit for The Moody Blues, showcasing their ability to craft songs that resonate with listeners both musically and lyrically.
The song's chord progressions follow fairly straightforward patterns, largely consisting of fast strumming. There's a slow and lengthy interlude halfway through the piece, dramatically shifting the dynamic until the fast strumming returns.
A pleasant and easygoing tune to practice in CGCGCE, "Question" serves as a reminder to guitarists that some of rock's most enduring songs can be quite accessible to learn.
32. Retrovertigo by Mr. Bungle
From their 1999 album California, Retrovertigo is arguably Mr. Bungle's most accessible track. Although the band is known for their crazy genre mashups and avant-garde approach to rock music, this song follows more of a traditional melodic structure. It's a rock tune, but like everything Mr. Bungle puts out, there's still a heavy experimental slant.
The guitar work on "Retrovertigo" is not too difficult, but it's got some intricate chords that require precision. There are some heavy guitars toward the end of the song, and throughout the whole track there are remarkably conventional yet catchy chord progressions.
"Retrovertigo" is all about feeling disoriented when reflecting on the past while trying to navigate the present. The overall tone of the song and its lyrics perfectly captures that queasy sense of feeling lost in time.
33. Romeo & Juliet by Dire Straits
Mark Knopfler is a true master of the guitar, and his fingerstyle playing is on full display in this song. The intro, for example, features a beautiful, arpeggiated fingerpicked pattern. The same technique continues throughout the verses and choruses. This song also showcases Knopfler's admirable storytelling skills, as he revises the classic Romeo and Juliet narrative to have another bittersweet ending.
Though it wasn't released as a single in the U.S., "Romeo and Juliet" remains one of Dire Straits' most beloved tracks. It's been covered by numerous artists, and it's often cited as one of the greatest rock ballads of all time. For intermediate to advanced guitar players, it's an absolute must-learn track. Beyond the amazing fingerpicking arrangements, the chord progressions are beautifully complex.
34. Come Monday by Jimmy Buffett
Whether you're a fan of country, folk, or beach music, you've likely heard of Jimmy Buffett. He was one of the most influential and successful singer-songwriters in American music history. His career spanned over 40 years, with many studio albums and hits.
One of his earliest successes was a track called "Come Monday." Released in 1974, it became the first top-40 hit for Buffet. It reached #30 on the Billboard Hot 100, but its impact went far beyond that. It was the beginning of a legendary career that only recently ended with Buffett's passing.
Buffet was known for his laid-back, beachy sound, and "Come Monday" captures that perfectly. It's a simple song about longing and anticipation. The lyrics tell the story of someone on the road, missing a loved one, and eagerly looking forward to being reunited.
35. Harvest by Opeth
Opeth has been a major force in progressive metal since the early 1990s. They're known for their complex song structures, brutal riffs, and dynamic changes. But on their fifth studio album, "Blackwater Park," they showed the world that they could write beautiful acoustic songs as well. One of the standout tracks from the album is "Harvest."
While not as technically challenging as some of their other material, "Harvest" is a great song to add to your repertoire if you're looking to explore some more mellow acoustic music. It's a great tune for practicing your strumming and chord changes, and it'll help you develop your sense of rhythm too. The song is notable for its balance in consonant and dissonant tonality.
36. The Boxer by Simon and Garfunkel
"The Boxer" is a song by Simon & Garfunkel that was released on their 1970 album, "Bridge over Troubled Water." The song tells the story of a young man who faces struggles and disappointments, using the metaphor of a boxer to represent resilience and perseverance in the face of life's challenges. It explores themes of loneliness, betrayal, and the search for identity and meaning.
Simon & Garfunkel's music often featured intricate acoustic guitar work, including in "The Boxer." The song is characterized by its fingerpicked guitar, which sets the rhythmic foundation for the entire track.
"The Boxer" achieved great commercial success, reaching the top 10 in charts across several countries. The song remains a favorite among fans and is widely regarded as one of Simon & Garfunkel's greatest works.
37. Pink Moon by Nick Drake
Nick Drake's "Pink Moon" is a masterclass in the beauty of simplicity. Released on the album of the same name in 1972, it quickly became one of the artist's most beloved compositions. And although Drake's work was tragically underappreciated in his lifetime, "Pink Moon" has since achieved near-legendary status.
Featuring only Drake's vocals, an acoustic guitar, and a brief piano interlude, the song's haunting melodies and lyrics stand out. This minimalistic arrangement, which eschewed any orchestration or backing band, is characteristic of the album as a whole.
The recorded version of "Pink Moon" is in the key of D but is slightly sharp. Rumor has it Drake intentionally detuned his guitar for the recording to achieve a unique tonal quality.
38. Into the Mystic by Van Morrison
Van Morrison's "Into the Mystic" is a timeless classic that embodies the musical spirit of its era. Released in 1970 as part of his legendary album "Moondance," the song is emblematic of the singer-songwriter's ability to blend different genres and textures.
"Into the Mystic" is characterized by its soulful melody, Morrison's emotive vocals, and a rich arrangement that includes instruments like the tambourine and horns. The song is primarily built on an acoustic guitar foundation, which gives it a warm and intimate feel. Its opening chord progression sets the stage for a stunningly beautiful piece of music.
The saxophones in "Into the Mystic" add a soulful depth to the song, evoking a sense of nostalgia and enhancing its ethereal atmosphere.
39. Volcano by Damien Rice
"Volcano" is a song from Damien Rice's debut album, "O," released in 2002. It's characterized by its stripped-down arrangement, with Rice's emotive vocals accompanied by acoustic guitar and subtle instrumentation. Another notable aspect of the song is the inclusion of vocals from Lisa Hannigan, who frequently collaborated with Rice during this period of his career.
Originally, "Volcano" was written and composed during Rice's tenure with Juniper, his previous band. He reworked a new version for his solo album, but the foundational elements and core of the song were developed while he was still with Juniper. As a result, to acknowledge the song's origins and the contributions of the band members, Juniper has a writing credit for "Volcano." Bell X1, another band with shared history, has their own version of the song.
Bell X1's rendition is more in line with a traditional band arrangement, featuring a fuller sound with drums, electric guitars, and other instrumentation. It provides an interesting contrast to Rice's version and offers a glimpse into what Juniper's original vision for the song might have been.
40. Hold On by Tom Waits
"Hold On" is a moving song by the legendary singer-songwriter Tom Waits. Known for his gravelly voice, poetic lyricism, and eclectic style, Waits has crafted an incredible body of work over his long career. This tune comes from his critically acclaimed 1999 album, "Mule Variations." The song is a tribute to resilience, love, and the challenges of life.
The opening lines, "They hung a sign up in our town, 'If you live it up, you won't live it down,'" immediately draw you into the narrative that unfolds. The lyrics are filled with vivid and evocative imagery, proving Waits' storytelling prowess. The chorus, with its uplifting message to "hold on," resonates deeply and serves as the emotional core of the song.
41. The Ballad of Billy John by Trevor Moore
This gem from the late, great Trevor Moore is topical musical comedy at its absolute best. A funny video performance of this song accompanies his album, "High in Church." In it, actors play out the lyrics of the song in very funny and exaggerated ways.
But it's not just an extended chuckle session. This song is almost non-stop laughs up until the very end, which takes a suddenly serious and contemplative turn. It's a poignant finish that gives some gravity to the overall message.
In a brilliantly ridiculous narrative, Moore touches upon the impact of online comments, particularly on platforms like YouTube, using the characters of Billy John, his poor wife, a blogger, and legions of online trolls. If you like this style of comedy and want more of the same, check out Whitest Kids U' Know (the comedy group he co-founded) to see what the world lost when Moore sadly passed away.
42. Better Together by Jack Johnson
Jack Johnson is a master of crafting simple, heartfelt tunes that resonate with people from all walks of life. One of his most recognizable and cherished tracks is "Better Together".
Released as the opening track from Johnson's third studio album, "In Between Dreams", in 2006, "Better Together" is a love song that celebrates the beauty of companionship. It expresses the idea that life is more fulfilling and enjoyable when shared with someone special. The lyrics are uncomplicated and relatable, perfectly capturing the essence of being in love and appreciating the simple pleasures in life.
Part of what makes this song so appealing is its catchy melody, which is expertly layered over a gently strummed acoustic guitar. The strumming pattern is relatively straightforward, contrasting with Johnson's rhythmically complex vocals.
43. Another Lonely Day by Ben Harper
Ben Harper has long been recognized as one of the most talented and versatile singer-songwriters in modern music. His unique fusion of folk, blues, and rock influences has produced numerous hits and a devoted following. "Another Lonely Day" is a track from his 1995 album, "Fight For Your Mind."
Typical of Harper's style, the song has a bittersweet, reflective quality that is enhanced by its melancholic melody. The guitar is played in a fingerpicking style, with each note blending seamlessly with Harper's soulful vocal delivery.
The chord progression is simple but effective, perfectly complementing the song's wistful mood. The lyrics explore themes of longing, solitude, and the transient nature of relationships. It's a beautiful, understated song that captures the essence of Harper's artistry.
44. Free Fallin' by Tom Petty
One of Tom Petty's most well-known tracks, "Free Fallin'" paints a vivid picture of life in Los Angeles. From its references to familiar spots like Ventura Boulevard and Mulholland Drive to its themes of love, freedom, and nostalgia, the song has a timeless appeal.
With its catchy melody and chord progression, and Petty's distinctive vocals, this classic rock hit is a favorite among guitar players of all levels. It's played in standard tuning with a capo on the third fret.
Co-written by Petty and Jeff Lynne, "Free Fallin'" was first released as part of Petty's debut solo album, "Full Moon Fever," in 1989. It became one of his most successful and recognized songs, and remains a staple on classic rock radio stations today. Many consider "Free Fallin" the best acoustic guitar song ever written.
45. Spoiled by Sebadoh
When it comes to lo-fi indie rock, few bands did it better than Sebadoh. With their raw, imperfect production and emotionally charged songwriting, the group stood out during the genre's late-80s and 90s heyday. One of their most enduring tracks is "Spoiled," from their third album, creatively titled "III." The song's evocative lyrics, minimal instrumentation, and emotional delivery are emblematic of the band's style.
The tune gained a lot of recognition when it was featured in the soundtrack for the 1995 indie film "Kids." Fun fact: "III" was recorded for just $1,300. That's really not a lot when you consider how the band pushed the boundaries of the indie rock sound on this classic album.
The song is played in a somewhat unconventional tuning: E A D F# A C#. Don't worry, though—the main strumming pattern is very simple.
46. The Regulator by Clutch
"The Regulator" by Clutch exemplifies the band's unique sound and style. Known for their seamless blending of hard rock, blues, and stoner rock, Clutch has established a formidable presence in the alternative music scene. "The Regulator" incorporates elements of classic rock, blues, and a dash of southern rock to create a sound that is unmistakably Clutch. The track features both acoustic and electric guitars, with the former being more prominent than the latter.
Neil Fallon's powerful voice takes center stage, delivering gritty, yet melodic vocal lines. They're perfectly complemented by Tim Sult's heavy guitar riffs, Jean-Paul Gaster's thunderous drumming, and Dan Maines' tight bass lines. "The Regulator"'s lyrics are poetic, witty, and unabashedly strange. They're filled with vibrant imagery and colorful characters, which is a signature feature of Neil Fallon's songwriting style.
47. Something in the Way by Nirvana
"Something in the Way" is an acoustic song by Nirvana from their seminal 1991 album, "Nevermind." The track stands out for its subdued and melancholic sound, which is quite a contrast to the more aggressive and in-your-face tracks on the record.
Despite being a relatively basic, three-chord song, it possesses a beautiful simplicity that resonates with listeners. Played in drop C tuning (CGCFAD), it makes great use of open string drone notes and slow, simple strumming to evoke a somber mood.
Though overshadowed by its chart-topping sibling, "Smells Like Teen Spirit," "Something in the Way" has gained recognition over the years for its emotional depth and rawness. It was also the perfect choice for the trailer of The Batman (2022), where its eerie atmosphere fits right in.
48. Babylon by David Gray
"Babylon" is the second track from David Gray's breakthrough album, "White Ladder." Released in 1999, the album became a massive commercial success, largely due to this tune's popularity. While the album was replete with hits, this track is widely regarded as one of Gray's defining works.
Gray plays the song using standard tuning with a capo on the first fret. Apart from a few chords, it prominently features a short and melodic motif on the top strings. The soulful vocal melodies add a great deal of contour to the otherwise simple progressions.
The song brings together folk and pop elements into a catchy tune. Gray's distinctive vocals and gentle guitar arrangement, combined with the highly melodic sound, make it an enduring fan favorite.
49. Diamonds & Rust by Joan Baez
Joan Baez released her sixteenth studio album, "Diamonds & Rust," in 1975, and the title track has become one of her signature songs. It's a beautiful acoustic guitar song featuring Baez's clear and emotive vocals.
The story goes that Baez wrote this song about her former lover, Bob Dylan. Dylan called her from a phone booth and sang some of what would become his classic song "Lily, Rosemary and the Jack of Hearts." Inspired by that conversation, Baez initially told Dylan that this tune was about her ex-husband, David Harris, though it was actually about Dylan. The British metal band Judas Priest later gave this track a more electrified sound when they covered it in 1977, at the urging of their record company.
50. Needle of Death by Bert Jansch
"Needle of Death" was written and recorded by the late Scottish folk musician Bert Jansch. The song was included on his self-titled debut album, released in 1965. It has since become one of Jansch's most famous and influential compositions. The song is centered around a delicate, fingerpicked guitar pattern, played in standard tuning with a capo on the third fret.
The song tells the story of a young man who becomes addicted to drugs, eventually leading to his untimely death. The lyrics are both descriptive and cautionary, as Jansch reflects on the tragic loss of a friend.
Jansch was known for his intricate fingerpicking style, which combined blues, folk, and jazz influences. He was a prolific songwriter and guitarist, recording more than 25 solo albums over the course of his career.
51. Catch the Wind by Donovan
Released in 1965 as Donovan's debut single, "Catch the Wind" quickly became a hit in the UK, reaching No. 4 in the singles chart. In an interview on Los Angeles' KCRW Radio, Donovan explained that the song was about a love he hadn't yet experienced. He said the song was written for Linda Lawrence, whom Donovan would later marry, despite not having known her yet at the time of its composition.
This song is fairly easy to play. It uses pretty basic chords in standard tuning, with a capo on the third fret. The strumming pattern is unambiguous, and there's a lovely melody that follows along the vocal lines. It's easy to see why this song resonated with so many people when it first came out and why it continues to be popular today.
52. Closer to the Heart by Rush
An underrated guitarist, Alex Lifeson is sometimes overshadowed by his prodigious bandmates. But my goodness, his contributions to Rush's music are nothing short of iconic. In fact, Lifeson's guitar playing helped mold my understanding of music as a young guitarist. And in the song "Closer to the Heart," the Rush axeman showcases his ingenuity.
Released in November 1977, "Closer to the Heart" served as the lead single from Rush's fifth studio album, "A Farewell to Kings." The track features some of Lifeson's most memorable riffs and soaring guitar solos, but its distinguishing mark is the acoustic-to-electric transition that takes place halfway through the song.
The song was composed by Lifeson and bassist/vocalist Geddy Lee, with lyrics penned by drummer and lyricist Neil Peart, along with Peter Talbot. It was produced by Rush and Terry Brown. Fun fact: Alex Lifeson and company have performed "Closer to the Heart" alongside Mike Smith from Trailer Park Boys (as well as various other musicians and entertainers) on a number of different occasions.
53. Can't Find My Way Home by Blind Faith
"Can't Find My Way Home" was one of the noteworthy tracks from Blind Faith, the short-lived supergroup that featured Eric Clapton and Steve Winwood. With its hauntingly introspective lyrics and gentle folk-rock sound, the song has become a classic.
The main guitar part is played on an acoustic guitar in standard tuning. Whether you play it with a pick or not is up to you, but a fingerpick is recommended. The guitar's melodic flourishes enhance the emotional resonance of the song, making it the perfect vehicle for Clapton's soulful delivery and Winwood's expressive vocals.
This song is an early example of Winwood's unique songwriting talent. It's been covered extensively throughout the years, perhaps most famously by Bonnie Raitt (just a few years after the original's release).
54. Bloom by The Paper Kites
Many indie folk bands since the 2010s have been primarily characterized by introspective acoustic guitar-driven music. One of the most accomplished of these acts, The Paper Kites, emerged from Melbourne, Australia in 2010. Their lineup consists of main songwriters Sam Bentley and Christina Lacy on vocals and guitar, as well as Dave Powys on guitar and other strings, Sam Rasmussen on bass, and Josh Bentley on drums.
The Paper Kites would score an international hit with their breakthrough single "Bloom" in 2010. It's a gentle, melodically rich folk rock tune that beautifully showcases their lush soundscapes and tender lyricism.
While it's an entire band effort, "Bloom" can be played on solo guitar wonderfully. The song is in standard tuning with a capo on the 6th fret. It contains intricate fingerstyle guitar work throughout the verses, which gives it much of its character.
55. We Just Disagree by Dave Mason
Dave Mason's "We Just Disagree" is a great tune to learn on guitar. It's got a fantastic chord structure that's a bit complex in the verses and then gets super simple for the refrain.
First things first, to sound like the recording, we'll need to put a capo on the 2nd fret in standard tuning. Oh, and did I mention it's played on a 12-string? Well, it is. But you can still follow along using just 6 strings.
The song was co-written by Jim Krueger and Marko Perko and released in 1977. It was subsequently covered by several other artists, including Billy Dean and Bob Dylan. It became a big hit for Mason, reaching number 12 on the Billboard Hot 100 the year of its release.
56. White Winter Hymnal by Fleet Foxes
Fleet Foxes is an indie folk band from Seattle, Washington. The band was formed in 2006 and is fronted by vocalist and guitarist Robin Pecknold. Their 2008 self-titled debut album quickly gained attention for its intricate harmonies and lush instrumentation, with popular tracks like "White Winter Hymnal."
This song opens with a simple up-down strumming pattern in 4/4 time. While the chords used can be a little tricky for beginners, the pattern itself is very straightforward. It's a great song to practice basic strumming and chord changes. The lyrics are loaded with imagery, like "I was following the pack, all swallowed in their coats," which lend themselves nicely to the wintery acoustic vibe of the song.
On July 21, 2008, Fleet Foxes released "White Winter Hymnal" as their first single. The B-side of the single is the non-album track "Isles."
57. Kathleen by Josh Ritter
"Kathleen" is a folk rock song by American singer-songwriter, Josh Ritter. It was released as the second track from his third studio album, "Hello Starling," in 2003. This was his second record for American folk label, Signature Sounds.
Josh Ritter is an exceptional songwriter, and "Kathleen" is one of his most popular tracks. It's written in his signature style – poetic, evocative, and rich with emotion. Its captivating storytelling and heartfelt lyrics have endeared it to many fans over the years. The song features a Hammond organ, which adds a touch of haunting melancholy to the mix, along with acoustic guitar, bass, drums, and Ritter's distinctive vocals.
Here's some interesting trivia: Josh Ritter's father was the late, great actor and comedian, John Ritter.
58. Free Translator by The Books
"The Way Out" is the fourth and final studio album by The Books. Released in 2010, the record features the band's signature blend of acoustic instrumentation and eclectic sampling. One of the more melodic tracks from the album is "Free Translator," which shows the band's calmer side.
The song begins with a simple acoustic guitar fingerpicking pattern. It's joined by an electric guitar playing a melodic lead line, which often follows along with the rhythm of the vocals. Additional layers are gradually introduced, including some repetitive sampling that creates a hypnotic atmosphere.
The Books have been described as a genre of their own, with some referring to their music as "collage music." Combining elements of indie rock, folk, and electronica, their approach was truly unique."
59. First Day of My Life by Bright Eyes
On February 7, 2005, Bright Eyes released a single that would go on to become one of their most popular songs, "First Day of My Life." The single is from their album, "I'm Wide Awake, It's Morning." The song features an acoustic folk guitar sound and is played with a capo on the fourth fret.
In addition to gaining widespread popularity with fans, "First Day of My Life" was well received by critics. In 2009, Pitchfork Media listed the track at number 266 on its "Top 500 Tracks of the 2000s." It's been featured in films, episodic shows, and numerous commercials. Conor Oberst, the frontman and songwriter for Bright Eyes (along with several other bands), penned the song.
60. The Gardener by Tallest Man On Earth
Released on 5 March 2008 on the Gravitation label, "The Gardener" is one of the catchiest tracks on The Tallest Man On Earth's debut album, "Shallow Grave." Written by Swedish singer-songwriter Kristian Matsson, also known as The Tallest Man On Earth, the song has become a favorite among fans of folk and indie music.
One of the reasons "The Gardener" is so popular is because it can be played in many different ways. Some people play it in DADEAD tuning with a capo on the 7th fret. Others play it in standard (EADGBE) or open tuning.
Born on 30 April 1983, Matsson's music is often compared to that of Bob Dylan. Before going solo, he was the lead singer of the indie band Montezumas.
61. If You Could Read My Mind by Gordon Lightfoot
Gordon Lightfoot is one of Canada's foremost singer-songwriters. His hit song "If You Could Read My Mind" is considered one of his best. It was released as a single in 1970 and later appeared on his album "Sit Down Young Stranger." Due to the song's success, the album was renamed after it.
The track is performed in standard tuning with a capo on the second fret. The distinctive intro and picking pattern are instantly recognizable. Lightfoot accompanies his soothing voice with intricate fingerpicking that reinforces the song's heartfelt lyrics.
"If You Could Read My Mind" was a huge commercial success, reaching number 1 on the Canadian Singles Chart and number 5 on the Billboard Hot 100 chart in the United States. It has since become a folk music standard and has been covered by numerous artists, including Johnny Cash.
62. Sugar Man by Sixto Rodriguez
Sixto Rodriguez wrote and recorded "Sugar Man" in August-September 1969, and it was released as a single in July 1970. It appears on his album "Cold Fact." Along with acoustic guitar, it features the diverse instrumentation that was characteristic of early psychedelic rock.
With its distinctive chord progressions, the song gained a cult following over the years. In 2001, rapper Nas sampled "Sugar Man" in his song "You're Da Man" from the album "Stillmatic."
"Sugar Man" received renewed attention when it was featured in the 2006 Australian film "Candy." The song is also referenced in the title of the 2012 BAFTA and Academy Award-winning documentary "Searching for Sugar Man," which examines Rodriguez's life and the mystery surrounding his success (or lack thereof) in the United States.
63. Ain't No Sunshine by Bill Withers
Bill Withers' classic "Ain't No Sunshine" is one of those timeless songs that manages to capture a lot of emotion with simple, repetitive chords. Withers wrote the song after watching the 1962 movie "Days of Wine and Roses."
The song won the Grammy for Best R&B Song in 1972 and has numerous gold and platinum certifications around the world. It has inspired countless guitarists with its emotive simplicity and timeless chord progressions. It's great for beginner to intermediate guitar players to learn.
In 1971, a young Michael Jackson recorded his own rendition of "Ain't No Sunshine" for his debut solo album, "Got to Be There." The pop superstar's take on the song featured a slightly more elaborate arrangement with a more dramatic ending.
64. Ohio by Damien Jurado
Damien Jurado's "Ohio" is a melancholic tune about a woman who was taken away from her mother when she was young. That night, her mother was asleep and had no knowledge of what was happening, when the young girl was taken away by "hired men." As a result of that incident, the woman has not been back to Ohio since she was thirteen. It's a powerful song that effectively conveys feelings of nostalgia, longing, and the pain of separation.
Jurado's guitar work in this song is simple yet highly emotive. He plays in standard tuning with a capo on the 4th fret. The song employs a consistent fingerpicking pattern and chord progression. But it's Jurado's distinctive vocal delivery and sad lyrics that really elevate this track.
65. Me, You and Steve by Garfunkel and Oates
Garfunkel and Oates' "Me, You and Steve" is a hilarious narrative that unfolds like a Mr. Show sketch. The song humorously tells the story of a romantic date that keeps getting interrupted by a third wheel named Steve. It's a comedic take on the classic third-wheel scenario, with Garfunkel and Oates' signature wit and humor.
Opening with a sweet and melodic guitar riff, this song is a delightful blend of catchy folk-pop and clever storytelling. Riki Lindhome and Kate Micucci's combined vocal performance adds an extra layer of charm to the humorous lyrics.
Garfunkel and Oates have a knack for taking relatable situations and adding their own hilarious twist, and "Me, You and Steve" is a perfect example of this.
66. June Hymn by The Decemberists
There are certain bands out there that are just consistently good at what they do. No gimmicks, no drastic stylistic changes—just well-written, expertly performed music. The Decemberists are definitely one of those bands, and their song "June Hymn" is a perfect example of their unwavering songwriting prowess. Released in 2011 on their album "The King is Dead," this tune captures the beauty and tranquility of early summer.
The lyrics to this song are quintessentially Decemberists—descriptive, evocative, and packed with imagery. The music is as dreamy and pastoral as the lyrics suggest, with Colin Meloy's warm acoustic guitar providing the perfect foundation for the melody.
True to its folk roots, this song is built around strummed chords in a relatively simple pattern. The Decemberists often incorporate intricate arrangements into their songs, but sometimes the simplest approach is the most effective. So grab your six-string, pop a capo on the second fret, and get ready to make some summer magic.
67. Dearly Departed by Shakey Graves
"Dearly Departed" is a hauntingly beautiful tune by Shakey Graves. It's included in the album "And the War Came," released in 2014. The song is an enchanting blend of folk, rock, and country, with elements of blues and Americana.
The lyrics describe a passionate and intense bond, with references to ghosts, chains, and haunted houses. The song has a playful yet melancholic vibe, capturing the complexities of love and memories.
Probably my favorite thing about "Dearly Departed" is its quirky but touching music video. It features a fighting couple who are consoled by sympathetic ghosts (who happen to be a couple as well). The video perfectly complements the lyrics and adds another layer of visual and emotional appeal to the song.
68. With Arms Outstretched by Rilo Kiley
"With Arms Outstretched" is a stunningly beautiful song by indie rock band Rilo Kiley. It was released as part of their third studio album, "The Execution of All Things," which came out in 2002. The song gained additional recognition when it was featured in the hit TV show "Weeds," playing in both the first and last episodes.
The track starts with an ethereal guitar melody, gently strummed over dreamy chords. It then builds up with more instruments, creating a powerful and emotional atmosphere.
Jenny Lewis, the band's lead singer, wrote the song. She said it's about "the victory that comes with weathering the hardest things you'll ever go through." The lyrics reflect this theme, conveying a sense of hope and resilience.
69. Making Plans for Nigel (cover) by Nouvelle Vague
This cover of "Making Plans for Nigel" by Nouvelle Vague is a jazzy rendition of the original. First released by the English rock band XTC in 1979, the song explores themes of conformity and the fulfillment found in settling for a predictable life.
French band Nouvelle Vague puts their own spin on the tune, transforming it into a bossa nova track with a laid-back groove. The simple guitar strumming gives the song a new feel, accompanied by a light and airy vocal melody.
This fresh take on "Making Plans for Nigel" is a great way for fans of the original to rediscover the song and for new listeners to enjoy the unforgettable melodies. This timeless song has been covered by other great acts, including Primus among others.
70. Comes and Goes (In Waves) by Greg Laswell
Greg Laswell is a gifted singer-songwriter who's known for his deeply personal and emotional songs. One of his most memorable tracks is "Comes and Goes (In Waves)," a beautiful composition that touches upon feelings of loneliness, perseverance, and the cyclical nature of emotions.
Released on his 2008 album, "Three Flights from Alto Nido," this song has tugged many-a-heartstring. It's renowned for its evocative lyrics, haunting melodies, and the raw vulnerability in Laswell's vocals.
With its somber but relatable theme, "Comes and Goes (In Waves)" quickly became a favorite of both fans and the press. The song has been featured in various popular TV shows, like True Blood and Grey's Anatomy. It's a great song for guitarists of any skill level to play along with.
71. Shiver by Lucy Rose
Lucy Rose is known for her incredible songwriting and emotive performances, and "Shiver" is no exception. It's a beautifully melancholic track that perfectly encapsulates the longing and wistfulness of nostalgia.
Originally released as part of her debut studio album "Like I Used To" in 2012, "Shiver" was later used as the opening song for the second season of the Japanese series "Mushishi" in 2014. The song's haunting lyrics and ethereal melody lent themselves perfectly to the show's themes and subject matter.
The song is played in standard tuning with a capo on the 2nd fret. It's relatively easy to learn on the guitar and is a great choice for anyone who wants to delve into the acoustic indie-folk genre, especially beginner guitarists.
72. Wildfire by Mandolin Orange
Chapel Hill folk duo Mandolin Orange, now known as Watchhouse, released their fifth studio album, "Blindfaller," in 2016. This record included the powerful track "Wildfire," which highlighted the plights of humanity and how our ideologies can spread like wildfire.
Watchhouse's music is often simple, intimate, and reflective. Their music is typically categorized as folk or Americana. "Wildfire" features gentle guitar strumming and beautiful vocal harmonies from Andrew Marlin and Emily Frantz. The guitar part is played in standard tuning with a capo on the second fret.
The lyrics contemplate the fallacies of humanity and how individual attitudes can affect the broader community. The song suggests that a single act of bravery, kindness, or hatred can ignite a wildfire of influence.
73. 3 Rounds and a Sound by Blind Pilot
With bittersweet lyrics and a slow tempo, this Blind Pilot song is played in standard tuning with a capo on the first fret. It's the title track of the band's debut album, "3 Rounds and a Sound," which was released in 2008.
The lyrics reflect the importance of having essential needs met in life, particularly when making significant life choices like marriage. The song's gentle melodies and thoughtful lyrics strike a deep chord with listeners, evoking a sense of nostalgia and reflection on life's pivotal moments.
"3 Rounds and a Sound" is a slow and meditative ballad that builds its energy slowly but surely. The song's easy-going chord progression and simple acoustic guitar strumming pattern make it accessible for beginners.
74. Robots by Dan Mangan
Dan Mangan's "Robots" made its first appearance on the critically acclaimed "Nice, Nice, Very Nice" album back in 2009. The track quickly grew in popularity and has since become one of the Canadian singer-songwriter's most beloved pieces. The song, which is played in standard tuning with a capo placed on the 7th fret, features simple yet elegant guitar work that complements the lyrics.
The music video for "Robots" is both funny and endearing, featuring gang members settling a beef with small battling robots. The song itself touches on themes of isolation and cherishing time, encouraging us not to let our days go to waste. It's a reminder to make the most of every moment and to embrace the genuine connections we make in a world that can sometimes feel robotic.
75. Blue Crystal Fire by Robbie Basho
Robbie Basho's "Blue Crystal Fire" is a serene and hypnotic piece for solo acoustic guitar. Played in standard tuning with a capo over the 4th fret, the song features beautiful and intricate fingerpicking patterns. Basho paints vivid pictures of nature with his lyrics, referencing everything from "smooth singing sunshine" to a "fast flowing waterfall" and a "deer with silver antlers."
Basho's vocal style is as unique as his guitar playing, with a vibrato that adds a haunting quality to his singing. He was known for drawing inspiration from nature and spirituality, and his music often reflects these themes.
This album ("Visions of the Country") was restored, remastered, and reissued on September 25, 2013. Critics praised the reissue for its unique blend of musical styles, as well as Basho's passionate vocals. Sadly, Basho passed away at the age of 45 due to a tragic accident.
76. Baby's Arms by Kurt Vile
One of the best tracks on Kurt Vile's "Smoke Ring for My Halo," "Baby's Arms" serves as the lead to the 2011 album. The song's lyrics delve into the theme of the comfort and solace one finds in the arms of a loved one. The music itself has a hypnotic rhythm and a strange tuning that facilitates very interesting chord voicings.
The song is characterized by an ethereal, dreamlike atmosphere that effectively complements its lyrical themes. The fingerpicked guitars, along with the understated percussion, create a lush and haunting soundscape.
"Smoke Ring for My Halo" is Kurt Vile's fourth studio album, released on March 8, 2011. It was released under Matador Records. The album received widespread critical acclaim and helped establish Vile as one of the most unique voices in indie rock and folk.
77. To the Field by Steve Von Till
Steve Von Till is perhaps best known as a member of the seminal post-metal act Neurosis, but his solo material takes a softer approach. The 2002 album "If I Should Fall to the Field" is an introspective journey through a variety of musical styles, with Von Till's distinctive voice and lyrics as the constant thread.
The song's lyrics evoke a sense of natural beauty and wonder, and the music reflects that mood. Von Till's guitar playing is spare but evocative, creating a contemplative atmosphere that perfectly complements the lyrics. The fingerpicked chords provide a gentle foundation for his unique vocal delivery.
Throughout the song, Von Till makes references to the natural world and its cycles. He sings about finding solace in nature and acknowledges the constant change and growth that comes with each passing season. It's a beautiful song that serves as a reminder of the profound impact that the natural world has on our lives.
78. Down and Under by Devin Townsend
Opening with a gentle acoustic guitar, "Down and Under" proceeds to build upon this foundation. Devin's vocal harmonies gradually join in, adding an additional melodic layer. Around the two minute mark, the arrangement takes a heavier turn, courtesy of a distorted electric guitar. Devin's signature production, with its massive and dense layers of sound, is immediately apparent.
Released in 2001, "Terria" is the fifth studio album from the Canadian musician. The song "Down and Under" is the sixth track and proceeds directly out of another song titled "Canada" (there's a female French-speaking voice bridging the two songs together).
Devin is mostly known for his heavy and atmospheric music. This track is an early glimpse into his transition toward softer dynamics, which has become more common for him in recent years.
79. Cat's in the Cradle by Harry Chapin
"Cat's in the Cradle" is a folk rock song from Harry Chapin's album "Verities & Balderdash," released in 1974. The song's narrative revolves around a man who becomes a father and is consistently too occupied with work to spend time with his son. As the song progresses, the roles reverse, with the son becoming too busy for the father. The narrative underscores the regret of missed opportunities and the realization that children often grow up to mirror the behaviors of their parents.
Harry Chapin played this song using standard tuning but with a capo placed over the eighth fret. The song features some lead fills and melodic lines that can be embellished in an individual performance. The song's popularity has led to a number of covers, including a notable version by Ugly Kid Joe.
80. Julep by Punch Brothers
The Punch Brothers have been praised for pushing the boundaries of bluegrass and acoustic music, and "Julep" is a testament to their ability to craft songs that are both innovative and deeply rooted in musical tradition. Part of the acoustic guitar technique in this song is repetitive strumming on muted strings in a percussive manner. This is combined with complex fingerpicking patterns that move across the strings and create a sense of forward motion.
The Punch Brothers are known for their tight harmonies, complex arrangements, and the blending of traditional bluegrass instruments with modern songwriting. Each of their albums is filled with virtuosic playing, beautiful melodies, and thought-provoking lyrics. "The Phosphorescent Blues" was produced by T Bone Burnett. This album's cover artwork is from the René Magritte painting "The Lovers" (1928).
81. Roundabout by Yes
Released from their fourth studio album, "Fragile," in November 1971, "Roundabout" is one of Yes's most iconic songs. It was written by singer Jon Anderson and guitarist Steve Howe, and it features a variety of musical styles that exemplify their progressive rock sound. It remains one of the most famous and widely recognized pieces of its genre.
The track originally began with an acoustic guitar, but the group decided on a more dramatic opening, leading to the use of a reversed piano chord. The acoustic guitar is still present for much of the song, but the dynamics shift dramatically as several electronic instruments are added throughout. The acoustic intro is an important piece of prog rock history, and the song remains a staple of Yes's live performances.
82. Still Trying by Nathaniel Rateliff
Denver-based singer-songwriter Nathaniel Rateliff brings his signature raw emotion and introspection to this track from his 2013 debut solo album, "Falling Faster Than You Can Run". Inspired by a period of intense touring and loneliness, the album's songs offer a deeply personal and intimate look into Rateliff's world.
Known for his soulful voice and folk-infused sound, Rateliff beautifully captures the struggle to find clarity and understanding in "Still Trying." The lyrics paint a picture of someone grappling with their thoughts and feelings, searching for meaning amidst the chaos and uncertainty of life.
The music video for this song features serene visuals of trees and fields juxtaposed with shots of Rateliff. The combination of the peaceful landscapes and his intense gaze creates a mood that is both calming and slightly eerie.
83. After Rain by Dermot Kennedy
"After Rain" is the eleventh song on Dermot Kennedy's self-titled compilation album, which was released in early 2019. Kennedy is an Irish singer-songwriter who has made a name for himself in the indie folk and indie rock scenes. This track features his typical soulful vocal performance.
The song starts very soft and builds to a climax, with the instrumental accompaniment getting more intense as it progresses. This song is played in standard tuning with a capo on the 2nd fret, and the guitar part is fairly simple. In fact, it features a very similar chord progression to "The World I Know" by Collective Soul, which is also mentioned in this article.
"After Rain" delves into the theme of overcoming emotional challenges, possibly hinting at a disagreement between the narrator and his significant other.
84. 3rd Planet by Modest Mouse
"3rd Planet" by Modest Mouse is the opening track on their third studio album, "The Moon & Antarctica." The song's title refers to Earth, being the third planet from the sun. It was the first Modest Mouse song I ever heard.
Isaac Brock's quirky lyrical style is on full display here. He sings about humanity's place in the grand scheme of things. The guitar work is dynamic, with prominent acoustic and electric guitar lines. It's a great acoustic guitar song to learn for beginners.
This album was released on June 13, 2000, by Epic Records. It peaked at number 120 on the US Billboard 200 chart. "The Moon & Antarctica" is a landmark indie rock album that's widely regarded as one of the best of the 2000s.
85. Holes by Passenger
English singer-songwriter Passenger, whose real name is Michael David Rosenberg, is known for his heartfelt lyrics, soulful melodies, and indie folk sound. He gained widespread recognition in 2012 with his chart-topping hit "Let Her Go." But that wasn't his only successful song. Passenger released another single that achieved significant success.
"Holes" was released on 15 February 2013. It served as the third single from Passenger's album, "All the Little Lights." It performed well on charts across the world and remains one of Passenger's most popular songs. "Holes" exemplifies the band's signature blend of folk and indie pop, with thoughtful lyrics and a catchy melody.
While "Holes" is generally played in standard tuning on an acoustic guitar, the song requires a capo all the way up on the 9th fret.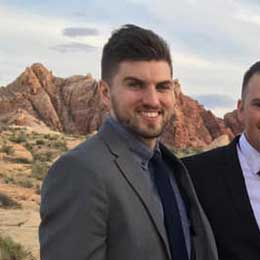 My name is Chris and I've had a passion for music and guitars for as long as I can remember. I started this website with some of my friends who are musicians, music teachers, gear heads, and music enthusiasts so we could provide high-quality guitar and music-related content.
I've been playing guitar since I was 13 years old and am an avid collector. Amps, pedals, guitars, bass, drums, microphones, studio, and recording gear, I love it all.
I was born and raised in Western Pennsylvania. My background is in Electrical Engineering, earning a Bachelor's degree from Youngstown State University. With my engineering experience, I've developed as a designer of guitar amplifiers and effects. A true passion of mine, I've designed, built, and repaired a wide range of guitar amps and electronics. Here at the Guitar Lobby, our aim is to share our passion for Music and gear with the rest of the music community.