Contrary to popular belief, punk isn't dead. The traditional sound emitted from bands like the Misfits, Black Flag, Dead Kennedys, and Fugazi is arguably difficult to come by in modern time, though the authentic punk sound and subculture has merely evolved with its sub-genres like hardcore and its infiltrating derivatives like indie rock and pop-punk.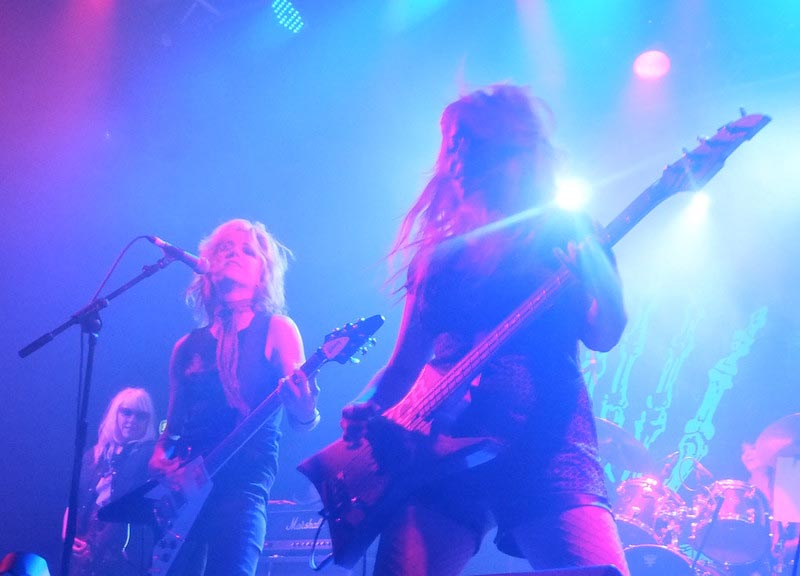 These completely female and female fronted punk bands aren't simply the best when it comes to their authentic punk sound and punk influences, but rather for their leading ladies' contributions to the traditional and modern punk movements as a whole.
Here Are the Best Fully Female and Female Fronted Punk Bands of All Time
1. Patti Smith Group
Years: 1967 to Present
Patti Smith plunged into the music scene with their debut album Horses, recorded in 1975 featuring a cover of Van Morrison's Gloria. The album skillfully integrated frontwoman Patti Smith's lifelong adoration for poetry alongside punk rock swiftly leading to the group's near immediate success and frequent US and European tours.
As the eldest daughter of a former jazz singer mother and machinist father, Smith found herself listening to her mother's records at the age of 4, which included artists Bob Dylan, Harry Belafonte, and Patience and Prudence. Briefly working in a factory before rooting herself in music, Smith's career bloomed in Manhattan where she often wrote and starred in plays, provided spoken word for short films, and contributed pieces to Rolling Stone.
Smith, in particular, has been claimed as a major influence for notable artists and bands throughout the past few decades, including Michael Stipe of R.E.M, Shirley Manson of Garbage, Morrissey and Johnny Marr of The Smiths, Courtney Love of Hole, Madonna, U2, Sonic Youth, Florence and the Machine, and Orville Peck.
The singer-songwriter's talents span beyond her musical contributions to the proto-punk and art rock scenes. Smith is also a visual artist, poet, political and human rights activist, feminist, author of 26 books, and mother of two children. Incredibly humble and known as the "punk poet laureate," Smith's legacy has and will continue to inspire future like-minded musicians, writers, and artists. Patti Smith Group is without a doubt one of the best female fronted punk bands of all time.
2. Blondie
Years: 1974 to 1982; 1997 to Present
Known amongst many for their radio hits Call Me and One Way or Another, Blondie is undeniably one of the founders of the American punk rock and new wave scene of the 1970s.
Fore fronted and cofounded by Debbie Harry in New York City in 1974, her iconic bleached-blonde shag and distinctive vocals propelled Blondie into worldwide success with their third album Parallel Lines and it's hit single Heart of Glass.
Former BBC secretary, go-go dancer and Playboy Bunny, Debbie Harry's musical career didn't begin until the late 1960s where she performed as a backup vocalist for the folk-rock group The Wind in the Willows. Harry briefly joined the Stilettoes where she met Chris Stein who she later formed Blondie with. The name stemmed not specifically from her iconic hair, but rather from being catcalled by men who would refer to her as "blondie." Harry became so synonymous with the name that the band started selling buttons that stated, "Blondie is a group."
Harry's influence has stretched far beyond Blondie as she's become an icon for young women, as she's openly discussed her past experiences with sexual assault, rape and her romantic relationships with women, particularly in her 2019 novel Face It: A Memoir. She is also a philanthropist and is devoted to fighting cancer, HIV/AIDS, and endometriosis.
Recently, Blondie's hit single Heart of Glass has been revamped by former Disney Channel star Miley Cyrus and has become an instant hit yet again with today's teenagers with her powerful cover that has surfaced on TikTok. Cyrus' cover goes on to prove Blondie's long-lasting success and legacy as their music continues to stand the test of time.
3. The Runaways
Years: 1975 to 1979
One of the only all-female punk bands to have an album go gold at the time, The Runaways' Cherie Currie's gravelly voice alongside Joan Jett's too-cool-for-school guitar playing brought the angsty teenage band to their short-lived success in the mid 1970s.
Banding together in 1975 and releasing their self-titled debut album the following year, The Runaways found themselves in the shadow of headlining acts akin to Tom Petty and the Heartbreakers, Talking Heads, and Van Halen. Each member had their own icon that they posed as in a documentary that was often shown on stage before a performance; Currie being David Bowie and Jett Suzi Quatro.
Though never receiving widespread success in the United States, The Runaway's single Cherry Bomb became a tremendous hit in Japan. In 1977, the band performed numerous sold-out shows in Japan where they were mesmerized by the sheer magnitude of positive reception they received and soon went on to star in their own TV special and recording of their first and only live album: Live in Japan.
The group disbanded in 1979, leaving their four-year run together behind. Joan Jett went on to pursue a long-lasting successful music career on her own and became the first woman to create her own record label, Blackheart Records, while Cherie Currie joined forces with her sister Marie and was backed by Toto on their debut album. Currie and Jett rejoined forces in 2010 to re-record their hit Cherry Bomb, though a reunion for the entire band seems bleak, as guitarist and bassist Lita Ford and Jett continue to disagree with each other. The group's rising impact led to the production of their own biopic in 2010 starring Kristen Stewart as Joan Jett and Dakota Fanning as Cherie Currie.
Regardless of the disjointed bands disputes, The Runaways managed to do something right. Their music has continued to nuzzle itself into the hands of teenage girls and young women throughout the past 5 decades who continue to find their angsty sound relatable and empowering. The Runaways are without a doubt one of the best female punk bands of all time.
4. Siouxie and the Banshees
Years: 1976 to 1996; 2002
Post-punk and trad-goth icon Siouxie Sioux is one of the quintessential female artists within the genre for her gloomy, lyrical poetry that is the music of Siouxie and the Banshees.
Vocalist Sioux and Bassist Steven Severin scoured London in search of a new sound amongst the dwindling punk rock scene. The duo went on to follow the Sex Pistols prior to their widespread success by a friend of Sioux's recommendation. They became an influence for them, leading to their band's formation in 1976. Having performed on BBC television at the start of their career, the group quickly became synonymous with the post-punk, new wave and goth genres for their experimentation with dark, industrial sounds. They received admiration from British teens by the release of their first two albums, The Scream and Join Hands.
Sioux lived an isolated childhood in the shadow of her alcoholic father, though she respected him and grew to hate suburbs, as she was aware of the banishment of her family from middle-class society. Sioux grew depressed following the premature death of her father as a result of his alcoholism and spent time in the hospital where she spent her time watching David Bowie on TV. She frequented gay discos with her friends where her sense of fashion became a major influence on the local punk and goth scene, as she was seen cloaked in black attire with spiky black hair and winged eyeliner.
Sioux and her band have influenced massively successful groups including Depeche Mode, The Smiths, The Cure, Joy Division, Radiohead and LCD Soundsystem, and have been an influence on the trad-goth community since their fruition.
Popular Related Article: The Most Famous Female Rock Stars
5. X
Years: 1977 to Present
Proudly originating from Los Angeles, California, X is one of the pioneers of the classic west coast punk rock sound.
Leading lady Exene Cervenka was initially brought along to the band's practices by her boyfriend, singer, and bassist John Doe. Exene's poetry-writing and distinct off-kilter voice led to her joining the band as a lead vocalist alongside Doe and used her poems as lyrics for their songs.
After dominating the west coast scene, the band pushed out their debut album in 1980, Los Angeles. The album gained notoriety, though their album Wild Gift released the following year featured more technically classic punk songs that were much shorter, faster, and have since been noted by Rolling Stone as "their most stereotypically punk-sounding record."
Though the band's success didn't span far beyond the west coast punk scene, Cervenka continues to perform and has been praised among fans for her poetry readings and mixed media collages. Notably, X has gone on to support Sweet Relief, a charity that provides relief for artists that are uninsured.
In recent years, X's hit song Los Angeles has resurfaced and was featured on Channel X, the punk rock radio station in the 2013 Rockstar video game Grand Theft Auto V.
6. L7
Years: 1985 to 2001; 2014 to Present
Known for their iconic punk-rock and grunge sounds, L7 was one of the leading female bands of the 1990s.
Founded in Los Angeles, California, by Suzi Gardner and Donita Sparks from the art punk scene of Echo Park, the two emerged as a well-respected duo with Gardner already having notoriety from her feature as a backup singer on punk legend Black Flag's hit track Slip It In. The duo recruited two more members and released their first single as a fully-fledged band, Shove, which became an instant hit.
The release of their third studio album Bricks Are Heavy featured the single Pretend We're Dead which has been noted by AllMusic as "their most critically and commercially successful release." L7 went on to produce a studio album with Guns n Roses guitarist Slash and performed with notable artists including Nirvana, the Red Hot Chili Peppers, and Rage Against the Machine.
Most notably, the bands female-forward thinking led to the fruition of Rock for Choice, noted to be "a women's rights group and concert series that raised funds to cover legal expenses due to the prolonged Anti-abortion violence and women's clinic bombings of the 1980s and 1990s," according to Flood Magazine.
The band's sound has continued to resonate with those who appreciate the grunge era and their early influences on punk culture.
7. Babes in Toyland
Years Active: 1987 to 2001, 2014 to 2020
Immortalized through their grunge and garage punk crossover, this was one of the first all-female bands of their generation to cross the threshold into the mainstream of the alternative 90s. What's more, Minneapolis' Babes in Toyland was a catalyst for the grungier "going on" outside the Seattle scene and arguably the closest blueprint for what Nirvana's Nevermind would aim to achieve in terms of performance, dynamics, and sounds, with their mirky swamped sound defined by vocalist's Kat Bjelland yelling bloody murder to say the least.
Their 1990 debut, Spanking Machine, would be released to an already familiarized local audience but would also find fans in already established acts, such as Sonic Youth, who even decided to take them on their European tour of that same year. However, an almost vicious cycle of disbandment, inner turmoil, and disputes would plague the once monumental all-female trio, with the process of the in-between EPs would see members come and go. Ultimately, the success of their 1995 follow-up, Nemesisters, would be met with mixed critical responses, with the general musical landscape taking a hard turn into a different lens.
Nevertheless, Babes in Toyland remained a force to be reckoned with throughout the rest of the '90s and was wildly influential for up-and-coming acts in the years to follow, not to mention the influence they had on peers Bikini Kill and the Riot Girrrl scene. Their return was wildly anticipated in both the 2000s and 10s. However, the dominating turmoil-ridden dynamics would make their impact felt once again. Soon after the departure of bassist Maureen Herman in 2015, the band would compile a special collection, Redeux and play a few special shows before Bjeland officially announced the band had little hope of reunion in the future.
As critic Stephen Thomas Erlewine would describe them, "Babes in Toyland are as harsh as rock music can get" their gut punching razor sharp sound and inherent revelry echoes in a way no other pioneering female punk or grunge band has managed. The impact of the gut-pounding weight that stemmed from Bjeland and drummer Barbelo conveys a seemingly uncontrolled anger that comes across as refined and calculated in their performance as that of more modern acts. For this reason, it's no surprise this legacy act, is seeing the spiritual fruit of their labor.
8. Bikini Kill
Years: 1990 to 1997; 2017; 2019 to Present
Inspired heavily by The Runaways and Babes in Toyland, Bikini Kill emerged from Olympia, Washington, amongst the talent of frontwoman Kathleen Hanna.
Known for playing a key role in the development of the Riot Grrrl movement of the 1990s, Hanna pushed for their audience to be forward-thinking and encouraged young girls to attend their shows and enjoy themselves free from male hecklers. Hanna was known to fight off male hecklers, though she didn't promote sexism towards men and encouraged all who were respectful of the Riot Grrrl movement to attend their shows.
The band saw widespread success following their debut album, Pussy Whipped, and went on to tour in the United Kingdom. After their return, Hanna began working closely with Joan Jett of The Runaways, where Jett helped them to produce a new single New Radio/Rebel Girl, and in return, Hanna contributed song writing on Jett's solo album Pure and Simple.
After the band's short-lived breakup in 1997, Hanna went on to front the band Le Tigre, which has resurfaced in popularity among teenagers and young adults with their song Deceptacon trending as an audio on TikTok. After Le Tigre's breakup, Hanna released her solo project Julie Ruin and went on to form The Julie Ruin before reuniting with Bikini Kill in 2017. Hanna's notoriety led to the 2013 documentary film The Punk Singer which explored her life and importance in the Riot Grrrl movement.
Hanna's strides towards pushing the Riot Grrrl movements female empowerment messages early on into the mainstream set Bikini Kill aside as a stand-out group amongst others at the time, deeming them a quintessential part of Riot Grrrl and punk history.
Popular Related Article: 17 Best Female Fronted Rock Bands
9. The Muffs
Years Active: 1991 to 1999, 2002 to 2004 , 2012 to 2019
Led by singer and guitarist Kim Shattuck since its formation in 1991, The Muffs were defined by a punk edge that was closely entwined with a wide array of pop sensibilities, particularly in their melodies. Best known by their timeless rendition of the pop 80s single, Kids in America, The Muffs first established themselves as one of the very first pop-punk acts, if not pioneers, within their first album.
For many, however, they were a more colorful response to the rising East Coast-rooted grunge scene, something that drew media attention to their sickly doo-woop hooks. For this reason, the underground label at the time, Sub Pop, took an immediate interest in them and quickly signed them for their first two EPs in 1991, New Love and Guilty. The effect of these debut collections was found to be massively positive from all sides, thanks in no small part to Shattuck's comically, sometimes adolescent sneering rasp that would change to wailing aggressiveness with no warning, reminiscent of the capabilities of a certain Frank Black.
With a mile-high evolution between their first few songs and their debut record under Warner Bros. The Muffs had already become a first-class act, one that managed to strike a balance between punch, edge and all things girly. Shattuck, at the time, would display her prowess as a singer and songwriter, elevating her snotty attitude towards the microphone, particularly in their best-known track, Sad Tomorrow, which tampered with all the seriousness of an unrequited love with a satirical approach that'd become a staple for the generations to come.
Throughout their trajectory, The Muffs experienced several breakups and reunions, ultimately disbanding after Kim Shattuck's declining health and passing in 2019. Nevertheless, their legacy prevails in their six albums, with their final one being 'Whoop Dee Doo' in 2014.
Defined by a seasoned return to the band's roots, showcasing Shattuck's trademark in her snarling vocals within familiar verse-chorus-verse structures. The album struck and preserved a delicate balance between hopelessly romantic melodies and unwarranted moments of fierce intensity, cementing her ultimate legacy with this swan song.
10. Bratmobile
Years: 1991 to 1994; 1998 to 2003
Another pioneer of the Riot Grrrl movement of Olympia, Washington, Bratmobile emerged as a wannabe band when University of Oregon students Allison Wolfe and Molly Neuman contributed to feminist fanzine Girl Gems, according to The Guardian.
When invited to play a show on Valentine's day with Bikini Kill, the duo admitted to not being a real band but were encouraged by Kathleen Hanna of Bikini Kill to pick up some instruments, listen to the Ramones, and put together a set regardless of them having never performed as a band. The girls did the opposite so they wouldn't sound too much like the Ramones and managed to pull together five songs for the show. The rest is history.
Bratmobile disbanded after receiving criticism from those against the Riot Grrrl movement, as it began to conjure skewed media attention for being violent and a negative example for young girls and women. Following their break-up, leading ladies Neuman and Wolfe went their separate ways, Neuman working at a Bay Area punk label and Wolfe focusing on activism and feminism.
11. The Donnas
Years: 1993 to 2012
Receiving cult status for their early garage punk sound, Palo Alto, California, group The Donnas made their way into the mainstream as one of the most popular punk girl groups of the late 1990s and early 2000s.
Taking inspiration from bands such as The Ramones, Kiss, AC/DC, and The Runaways, the group of tight-knit friends formed their band in the eighth grade, though they never received any recognition for their music until their senior year of high school. The girls took a week off from school to go on their first tour in Japan. The tour's success led the group to sign onto Atlantic Records where they became a major commercial success.
Their single Take it Off landed them with appearances on late-night shows including Saturday Night Live and the Late Show with David Letterman. Their music was also featured in numerous video games among consoles such as the Nintendo GameCube and the PlayStation 2. Some of the video games include Splashdown, Donkey Konga 2, Gran Turismo 4, Guitar Hero 1 & 2, and Rock Band 2.
The band was also featured on film and TV soundtracks throughout the early 2000s, some of which being the television shows Charmed and What's New, Scooby Doo, and the films Mean Girls, Herbie: Fully Loaded, Dodgeball, and The Hangover.
Following their widespread success, the group disbanded in 2012 at the tail-end of their peak, though their music is still widely popular across music streaming services such as Apple Music and Spotify.
12. Sleater-Kinney
Years: 1994 to 2006; 2014 to Present
Fronted by Carrie Brownstein, Sleater-Kinney of Olympia, Washington, is recognized for its foundation in the punk and Riot Grrrl scene and later domination of the modern indie rock scene, feminist ideals, left-leaning political views, and Brownstein's career as an extremely successful actress.
Named after the road in Lacey, Washington, close to where they practiced together, Sleater-Kinney gained mainstream success with the release of their later albums The Hot Rock and All Hands on the Bad One, leading them to open for Pearl Jam. The band coined their success from their influence from other punk rock and Riot Grrrl legends Sonic Youth, Bratmobile, Bikini Kill, Siouxie and the Banshees, and Patti Smith Group.
Though the band is relatively inactive today, leading lady Brownstein has become a well-known actress and has made a significant name for herself in mainstream media, in turn resulting in increased success for Sleater-Kinney.
Brownstein went on to be a writer, executive producer, and actress in major roles in the hit IFC series Portlandia. She has since been featured in The Simpsons, Curb Your Enthusiasm, and has appeared as herself in numerous shows including Saturday Night Live. Brownstein has also been open about her bisexuality in recent years and has become a music icon within the LGBTQ+ community.
13. Be Your Own Pet (BYOP)
Years: 2004 to 2008
Though short-lived, garage punk group Be Your Own Pet (BYOP) became one of the dominating groups of the Nashville, Tennessee punk scene and gained brief cult-status among die-hard punk fans throughout the mid 2000s.
Fronted by Jemina Pearl, the band's local success led to the release of their self-titled first studio album in 2006, sending them off on a small tour in England. The quartet disbanded in 2008, stating on their website that they were ready "to go their separate ways."
The group was considered for writing and performing music for the fictional band Sex Bob-Omb in the upcoming movie Scott Pilgrim Vs. The World starring Michael Cera and Mary Elizabeth Winstead, but the bands break up led to the job being passed on to Beck.
Jemina Pearl has continued to perform in Nashville and produce solo projects, though her last official project was released in 2012. Overall, Be Your Own Pet definitely deserves a spot on this overview of the best female punk bands.
14. White Lung
Years: 2006 to Present
One of the only authentic female-fronted punk rock groups to emerge in the mid 2000s, Canadian band White Lung found themselves drifting from the eye of the mainstream and into the hands of critically acclaimed music publications. Receiving approval from magazines like Pitchfork and Rolling Stone, White Lung managed to become one of the most well-respected groups in the indie scene at the time.
Inspired heavily by the Riot Grrrl movement, hardcore punk and post-punk and fronted by Mish-Barber Way, the band began playing at larger venues with the release of their third studio album in 2014, Deep Fantasy, as they quickly gained a name for themselves in the indie music community.
The group is still active, though their most recent album Paradise was released in 2016.
15. Mortality Rate
Years: 2016 to Present
Quickly gaining a name for themselves with their contemporary take on the hardcore punk scene, Canadian group Mortality Rate is amongst the most entertaining and distinct bands to emerge from the mid 2010s.
The band planted its punk derivative roots into the music scene with their 2016 album Sleep Deprivation and took off with their 2019 EP You Were the Gasoline.
Having toured with forerunners of the hardcore scene such as Knocked Loose, Jesus Piece, and Every Time I Die, Mortality Rate's frontwoman Jess Nyx is paving the way for the bands' rising success with the intensity of her vocals, stage presence, and sets a proud example for the robust sound that emits from female fronted hardcore bands.
16. PJ Harvey
Years Active: 1988 to Present
Perhaps better labeled as avant-rock, PJ Harvey made her mark in the grunge and punk scene with her battered blues-punk in her quick yet not short plight rise to notoriety with 1992's Dry and her ruckus riddled follow up, Rid of Me. Resorting to the most primal approach, counting on whatever she had at her disposition at the time – a distorted guitar and a three-piece band – Polly Jean Harvey has been a hard-to-ignore presence and, ultimately, influence in punk rock since her debut.
Crashing on to the UK Album Charts of 1993, Rid of Me marked the introductory era of Polly Harvey, justified by a palpable violent desire in both lyricism and musical assembly. Harvey's initial success during the early 90s was an odd feat during the time, especially considering the uncomfortable and abrasive vulnerability that defined her as an artist.
For PJ Harvey, most of the things you get to hear on her records come from the music she personally enjoys. During this edgier period of her career, she pointed out her influences deriving from the likes of Howlin Wolf, Willie Dixon, and the psycho pop of alternative icons, the Pixies.
However, if there's something that underlines and defines her as a household name, it would be the continuous reinvention of sound that's become inherent to her name. Now the only artist in history to have been awarded the Mercury Prize twice, one can be charmed by her brushes of revelry from her earliest breakthrough tunes like Shila-na-gig or her eviscerating recounting experiences of past lovers in the deft lyrical exploration that can be found in Dry.
If Blondie paved the way for a nuanced exploration of the entwining tinctures of punk and pop music, PJ Harvey pioneered the lengths to which a singer-songwriter can convey utter honesty, equally humorous and horrific, through a sheer, almost primitive performance. Once she gets to you, you will never get rid of her.
17. Hole
Years Active: 1989 to 2002, 2009 to 2012
Founded in its core by frontwoman and songwriter Courtney Love and guitarist Eric Erlandson in 1989, few acts from this period have enjoyed such enduring longevity. Initially inspired by no-wave and noise rock, they eventually melded these influences with a notorious fondness for Fleetwood Mac. This iconic act managed to distill their twin inspirations within the LA Punk scene, riding the alternative wave in their early works.
Pretty on the Inside cemented Love's persona as a pure ragged rock n' roll figure, an element that would entice audiences with an abrasive sound and a roaring vocal delivery that navigated subjects that would rarely – if ever– air in rock lyricism. With tunes like Violet and the brash fury of Teenage Whore, Love would shine a light on third-way feminism the way no other performer had done at the time, pushing her profile, thus that of Hole, to transcend their scene.
Live Through This, perhaps the most impactful studio work of the band, saw them evolve into a more refined sound, polishing the rougher corners but sharpening a razor to the frontal delivery of the tunes. Despite having Love's turmoil as a focal point in the underlying theme of the tunes, this album is the work of a band doubling down and elevating their level to a degree that became iconic, to say the least.
The success of this album was marred by tragedy in 94'. Nevertheless, its palpable influence in today's punk scene has been made more than clear with perhaps no better example than Olivia Rodrigo's overt attitude towards her influences in her debut Sour. Unsurprisingly, Live Through This has earned a place on several lists of the greatest albums of all time, including Rolling Stone, NME, and Spin Magazine.
What's more, Hole became a vehicle for female angst to be expressed in quiet, loud dynamics, mainly because of her vulnerable attitude towards tragic subjects, and that is what is often overlooked.
18. Hot Wax
Years Active: 2019 to Present
Ripping up the template while deconstructing the modern punk/grunge scene through their raw sound. Hot Wax is a young phenomenon that has been dubbed the next great guitar-driven band by music critics and fans alike. With barely a year with their foot in the scene, Tallulah Sim-Savage, Lola Sam, and Alfie Sayers have been extensively touring across the old continent and America, captivating a growing fanbase with their eclectic live shows.
Soon after dropping a handful of self-released singles, Hot Wax quickly garnered the attention of independent labels Marathon Artists and Transgressive Records. Being massively propelled in exposure as an addition to their relentless local touring in English clubs and pubs, subsequent releases of tracks like Treassure as a flagship single for their EP A Thousand Times propelled the Hastings-founded punk rockers into a must-see act on the 2023 European festival summer circuit. Presentations at Mad Cool, Great Escape Festival, All Points East, and most importantly, Reading and Leeds would further cement the notion that Hot Wax in no time will be a force to reckon within the independent music scene.
The Riot Grrrl-infused tinctures of Not Yours (Barbie) and the ruthless bravado of Drop may serve as an introductory serenade to this novelty act. Nevertheless, their exhausting schedule promises that Hot Wax's agenda will be something hard to ignore, as they've been joining major acts of the likes of Royal Blood and The Strokes as an opening act.
19. The Regrettes
Years Active: 2016 to Present
America's beloved power-pop punk group, The Regrettes, initially stunned audiences with their blend of Riot Grrrl and garage pop aesthetic. Add their signature '60s doo-woop, and you get one of the most memorable sounds from the latter half of the 2010s. Though for some purists, their sound exploration has seen them depart from their roots, the release of their debut single, A Living Human Girl, back in 2016 saw a new cue that has followed in independent female artists. What's more, the declaring title of their first installment, Feel Your Feelings Fool!, their follow-up How Do You Love? And 2022's Further Joy invites a transgressive punk filter to their indie-surf flair.
Brash, unapologetic, and ever-evolving, The Regrettes pays homage to their influences – Bikini Kill, L7, 7 Year Bitch through their captivating lyricism courtesy of Lydia Night, who has become a prominent figure in the independent scene, drawing comparison and many to consider her a modern day Kathleen Hannah.
The Regrettes' escalating popularity can be traced back to their first self-released Ep Hey, which gained the attention of Warner Bros representatives, leading to their eventual signing and their touring as a supporting act for Sleigh Bells and Kate Nash. Three studio albums later, they have become largely referential for a new wave of artists.
20. The Distillers
Years Active: 1998 to 2006, 2019 to Present
Fearlessly led by Broadie Dalle, The Distillers emerged from the remains of the hardcore and street punk scene of Los Angeles, California. The band was formed upon Dalle meeting bassist Kim Chi, who immediately hit it off after discussing their love for the genre. In no time, the two recruited Matt Young and Rose Mazzolla and would immediately start working on material for their debut in the year 2000.
Initially drawing comparison to Hole due to her ragged, unapologetic delivery, Dalle and her Distillers marked the evolution of the alternative scene with a sharper, fiercer edge that kept her one of the most notorious female leads in the height of punk rock during the early 00's.
Though the group disbanded in 2006, it would take 13 years for them to reunite, with Broody as the sole continuous member of the band. With her sharp edge and cunning performances at the forefront, they were blasting worldwide stages with extensive touring and appearances at the Reading and Leeds Festival in 2019 and Rock am Ring in 2022, further cementing themselves as one of the most cherished legacy punk acts out there.
21. Pussy Riot
Years Active: 2011 to Present
Rooted in an ideal of protest, Pussy Riot is a punk rock band composed of 11 female members that made their mark with provoking guerilla performances in public spaces, most famously in Moscow's Cathedral of Christ the Savior. The band initially garnered wide recognition through their defying posture against Vladimir Putin, a bold proposition instilled in the project that actually drew heat on the members of the band and eventually made them enemies of the state under claims of "hooliganism."
Though Pussy Riot often features rotating members that tend to remain in anonymity for safety reasons, its most notorious and permanent members, Nadezhda Tolokonnikova and Maria Alyokhina, have been overt about their identity and ideals in their critical position in the country. They've made their occupation a full-time exercise of their rights through their music and poignant lyricism; it hardly gets any more punk rock than that!
Their hardcore sound has evolved with the years to pop melodies and hooks, and even a palpable EDM infusion in their tracks to make their message more globally appealing. Pussy Riot is a testament to the fact that punk music stretches further than simply distorted guitars and an attitude. It's about fundamental conviction. Tracks like Police State and I Can't Breathe, which were released following their scandalous performance in Moscow's Cathedral, garnered the band global support from Western figures of the likes of Madonna and Chloë Sevigny, the latter who even joined their cause.
22. Slant 6
Years Active: 1992 to 1995
Hailing from Washington DC, Slant 6 emerged from the 90s third punk wave in 1992. Composed as an almost ready-made unit, with Myra Power from Lucky 13, her friend Marge Marshall, and Autoclave's Christina Billote, these girls got together one summer and decided to record an EP for the record label Dischord, finding massive success in their local circuit with their debut Soda Pop Rip Off.
Though their impact may have diluted as the years went by, Slant 6 is a quintessential item of the nineties; at first sight, it is a rudimentary approach to punk music, but in close depth, a hauntingly agile adaptation of traditional structures that reclaims a certain authenticity in its clear-cut formulas.
Their first studio installment was produced by Washington's own Dan Zientara and Fugazi's Ian MacKaye, and it became a standard, if arguably not the most notorious Riot Girrrl album of the decade. Of course, time would be kinder to peers such as Bikini Kill or Hole's resilient longevity. Nevertheless, 2020 would see this album resurface when Rolling Stone's Rob Sheffield included Soda Pop Rip Off in his nineties essential LPs.
23. The Breeders
Years Active: 1989 to 1995, 1996 to 2003, 2008 to Present
Born from the drunken idea of making a hit dance tune between Kim Deal and Tanya Donelly, The Breeders initially served as an outlet for the "underutilized" bassist of Pixies and the always second in line of Throwing Muses. A pot blend of mutilated pop and angular jangle much to the core bands that these two legendary ladies came from, The Breeders has become a breathing ethos that took the world by storm since their seminal single Cannonball debuted and infected radio airwaves with its catchy, transgressive flair.
But before everything that came after their breakthrough, Deal suffered almost three years to get her band started. The plight included Donelly parting ways and a struggle to keep her main project afloat due to her conflicting duties with Pixies. Nevertheless, Kim managed to get her identical twin sister Kelley and found a way to exercise her songwriting muscle for their second studio album, this time with complete creative control.
The success of Last Splash would mark the beginning of the rise of The Breeders as the seminal act they are regarded as nowadays, thanks in part to the figures that supported the project in its making, such as Kim Gordon, Kurt Cobain, and eventual collaborator, Dinosaur Jr's J Mascis. Immortalized by Cannonball as an anthem in its own right, the record would become certified platinum, outselling in every way Deal's previous project.
Naturally, shifting sides was never really Kim's intention. After all, she was mainly on the look for a creative output of her own, and once she got it, she created one of the most influential phenomena that can be traced back to its time. Besides its obvious impact on Cobain, who would boast in fanboying Pod and the Last Splash, their bittersweet bubblegum could be heard in everything as it permeated in Hole, Veruca Salt, and Sleater Kinney. Even The Prodigy would sample in Morse code the intro guitar to S.O.S on their 1996 colossal dance-punk single, Firestarter. More contemporary acts of the likes of Courtney Barnett and Alvvay's lead singer and guitarist Molly Rankin often point out to Kim Deal and her Breeders as a tremendous influence.
24. Dream Wife
Years Active: 2016 to Present
Challenging and adept at merging the tragedy of underhand codes with playful silliness, Dream Wife is one of the more contemporary acts to pick up a call to arms in the British punk scene. Composed of Rakel Mjöll on lead vocals, Alice Go on guitar, and Bella Podpadec on bass, the band was formed in 2016 in the resort town of Brighton, England. In no time, they shocked audiences with their exhilarating live performances and visceral, growling quirks.
An unexpectant audience at Lollapalooza was electrified in 2018 when Let's Make Out eviscerated the opening of the show, with a shrieking Mjöll assaulting the mic and cementing the band's status as a must-watch act of the summer. As part of the band's successful debut, there was mass press coverage, with music critics agreeing with fans on the fact that this was a melodic punk band that wears its heart on their sleeves, showing promise in the fact that they're marking the return of the genre as a dominating platform and vehicle to explore more sensitive and important subjects on a wider stage.
A follow-up to their eponymous debut, So When You Gonna… further accentuated their unapologetic nature, drawing comparison to their forebears, the Yeah Yeah Yeahs, mainly because of their more delicate yet snarky shift in terms of sound. For the band, perhaps a playful tone was a more fitting bill for the raw message they conveyed.
Now in 2023, Dream Wife has garnered a massive following in their relatively short time, hitting the big stages. With a new record, Social Lubrication, hitting radio airwaves, with its flagship single, Leech, denouncing the gatekeepers of the music industry, this band is inarguably one of the most messaged pack acts of its generation.
25. Horsegirl
Years Active: 2019 to Present
Perhaps better acquainted with the shaping experimental crossover of post-punk and the all-out intensity of its punk core, Horsegirl broke into the modern alternative scene in 2019 with a much to their leverage ambiguous approach to their genre. Through their initial DIY ethic, this power trio is a contemporary defiance to the boundaries set by music genres, at times brash yet dancing along in their choruses, but always riddled with a contagious air of melancholy.
Horsegirl is rooted in the creative partnership and friendship of Penelope Lowenstein and Nora Cheng, later joined by Gigi Rice. Within a few months of writing songs in their bedrooms, they'd self record and put out their first single, Forecast. Supported by a fair amount of local gigs in their hometown of Chicago and the subsequent launch of their debut EP Horsegirl: Ballroom Dance Scene et cetera, it took no time for independent label Sonic Cathedral Recordings to sign the girls. Traction would increase massively, and magazine coverage followed, as Paste would include them in their 25 best EPs of the year list.
Now signed to Matador Records, Horsegirl has one of the most enticing profiles out there as an up-and-coming act. With an indie darling status as established by their presence in several festivals and even Rolling Stone's "must listen to" recommendations. They've been prominent in their local circuits by hitting the SummerStage festivals and have managed to even skip school to go play for thousands of attendees in Coachella.
26. Priests
Years Active: 2012 to Present
Devoted to DIY techniques and ethics, Washington, D.C.'s Priests have been determined to stay true to their forebears and inspirational templates. Running their own label, Sister Polygon Records, this is a band that keeps the Riot Grrrl spirit alive well and ultimately evolved utilizing a traditional format to provide a somewhat refined version and overall more virtuosic approach to punk music, proving that this movement is truly a breathing ethos.
Formed in 2012, it's hard to talk about Priests without acknowledging its razor-sharp lyricism as an immediate standout of the group. Blending a sneering rock n' roll with surf tinctures, it all comes down to a mix that focuses on pop music's indulgent repetition. This is particularly notable in their debut studio album, Bodies and Control and Money and Power, with almost rabid tracks like And Breeding that showcase a disciple bravado to Bikini Kill's New Radio but remain original in its surprisingly radio-friendly sound.
Eleven years now into the scene, this is a band that has matured from its more rudimentary beginnings. With time, Priests music has become increasingly entangled in its bridges between the hooks of elaborate pop music and the realm of harsher, brutal punk rock. With sheer honesty and defiance as a defining trait, Priests is no doubt one of the modern acts to look out for.
27. X-Ray Spex
Years Active: 1976 to 1979, 1991, 2008
X-Ray Spex might as well be attributed with reinventing punk music by approaching its melting pot version of the genre, with more than pop tinctures which extended to reggae and electronic flourishes that set them apart immediately from the guitar dominant sub-scene. Fronted by the brace-wearing eclectic Poly Styrene, her eclectic nature and pop art antics even started dubiously based rumors of some secret training as an opera singer.
Born in London in 1976 after Styrene's short-lived solo venture – then going by the name of Marion Elliot- after she was mesmerized by the performance of the ever-provocative Sex Pistols. A young Poly would understand that she wanted to infuse her music with raw, with little to no pretension of becoming virtuosic. A platform to tackle what she perceived as "all social bondages," Styrene proposed a more positive outlook on punk music than most of her forebears and peers, a direct contrast to the nihilistic boredom and longing anarchy that had defined British punk in the 70's.
Queuing in the band's debut single, Oh Bondage Up Yours!, X Ray Spex featured a truly distinctive sound. While they would most certainly chug down power chords in simplistic progressions, a captivating duel between Lora Logic's atonal saxophone and Styrene's pivotal, at times quirky vocals would take the forefront of every tune.
Moreover, it is worth noting the fact that X-Ray Specs' influence would crawl slowly but surely. It took two years of relentless live shows and rudimentary composition to recording their debut and only album, Germfree Adolescents, a quintessential punk album that many argue to be the British response to Parallel Line's.  This time, with more polished and established band dynamics, X- Ray Specs was a band that contrasted and offered a true and deeper alternative to the all-fast-all-the-time signatures of the genre. With Styrene's lungs and throat, reaching for places no female artist had before, propelled an uncanny value and genre blend that made it become an almost immediate legacy act.
Wrap Up
That does it for this list. Let us know your favorite female-fronted punk bands in the comments below.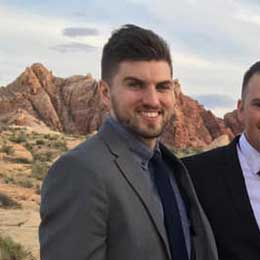 My name is Chris and I've had a passion for music and guitars for as long as I can remember. I started this website with some of my friends who are musicians, music teachers, gear heads, and music enthusiasts so we could provide high-quality guitar and music-related content.
I've been playing guitar since I was 13 years old and am an avid collector. Amps, pedals, guitars, bass, drums, microphones, studio, and recording gear, I love it all.
I was born and raised in Western Pennsylvania. My background is in Electrical Engineering, earning a Bachelor's degree from Youngstown State University. With my engineering experience, I've developed as a designer of guitar amplifiers and effects. A true passion of mine, I've designed, built, and repaired a wide range of guitar amps and electronics. Here at the Guitar Lobby, our aim is to share our passion for Music and gear with the rest of the music community.