Music festivals have made their way into the 21st-century culture in a spirit of celebration that has become quintessential for just about any music enthusiast.
From the pulsating rhythms of Coachella's desert expanse to the eclectic magnetism that you can find in the streets of Montreal during its annual Jazz festival, these monumental congregations go beyond music.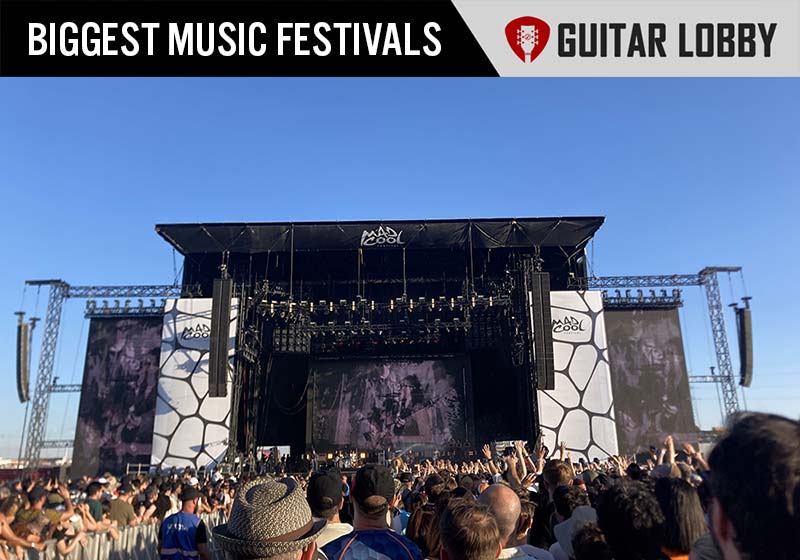 In this article, we discuss the biggest music festivals from around the world that have celebrated music as a global festivity in larger-than-life dimensions. You can also learn about the biggest concerts of all time here if you're interested.
1. Donauinselfest
| | |
| --- | --- |
| City | Vienna, Austria |
| Founded | 1984 |
| Recorded Attendance | 3,000,000 |
| Venue | Donauinsel |
This is not necessarily one of the most popular worldwide, but it definitely is one of the largest and most crowded celebrations in the world, so if we are thinking about the "biggest," look no further than Donauinselfest.
This open-air festival is an annual event that takes place in Donauinsel in Vienna, Austria, and it hosts around 3 million attendees from all over the world. Making it by far the busiest music festival on this list. The area in which the event takes place is 4.5 km long, with 11 stages and 16 areas with tents.
This colossal festival was inaugurated in 1984 after politician Harry Kopietz was amazed at the success of a one-day party to promote Donauinsel in an event that was supposed to have 15,000 but ended up with 160,000 people.
In the years that followed, it became an annual event that got bigger and bigger, by not only having the music at the forefront of the event but by becoming a symbolic celebration of the country. Local artists are usually picked after having previously won the Rock the Island Contest, held throughout the year leading to the festival itself.
In terms of the genres, it comprises rock, pop, rap, EDM, folk, and more, so there is a ton of variety. However, this is an event that serves as a platform for lesser-known and often local acts, so expect the line-up to be filled with artists who are ready to give a surprise but aren't usually part of the mainstream scene.
2. Montreal International Jazz Festival
| | |
| --- | --- |
| City | Montreal, Canada |
| Founded | 1980 |
| Recorded Attendance | 2,000,000 |
| Venue | Montreal |
The world's largest Jazz festival, closing the streets of Montreal for ten days in an annual tradition that hosts 3,000 artists over its duration. In 2004, it earned a Guinness World Record that recognized its grandeur for its massive attendance of 1,913,868 people for its 25th-anniversary edition, most of them accounting for the 370 free shows hosted by the municipality.
In more recent years, this international celebration has only continued to expand itself, keeping a consistent attendance from noon to midnight of 200,000 attendees per day in all of its capacity. This is to note that the Montreal International Jazz Fest holds a large variety of venues that range from small local jazz clubs, cordoned-off streets, and taverns to more notorious landmarks such as the Place des Arts – the largest performance structure in Canada.
Though its first blueprint version was held in 1979, founded by Alain Simard and celebrated as simply "The Montreal Jazz Festival," it was officially founded in 1980 after a foiled attempt to produce an international event of the magnitude that it intended. This first successful edition saw a humble attendance of 12,000 festival goers that saw headliners Vic Voegl, Ray Charles, and Gary Burton. Needless to say, the festival would become an institution in all its prestige. From the late 80s, it became a beloved occurrence that would incentivize local artists to postulate their names to be featured in the editions that followed.
It wasn't until the year 2000 that Montreal would start enjoying the participation of artists from over 30 different nations. This feature has been preserved and expanded as the years have flown, which makes it one of the must-see festivals on your bucket list!
3. Pol'and'Rock
| | |
| --- | --- |
| City | Czaplinek, Poland |
| Founded | 1993 |
| Recorded Attendance | 1,000,000 |
| Venue | Czaplinek |
Mud baths in the open air, along with costume and equality parades, this was a festival village with massive food stalls, and free to attend. Pol'and'Rock was founded and remains an homage to the spirit and ideals of the original Woodstock festival that has remained overt regarding its mission of giving back. Oriented to a non-commercial mindset, Pol'and'Rock has grown immensely from its humble roots, now hosting 750,000 people at its full capacity.
Founded Przystanek Woodstock (Woodstock Station) and later changed to Pol'and'Rock. The change was forced due to licensing issues and disputes with Michael Lang. Nevertheless, it embodies a spirit of peaceful rebellion that organizers still claim to uphold.
Though generally, this Polish festivity shines a spotlight on lesser-known artists, one of its many traditions includes a single major name to top the bill alongside other rising acts. Its 2023 edition saw Bullet for My Valentine joining the legacy of the likes of You Me at Six, Judas Priest, Ziggy Marley, and Crystal Fighters as special guest artists in one of Europe's powerhouse festivals.
Furthermore, Pol'and'Rock features recreational activities such as a morning yoga lesson, a running circuit known as the ODLOT Run, and quite a few contests, all in order to provide for the many eco-conscious causes that make this festival a possibility.
A place full of tradition and a mystical portal for those who are veterans of it, Pol'and'Rock has made its mark among the top 10 European festivals thanks to its massive scale founded in ideals. What's more is that its 2019 edition saw a world record attendance of 1,000,000 people moshing to Prophets of Rage.
4. Rock In Rio
| | |
| --- | --- |
| City | Rio de Janeiro, Brazil |
| Founded | 1985 |
| Recorded Attendance | 700,000 |
| Venue | City of Rock, Barra da Tijuca |
Brazil has been hosting the biggest rock bands in the world since 1985 in Rio de Janeiro, and for many years, Roberto Medina has ensured that this festival kept going even in venues across the world, such as Lisbon since 2004, Madrid in 2008, 2010, and 2012, and Las Vegas in 2015.
Rock in Rio's first event was a gigantic one that certainly paved the way for the rest of them, opening with a little more than a million people attending the event. This is not too common for a first-time, but given the lineup that they had, there was no other possible outcome for them.
The lineup included Queen, Rod Stewart, and Yes, so it's safe to say that it was a legendary show that led the event toward becoming one of the most popular and anticipated ones in the world.
The festival also features the City of Rock as its venue, which was created specifically for the event at Barra da Tijuca. It covers around 250,000 m², which is more than enough for the swarming crowds that gather at every celebration.
You won't be running short on hamburgers, with McDonald's proudly holding a Guinness World record for selling 58,000 burgers in a day until 2011, when Bob's sold 79,000 burgers in a day.
5. Tomorrowland
| | |
| --- | --- |
| City | Antwerpen, Belgium |
| Founded | 2005 |
| Recorded Attendance | 600,000 |
| Venue | De Schorre Park |
EDM has a lot of great qualities, from being one of the most modern takes on world music to allowing you to become the beating heart of a party. However, one of the greatest gifts it has given us is festivals like Tomorrowland. A name that is synonymous with the genre itself, it's not a surprise that since its 2005 debut, founded by Manu and Michiel Beers, it became one of the biggest and most popular music festivals that swept all across the world.
This amazing festival is held at De Schorre Park in Boom, Belgium. It's a big, beautiful park that stays as green as it can be, breathing in a sense of closeness with nature that works wonderfully with this party-infused festival.
Other than that, it's worth noting that this is a multistaged festival that has fluctuated in number, forcing attendees to pick between some of the biggest names in the scene. Nevertheless, if there's been a constant in this event, it has to be its always-growing mainstage, which is now 270 m wide and 53 m high.
Headliners of the likes of Martin Garrix, Amelie Lens, Above & Beyond, SVDDEN DEATH, Armin van Buuren, Dimitri Vegas & Like Mike, Nina Kraviz, and oh so many more have blessed the top of the bill, fusing an eclectic energy that fuels the party as a compliment to the majestic Belgian scenery. So, if you are a techno enthusiast, this is a must, but you probably already know that by watching the incredible sets posted on YouTube every year.
Tomorrowland is one of the big ones, and it has made its way as one of the quintessential cultural events of the 21st century, with around 600,000 attendees, to be more accurate.
6. Glastonbury Festival
| | |
| --- | --- |
| City | Pilton, Somerset, England |
| Founded | 1970 |
| Recorded Attendance | 210,000 |
| Venue | Pilton Countryside |
Covering 900 acres that extend across the fields of Pilton Somerset, Glastonbury is the largest festival held in the UK and one of the most anticipated events in alternative music. For over three decades, it has attracted a staggering 200,000 attendees over the span of five electrifying days – a monumental gathering no true music aficionado should miss.
Glastonbury is more than just a musical spectacle; it's a cultural celebration with a philanthropic heart. Every edition from the last two decades has managed to raise millions of pounds for dozens of charitable organizations, a practice that has stayed true to its more humble beginnings as envisioned by founder Michael Evis.
Founded in 1970 as Worthy Farm's Pop, Blues & Folk Festival, its first-ever headliner was none other but Led Zeppelin, playing in the open air to a reduced crowd of 1,500 people – reduced in comparison to the massive flood of people that attend every edition nowadays. Glasto struggled to stay afloat following its inaugural years, struggling for funding and whatnot. However, 1995 was the pivotal year for the festival as a cultural phenomenon, attracting a diverse audience that swelled the attendee expectancy of 300,000 due to fence jumpers and a truly mythical headliner list with the likes of Jeff Buckley, Oasis, The Cure, and Pj Harvey to mention some of them. The success of this year was achieved in part thanks to the wide media coverage it received, with national television covering the atmosphere and inspiring future attendance.
Nowadays, Glastonbury is by far one of the most anticipated events in contemporary culture, with the pyramid stage being the place where legends go to consecrate, and newcomers shine, fostering a sense of unity among attendees.
If you don't believe us, just take a look at the massive performance where Elton John played his final show in front of over 100,000 roaring fans.
7. New Orleans Jazz & Heritage Festival
| | |
| --- | --- |
| City | New Orleans, Louisiana, USA |
| Founded | 1970 |
| Recorded Attendance | 650,000 |
| Venue | Fair Grounds Race Course |
Often referred to as simply the "Jazz Fest," this legendary event transcends music with its celebration of the rich cultural heritage of New Orleans and Louisiana. It showcases a diverse range of music genres, including jazz, blues, gospel, Cajun, zydeco, rock, and R&B since its inception in 1970.
Now traditionally held at the Fair Grounds Race Course, a historic racing track located in the Gentilly neighborhood of New Orleans. The venue provides a spacious and vibrant setting for the festival's multiple stages that have now become iconic and consecrated by the likes of BB King, Bob Dylan, Foo Fighters, Bruce Springsteen, and Aretha Franklin, among other legends. Furthermore, this is a festival that calls upon artists from every corner of the world, expanding the genres hosted at the event and celebrating a truly diverse musical landscape.
Part of the amazing atmosphere at this festival is owed to the massive interludes that have become traditional during the event. It features processions in the best style that New Orleans has to offer, with jam bands walking across the streets while local artisans decorate the fair.
The enchanting nature of the New Orleans Jazz Festival remains unparalleled, as a beloved event that occurs once a year and brings its local community together. A colorful, music-loving city that makes the best of its history in such a moving fashion is certainly something to behold.
8. Outside Lands Music and Arts Festival
| | |
| --- | --- |
| City | San Francisco, California, USA |
| Founded | 2008 |
| Recorded Attendance | 220,000 |
| Venue | Golden Gate Park, San Francisco |
Dubbed "Gastro Magic," the place where wine, food, and festival culture come together with a superb lineup to top it all, The Outside Lands festival is known for its vast music range of genres, including rock, pop, hip-hop, electronic, and a strong emphasis on independent artists breaking into the scene.
Its latest names on the top of the bill include Alex G, Alvvays, Beabadoobe, Kendrick Lamar, Lana del Rey, and Maggie Rogers. Providing the main stages with a magnificent atmosphere during the magic hour. As this is a celebration of gastronomy alike, the presence of local restaurants and other food vendors, particularly independent food trucks, are among the defying quirks of this festival.
Its inaugural edition took place in 2008, where it received more than 50,000 visitors and only 60 musical acts in its capacities. Furthermore, it is worth noting this is one of the fastest-expanding festivals that has quickly become one of the USA's most anticipated events, especially considering that in 2022, it broke its own record, hosting more than 220,000 attendees despite its reduced grounds in Golden Gate Park, San Francisco. Outside Lands Music and Arts Festival was, without a doubt, one of the biggest music festivals in the US.
9. Governor's Ball
| | |
| --- | --- |
| City | New York City, USA |
| Founded | 2011 |
| Recorded Attendance | 150,000 |
| Venue | Flushing Meadows Corona Park |
Known for its "rain or shine" policy, which means the show must go on regardless of the weather. Attendees should be prepared for all types of weather conditions when attending the Governor's Ball in New York City. Held in the Flushing Meadows Corona Park, NYC, this three-day event packs its venue with the most enticing names the industry has to offer and a consistently growing audience that usually tops its capacity of 150,000 visitors.
Founded in 2011, the Governors Ball started out as a one-day event that amassed the largest attendance that Governor's Island had ever seen, with Empire of the Sun, Pretty Lights, and Girl Talk headlining the evening. It surpassed a critical expectation that had been preceded by multiple foiled attempts to carry out a large congregation in the isle, and it subsequently bolstered its quorum for the following years. It was this criticism that bolstered co-founders Jordan Wolovitz and Tom Russel into this family operation, an initiative to infuse NYC with a representative festival at a time when the music industry was seeing the rise of these events as a much necessary cultural endeavor.
Ten years in the game and counting, what started as a humble proposition for NYC has turned into a legacy act that saw the likes of Mac Miller perform at their very first festival. Nowadays, the Governor's Ball has expanded into a three-day celebration of music and is one of the most renowned stages in America for artists looking to feel the electric nature of the Big Apple.
Recent headliners include Pink Pantheress, Halsey, J Balvin, Post Malone, and Pusha T, just to name a few. With an inclusive nature that bridges hip-hop, rock, electronica, pop, and folk, it's only safe to say that this is an event with a unique spirit.
10. Mad Cool Festival
| | |
| --- | --- |
| City | Madrid, Spain |
| Founded | 2016 |
| Recorded Attendance | 200,000 |
| Venue | Madrid Outskirts |
The weekend when the music takes over Madrid, the Mad Cool festival is a young festival that has surpassed expectations and has enjoyed massive growth internationally in just its first few editions. Mainly focused on its heavy-hitting, well-rounded lineup, organizers take the opportunity to highlight local artists and civic conscience within the festival grounds. Needless to say, this has become one of Spain's premier celebrations and a notable piece on the European festival circuit.
Boasting the warmest summer vibes, Mad Cool is known for hosting the biggest names in the industry, with the likes of Wolf Alice, Muse, Pearl Jam, The 1975, Robbie Williams, The Black Keys, and Machine Gun Kelly. An obvious reason for its progressive and uninterrupted growth is that 2023's edition has marked its biggest attendance of an estimated 200,000 attendees in total across its three days.
The Mad Cool experience is one of sheer congregation, all about the music and a few relaxation areas that offer small art installations made by local plastic artists. On the other hand, it has a refreshment area that offers a checkpoint for those needing to cool down and rest. Finally, considering this is a festival held on the outskirts of the city, its venue has been ever-changing, meaning it's entirely accessible via public transportation.
If you ever find yourself wondering what your ideal summer destination should be, Madrid is often the answer, and what better way to top the visit than with one of the fastest-expanding music festivals in Europe?
11. Green Man Festival
| | |
| --- | --- |
| City | Crickhowell, Wales |
| Founded | 2003 |
| Recorded Attendance | 175,000 |
| Venue | Crickhowell Countryside |
Widely renowned for its independent spirit, the young yet boasting Green Man Fest has been a congregation to shout for since its foundation in 2003. An event where true independent music, science, and arts come together, this festival has received multiple accolades for its positive impact in the United Kingdom, including the Grass Roots Festival in 2012 and Best Live Festival in 2015 by the Live Music Business Awards.
Founded in 2003, Green Man was initially a 300-person one-day event at Craig-y-Nos Castle in Wales before even having the means to host live music up until two years later. However, it grew in time, and it eventually became a rite of passage for artists who were crossing the threshold into the international scene. Past headliners can be found in Neutral Milk Hotel, The War On Drugs, St. Vincent, Devendra Banhart, and Michael Kiwanuka.
On the other hand, it's hard to shine the spotlight on this festival without highlighting its traditions that not only celebrate Welsh culture but also focus on upholding sustainability above anything else. In fact, the event is powered in its entirety by renewable energy, and every edition raises a minimum bar of £250,000 in donations for charities such as My Discombobulated Brain and Cardiff's Salvation Army.
While Green Man may lack the size and capacity of landmarks such as Worthy Farm or the amplitude of Coachella Valley, Green Man has been consistently growing, now hosting 25,000 attendees per day in a week-long event.
12. Isle of Wight Festival
| | |
| --- | --- |
| City | Newport, Isle of Wight, England |
| Founded | 1968 |
| Recorded Attendance | 700,000 |
| Venue | Seaclose Park |
A legendary event that pioneered festival fever and should be a must on your list. Originally held in 1968, reaching its most monumental edition in 1970, The Isle of Wight Newport Festival was rekindled in 2002, with the likes of iconic names that came to bolster its spirit, such as David Bowie, The Rolling Stones, and even the Foo Fighters.
Held at Seaclose Park, a recreation ground on the outskirts of Newport, Isle of Wight, has aimed to capture the original spirit that made its legend in a slow but certain fashion. Despite its reduced number of visitors, the Isle of Wight has earned UK Festival awards, such as Festival of the Year in 2007 and Headliner Performance of the Year with Fleetwood Mac in 2015.
Notably, the festival experienced a transformative phase in 2017 when a surge in attendance started surpassing the 60,000 mark. Beyond being a platform for musical magic, the Isle of Wight Festival holds historical significance, having hosted Bowie's final show in the UK before he ceased touring altogether.
Standing the test of time, the Isle of Wight Festival has evolved into a rite of passage for many festival veterans. It hosts a vibrant spectrum of genres that span from pop to folk, electronica, and rock. The experience itself extends beyond the main stage, with comedy shows by the campsites, as well as invigorating warm-up shows from smaller artists and cover bands in the festival village, just about anything necessary to make for a perfectly well-rounded event for everyone.
13. Sziget Festival
| | |
| --- | --- |
| City | Óbuda Island, Budapest |
| Founded | 1993 |
| Recorded Attendance | 530,000 |
| Venue | Óbuda Island |
Hosted on the scenic Óbuda Island, also known as the Island of Freedom, in the Danube River of Budapest, this festival is typically held for a week when music is the protagonist and mood setter for the already astonishing sights you can find in this Hungarian Oasis. It offers one of the widest ranges of musical artists, from pop to hip-hop, metal, synth wave, and rock, in an average of 1,000 performances throughout the duration of the festival.
Similar to many other European festivals, Sziget has had sustainability since its foundation, with its main stage, the A38, being mounted on a converted, discarded ship vessel in addition to its latent emphasis on creating a diverse and eco-conscious environment for its attendees.
Conveniently dubbed as Eurowoodstock after its first edition in 1993 due to its attendance of 250,000 guests, years saw this celebration grow consistently in attendance to the point where it's often compared to Burning Man in the USA with a steady number of 550,000 visitors since 2019. On that same note, this increasing flood of people has propelled the festival to offer a plethora of side activities to complement the music; among the most famous side activities, there's a makeshift theater that offers plays and screenings of independent films. These are all near the "chill-out" tent, which has evolved over the years, now offering internet connectivity as well as a sports recreational center.
Needless to say, this is one of the major festivals Europe has to offer; with its six main stages, Sziget is often riddled with tough choices between magnificent artists. And 2023's lineup included Billie Eilish, Hannah Grae, Florence & the Machine, Arlo Parks, and Caroline Polachek in a festival in which headliners are just too many to handle.
14. Austin City Limits
| | |
| --- | --- |
| City | Austin, Texas, USA |
| Founded | 2002 |
| Recorded Attendance | 450,000 |
| Venue | Zilker Park |
Music festivals are much more than just going to the festival itself. A lot of what makes a festival big is its coverage, which nowadays has a lot to do with social media. Austin City Limits takes pride in being the longest-running music program in TV history, which, of course, is also backed by an amazing Line-up that never disappoints.
Before being a fully-fledged festival, Austin City Limits was created by Bill Arhos, Bruce Scafe, and Paul Bosner in 1974 to be broadcast on PBS, and It's stayed that way for 43 years now. Now a cultural icon, it has become one of the biggest music events in US music history, having won several awards, including the National Medal of Arts.
While it started small and with a focus on television, it's now an open festival to the audience, which began as a one-weekend event in 2002 and evolved into a big two-weekend event. It's held at, you guessed it, Austin, Texas, offering nine stages in Zilker Park, with around 450,000 people attending every year in October.
Of course, it also has everything you need to keep your energy high with the food court, which takes inspiration from the Jazz Fest held in New Orleans, offering worldwide cousins. There's also a good variety of art vendors in the center of the park, infusing a more celebratory ambiance to the event.
15. Primavera Sound
| | |
| --- | --- |
| City | Barcelona, Spain |
| Founded | 2001 |
| Recorded Attendance | 450,000 |
| Venue | Parc del Forum, Poble Espanyol |
Now more commonly known as Primavera, this is a music festival that was initially a platform for indie rock bands and Spanish music since its first iteration held at Parc del Forum in Barcelona, Spain, in 2001. However, it has changed in many aspects, including the fact that it's now held at Poble Espanyol due to the need for a bigger space that can host more flexible, ambitious ideas and a bigger audience.
This festival managed to go full-on international, leading to several renditions of it in places like Porto, Santiago de Chile, Bogotá, Los Angeles, and more.
Primavera has been hosting incredible bands as headliners in its main and original version in Barcelona, such as Sonic Youth, Nick Cave and the Bad Seeds, Blur, Rosalia, The Strokes, New Order, and many more.
Now a must for enthusiasts and travelers alike, this is a success story that went from 8,000 people in its first edition to seeing more than 450,000 attendees on its grounds in 2022.
16. Hellfest Open Air
| | |
| --- | --- |
| City | Clisson, France |
| Founded | 2006 |
| Recorded Attendance | 420,000 |
| Venue | Clisson, Loire-Atlantique |
Known for its vibrant, intense atmosphere, Hellfest is one of the most notorious festivals in Europe, known for providing a platform that celebrates multiple subgenres of Metal and Hard rock alike. It's one of the most committed festivals to its metal aesthetic, with stunning visuals meticulously designed and installed to provide the most immersive experience that's possible.
Founded in 2006 by Ben Barbaud and Yoann Le Nevé, and held in Clisson, France, this is the first large-scale metal festival in the country and one of the largest congregations in Europe for a sole genre. From its first successful edition, it has enjoyed a massive escalation in capacity and attendance throughout its seven-day duration and often topped the capacity of 420,000 visitors.
Throughout the years, Hellfest has become a beloved celebration that offers a truly diverse lineup between both established acts and rising names in a true metal melting pot. Some of the biggest names that have topped the bill include Metallica, Slayer, Black Sabbath, Guns N' Roses, Judas Priest, Slipknot, and many more.
In the heart of Clisson, Hellfest stands as a mecca for metal enthusiasts, ever steadfast in its mission to celebrate and preserve the indomitable spirit of the genre despite the ever-changing musical landscape that dictates contemporary times with 350 shows that celebrate artistry and a palpable energy alike.
17. Coachella
| | |
| --- | --- |
| City | Los Angeles, CA, USA |
| Founded | 1999 |
| Recorded Attendance | 500,000 |
| Venue | Empire Polo Club |
Coachella is one of the most varied events when it comes to its shows, hosting anything from rock, pop, hip hop, EDM, and even other forms of art, including sculptures and more, all for people to enjoy at the Colorado Desert thanks to Paul Tollet and Rick Van Santen who co-founded the festival in 1999, organized by Goldenvoice.
This event is inherent to its success story, as the idea for it dates back to 1993. When the founders witnessed a Pearl Jam concert, they intended to boycott venues under the control of Ticketmaster because of high service charges being applied to tickets. After that, people realized that the Empire Polo Club was worthy of hosting big shows, which eventually led to Coachella being born at that very place, with its first event taking place only a few months after 1999 Woodstock.
Coachella struggled, with the first official event selling only around 40,000 of the expected 70,000 tickets. This led to the cancellation of the 2000s Coachella and came back the next year with more sponsors and promoters. 2001 went great as far as the show goes, but it still was a loss for the organizers. Fortunately, they didn't stop and offered Björk, Oasis, and the fresh Queens of the Stone Age on the bill.
The truth is that Coachella struggled as a festival, but it slowly took off, with each year offering a solid experience with great artists, new art installations, partnering with Global Inheritance for environmental sustainability, allowing people to camp, use showers, café, free Wi-Fi and more.
Coachella's inspiring story brings us to 2023, where they had over 500,000 attendees, 200 performances, and over $1.5 billion in revenue, making them a prime example of how to handle a music festival.
18. Rock Werchter
| | |
| --- | --- |
| City | Leuven, Belgium |
| Founded | 1974 |
| Recorded Attendance | 352,000 |
| Venue | Torhout, Werchter |
Rock Werchter strikes the perfect balance between attendees, with around 352,000 people going to the festival each year, and quality, but you don't need to take our word for it. The festival won the Arthur Award for best festival in the world several years ago, which puts this one among the best of the best.
The festival's humble beginnings came to be in 1974, so it's also one of the oldest festivals around, although it used to go by a different name, "Torhout-Werchter," but that was because it used to have two venues until the one at Torhout was dropped in 1999, and it became the festival we know and love today.
While there is a variety of genres, the main focus of this festival is Rock, so you can expect to see some of the biggest rock bands of the moment with some pop thrown in there and, of course, local Belgian artists.
This is one of the better-organized festivals in the world, and you only need to visit their official website to realize this, as they offer different ways to help people get to the festival and several places to stay, including anything from RVs and nearby hotels to help with accommodations during the 4-day event that finishes with a bang, with a beautiful fireworks show after midnight.
19. Roskilde Festival
| | |
| --- | --- |
| City | Roskilde, Denmark |
| Founded | 1971 |
| Recorded Attendance | Over 130,000 |
| Venue | Roskilde Countryside |
One of Europe's largest music festivals is Denmark's own version and response to America's Woodstock. Held 18 miles west of Copenhagen, the Roskilde Festival takes place in the Danish isle of Roskilde, where 100,000 attendees pack the countryside for a four-day festival that has cemented itself as one of the continent's most important fixtures to this day.
Its 51st edition in 2022 included headliners such as Post Malone, St.Vincent, Haim, Dua Lipa, and Tyler the Creator, garnering over 130,000 guests. This marked the record attendance for a festival that's been growing consistently ever since its first edition in 1971.
Founded by two high school students and promoter Carl Fischer. The youngsters were inspired by the free spirit of the youthful gatherings that marked Newport and Isle of Wight festivals. Realizing this was something yet to happen in the Nordic countries; they decided to take matters into their own hands, managing to gather 13,000 visitors to the then-founded Fantasy Festival. Due to lack of funding, they withdrew from the next edition but have managed to make an impact, so the non-profit Roskilde Foundation took over, and the rest is history.
In its heart, Roskilde remains a charitable event. Once the festival is over, approximately DKK 429 million are donated to their partners at Doctors Without Borders, World Wildlife, and Save the Children.
This event has made quite a name for itself through its many traditions and quirks. Perhaps the most memorable one is its annual "Naked Run," one male and one female by the fenced-in track. The winner is subsequently awarded with a free ticket to the next edition. This is in addition to the creative labs that the celebration includes, allowing young artists to sign up to present their proposals to be exposed in the festival, all the while some of the largest names in the industry serenade the days. Regardless of whether you're in for the run or not, this is an event that is all about giving back while enjoying a magnificent atmosphere. It's one of the biggest music festivals in the world and is still legendary.
20. Fuji Rock
| | |
| --- | --- |
| City | Naeba, Japan |
| Founded | 1997 |
| Recorded Attendance | 123,000 |
| Venue | Naeba Ski Resort |
Consistently boasting the biggest names in the industry in both rock and electronica, Fuji Rock made a name for itself as the biggest outdoor music event in Japan. With an absorbing atmosphere set at the foothill of Mt. Fuji at the Naeba Ski Resort, the experience itself entails becoming one with the venue. Secret gigs near hot springs only add to the excitement that includes long walks from the different White, Red Marquee, Orange Court, and Field of Heaven stages. All are interconnected by a beautifully conditioned forest that hosts more than 50,000 attendees each day of this three-day event.
The inviting nature of this particular festival is just as electrifying as it is wonderfully relaxing, with a river oasis facilitated to cool off in between shows and a camping site to retire whenever it's time to call it a day. This brilliant balance has been at the core of Fuji Rock since its foundation in 1997 after a failed first edition due to a typhoon that struck the festival site, forcing the organizers to put a tremendous emphasis on accommodation.
From its very beginning, Fuji has attracted massive headlining acts in its grounds, featuring both Japanese and international acts such as the Red Hot Chili Peppers, Bob Dylan, Bjork, and the latest likes of Lizzo, The Strokes, and the Foo Fighters.
21. Festival Internacional de Benicàssim
| | |
| --- | --- |
| City | Valencia, Spain |
| Founded | 1995 |
| Recorded Attendance | 100,000 |
| Venue | Castelló Resort |
Often compared to its parallel festivals, such as Primavera Sound in Barcelona and Mad Cool in Madrid, when it comes to the celebration of music and all genres in Spain, Benicàssim has been reigning supreme since its foundation. An all-genres welcome event, FIB is a nonstop occasion, as it is known to keep the music going until 8 in the morning in its seaside resort venue in Castelló, Valencia.
Founded in 1995, Benicàssim has continuously enjoyed massive success, attracting international travelers to the seaside of Valencia since its conception, with the likes of Radiohead, Sigur Rós, Franz Ferdinand, The Killers and Placebo, to name a few. There's rarely been a year when tickets wouldn't sell out in their entirety, and in 2020, they exceeded their capacity of 50,000 by double, and a record attendance of 200,000 people flooded the venue.
Due to its fantastic venue, FIB allows those with multi-day passes access to a camping location just steps away from the festival grounds. This is particularly convenient for those who intend to make the best out of the FIB experience, which hosts more than just a diverse musical landscape but also incurs fashion and art shows as well as a few short film expositions.
Basking in the Spanish sun by the beach while enjoying some of the world's most sought-after artists and bands has been the argument that has given the FIB a certain reputation for being one of the most anticipated and best events in the international festival circuit.
22. Bonaroo Music and Arts Festival
| | |
| --- | --- |
| City | Manchester, Tennessee, USA |
| Founded | 2002 |
| Recorded Attendance | 80,000 |
| Venue | Great Stage Park |
Under the promise of a free-spirited weekend, Bonaroo has become the heart of Manchester, Tennessee, since its debut in 2002, with eclectic lineups that have boasted the talents of U2, Lorde, and Red Hot Chili Peppers in more recent years. While music may be the main attraction, Bonaroo is all about fun, offering travelers from across the globe multiple activities through its four-day celebration that includes slip and slides and morning yoga camping facilities in the festival site to suit every wallet.
Though a relatively young festival in its heart, Bonaroo has become a tradition as it comes to life in Great Stage Park's 700-acre venue on the second Thursday of every June. It was first conceived as the spiritual of the Hot Summer Nights music festival in the spirit of providing people with a larger-than-life outdoor concert experience. It was a massive response to the closure of the World's Fair Park, and within a year, Rolling Stone included Bonaroo's inauguration as one of the "50 Moments That Changed Rock & Roll".
Bonaroo's out-of-the-world atmosphere has contributed to it being one of the most anticipated events held in the USA since its conception, and it's no wonder it has hosted so many memorable moments for so many artists. For one, R&B icon D'Angelo made his comeback live on that stage after his 12-year hiatus in a surprise performance at the festival's Superjam backed by Questlove and none other than Pino Paladino.
Needless to say, Bonaroo has been marked by its unpredictable and always deliberate surprises, securing its spot as one of the most significant festivals of its age.
23. Lollapalooza
| | |
| --- | --- |
| City | Chicago, Illinois, USA |
| Founded | 1991 |
| Recorded Attendance | 400,000 |
| Venue | Grant Park |
Lollapalooza, or as some people call it "Lolla," started out as a touring event in 1991 in Chicago. However, the Grant Park venue became too good to let go, and since then, it has become a place for alt-rock, metal, hip-hop, EDM, punk, visual arts, political events, and more to come together. The estimated attendees are around 400,000 people, and, of course, it sells out since it's one of the biggest summer festivals and one of the oldest in the US.
This great festival took inspiration from other big events like the Reading Festival after its success as a farewell tour for Perry Farrell's Jane's Addiction.
At first, the event moved around the US until the early 2000s, when Farrell decided to turn it into a Chicago-only event.
Still, after this successful idea, Lollapalooza expanded to South America and bloomed in Buenos Aires, São Paulo, and then later in 2015, Berlin.
The festival also managed to leave a lasting mark on many people thanks to its focus on grunge, alternative, and punk, which led to a shift in the music industry that made all these "smaller" acts gain notorious traction. Among the many names that enjoyed the exposure from this event, there's a certain band by the name of Nirvana.
This festival reflected the idea that rock bands in the 90s wanted to inspire, which is the feeling of carelessness, crowd-surfing, big mosh pits, and, most importantly, a stage for the underdogs.
Even though the festival saw tough times after its revival, the strong start of the event led to a big legacy that allowed for a big comeback and remains one of the most popular in the world.
24. Mawazine
| | |
| --- | --- |
| City | Rabat, Morocco |
| Founded | 2001 |
| Recorded Attendance | 2,500,000 |
| Venue | Throughout Rabat |
People love visiting Morocco. It's a beautiful place to visit and spend your holidays in, so it's even better that you can actually attend Mawazine, one of the largest music festivals in Africa, with a maximum number of attendees of 2.5 million.
The festival is organized by the personal secretary of the Moroccan king and features only seven stages despite its huge crowd. For that reason, it's the festival with the highest rate of attendees per stage globally.
This festival started out as a world music event in 2001, but then it shifted to a more mainstream type of festival due to issues involving a lack of sponsors and financial support. The shift officially took place in 2008 and has followed the same type of lineups ever since.
The intention of the festival was to promote Rabat, which is where the festival takes place, as a city that is open to anyone who wants to visit. However, the funding of the festival itself has been criticized for including companies like CDG, OCP, and other state companies. The reasoning behind the opposition is that people say this money could be better spent on essential needs like education, health, and more.
Since then, it has been stated that most of the funds come from sponsors and such, which managed to calm the waters quite a bit despite still having a controversial air around it.
The festival has been on hiatus until recently, when they announced a comeback for 2024.
25. Reading and Leeds Festival
| | |
| --- | --- |
| City | Berkshire, Leeds, UK |
| Founded | 1961 |
| Recorded Attendance | 105,000 |
| Venue | Little John's Farm and Bramham Park |
UK's Reading and Leeds are annual festivals that share dates. The Reading festival takes place at Little John's Farm on Richfield Avenue, and Leeds is held at Bramham Park near Wetherby. The idea is that the lineup is shared between the two festivals, so people from different places get to enjoy the event.
These two festivals have quite a history, though the first of the two, Reading, was originally known as the National Jazz Festival, and it took place in 1961 for the first time, making it one of the oldest music festivals in the world.
It wasn't until moving to Reading in the 1970s that the genres adopted by the festival merged jazz, progressive rock, blues, and hard rock alike all in one lineup. However, it also became the first festival to include punk and new wave in its lineup, making its initiative to offer more than just regular rock shows, pleasing both mainstream and underground audiences.
In 1999, the Leeds Festival was born as a part of the Reading Festival's expansion with a predominantly rock and alternative lineup.
Today, both festivals host around 105,000 people and continue to have some of the biggest names in rock, with the 2023s iteration including Sam Fender, The Killers, Imagine Dragons, The 1975, and many more.
26. Nos Alive
| | |
| --- | --- |
| City | Lisbon, Portugal |
| Founded | 2007 |
| Recorded Attendance | 210,000 |
| Venue | Passeio Marítimo de Algés |
For some, the best music festival in all of Europe, with a maximum attendance of 210,000 in 2022, Nos Alive brings some of the best live acts in the world to the Aglés riverside near Lisbon in Portugal. This is one of the most recent festivals, with the first iteration appearing in 2007 going by the name of Oeiras Alive!, then the name changed to Optimus Alive! in 2008, until 2011 when they dropped the exclamation mark and not too long after in 2014 the name changed to NOS Alive, this is because the main sponsor for the festival changed the name from Optimus to NOS, and so the name of the festival changed as well.
The other half of the name actually comes from "Alive," a Pearl Jam song, a suitable name since one of the headliners of the first event in 2007 was Pearl Jam themselves, along with Beastie Boys and The Smashing Pumpkins.
Over the years, the festival has opened up to hip-hop, pop, electronic music, and even its own dedicated stand-up comedy stage, which was added in 2014. Just keep in mind that they tend to keep the headliner spots for rock bands.
Another great thing about this festival is that NOS Alive has a partnership with RTP, a national Portuguese broadcaster. This allows them to share the show with all the people that want to enjoy the music and can't be there or if you just want to watch a good quality replay of the show.
27. Defqon.1 Weekend Festival
| | |
| --- | --- |
| City | Almere, the Netherlands |
| Founded | 2003 |
| Recorded Attendance | 250,000 |
| Venue | Almere |
With more than 500 artists from all over the world, including Sub Zero Project, Sefa, Miss K8, Angerfist, and more, 2023's Defqon.1 weekend was an amazing show for 250.000 people who not only enjoyed the great artists but also an incredible spectacle with great stages, the famous "POWER HOUR" and an excellent closing ceremony.
Defqon.1 has been around for 20 years, held in the Netherlands as well as Australia and Chile. The main focus of the event is hardstyle and all the genres related to it, an idea that originated from the festival organizer Q.dance.
This is one of the most appealing aspects of the festival because many events tend to open up to various genres when they get big in order to get the most amount of people; however, with a focused plan on the type of artists it wants, Defqon.1 delivers on an energy that is unparalleled with other EDM festivals.
Keep in mind that this is a festival where you need to go prepared, including hydration, good company, and a close relationship to sobriety, because while it does offer an incredible show, there have been drug-related emergencies and other problems among its crowd. Thankfully, security and health have become a top priority, resulting in a safer environment for recent festivals.
It may not be the biggest, the most popular, or the most diverse, but it's definitely one of the best at what it does.
28. Download Festival
| | |
| --- | --- |
| City | Leicestershire, UK |
| Founded | 2003 |
| Recorded Attendance | 111,000 |
| Venue | Donington Park |
Download is one of the best festivals if you are looking for Hard Rock and Metal bands to show off their best songs live. Created by Terrance Gough, this festival has been held every year since 2003 in Donington Park motorsport circuit in Leicestershire, with a capacity of around 111,000 attendees per festival.
Before Download, there were other festivals that offered the same type of genres with line-ups at the same venue called Monsters of Rock. These were active between 1980 and 1996. Then Download came in 2003 as a two-day event, eventually extending it to three days in 2005, which speaks volumes about its early success with the crowd.
Its name is another special thing about it since it came when the internet and digital downloads first started becoming popular. However, they were seen as a bad thing in the music industry, so in order to make the connection between the dirty and rebellious genres like metal and rock and the connotation of the word "Download" at the time, the name just came naturally.
They also have a mascot, which cannot be said for most festivals around, featuring a dog called the Download Dog, and you can see him in merchandise, tickets, banners, and more; while it seems like a small thing, festivals do need to express their own identity so it's a nice little detail.
If you want to enjoy some of the best metal and hard rock bands in the industry, Download Festival will leave you more than satisfied, as they stayed true to their origins, offering bands like. Iron Maiden and Audioslave in its first iteration to Metallica and Slipknot in 2023.
29. Rock am Ring and Rock I'm Park
| | |
| --- | --- |
| City | Nuremberg, Germany |
| Founded | 1985 |
| Recorded Attendance | 150,000 |
| Venue | Nürburgring, Zeppelinfield |
Two simultaneous, massive music events take place in neighboring venues. Rock am Ring is held at Nürburgring, while Rock I'm Park is held at Zeppelinfield.
These festivals started out as a one-time event in 1985 in Nürburgring, but after seeing it as a big success with 75,000 attendees, the festival evolved into an annual happening. After that, it had its ups and downs and changed venues quite a few times, with Vienna and Munich-Riem airport among the locations used, until it went back to the place of its origins.
It's also worth noting that since 1991, the festival has taken notice of new emerging bands and artists and added these types of shows to the line-up besides the well-known acts, which tend to offer Rock, Metal, Pop, Punk, and everything in between.
30. Wanderland Music and Arts Festival
| | |
| --- | --- |
| City | Muntilupa, Philipines |
| Founded | 2013 |
| Recorded Attendance | 11,000 |
| Venue | Filinvest City, Muntillupa |
Wanderland is an annual music and arts festival conceived by Karpos Multimedia with the intention of providing an international stage for local bands and artists to showcase their creations and interact with a big audience.
Held at the Filinvest City Events Ground, the festival offers a preliminary process and year-long event that becomes a pre-event called Wanderband, where a battle of the bands for the first and second place lands artists a spot in the lineup of that year's festival, how cool is that?
The festival also focuses on visual arts, and since 2017, they have also started doing a similar competition for visual artists to be featured at the event. Ultimately, the result is an immersive atmosphere that blends film, music, and plastic arts alike.
With a predominant genre and focus on indie rock, previous headliners such as The Naked and Famous, Foals, and The Drums have topped the bill in the event's history. Nevertheless, as the years have gone by and Wanderland has grown, there has been a growing diversity among the acts.
This might be the smallest when it comes to audience or capacity, but the truth is that it makes a lot of noise, and in the Philippines, it's considered to be a must-go show.
Wrap Up: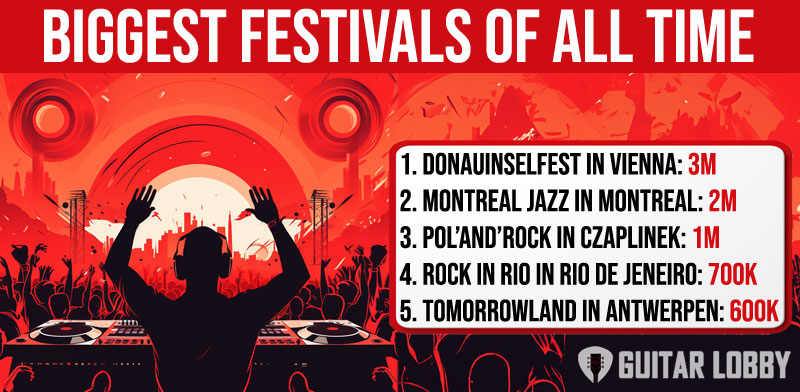 That does it for this article. Let us know if you got a chance to attend any of these massive festivals or if there are any coming up that you're excited about in the comments section below.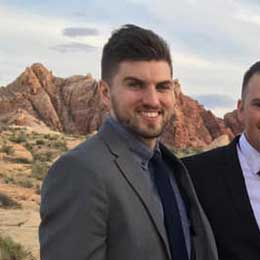 My name is Chris and I've had a passion for music and guitars for as long as I can remember. I started this website with some of my friends who are musicians, music teachers, gear heads, and music enthusiasts so we could provide high-quality guitar and music-related content.
I've been playing guitar since I was 13 years old and am an avid collector. Amps, pedals, guitars, bass, drums, microphones, studio, and recording gear, I love it all.
I was born and raised in Western Pennsylvania. My background is in Electrical Engineering, earning a Bachelor's degree from Youngstown State University. With my engineering experience, I've developed as a designer of guitar amplifiers and effects. A true passion of mine, I've designed, built, and repaired a wide range of guitar amps and electronics. Here at the Guitar Lobby, our aim is to share our passion for Music and gear with the rest of the music community.