"Blues is easy to play but hard to feel." This quote is attributed to Jimi Hendrix, but no other guitar player in history has exemplified that sentiment like BB King.
BB King was born on a cotton plantation in Mississippi as Riley B. King in 1925. He worked in a cotton gin for much of his young life. He loved listening to the music in church, but he didn't get serious about playing until he was around 15. In 1940, King was on a break from work and heard the "King Biscuit Time" broadcast, a radio show featuring Mississippi Delta Blues. After hearing the power of the blues for the first time, he knew he wanted to become a radio musician.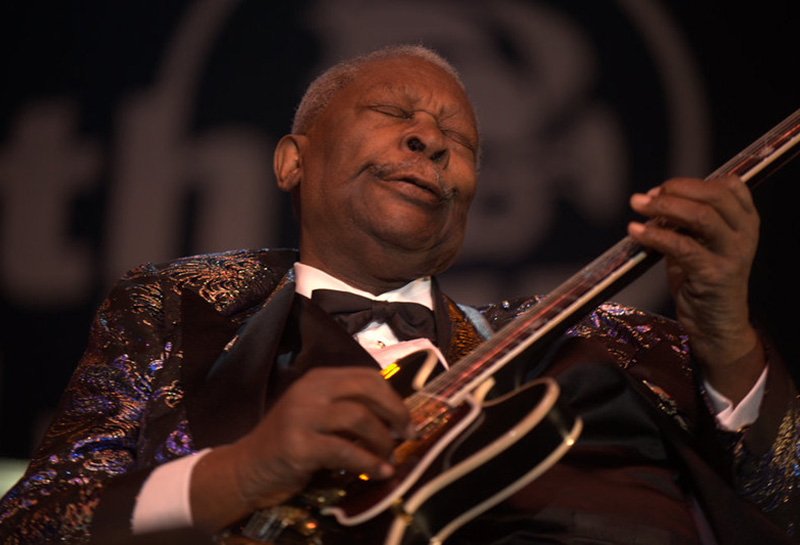 King moved to Memphis, Tennessee, and worked as a radio DJ before spreading his wings as a blues guitarist. He's known for his sophisticated solos, smooth string bends, and incredible vibrato. If anyone can make the guitar sing, it's BB King. King was inducted into the Rock and Roll Hall of Fame in 1987 and is ranked #6 on Rolling Stone's 100 Greatest Guitarists List. Many of the most influential blues players, including Eric Clapton and John Mayer, consider BB King to be one of their main sources of inspiration.
What Guitars Did BB King Play?
BB King primarily played Gibson ES-355 and ES-335 model guitars which he nicknamed "Lucille". There were several renditions of Lucille guitars throughout the years and King also went through stints with other guitar models during his 75 year long career. See the full list of BB King guitars and gear below.
Gibson BB King Lucille

| | |
| --- | --- |
| Finish | Ebony |
| Years Used | 1980 to 2006 |
BB King's main squeeze (guitar-wise) was his Gibson signature series BB King Lucille. This guitar needs no introduction, as it's likely one of the most famous, if not the most renowned, guitars of all time.
The Gibson BB King Lucille was first created in 1980 specifically for the blues master himself. It was based on his favorite production guitar, the Gibson ES-355, with a few alterations to suit BB King's preferred specifications.
First and foremost, the guitar had to look like the beautiful lady it is. BB King's Lucille signature has a black ebony finish with stunning gold hardware. As if that wasn't enough to make the guitar stand out, the name Lucille is inlaid on the headstock to really complete the iconic look. It's hard to get any classier than that.
While most ES-355s have F-holes, the BB King Signature doesn't. It's still a semi-hollow body, but by removing them King could play at louder volumes without the feedback. It also ensured he didn't have to lose the bluesy semi-hollow sound for the best of both worlds.
The standard Gibson hard tailpiece was swapped out for a TP-6 fine-tuning tailpiece to keep intonation precise, no matter how long the King's solos last.
This version of Lucille (because it's not the only one) also features a six-position Varitone tone network switch to give King complete control over the 490R and 490T humbuckers.
All these tone-driving features are sent to dual outputs, much like the discontinued Gibson ES-345s of the past, so BB King can play in full stereo. When you're as good as BB King, you need to be heard in surround sound!
This personalized ES-355 became King's primary player both on stage and in the studio from the time it was first created in 1980 until 2006—when Gibson surprised him with yet another signature model.
King's personal Gibson BB King Lucille had his name inlaid on the fretboard. There's only one BB King, so he deserved a guitar that was as unique as him. It's not hard to find this guitar in action. King used it in almost every concert between 1980 and 2006. Here's a clip of him jamming on the famed black guitar in 1993.
Gibson ES-345 Prototype 80th Birthday Lucille

| | |
| --- | --- |
| Finish | Ebony |
| Years Used | 2005 to 2015 |
In 2005, for BB King's 80th birthday, Gibson decided to surprise him with yet another signature model: a customized ES-345. This version of Lucille was similar to King's primary Lucille ES-355 signature he had been playing for decades. The only difference was the intricate design work.
The 80th Birthday Lucille, as it has become known, had a custom engraved pickguard with King's crown (because he is The King) and a golden "B.B." engraving on the pickup covers. The headstock also featured intricate inlay work with a crown at the top, King's name underneath, and the number 80 featured prominently in the middle.
The truss rod cover had a gold vintage Gibson logo, and the standard tuners were swapped out with gold metal tulip tuners. Even the knobs were customized with mother of pearl inserts!
This incredible-looking guitar had a limited production run of only 80 guitars, making them a highly sought-after collector's item. Of course, the very first prototype was the one given to BB King on his birthday. It instantly became his primary player.
Unfortunately, King's personal #1 80th Birthday Lucille was stolen from his home in 2009. King thought the guitar would be gone forever until he got a phone call one day. Apparently, a man named Eric Dahl bought a Gibson BB King Lucille model from a local pawn shop in Las Vegas for $2,200 (which is a great deal for such an incredible guitar!). Later, he found out it wasn't just any BB King Lucille model, but it was BB King's actual Lucille.
Dahl immediately called King's office in Las Vegas to return the guitar. King was so happy to be reunited with his beloved guitar, that he signed another Lucille model and gave it to Dahl personally. After a brief time apart, King and his 80th Birthday Lucille would be inseparable for the rest of his life.
This special Lucille model made countless appearances on stage between 2005 and 2015. Here, you can watch King play the special guitar alongside fellow guitar legends Slash and Derek Trucks in 2011.
Following King's death in 2015, his prized ES-345 prototype sold at auction for the astonishing amount of $280,000. This is easily one of the most iconic BB Guitars.
Gibson L-30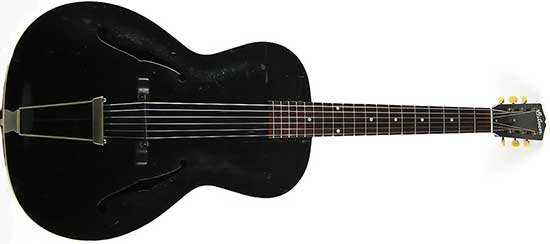 | | |
| --- | --- |
| Finish | Ebony |
| Years Used | 1940 to 1949 |
After hearing an electric guitar play the blues for the first time, a Young BB King decided that he absolutely had to get an electric guitar. He headed to a local music shop and bought a budget-friendly Gibson L-30 for a whopping $30.
The L-30 was first introduced in 1935 and was Gibson's budget model until it was discontinued in 1943. It was a small hollow-body guitar with f-holes, a trapeze tailpiece, and a K&K Pure Archtop internal soundboard pickup. Early models came only in the black ebony finish, while later models also came in sunburst. BB King picked up a black model L-30, and it became his pride and joy through the early years of his career. It's very similar to the early blues staple guitars, such as the Kalamazoo KG 31 and 21, but Gibson obviously saw the potential exploits it would have by jumping into that market.
By all accounts, this was the very first Lucille guitar ever, and the reason behind it was BB's attachment and fondness of this six-string. One night, King was playing a show at a dance hall in Twist, Arkansas. It was a bit chilly, so there was a large kerosene heater in the middle of the dance floor to keep patrons warm. Of course, an open flame in the middle of a bunch of people sounds like a disaster waiting to happen, and that's exactly what went down.
During the show, two men started fighting on the dance floor and knocked over the kerosene heater, setting the entire building on fire. Everyone, including the young BB King, evacuated the area. Once outside, King realized he left his prized L-30 inside! He ran back into the flames to retrieve his $30 guitar.
The building started to collapse as he was searching for his guitar. He didn't think he would survive, but he somehow made it out with the guitar in hand. Later, he found out that the two guys were fighting over a woman. Her name was Lucille. He decided to name his guitar Lucille to remind him never to do anything that stupid again. From that point on, every Gibson he ever owned was named Lucille to remind him of that fateful night.
King continued to play his beloved L-30 Lucille until the late 1940s when he switched to larger-body guitars with magnetic pickups. Whatever happened to this six-string after it was retired remains a mystery.
Gibson ES-5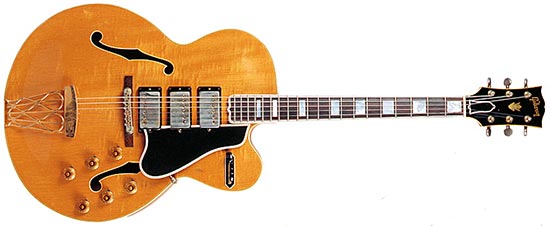 | | |
| --- | --- |
| Finish | Natural |
| Years Used | 1949 to 1955 |
In 1949, Gibson flipped the guitar world upside down with its greatest guitar yet: the ES-5. The ES-5 was designed to be the ultimate guitar of its time. In an era when two-pickup guitars were still considered cutting-edge, the ES-5 featured three P90 single-coil pickups! Each pickup had its own volume knob, so the player could individually adjust the tone of each. Even by today's standards, this guitar is something special.
To make it an even more special guitar, the hollow-body ES-5 was also one of the first six strings to feature a single cutaway on the body, so blues players like BB King could reach those higher frets. Naturally, BB King just had to have one!
King picked up his Gibson ES-5 around 1949 to replace his original L-30. As is tradition, he named her Lucille. He continued to use the ES-5 as one of his primary players until around 1955.
Fender Esquire

| | |
| --- | --- |
| Finish | Blonde |
| Years Used | 1950 to 1952 |
In 1950, Fender changed the guitar world yet again with its first mass-produced solid-body guitar: the Fender Esquire. It originally debuted as the "Broadkaster," but Gretsch already had a drum set with that name, so Fender changed their new guitar model to the Esquire.
The Esquire was a predecessor to the modern Telecaster, so it had the same solid-body design and shape. Since it produced absolutely no acoustic tone—unlike the many hollow-body guitars of the time—it relied on its one single-coil pickup to transmit the richest signal that could be dialed in by the tone switches and the amp. You could almost consider it the tipping point to effects-driven guitar playing.
Being ever at the forefront of guitar innovations, BB King picked up one of the first Fender Esquire guitars in 1949. Most of King's music from the early 1950s was played on his blonde Esquire. It's rumored that even after he switched over to exclusively Gibson guitars around 1952, he still used his Esquire for recording.
Gibson ES-175

| | |
| --- | --- |
| Finish | Sunburst |
| Years Used | 1953 to 1958 |
During the 1950s, BB King experimented with a few different guitars. He had his solid-body Esquire, of course, but he still wanted something that gave him a little bit jazzier tone like the Gibson hollow-bodies he loved so much.
In 1949, Gibson released the ES-175. It was a hollow-body guitar but utilized the same high-quality magnetic pickups that the solid body guitars had. What really set the ES-175 apart was the all-laminate construction to help reduce feedback. You could get the smooth tones of a hollow body without the awful noise!
The sharp, single-cutaway also allowed lead players unsurpassed access to the higher frets. Jazz players everywhere were scooping them up for their smooth tone and playability, and BB King just had to have one too.
BB King's Gibson ES-175 was a later 1953 model that featured two humbuckers. It had a 3" deep hollow body with a floating bridge designed to produce outstanding tone, volume, and tone knobs for each pickup, and the standard three-way switch you can find on modern Gibsons.
King used his ES-175—among other Gibson hollow-body models like the Byrdland—for most of the 1950s until the semi-hollow guitar was invented in 1958. That changed everything for BB King!
Gibson ES-335

| | |
| --- | --- |
| Finish | Sunburst |
| Years Used | 1958 to 1967 |
In 1958, Gibson shocked the guitar world again with the creation of the ES-335. The Gibson ES-335 took all the wonderful features and warm tone of the hollow-bodies from the past and put a solid center block through the middle of the guitar to almost eliminate feedback. It was the first semi-hollow guitar ever made. The ES in the model stands for "Electric Spanish", and it only makes sense that such an elegant design drew inspiration from some of the earliest guitars ever made.
Not only did the ES-335 merge the benefits of both solid and hollow-body guitars, but it also was one of the first guitars to have a double-cutaway shape. Now, lead players like BB King could get their entire hands up to the high frets for unmatched playability.
In an interview with Vintage Guitar Magazine, BB King said that when the ES-335 was released, "it was like somebody knew what kind of guitar I'd been waiting for." Notoriously the King played this precise sunburst guitar in the Apollo theater.
BB King's first ES-335 had a sunburst finish and dual humbuckers. He rarely, if ever, made alterations to his guitars, so he always kept them in stock. When you're as good of a player as King, you don't need fancy setups to enhance your playing! And, of course, it was named Lucille.
After he discovered the joy of Gibson semi-hollow guitars, BB King never went back.
Gibson ES-355


| | |
| --- | --- |
| Finish  | Ebony/ Red/ Tobacco |
| Years Used | 1967 to 1978 |
When Gibson invented the semi-hollow guitar, they released three different models. The ES-335 was the budget model, the ES-345 was the midrange model, and the ES-355 was the high-end model. Since he loved the semi-hollows so much, BB King used all three in live performances, but the model that really stuck with him was the ES-355.
The ES-355 was the top-of-the-line when it came to Gibson semi-hollow guitars. Unlike the rosewood fretboard on the ES-335 and 345 models, the ES-355 had an ebony fretboard for a smoother tone and block mother of pearl fret inlays.
Early Gibson ES-355 models were also available with a Vibrola or Bigsby style vibrato tailpiece and the stereo output jacks—which BB King would later incorporate into his signature model.
Because of the quality, style, and sound, the Gibson ES-355 easily became BB King's favorite guitar of all time and his primary player for the remainder of his long career. He played several ES-355s over the years in just about every finish and hardware option available.
Since video was more common in the 1960s, there are plenty of recorded concerts showing off King's various ES-355s. Here's a clip of King playing "Just a Little Bit of Love" on a Sunburst 355 from the 1960s.
Of course, the real star of King's ES-335 collection is his Ebony model with gold hardware. Although all his Gibsons were named Lucille, he played this model so much that it became synonymous with the name. Today, whenever guitar players hear the name Lucille, they instantly imagine a black Gibson ES-355.
Gibson ES-355 BB King Prototype
| | |
| --- | --- |
| Finish | Ebony |
| Years Used | 1978 to 1980 |
Although his first signature model hadn't been released yet, there was some buzz about BB King and Gibson working together to create a new guitar line. In 1978, Bruce Bolen—who was the director for Gibson R&D—presented King with a one-off ES-355 just for him.
BB King's ES-355 prototype had an ebony finish and gold hardware, just like King's favorite 335s. The main difference was in the decorations. The traditional block fret inlays were replaced by more intricate floral inlays, and, of course, the name "Lucille" inlaid on the headstock. The tailpiece cover also had a special message engraved in it:
"To BB King,
An artist's music represents his sensitivity, growth, and way of life. A legend in your own time, this guitar is a symbol of our growth together.
With sincere appreciation,
Your friends at Gibson."
With a message like that, it wasn't hard to figure out that something big was coming.
BB King used this Gibson prototype ES-355 for two years until his first signature Lucille model was released in 1980. You can see it in action in this 1979 recording of "All Over Again." Unlike the official signature model, this ES-355 still had its f-holes—which King would stuff cloth into to prevent feedback.
Table Showing Each Guitar BB King Played in Every Point of His Career
| Make | Model | Color/Finish | Years |
| --- | --- | --- | --- |
| Gibson | L-30 | Ebony | 1940 to 1949 |
| Gibson | ES-5 | Natural | 1949 to 1955 |
| Fender | Esquire | Blonde | 1950 to 1952 |
| Gibson | ES-175 | Sunburst | 1953 to 1958 |
| Gibson | ES-335 | Sunburst | 1958 to 1967 |
| Gibson | ES-355 | Ebony/ Red/ Tobacco | 1967 to 1978 |
| Gibson | ES-355 B.B. King Prototype | Ebony | 1978 to 1980 |
| Gibson | B.B. King Lucille | Ebony | 1980 to 2006 |
| Gibson | ES-345 Prototype (The 80th Birthday Lucille) | Ebony | 2005 to 2009/2009 to 2015 |
BB King Amps
Since BB King doesn't use effects pedals (which we'll get to later), he relies entirely on his guitar and amp to create his signature sound. When it comes to tone, BB King is all about the clean. The cleaner the tone, the more he loves the amp.
Throughout his decades-long career, King has only ever used a handful of amps. He finds what he likes and sticks with it. Here's a quick rundown of BB King's favorite amps.
Fender Tweed Amp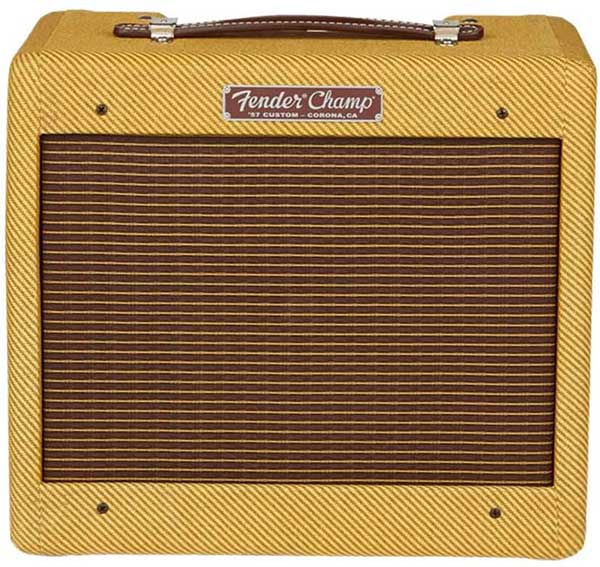 Years Used: 1948 to 1952
The Fender Tweed amp wasn't actually a model of the amp. Instead, it was a generic term used for all Fender amps made between 1948 and 1960. They were all covered in a yellow or tan cloth material that many people mistook as tweed.
Back in the late '40s and early '50s, these amps were the must-have for any budding guitar player. They had an incredible sound and advanced circuitry that made Tweed amps some of the most sought-after amplifiers on the market.
When BB King was first starting his musical career, he played mainly on Fender Tweed amps. Their clean tone just couldn't be beaten! If you look close enough at many of King's early photos, there's likely a Fender Tweed amp somewhere in the background.
Fender Twin Reverb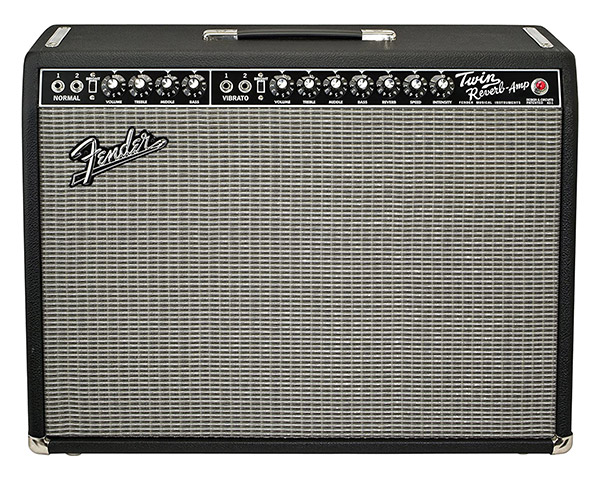 Years Used: 1952 to 1970
From heavy rock to smooth jazz, there aren't too many guitar players who don't like the Fender Twin Reverb. It's just a solid combo amp that can do it all!
The Fender Twin Reverb is an 85-watt combo amp with dual 12" speakers and built-in tube amplification. It also offers several onboard effects, including vibrato, tremolo, and, of course, reverb.
Since it can create such an outstanding clean tone, it was a favorite for BB King for many years. If you look hard enough, you can catch BB King's Fender Twin Reverb amp in the background of many live performances between the 1950s and 1970s.
Lab Series L5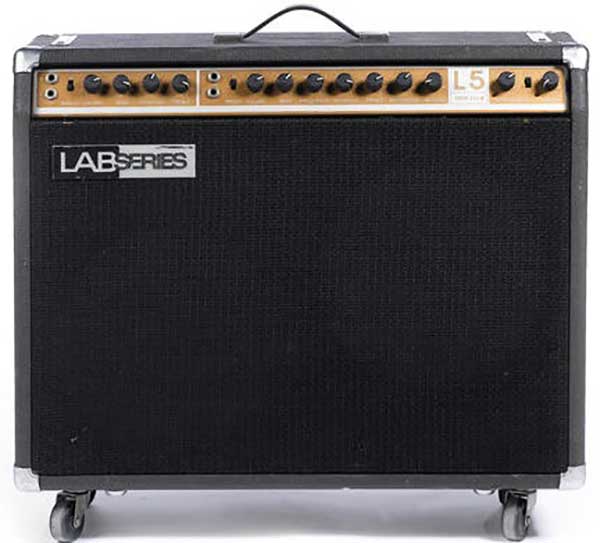 Years Used: 1970 to 2015
In the 1970s, Norlin—Gibson's parent company—built the Lab Series L5 amp for production at Gibson. It was a 100-watt solid-state amp with two 12" speakers. It was great at maintaining clean tones no matter the volume. Obviously, that had huge appeal to a player like BB King.
While it might sound odd that a professional guitarist used a solid-state amp, the Lab Series L5 was simply perfect for creating BB King's tone. Since King doesn't use any effects pedals, the built-in compressor and parametric equalizer helped him create the exact tone he was looking for.
BB King Posing with His Lab Series L5
King used the Lab Series L5 as his primary amp from the late 1970s all the way to the end of his career. He would carry a Fender Twin Reverb amp as a backup just in case he wanted to use a different tone, but the Lab Series would almost always be his first pick.
BB King Effects
BB King never used on-stage or rack effects to create his sound. He relied on high-quality guitars, amps, and, of course, talent to create his signature tone.
Although he never had any pedals on stage, he did prefer specific strings and picks to help give Lucille the sound she needed to sing.
Strings: BB King played his signature Gibson model strings on all his guitars. The Gibson SEG-BBS BB King Signature Electric Guitar Strings came in gauges 10-13-17p-32w-45w-54w.
Picks: King preferred a medium pick for his playing style. He would typically go on stage with a 0.71mm tortoiseshell pick from D'Andrea.
Other than his picks and strings, there aren't any "effects" that make up BB King's incredible sound—just mounds of feeling and talent. He just plugged Lucille into his L5 and let the blues flow.
Wrap Up
BB King led a long and successful career as one of the most influential blues players the world has ever seen. He was one of the hardest working musicians on the blues circuit, playing more than 340 shows per year in the mid-1950s!
Although he slowed down a bit as he got into his 70s (only 250 shows per year), King remained passionate about the music he played. He was always smiling and having fun on stage, no matter who he played with.
Over his decades-long career, BB King earned 15 Grammy Awards, the Presidential Medal of Freedom, and was inducted into both the Blues and Rock and Roll Hall of Fame, just to name a few of his innumerable accomplishments.
King passed away peacefully in his sleep in 2015 at the age of 89, but his impact on modern music will never be forgotten. It's hard to imagine that another musician who could match the passion and feeling that BB King had for the blues.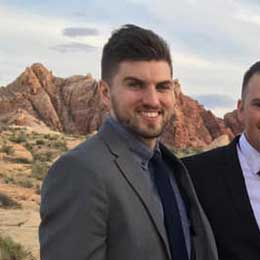 My name is Chris and I've had a passion for music and guitars for as long as I can remember. I started this website with some of my friends who are musicians, music teachers, gear heads, and music enthusiasts so we could provide high-quality guitar and music-related content.
I've been playing guitar since I was 13 years old and am an avid collector. Amps, pedals, guitars, bass, drums, microphones, studio, and recording gear, I love it all.
I was born and raised in Western Pennsylvania. My background is in Electrical Engineering, earning a Bachelor's degree from Youngstown State University. With my engineering experience, I've developed as a designer of guitar amplifiers and effects. A true passion of mine, I've designed, built, and repaired a wide range of guitar amps and electronics. Here at the Guitar Lobby, our aim is to share our passion for Music and gear with the rest of the music community.