A man who needs little introduction. No matter what you call him, The Bard, The Voice of a Generation, Blind Boy Grunt, or Lucky Wilbury, there's no mistaking the iconic sound of Bob Dylan. He is easily considered one of the best songwriters in history and a pioneer of folk music and has been placed many times as one of the quintessential American recording artists.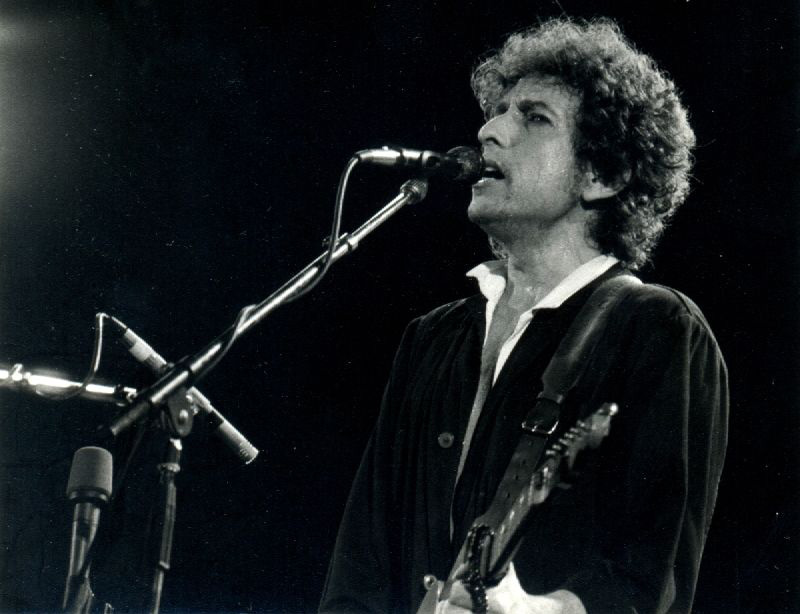 Over his six decades in the music industry, Bob Dylan has earned countless accolades, including ten Grammy Awards with 38 nominations, an Oscar, a Golden Globe, and even a Nobel Prize in Literature. He was also inducted into the Rock and Roll Hall of Fame for his outstanding contributions to music. Time Magazine even recognized Dylan as one of the most important people of the 20th Century! To say he made an impact is an understatement. Take a look at some of the guitars and gear that Bob Dylan has used to change the very course of music history.
What Guitars Does Bob Dylan Play?
Bob Dylan is best known for playing his 1933 Gibson Nick Lucas Special model guitar. He used it extensively during his rise to folk and global superstardom before losing it and finding his now favorite SJ-200. After famously "going electric" he became a devoted player of Fender guitars.
See the full list of Bob Dylan guitars and gear below.
1933 Gibson Nick Lucas Special

| | |
| --- | --- |
| Finish | Natural |
| Years Used | 1963 to 1966 |
Around 1963, Bob Dylan had lost his primary guitar, a 1940s Gibson J-50. Apparently, it just "went missing." So, when he realized his J-50 was no longer around, Dylan headed to the nearest music store to pick up another instrument. At that time, Dylan was in New York City so he headed to a place called Fretted Instruments, owned by a man named Marc Silber. Silber ended up selling Dylan his sister's guitar, a beautiful mint-condition 1930s Gibson Nick Lucas Special with a blonde finish.
The Gibson Nick Lucas Special was first created in 1926 as a partnership between singer/songwriter Nick Lucas, and Gibson. It featured the same body shape as the L-1 and L-3 with the large rounded bottom and narrow waist, but it had a much deeper acoustic body at 4.5" or sometimes more. By the 1930s, the Nick Lucas Special featured a spruce top and rosewood back and sides, a slightly longer 24.75" scale, a rectangular bridge with no pyramid inlays, and 13 frets clear of the body.
Although most Nick Lucas Specials usually came with a sunburst paint job, Bob Dylan's guitar had a blonde natural finish. It had been rebuilt a little while before Dylan picked it up, and the original finish was removed.
There is some dispute over the actual year of the guitar. Some, including Nick Lucas himself, say Dylan's guitar is a 1929 model. Others, looking at the 13 frets above the body, say it's a 1933 model—which tends to be the preferred opinion.
The 1933 Gibson Nick Lucas Special became Bob Dylan's primary six-string between 1963 and 1966. He used it to record "Another Side of Bob Dylan" and Bringing "It All Back Home". It even made a few appearances in the "Don't Look Back" videos. Because of his enormous success during this period, the Gibson Nick Lucas Special is widely considered one of Bob Dylan's folk era, most famous guitars.
Unfortunately, Bob isn't so great at taking care of his guitars. According to a few sources, he liked to jam all his harmonicas into his guitar case to keep all the essential gear in one easy-to-carry place. While it might be convenient, it's definitely not good for the guitar. In 1966 when Dylan was playing in Australia, he shut the lid a bit too tight with a few too many harmonicas on top of his 1933 Gibson Nick Lucas Special and caved in the spruce top. The guitar was finished, and Dylan had to pick out a new guitar for the remainder of the tour.
Fender Telecaster

| | |
| --- | --- |
| Finish | Natural Blonde/Sunburst/Black |
| Years Used | 1965 to Present |
While Bob was being involved in the Avant-garde edge of folk and rock and fusion, mingling with the Rolling Stones and introducing the Beatles to psychedelia, he was himself introduced deeper and deeper to the art of playing the electric guitar by his longtime friend Robbie Robertson, the first owner of Dylan's legendary natural blonde Tele. While he had already tested the waters with his Sunburst Fender Strat, he was yet to complete his rig until this odd-looking Telecaster found him and in fact stuck with him through his first fully electric tour with The Band in 1965.
Although there have been countless Telecasters in Dylan's catalog, it all started with this immediate replacement of his first sunburst Strat. Originally black finished and standardly equipped, this 60s Telecaster would be iconically transformed to its natural blonde look and its single coil setup would be swapped to a humbucker. Additionally, Robertson would install a Bigsby tremolo to it and leave its original single coil on the bridge position.
Before Bob wouldn't get any more Telecasters for himself up until almost a decade of using this particular model, with which he endured the ill-treatment of his deflecting audience throwing bottles at him and dubbing him as the 20th century "Judas". He'd record the second and third of his Rock trilogy albums with it, starting with his 1966 studio tenure "Blonde on Blonde", followed by the ever-iconic "Highway 61 Revisited". Nevertheless, this guitar would swap hands pretty often with Robertson playing with The Band, and Dylan touring along with The Hawks.
It's hard to tell up until what point Dylan used his natural blonde Telecaster since it was eventually stationed in his rented HQ at Woodstock, New York, residence. After little more than a few decades with it, this guitar was put up for auction, and it was sold through Julien's Auctions for $490.000. However, his years with it were enough to make Bob Dylan a devoured Telecaster player and so, he went on to stock his arsenal with various diverse variations of the model. To this day, Dylan still prefers Telecasters for his electric endeavors.
Gibson SJ-200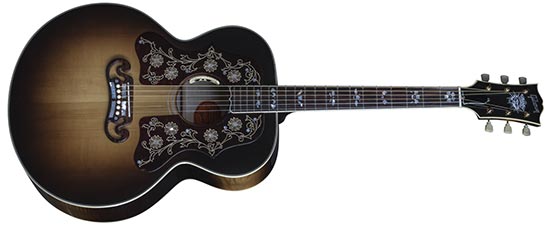 | | |
| --- | --- |
| Finish | Sunburst/Natural |
| Years Used | 1965 to 1969/ 1973 to Present |
The Gibson SJ-200 has been a big part of Bob Dylan's sound throughout his career, particularly in the mid to late 1960s.
The Gibson SJ-200 is the most famous acoustic guitar in Gibson's lineup, and perhaps of all time. Its "Super Jumbo" (SJ) body, narrow waist, and iconic mustache bridge make it instantly recognizable by even guitar newbies. And that's all before you even strum a chord.
Once the pick goes across the strings, the high-quality spruce top, flame maple back and sides, and massive body shape provide enough resonation and sound to fill a stadium! There's a reason it's called the "King of the Flat-Tops."
Since the SJ-200 is the King of the Flat-Tops, it would only make sense that it would land in the hands of the King of Folk. In the same fated 1965 Newport Folk Festival as his "anti-folk" electric guitar stunt, Bob Dylan also played a Gibson SJ-200 for the acoustic portions of his performance. This model featured dual decorated pickguards that really gave the guitar a striking look. Dylan continued to play SJ-200s extensively for the rest of the decade. It even made an appearance on the cover of his 1969 album Nashville Skyline, though it wasn't the same guitar as his 1965 model. The one that appeared on Nashville Skyline had only one pickguard.
You can hear Dylan play "Love Minus Zero" at the Newport Folk Festival in 1965 before he took the stage with a dreaded electric guitar. Because of his love for the SJ-200, Bob Dylan teamed up with the builders at Gibson in 2014 to create the Gibson Bob Dylan SJ-200 Player's Edition. As if you didn't think the King of Flat-Tops could get any better, Gibson added top-of-the-line features including an Adirondack Red Spruce top and AAA Flamed Maple back and sides. Bella Voce's mother-of-pearl inlays run all the way up the fretboard to the headstock that's engraved with Bob Dylan's eye logo. To pay homage to his 1965 performance at the Newport Folk Festival, the Player's Edition SJ-200 is equipped with dual decorated pickguards, just like Dylan's original guitar.
While Bob Dylan's guitar didn't have pickups, the modern SJ-200 Player's Edition is outfitted with an LR Bagg™ Anthem pickup for outstanding acoustic plugged-in tone. And of course, it's finished off with the beautiful mustache bridge covered in mother-of-pearl.
Although Dylan doesn't play guitar much in his older age and likely will never play this incredible guitar on stage, the Gibson Bob Dylan SJ-200 Player's Edition does a great job capturing the iconic look and sound The Bard represents in music history.
1949 Martin 00-17
| | |
| --- | --- |
| Finish | Mahogany |
| Years Used | 1959 to 1961 |
When he was 18 years old, Bob Dylan moved to Minneapolis, Minnesota to pursue his musical career. The first thing he did when he moved to the area was trade in his electric guitar for an acoustic. According to Dylan in his book Chronicles, "First thing I did was go trade in my electric guitar, which would have been useless for me." He knew the kind of music he wanted to play wouldn't sound very good on an electric guitar (yet, at least), so he had to swap for an instrument that would work for his folky sound. Plus, without a band, he needed an instrument that would work for a solo singer/songwriter playing in coffee shops.
When he got to Minneapolis, Dylan went into the guitar shop and traded his beginner electric guitar for a 1949 Martin 00-17. The surprising part is that the store traded him even! Which electric guitar he traded has been lost to the sands of time, but for an even trade like that, it had to be something special!
Bob Dylan was drawn to the Martin 00-17 because it's the same model Woody Guthrie used as he rambled around the country singing his folk songs. Bob Dylan was a huge Woody Guthrie fan, so purchasing the same guitar was a nod to his idol.
The 1949 Martin 00-17 was a small-bodied acoustic guitar that still gave off that big-time Martin sound. Because of its small size, it was very comfortable to play and carry around—perfect for a traveling folk singer like the young Bob Dylan.
The guitar featured an all-mahogany construction and a tortoiseshell pickguard. Although Martin doesn't make the 00-17 anymore, the modern Martin 00-15M is almost the same exact guitar Bob Dylan used back in the early '60s to start his career!
Bob Dylan used his Martin 00-17 as he wandered around Minnesota playing coffee shops and cutting his teeth. Although it was before his official recording days, there are a few tapes out there of him playing his old Martin, specifically the Minnesota Tapes. You might not be able to see the guitar, but you can hear Dylan play his 00-17 in this early recording of Woody Guthrie's "Ramblin' Round" from the Minnesota Hotel Tapes in 1961.
In 1961, Dylan decided to give the guitar away to his manager at the time, Kevin Krown. Krown kept the guitar in his collection until his death in 1992 when he passed it on to a man named Peter MacKenzie. MacKenzie held on to the iconic guitar for a few years before donating it to Paul Alen's Experience Museum Project in Seattle (now called the Museum of Pop Culture), where it resides today. Overall, this is easily one of the most iconic Bob Dylan guitars of all time.
1940s Gibson J-50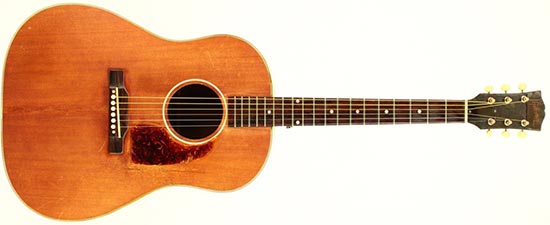 | | |
| --- | --- |
| Finish | Natural |
| Years Used | 1961 to 1963 |
Once Bob Dylan gave up his original Martin 00-17, he needed another guitar to take its place. Instead of sticking with Martin, Dylan decided to give another manufacturer a chance. This time, he picked a 1940s Gibson J-50.
The Gibson J-50 is very similar to Gibson's most popular dreadnaught acoustic, the J-45. But while it's as versatile and powerful as the legendary J-45, there are a few differences that make the J-50 an iconic guitar all its own. Back in the 1940s, it was difficult to find spruce for natural tops because of World War II, which is why most guitars from the era (including the J-45) came in sunburst finishes. The J-50, however, came with a blonde spruce top, wartime shortages and all!
Bob Dylan bought his Gibson J-50 in 1961. It had the typical blonde finish, teardrop-shaped pickguard, dot inlays up the fretboard, and vintage oval tuners. Nobody is quite sure exactly what year Bob Dylan's J-50 is, but it's most likely between a 1947 and 1950 model.
He used the J-50 to record his self-titled album Bob Dylan and also in the Freewheelin' sessions. It even made it on the album cover of Bob Dylan! The image was flipped, however, so the headstock wouldn't hide the Columbia Records logo.
Unfortunately, Dylan's J-50 "went missing" sometime in 1963, so he had to swap to another guitar—his iconic Gibson Nick Lucas Special. Although it features a few modern upgrades, you can still get your hands on a J-50. Gibson relaunched the model as the 50's J-50 Original. It's just about as close to the original as you can get without a time machine.
1964 Fender Stratocaster

| | |
| --- | --- |
| Finish | Sunburst |
| Years Used | 1965 |
July 25th, 1965 is a day that will live in infamy. Bob Dylan was set to appear at the Newport Folk Festival. He was already a big name in the folk music world, and thousands of people had come from all around to hear Dylan in all his folk acoustic godlikeness. That is until he walked on stage wearing dark shades and a leather jacket with an electric guitar jacked into an amp. To say everyone was shocked is an understatement. There have even been documentaries made about the "survivors" telling their stories!
The guitar that upset so many was a 1964 Fender Stratocaster with a sunburst finish. It had the standard three single-coil pickups, white pickguard, tremolo bridge, and three-way pickup selector switch—very similar to the Stratocasters you can get today.
Reports range from a few angry folk purists to an entire mob crying "Judas!" But no matter what you might have heard, Bob Dylan playing an electric guitar was a BIG deal. According to them, it ruined everything that folk stood for.
Even with the uproar, this certainly wasn't the last time Dylan would take the stage with an electric guitar, as he continued to flirt with several genres in his career, but it was definitely the first. Unfortunately, Dylan and his sunburst Strat would only get to make history once. After the show, he boarded a plane flown by a pilot named Victor Quinto to get to his next performance. When the flight was over, Dylan left the plane without his now-iconic Stratocaster. Quinto took the guitar home with him to make sure nobody would steal it. He called Dylan's team to get someone to pick it up, but nobody ever showed.
Decades later, in 2002, Quinto's daughter rediscovered the guitar. She called a professional to take a look at the guitar, and they stated with 99.9% certainty that it was actually the guitar Dylan used in his 1965 performance.
Once the word got out that Dylan's lost Strat was found, his team reached out to say that he actually still had the guitar in his collection. In fact, Quinto's daughter sold the guitar for a whopping $965,000, which made it the most expensive guitar sale at the time! It even included handwritten lyrics and drawings in the original case.
Over the course of its lifetime, Bob Dylan's 1964 Fender Stratocaster was the cause of much drama. Not only did it almost cause a riot back in 1965, but it also started a manhunt once it was discovered missing and broke records when it was finally found and sold decades later.
Martin 0-45

| | |
| --- | --- |
| Finish | Natural |
| Years Used | 1964 |
The Newport Folk Festival was the place to be if you were a folk enthusiast. By 1964, Bob Dylan had already proved himself a powerful presence in the folk scene, and people were lining up to see him. After a bit of coercion from the emcee, Bob Dylan walked on stage with a Martin 0-45 around his shoulder to play a few songs.
The Martin 0-45 was made between 1904 and 1930 as their top-of-the-line 0 models. The number 45 relates to the model (45 being the highest tier), and the "0" is the body shape. 0-body Martins are the smallest with shallow shoulders and a much thinner waist. Early 0 models were made for nylon strings, while later models were made with bracing under the top to support steel strings. Since Dylan was playing steel strings, it's a safe bet he was playing a 1927-1930 Martin 0-45.
Marin 0-45s featured high-quality spruce tops and rosewood backs and sides. Although Dylan was playing with steel strings, the 0-45 closely resembled classical guitars with the slotted headstock and the 12-fret neck (12 frets free of the body).
Another folk pioneer Joan Baez, dubbed "The Queen of Folk," was also at the 1964 Newport Folk Festival to perform. By that time, she and Dylan had struck up a partnership, and the two were pretty regularly performing duets together—along with perhaps some more "romantic" undertones. She also performed at the festival using a Martin 0-45, and Bob Dylan actually borrowed Baez's guitar for the show!
You can hear this incredible guitar in action as Bob Dylan plays "Mr. Tambourine Man" at the 1964 Newport Folk Festival. If that's not enough for you, there's also a great video of Joan Baez playing the same guitar and doing her best Bob Dylan impression.
Martin D-28

| | |
| --- | --- |
| Finish | Natural/Negative |
| Years Used | 1971 to 2001 |
Once the 1970s came around, Bob Dylan moved away from the Gibsons he had been touring with for most of the past decade and moved predominately to Martin guitars. One of his favorite Martin guitars that appeared during this era is the ever-popular Martin D-28.
The iconic D-28 is one of the flagship guitars made by Martin. It has been used by countless legends over the years—including Paul McCartney, Jimmy Page, and Neil Young, only to name a few—many of whom name the D-28 as their all-time favorite acoustic!
The Martin D-28 has a tried-and-true dreadnaught body shape with a high-quality solid Sitka spruce top and Indian Rosewood back and sides. The body shape and tonewood combo create what many affectionately call a "tone cannon." It's easy to recognize the D-28 just from its incredible tone a powerful bass sound.
Although Bob Dylan likes to forge his own path, even he couldn't escape the pull of the Martin D-28. After his Gibson years through the '60s, he swapped to Martins for most of the '70s and even later into his career. He first picked up the Martin D-28 for the Concert for Bangladesh playing with Leon Russel in 1971. Dylan might swap/lose/break guitars quite often, but once he picked up the D-28, it stuck with him for quite a while.
After the Concert for Bangladesh in 1971, Dylan kept the D-28 in his arsenal for decades. It made regular appearances throughout the rest of his career, including on some of his most famous performances. You can see the D-28 all throughout the 1975 Rolling Thunder Revue tour—which was made into a Netflix documentary directed by Martin Scorsese! He also used it much later in his famous MTV Unplugged appearance in 1995.
In addition to the standard D-28, Bob Dylan also used a Martin HD-28 (a slightly upgraded version of the D-28) for his 30th Anniversary Concert in 1992. Years later, Martin made a special Negative HD-28 for a guitar giveaway that was black with white pickguard, neck, and headstock (like a photographic negative). Bob Dylan liked it so much that he asked them to make one for him with dual pickguards on each side of the soundhole, so they did.
Although it's not known for sure if the D-28 that accompanied Dylan throughout the majority of his career is the same guitar, there is an interesting story as to how he got onto the D-28 train that involves Hank Williams' original guitar, Neil Young, and a borrowed tour bus.
Back in the early '70s, Neil Young was playing his idol Hank Williams' D-28—which he named "Hank" after the previous owner. Dylan hadn't done much touring at that point, but he was looking for a bus to start traveling more frequently. Neil Young, who was already a big name by that point, had a spare bus and offered to lend it to Dylan. He also said Hank was in the back if he wanted to use it. Well, Dylan did and fell in love with the D-28. Young didn't see the guitar for a while, but he knew some magic must have happened between Dylan and Hank.
Luckily, Dylan did eventually return Hank to Neil Young and picked up his very own Martin D-28, a model which he used regularly throughout the rest of his career.
1950s Martin 00-21

| | |
| --- | --- |
| Finish | Natural |
| Years Used | 1974 to 1975 |
In the mid-'70s, Dylan had a lot going on. He was recording his album Blood on the Tracks, touring with The Band, and he even performed at the historic Chile Benefit concert in 1974. Throughout all those events, one guitar was almost always at his side: a 1950s model Martin 00-21.
The Martin 00-21 used by Dylan had a slotted headstock, which is an indicator that it was built before the folk boom—likely a 1950s model. The 00 body shape is much smaller than the SJ-200 he had been using in the late '60s. It's more of a thinner grand concert styling with narrower shoulders and a smaller waist.
Dylan was also gifted a Martin 00-42 around the same time, but based on the standard dot inlays and overall lack of "fanciness," the 00-21 was his primary guitar for the majority of the events between 1974 and 1975.
1966 Fender Kingman
| | |
| --- | --- |
| Finish | Natural |
| Years Used | 1966 |
As the folk boom descended upon the world, all the guitar manufacturers were scrambling to create the best acoustic guitar possible. While manufacturers like Gibson and Martin had been in the acoustic game for decades already, others were just trying to get a toehold.
In 1963, Fender released the King—a model designed to merge the playability of an electric guitar with the sound of an acoustic. As the name might suggest, the King was supposed to be the top of the line when it came to Fender acoustic guitars. It was made with the highest quality woods, including Brazilian Rosewood.
While the body looked very similar to the other dreadnaughts that were popular at the time, the main difference was in the neck. Instead of a typical acoustic neck, the Fender King used a bolt-on neck that was more like an electric guitar. It even had a Stratocaster headstock to denote the difference.
Because the neck wasn't attached like a normal acoustic, the King had a metal "tone bar" that ran through the middle of the guitar—which became known as the "broomstick." Although the intentions were good, the tone it produced wasn't the greatest.
Fender manufactured the King—which was renamed the Kingman in 1966—until 1971 when it was discontinued because it wasn't the most popular acoustic guitar of the time.
While it might not have been very popular, Bob Dylan did use a 1966 Fender Kingman when he was making his second documentary, Eat the Document. The film followed Dylan's 1966 tour of the UK and Ireland and featured some behind-the-scenes acoustic playing that included the old Fender Kingman.
Yamaha L-6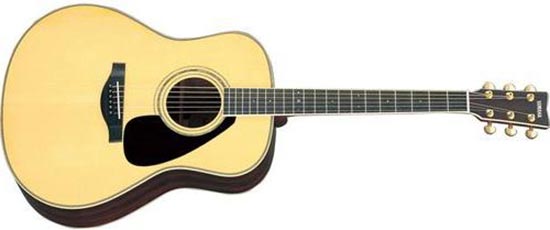 | | |
| --- | --- |
| Finish | Natural |
| Years Used | 1978 |
In 1978, Bob Dylan set off on a world tour, on which he would record his live Budokan album, with a set of guitars he hadn't used before. Instead of his standard Martin and Gibson guitars, he hit the road with a few Yamaha guitars, including an L-6.
The Yamaha L-6 has a dreadnaught body shape and features a solid spruce top and rosewood laminated back and sides. Earlier models (prior to 1979) like Dylan's featured an ebony fretboard and bridge. Because of its great design and high-quality materials, the L-Series instantly became one of Yamaha's most popular acoustic guitar lines.
Bob Dylan used the Yamaha L-6 as his primary guitar for his 1978 world tour and the Live at Budokan album. Occasionally, he would also switch to a unique-looking black Yamaha L-52 with a square white pickguard.
Washburn EA-20

| | |
| --- | --- |
| Finish | Natural/Sunburst/Black |
| Years Used | 1982 to 1987 |
Around the late '70s and early '80s, Bob Dylan swapped out his Yamahas for some new Washburn guitars. Specifically, the EA-20.
The Washburn EA-20 is much different than the other acoustics Bob Dylan had played previously in his career. Instead of the standard dreadnaught or concert body shape, the EA-20 has a jumbo body with an elegant Florentine cutaway for more upper fret access. To add to the striking looks, it also has an elongated sound hole to project even more sound. For the construction, Washburn uses spruce for the top and flame maple for the back and sides.
Bob Dylan's earliest appearance with the Washburn EA-20 was in 1982 when he played at "Peace Sunday" in Pasadena, California with his good friend Joan Baez. Joan takes the stage with her tried-and-true Martin 0-45 and Dylan with a sunburst EA-20.
In later shows, Bob Dylan plays two other EA-20s, one in black and another in white. You can see both Dylan's white and black Washburn EA-20s when he played with the Grateful Dead in 1987.
Timetable Showing Each Guitar Bob Dylan Has Played Through His Career
| Make | Model | Color/Finish | Years |
| --- | --- | --- | --- |
| Martin | 1949 00-17 | Mahogany | 1959 to 1961 |
| Gibson | 1940s J-50 | Natural | 1961 to 1963 |
| Gibson | 1933 Nick Lucas Special | Natural | 1963 to 1966 |
| Martin | 0-45 | Natural | 1964 |
| Fender | 1964 Stratocaster | Sunburst | 1965 |
| Fender | Telecaster | Natural Blonde/Sunburst/Black | 1965 to Present |
| Gibson | SJ-200 | Sunburst/ Natural | 1965 to 1969/ 1973 to Present |
| Fender | Kingman | Natural | 1966 |
| Martin | D-28 | Natural/Negative | 1971 to 2001 |
| Martin | 1950s 00-21 | Natural | 1974 to 1975 |
| Yamaha | L-6 | Natural | 1978 |
| Washburn | EA-20 | Natural/Sunburst/Black | 1982 to 1987 |
Bob Dylan Amps Overview
Although Bob Dylan was known for playing mostly acoustic guitar, he did plug in from time to time. Early in his career, he used Ampeg guitar amps and Fender bass amps when recording in the studio. Later in his career, he switched over to other amp manufacturers like Matchless. Here's a rundown of Bob Dylan's most-used amps.
1965 Ampeg Gemini I G-12
When he was recording the album Bringing It All Back Home, there are pictures of Bob Dylan in the studio holding a sunburst Fender Stratocaster plugged into an Ampeg Gemini I G-12 amp.
The Ampeg Gemini was a favorite amp for jazz players because of its rich, clean sound. It was actually designed by a jazz bassist to produce the cleanest tone possible. It featured two 7591A tubes producing 20 watts of power. There were also three more preamp tubes and a solid state rectifier to help produce the outstanding tone.
All that tube power pushed a single 12" Jensen C12Q speaker. The Gemini also had a few built-in effects, including tremolo and reverb, and a few tone adjustment knobs to control the treble, bass, volume, tremolo intensity/depth, and reverb intensity.
The picture of Bob Dylan standing in front of his Gemini amp was taken in January of 1965. Although it's not for certain, it wouldn't be a far stretch to imagine this is the guitar/amp combo he used to shock audiences just a few months later when he "went electric" at the Newport Folk Festival.
Fender Bassman
Bob Dylan was never one to get stick in a specific role. Although he was seen playing a Stratocaster plugged into an Ampeg Gemini, that wasn't the only guitar/amp combo he used to record his 1965 album Bringing It All Back Home. The Fender Bassman was a popular amp for both bass and guitar players of the era. Bob Dylan used the Bassman to record the bass parts for the album Bringing It All Back Home.
The Fender Bassman Dylan used was a 1960s "blackface" piggyback model with the separated amp head and speaker cabinet. It featured two power and four preamp tubes that pushed a 2×12" Fender speaker cabinet.
Matchless DC-30
Despite the fallout, 1965 wasn't the only time Bob Dylan went electric. He has used electric guitars at various times throughout his long, storied career. In the later part of his career, he used Matchless DC-30 amps for his live electrified sound.
The Matchless DC-30 is a 30-watt tube combo amp powered by four EL84 tubes through two channels, each with its own unique voicing. Since each tube has a distinct sound, it unlocks a wide array of available tones. Typically, guitarists choose the DC-30 for its sparkling clean tones. It also features a high/low power switch to pull the wattage down to 15-watts for even more tonal possibilities.
All that tube power pushes two dissimilar Celestion speakers: a Greenback 25 and a G12H30. All in all, the DC-30 is one of the most versatile amps on the market, perfect for a musician who dabbles in as many genres and sounds like Bob Dylan.
Bob Dylan Pedals and Effects Overview
Acoustic guitars don't always do well with pedals and effects, which is why Bob Dylan's "pedalboard" typically remains pretty empty—aka. nonexistent. However, he does occasionally pull out an electric guitar that needs a little fuzz for emphasis.
Electro-Harmonix EH-3060 Graphic Fuzz
When Dylan needs some fuzz, he turns to the Electro-Harmonix EH-3060 Graphic Fuzz pedal. The Graphic Fuzz is essential a do-it-all fuzz pedal that can achieve any tone from "I can just barely hear the distortion" to "wow, please turn that down."
It's equipped with a 6-band graphic EQ that lets players dial in the exact tone they're looking for without compromise. In addition to the EQ, you can also adjust the overdrive, dynamics, sustain, and volume with four additional sliders.
Although Bob Dylan very, very rarely rips shredding solos, he did occasionally add a bit of distortion to his guitar sound when playing with a full amplified band, especially in his later years.
Wrap Up 
Bob Dylan was born Robert Allen Zimmerman in 1941. He was raised in Hibbing, Minnesota in a small, close-knit Jewish community. He grew up listening to the radio and enjoyed blues and country music in his early life, before turning onto Rock and Roll in his teen years. His favorite artists were Elvis Pressley and Little Richard.
In 1959 when he was 18 years old, Dylan enrolled in the University of Minnesota and moved away from his hometown. It was around this time that he became interested in American folk music, saying that Rock and Roll wasn't realistic enough. It didn't reflect the way life really was. Folk captured the true essence of life, and Bob Dylan knew he wanted to join that movement. It wasn't long before he dropped out of college, picked up an acoustic guitar, and started playing local coffee shops around the Minneapolis area.
In 1960, Dylan moved to New York City to travel in the footsteps of his musical idol, Woody Guthrie. He picked up more and more gigs, building a name for himself until he was finally signed by Columbia records in 1962. From there, the sky was the limit.
Dylan played countless shows and festivals, where he rose through the folksinger ranks and became the official Voice of a Generation. He wrote songs that captured all the hardships of life and took on everything from political unrest and civil rights to war and cultural changes.
Because of his ability to take on real topics, Rolling Stone ranks Bob Dylan as the #1 Greatest Songwriter to ever live. They even ranked "Like a Rolling Stone" the 4th best song ever written!
Over the course of his more than 60 years at the helm of folk music, Bob Dylan worked with numerous other legends, including Joan Baez, Tom Petty, Neil Young, George Harrison, Johnny Cash, and The Band, only to name a few.
In addition to his incredible music career, Bob Dylan also wrote poetry and painted, with many of his works featured all over the world.
Even at 80 years old, Bob Dylan is still hitting the road. He's currently on his 2021 tour Rough and Rowdy Ways. He doesn't play guitar as much anymore because of arthritis in his hands, but that's not stopping him from standing at the forefront of folk and helping bring a healthy dose of real life into the music world. The times might be a-changin', but Bob Dylan has been and will be a constant fixture in music history now and forever.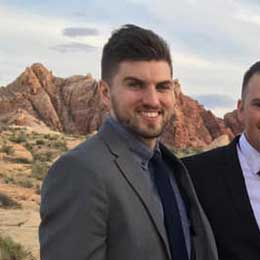 My name is Chris and I've had a passion for music and guitars for as long as I can remember. I started this website with some of my friends who are musicians, music teachers, gear heads, and music enthusiasts so we could provide high-quality guitar and music-related content.
I've been playing guitar since I was 13 years old and am an avid collector. Amps, pedals, guitars, bass, drums, microphones, studio, and recording gear, I love it all.
I was born and raised in Western Pennsylvania. My background is in Electrical Engineering, earning a Bachelor's degree from Youngstown State University. With my engineering experience, I've developed as a designer of guitar amplifiers and effects. A true passion of mine, I've designed, built, and repaired a wide range of guitar amps and electronics. Here at the Guitar Lobby, our aim is to share our passion for Music and gear with the rest of the music community.