Beyond a shadow of a doubt, Iron Maiden is one of the most influential heavy metal bands of all time. The Irons have been thrilling headbangers around the world virtually non-stop since the late 70s. Conjuring defiantly off-trend metal anthems about war, history, and religion, Iron Maiden was ignored by the mainstream until their record-breaking world tours spoke for themselves.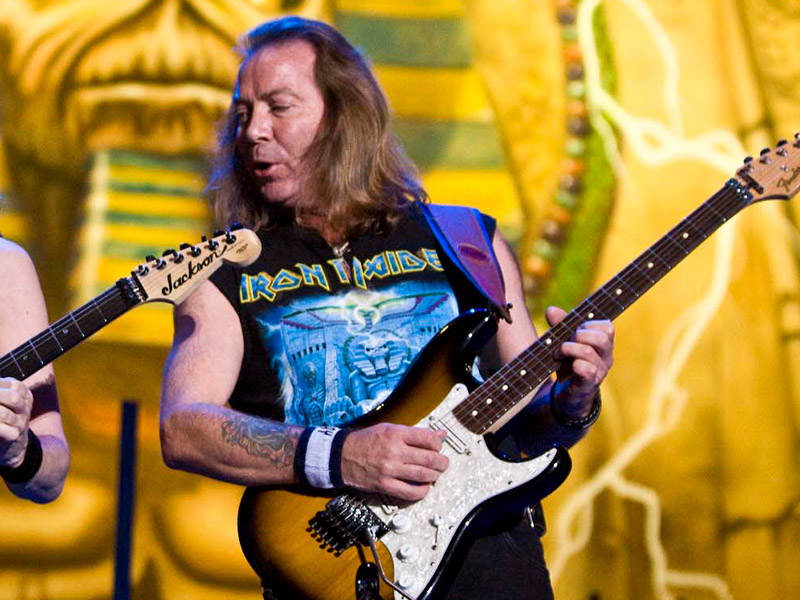 The sound of Iron Maiden is soaring vocals and lightning-fast guitar lines. They may as well have invented the dueling lead sound that defines heavy metal to this day. Dave Murray, lead guitarist extraordinaire, is Iron Maiden's not-so-secret weapon. Murray grew up impoverished in London, joining gangs and causing mayhem, but when he discovered Jimi Hendrix and Paul Kossof, he fell in love with rock and roll guitar. When he first heard Hendrix, it was love at first sight. Murray told Mick Wall in Maiden's biography that "I heard 'Voodoo Chile' on the radio and I thought, 'Bloody hell! What is THAT? How do you do THAT?'
Dave Murray dabbled in various rock bands and record stores over the course of his teenage years. In 1976, he answered an ad looking for a lead guitarist, and auditioned for the band that would change his life, and music history forever: Iron Maiden.
What Guitars Does Dave Murray Play?
Dave Murray primarily plays Fender Stratocaster guitars. Although he's also played other guitar models, he's stuck primarily to the iconic brand of Fender, even through an era when most metal guitarists were looking elsewhere. This loyalty eventually earned Murray his own signature Strat line.
See the full list of Dave Murray guitars and gear below.
1957/63 Fender "Kossoff" Stratocaster

| | |
| --- | --- |
| Finish | Black |
| Years Used | 1976 to Present |
Dave Murray's black Stratocaster is perhaps the instrument most closely associated with the Iron Maiden axeman. The image of Murray on stage, clad in denim and leather, tearing his way through "The Trooper" or "Number of the Beast" on this black Fender is one of the most enduring in heavy metal history.
This guitar is actually two guitars in one. Its body comes from a 1963 Strat, while the neck is from a '57 model. Guitar necks from the '50s are thicker than later models and provide a deeper tone with more sustain than the slim necks often favored by shred guitarists. Dave replaced the stock single-coil pickups with two DiMarzios, a Super Distortion in the bridge position and a PAF in the neck position. The Super Distortion, a favorite pickup among many 70s and 80s metal players, has a snarling, high-octane tone perfect for the aggressive music Maiden is famous for. The PAF in the neck position, according to Murray, is for a "smoother, creamier sound".
Murray often refers to this Stratocaster as his favorite instrument and it was used as the basis for his signature Fender guitar in 2009.
Dave bought this Stratocaster back in 1976. An ad in Melody Maker advertised a guitar that once belonged to Paul Kossof, Murray's boyhood hero of Free and Bad Company fame. A young Dave Murray made it his mission in life to buy this guitar: "I paid about $1,400 for it, which in 1976 was quite a bit of money. But I didn't care. I just sold everything I had so I could get it. And I used it from then on. It just felt like I was holding a piece of magic because he used this guitar."
Murray picked this guitar up only a year following Kossof's tragic, untimely death. This guitar became not only Murray's favorite instrument but the template against which his other instruments would be measured. Because of its hot-rodded pickup configuration, this Stratocaster is all over Iron Maiden's classic albums. Murray used it to record both his lead and rhythm parts, as well as the rare clean section of an Iron Maiden song.
Although David used this guitar for most of his career, if we had to pick an iconic performance, we'd have to go with one of Maiden's most iconic gigs and renditions of Run To The Hills in 1982. Murray used the neck pickup for the sweeter, melodic section in the intro, switching to the more aggressive bridge pickup for the galloping rhythm and his barnstorming guitar solo:
This Stratocaster wasn't just Dave's main live guitar, either. He used it to record every single one of Iron Maiden's classic albums through the 1980s.
Murray retired his beloved Stratocaster from touring life in the 90s, replacing it with a near-identical Fender signature model. The guitar currently resides with his mother back home in England, but Murray still plays the guitar at home to this day.
Fender Dave Murray Signature Stratocaster

| | |
| --- | --- |
| Finish | Sunburst |
| Years Used | 2009 to Present |
It took Fender guitars several decades to recognize Dave Murray's unfaltering loyalty to the Stratocaster. When they finally built a Dave Murray signature Strat, the results were glorious. Murray first played a prototype of this guitar on Maiden's Somewhere Back in Time tour. He played it on "Revelations", at the band's concert in Sydney, Australia.
The Dave Murray signature Stratocaster might look like a normal Stratocaster, but the instrument is seriously hot-rodded to Murray's specifications.
The most obvious addition to this guitar, when compared to an ordinary Stratocaster, is the Floyd Rose FRT-O1000 Double-Locking Tremolo. Close inspection of the pickup configuration reveals unique humbuckers the size of a single coil. The Dave Murray Signature Strat uses Seymour Duncan Hot Rails humbucking neck and bridge pickups, which produce all the power and presence of full-sized humbuckers without the need to re-route the pickup fitting in a single-coil guitar. The guitar's middle pickup is a Seymour Duncan mini JB humbucker. The body is alder and the fretboard is a single piece of rosewood, with a compound fretboard radius to aid in Dave Murray's lightning-fast legato runs.
This guitar quickly became a Murray mainstay, appearing on every tour since 2009, and used extensively in the recording of The Book of Souls.
1970s Fender Stratocaster

| | |
| --- | --- |
| Finish  | White |
| Years Used  | 1983 to 1987 |
This particular Stratocaster came in a double combo, one with a rosewood neck and another with a maple one. It was notoriously played in the 1985's Rock in Rio when Dave used it to play the eponymous tune to the band, ever since then, it became the designated guitar for Iron Maiden.
Like his hero Jimi Hendrix before him, Dave Murray used the white Stratocaster to deliver powerful, melodic guitar lines. This particular Strat has a large headstock with a big Fender logo, and a large Stratocaster logo. This dates it to the early 1970s when Fender was owned by CBS.
Fender's founder, Leo Fender, sold his company to broadcasters CBS in 1965. Countless players in the late 60s, Dave Murray included, were inspired by Jimi Hendrix's guitar heroics, and flocked to music stores to imitate their hero. However, the guitars Fender made available in the 70s were drastically different from those Hendrix and his contemporaries played.
CBS replaced the Stratocaster's nitrocellulose finish with polyurethane. The pickguards, instead of celluloid, were swapped out for ABS or vinyl. Finally, the fret inlays were Pearloid. 70s Stratocaster bodies became less curved, and their headstocks were enlarged to accommodate the larger Fender and Stratocaster logos. The Stratocaster's neck became chunkier, adopting a "C" profile, which by the late 70s looked more like a letter "U"!
Perhaps most significantly for Dave Murray, some Fender Strats of this era came with a stock humbucker in the bridge position, catering to the burgeoning market of hard rock and metal players.
Dave's white Stratocaster has two double cream humbuckers, most likely his preferred DiMarzios, with a Super Distortion in the bridge position and the PAF in the neck position. The neck is polished maple, and it has a locking tremolo system installed, possibly a Kahler or a Floyd Rose.
1973 Gibson SG Custom

| | |
| --- | --- |
| Finish | Natural |
| Years Used | 1979 to 1981 |
This is somewhat of a bleak piece to Dave's catalog, however, it is also one of the most intriguing ones regarding its bleak yet palpable use on studio. On the back cover of Iron Maiden's sophomore album Killers, Dave Murray can be seen holding a three-pickup Gibson SG.
There is little information available about Dave's SG, but there are some clues based on its appearance. The block inlays and triple-pickup configuration suggest that it's an SG Custom, rather than the two-pickup Standard or Special. Dave's SG also has the smaller pickguard, which was initially used from 1961 to 1965. The small pickguard was discontinued in favor of the asymmetrical "batwing" pickguard until 1972 when it was reintroduced.
SGs produced from 1972 onwards have a longer neck than earlier models, with the body meeting the guitar's neck at the 20th fret. In the above picture of Dave's guitar, the guitar's neck meets the body at the 20th fret, making it at least a '72 model.
The guitar's bridge has no tremolo arm, which was a standard feature on the SG Custom until 1973. The 1973 Gibson catalog advertises a three-pickup SG Custom with block inlays, a natural finish, and a stop tailpiece, much like the one pictured on the back of Killers! The small pickguard and matching control knobs further add to the resemblance between the stock model and Dave's own SG. Murray's Killers SG was likely a '73 model. The neck pickup has been replaced with a high-output bladed humbucker, likely the DiMarzio X2N, which was first introduced in 1979.
The guitar in the photo makes no further appearances following Maiden's Killers tour but was used live leading up to the album's release.
Dave Murray mentioned in a 1983 Guitar World interview that he owned a 1961 Gibson SG, but this is probably not the same guitar.
In 1960, sales of Gibson's flagship solid-bodied electric guitar, the Les Paul, had dropped significantly. In an attempt to address perceived issues with the Les Paul, such as the lack of upper-fret access and the guitar's significant weight, they redesigned the guitar. The resulting instrument had two horn-shaped cutaways on a far thinner body, which met the guitar's neck a whole three frets later than the original Les Paul.
In 1961, Gibson released the new "Les Paul", which still bore the name "Les Paul". This design went on to become Gibson's best-selling electric guitar model! However popular this updated guitar may have been, Les Paul himself hated it. He asked Gibson to remove his name from the instrument, and the new design was re-christened the SG, standing for "Solid Guitar".
In the Guitar World interview, Dave Murray mentions that the guitar's parts are "all stock". Murray may have been referring to his above Gibson SG Custom, but this is unlikely as early SG "Les Paul" guitars had a pickguard between the neck and first pickup, which is absent on the pictured guitar.
Ibanez Destroyer II
| | |
| --- | --- |
| Finish | Sunburst |
| Years Used | 1982 |
With original singer Paul Di'Anno gone, Iron Maiden took to the studio with ex-Samson frontman Bruce Dickinson. Their first album with Dickinson, Number of the Beast, affirmed Maiden as heavy metal masters, and the album's success sent Maiden on a world tour entitled Beast on the Road.
Iron Maiden's music for this album moved on from the punk-infused edge of their first two albums and deployed more advanced musicianship and a heavier prog and metal influence. While the Kossof Stratocaster remained Dave Murray's main instrument for this tour, he relied heavily on a newly acquired Ibanez Destroyer as his backup guitar.
Dave Murray played the Destroyer on Maiden's more menacing songs in the set, like "The Prisoner" and "Hallowed be Thy Name". This may have been because these longer Maiden epics required greater tuning stability than his Stratocaster was capable of giving at the time.
Ibanez's Destroyer model was originally introduced in 1975 to imitate Gibson's radical Explorer design. The Destroyer is built from mahogany for both the body and the neck, with a rosewood fretboard. Murray likely replaced the stock Ibanez pickups with DiMarzio Super Distortions, his preferred high-output humbucker.
The Destroyer made no further appearances following the Beast on the Road tour, and its current whereabouts is unknown. This is one of my personal favorite Dave Murray guitars of all time.
Gibson Les Paul Traditional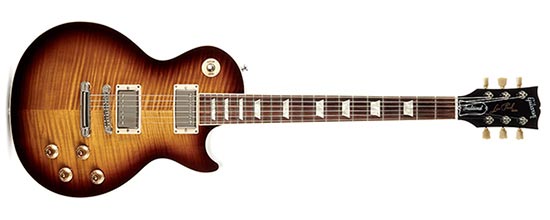 | | |
| --- | --- |
| Finish | Tobacco Burst |
| Years Used | 2010 to Present |
Although Murray mentioned acquiring a Les Paul during an interview with Guitar World in 1983, he was seldom seen playing Gibson guitars until Iron Maiden's Final Frontier tour. The first notable Les Paul Dave used was a Les Paul Traditional, pictured below as part of his 2010 touring rig:
The guitar has a rosewood fingerboard and a sunburst finish, with a deep flame maple top. The body is weight-relieved mahogany, with a mahogany neck. Supposedly, the guitar is 100% stock, including its pickups and all hardware. Murray originally bought this Les Paul for practicing in hotels but liked it so much he brought it out on stage.
1960s Gibson Les Paul Classic

| | |
| --- | --- |
| Finish | Sunburst |
| Years Used | 2011 to Present |
Dave brought in yet another Les Paul for the 2011 leg of the Final Frontier tour, this time a Les Paul classic in a more subdued burst. The Les Paul Classic can be seen during Maiden's visit to Santiago Chile in 2010, where Dave plays it on "The Talisman".
Dave's Les Paul Classic is a '60s reissue with stock Gibson '57 Classic humbuckers. These are relatively low-output humbuckers, compared to the DiMarzios and Seymour Duncans Dave Murray is more associated with.
The Les Paul Classic was modeled on the 1960s Les Paul Standard line, with the standard Les Paul appointments such as rosewood fingerboard, bound body, and a plainer maple cap on the body than Dave's Les Paul Traditional. Dave used this Les Paul Classic to record The Book of Souls, likely to assist in a tonal balance between his own Stratocasters and those employed by bandmates Adrian Smith and Janick Gers.
Fender Dave Murray Custom Stratocasters

| | |
| --- | --- |
| Finish | Various |
| Years Used | 1999 to 2010 |
Dave Murray had a rare and special line of Stratocasters that followed the stage retirement of his beloved "Kossoff" guitar. These Fenders came equipped with Floyd Rose Tremolo systems, while others came with a special HH setup to them. It's fair noting that even though these were stock guitars for Murray, they were all unique in their own way. Hence, these prototype and customized guitars would pave the way and lay the ground basis for his latter signature model.
Murray was an early adopter of Seymour Duncan's Hot Rails humbuckers, first using them around the turn of the century. He would make some very extensive use of these "prototypes" for about a decade, and most of his concerts during the 2000s were delivered with these specific guitars.
Later on, as his partnership with Fender guitars would bring him a standard and reliable model for most of his gigs, these would be slowly retired or kept for touring. His most notorious ones were a sunburst and a black Strat.
Popular Related Article: Adrian Smith Guitar Rig Rundown
ESP Stratocaster
| | |
| --- | --- |
| Finish | Cream |
| Years Used | 1988 |
Making its debut on the Seventh Son of a Seventh Son tour was a mysterious cream-colored Stratocaster. Murray can be seen playing the ESP during "Still Life" in the Maiden England video above.
ESP is a Japanese guitar manufacturer who came to prominence in the early 80s providing custom guitars for New York's session musicians. Early ESP adopters included Bruce Kulick of KISS and Vernon Reid of Living Colour. ESP started producing parts for bigger American brands, and eventually shaped the sound of American heavy metal, with players in Anthrax, Metallica, and Megadeth adopting ESP's instruments. Never one to shy away from a good heavy metal Stratocaster, Dave Murray was quick to try out this impressive startup brand from the Far East.
ESP may have custom-built Dave Murray's Stratocaster for him, as Iron Maiden was one of the biggest acts on the planet at the time. Dave's ESP has a rosewood fingerboard and two DiMarzio humbuckers, probably a Super Distortion in the bridge and a PAF in the neck. The guitar also has a locking tremolo for the squeals and dive bombs that were becoming a part of Murray's lead guitar repertoire.
Dave Murray also played a light blue ESP Stratocaster during some shows on the Somewhere in Time tour, but ESP Strats were quickly removed from rotation.
Table Showing Each Guitar David Murray Has Played at Every Point in His Career
| Make | Model | Color/Finish | Years |
| --- | --- | --- | --- |
| Fender | 1957/63 "Kossoff" Stratocaster | Black | 1976 to Present |
| Gibson | 1973 SG Custom | Natural | 1979 to 1981 |
| Ibanez | Destroyer II | Sunburst | 1982 |
| Fender | 1970s Stratocaster | White | 1983 to 1987 |
| ESP | Stratocaster | Cream | 1988 |
| Fender | Dave Murray Custom Stratocasters | Various | 1999 to 2010 |
| Fender | Dave Murray Signature Stratocaster | Sunburst | 2009 to Present |
| Gibson | Les Paul Traditional | Tobacco Burst | 2010 to Present |
| Gibson | 1960s Les Paul Classic | Sunburst | 2011 to Present |
Dave Murray Amps Overview
The sound of Iron Maiden is a roaring Marshall amp. Jimi Hendrix was the first to popularise the sound of a Fender Stratocaster through a Marshall amp with every knob all the way up, and Dave Murray happily emulated his hero in his own choice of amps.
Murray flirted with other amps over the years, including smaller brands like Gallien Krueger and Victory, but the core of his guitar tone has always been a Marshall amplifier. The big, bold, British sound of a Marshall amp can be heard on every Iron Maiden studio album and on every Iron Maiden tour.
Marshall 50-watt Super Lead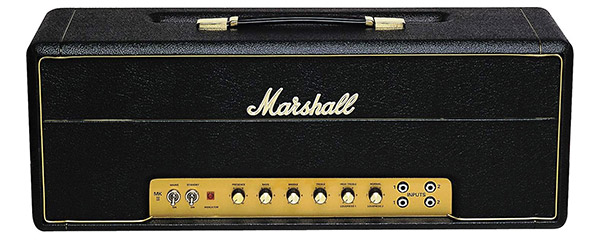 Dave Murray, throughout Iron Maiden's 1980s heyday, remained loyal to the 50-watt Marshall Super Lead. In fact, Murray used his fifty-watt Marshalls exclusively up until 1986, when he and Adrian Smith flirted with Gallien-Krueger's hot-rodded heavy metal amps.
The Marshall Super Lead is arguably the sound most associated with classic hard rock and heavy metal. Originally developed to suit the ear-destroying sonic requirements of The Who's Pete Townshend, the Super Lead's sparkling cleans and capacity for roaring distortion made it a quick favorite among budding headbangers. Dave Murray's hero, Jimi Hendrix, took to the stage at Woodstock 1969 armed with his Stratocaster and a stack of Marshalls. This setup defined the sound of rock guitar, and Dave Murray adopted a similar rig, albeit one better suited to the high-gain guitar heroics of Iron Maiden.
Dave's fifty-watt Super Leads were likely 60s or 70s "Plexis", so named for their Plexiglas-like faceplate. Based as he was in London in Iron Maiden's early years, his Marshalls were almost certainly genuine, UK-made models, with EL34 tubes to produce crackling, roaring distortion. Overseas Marshalls were shipped with Tung-Sol 6550 tubes, which were less breakable, but lacked the rich harmonic response of the classic EL34.
Dave's original Marshalls lacked a master volume knob, as can be seen in the photo above, so the only way to achieve his distorted tone was to push every channel on the amp all the way up to 10.
Gallien-Krueger 250ML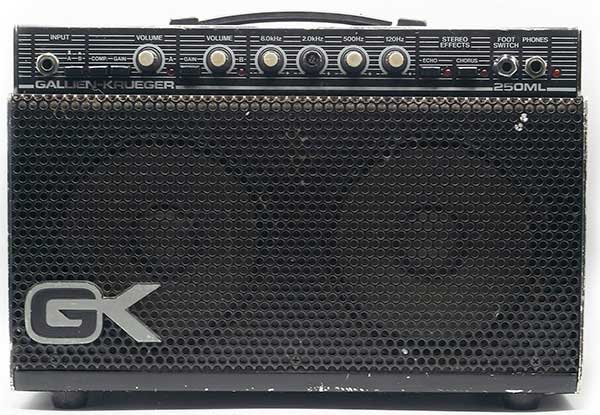 Dave Murray and fellow Maiden axeman Adrian Smith played Gallien-Krueger amps in 1986, first endorsing the Californian brand for the Somewhere in Time tour.
Gallien-Krueger is today more associated with bass amps than guitar amps, but once upon a time, Carlos Santana was a proponent of these Californian gain monsters.
Dave Murray used his Gallien-Krueger for the Somewhere in Time tour from 1986-87 and on the Seventh Son of a Seventh Son album and accompanying tour. These amplifiers came with built-in chorus and echo effects in addition to an external effects loop. This helped Maiden deliver their synth-heavy songs from these two albums on the road. The lush, layered guitar effects from Somewhere in Time and Seventh Son required the extensive use of these effects, which the Gallien-Kruegers delivered in spades. 100 watts of power and a built-in overdrive channel completed the sound of prog-influenced late 80s Maiden.
Marshall JMP-1
Dave Murray adopted the Marshall JMP-1 rack unit sometime in the late 90s. The JMP-1 preamp remained part of his rig up until 2011 at least, as indicated in the above video. The JMP-1 emulates four classic Marshall sounds.
Dave used the combination of two JMP-1 preamps to provide five sounds. One for clean, two rhythm, and two lead tones.
Dave's JMP-1 runs into a series of Marshall JMC 2000 heads used solely as power amps.
Marshall JCM 2000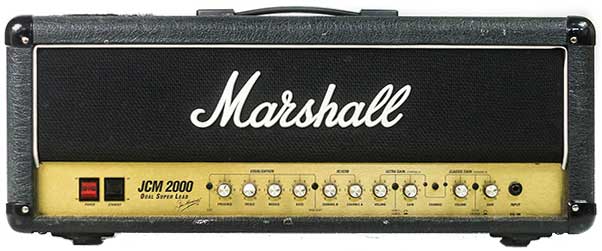 In 2011, Murray's touring rig featured three high-powered Marshall JCM2000 heads. The video above shows not one, not two, but three JCM 2000 heads, which Murray uses live as power amps, with the aforementioned JMP-1 providing his preamp. Murray tours with three of these heads, but only one is in use at any given time, with the other two going spare.
The 2000 was released at the turn of the century, an ultra-modern high gain take on Marshall's classic JCM800 and 900 models.
UK models (which Iron Maiden almost definitely played) used Marshall EL34 tubes, with an extra clipping diode for the lead channel. This provided additional onboard distortion for guitarists without necessitating the use of a distortion pedal. However, as Dave Murray used these as power amps, not preamps, this additional feature had no effect on his live tone.
Victory Amplifiers V100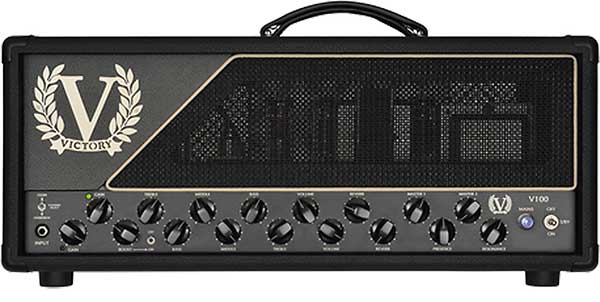 According to Dave in an interview, he experimented with Victory amps for the recording of Maiden's latest album, The Book of Souls. Murray described how he was tempted away from Marshalls when his guitar tech brought a Victory amp to the studio: "I used one on the tail end of the album, and it was tremendous – very tubey, very old school."
Victory amps took to Facebook to announce that Murray had used a Victory V100 amp on the album. Victory's amps are hand-built in England, like the old-school Marshalls that Dave Murray used in the 70s were.
Fender Super-Sonic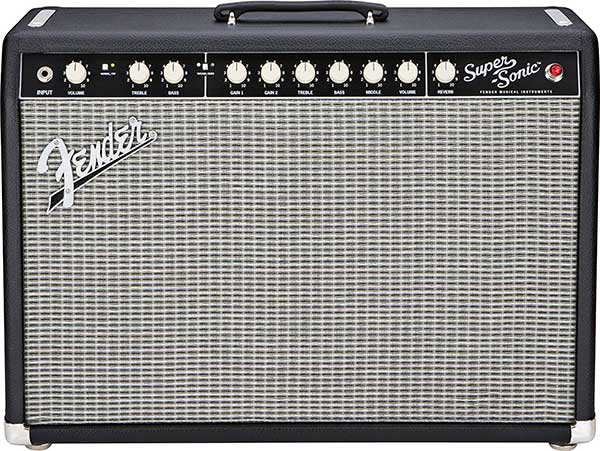 Murray further experimented with his tone on The Book of Souls when he tried this 100-watt Fender model. Fender's Super-Sonic 100 is a classic all-tube affair, with a cleaner, lower-gain sound than the Marshalls for which Dave is more famous. Murray described the Super-Sonic as "absolutely amazing".
Dave Murray Pedals and Effects Overview
Dave Murray quickly adopted guitar pedals once Maiden began touring regularly, using a custom-built Pete Cornish pedalboard to turbo-charge his playing.
Like the rest of his equipment, Murray's pedals are reminiscent of Jimi Hendrix's own choice of stompboxes. Wah pedals, classic drive and distortion, and even modulation effects like phaser and chorus have all appeared at Murray's feet over the years.
In this list, we look at the classic effects that have shaped Dave Murray's crisp, sizzling, guitar tone.
Cry Baby Wah Pedal
The Cry Baby was first introduced in 1966, and today remains one of the best-selling guitar pedals of all time. In his interview with Guitar World from 1983, Murray discussed using the Cry Baby on Maiden's Piece of Mind tour.
In fact, the sound of a wah pedal is what first inspired Dave Murray to play hard-hitting rock and roll. Said Murray of hearing Hendrix's "Voodoo Chile" for the first time, "you know you hear something–an instrument–and you can't quite figure out what it is. And so it was the wah pedal that really got me."
The Cry Baby uses a foot-controlled potentiometer to sweep through the frequencies in the guitar's signal before the amp. This sweep shapes the guitar's sound, and rapid sweeps from bass to treble sound as if the guitar is saying "wah", hence this effect's onomatopoeic name.
Dave Murray tends to reserve his wah playing for the live stage, avoiding it in the studio. His solo on "Still Life" from Piece of Mind features a quacking, throaty half-cocked wah sound, achieved by turning the pedal on and leaving the potentiometer halfway between the heel and toe positions. You can clearly hear the sound of Murray's Cry baby in this solo from "Powerslave, as well as his love of Hendrix when he plays the Strat with his teeth at about 2.46:
MXR Distortion +
Unlike Adrian Smith, who throughout the 80s preferred the natural breakup of his Marshall amps, Dave Murray was happy to further distort his sound with the then-revolutionary technology of a distortion pedal.
Starting with Iron Maiden's breakthrough album, The Number of the Beast, Dave Murray souped up his distorted sound with this unassuming yellow box from MXR. The Distortion + boasts a spot on Murray's pedalboard to this day, still in use on their latest album, The Book of Souls.
MXR Phase 90
Dave Murray claimed to use an MXR Phase 90 as of 1983 in his interview with Guitar World. The Phase 90 is perhaps most famously associated with Edward Van Halen, who used it to add dimension and depth to his flurries of furiously tapped notes. Dave Murray used the pedal on a similarly slow setting to Edward Van Halen, and you can hear the slow sweep of this classic phaser across Dave's live solos from Number of the Beast onwards. The phaser may also have helped thicken Dave's guitar sound during Maiden's extended guitar harmony sections.
TC Electronic Flashback Delay
Most recently, Dave Murray has taken a liking to TC Electronic's delay pedal. He used it in the recording of The Book of Souls. Murray uses a short slapback delay for some of his solos live, but in a three-guitar band like Iron Maiden the use of echo can muddy the band's sound, so Murray is sparing with his use of this echo effect.
MXR Uni-Vibe Chorus
Murray's final modulation effect, the uni-vibe chorus, provides a throbbing, hypnotic pulse to his guitar sound. Like many of his other gear choices, Murray's use of the Uni-Vibe is massively influenced by Jimi Hendrix. Hendrix notably used the Uni-Vibe on the track "Machine Gun", taking advantage of the stuttering chorus effect. Murray has used the Uni-Vibe live since at least 2011, preferring to control the effect himself rather than leaving it to his guitar tech.
Wrap Up
During his audition, Murray so impressed the band's founder, Steve Harris, at this audition, that he immediately replaced not one but two guitarists in the band. Apart from a brief sacking following a brawl with then-singer Dennis Wilcock, Dave Murray enlisted his boyhood friend Adrian Smith to join him on guitar, and the rest is heavy metal history.
Iron Maiden has endured changing trends, changing lead singers, and changing times, and throughout all of that remained true to their heavy metal sound. Iron Maiden's lineup may have shifted throughout the years, but lead guitarist Dave Murray is the only member, save the band's founder, Steve Harris, to play on every studio album and every tour.
Although it may be hard to pinpoint Murray's sound at first, he thrives in the 3 axemen core set, by being the ultimate rhythmic player. An avid fan and brilliant blues player, Dave delivers a hypnotic bend, tap, and slide technique that sets him apart from his bandmates and peers, he knows when to back up and set the scene for Smith to shred away or to allow Dickinson to charm the audience with a unique flair.
Murray provides Maiden with a distinguished smooth sound, especially for the Heavy Metal behemoth the band is, if anyone provides a classic legato quality to the Maiden sound, it has got to be the one and only David Murray.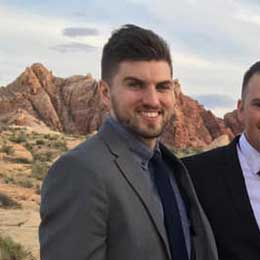 My name is Chris and I've had a passion for music and guitars for as long as I can remember. I started this website with some of my friends who are musicians, music teachers, gear heads, and music enthusiasts so we could provide high-quality guitar and music-related content.
I've been playing guitar since I was 13 years old and am an avid collector. Amps, pedals, guitars, bass, drums, microphones, studio, and recording gear, I love it all.
I was born and raised in Western Pennsylvania. My background is in Electrical Engineering, earning a Bachelor's degree from Youngstown State University. With my engineering experience, I've developed as a designer of guitar amplifiers and effects. A true passion of mine, I've designed, built, and repaired a wide range of guitar amps and electronics. Here at the Guitar Lobby, our aim is to share our passion for Music and gear with the rest of the music community.