Most musicians play within a particular genre or become known for existing within a certain musical ecosystem. But few musicians have covered as much ground across the entire spectrum as multi-talented guitarist, singer, songwriter, mixing engineer, and overall goofball as Devin Townsend. From the most aggressive of metal, all the way to the most ambient and melancholic of delay and reverb-drenched ambient soundscapes, Devin has done it all.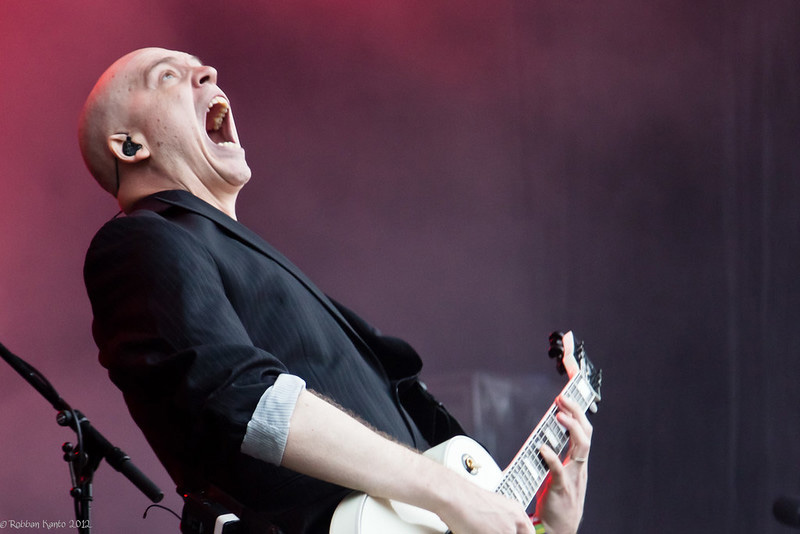 His hilarious and comedic banter and infectious personality both on and off stage combined with his world-class musicianship and technical ability on the guitar has garnered him a cult following all around the globe. Boasting an incredible 24 studio albums to his name, plenty more side projects to boot, and performing with artists such as Steve Vai and The Wildhearts. Devin's musical journey has been adventurous and diverse, to say the least.
What Guitar Does Devin Townsend Use?
Devin Townsend plays Framus guitars which have been his primary instruments for the Devin Townsend Project. He tends to favor his Framus Stormbender but has played a wide range of other guitars throughout his career.
See the full list of Devin Townsend guitars and gear below.
Framus Stormbender

| | |
| --- | --- |
| Finish | Black with Natural Ornaments/White |
| Years Used | 2016 to Present |
This is the culmination of many years of product refinement between Devin and Framus. The official models of this guitar can be seen played by Devin from tours as early as 2017 but the first few issues were given to Townsend back in the early half of 2016, just in time for the NAMM convention. When discussing this guitar Devin mentioned that although he has had previous signature models with other companies, they were always there to fulfill a specific purpose – the 'metal' one, the 'clean' one, and so on. But, the goal with this was to be the be-all-end-all guitar that could do everything he needed it to do. Which as we know from the diversity within his catalog is substantial to a degree that's way beyond that of an average musician.
The guitar was largely inspired by that of a Les Paul custom, with a solid mahogany body and set neck combination. Thick maple cap and ebony fretboard. This fundamental was then taken and applied to a more modern-looking, double-cutaway super-strat style guitar. While also incorporating other cutting-edge guitar technology that is becoming more common these days.
This includes the Evertune bridge, which Devin has been using for a little while. As well as his new signature set of guitar pickups from Fishman called the 'Transcendence'. These utilize unique technology to capture the guitar's signal, replacing the traditional magnetic method. The pickups have two modes to change the output from a hot, modern, active tonality used for high gain rhythms and leads, to a low output passive which is far more conducive to clean tones and melodic sounds.
Much like the other guitars Devin has produced with Framus, everything lights up. From the triangle inlay behind the bridge on the body, the 12th fret inlay, the headstock, and, of course, the fret markers along the side of the fretboard to see in the dark.
This was designed in a way so when the guitar is placed on the ground the headstock doesn't touch the floor. Thus reducing the risk of damaging the instrument if it happened to be stepped on by accident, which Devin has mentioned he does quite often.
This guitar also has a more affordable alternative available called a 'team build' version, which is essentially identical but doesn't have the carbon fiber inlay in the middle of the body, and it also doesn't have the LED system. Then at the 2020 Namm show, they already revealed a further, more budget-orientated version called the D-Series as both the custom and 'team build' versions were still considered to be a little more expensive.
It's fair to note that Devin owns a vast number of these models, from the more laid-back versions to the most eccentric ones. As expected Townsend is not shy when it comes to his antics involving his now main signature six-string.
Framus Custom Shop AK1974 'Mandelbrot'

| | |
| --- | --- |
| Finish | White Flamed Custom Psychedelic/Bleached Stone |
| Years Used | 2013 to 2014 |
This model was a Framus built for Devin in 2013. Pretty much every accent on the guitar lights up, including the faux F hole, the Devin Townsend logo on the 12th fret, the Framus text, and the logo on the headstock. Even the fret markers on the side of the neck light up to help Devin see when he's playing on stage and the lights are down.
It's all fundamentally based on their regular AK1974 model, which is essentially the Framus answer to a Les Paul. But of course, heavily customized for Devin. Even though there is an F-hole on the guitar, it's just aesthetic as it's actually a completely solid mahogany-bodied guitar. Which Devin commented makes it extremely heavy, but that's just how he likes it. It also had a very thick maple top completing the Les Paul wood combination.
The most important part of the guitar is the 'Mandelbrot' Inlay on the body of the guitar, which is also illuminated. This is actually a small section of burled wood that was cut out and inlaid into the body in such a way as the light would shine through it from behind. Much like the Mayfield model, the guitar uses an EMG 81 in the bridge and a 66 in the neck.
Framus Mayfield Custom
| | |
| --- | --- |
| Finish | White Flamed Maple |
| Years Used | 2012 to Present |
This is one of the first Framus guitars we would see Devin use, he talks about this guitar in-depth on the official Framus/Warwick youtube page. The guitar is a hollow body, but interestingly he would also use it for distorted rhythms and leads in his standard C Maj tuning. Also a very unique aspect of the guitar is that the entire body is flamed maple, so no tone blocks or alternate back and side woods. It also had a Bigsby bridge which was not a particularly common sight on guitars that are used for heavier styles of music. As well as an EMG 81 in the bridge and a (what was new at the time of production) EMG 66 in the neck.
It also had the 'Devin Townsend Project' logo on the 12th fret that had LED lights situated inside (or underneath) the fretboard that could light up. This guitar was not, at this stage, considered a signature model. However, it was heavily tailored to Devin's style and was made available to order for the public with the exact same specifications, blurring the line a little between a one-off and a signature model because of how Framus operates their custom orders. Devin played this guitar during his performance at the Soundwave Festival and continues to use it to this day in its multiple incarnations.
Peavey PXD Vicious Signature Devin Townsend V 7

| | |
| --- | --- |
| Finish | Grey/Black/ White |
| Years Used | 2010 to 2014 |
Following Devins Addicted album, his next planned outing titled 'Deconstruction' was intended to be a much heavier and aggressive effort than his material on "Ki". However, he needed a guitar to facilitate that style as he was no longer using the ESP SC models anymore.
In collaboration with Peavey, he worked on a signature model to coincide with the creation of this album. Devin has described his desire for this guitar as wanting an instrument that could crush everything while maintaining a high level of quality and elegance.
The instrument is a 28″ baritone scale, neck-through design meaning it could accommodate the lowest of tunings with increased stability. It had an EMG 81 – 7 string pickup in the bridge as well as a single-coil sized EMG in the neck to facilitate the cleans that would still be required of him. It also featured locking tuners.
These guitars also had something Peavey has named as the 'afterburner' circuit, which is essentially a +20db selectable boost to provide some additional gain for leads when necessary. Very similar to what you might find on some of the John Petrucci Musicman JP signature guitars.
This signature model was released in two versions. Each of them had a few different options available. The non-signature versions (the PXD Vicious and Vicious II) would have EMG 60 and 81's, and then there was also a much more affordable version made which would use Peavey's own VFL active pickups.
"To have a company that knows how to get things done behind me with a metal axe like this is a real sense of power."
ESP Explorer
| | |
| --- | --- |
| Finish | Gloss Black |
| Years Used | 1996 to 2003 |
If you trawl through the vast history of live performances from Devins time with Strapping Young lad, this will be one of the earliest guitars you see him with. Used during the 'Heavy As A Really Heavy Thing' cycle as well as for some tours for the 'City' album. You can also see the guitar being used in the music video for the song 'Relentless' (also from City).
The guitar itself is a rare piece when it comes to manufacturing period, but quite standard as far as metal guitars go. In production from 1996 to 2000, it featured a fixed, tune-o-matic style bridge, 22 frets, along with a solid mahogany body in an explorer-style shape. Most importantly this guitar had 2 EMG 81's, which was quite an unusual combination as around this time with Metallica popularising the EMG 81-85 combo. So many people were choosing that combination for most standard metal setups. However Devin would go on to replicate this dual EMG 81 combination for many years to come in almost every guitar he used, so there was clearly something about this particular setup that appealed to him and left a lasting impression.
ESP LTD EX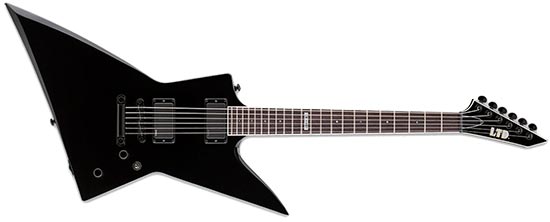 | | |
| --- | --- |
| Finish  | Grey/Black |
| Years Used | 2004 to Unspecified |
In 2004, Strapping Young Lad recorded a live DVD of their performance at the Commodore Ballroom in Vancouver to commemorate the re-issue of the album 'City'. Which was part of the Century Media (who were SYL's record label and publisher at the time) 25th Anniversary celebration.
This guitar is part of the ESP Explorer range, of course originally popularised by Metallica guitarist James Hetfield. As demand for a more affordable version of this guitar became apparent, a lower-priced 'LTD' version was produced. It was available in a large number of combinations with different body woods and bridge choices.
Although not explicitly stated, from the looks of it this was the LTD EX-400. As it has the tune-o-matic style bridge. Plus we know Devin was a heavy user of EMG pickups, favoring the EMG 81 and this guitar came with the 81/60 combo. Devin used a couple of these guitars throughout the length of the DVD in both a grey and black finish.
ESP LTD TE-202

| | |
| --- | --- |
| Finish | White/Black |
| Years Used | 2005 to 2006 |
By the time Alien was released Devin Townsend had started to make some noticeable changes to his style. Obviously, it wouldn't be until later on in 2006 that we would come to understand his growing disillusion with Strapping Young Lad. As such, Devin wanted to explore different areas of music that are more indicative of his solo material such as "Ocean Machine".
Up to now, at least for Strapping Young Lad, he had been using an explorer style guitar for his 6 string needs. However, from the gear run-through video that was made after the release of 'The New Black' we can see that he moved to using 2 T-style guitars.
Essentially the same guitar, just one had a black finish and the other was in white. They both had a maple fretboard and the same ESP headstock. Both also had the dual EMG 81 combination that he was known for.
On another note, Devin tuned these to an open C major tuning (C G C G C E) which allegedly remains his favorite tuning. He has even mentioned before that he cannot play a regularly tuned guitar as he has already ingrained the standard diatonic modes into his muscle memory using this tuning.
Gibson Les Paul

| | |
| --- | --- |
| Finish | Cream White |
| Years Used | 2003 to Present |
The original live 'in studio' performance of Deadhead was quite an important point for Devin Townsend as a solo artist. It really gave people a chance to experience his high level of musicianship and vocal ability in a context that was constantly unnoticed had it been a Strapping Young Lad song.
In the performance, Devin used a Les Paul custom that would soon enough disappear after he accidentally stepped on it. He's commented that he always loved the sound of a Les Paul and that they were reliable for him when in the studio, regardless of whether he was after rhythm, lead, or clean tones.
Devin would later explore the Les Paul idea with some of these issues addressed, but for now (and also because of his partnership with ESP) he would generally stay clear of Les Pauls, instead, gravitating for modern guitars so he wouldn't break them.
"The problem with the Les Paul for me is – I don't like sitting with it. It feels weird for me. Little things like when I put it on the ground, which I will always do if I'm moving quickly – I put the guitar flat on the ground, the pitch of the headstock is such that the joint between the body and the neck is off the ground".
A few years later, Townsend actually got himself a Gibson Les Paul Standard, but he would have his own touch in it. Painting it white and removing the pickguard from it just to make it a tad more unique. Reportedly this guitar remains in his personal collection, on certain occasions he takes to the stage with it, but that is far from the general norm.
ESP SC-607

| | |
| --- | --- |
| Finish | Matte Black |
| Years Used | 2005 to 2006 |
By the time Strapping Young Lad started to work on their fourth album, the landscape of heavy guitar was changing a little. With bands such as Korn and Deftones popularising the low tunings one would play on a 7 string, as well as the more progressive metal bands such as Periphery beginning their slow rise to prominence. 7 strings were, for the first time, becoming more popular and accessible than ever.
Stephen Carpenter of Deftones's signature ESP 7 string guitar was one that became widely used as it was one of the most accessible 7 strings around at that time, regardless of whether you were a Deftones fan or not. As a result, many people would gravitate towards this model due to its heavy construction and EMG pickups, making it an ideal jumping-in point if you wanted to make the move to using 7 strings as a metal player.
Devin Towsend wanted to explore these sounds and, through his new partnership with ESP, acquired the SC-607 which he would use both in the studio and for the touring cycle for Alien.
He would also carry over his signature 'open C major' tuning to the 7 string, keeping the top 6 strings exactly as they would have been on his 6 string guitars, but then adding a low 'dropped' G which would make the tuning GCGCGCE, or '7 string open C major'.
ESP Horizon CS-7 Custom Baritone

| | |
| --- | --- |
| Finish | Matte Black |
| Years Used | 2006 to 2007 |
As Strapping Young Lad was garnering some much-deserved notoriety as a band, their 5th album was highly anticipated by fans and Townsend's relationship with ESP had become further cemented. They made him a custom shop 7 string to be used in the studio and live for 'The New Black' album.
The guitar featured an arched top, solid mahogany body, and neck, again tuned to the 7 string open C major tuning. It featured two EMG 707 pickups which were one of the few options available for 7 string metal players at this time. It also had a tune-o-matic style bridge and locking tuners.
The guitar is also a baritone design which means the length of the neck has been extended from standard 25.5″ length up to 27″. This results in increased string tension, especially helpful when you are tuning as low as G.
ESP LTD SC607-B

| | |
| --- | --- |
| Finish | Natural |
| Years Used | 2006 |
The majority of the Synchestra album was recorded with a natural finished SC607, which also utilized the open C major 7 string tuning. Devin wrote the majority of the album using this guitar and it was also the primary guitar for distorted rhythms in the studio.
Equipped with dual EMG 707's, this was the standard setup for the model. You can also see this guitar in the studio walkthrough at the Armory Studios during the recording process of the album.
Timetable Showing Each Guitar Devin Townsend Has Played Throughout His Career
| Make | Model | Color/Finish | Years |
| --- | --- | --- | --- |
| ESP | Explorer | Gloss Black | 1996 to 2003 |
| Gibson | Les Paul Standard (Accelerated Evolution) | Cream White | 2003 to Present |
| ESP | LTD EX | Grey/Black | 2004 to Unspecified |
| ESP | LTD TE-202 | White/Black | 2005 to 2006 |
| ESP | SC-607 | Matte Black | 2005 to 2006 |
| ESP | LTD SC607-B | Natural | 2006 |
| ESP | Horizon CS-7 Custom Baritone | Matte Black | 2006 to 2007 |
| Peavey | PXD Vicious Signature Devin Townsend V 7 | Grey/Black/ White | 2010 to 2014 |
| Framus | Mayfield Custom | White Flamed Maple | 2012 to Present |
| Framus | Custom Shop AK1974 'Mandelbrot' | White Flamed Custom Psychedelic/Bleached Stone | 2013 to 2014 |
| Framus | Stormbender | Black with Natural Ornaments/White | 2016 to Present |
Devin Townsend Amps Overview
Peavey 5150
Years Used: 1995 to 2004
This was the main amplifier Devin used for the majority of his time with Strapping Young Lad all the way up to making the Alien record in 2004. As well as on other 'in between' projects such as the Synchestra album from the Devin Townsend Band.
The 5150 is an iconic titan of the metal genre, providing that tight, heavy, and thick high gain rhythm sound that was the gold standard for musicians at that time. Devin would always drive this with some kind of overdrive pedal, normally the coveted Maxon OD808.
Mesa/Boogie Dual Rectifier
Years Used: 2004 to Present
Devin started to use the Mesa Boogie Dual Rectifier around the recording of Alien. It would become a signature part of his sound and he'd continue using this amplifier for many years/albums to come. Even when amp modelers such as the Axe FX started to become a staple part of his rig he would generally still run them in the effects loop as effects processors, while the actual amplified sound would still be coming from the Mesa. Devin would generally use EL34 tubes and drive it with some kind of overdrive pedal.
During the touring cycle for Alien, Devin would still make use of the 5150 even though he swapped his main rhythm tone to the Mesa. He would use an A/B switcher to change to the 5150 during a solo as he felt (at least for leads) that the 5150 was more 'full frequency'.
Devin Townsend Pedals and Effects Overview
Devin has always been an avid user of guitar pedals. Swapping them out and playing with different combinations all the time. While it is impossible to list every single pedal he's ever used, we will cover all the main pieces of gear he has showcased in his rigs in order to create his iconic sounds.
Maxon OD808
Years Used: 1995 to Unspecified
This is the quintessential overdrive pedal that most musicians in the heavier genres would use in order to drive a high gain tube amplifier, which would tighten up the low end and provide a little more bite on the top.
Although Devin has used quite a few of these 'tube screamers throughout his career, they all essentially served the same purpose. One of the few times you would not see a screamer being used were the occasions that he would use an amp modeler like the Axe FX as his main amplifier, negating the need to drive the tubes as the entire rig was fully digital and already facilitated an 'in the box' equivalent.
GP100
Years Used: 2007 to 2012
This was a switching system that facilitated Devins's use of multiple tube amplifiers live for different purposes. For example, when he was using a Mesa Boogie Dual Rectifier for his rhythm sound, he could then kick that over to a 5150 or a Mesa stiletto for a different kind of tone that would be more appropriate as a lead or clean sound.
Mesa/Boogie Stereo Power amp
Years Used: 2007 to 2008
As Devin would split his signal into 3 separate chains, one of them would just feed a DI through and TC Electronic Gforce into a stereo power amp. This would allow Devin to amplify the wet modulation effects in a stereo configuration which was an important and signature part of his sound.
By today's standards, this might be considered slightly elaborate and there are more convenient ways of achieving this. However, at this period Devin just used what was available in order to facilitate the configuration of the effect he needed for a live setting.
Furman Power Conditioner
Years Used: 2002 to Unspecified
During the early 2000s, the Furman Power Conditioner was a very popular piece of equipment. Designed to make sure the electronic signal coming into your guitar rig
was clean and consistent. With many people using expensive tube amplifiers and complicated electronics this was considered a must for anyone wishing to have all their equipment operate at maximum potential, and be safe from potential electronic spikes.
JD 7 splitter box
Years Used: 2007 to 2013
Devin would run his DI signal straight into this, which would then allow him to split (or duplicate) the signal 3 times, without loss in order to control the Mesa, Peavyand TC Electronics Gforce independently in order to utilize his different tones while performing live. This would also be linked to a footswitch so it was easily controllable from the stage.
Korg Tuner
Years Used: 2005 to 2009
One of the most popular and classic tuners of the time. Which was a stable part of any touring musicians' rig. It had a convenient backlight to allow you to tune in the dark.
TC Electronics Gforce
Years Used: 2005 to 2009
This was Devins main 'wet' effects processor. So it would be used for all sorts of delays, reverbs, and modulation effects. Interestingly, rather than run it in the effects loop of a regular amp it was actually on its own signal chain and passed into a separate power amp.
This would eventually be replaced by the Axe FX due to its additional routing options. But a lot of the conceptual approaches of how Devin used modulation effects would stem from this.
Morley Bad Horsie Wah
Years Used: 2007 to 2009
Much like the Gforce, this was Devins dedicated wah pedal which you can hear on The New Black Record, this would eventually be replaced with alternate wah effects that existed.
Mesa Grid slammer
Years Used: 2015
This became a popular replacement for the Maxon OD808, while fundamentally serving the same function of tightening up the tone of a tube amplifier. Many people found the tonal coloration this pedal added a little bit better than the traditional OD808.
MOOER Ocean Machine Devin Townsend Signature
Years Used: 2016 to Present
We know that Devin was an avid user of modulation effects like delays and reverbs. And he had been trying for a long time to find a company that would essentially help him pack all of his sounds into a single box, enabling a convenient recreation of how he liked to use these effects (usually delay, into reverb, into another delay).
In collaboration with MOOER, they created what is described as a 'high fidelity professional delay, reverb, and looper unit'. Which would allow the user to create very complicated modulation routing paths and algorithms in order to produce the lush and smeared soundscapes that Devin was so fond of.
The unit is also highly programmable making it very desirable for anyone looking for a tremendous sonic potential that can be customized to their own needs.
Line 6 G90 wireless system
Years Used: 2017 to Present
With Devin moving onto larger stages, the need for a reliable and consistent wireless system became more prevalent. Some people have some apprehension about Line 6 digital wireless systems due to fear of dropout or failure, but Devin has praised the unit for being reliable and consistent in the least of ideal scenarios.
Fractal Audio Axe FX 2
Years Used: 2011 to 2018
Devins's original use of the Axe Fx, which is a high-quality amp modeling unit that also has such a high number of inbuilt pedals and effects, which allowed it to essentially become one of the best effect units on the market even though it's generally marketed as an amplifier modeling unit. But this is exactly how Devin used it, as an effects processor that would allow him to get all the tones he needed without the need for a vast array of pedals.
However, on certain tours, Devin did use the Axe FX amplifier models as a total substitute for a real amplifier, essentially allowing him to recreate an entire guitar setup with just this one unit.
Devin has mentioned that the Axe FX has been vital for his home recording process, and now his live setup too. There are many benefits to running a complete digital rig and using a modeling unit instead of a traditional amplifier.
It's much smaller in size which allows it to be transported overseas much easier, also circumventing some monstrous weight incursions at customs. It negates the need for large cabinets which need to be isolated in a live scenario and keeps the stage completely 'silent' as these days many people are monitoring with in-ears. Devin would later go on to use the Axe FX 3 and used it in essentially the same capacity.
Wrap Up
Devin has a monstrous catalog of studio recordings under his belt, many of which take on a completely different style and require vastly different equipment in order to perform them. His first main band was Strapping Young Lad, which was heavy and aggressive through and through. This spawned the need for down-tuned guitars, active pickups, and brutal high gain amplifiers in order to get those tight and defined tones of modern metal.
In several interviews, Devin revealed his top 5 guitarists. In no particular order, the list included James Plotkin, Stevie Ray Vaughan, Jeff Beck, James Hetfield, and Steve Vai.
As for his accolades, Devin is somewhat a one-of-a-kind Metal guitarist, while he may be able to pull off most of the traditional heavy playing trick book, Townsend excels at the placement of his instrument. As he's matured Devin became a minimalistic guitar shredder, leaving room for his more ensembled orchestrations to take center along his voice. In short, Townsend became a pioneer on a particular minimalistic playing style that is undeniably rare in his genre and niche, especially for someone with a jack of all trades such as himself.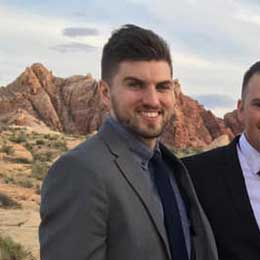 My name is Chris and I've had a passion for music and guitars for as long as I can remember. I started this website with some of my friends who are musicians, music teachers, gear heads, and music enthusiasts so we could provide high-quality guitar and music-related content.
I've been playing guitar since I was 13 years old and am an avid collector. Amps, pedals, guitars, bass, drums, microphones, studio, and recording gear, I love it all.
I was born and raised in Western Pennsylvania. My background is in Electrical Engineering, earning a Bachelor's degree from Youngstown State University. With my engineering experience, I've developed as a designer of guitar amplifiers and effects. A true passion of mine, I've designed, built, and repaired a wide range of guitar amps and electronics. Here at the Guitar Lobby, our aim is to share our passion for Music and gear with the rest of the music community.