Although likely not the first name that comes to mind when you hear the Foo Fighters, Pat Smear is an often unsung hero of Rock and Roll and a key figure in the band's history. Smear has served as the Foo Fighters' rhythm guitarist since the band rose to fame, creating rocking riffs and banging solos throughout the 90s, on into the 2000s, all the way to the present day.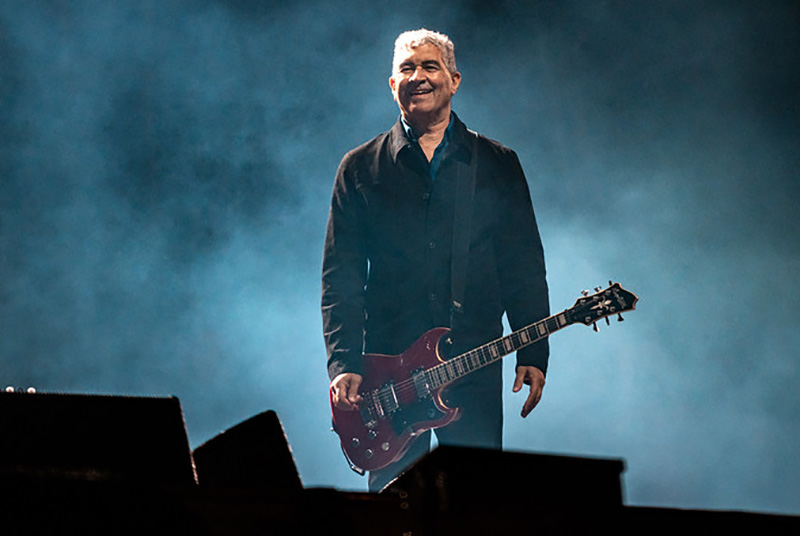 Smear, born Georg Albert Ruthenberg, is certainly a one-of-a-kind musician. Known as one of the most resilient Punk-Rockers of all time, bursting into the underground scene as early as 1976. Not only that but he is also known for being one of the nicest guys in Rock 'n' Roll.
What Guitar Does Pat Smear Play?
Pat Smear plays Hagstrom guitars, a Swedish manufacturer with which he partnered in 2013 to make his very own Hagstrom Pat Smear Signature model guitar. Although he has played other models during his career, his signature Hagstrom is his go-to for virtually every occasion.
See the full list of Pat Smear guitars and gear below.
Signature Hagstrom Pat Smear


| | |
| --- | --- |
| Finish | Black Gloss/Red |
| Years Used | 1997 to 2013/ 2013 to Present |
Pat Smear's signature Hagstrom is one of the most compelling partnership lines in the music industry. As Pat nor his love for the Swedish guitar maker need no introduction, it could be an understatement to say that Smear has been using Hagstroms as his main six-strings since the 80s when he was barely over his coming of age. After a long term in music's vanguard from The Germs to a prolific stint with Nirvana, Pat had already been through several models, so after the Foo Fighters became one of the heaviest bastions of rock music, it was time for this slinger to get his very own special design in 2013.
Best described by Hagstrom as the combination of contemporary models Super Swede and the vintage H-IIN-OT. Smear's signature sports a maple top, on a solid mahogany body with The Germs logo located on the toggle switch, and a fixed bridge complete with rolling saddles. According to the man himself, it makes for the perfect middle ground between an SG and a Stratocaster in terms of sound and feel.
The signature Smear guitar has a maple top combined with the mahogany body to create a projecting platform revered by rockers far and wide. The guitar's Ahlstrom custom 58 Alnico humbucking style pickups make it that much easier for the guitar to provide enough headroom to make it a light task for the amplifier. While its resonator wood along it produces sound on par with the best ebony. The Smear Hagstrom signature guitar makes it easy to produce clean tones and just the right level of distortion.
It's worth noting that back in 1997, Pat issued a special order to Hagstrom guitars for a custom-made black guitar with the exact same specs. Nevertheless, that early version merely served as a prototype for this eventual Signature line.
This guitar has taken the role of Pat's main ever since he first got his hands on it, most of the Foo Fighters shows have been played with this signature line in rotation with a few oddballs and Smear's Trini Lopez Deluxe.
Hagstrom HIIN

| | |
| --- | --- |
| Finish | Red/Black |
| Years Used | 1980 to Present |
This is the very first guitar that Pat would have under his name after his four-year-long tenure with his original project. It also marked the beginning of Smear and his long partnership with the Swedish manufacturer's HIIN, this is the model that cemented his "distortion and volume" role since The Germs disbanded, and well into the 90s during his solo period. More than a role the Hagstrom HIIN became a synonym to Pat's name, this is the Red glossed six-string you can see in virtually every Nirvana performance in the rhythm position, in addition to becoming the very first Foo Fighter staple.
Smear's longevous career as one of Rock music's elite with his "cheap made" Swedish guitars -As some may call them- started in the year 1980, when he approached his local guitar center and purchased his very first red glossed HIIN for $125. Smear has claimed in several interviews that his fixation on this six-string started when he embarked on a reinventing period of his life, just when he started his project Twisted Roots, a short-lived yet pivotal act in Hollywood's punk scene. Finally, this Hagstrom model provided some leads in his Nina Hagen collaboratory records "Ruthensmear" and "So You Fell in Love With a Musician" just before he befriended Courtney Love and eventually Kurt Cobain and Dave Grohl.
The Hagstrom HIIN came with a dual alnico humbucker setup, however, Smear made quite a few modifications through the years until he found a standard sound to his guitar with a Duncan JB on the bridge position and a Gibson 59 humbucker on the neck. During the 80s and up until the 2000s Hagstrom used Honduran mahogany for the body and Brazilian rosewood for the fretboard.
As for its most iconic stage appearances, Pat used this particular Hagstrom model during Nirvana's MTV Live and Loud concert in Seattle back in 1993 as well all the way to the band's last concert and European tour in 1994. To this day Smear keeps this guitar as part of his intimate collection, nevertheless, he's retired it almost completely for a few more updated models.
Gibson SG Custom/1961 Les Paul SG Custom

| | |
| --- | --- |
| Finish | TV Yellow/White/Red |
| Years Used | 1994 to Present |
Gibson's SG Customs and 1961 Les Pauls have been a quintessential part of Pat Smear's rig ever since he started playing with the Foo in 1994. There have been several guitars of this sort introduced to the limelight and their use extends to a role almost as important as his beloved Hagstrom models, both on studio and on-stage.
After Nirvana's closure, Smear became one of the very first and most relevant members of the Foo Fighters, and just in time, he was testing new waters inspired by the thicker and warmer tones from his Hagstrom III. Pat used two different SG models during his first tenure with the Fighters, initially he was seen with a white 1961 Les Paul/SG Custom, with a traditional triple humbucker setup and a TV yellow one.
There was also a time when this Gibson staple became Pat Smear's main go-to in 1994. Right before the Foo Fighters released their self-titled debut, Pat, Dave Grohl, and Eddie Vedder joined Mike Watt's touring band during his "Ball-Hog or Tugboat" era in 1995. Smear credits this time to be one of the intense musical experiments that enabled him to massively upgrade his skillset, some sources point out that when he joined Watt on his solo tenure, it was suggested that he should give Gibson guitars a try to contrast the recording's Telecaster twanged rhythm guitars-later performed by Vedder. Needless to say, he found yet another tool to deliver hard-hitting riffs and ultimately, cement his image as one of the great ones.
On another hand, after Pat's departure and reintegration to the Foo Fighters in 2005, he started playing a red custom model. The red SG, however, was gifted to Gary Clark Jr. after the two met recording the album/documentary "Sonic Highways" back in 2013. It's easy to speculate that these custom models were picked up on the road as the Foo Fighters would tour the world.
Fast forward to the 2010s, Smear would introduce yet another SG Custom model, this time in all its majesty with a golden tailpiece and hardware. After giving away his red version of the guitar, it seems that he wasn't ready to detach himself. Smear started using this six-string to record some of the songs included in Sonic Highways, most noticeably "Something From Nothing" and more recently in the band's 2017 studio installment "Concrete Gold".
Hagstrom III

| | |
| --- | --- |
| Finish | Black |
| Years Used | 1993 to Present |
Yet another quintessential piece by Hagstrom in Smear's and Nirvana's catalog alike. Pat acquired this III model to relieve touring pressures on his original HIIN guitars, it would also serve in a few heavier tunes during his time with Nirvana, eventually becoming one of Pat's preferred six-strings for his eventual debut with the Foo Fighters in 1994.
Made out of American alder for its double-cutaway body and Canadian hard maple for its neck with Hagstrom's trademark resonator fingerboard, the III is one of the most outstanding pieces in Pat's arsenal, and a unique guitar in terms of playability. This model is also responsible for inspiring Smear to pick up an SG model due to its triple ceramic C pickup setup which reminisces of Gibson's humbucking sound.
This Hagstrom saw heavy action during the recording sessions of The Color and the Shape as well as some extensive touring with the Foo Fighters up until 1997 when Smear would take an eight-year hiatus. As for some highlights, Smear wielded this black Hagstrom III, during the Fighters' show at the Rockpalast festival back in 97.
Buck Owens American

| | |
| --- | --- |
| Finish | Striped American Pattern |
| Years Used | 1994 |
Though now long gone, an appearance on this show was striking gold. In fact, the mere mention of this live acoustic concert series that aired on MTV throughout the 90s immediately triggers nostalgia. Smear transitioned away from his signature electric Hagstrom guitar to assist in Nirvana's iconic performance on MTV Unplugged in New York, choosing to use a Buck Owens American acoustic guitar. Although it did not belong to Pat in the first place, it certainly is one of the most iconic pieces he ever played.
Here's an interesting little tidbit that rock fans will find quite juicy: Smear's Buck Owens American acoustic guitar was borrowed from Krist Novoselic for the live performance. Hardcore 90s rock fans will find it interesting to learn Novoselic bought this acoustic guitar in Tacoma's famous Guitar Maniacs store and proceeded to add a Bartolini pickup, similar to that used by Cobain, complete with a Martin D-18E, during the live MTV performance. Overall, this is one of my personal favorite Pat Smear guitars of all time.
Fender Stratocaster

| | |
| --- | --- |
| Finish | Midnight Blue |
| Years Used | 1993 to 1994/ 2006 to Present |
It is particularly interesting to note the late Kurt Cobain bought several Stratocaster models for Smear to use during his tenure with Grohl, Novoselic, and himself. There are a few Strats worth noting in Pat's career, among the most notable of these, is a Midnight Blue model complete with a maple fretboard. Earnest Bailey, a guitar tech who worked for Nirvana throughout the 90s, is on record stating this guitar was altered to have a black pickguard along with an all-black Duncan JB bridge position and a stock neck with white covers.
There is yet another Stratocaster reminiscent of his midnight blue model, crafted in a similar fashion, with a stock maple neck and a deep blue finish, Pat, reportedly got his hands on said guitar years after Nirvana dismembered. He shared that the reason behind this was part sentimental and pragmaticism since "its always good to have a Stratocaster at hand".
Additionally, it was one of the favored six-strings that Pat decided to play in Nirvana's induction to the Rock N" Roll Hall of Fame concert in 2014, it can be spotted when the reunited members invited St.Vincent's Annie Clark on stage for the song "Lithium".
Smear is perhaps not the typical Stratocaster devotee, unlike many guitarists Smer much prefers his trademarked models and a handful of oddballs, so tracking his Strats might be a dead-end trail. However, it is known that some of his Nirvana era six-strings are part of the Foo Fighters traveling museum and are exhibited in large-scale concerts along with some of the band's other accolades.
Gibson Trini Lopez Deluxe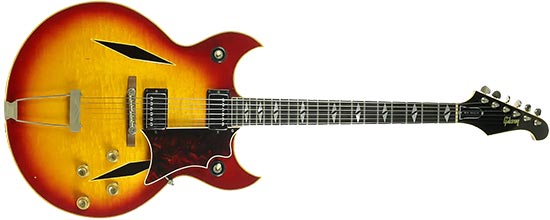 | | |
| --- | --- |
| Finish | Cherry Sunburst |
| Years Used | 2008 to Present |
The Trini Lopez is a mythical piece of gear, while many may be familiar with the 1967 Es-335 hybrid made famous by Dave Grohl, this deluxe model is an even stranger piece. It's fair to note that the Trini Lopez guitar belongs to the Foo Fighters as a whole, but Smear has been sporting it both live and in the studio alike for quite some time now. Initially, Grohl had acquired a 67 Gibson Trini Lopez, inspiring Pat to search for the original partnership model between Lopez and the manufacturer.
As for the body, the edges on the Trini Lopez were very much like the sharp horns of a Barney Kessel signature, with the semi-hollow shape and craft of an ES-335. When Gibson decided to make the model commercial, Lopez protested that he wanted this first piece to remain unique, and so only 302 issues were made under the "Deluxe" label, between 1964 and 1970.
On-stage, while Grohl has sported his original 67 ES and later on his DG signature series, Smear has remained somewhat a purist, he's claimed several times his affinity for this virtually untouched six-string. Sporting its original setup of two patented 60s Gibson humbuckers and its trademarked standby switch with tune-o-matic bridge and nylon saddles.
Well into the 2010s, Smear introduced a few oddballs and rare-finds into his touring rig, and this Trini Lopez Deluxe has become one of his quintessential pieces for high-profile concerts. Noticeably he's used it on the Glastonbury Festival, Austin City Limits, and a few music videos in Sonic Highways. But so it seems this is Pat's go-to guitar when it comes to the song "What Did I Do/God As My Witness"
Timetable Showing Each Guitar Pat Smear Has Played at Each Point of His Career
| Make | Model | Color/Finish | Years |
| --- | --- | --- | --- |
| Hagstrom | HIIN | Red/Black | 1980 to Present |
| Hagstrom | III | Black | 1993 to Present |
| Fender | Stratocaster | Midnight Blue | 1993 to 1994/ 2006 to Present |
| Buck Owens | American | Striped American Pattern | 1994 |
| Gibson | SG Custom/1961 Les Paul SG Custom | TV Yellow/White/Red | 1994 to Present |
| Hagstrom | Pat Smear Signature | Black Gloss/Red | 1997 to 2005/ 2013 to Present |
| Gibson | Trini Lopez Deluxe | Cherry Sunburst | 2008 to Present |
Pat Smear Amps Overview
 Marshall 4×12 Cabinet
Like many other rock guitarists, Smear is partial to Marshall amps, specifically, to the Marshall 4×12 cabinet. In fact, he inherited this cabinet from Kurt Cobain, which featured Celestion 75 speakers. Cobain passed the amp on to Smear after upgrading to a brand new unit with Vintage 30 speakers suitable for Nirvana's live performances.
Crest 4801
Smear is also known to use the Crest 4801 power amp along with a Mesa Boogie Studio .22. packed with power yet quite compact. Musicians far and wide revere the Crest 4801 for its flexibility as it can be used in the studio, on tour, for sound reinforcement, and more. The unit's forced-air configuration keeps the heat sinked within the back of the unit. Each channel has its own dedicated balanced female XLR input, 5-way output binding posts, and Octal Socket.
Peavey 5150
Rewind back to the start of Smear's tenure with the Foo Fighters and he primarily used a Peavey 5150 Mk1 amp along with a Peavey 2×12 6505 cabinet with 6505+ heads. Widely considered to be the holy grail of guitar tones, the Peavey 5150 Mk1 amp provides some truly tasty ear candy. Smear and fellow guitarists heap on the praise for the amp's clean/crunch channel, a large channel for distortion, and its convenient foot pedal channel selector. In short, this amp does everything a rocker like Smear could possibly need, shining particularly bright in terms of both crunch and gain.
L50H Lionheart
The rocker eventually transitioned to a Laney L50H Lionheart Class A 50-watt head with a Laney L412 4×12 cabinet. In fact, those who keep close tabs on Smear's career have reported the guitarist still uses this amp today. Smear's cabinets include the black 2011 Peavey 2×12 6505 cabinet, the Mesa 4×12 cabinet, and the Marshall 4×12 cabinet (slant).
Roland JC-120 Jazz Chorus Amplifier
Smear's reverence for the Roland JC-120 should come as no surprise to true music aficionados. This bad boy is favored by professional players far and wide. Featuring two distinct input channels (Effects and Normal), two 12″ speakers, two fully independent 60W amps, and a three-band EQ for the input channels, this legendary piece of equipment has everything a rocker like Smear could possibly need. Additional features include footswitch jacks for distortion, reverb, and chorus, a stereo effects loop, and high/low inputs for each channel.
Pat Smear Pedals and Effects Overview
Boss TU-3 Chromatic Tuner Pedal
Smear's use of this tuner undoubtedly helped it become the top stage tuner in the world. This nifty little piece of music equipment is highlighted by a 21-segment LED meter along with a High-Bright mode that eliminates glare. The tuner even has a Note Name Indicator that shows music notes for guitars and basses. Upwards of half a dozen half-steps are supported with the Flat-Tuning mode. There is also an Accu-Pitch feature that provides a visual cue when the tuning is ready.
Boss TR-2 Tremolo Pedal
Smear relied on this pedal for creating ear-pleasing tremolo effects. Though the pedal is quite compact, it can be used to create a wide array of lovely sounds. The pedal's features include knobs for depth, rate, and wave.
Electro-Harmonix Neo Clone Nano Pedal
Smear used this pedal to transition from slow sweeps to comparably thick audio made possible by its top-notch rate knob and depth switch. The pedal makes it easy to alter chorus sounds at any time. Additional features include true-bypass switching and low-noise performance. Add in the fact that the small chassis fits into pedalboard rigs with ease and there is even more reason to give it a try.
Accessories
Smear's Unique Mixing Board Setup
Smear has made it known he used a 70s mixing board connected to a relatively unknown transistor amp when creating the Foo Fighters' "Concrete And Gold" album. According to the man, this setup was similar to a PA system hooked up to a transistor amp that made quite the unique sounds.
The creative concoction was the result of Smear brainstorming with the band's guitar technicians. This unique creation was similar to something you would find in a rehearsal room back in the drug-infused 70s rock scene. Smear ran an overdrive pedal when necessary though he primarily "overdrived it" with the decades-old mixing board.
Wrap Up 
Smear played in The Germs from 1976 all the way through 1980. He was the sole band member to have any formal music training. The rocker is fond of stating he did not own a guitar while playing in the band. He simply borrowed a guitar from whoever the group was playing with at the time and returned it after practice.
Transitioning from The Germs to solo work for a period that stretched from 1980 to 1993. Fast forward to the mid-90s and Smear was on the cusp of making rocking anthems with The Foo Fighters. Though he also played guitar during The Germs reunion tour, he has maintained a low profile in recent years, choosing to remain out of the public eye except for the occasional live performance and studio duty.
As one of the truest great ones, Pat Smear fits the profile of an avid collaborator. But his all-rounder skillset earns him the title of an unsung guitar hero, to say the least. Just like other living legends such as Joey Santiago from the Pixies and Keith Richards from the Rolling Stones, Smear reaffirms one of rock music's most crucial traits, "Know when to take the spotlight".
Pat Smear knows how to deliver a solo, and when to blast into thunderous riff progressions, not to mention how to lay down a structure with mind-riddling chord assemblies, but most importantly, he knows when to lay it all out and when to back away. Less is more when it comes to fuel-packed tunes such as the anthems the Foo Fighters have delivered across the decades, and this man right here delivers both the color and the shape for them.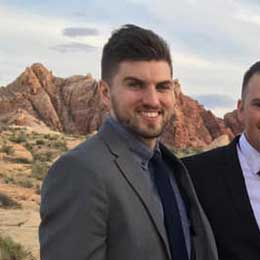 My name is Chris and I've had a passion for music and guitars for as long as I can remember. I started this website with some of my friends who are musicians, music teachers, gear heads, and music enthusiasts so we could provide high-quality guitar and music-related content.
I've been playing guitar since I was 13 years old and am an avid collector. Amps, pedals, guitars, bass, drums, microphones, studio, and recording gear, I love it all.
I was born and raised in Western Pennsylvania. My background is in Electrical Engineering, earning a Bachelor's degree from Youngstown State University. With my engineering experience, I've developed as a designer of guitar amplifiers and effects. A true passion of mine, I've designed, built, and repaired a wide range of guitar amps and electronics. Here at the Guitar Lobby, our aim is to share our passion for Music and gear with the rest of the music community.