You wouldn't think an artist that became popular back in the 1960s would still be popular today, but with every passing year, Dolly Parton seems to become even more relevant! The iconic singer/songwriter has been on the front lines of country music and pop culture for over six decades, pumping out hit after hit and showing no signs of stopping or aging.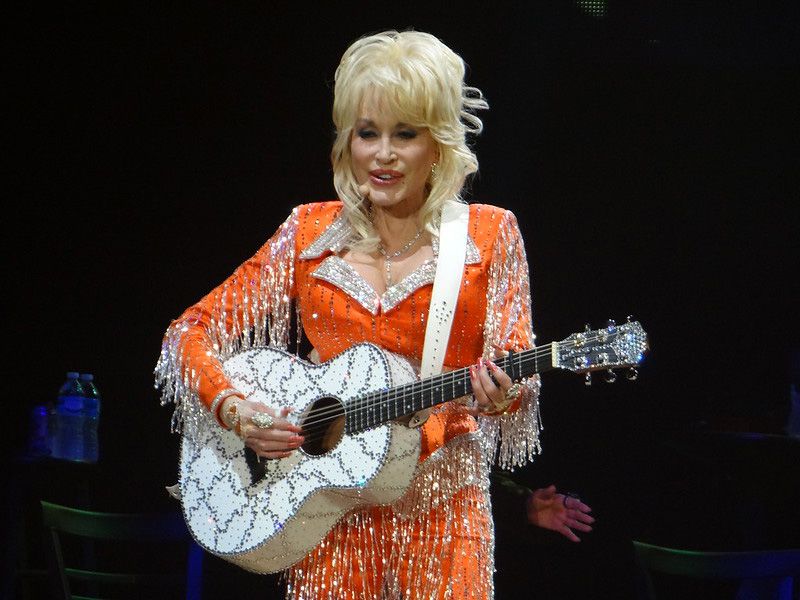 Over the decades, Dolly has become one of the most honored country performers of all time. She has written over 3,000 songs, 110 of which have charted and 26 have reached number one on the charts, 42 top-ten country albums (which is a record for any country artist), earned 50 Grammy nominations with 10 wins, became CMA's Entertainer of the Year, and even has her own star on the Hollywood Walk of Fame, only to name a few of her countless accolades. To say she's made an impact is an understatement. Let's take a look at some of the guitars that helped propel Dolly Parton to the very top of the music world.
What Guitars Does Dolly Parton Play?
Dolly Parton is best known for playing her Taylor GS Mini, aka "Guitar of Many Colors", as well as her Martin 5-18. She's also played a variety of other guitars throughout her career and is known to prefer short-scale guitars.
See the full list of Dolly Parton guitars and gear below.
Taylor GS Mini "Guitar of Many Colors"
| | |
| --- | --- |
| Finish | Custom Rhinestone Patchworked Quilt |
| Years Used | 2015 to Present |
In 2015, Dolly Parton was working on her TV drama about her life "Dolly Parton's Coat of Many Colors" for NBC. It tells the story of her humble beginnings in the Great Smoky Mountains of Tennessee and her rise to fame and fortune as one of the greatest songwriters in the music industry.
Everyone knows that Dolly Parton has a coat of many colors, as obviously inferred in the song, but it wasn't until recently that she revealed she had a rather similar guitar too. To commemorate the release of her film, Parton had a custom Taylor GS Mini built with a multicolored rhinestone finish that she called the "Guitar of Many Colors."
The Taylor GS Mini takes all the great things about Taylor acoustic guitars and shrinks them into a smaller package. Unlike the equally popular Baby Taylor, which features a 3/4 size dreadnaught shape, the GS Mini has a grand symphony body shape with narrower shoulders. It makes for lighter, more comfortable playability without sacrificing tone and resonation. It's ideal for traveling musicians or players with smaller hands, such is the case of the beloved Dolly.
Like other Taylors, the GS Mini features high-quality materials, including a solid Sitka spruce top, layered Indian rosewood back and sides, and an ebony fretboard and bridge. Of course, she never does anything "standard." Her GS Mini is completely covered in colorful rhinestones that look reminiscent of a quilt—or perhaps a coat…?
Dolly Parton still uses her Guitar of Many Colors. She brings it out whenever her outfit allows it she absolutely has to match, after all. Whenever she's not wearing a white attire, there's another GS Mini for the occassion. You can see and hear the guitar in action from the Christmas of Many Colors NBC special from 2017.
Martin 5-18 Terz

| | |
| --- | --- |
| Finish | Natural |
| Years Used | 1954 to 1964/ 1991 to 2010 |
When Dolly Parton was growing up, her family wasn't the wealthiest. She often refers to her upbringing as "dirt poor." But that didn't stop her from chasing her musical dreams. Since they didn't have money to buy real instruments, Dolly and her family would build makeshift guitars and mandolins from pieces laying around. Those homemade contraptions were how Parton learned to play initially and sparked her interest in music and songwriting.
Of course, if you want to become a serious singer/songwriter, you need a serious instrument to play. Dolly Parton's uncle, Bill Owens, would come to the house occasionally for a Sunday meal or "when he needed a place to flop," as Parton puts it in her book. Owens was also into music and had a real bonafide guitar—and a Martin nonetheless!
Dolly's uncle's guitar was a Martin 5-18 Terz. It was the smallest guitar in Martin's catalog at the time, with the entire body of the guitar coming in at just 16". Because of its smaller scale, the 5-18 was typically tuned three frets (a step and a half) higher than standard to maintain proper string tension. The small size coupled with the higher tuning made this guitar ideal for a young, small Parton with a higher singing voice.
The Martin 5-18 was built with the standard high-quality materials that make Martin guitars so special. It had a Sitka Spruce top, mahogany neck, back, and sides, with Brazilian rosewood bridge, fingerboard, and peghead veneer. Pre-war models had an Adirondack spruce top, but Dolly Parton never mentions what year model the guitar was. To her, it didn't really matter. She just wanted a guitar to play!
Once Dolly's uncle realized how serious she was about music, he gifted her the old Martin. The guitar instantly became her most treasured possession, and it developed a lifelong preference in her.
After several years of heavy use, it had become quite worn out. Before Parton set out to take on the world of country music at the young age of 18, she put the guitar in the loft of her family's house for safekeeping. She always said once she hit it big and got rich, she'd come back and restore the old guitar to its original glory.
Unfortunately, the loft eventually caught fire and burned out of the Parton house, along with the guitar. Dolly Parton did manage to recover the neck of her beloved Martin 5-18, but the rest of the guitar was lost to the flames.
Despite losing her very first guitar, the little Martin had a major impact on her choice of guitars for the rest of her career. Because of how the 5-18 felt in her hands, Dolly Parton almost exclusively uses small-scale guitars. In her book, she also says that she collects "baby Martins" because they remind her of her old Martin 5-18.
Once Dolly Parton hit it big and could afford more expensive guitars, she did manage to pick up another Martin 5-18 to accompany her during her bluegrass period in the late 1980s and all the way through to the early 2000s. You can see Dolly come full circle with the guitar that started it all in a clip of her playing "Shine."
Taylor GS Mini
| | |
| --- | --- |
| Finish | White with Rhinestones |
| Years Used | 2014 |
In 2014, Dolly Parton was set to play at the Glastonbury Festival in the UK. According to the press note release from The Guardian, the dress code was "Rhinestones, more rhinestones, and an extra sprinkling of rhinestones." It's not entirely certain if Dolly Parton set the dress code herself, but she certainly followed it to a tee.
Parton walked on the Glastonbury stage in a sparkling white bell-bottomed jumpsuit completely covered in rhinestones. Of course, since it's Dolly Parton, she also had a matching bright white, rhinestone-covered Taylor GS Mini slung over her shoulder. It had to match her outfit!
Since the guitar hadn't been seen in previous performances, it's assumed it was custom made specifically for Glastonbury—and her outfit. The guitar itself had a bright white finish with silver rhinestones covering the entire guitar (front, back, and sides) in a puzzle-like pattern. Even the headstock wasn't exempt from the bedazzle!
Dolly Parton used her white rhinestone Taylor GS Mini to play at the legendary Glasto stage, and it stayed in her arsenal for a few other shows—typically whenever she wanted to wear a white outfit. You can see the flashy GS Mini as she blasts "Jolene" at Glastonbury in 2014.
If you look closely, you might notice a little black bar sitting just above the bridge of the white Taylor. No, it's not a pickup. Sometimes, when Dolly Parton is playing a bigger show with a full band, she'll leave the guitar playing to someone else and focus on what she does best: singing and entertaining. If that's the case, she'll put a mute under the strings to silence them. That way, she can look good strumming a bedazzled guitar that matches her outfit without worrying about actually making a sound.
Gibson L-00

| | |
| --- | --- |
| Finish | Natural/Natural with Rhinestones |
| Years Used | 2010 to 2015 |
Around the turn of the decade in 2010, Dolly Parton started to get away from her beloved Martin guitars and started playing a shiny new Gibson (quite literally). Between 2010 and 2015, Dolly Parton regularly used a Gibson L-00 decked out with rhinestones scattered across the top and on the headstock. It was the first guitar she used that featured rhinestones!
The Gibson L-00 is a small-body acoustic guitar that was based on the parlor guitars of the 1930s. It has much narrower shoulders and a smaller overall body size compared to the typical dreadnaughts, making it much more comfortable to play and lug around. For a player like Dolly Parton who tends to gravitate to smaller guitars, the Gibson L-00 was a perfect fit.
Like their other guitars, Gibson doesn't mess around when it comes to using quality components. The L-00 features a Sitka spruce top and rosewood back and sides. It also has a mahogany neck with an advanced response profile for easier playing.
Once outfitted with her signature rhinestones, Dolly Parton's Gibson L-00 had enough dazzle to match her on-stage charisma and looks. It also had a vintage "The Gibson" logo on the headstock. You can see and hear this beautiful guitar in action in this video from Dolly Parton's stripped-down 2013 performance on The Queen Latifah Show.
Alvarez 4103 Classical

| | |
| --- | --- |
| Finish | Natural |
| Years Used | 1976 to 1989 |
After her stint with Grammer guitars, Dolly Parton swapped to something a bit easier to play, especially with her iconic long nails. To relieve her fingers a bit, she started to use an Alvarez 4103 Classical guitar with nylon strings, historically designed for long and accurate fingernails.
The Alvarez 4103 is a small-body classical guitar that has a thinner top and uses nylon strings. It's easy to tell with the slotted headstock. Alvarez guitars are typically considered beginner instruments, but the 4103 still featured a nice spruce top and mahogany back and sides with a nice high-gloss finish. This was still pretty early on in her career, and as any starting artist knows, guitars are expensive. Nevertheless, the quality of this Alvarez was unique, and as often with classic Spanish guitars, it provided an enchanting tone that blended perfectly for her country-based sound.
Dolly Parton played her little Alvarez 4103 classical guitar through the end of the 1970s and almost the entirety of the '80s. Parton used the guitar to play many acoustic performances, including an intimate version of "Coat of Many Colors" in 1979. It even made a few appearances on the Johnny Carson Show, which helped her get her big break!
Grammer Model S
| | |
| --- | --- |
| Finish | Natural |
| Years Used | 1969 to 1973 |
If you were a recording artist in Nashville in the '70s, there was no escaping the Grammer guitar. Dolly Parton was no exception!
In 1964, Dolly Parton graduated high school and moved away from her family home in the hills of Eastern Tennessee to the big city of Nashville to strike it big in the country music scene. She was signed to Monument Records in 1965 and got stuck in the "bubblegum pop" genre for a few years, despite her interest in recording country. Luckily, her song "Put It Off Until Tomorrow," recorded by Bill Philips, managed to reach number 24 on the country charts, and her label relented, letting her enter the country scene.
By 1967, Dolly Parton was such a force in the country music world that Porter Wagoner invited Dolly to be a regular on his weekly television show, The Porter Wagoner Show. Porter Wagoner was a big fan of Grammer guitars, and it was likely there where Dolly got her very own Grammer Model S.
Grammer guitars are some of the most recognizable guitars out there. It's hard to miss them with their oversized headstocks, sharp corners, and unique pointed pickguards. They almost look like they belong with a country singer decked out in a rhinestone suit!
Grammer was based in Nashville and built guitars through the '60s and '70s. They were slung around the shoulder of many of the most famous country singers to come out of the Music City at the time, including Willie Nelson, Merle Haggard, Loretta Lynn, Johnny Cash, and plenty more. Mick Taylor from the Rolling Stones even had one!
These unique guitars were built with a spruce top (which came in odd sunburst colors like orange, red, and green) and maple back and sides. While most of the singing cowboys at the time played the larger dreadnaught-style Grammers, Dolly Parton played a Model S.
The Grammer Model S was slightly smaller than the typical dreadnaught, making it ideal for Dolly Parton's smaller hands—and her preference for 3/4 sized guitars like her original Martin 5-18. It had a natural top with no fancy sunburst colors and a pointed pickguard that wrapped around the soundhole.
You can see Dolly Parton's Grammer Model S in action in this video from a 1970s performance of "Joshua" at the Grand Ole Opry. You can also see Porter Wagoner playing in the background with his very own Grammer guitar.
Yamaha C70

| | |
| --- | --- |
| Finish | Natural |
| Years Used | 1986 to Unspecified |
When she wasn't playing her Alvarez, Dolly Parton would sometimes bring out another classical nylon-stringed guitar to perform her iconic songs. Through the late '80s, she also played a Yamaha C70.
The Yamaha C70 was one of Yamaha's most expensive full-size classical models, though still relatively affordable—although the term "full-size" should be taken with a grain of salt. It had much smaller proportions compared to the massive dreadnaughts that were taking over the country scene and was more similar to the Alvarez or little Martin 5-18 that she was used to. Also, like the Alvarez, the C70 was a classical guitar with nylon strings for easy fretting, even with super-long fingernails.
Dolly Parton's Yamaha classical guitar made several appearances toward the end of the 1980s. It even made the cut to show up in the made-for-TV movie "A Smoky Mountain Christmas."
Greg Bennett Malibu by Samick
| | |
| --- | --- |
| Finish | White with Rhinestones |
| Years Used | 2015 |
Although Dolly Parton is known for her down-home country sound, she doesn't always play acoustic. Sometimes, she needs to plug in an electric guitar and really show everyone how she can rock! When Dolly's feeling the urge to crank it up to eleven, she uses a Greg Bennett Malibu electric guitar, built by Samick.
The Greg Bennett Malibu is a Stratocaster-style guitar with a few slight differences. It has the same general body shape as the tried-and-true Strat, except it's a bit squarer around the edges. It also has sharper top horns compared to the Fender. The most notable difference is the headstock. The Greg Bennett features a 3+3 design headstock, with three tuners on each side, rather than the six-in-a-row headstock used on the Strat.
For construction, the Malibu features a solid body with a maple bolt-on neck, a rosewood fingerboard, and an offset dot inlays up the neck. The body itself is slightly smaller than a Stratocaster, making it perfect for people who like lightweight and manageable guitars, like Dolly Parton. It also features three single coil pickups, a 5-way selector switch, and three adjustment knobs (one volume and two tones).
Because it's Dolly Parton, her Malibu isn't just your run of the mill Greg Bennett that you'd find in any guitar store. She has the bright white finish all decked out in rhinestones from top to bottom. Even the headstock is covered!
If you want to hear Dolly Shred an electric guitar, check out this performance from the Ryman Auditorium when Dolly plays a rocking rendition of "Baby I'm Burnin'."
Table Showing Each Guitar Dolly Parton Has Played Throughout Her Career
| Make | Model | Color/Finish | Years |
| --- | --- | --- | --- |
| Martin | 5-18 Terz | Natural | 1954 to 1964/ 1991 to 2010 |
| Grammer | Model S | Natural | 1969 to 1973 |
| Alvarez | 4103 Classical | Natural | 1976 to 1989 |
| Yamaha | C70 | Natural | 1986 to Unspecified |
| Gibson | L-00 | Natural/Natural with Rhinestones | 2010 to 2015 |
| Taylor | GS Mini | White with Rhinestones | 2014 |
| Greg Bennett | Malibu by Samick | White with Rhinestones | 2015 |
| Taylor | GS Mini "Guitar of Many Colors" | Custom Rhinestone Patchworked Quilt | 2015 to Present |
Wrap up
Dolly Parton was born in 1946 in a one-room cabin in the hills of Eastern Tennessee where she lived with her parents and eleven other siblings. Although they weren't wealthy (and she often refers to her family as "dirt poor"), they were a happy family who regularly sang and played music. Dolly Parton learned to play on a homemade guitar.
Bill Owens, Dolly Parton's uncle, had a real Martin guitar and taught Dolly to play. He was also instrumental in encouraging Dolly to get into the music business and even helped her move to Nashville and get her first record contract.
Parton is a multi-instrumentalist who plays everything from violin and banjo to mountain dulcimer, harpsichord, and piano. Dolly Parton has been active in music for 65 years and counting. In all that time, she's gone from "dirt poor" to one of the most successful country music singers and songwriters in history. Naturally, that kind of transformation warrants quite a few changes of equipment.
Once in Nashville, Dolly Parton really showed her writing chops. She started writing hits for other singers that would often get into the charts. She eventually started working with Porter Wagoner on his TV show, which helped her get her big break into the music industry.
After five years with Wagoner, Parton went out on her own to chase a solo career. From there, the sky was the limit. She wrote and performed everything from country and pop to gospel and bluegrass. No matter what she did, everyone loved it.
In addition to her successful music career, Dolly Parton has also tried her hand at acting and philanthropy. She famously transformed her small, poor hometown into a massively successful city with the creation of her amusement park Dollywood, which draws thousands of visitors every year.
After over six decades of writing and performing, Dolly Parton is as relevant as ever. She's still one of the most iconic names in all of music and continues to influence generations of young performers. Even in 2021 at age 75, Dolly Parton is still performing and writing new material. She'll always be working that "Nine to Five" to make songs everyone can relate to.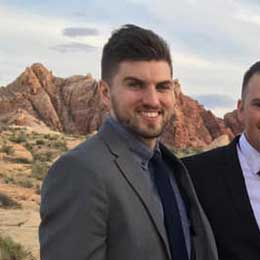 My name is Chris and I've had a passion for music and guitars for as long as I can remember. I started this website with some of my friends who are musicians, music teachers, gear heads, and music enthusiasts so we could provide high-quality guitar and music-related content.
I've been playing guitar since I was 13 years old and am an avid collector. Amps, pedals, guitars, bass, drums, microphones, studio, and recording gear, I love it all.
I was born and raised in Western Pennsylvania. My background is in Electrical Engineering, earning a Bachelor's degree from Youngstown State University. With my engineering experience, I've developed as a designer of guitar amplifiers and effects. A true passion of mine, I've designed, built, and repaired a wide range of guitar amps and electronics. Here at the Guitar Lobby, our aim is to share our passion for Music and gear with the rest of the music community.