Metal is a style of music that is constantly in flux, with seemingly constant variations and subgenres materializing. Since the mid-90s Pantera's Dimebag Darrell has been a source of inspiration, virtuosity, and edge for the metal genre. When we think of the bands and guitarists that have had the most substantial impact in influencing the direction of metal music, for many a guitarist Dimebag Darrell and his work in Pantera will be at the very top of that list.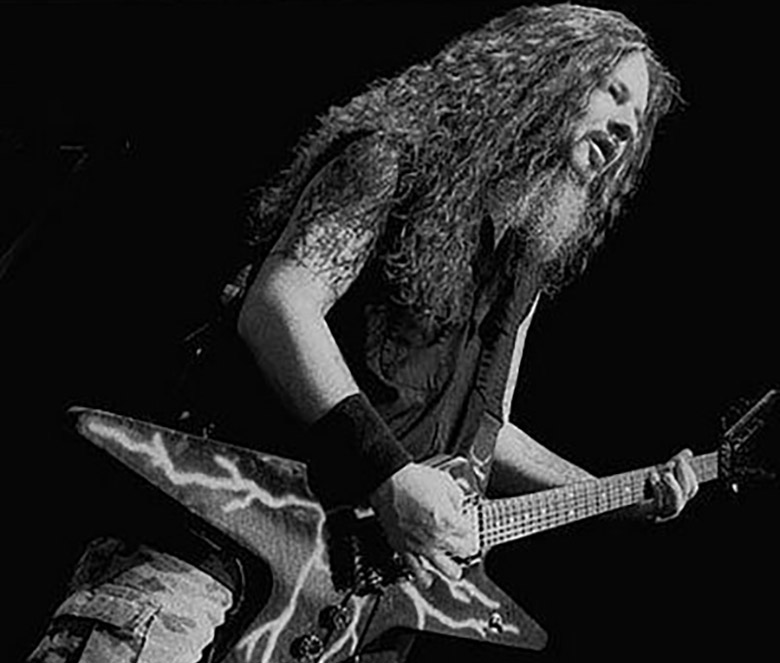 Dimebag's influence is one that would ripple throughout the metal and guitar world for decades to come. Quite literally shaping the style of guitar playing as we hear it today. In the rest of this article, we'll be looking at the guitars Dimebag Darrell played, as well as his other important gear.
What Guitar Did Dimebag Darrell Use?
Dimebag Darrell was famous for playing his Dean ML model guitars. His most famous guitar was known as "Dean from Hell", which was a Dean ML custom painted in a blue finish with lightning bolts.
He played Deans until they stopped manufacturing guitars in the mid-'90s. After that, he moved into a partnership with Washburn guitars to effectively continue the ML-style guitars before coming back to Dean in the early 2000s. Dimebag has a quite substantial array of color variants and special art designs offered and was very fond of full guitar body paint jobs. See the full list below.
Dean ML The "Dean from Hell"

Finish: Custom Blue/Lightning Painting
Years Used: 1980 to 1994
This is the one. This is the singular guitar that most people think of when mentioning Dime's most important instruments.
This guitar started as a standard Dean ML model in cherry burst and was actually the prize that Dime had won from his first guitar competition we mentioned above. However, unbeknownst to Dime, his father had actually ordered another Dean ML standard which had arrived on the same night. Dime has mentioned he used to dream about owning a Dean ML, he would look at pictures of them in the catalogs just wishing he could have one of his own. And then in the course of a single evening, he suddenly had two! At this same time, he also wanted to buy a car, so he decided to sell the cherry burst he had won in the competition and keep the one his father purchased for him as he felt it was the uglier of the two.
This guitar (after passing hands a few times) ended up in the hands of renowned guitar builder Buddy Blaze, who modified the guitar heavily. Painting the iconic lightning bolt design we all know and love, he swapped the pickups out for a Bill Lawrence XL500 in the bridge that was flipped the wrong way around, presumably for tonal reasons, and a Seymour Duncan '59 in the neck (these pickups would be used as the base for his future signature pickup sets). As well as exchanging the tune-o-matic style bridge for a Floyd Rose.
Some years later, and as Buddy Blaze's notoriety was increasing as a fantastic guitar builder, Dimebag asked him if he could also make a special 'Dime' guitar for him. A few days later a package arrived, unbeknownst to him, the guitar that Buddy Blaze delivered was, in fact, the modified Dean he won in the competition. And thus Dime dubbed the guitar the 'Dean from Hell' and would go on to make this his main workhorse, you can even see Dime holding it on the cover to the 'Cowboys from Hell' album.
This guitar served as the base for a long line of successful signature models which all essentially equated to variations of this first ML. But importantly there is actually a budget-orientated version of this guitar which features the exact same paint scheme as well as a Seymour Duncan SH13 Dimebucker, based on the pickup in the original. Then much later in 2015 Dean did an additional, very limited run, promoted as an 'exact replica' of the Dean from Hell. As opposed to a cheaper production model, these sold for $4000 each. Although Dime went on to use a range of different guitars, with varying body and headstock shapes. It's very clear they all stem from this original ML. "the next day on my doorstep there was a big box. I opened it up, and I totally knew there was a Dean in there. I popped up the case, and it was the lighting bolt Dean from fu**ing hell man. Greatest guitar I ever had – will ever have in my whole life! Thank god I still got it now. I've lost it one time, and I had to pay 2500 bucks to get it back."
Dean ML "Far Beyond Driven"

Finish: Tobacco Burst
Years Used: 1994 to 1995
Another Dean ML Dimebag would often use is a Sunburst finish model which affectionately became known as the 'Far Beyond Driven' ML. Due to the fact he often used it during the 1994 period when that album was released.
Finding an original one of these nowadays would be almost impossible, however many years later Dean would re-issue the series in a limited run which had a burst flamed maple top along with a mahogany body. The guitar had a signature Seymour Duncan Dimebucker pickup (which wouldn't have existed back when he used the original) but aside from that it accurately replicated what Dime would have owned in the early '90s.
You can see Dime using this guitar on his 1-hour long guitar clinic which can be found on youtube, and perhaps even more notably in the music video for the song Walk.
Dean ML Concrete Sledge

Finish: Custom Grey with Artwork
Years Used: 1991 to Unspecified
This guitar was famously used by Dimebag during their legendary performance at the Monsters of Rock show in Moscow, 1991. This show was so large in scope it actually made this guitar become famous and highly sought after, just because of a singular performance with it.
Unlike the other Dean ML's that Dime would normally play, this one features the reversed 'in line' Dean headstock as opposed to the W shape one we normally associate with ML's. It's also a full 24 fret, 25'5″ scale length guitar whereas the Dean from hell was a 22 fret short scale.
Dime would also use tape over each end of the pickups because of his tendency to get the string caught underneath the 'ledge' of the pickup top when he would divebomb, which caused the strings to become loose and on the 'rise' would catch and snap.
This is something you would see used on many of Dimes guitars. Even on replicas of his guitars, they would still apply this tape to truly capture what it would be like to own one of Dimes' instruments.
Dean decided to make a limited run of 300 replicas of this guitar in 2012 as Dimebags fanbase was still so strong and the demand for a guitar that was only famously used for a single show was there. This is a testament to the immense amount of impact and timeless influence Dime has left on guitarists.
Washburn ML (aka Dime 333)

Finish: Custom Blue with Lightning Artwork
Years Used: 1995 to 1998
After Dean was struggling in the American market, they eventually ceased operations in 1994 (but would return several years later, we'll get to that). Dimebag at the time had been seeing massive success with Pantera. And with many companies vying for his attention, Washburn reached out to Dimebag and expressed interest in developing a signature guitar model with him. Previous to this he did not have any formal artist endorsement or signature equipment from Dean, even though he was good friends with Dean Zelinsky (founder and primary designer/luthier at Dean guitars).
Dimebag did use a number of Washburn guitars but his primary one during his time with them was the 'Dime 333' which was released in 1995. This is essentially a copy of the original 'Dean from Hell', but it was marketed as his signature model. He would use this through the majority of the Far Beyond Driven touring cycle.
Originally released in 3 colors, the iconic 'bolt' design Dimebag is known for, the blackjack and then the slime. And as is quite commonly seen on guitars, there were 2 versions made available, one was a US-made custom version where various options could be picked based on the players' preference. And there was also a more affordable overseas version made akin to what is currently offered by Dean with the budget Dean from Hell. Where production costs are kept down, overseas manufacturing services and more affordable woods are used. Overall, this is one of my favorite Dimebag Darrell guitars.
Washburn FM333

Finish: Custom Confederate Flag Artwork
Years Used: 1995 to 1998
This is essentially a regular Washburn ML however there are a few custom designs Dime would use which would become very iconic to his legacy. One of which is the Washburn FM333 with the rebel flag design. As well as a custom camo finish with the words 'Trendkill' across the top, obviously to coincide with the Great Southern Trendkill album.
Washburn Culprit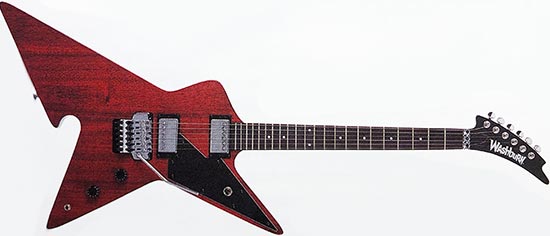 Finish: Black/ Cherry Red
Years Used: 1998 to 2000
The Washburn Culprit guitar body has a very unique shape. While clearly taking some influence from a Gibson Explorer, the body and headstock shape was actually designed by Dimebag himself who had asked Washburn to produce it as an alternative to his 'ML' style. Because of the success and attention, Dimebag was bringing to Washburn as a brand they were more than happy to oblige.
Outside of the new body shape it did share most of the fundamentals with the Dime ML or Washburn 333 and was available in black with white binding, and also a trans red. Retaining the short scale, 22 frets, but this time has pickups of Washburns own design which are just described as 'hot, high output' pickups. Sounds ideal for Dimebag! He would use this guitar intermittently until the release of the Stealth series in 1999.
Washburn Stealth

Finish: Black With White Binding
Years Used: 2000 to 2003
After finishing the creation of the Culprit, Dimebag wanted to refine the idea further and began to work on his next series of guitars which would be known as the 'Stealth' series. He finished the design in 1999 and would use it during the touring cycle for the 'Reinventing the Steel' album. This was considered the next evolution of the ML line.
Dimebag was known to be particularly proud of this model, and it's easy to see aspects that have been carried over to his future guitars. Design-wise Dime has said he wanted it to be loosely based on his original ML but has its sharper-edged and look more 'metal'.
"It looks like a Stealth bomber, which is silent but deadly, but this thing is loud and deadly," he said in a 2000 Guitar World interview. "It has Bill Lawrence pickups, which have some killer harmonics. My Stealth guitar is set up for high squeals, low-end chunk, and whammy-bar (work)."
Adding to the 'sharp' look of the guitar, on the standard black version the bevels around the edge were colored silver which helped define the angles and gave it a more angular and aggressive look.
It was produced in a number of finishes, some custom to Dime himself but in terms of production models, it had a trans-black version which had a flamed maple top. And sometimes would feature lightning bolt inlays instead of the blank, ebony fretboard.
Much like the Culprit, it was offered with the full USA-made version known as the 3ST which was produced from 2000-2004. And then in 2003 they also started to offer an overseas version known as the 2ST which was manufactured from 2003-2004. Which was essentially identical in shape but instead of a mahogany body, it has an alder one which was cheaper than the source.
This was manufactured and used by Dimebag up to the point where he parted ways with Washburn. The shape was carried over and is now produced under Dean just with some minor adjustments.
Dean ML re-issue

Finish: Multiple: Sunburst/Greenslime/Black
Years Used: 2003 to 2004
In early 2004, after Pantera had broken up and Damageplan was formed. Dime was also starting to think about new guitars and signature equipment due to his current contract with Washburn and Randall coming close to its end.
Washburn, of course, wished to have Dimebag renew his contract and keep him. They were openly communicating with him about what they would offer for his contract renewal and Dean Zelinsky has mentioned they were quite lavish in their promises.
However, Dean, who had resumed producing guitars back in 1997, along with the original founder/designer of the ML, Dean Zelinsky who had returned to the company in 2000.
Has said one of their goals from the beginning was to get Dime back on board as he played a huge role in popularising the brand and of course, Dean was fundamentally responsible for many of the aspects and design choices that were carried over to Washburn.
Zelinsky, with this goal in mind, was also aware that Dimes' contracts with Washburn and Randall were expiring soon and reached out to Dime.
And after several months of back and forth, Zelinsky asked that Dime come to meet with him. Dimebag pranked Zelinsky by saying he wouldn't be able to come due to a hurricane at that time, but he had in fact already arrived and surprised Zelinsky at their Florida office.
"Being back with Dean is like coming home to me. it's where I started. I was missing the massive crunch, tone, sustain, and effortless playability. Having Dean's back in my hands has put the fun back into my guitar playing…like I was driving a car with three cylinders and now I'm back to eight and burning nitro."
Unfortunately, Dimebag didn't get a great deal of time back with Dean. However in the few shows, videos, and pictures between his return to Dean and his unfortunate passing he can be seen using what looks to be a standard dean ML re-issue with various finishes. Such as the Camo Dean ML he used in the Krank promotional material which, in the full production run, would be known as the 'Dime-O-Flage ML as well as the 'fire' finish during the live shows in late 2004, which became known as the Dime-O-Flame.
At this time Dean hadn't put the guitar into full production, and wouldn't so until a few years later so it's assumed these are all custom USA reissue models of the original ML made specifically for Dimebag.
Since Dime's passing the ML re-issues have been made into a long line of successful production guitars including 7 and 8 string versions and even a multiscale version.
Dean Razorback

Finish: Multiple: Black/Slime Green
Years Used: 2003 to 2004
Upon Dimes' return to Dean, he had already formulated plans to further the ML and 'evolve' its style to be more modern.
Taking a fair bit of inspiration from the aforementioned Stealth model. Dimebag wanted to use that core concept and produce a new signature series with Dean.
After returning home from his visit to Florida to meet with Zelinsky. He faxed over a new design he had drawn which was essentially the original shape of what would eventually become the Razorback series.
Dean Zelinsky went and made a concept version of the guitar and sent it to Dime, who got to try it long enough to give it his seal of approval and essentially say 'yes, this will be my new signature guitar' before he had to leave and go on tour. Of course, Dime tragically passed during this tour so never got to see the guitar go into production.
But Dean did, nevertheless, make this their new flagship model and the guitar has been in full production with many color and specification variants. Including 24 fret versions, different pickup configurations and you could even opt to have the floating bridge swapped out for a tune-o-matic one which really allowed anyone regardless of style to own one of Dime's guitars. And although he never got the chance to use it on tour, this is still a model that is worthy of Dime's name and legacy.
Table Showing What Guitars Dimebag Darrell Played at Each Point of His Career
| Make | Model | Color/Finish | Years |
| --- | --- | --- | --- |
| Dean | ML The 'Dean from Hell' | Custom Blue/Lightning Painting | 1980 to 1994 |
| Dean | ML "Far Beyond Driven" | Tobacco Burst | 1994 to 1995 |
| Dean | ML Concrete Sledge | Custom Grey with Artwork | 1991 to Unspecified |
| Washburn | ML (aka Dime 333) | Custom Blue with Lightning Artwork | 1995 to 1998 |
| Washburn | FM333 | Custom Confederate Flag Artwork | 1995 to 1998 |
| Washburn | Culprit | Black/ Cherry Red | 1998 to 2000 |
| Washburn | Stealth | Black With White Binding | 2000 to 2003 |
| Dean | ML re-issue | Multiple: Sunburst/Greenslime/Black | 2003 to 2004 |
| Dean | Razorback | Multiple: Black/Slime Green | 2003 to 2004 |
Dimebag Darrell Amplifier Overview
Randall RG100 HT
Years Used: 1990 to 1998
We all know that Dimebag was an avid user of Randall amplifiers from the beginning. Favoring them primarily because it was one of the only solid-state amplifiers around that were providing the tone and response he was looking for.
During this period and for many guitarists, tubes were king. They had all the warmth, dynamics, and saturation many were looking for. Dime didn't care about any of that, he needed pure, pushed aggression. With as little dynamic range as possible, coupled with lots of presence and teeth. And although he used various effects to help facilitate this kind of sound (which we will cover in more detail later). He achieved the fundamental sound from the Randall RH100HT.
He used this during the Cowboys from Hell and The Great Southern Trendkill album cycles which were arguably the most important and influential when it came to establishing and popularising Dimes signature sound.
The amplifier itself is a 2u rackmount unit but is actually a full head with a 100w power amp (there was also a traditional head version built of this called the RG100 ES). It's 100% solid-state, so no SS/tube hybrid and although discontinued you can still find them floating around here and there. He had also been seen using the full enclosure variant called the RG 100 ES.
Related Article: Stevie Ray Vaughan Guitars and Gear
Randall Century 200
Years Used: 1992 to 1994
This was an amplifier that, from what we can gather, Dime already owned during the Vulgar Display of Power era. But Dime has spoken about that during the writing process he didn't want to set up his normal rig. So he grabbed some of his already owned equipment and set it up just to use while jamming. And he ended up liking the results so much from it he decided to go ahead and use the Century 200 on those albums.
Just like the RG100, it's completely solid-state with a 120w power amp. But this time in a full, traditional head enclosure. Both for studio and live use he would support the amplifier with
a graphic EQ to shape the DI signal as well as push the pre-amp harder. Dimebag would also scoop the mids heavily in the effects loop (so not on the amplifiers 3 band EQ) to further coax the frequency response into his signature sound.
Randall Warhead (v1)
Years Used: 2000 to 2003
With Dimebag entering the legendary status and having a great selling run of signature guitar models. It only made sense Dimebag would release a signature amplifier condensing everything that he needed to achieve his sound into a single unit. And boy could it do everything! featuring a monstrous 300-watt power amp, a dedicated mid sweep to get that specific scooped tone Dimebag aims for.
A 9 band graphic EQ was not particularly common, only being seen on amplifiers such as the Mesa Boogie MK2. And interestingly, although it doesn't explicitly state with the knowledge that Dimebag would use a graphic EQ in the effects loop of the RG100 and Century 200, it's a safe assumption that this 9 band EQ is also placed in between the pre and power amps to really allow you to utilize it in the exact same way Dimebag would.
The gain structure was specifically built around what Dimebag would go for, allowing you to obtain his style much easier than you would on an RG100. The amplifier also included an inbuilt digital effect processor allowing you to use delays, reverbs, and various modulations straight from the amplifier itself without any need for pedals.
The signature amplifier was approved and released in 1999, and Dime would continue to use this in conjunction with the traditional Randall RG100 setup up until his contracts with both Washburn and Randall finished and he made the switch over to (and back to) Dean guitars and new friends, Krank amplification.
Krank Revolution 1
Years Used: 2003 to 2004
In early 2004, Pantera had formally finished, Damageplan had formed, Dime left Washburn and Randall and rejoined Dean guitars. Lots of changes and new starts, but he was still in need of an amplifier.
During this time he had become aware of the new amplifier manufacturer Krank Amplification. And had contacted them to ask if they could send one of their flagship amplifiers over for him to test out.
Of course, as a full 100w all-tube amplifier this is not something Dimebag would traditionally go for. As the extreme amounts of gain and bite he needed for his tone were not often found in the warmer and more dynamic-sounding tube amplifiers.
However, when he received the Krank Revolution he was blown away at the amount of gain it had, it had all the bite and snarl while still retaining that thickness and warmth that tubes offered over solid-state.
This was primarily because the amplifier was designed with additional gain stages essentially making it a high gain, hot-rodded amplifier straight out of the box.
Dime wanted to continue working with Krank and began to use the Revolution 1 on stage with Damageplan. He can be seen playing the Rev1 and prototype signature amplifier in this interview at Krank amplification.
Krank Krankenstein
Years Used: 2004 to 2016
Almost immediately after joining the Krank ranks, Dime began working on a signature amp model with Krank which they aptly named the Krankenstein. While fundamentally based on the Revolution 1's circuitry, a few additions would bring the amp firmly into Dimes territory and adopt his signature flair.
The amp was still kept all-tube, but the clean channel was modified to break up a little easier and be a little warmer as high gain amplifiers had a bit of a reputation for sounding harsh and brittle when it came to clean tones.
There was also a master volume added allowing you to drive the individual channel volume as hard as you wanted while still being able to control the overall output, so it could be adequately used with an iso cab or in a recording scenario without becoming excessively loud.
Dime approved the final design of the amplifier just days before his murder, the amp was still officially put into production and released.
Related Article: Prince Guitars and Gear
Dimebag Darrell Pedals and Effects Overview
Furman PQ-4 Parametric EQ
Years Used: 1996 to 2004
Used much in the same manner as the PQ-3. However, Dime actually approached Furman to make him an updated model which he started to use from this point on.
MXR flanger doubler
Years Used: 1990 to 2004
This is a rackmount flanger Dime would use in the effects loop of the amplifier, generally, a flanger or doubler effect would be used as a modulation source on certain parts. However, Dime actually used this in an 'always on' fashion in order to thicken and widen his sound. Perhaps as Pantera didn't have the benefit of having stereo rhythm guitars, so it's possible this provided some additional width that a mono rhythm wouldn't normally be able to reach without additional modulation.
MXR 6 band EQ Pedal
Years Used: Unspecified to 2004
A signature part of Dimes sound was that he would heavily EQ the mids of his guitar tone. However, the Furman PQ-¾ in front of the amp was already serving another purpose, and rather than use the 3 band EQ on the amp itself (which perhaps didn't adjust the right kind of frequencies he wanted. Which would explain why his future signature amp models had mid sweep knobs) he would put this EQ pedal in the effects loop to manipulate the mids after the preamp gain and before it hit the power amp.
Dunlop Crybaby from Hell
Years Used: Unspecified to 2004
Moving away from the rack unit the 'Dime' Cry Baby was very similar to the rackmount one, it was just all encased in the pedal itself so it could be sold and marketed as an all-encompassing signature product.
It goes without saying, the Crybaby is probably the most popular wah products in the world. However, this one also had some additional options including a custom camo finish, which was very fitting of Dimes style. It had a larger 'sweep range' than the traditional crybaby allowing the filter to modulate frequencies the original Crybaby couldn't. As well as a frequency selector to further dial in the resonance peak of the sweep.
Related Article: Randy Rhoads Guitars and Gear
MXR ZW-44 Zakk Wylde Overdrive pedal
Years Used: 2000 to 2004
An additional distortion Dime would use for leads, solos, or extra distorted sounds. Looking very much the same way as a tube screamer would with the same 3 simple knobs we're familiar with. An output, tone, and gain control. But this gain control had a heck of a lot more gain! This would allow Dime to really cut through when he needed it.
Wrap Up
Originally picking up the guitar at the age of 12, Dimebag immediately took to it. Developing technique extremely quickly without formalized education. And was considered to be a natural, winning multiple guitar competitions at an incredibly young age.
One thing that Dimebag was known for his unique riff-driven style, making heavy use of the b5 and using the 'metal blues' combination of power chords, chromatics, and heavy palm muting. As well as many 'effects', for example using the whammy bar to perform techniques such as dive bombs, squeals, and his patented "fake echo". His style very much stands the test of time as even today you will hear modern prolific guitarists such as Ola Englund and Wes Hauch cite Dimebag as their biggest influence and guitar idol. With such an iconic playing style, signature look, and tone.
Although he formed Pantera, along with his brother Vinnie Paul, in 1981. They originally began as a glam metal band, it wasn't until they brought on vocalist Phil Anselmo, and released the 1988 album Power Metal' that people were exposed to the more aggressive and groovier style that Pantera would be known for. Between Cowboys From Hell and their follow-up album, Vulgar Display of Power, Pantera achieved great commercial success and solidified their position as one of the most prolific metal acts of all time.
In the early 2000s tensions within the band began to simmer, and by 2003 had reached a peak which resulted in Pantera splitting up. But despite growing differences that would cement into the band, the effect of Darrell's somewhat soulful delivery on the six-string had already made a significant impact. One that displaced thrash as the heaviest subgenre of the underground scene, this effect had Dimebag poaching behind it with his thunderous and powerful craftsmanship.
Together, Dimebag and brother Vinnie went on to form a new band Damageplan. Who unfortunately only were able to release a single album titled 'New Found Power' before Dimebag was tragically killed while playing live with them in 2004. Many of his guitarist peers, such as Zakk Wylde and Eddie Van Halen have paid tribute to Dimebag and hold him in the highest regard as both guitarist and friend.
Much of the charm Darrell brought to the game comes from his thriving nature as a player, initially, a self-taught artist, the 90s gave Pantera and Dimebag an alternative edge in contrast to the dominant Thrash scene. Darrell always looked for new sounds, but more than his distinctive tone, it was all about a certain vision that helped him stand out as one of the toughest players of his time.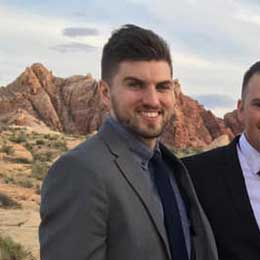 My name is Chris and I've had a passion for music and guitars for as long as I can remember. I started this website with some of my friends who are musicians, music teachers, gear heads, and music enthusiasts so we could provide high-quality guitar and music-related content.
I've been playing guitar since I was 13 years old and am an avid collector. Amps, pedals, guitars, bass, drums, microphones, studio, and recording gear, I love it all.
I was born and raised in Western Pennsylvania. My background is in Electrical Engineering, earning a Bachelor's degree from Youngstown State University. With my engineering experience, I've developed as a designer of guitar amplifiers and effects. A true passion of mine, I've designed, built, and repaired a wide range of guitar amps and electronics. Here at the Guitar Lobby, our aim is to share our passion for Music and gear with the rest of the music community.